Tag Archives:
chrysler

No other name in modern motoring says "total mediocrity" like Sebring.

Saab is dead. It just isn't official yet.

Chrysler's new 8-speed automatic exceeds expectations.

Audi's total lack of subtlety is shocking.
Robert A. Lutz, the outspoken cigar-smoking fighter pilot who helped turn Chrysler around before it merged with Daimler-Benz in 1998, sat down and wrote a book on business before his brief retirement.

We ran into a blizzard, a funnel cloud that touched down, and checked out Walter P. Chrysler's childhood home.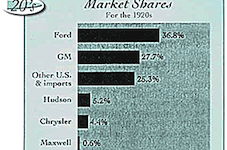 Bar graphs covering the 1920s through the 1990s including imports.

An advertiser complained, prompting The Detroit News to make changes to Scott Burgess' review of the Chrysler 200.

In April 1987, Morley Safer visited Sant Agata Bolognese, Italy to experience the Countach.