Chrysler K-Car Club President Goes On Racist, Homophobic Rant
[Originally found on the Malaise Motors group on Facebook.]
I'm passionate about cars in an irrational and unreasonable way. The best automobile I ever owned was a Saab 900 that cost a small fortune to maintain over the course of five years which I finally gave away to a friend and collector. There was nothing sensible about the entire experience.
Passion, by its very nature, precludes rationality. Channeled productively, it can motivate greatness and achievement. Unfortunately, channeling your energy into disposable Mopars from the 1980s can lead to, at least in Guy Coulombe's case, racism and religious zealotry. I can be absurdly religious about my favorite cars and trucks, but not at the expense of human decency.

Fast Tube by Casper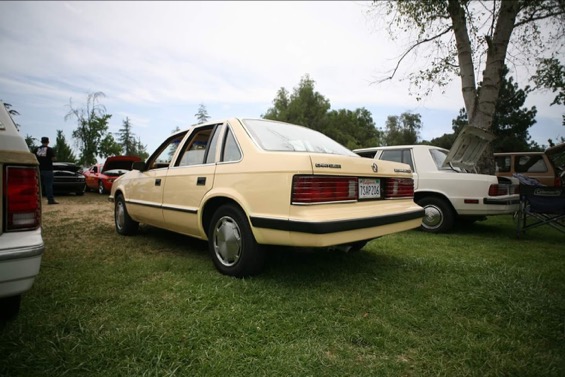 This is an email that Mr Coulombe sent to members of the Chrysler K Car Club:
For clarification, the Chrysler E-class was a stretched K-car. He is not referring to a Mercedes-Benz.
He then denies being racist:

Then he apologizes for being racist while being racist:
And then he gets upset with "FOUR homosexuals":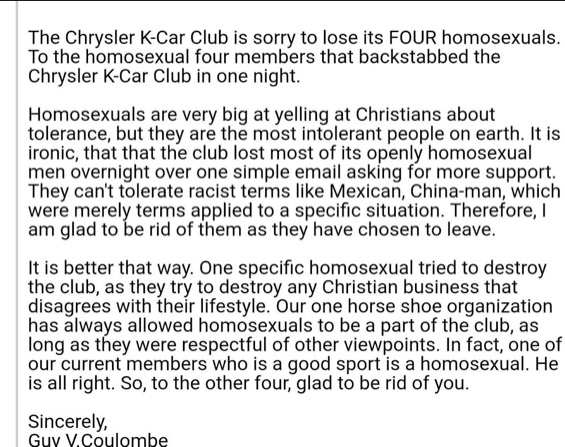 Cars are the original social network. You drive them to new places to meet new folks, bond over design and performance, and form lifelong friendships with great people who share your values.
Or in the case of Guy V. Coulombe, you use them as a platform to be an asshole.
BONUS: He has a wildly unsuccessful GoFundMe campaign seeking donations to restore his 1984 LeBaron. He genuinely doesn't understand why people aren't contributing to the cause.