Buy Here, Pay Here! 1996 Geo Prizm Review… for Poor People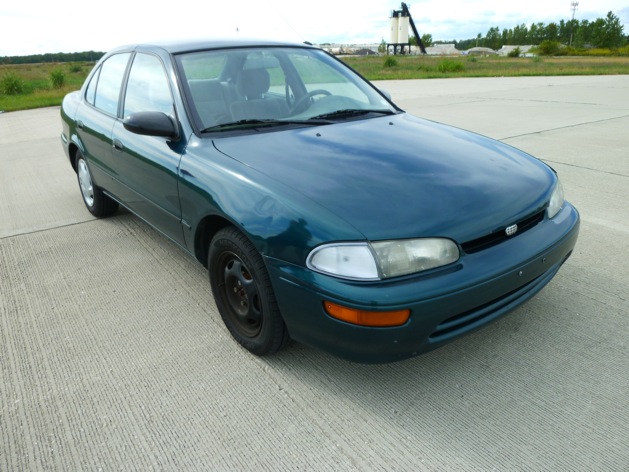 You lost your job at the bank. The BMW 3-series you couldn't afford to begin with was repossessed and your adjustable rate mortgage drove you to foreclosure.
You moved into your mom's basement to cut costs and the only means you have of going to interviews is dropping her off at work in the morning so you can borrow her Plymouth Voyager, the same one that carried you band camp in high school. Even your juice box stains are still there.
Sounds like a setup for a Chris Elliot sitcom.

Fast Tube by Casper
Like most Americans, you neglected to save money while you were employed, blowing your wad on conveyor belt sushi and fancy neckties, leaving you with few options for transportation. Your only choice, then, is to take the bus to the ghetto and visit one of those seedy "buy-here pay-here" lots. You know, the ones that get beater cars from wholesale auctions for $500 and dump them them on poor saps for $4000.
Never been to a BHPH dealer? Allow me to explain — I regretfully worked for one years ago.
The business scheme is simple:

Make a profit on the down payment alone, charging $1000 down for a car you paid $500 for
Issue a loan to the buyer for twice the value of the car. Call it a "purchase contract" to get around financial regulations.
Repossess the car if they can't make the payment.
Clean up the car and resell it again.
Because a profit was already made on the initial down payment and any subsequent payments, there is no need to sue the deadbeat customer for costs or even report the repossession on their already trashed credit. Just find another sucker and repeat.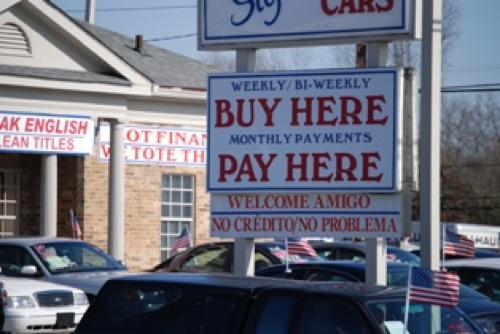 A car purchased for $500 could theoretically earn as much as ten grand. It's legal usury! Brilliant!
Of the mid-90s Luminas, Escorts, Accords, Tauruses, and Explorers that find their way on to these lots, I came up with an ideal choice, the Geo Prizm.
Baseball, Hot Dogs, Apple Pie, and… Toyota
Do you remember the Prizm? It was a Toyota Corolla, but not quite, made in Fremont, California in a joint GM/Toyota plant called NUMMI. The sheetmetal, wheels, tires, glass, and radio came from General Motors, but the powertrain and interior were 100% Toyota.
For less money, and without upsetting your annoying blue collar pro-union neighbor, you could enjoy the reliability of a Japanese car with the pride of a Chevrolet badge. Sounds like a win for everyone, right?
Sort of.
Through the NUMMI partnership, GM intended to learn from Toyota's manufacturing processes, and Toyota sought low-risk access to the US market.
From the Harvard Business Review blog:
For Toyota, this was its first major manufacturing investment in the United States. What better way to learn about the peculiarities of the US automotive market than from GM? Toyota learned how to adapt its famed Toyota Production System to work with US suppliers, US government regulations, and, most importantly, the UAW. After just two years in school with GM, Toyota invested in its first wholly-owned plant in the USA; this new plant in Kentucky eventually became Toyota's largest outside of Japan.
General Motors, for its part, also sought to learn from the venture. But its task was more challenging. GM indeed sought to glean tips from Toyota's magic. But the way the joint venture was run kept this learning to a minimum. GM placed a dozen or so managers at the plant; Toyota was in charge of operating the plant and filling other managerial positions. The learning-by-doing of Toyota managers turned out to be the more useful way to learn.

The NUMMI plant initiated production with the Chevy Nova in 1984, a rebadged Toyota Sprinter built on Toyota's AE82 platform, which was in turn an uplevel version of the Corolla.
I had the privilege (sarcasm) of owning one of these a decade ago and found it to be insanely dependable in my abusive teenage hands and inexplicably quiet and comfortable on the highway. My crude and tinny 1988 Nissan Sentra, by contrast, made 55mph cruising feel like 200mph behind the seat of a wooden canoe.
For more information on NUMMI and its legacy, listen to NPR's four-part program.
GM continued its Japanese partnerships by opening the CAMI plant on Ontario as a joint venture with Suzuki. There, Suzuki and GM produced the Geo Tracker, Geo Metro, Suzuki Sidekick, Suzuki Vitara, Suzuki XL7, Chevy Equinox, Pontiac Torrent, and GMC Terrain. [Suzuki sold its 49% share of the plant in 2009.]
The Chevy/Geo Spectrum, meanwhile, was a rebadged Isuzu Gemini designed by Giugiaro in Italy and sold globally by General motors.
"Getting To Know Geo"
From 1989-1998, all of GM's Asian-partnership vehicles were sold under the Geo brand. Instead of creating its own subcompacts to compete with the onslaught of Japanese competition, General Motors simply built/rebadged and sold its own versions of Japanese-engineered cars.

Fast Tube by Casper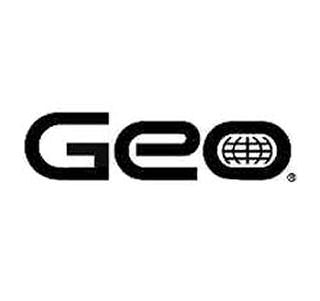 GM's intent was to retain customers who were flocking to imports in droves while learning how Japan designed, engineered, and produced automobiles. Unfortunately, buyers of Geos were fully aware of the Japanese hardware powering their dependable little cars, and when it came to to replace their Prizms, Spectrums, and Metros, they headed over to Toyota, Suzuki, and to a lesser degree Isuzu dealers for a replacement.
The Geo Lineup:
Geo Tracker (Suzuki Sidekick)
Geo Storm (Isuzu Impulse)
Chevy/Geo Spectrum (Isuzu I-Mark/Gemini)
Geo Metro (Suzuki Swift)
By 1998, all Geos were sold as Chevrolets and the Geo brand was discontinued. [And no one cared.]
Now, let's talk about the Prizm.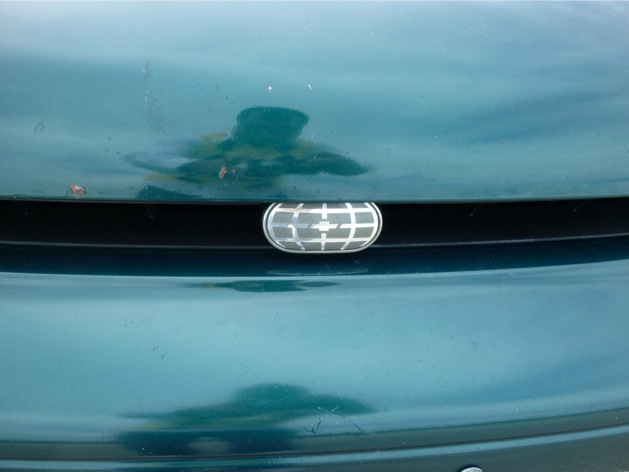 THE COSTS
If you're living at home and struggling to find work, there's nothing better out there than the Chevy/Geo Prizm. I know, the Metro gets 50mpg and costs next to nothing to insure, but all the hypermiling assholes out there are hoarding them in response to $3-$4 fuel prices. Forget about the Metro. It's a 3-cylinder shitbox for people who are penny wise and pound foolish.
The Prizm will do 35mpg on the highway if you keep the speed at 60, and it's actually kind of safe. I wouldn't enroll it in a demolition derby, but compared to the diminutive Metro, the 'luxurious' Prizm is a Cadillac Fleetwood. You could even order one with cruise control, power windows, power mirrors, a Delco premium radio, and leather.
Leather! In a f***ing Geo!

The Prizm LSi came with Toyota's super dependable 115hp 1.8L 7AFE. It isn't quite the same as the 189hp Toyota 1.8L used in the Lotus Elise, but it surprisingly sounds much alike. LSi also received wider tires, a stabilizer bar, and a four-speed auto with four gears instead of three. You could option out a Geo Prizm like a Lexus ES250. All of that would have set you back $15000, a lot of money for the mid 90s, but you could drive it for 300,000 miles if you wanted it to, passing it down to your kids, grandkids, or a homeless person.
And remember, the Toyota Corolla optioned the same way would have cost just under $17000. In the economy class, there's no such thing as prestige. Whether you drive a Neon, Protege, Cavalier, Prizm, or Corolla, your neighbors will think you're cheap, poor, or operating a meth lab.
Today, a Prizm will run you $1000-$2000. The one I'm reviewing was purchased by my cousin for $2200 with 137,000 miles, an LSI with power mirrors, manual windows, a Delco AM/FM radio, a 1.8L engine, and a 4-speed automatic. If you aren't getting the five speed manual then you MUST get the four-speed automatic. It adds 3-4 mpg on the highway and responds quickly to throttle inputs.
The guy he brought it from was a Russian mechanic. We went to his house in a dark, wooded area late one night and his plain-looking decor reeked of Soviet-era misery. He was probably a contract killer back in the motherland. Needless to say, we didn't do a whole lot of negotiating. Russians do make excellent mechanics though, as the car had been nicely maintained and well kept.
THE DRIVE
You get the impression, thanks in part to its feather-light 2400lb curb weight (only 300lbs more than a Miata) and impressively responsive 4-speed automatic, that the 115hp Prizm has 160hp on tap. The well-aged loosey goosey suspension also introduces a lot of rocking and diving, so the whole car leans back like a boat, throwing you back in your seat and giving your unemployment-collecting ass the impression that you're in a much more powerful car.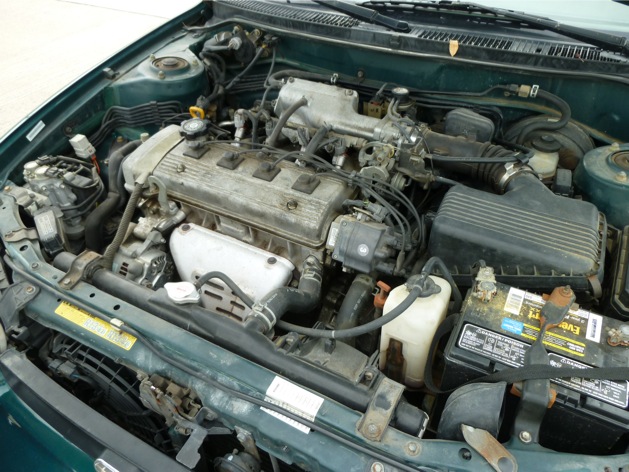 115 neglected and abused horses live here.
At idle, it shakes like a wet dog, shuddering and buzzing throughout the cabin, and on takeoff the Prizm makes no attempt at masking the sound of the engine. You hear everything, and thankfully, the Toyota 7AFE sounds surprisingly racy. The sound is somewhat deep for a cheap four-banger — nothing I'd open up with an exhaust system, but as long as it's going to make a bunch of noise, it may as well be slightly entertaining, which it is.
Around town, the Prizm is the kind of fun, a lightweight toy you can throw hard around corners (tires squealing in agony of course) without caring what happens to it. On the highway, it's another matter entirely.
I took it to Texas once, making it all the way to the Gulf of Mexico.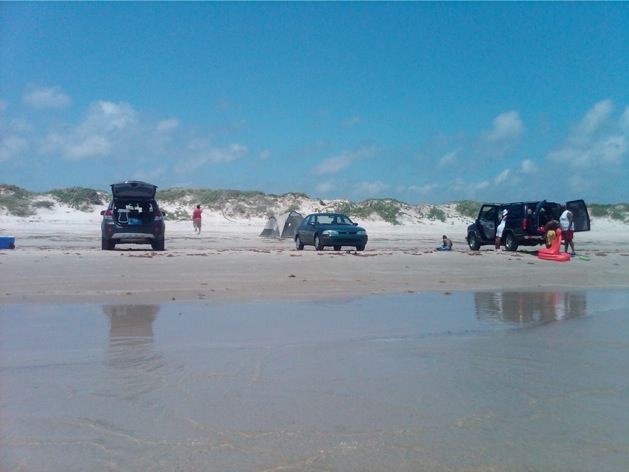 It lacked cruise control and it was impossible to find a comfortable position to rest in the passenger seat. Trying to nap in a Geo Prizm is like being tortured at Guantanamo Bay. There's nowhere to place your arms due to the low roof. I'd wake up every five minutes because the car would crash over bumps and potholes (my friend drove).
The factory AM/FM radio and factory speakers were blown and sounded like four cheap, old, clock radios rather than four speakers. Fed up, I put my Kindle on the dashboard and used it to play music because it sounded better than the Delco system that came with the car.
THE INTERIOR
Setting aside those complaints, there's more space in the Prizm than you might think. The back seat folds down to accommodate cargo, and you'll find 12 cubic feet of space, comparable to a 1996 Camry which holds just over 14 cubic feet.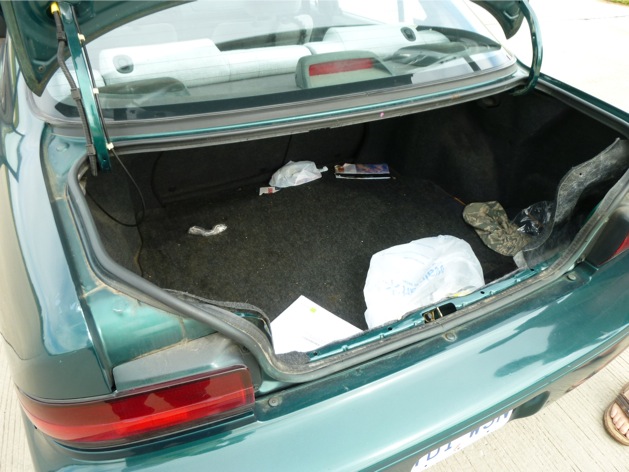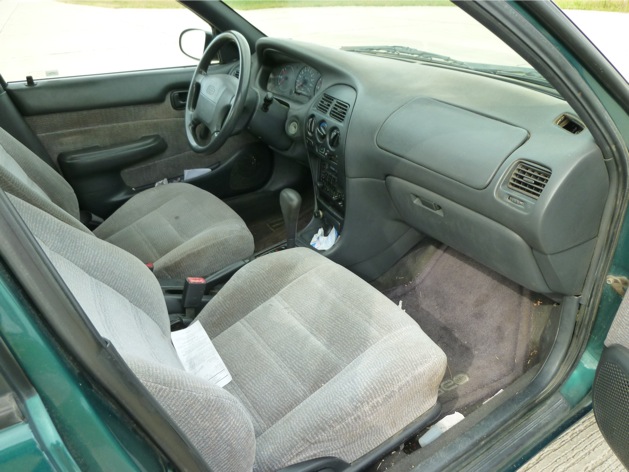 The interior is plain looking, though the teardrop center stack is a nice touch, and the upper door panels have a padded vinyl area that makes for a nice place to rest your elbow or hang your arm.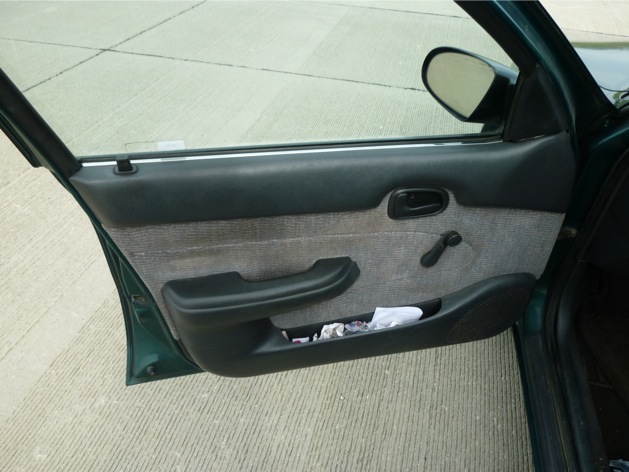 The map pocket has plenty of space for maps or… fast food receipts.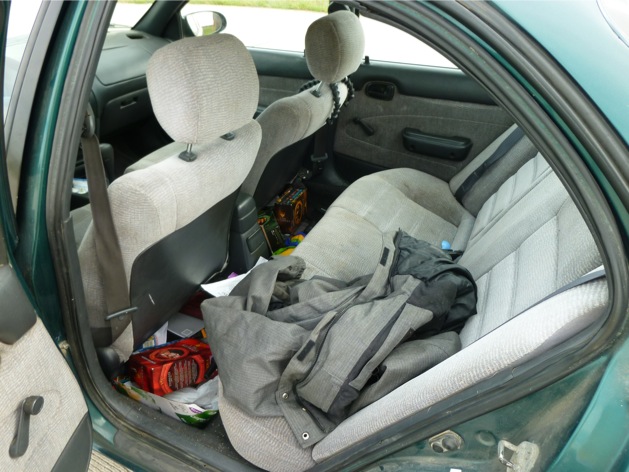 This is what the average interior of an old Geo looks like — a rolling storage unit that pays tribute to the owner's disappointing personal and professional life. Rear seat passengers get a reasonable amount of space, on par with some midsize cars.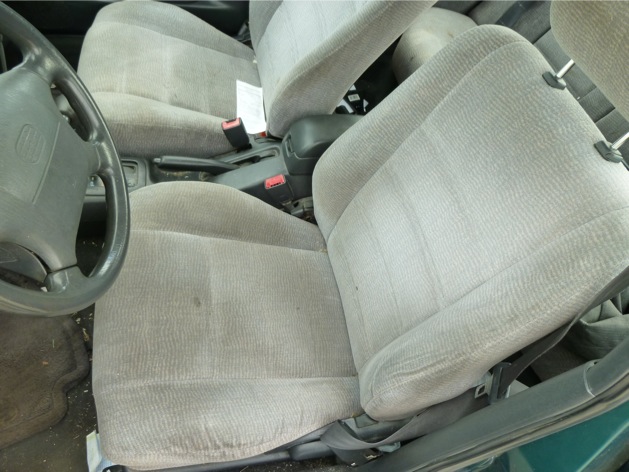 Front seats offer wide, firm support. It's not exactly Lexus-like in here, but the upholstery is durable and well made.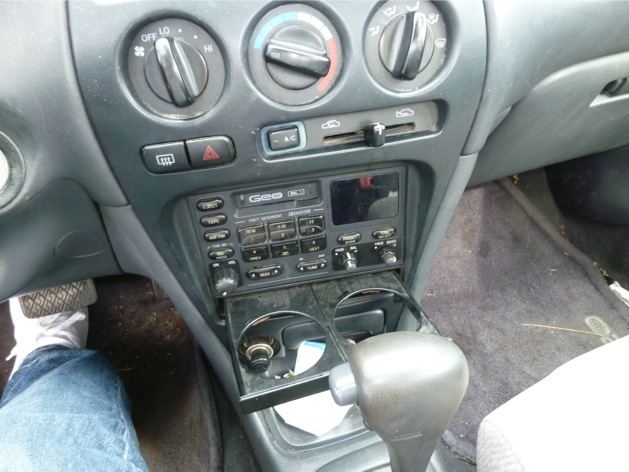 It came with a basic Delco AM/FM radio. I plucked this Delco tape deck out of a junkyard for $10. Just a month after getting it, the tape mechanism died. It does actually sound nicer than the previous radio, with equalizer presets and a larger display. I got tired of the blown factory speakers and installed two pairs of cheap but cheerful Pioneers from Wal-Mart. Would you believe me if I told you it actually sounds decent now?
The cupholder is useless, however. Cans will slip right through. Larger cups block the radio controls.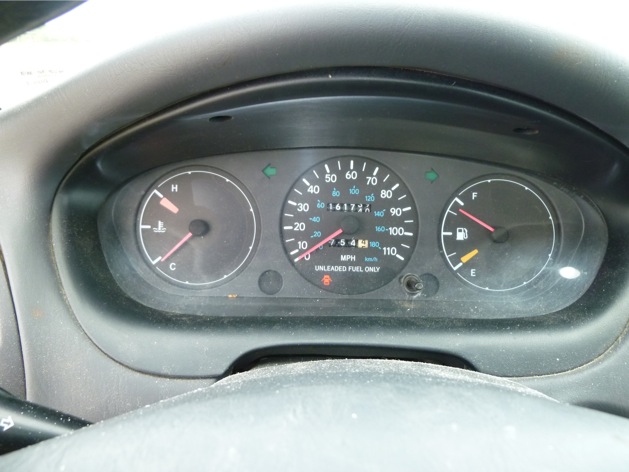 You don't even get a tachometer — just a temp gauge (which is absent from too many cars these days), a speedo, an odometer, and a fuel gauge as well as a handful of warning lights. It's clear and easy to read, which is all anyone can ask of a 15 year old economy car. The dashboard itself is padded and somewhat soft, precisely installed with thin panel gaps and NOT ONE SQUEAK OR RATTLE. You can feel the quality through and through.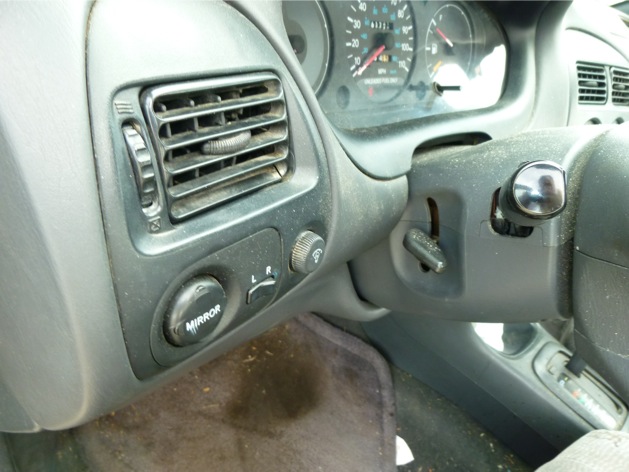 It even has a tilt steering wheel. All the switchgear are solid, chunky, and precise, vastly superior to what GM was putting in Cadillacs in the early to mid 1990s.
THE EXTERIOR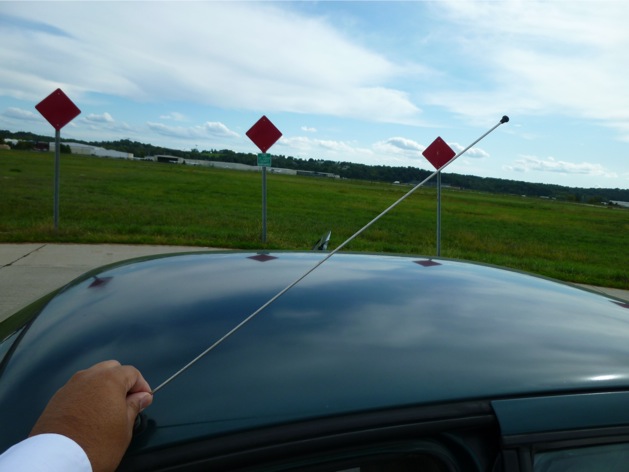 In case you're fooled into believing your Geo Prizm is just a Camry with a lower sticker price, here's a manually retracted whip antenna to remind you of the poor choices you made in life.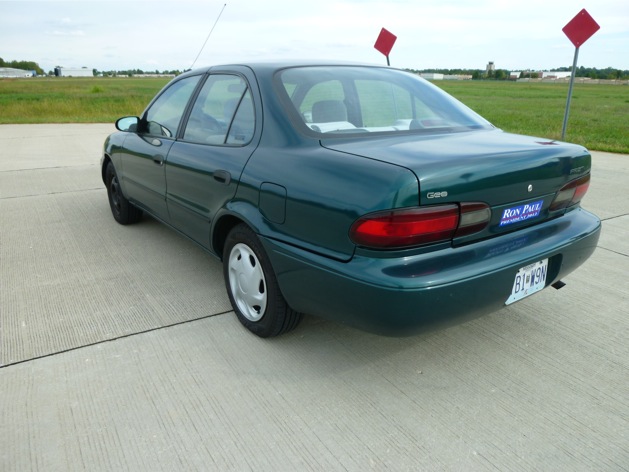 I convinced my cousin to slap a Ron Paul sticker on the trunklid.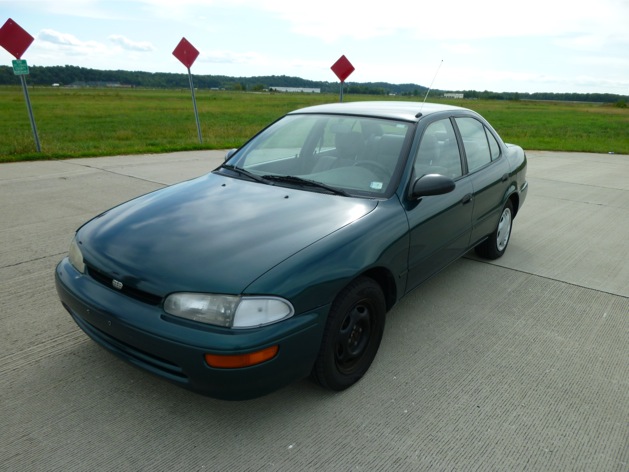 The missing wheel covers are a trademark of economy cruising. You're so busy saving money on fuel and not paying for health insurance that you can't be bothered to spend $20 on new caps.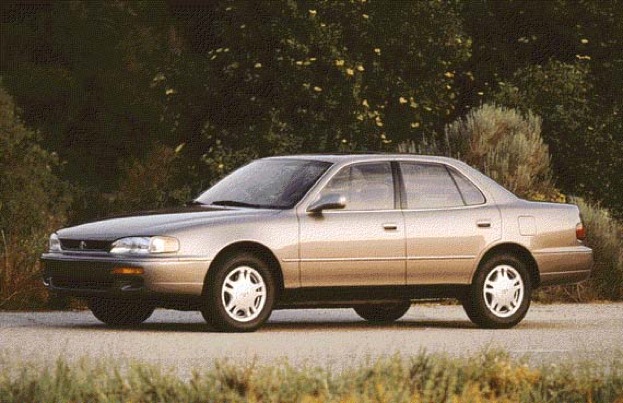 [Above: 1996 Toyota Camry]
If you stand 20-30 feet away and squint after doing a few shots of tequila, you might think that this lowly Geo is a mid 90s Toyota Camry, a car regarded by the press as looking and feeling like a discounted Lexus. The Prizm actually looks more like a Camry than Toyota's own Corolla.
There's nothing striking or interesting about the jellybean styling of this car, but it's agreeable and normal looking enough to blend in with traffic and keep you from looking like too much of a pauper, which is all anyone can ask of a beater car.
And unlike those smug hypermilers in Metro hatchbacks, you won't look like a high school dropout with a stash of weed under the front seat. Unfortunately, in this economy, you'll still be slinging wieners alongside them at Hot Dog On A Stick, where you'll be forced to work until you can find a use for your $40,000 Fine Arts degree.
—————————————–
Driving Video:

Fast Tube by Casper
—————————————–
Ratings:

Ride: 5.5/10 — Long suspension travel soaks up undulations, but a lack of insulation and refinement sends potholes up your spine. At 161,000 miles, this car is well worn. That there is any ride quality left at all is impressive.
Powertrain: 7/10 — Loud but efficient, super dependable. A transmission that's surprisingly responsive. It does 0-60 in 10 seconds but feels quicker.
Braking: 7.5/10 — Decent thanks to the car's light weight. Likely prone to fade, but responsive around town with a nice bite.
Steering/Handling: 5.5/10 — Wallows and bobs around but light weight keeps it from being too ponderous. The Mazda Protege and Dodge Neon feel sharper and more precise. Steering is overboosted and artificial. It's easy to toss around but a far cry from lively.
Audio/Accessories: 7/10 — Can be packed to the gills with leather, cruise, and power everything.
Interior: 7/10 — Plain but functional with high quality switchgear and door/dashboard materials that exceed the norm for its class. It's surprisingly quiet at 70mph with wind noise levels that could be described as better than acceptable. Tire and road noise are omnipresent, however.
You won't believe me, but the carpeting in this Geo is thicker and deeper than the rat fur they use in the base model Lexus LS460. [I told you you wouldn't believe me.]
Compared to the Dodge Neon, Chevy Cavalier, and Ford Escort, the Geo Prizm feels like a more expensive car, and there's space that approaches midsize territory.
Comfort: 4.5/10 — A reasonable front seat. Back seat passengers don't get much of a view but there's reasonable leg room for people of average height (5'9"). Head room is limited. Trying to take a nap in the passenger seat on a long trip is a pain thanks to its low roof, which means you can't stretch out even with the seat leaned back.
Styling: 6/10 — It's agreeable and anonymous, which means people won't look at you driving around in your Geo. I'd say that's a good thing.
Quality/Reliability: 10/10 — You can't break this thing. From 137,000 to 161,000 miles it's only needed brake pads, tires, a starter, and a battery. It has a very slow power steering leak that needs to be topped off once a year. There are no oil or transmission leaks whatsoever. AC blows cold. Heat works well. Never runs hot or overheats in 105-degree summers.
Overall: 10/10 — What? 10/10 for a 15 year old shitbox? That's right. If you're trying to save money or need something to inconspicuously transport drugs, the Prizm will reward you with loyalty that makes your labrador look like a communist. Buy it, beat on it, and get on with life.
—————————————–
Specifications:

1.8L 7AFE Toyota I4
Power: 115 bhp
Torque: 117 lb-ft
3- or 4-speed automatic, 5-speed manual
0-60 mph: 10-12 sec
Quarter mile: Eventually.
Wheelbase: 97 in
Length: 173 in
Width: 66.3 in
Height: 53.3 in
Curb Weight: 2359 lbs
Towing Capacity: LOL
Fuel Economy:
Between 26/30 city/highway and 27/34 city/highway depending on which transmission and engine.
Expect 26-29mpg in real world commuting.