Tale of two Sevilles, a generational Comparison
The famed Spanish city of Seville carries a prominent motto proudly thrust upon it by its inhabitants. "NO8DO"; a play on words that essentially translates to "The City has not abandoned me." A folklore reference to the city's unfailing support of King Alphonse X in a 13th Century war with his son, Don Sancho.
Folklore then, which would seem quite fitting in our very first luxury car (or any car) comparo at JESDA.com. Particularly when you consider that the newer vehicle in this comparison, which carries the name-sake of this very continental city, is six entire model years and one whole generation newer than the one which pre-dates it. Thus it could quite accurately be described as the older car's descendant or even downright off-spring given the strikingly similar profiles both vehicles carry (an obvious effort by the General to not mess with success).
However, appearances aside, there are a great many differences between this "father and son" duo that might even lead one to believe that the "older is wiser" mantra may not be entirely off the mark. Find out who wins this epic battle after the jump.The 1992 Cadillac Seville was an important and groundbreaking automobile for GM and especially for the then ailing Cadillac division. It had to be. The General had been seeing a steady decline in the sales of its flagship Caddy ever since bean counters and economists converted what was once a large, graceful statement of American exuberance into nothing more than what appeared to be a stylized attempt at a mid-size Buick knockoff. This was the first time that Cadillac found itself in a struggle to return to the lofty "Standard of the World" status it had so recklessly abandoned throughout the 1980s.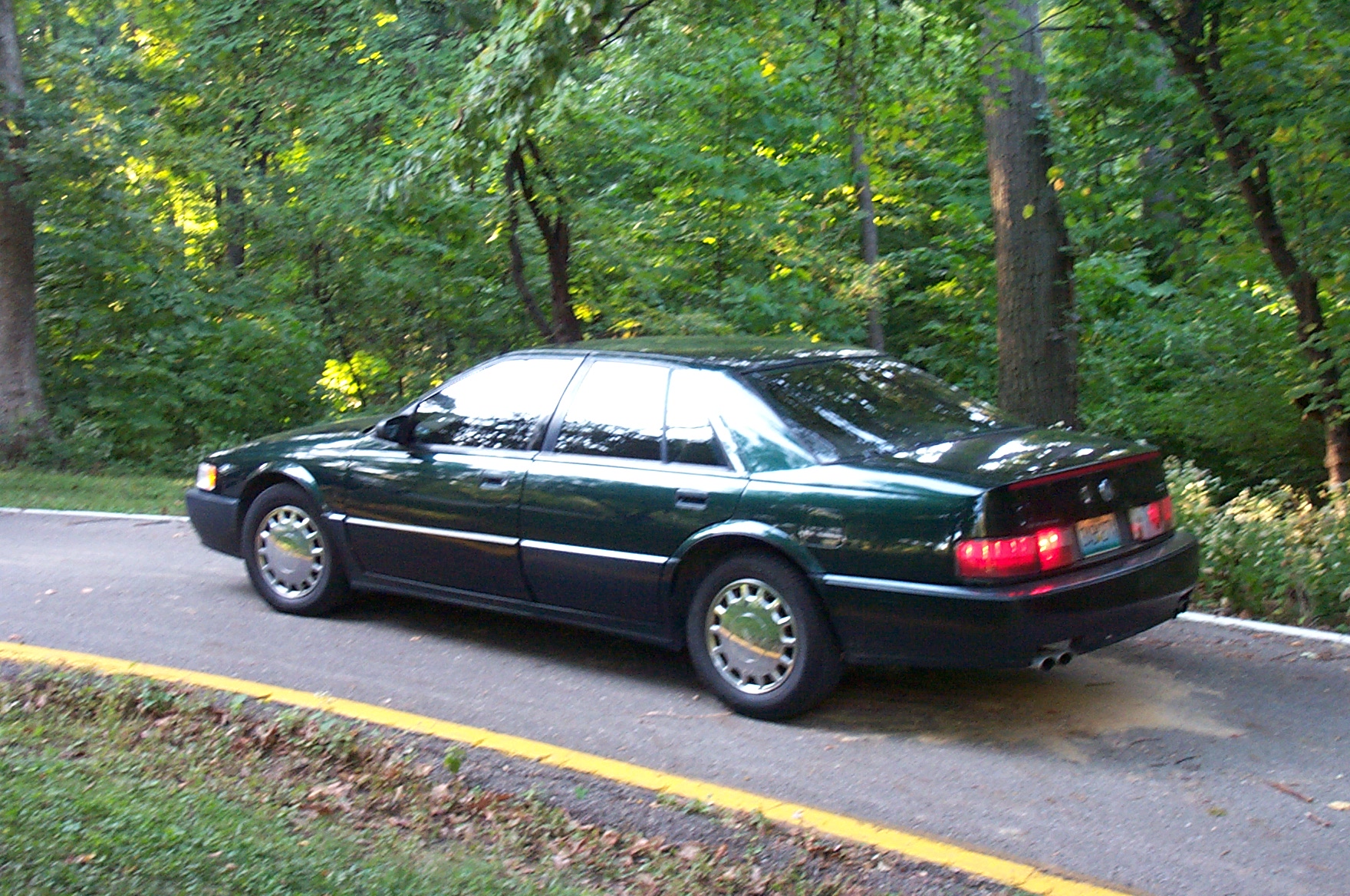 Whether or not this car vaulted Cadillac back to its former throne is certainly up for debate, but you'd have been hard-pressed to find a single automotive publication in 1992 that wasn't bowled over by the all-new Seville's seemingly endless bag of goodies. The sheetmetal was long, sleek and almost European in its execution (not surprising considering GM had fully intended to market this car there), the all-new interior was plush, airy and full of every technological convenience one could have possibly fathomed (and a few you probably didn't). Chrome, which was typically festooned on every surface the naked eye could possibly see, was all but thrown asunder and replaced by a muted yet rich combination of warm hues, luxurious Zebrano wood trim and color-keyed action buttons.Instrumentation was yet another of the Seville's strongest points.
A sweeping dash housed a binnacle that contained the traditional analog speedo, tach, oil pressure and battery gauges. In addition to these however; there was also a bright green multi-segment vacuum FL display that ran along the bottom which displayed everything from coolant temperature (in precise 1 degree increments), to a nifty "Oil Change Index", a predecessor of the oil life monitor which later became common-place in most GM vehicles across the range. To the left of this binnacle the driver would find an easily accessible set of controls for a small fully functional trip-computer display, while a similar display mirrored on the right, contained a full compliment of climate control features. One of the earliest keyless-entry systems was also available on the Seville, along with a Delco-Bose "Gold" Hi-Fi audio system with both Cassette and Compact Disc players built-in to the headunit for convenience.
Power in the first year came by way of the then commonplace Cadillac specific 4.9L OHV V8, which actually had its roots in the foible once known as the HT-4100, subsequently reworked through two generations to the point that it had become a reliable workhorse capable of a stout 200HP and an equally serious bag of torque. This engine was enough to move the Seville with authority, but in an effort to give the Europeans a genuine dose of their own medicine, was quickly replaced in 1993 with Cadillac's newest engine innovation of the time; the all-aluminum Northstar 4.6L DOHC V8 pushing nearly 300 ponies. The luxury-tuned SLS variant later received a more docile version of this engine making 275HP.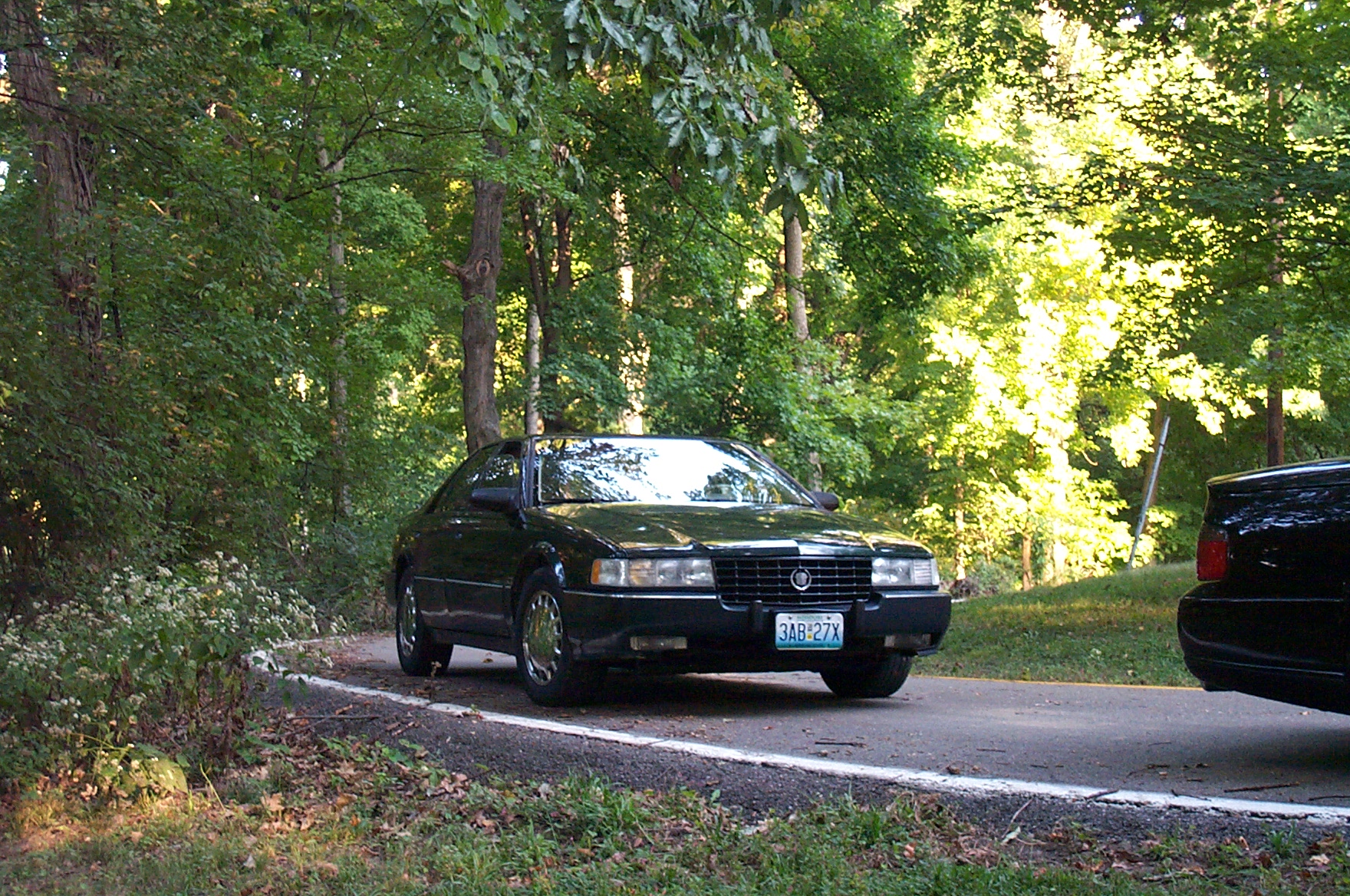 Seville had truly become a magnificent automobile. So magnificent in-fact, that the basic aesthetics of the '92 car continued through an entirely new generation nearly 6 years later when the final 1997 models rolled off the line. Would this new contender remain the torch-bearer in a time where competition across the board had only further stiffened since the introduction of the '92?
The 1998 Cadillac Seville was introduced to nearly as much fanfare (and similar expectations) as its predecessor, and with good reason. The previous generation had been nearly an overnight success for Cadillac, quickly becoming a favorite of both automotive enthusiasts and the motoring press alike. Wisely, Cadillac engineers chose an approach to the new car that involved merely improving what had already proven to be such a successful formula before.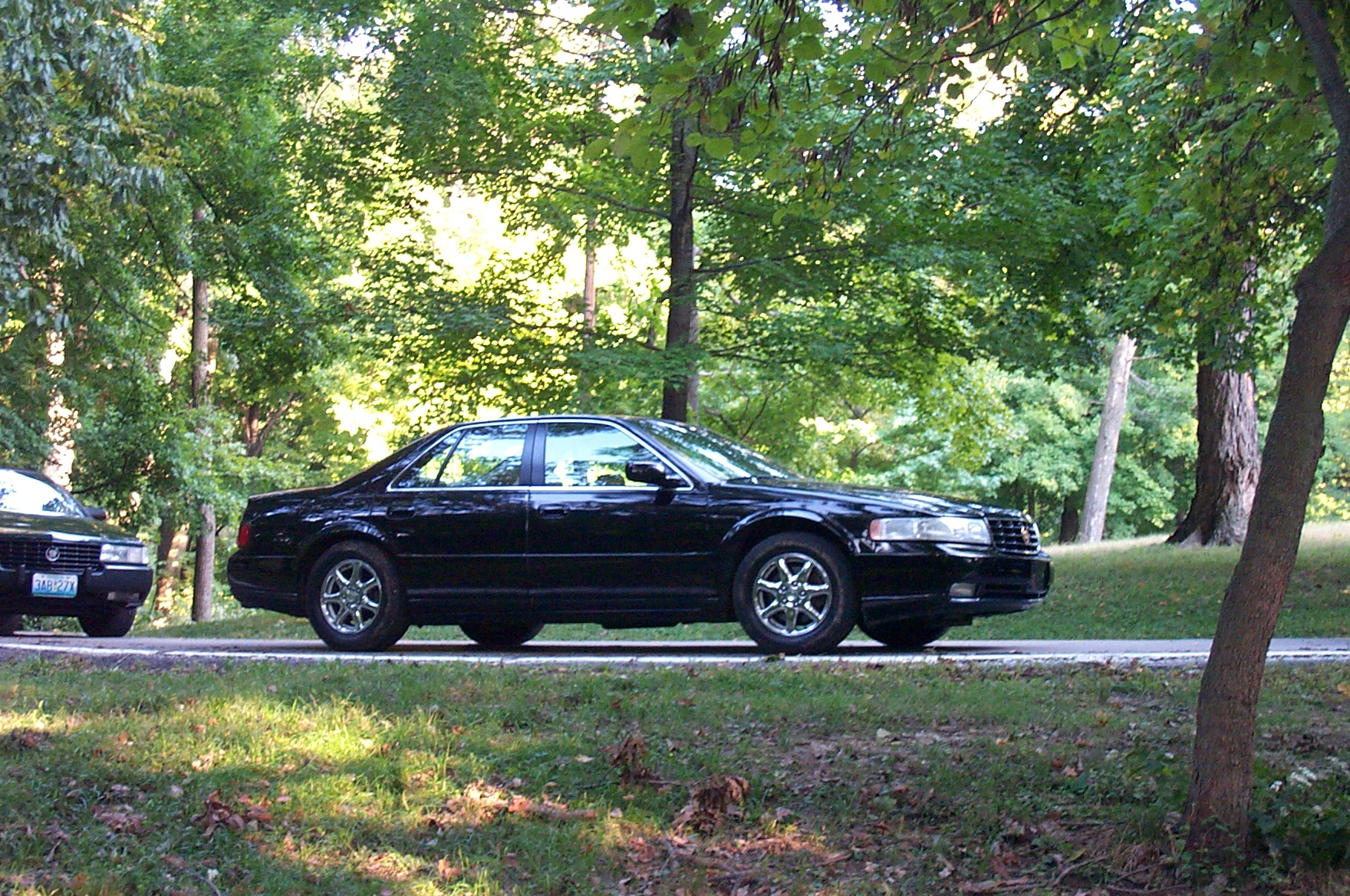 Still powered by the now-ubiquitous Northstar powerplant, the Seville remained available in two distinct flavors with two different power levels. The STS remained at 300HP, while the SLS also continued with its 275HP rating. Suspension tuning was revised for each model, and the electronic shock absorbers now sported Cadillac's trick CVRSS, or Continuously Variable Road Sensing Suspension technology. CVRSS was able to monitor road surface changes with surprising speed and accuracy, and adjust damping rates to compensate accordingly. It's a package that delivers a taut yet compliant ride, that never gets too stiff; or too wallowy. Connected to all this suspension wizardry are 4 Wheel Anti-Lock brakes now controlled by a further improved generation of GM's strikingly effective StabiliTrak stability and traction control system.
Up front, the headlights have been replaced with crystal-lens halogen projector low beams and improved separate high-beam units. The traditional Seville rear-end remains, with a bright full-length LED CHMSL (Center High Mounted Stop Lamp) unit adorning the area above the now slightly larger brake, parking, and signal light assemblies.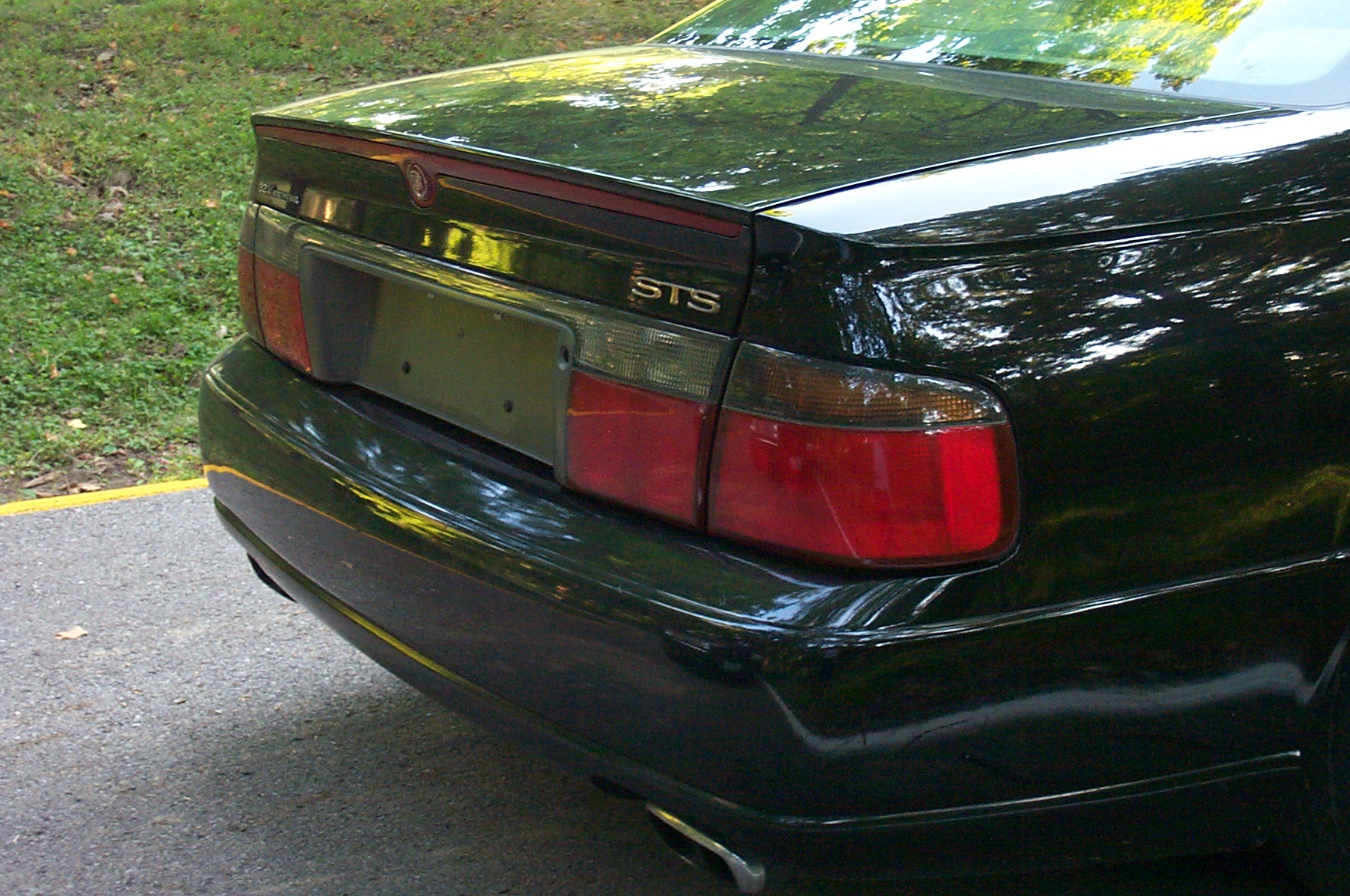 Inside, the changes are more dramatic. All-new seating now affords the option of massage for the front seat passengers, and seat heating for all 4 outboard seating positions front AND rear. STS is upgraded to perforated seats and door panels. The dash is now all-new as well, yet retains the same overall layout that made the previous car such a crowd-pleaser. In place of the standard analog gauges in the old car, there are now a set of larger, brighter and downright stunning electroluminescent units that exert a cool white glow over the driver. This reduces fatigue and increases the over-all legibility of the gauges when coupled with the new deep-red indicator needles. The same text display remains underneath the gauge area, however it now serves double duty as a trip computer as well, and the coolant temperature is now read via a traditional gauge and needle in the left-most position of the gauge cluster. Climate controls have also been moved to a more traditional location just below the audio system and dual-zone adjustments are standard in both SLS and STS trims.
Perhaps one of the most impressive and note-worthy updates to the '98 model is the audibly delicious Bose "4.0" hi-fi system, optional in the SLS and standard in the STS. With a full 425W of power on tap, and an 11 inch Subwoofer unit sitting atop the rear-deck, the Cadillac becomes more concert-hall than automotive conveyance. It's one of the few systems I've ever sampled that is so thoughtfully designed, that even an aftermarket sound snob would have difficulty trashing it for a set of "bump the trunk" subs and door components. The headunit now contains a variety of DSP (digital signal processing) settings that unlike most systems so labeled, actually lend a usable improvement to the listening material if you so desire. This entire setup also utilizes a brand-new speaker technology that essentially "flattens" the entire driver into a wafer of the space that a traditional "basket" style speaker would. This allows for a greater flexibility of component placement and improved overall soundstage as a result. To-date, this system is not available in any other Cadillac or GM product and really shows off the technical prowess that has been endowed over the Seville.
It all dovetails into a package that is well-worthy of the flagship status the Seville has garnered in the Cadillac line-up over the years, but does this make it better than its predecessor? The answer to that question depends entirely on when it's being asked.
Had we been approached 10 years ago with this scenario, we would have given you a questionable look and declared the '98 car the hands down winner in every meaningful way. One quick jaunt down your favorite stretch of domestic Autobahn quickly proves that the suspension and powertrain refinements in the new car result in an incredibly Euro-inspired driving feel, while the interior coddles with all the luxuries of the day. The '92 on the other hand is more of a throwback to the original Caddy heritage with its somewhat less controlled handling and obvious difference in power (although it still manages to outshine anything Cadillac had ever produced up to that point). However, at Haddaway Cars our focus lies as much in the functional use of a vehicle on the used market, as it does in the novelty of any of the latest and greatest. After all, most of us purchase our favorite automobiles many years after we initially fell in love with them due to the cost constraints, or the unwanted depreciation hit associated with buying a brand-new car. Thus, when viewed 10 and 15 years on, things change drastically.
Both of our test examples are well-worn used cars that have accumulated well in excess of 100,000 miles (120 on the '98 and 150 on the '92 to be exact) under adequate, but not the most perfect of care. When adjusted for mileage and overall maintenance however, both cars are on a pretty even playing field, and when it comes down to brass tacks; the '92 simply blows the '98 away in longevity, build quality, maintenance and repair costs, and ease of do-it-yourself ability.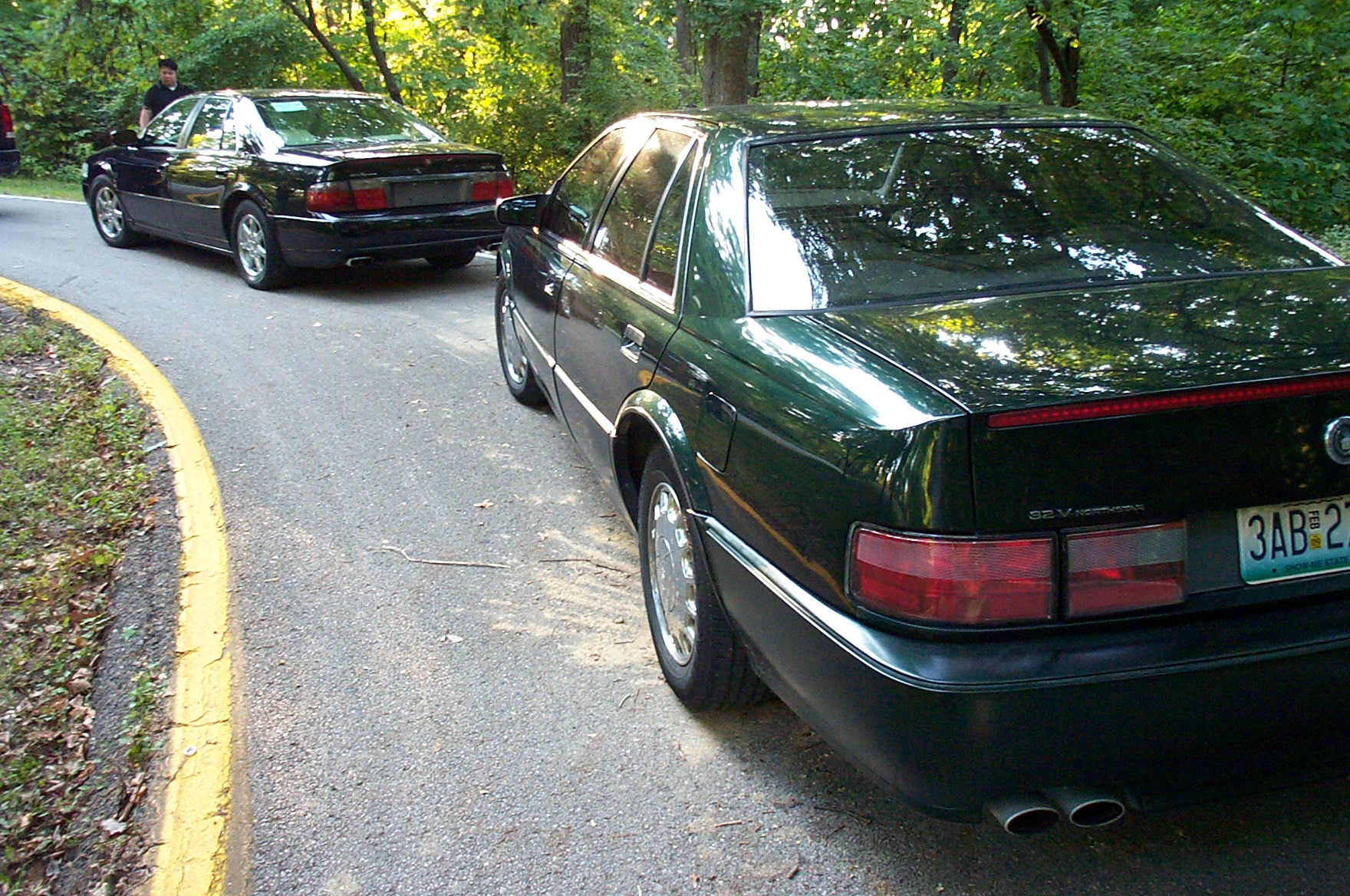 Much of this lies in the way that both of these cars are motivated. Beginning in 1993, all STS cars began receiving the much vaunted Northstar engine as standard equipment. While this was more than a modest improvement in power, many owners discovered after as little as a few years and 30-50k miles in some cases, that their engines had been rendered useless due to a now well-known issue that results in the headbolts pulling from the block and coolant entering the engine's cylinders. This can be deadly to an engine and can lead to severe overheating and irrepairable engine damage if the owner is not able to shut the car down quickly enough.
If you do happen to walk away from the problem without damaging the block, the repair can easily run northwards of $2500.00 for all the parts and labor necessary to perform the excision and replacement of bolts with proper inserts, and there is no absolute guarantee you won't experience the problem again, especially if the procedure isn't performed with the precision of a heart-surgeon. When you take into account that these cars in good condition typically bring anywhere from $2500 to $7000 depending on year (from '93 to '99, though the problem was not completely solved in the 2000 to 2004 models), a $3000 repair expense is quite hard to swallow.
Finding a pristine car with dealer records is no guarantee you won't have the problem, though on-schedule coolant changes do improve the odds somewhat. I've had this occur on at least 2 of 5 '98 to 2001 Sevilles I've owned myself, and the '98 which is the subject of this review, had already had the "timesert" procedure done to the motor before I purchased it, according to the prior owner (one of the maintenance items that actually made this a preferred candidate).
That fault alone is enough to make the '92 models especially desirable, as they were the last STSs to use the venerable 4.9L V8 that has no real known faults, or at least none with the volatility of the head-bolt problem on the Northstar. Yet even if you never experience the head-bolt issue, the Northstar is still known for a myriad of other problems, including oil and vacuum leaks and the like. If that were not enough, many mechanics don't even like to work on them. The result is a very good engine, with a ton of maintenance baggage.
Things don't particularly improve as one moves to the electronic systems either. Our '98 model arrived to us chock full of benign, yet annoying error messages on it's information display that included a bad wheel speed sensor for StabiliTrak, a broken washer reservoir resulting in a low washer fluid message, and a busted pump for the rear load-leveling suspension that resulted in a message of its own. The '92 on the other hand doesn't have any fancy suspension wizardry (yet rides just fine) and lacks even basic traction control. As a result, its utter simplicity yields a near Corsica like ownership experience with all the amenities of a world-class luxury cruiser.The '98 car also suffered from a indecisive fuel gauge needle (yet again, another common problem) that would often leave us relying solely on the "Fuel Used" gallon meter to determine how much gas actually remained in the tank. This can be quite un-nerving if you didn't happen to take a mental note of how many gallons, or how many dollars worth of fuel you actually pumped (and the corresponding price at the time).
Unfortunately, the otherwise gorgeous interior of the newer car and its fit and finish leave alot to be desired too. Another common fault is present and accounted for in our '98 Seville's trunk that is conspicuously missing from the '92. Water seems to leak in from various places in the trunk that eventually makes it way underneath the carpeted mat and into the spare-tire well. Over time, this water can result in a rusty situation that the owner (or next owner) may not be aware of until it its too late.
In the passenger compartment, lifting dashpads and rattling panels are the name of the game, along with broken armrest compartment latches and how 'bout those ground-breaking speakers we talked about earlier? Yea, they're usually out for the count too. This can easily be blamed on mis-use or abuse, but the speakers in the '92, while not nearly as pleasant to listen to, were in perfect condition (failures on the older cars are usually a result of the amp itself dying rather than a blown cone).
In order for it not to appear as if I have a death-wish for the poor car (and shortly after the initial review was written I actually did have an accident), I'll stop there and refrain from delving further into other systems such as A/C, wheel balancing issues and the like. Does all this mean I love the newer generation any less? Not really, these problems CAN be overcome and you still have an amazing luxury sedan (quite possibly one of my favorite autos of all time), however issue after issue begins to grate on you after while and why deal with them when the '92 car looks nearly as timeless as the '98 with substantially less headaches and lower initial cost even for a prime example. Sure it may not be as technologically impressive, but most of what was new-fangled in 1998 isn't so much anymore anyway.
If you fancy yourself any level of home DIY-er that doesn't like relying on a specialty mechanic or worse; the dealer, for every problem that comes up, the 1992 Seville STS should be a STRONG contender on your older luxury car list. It would seem after all then, that older just might indeed, be wiser.