I Love My Blackberry Priv
"Is that… a BLACKBERRY? Wow! I remember those!"
Yes, it's 2017 and yes, I carry a Blackberry. I also have a Thinkpad at home, a Thinkpad at work, and recently repaired the typewriter I grew up using in grade school, but this isn't hipster nostalgia. It's about design, function, and feel.
Two years ago, in the midst of a slow-moving corporate turnaround Blackberry Limited released the Priv, the company's first Android smartphone, featuring a touch-sensitive physical keyboard with glide scrolling and touch gestures. As Blackberry's innovative but ignored OS 10 faded into obscurity, the move to Android was necessary to shore up its declining hardware business as it scrambled to boost revenue from information services. Through its ownership of QNX alone, Blackberry Limited has a 50% share of auto infotainment systems "including brands such as Acura, Audi, BMW, Chrysler, Ford, GM, Honda, Hyundai, Jaguar, Land Rover, Maserati, Mercedes-Benz, Porsche, Toyota, and Volkswagen." QNX is also used in aircraft, defense systems, and air traffic control systems.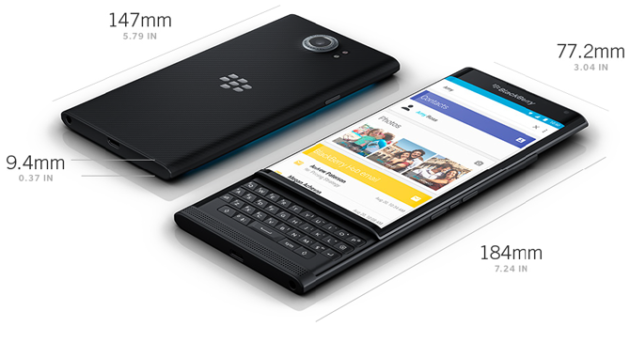 It's an anachronism with its slide-up touch screen and a row of tiny keys that, for a moment in time, were once a symbol of professionalism and importance. But like sports cars with manual transmissions, the Priv isn't about getting from A to B. It's a physically pleasing and responsive way to perform certain tasks.
My last smartphone with a physical keyboard was a 2010 Blackberry Tour, so picking up the Priv required some readjustment. At first, I relied heavily on Blackberry's touch screen keyboard with its large and accurate keys, intelligent correction, and swipe-up gestures for autocompleting words and phrases.
But after ten days I found myself becoming more reliant on the physical keys, preferring the reassuring audible click that comes with each key press. With your hands on each side and your thumbs in the center, there's a strong sense of focus that seems absent when tapping on a touch screen.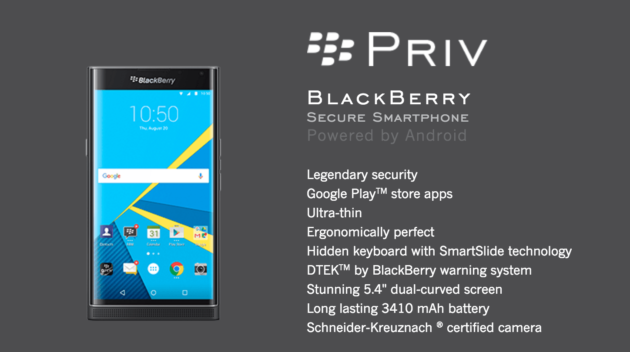 Initially, Blackberry wanted $700 in 2015 for what it wrongly priced as a flagship-level device, unreasonably high considering its less than impressive Snapdragon 808 processor and average camera. The clever keyboard, with its backlit touch surface which allows for scrolling, application shortcuts, and camera controls, wasn't worth a $300 premium for what would have otherwise been a $400 midrange phone.
Sales remained appropriately anemic for most of the Priv's run. When prices dropped to $300 during 2016's Black Friday sale, I took the plunge and ordered direct from Canada.
Out of the box I ran into display glitches, quickly remedied by an update from Android 5 to 6. Several updates followed including one in January that bricked my phone. Data protection is still Blackberry's highest priority; with hardened security comes the burden of regular enhancements to stay a step ahead of hackers and thieves.
Fortunately, Blackberry's tech support was easy to work with. I made a call, received a box, dropped my phone inside, and sent it off to their repair center in Canada, a place I imagine to be a massive igloo next to a frozen lake.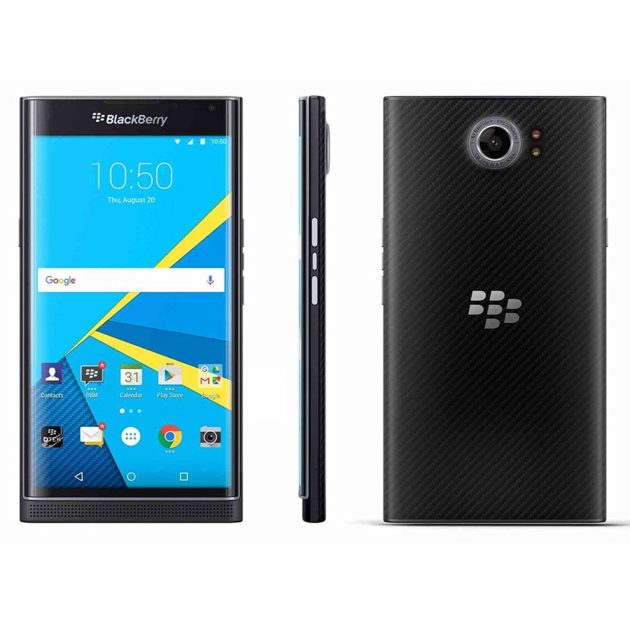 It's been almost a year and thus far, aside from a CPU that likes to run hot and plenty of lag when launching Google Maps, it's been a spectacular device. Though it isn't officially waterproof I've used it by the pool, in my humid bathroom for music while showering (it has a crisp, clear speaker), and dropped it several times on asphalt and marble without damaging its elegantly curved glass display.
Battery life is respectable, offering all-day performance with plenty of screen-on time, an advantage afforded by an energy efficient OLED display and a generous 3410mAh battery. Unlike the old BBOS 7 days, you won't need to do regular battery pulls (you can't remove it anyway) to reboot the device. It's as stable as a slab of concrete with Android Marshmallow (6.x).
The camera is a bit disappointing, unfortunately, especially considering its original price point. Against midrange devices it performs nicely, offering acceptable clarity and contrast in low light. Unfortunately, shutter lag makes action shots prone to blurring while missing important moments. Although camera functions are secondary on a device geared toward messaging, this keeps the Blackberry Priv from competing against other $700+ flagship devices.
The keyboard, thankfully, makes the camera more pleasing to use. I have the "C" key configured to open the camera app. I can then slide my finger up and down the keyboard to adjust exposure levels. Finally, pressing the spacebar activates the shutter. It's a crisp mechanical process that's missing in the era of touch photography.
Everything else about the Priv is typical Blackberry — speakers are crystal clear, call quality is spectacular, battery life is commendable, build quality is superb with its metal sides and grippy rubberized back, and the sliding mechanism has a satisfying snickety-smooth action, like rowing the gears in a Mazda Miata.
It's also become a part of my identity. People find it odd that I work in IT but carry a device that looks like it fell out of an old episode of Entourage. Strangers often ask if they can hold it, recalling fond memories of the Pearl, Bold, or Curve they had in high school or college. Like Saab in the 1980s, both brands were once archetypes of upscale professionalism, quickly left behind by consumers in pursuit of the Next Big Thing.
If you can find a Priv for $250 and messaging is your highest priority, you'll fall in love with it as I did. If your focus is on heavy gaming, photography, or emojis, look elsewhere.