Review: 1998 Mercedes-Benz SL500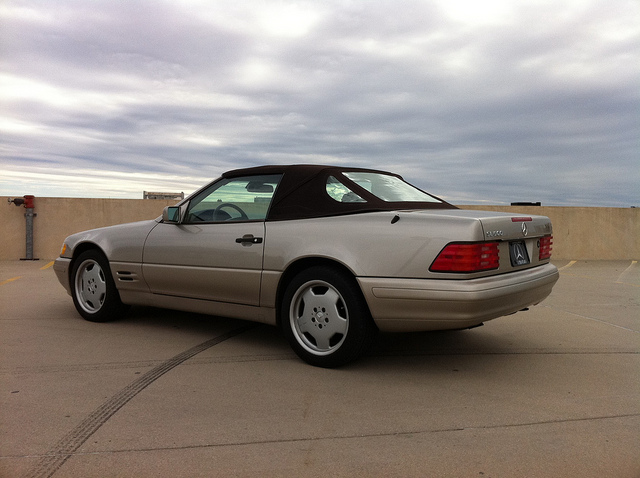 "Ballin' on a budget," as they say. Sure, you can afford used SL, but you can you really afford it?
The Mercedes SL500 with a glass panoramic roof was a hair under $90,000 in 1998. Adjusted for inflation, that's almost $120,000 in 2012.
To finance such an expensive vehicle, as the previous owner did, let's assume 60 months of payments at 3% interest. Monthly, that would be approximately $1600.
Assuming you're the type who responsibly spends 25% or less of your monthly income on transportation, you'd need to earn $6400 per month to reasonably afford it, or $76,800 per year after taxes. That doesn't include insurance or maintenance. Realistically, a six-figure income would be necessary to buy a near-six-figure luxury car new.
Fortunately, for those of us who bottom-feed on used vehicles, the sale price of this used 1998 SL500 with 97,000 miles was $10,000 out the door (not including sales tax, paid separately in Missouri). It was locally owned and locally serviced at Tri-Star Motors in Ellisville MO and based on the condition of the body it was likely never exposed to snow or road salt.
The only defect is a rainsense wiper sensor that was disconnected and not functioning (windshield glass was replaced years ago) and a hood that may have been painted at some point. Considering the exurban location of the dealer, its likely that the owner hit a small animal at some point. Nothing about the incident was noted on Carfax; it probably wasn't serious enough to set off the air bag. Also, the power steering pump is starting to make a little bit of noise.
Tri-Star Mercedes-Benz was a pleasure to do business with, especially our saleswoman Jill, and the rest of the staff was patient, friendly, and honest. They helped with installing and removing the panoramic roof (not an easy task) for inspection and 'waived' the $200 dealer administration fee.
Now, let's talk about the car.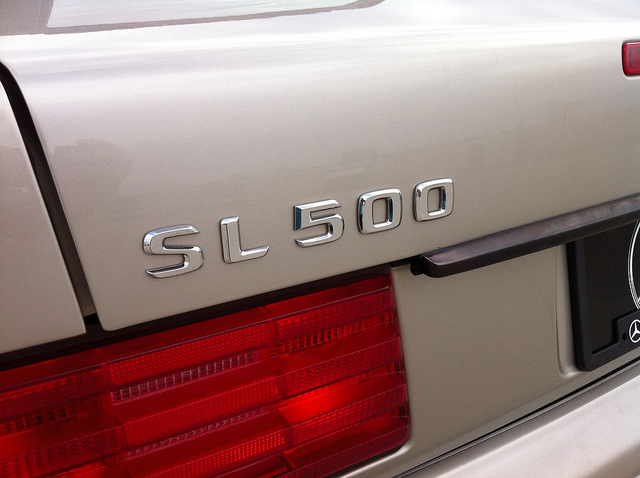 Sure, someone earning $50,000, $40,000, or even $20,000 a year can afford to buy a used SL. At approximately $200 per month over five years or $10,000 cash, bringing home an old German sports car is easy. Keeping it on the road, however, is another matter.
For OEM parts, expect to spend 2-3 times as much as a typical luxury car, more than an E-class, as much as an S-class, and much more than any equivalent Cadillac, BMW, or Lexus.
A new OEM cooling fan and viscous clutch assembly, for example, will run you $450-$500. Compare that to one for a 1996 Infiniti Q45, which will run you about $200. Bear in mind that the Q45 when new was more than $30,000 cheaper than the SL500. Although there's a wide aftermarket for most late-model Mercedes-Benzes, don't expect the same level of longevity and quality. Putting the cheap stuff in your near-exotic collectible, unless absolutely necessary, seems a bit foolish if you intend to keep it.
As for labor costs, there's no reason to take a used SL to the dealer. Most cities have a wide selection of European auto specialists who use OEM parts on request and can save 30-50% on most services. Many were founded by former dealer technicians, lending their expertise and taking the guesswork out of diagnostics. Larger shops sometimes carry modern diagnostic equipment specific to newer models.
Even with the cost savings of an independent shop, you can expect to spend $2,000 per year or more (especially if the vehicle was neglected) on worn accessories, fluids, and other repairs. If that's too much to swallow, don't buy an SL. Look for one with a service history or you may be forced to pay for the neglect of past owners.
So, is it worth the trouble and expense?
Absolutely.
For anyone who values heritage, prestige, comfort, performance, and beauty, the SL is unmatched. Jaguar's curvy XK8, introduced in the late 90s, took a stab at the luxury convertible market, but its aging structure and reputation for poor reliability (although Jaguar had improved dramatically by then) relegated it to second-tier status. It did, however, offer four seats and lower ownership costs.
Cadillac's Italian-bodied Allante was discontinued by 1993 and BMW's topless offerings included the Z3 and 3-series, both significantly cheaper and less luxurious than the SL. The exotic BMW Z8 was a limited-production model introduced in 1999 with a price hovering around $130k, 40 grand more than the SL500. The Z8's handling was described by Top Gear's Jeremy Clarkson as "terrible."
It's no wonder, then, that the SL has remained a sales leader for decades. The third-generation "R107" chassis had a 17-year production run from 1972-1989 and enjoyed a popularity boost in its final decade thanks to the abandonment of convertibles by American manufacturers and the economic boom of the Reagan era.
The R129 that followed built upon that success.
THE LOOK
In 1990, the Mercedes-Benz introduced the R129 with angular styling inspired by chief designer Bruno Sacco.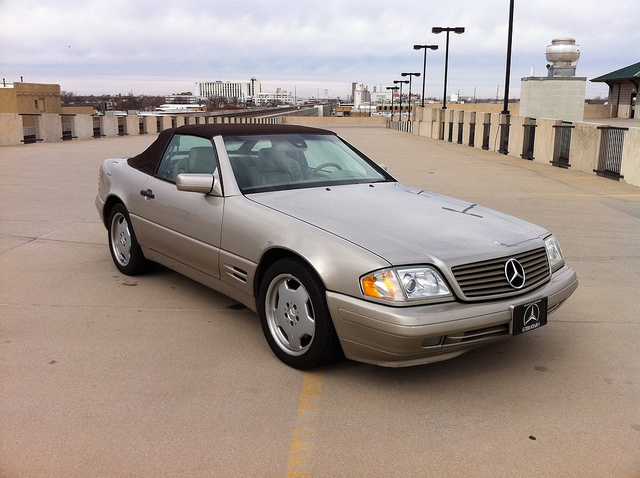 The Sacco look, maintained across the brand's entire lineup, incorporated tall and rectangular headlamps, flared wheel arches, tall horizontal grilles, horizontally slatted tail lights, limited brightwork, and large greenhouses. Introduced on the W124 sedan in 1986, this upright, Teutonic look was maintained through 2002, the final production year of the fourth-generation SL roadster.
Even after more than two decades, the R129's balanced styling looks modern, stately, and pleasingly restrained. As modern cars incorporate bizarre swoops, slashes, and bulges, the R129's quiet confidence looks better with time.
THE DRIVE
The fourth-gen SL does feel like a car from another era, though certainly not in a negative way. The slow throttle tip-in is a distinct reminder of Mercedes-Benzes from the 1980s, with long pedal travel until the throttle plate finally opens. Brakes demonstrate the same characteristic with long pedal travel followed by the sudden grab of four-wheel discs. The pedal sensitivity of Japanese cars has influenced the way modern European and American cars feel, so it takes a couple miles of adjustment to get your hands and feet acquainted.
The SL wants to be driven with focus and intent — accelerate like you mean it, brake like you intend to.
On the other hand, it cruises much like the W140 S-class as it glides around town with quiet civility. The 318hp V8 maintains a gentle hum until called to action, at which point it roars like a Messerschmitt Bf 109, and the suspension remains sports car firm but entirely comfortable, smoothing away the harshest edges of surface imperfections.
On-center steering feel is somewhat vague with a large-diameter wheel that seems more suited to a sedan than a roadster. Once in motion, turn-in is admirably crisp and the car responds with unexpected agility for an absurdly heavy 4200-lb two-seater.
Refinement is impressive and, unlike most convertibles, cowl shake is non-existent. It seems that most of the additional weight went into ensuring structural rigidity.
INSIDE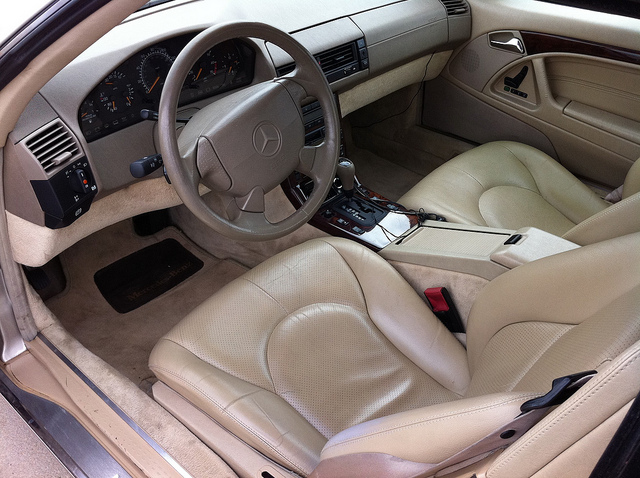 The interior shares the same appearance and layout as the S-class except everything is reduced to 3/4 scale. Inside the center console lid are two useable cup holders with a sliding divider to increase storage space. Later R107s (1996+) have digital climate controls, digital odometers, side airbags, rain sensing wipers, and standard Xenon headlamps.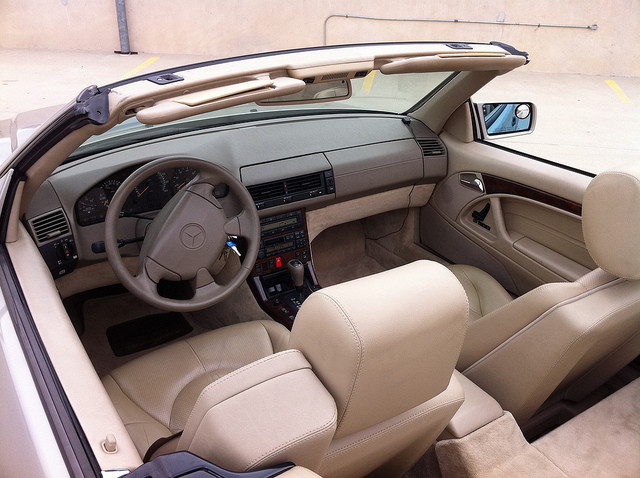 The factory cassette stereo looks like the basic Becker head units from years past except for the addition of Bose speakers, amps, and a subwoofer installed just behind the driver's seat. Bass is distributed throughout the cabin by a plastic tube designed to maximize audio performance when the top is open.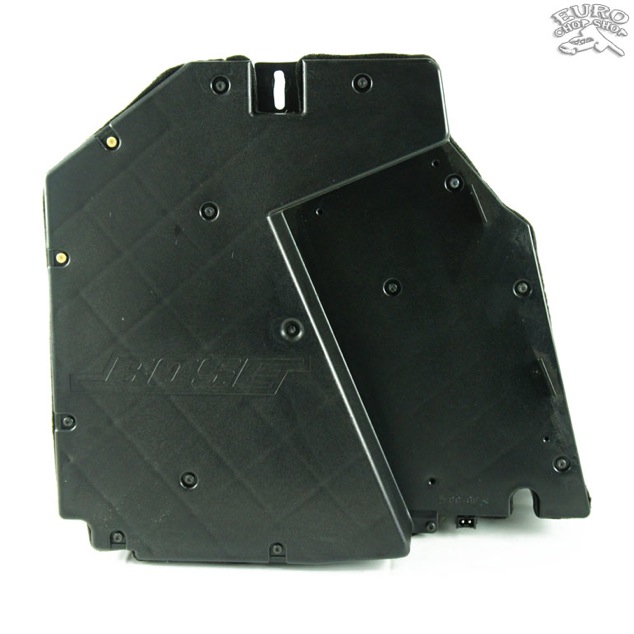 Audio reproduction is truly outstanding, providing, dare I say, magical levels of clarity, spaciousness, and accuracy for an automobile. The total absence of interior squeaks and rattles contributes to the Bose system's sense of aesthetic cleanliness.
That's the greatest amount of praise I've ever given to a car audio system, much less one bearing the infamous Bose name.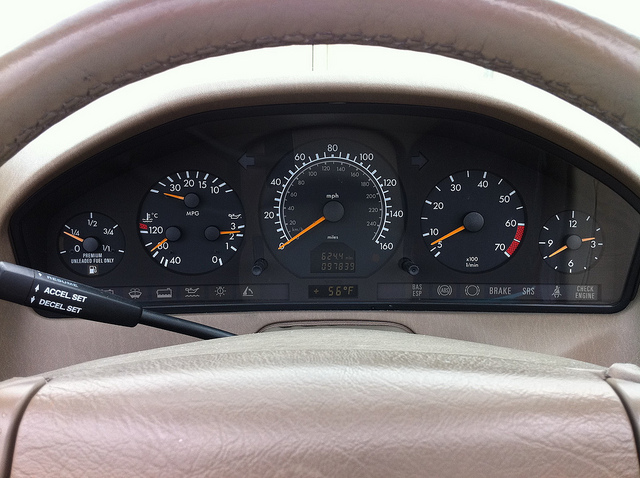 Plush carpeting rises up to the knee boards, adding a level of cushiness to a tightly assembled and well-padded interior. Everything inside is traditional Mercedes-Benz, right down to the antiquated stalk used for setting cruise control.
The fixed lumbar position is a bit too low for my back, but power-adjustable seating and tilt/telescoping steering make it easy enough to find a reasonably comfortable cruising position. Forward and backward seat travel is limited. To compensate, when you put the seat back down, the seat bottom automatically moves forward and vice versa.
Ingress and egress can be a bit of a challenge thanks to the low floor and long doors, but its worth enduring for the long, low look.
When I step out of this car I find myself turning my head, staring and adoring it for as long as possible as I walk away longingly. It's absolutely breathtaking.
THE ROOF
This SL was originally equipped with a panoramic roof (not pictured), an $8000 option according to the original window sticker. With the top closed, the all-glass roof turns the interior into a virtual aquarium, allowing sunlight to brighten the interior and create a sense of space in an otherwise intimate cabin.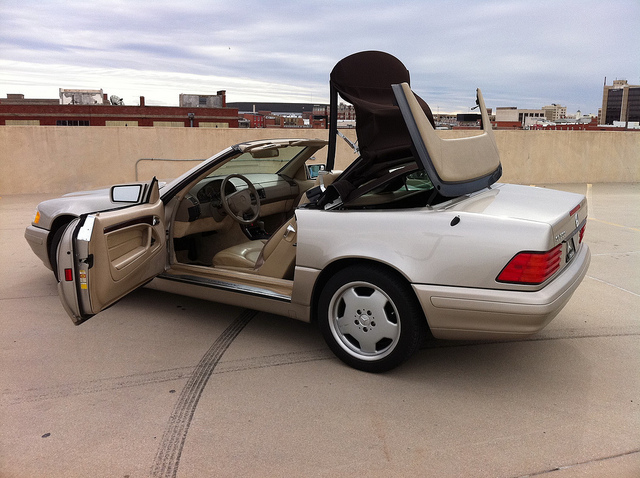 Unfortunately, installing or removing the glass roof requires the attention of two careful people. From inside the car, you pull a switch to release the latches. Then, you and another person lifts the roof and places it on a flimsy stand. (SL owners are presumed to have garages with additional storage space.) The motorized soft top can then be raised.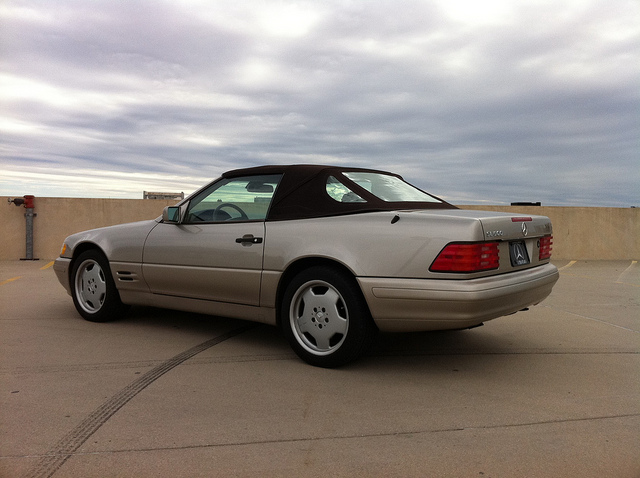 With the soft top up, the roof looks a bit awkward due to a three-piece vinyl rear window. Mercedes engineers chose this design for safety, to help eliminate rear blind spots that convertibles typically suffer from. The vinyl windows, unfortunately, are prone to cracks and creases over time.
A motorized reinforcement hoop swings up in the event of a rollover, or it can be manually raised.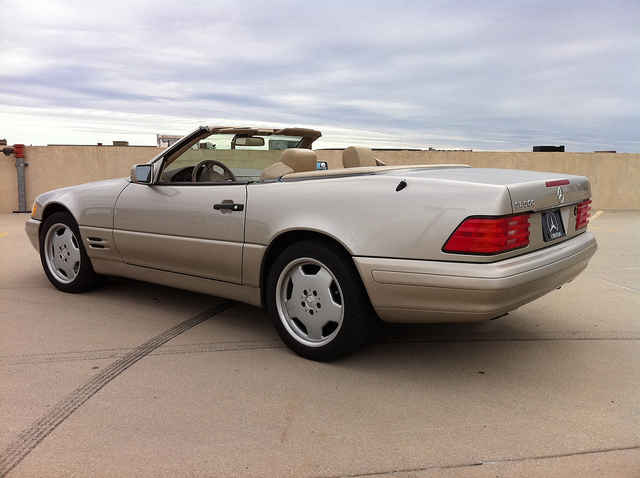 My advice: If you can't stomach the maintenance costs of an older SL, get a Camry. This isn't a car for $30k-millionaire posers. It's a luxury-performance vehicle and a significant piece of motoring history for those with the means to maintain them.
Here's some driving footage from a guy on Youtube:

Fast Tube by Casper
RATINGS:
Powertrain: 10/10 — Racy, responsive, and robust. The 5-speed automatic shifts promptly and undramatically while the M119 318hp V8 delivers gutsy and assertive mid-range to high-end power.
0-60 can be achieved in just under 6 seconds, crossing the quarter-mile in 14.3 seconds.
Braking: 8/10 — There's too much pedal travel before the brakes finally bite, and once they bite they can be slightly spongy. Stopping power, at least, is impressive.
Steering/Handling: 7/10 – On-center steering feel is a bit vague. The wheel seems large for a sporty car and the stalk-mounted cruise control functions are dated and awkward. Around corners, the SL is noticeably heavy but remains flat and level while offering plenty of grip. This car's primary role is high-speed cruising but when pushed it rewards the driver with surprising performance.
Audio/Accessories: 10/10 — The climate controls are a bit confusing at first. To activate the top-center vents you have to push the blue or red button for cold or hot air.
The Bose sound system is nothing short of incredible, producing crystal clear highs, a natural midrange, and tight bass that's balanced and powerful without being muddy or boomy.
Automatic headlights are strangely absent, but at least for this model year Xenons are standard.
Interior: 10/10 — Ergonomically, except for the cruise control stalk, the SL's interior follows tradition. Everything is logically and intelligently placed. Materials feel substantial and very expensive. The atmosphere is business-like with limited wood trim adorning the center stack. The rest is a mix of beige, dark grey, and taupe.
And then there's that wonderful smell found only in a Mercedes-Benz. It's a rich, expensive scent that goes straight to the pleasure center of your brain.
Comfort: 8.5/10 – Heavy side bolsters and adjustable lumbar support make long journeys easy. Automatic climate controls work exceptionally well with typical Honda logic and ergonomics. The lumbar position is a bit awkward as are ingress and egress.
The cabin is wide enough to avoid touching the person next to you and once seated, sight lines are wide and clear.
Quality/Reliability: 6/10 — Plastic tubes that feed oil to the top of the motor are prone to cracking and breaking after 10 years or 100,000 miles — a non-fatal but annoying issue that causes top-end ticking. Plastic timing chain guides can break, a rare problem that costs $2000-$3000 to repair. The 5-speed automatic is faultless except for speed sensor connectors that are prone to leaking. A bad AC evaporator requires the dashboard to be removed for replacement. Anything routine, like fans, water pumps, and other accessories can be quite expensive for anyone without the income to pay for repairs.
These are typically issues that come with warning lights and noises, unlikely to leave you stranded.
Build quality, however, is outstanding. The body, paint, and interiors will survive a tornado.
Overall Value: 9/10 — This is as close as you'll get to what the 1% drive without spending six figures.
VERDICT: If you have 10-15 grand to buy the car, be prepared to set aside at least 2 grand each year for repairs. This applies not only to the SL but to most luxury cars at the 100,000-mile point, even some Lexuses and Infinitis. Think carefully before buying one and set your expectations properly. Join a forum like BenzWorld and find a trustworthy local specialist.
If you're trying to decide between a used SL and a Kia Rio for daily transportation, I suggest getting the Kia. However, if you're a classic auto enthusiast with the stomach for high costs and an appreciation for design and engineering excellence, then strongly consider one.
When you want the absolute best, only the best will do.
Specifications at ConsumerGuide
Tri-Star Imports
16360 Truman Road
Ellisville, MO 63011
(636) 458-5222