Review: 2000 Chrysler Sebring Convertible
No other name in modern motoring says "total mediocrity" like Sebring. There was a time, however, when it wasn't the auto industry's prime example of corporate indifference.
Back in 1996, Chrysler took the Chrysler Cirrus "J" platform, beefed up the structure, chopped off the roof, and called it Sebring Convertible. The sleek-looking car that came of it result was surprisingly nice and they flew out of showrooms as quickly as the Toluca, Mexico plant could build them.
Compared to the boxy Lebaron it replaced, the Sebring was in an entirely different league of comfort, space, style, and dependability. The Chevy Camaro, BMW 3-series, and Ford Mustang were the Sebring's closest competitors, and while they offered greater performance, their back seats were hardly usable and depending on the configuration, they often cost more.
If you had a family of four and wanted to roll around in comfort, the Chrysler was your best option. Baby boomers gobbled them up like tech stocks.
They were a big deal in rental fleets too (and still are). Many spent their first few years serving tourists in Hawaii. A lot of second-hand Sebring owners have noticed red dirt on their undercarriages, a sign of Hawaiian ownership history. A family of four visiting the island could comfortably climb 5,000 feet to The Cloud Forest with a three-dimensional view of Kona's lush scenery. No one would have to pretzel themselves in back of a Mustang.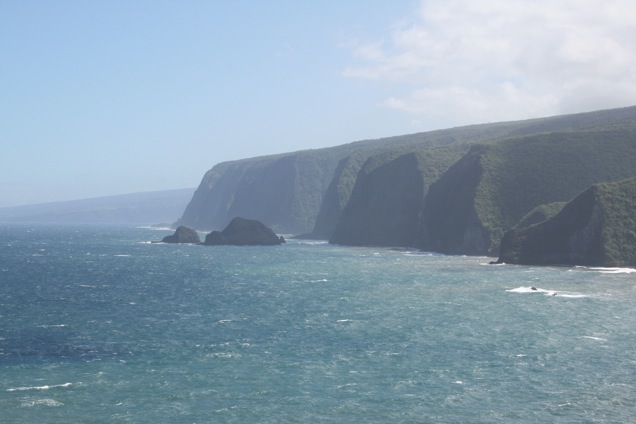 Unfortunately, as 2007 came around, Daimler-owned Chrysler churned out a hideous, ungainly lump of a successor that ruined any positive association Americans had with the Sebring name.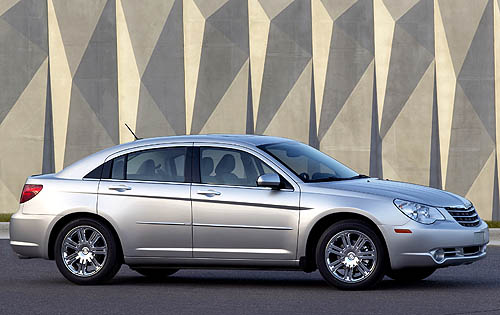 A sleek-looking cruiser in its hey day, the Sebring devolved into Chrysler's equivalent of the Chevy Celebrity. That's not to say that the final-generation Sebring was an awful car; it was merely the least impressive car in its class in every measurable way, and by far the ugliest. It is the epitome of mediocrity, a car that ruined a once-acceptable badge.
It's now impossible to say "I drive a Sebring" with any level of pride as you find yourself having to explain "No no, it isn't the recent one, its the old one, remember? The one that was still good looking."
If you have to explain what you drive it kills some of the appeal, unless you're Michael Scott: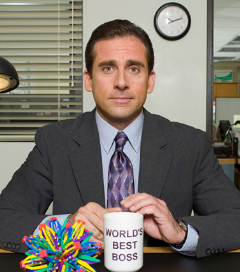 Otherwise, if you can put up with the image problem, you'll find that the 1996-2000 convertibles are unexpectedly nice for how little they cost to buy and maintain.
I got a chance to drive one late last year.
In November of 2011, I drove across the country and ended up visiting my friend Gary in Portland, Oregon. On Facebook, Brandon reminded me that he lived nearby in Ellensburg, Washington which was on my way to Spokane, so I took a detour through Yakima and headed over.
I knew Brandon from the Cadillac Owners forum. He owned a late-90s Deville that suffered a catastrophic Northstar V8 head gasket failure and ended up with the Sebring as its replacement. It was nearly a decade since I had driven one, so I was looking forward to meeting him and his new used car.
By the time I reached his beautiful house and met his family, it was late and we were starving, so we swapped keys and headed into town for burgers. Brandon suggested a place near Central Washington University (his school) called Campus Burger, a classic greasy spoon with a creative selection of burgers, fries, and shakes.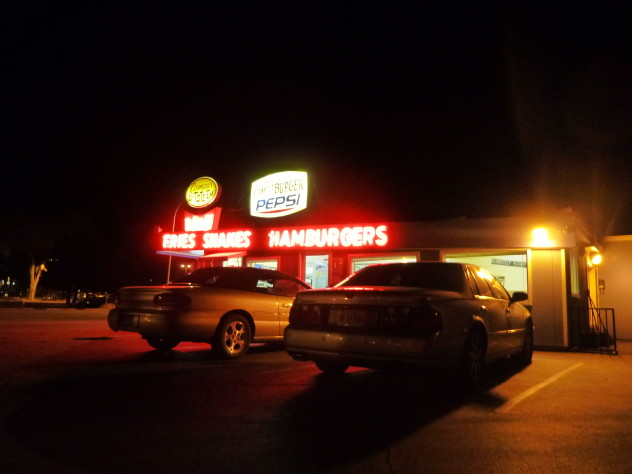 Parked on the left is his 2000 Sebring and on the right is my 2001 Seville. After they closed they were generous enough to turn their signs back on for us to take this photo.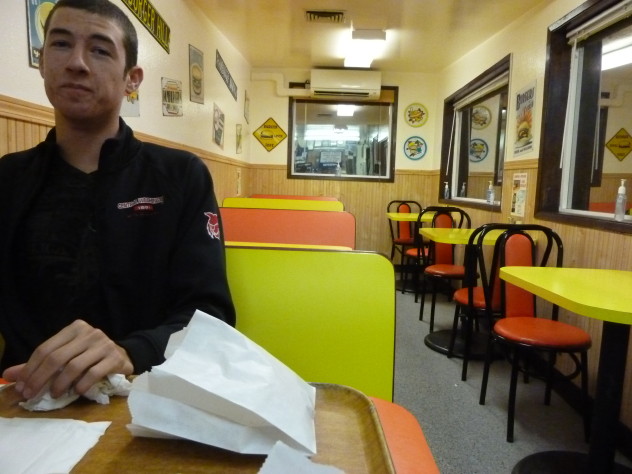 The three of us talked about cars, school, and life, but my hunger-driven mind was mostly interested in the food.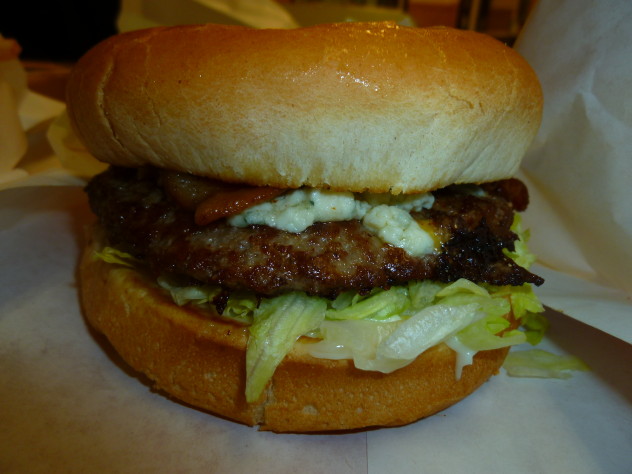 I ordered a burger with crumbles of bleu cheese and a side of fries. It wasn't on the level of In and Out, but it got the job done for cheap and the service was excellent. Few foods can satisfy eager, base-level hunger like a cheeseburger.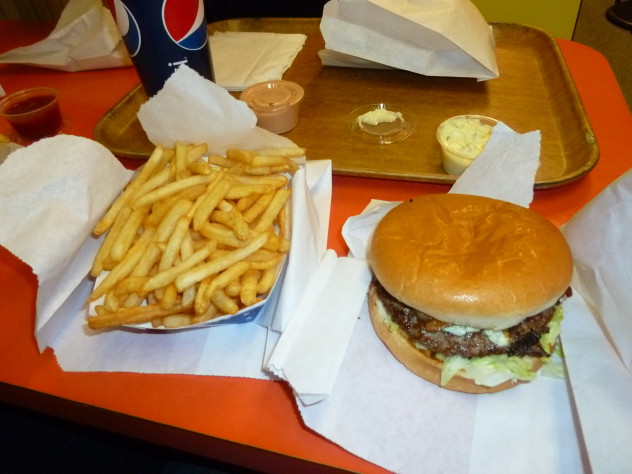 You see that white tub of goo to the upper right? People up in the Pacific Northwest like to dip their fries in tartar sauce, which is kind of like a mix of relish and mayo. It tastes better than you're imagining. Trust me.
After we ate we took a look at each other's cars.
It had been a decade since I had driven a first-generation Sebring and I wasn't expecting much, but after having owned a couple convertibles I came away impressed with its structural rigidity and the overall feeling of solidity. Building a topless car out of a midsize platform is a design challenge, one that often results in a wobbly, rickety structure that makes the whole car feel like jello.
Instead, it glides over bumps and around corners without sounding like a pile of creaky doors as larger convertibles tend to do. For reference, at 192.5 inches the Sebring is about as long from bumper to bumper as a 1994 E32 BMW 7-series. That's a lot of car to keep rigid without a roof, impressive engineering on Chrysler's part.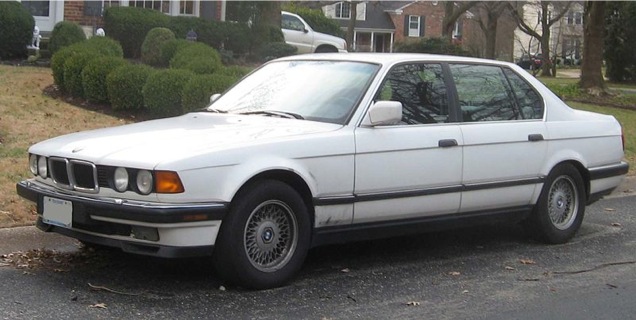 All of those structural enhancements unfortunately drive the curb weight up to 3500lbs, 300lbs more than the Cirrus sedan that the convertible is loosely based on. And being heavier is also a detriment to handling and fuel economy. Expect 17/26 mpg with 18-19 mpg combined in real world driving on regular unleaded gasoline.
And really, with a car like this, who cares about handling? Driving quickly only makes it harder for you to be seen.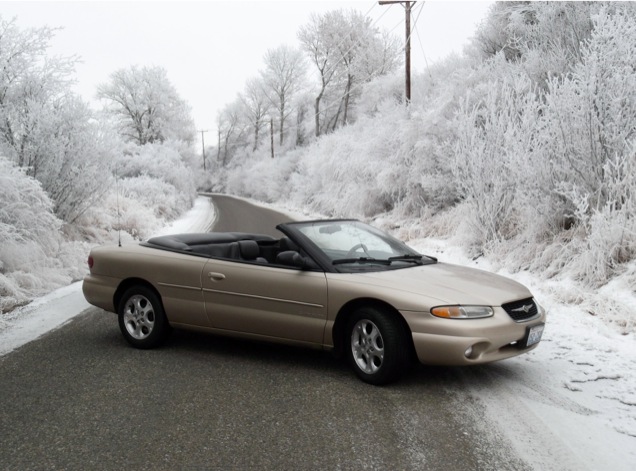 As a relaxed boulevard cruiser, the Sebring is exceedingly competent. In the 1990s you saw them being driven in parades with the mayor, a beauty queen, or a high school football champ riding on top of the rear decklid at 5 mph, waving and smiling.
The suspension is quite forgiving and the steering is light, following the tradition of large American convertibles. This isn't a roadster like the Mazda Miata or BMW Z3 and despite its Camaro-inspired styling, this isn't a muscle car either. With only 170hp available from it's 2.5-liter Mitsubishi V6, the Sebring's primary function is laid back 30-60 mph cruising, at which it excels.
There's a low, wheezy engine moan under heavy acceleration, like it's unhappy about being told what to do, but there's enough low-end torque to make routine driving easy. From the ground up, it was designed to be a convertible with a unique body, structure, and interior but the engine seems like it was chosen for cost reasons. Inexpensive cars always come with compromises.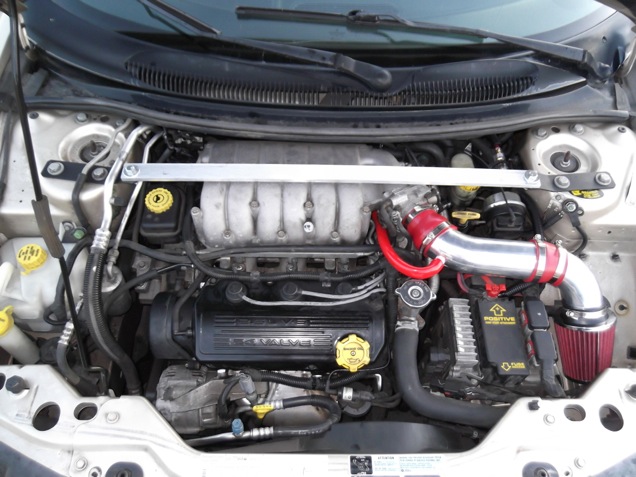 Remember to be patient since 10 seconds are required to reach 60 mph.
The transmission doesn't contribute to any degree of sportiness as shifts tend to happen at their own unhurried pace, though the Autostick manual shifting feature grants a little bit of added control. In normal driving its just fine.
Braking is competent but nothing spectacular with discs in the front, drums in the rear, and ABS.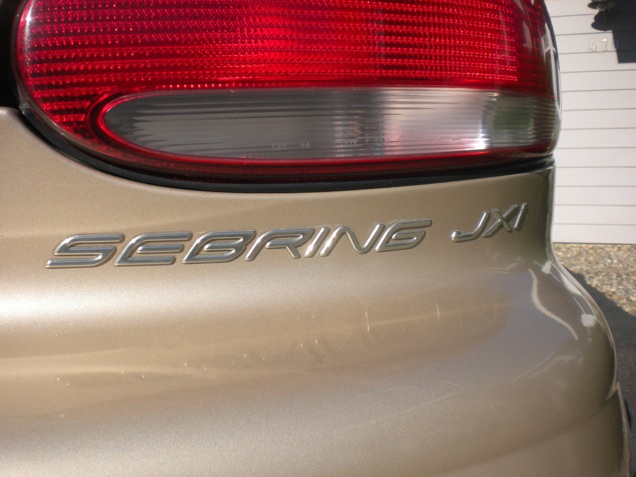 The JXI trim level comes with leather, Homelink, an Infinity stereo (with enough power to enjoy at highway speeds), and standard ABS. The Limited includes gold wheels, art deco gauges, and black leather seats with tan inserts.
The most important feature, of course, is the convertible top.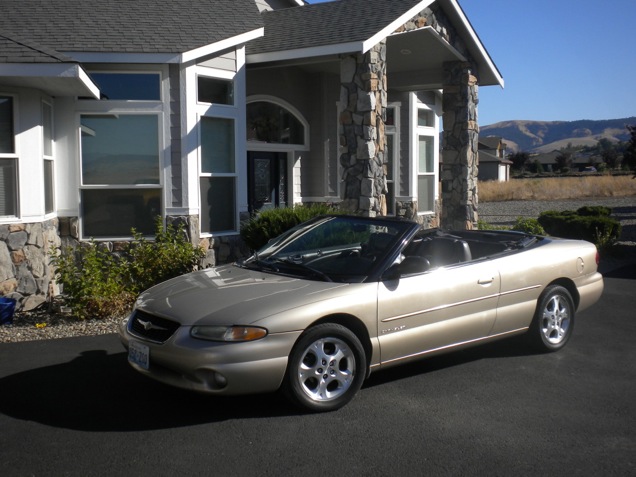 You undo two latches at each end of the header panel and hit a switch in the center console. In less than 30 seconds the whole top is stowed away. The Sebring comes with a vinyl tonneau cover to protect the folded top from wind and debris, not needed for short drives but a good idea if you're going to be doing highway speeds for a couple hours.
Unlike old Jaguars, you don't have to attach two dozen fasteners. It simply tucks into place (one person can do it) and has two velcro attachments on each end. Aerodynamics keep the cover from flying away so the faster you go, the better the tonneau cover stays in place — a clever design.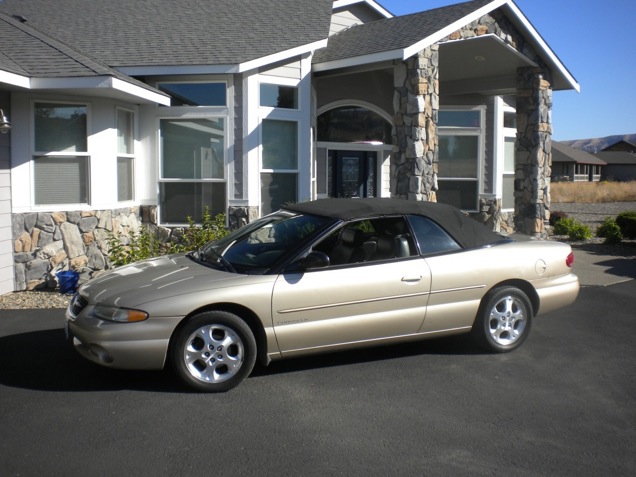 The seat belts are anchored to the seatbacks rather than the B-pillar, so getting in and out of the rear doesn't require ducking your head under the belt — another smart touch.
With the double-insulated top closed, the fabric roof is taut and secure — no flapping around, no whistling sounds, no signs of cost-cutting. I might argue that with a comfort-oriented convertible, the quality of the top is more important than engine output. As a result, the Sebring's driving experience is no different from a standard midsize sedan with reasonable sturdiness, civility, and unexpectedly low noise levels.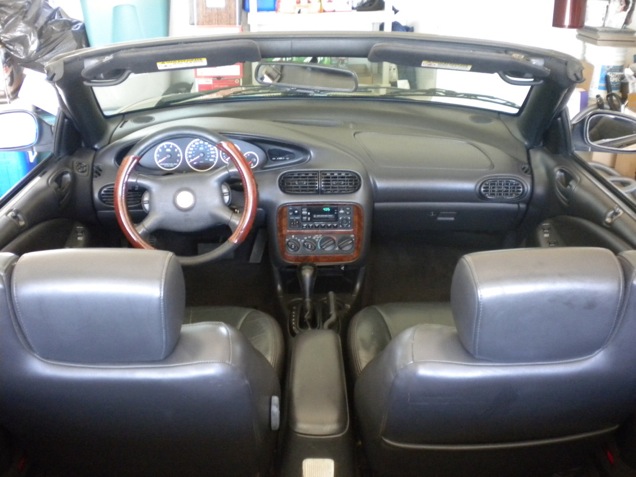 The rest of the interior is what you'd expect from its price class. The leather upholstery is a far cry from the thick hides used in Cadillacs and BMWs. However, with minimal care it should last; a coat of Lexol once in a while goes a long way.
The gauges, vents, door panels, and switchgear are all typical 90s Chrysler so you get some swoopy shapes and smart ergonomics but the larger plastic surfaces are hard and hollow. It's a full step up from the Camaro but about on par with the Mustang.
The information center to the right of the gauge cluster is a nice touch, displaying trip info and fuel economy. You might notice that the door lock switches are mounted far forward on the door. This makes them easier to reach and facilitates the smug over-the-door arm dangle that we convertible owners are known for.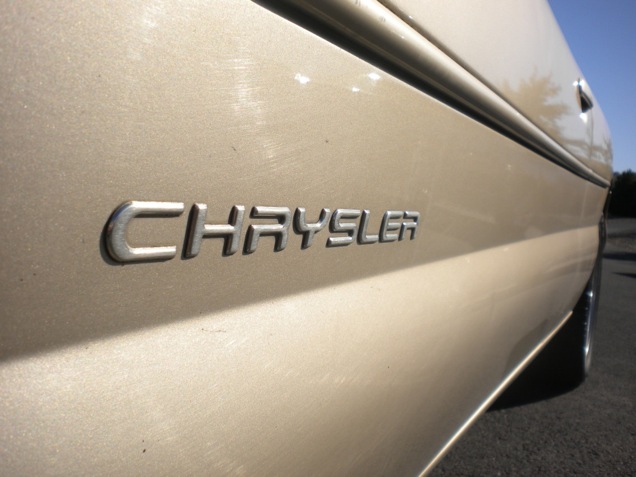 Unfortunately, with a lot of older Chryslers, there's the question of reliability. The second-generation Sebring adopted the 2.7-liter V6 from the Intrepid, an engine with significant timing chain and oil sludge issues. Fortunately, first-generation (1996-2000) Sebring convertibles with 2.5 liter engines are known to be reasonably dependable.
As long as the transmission cooler lines don't rust or leak (check periodically) and you replace the water pump and timing belt every 100,000 miles as required by the owners manual, Sebring convertibles are typically trouble-free. Brandon's only expenditures so far have been the valve cover gaskets and a transmission solenoid pack, a total of only $400 with labor. If you buy one used, sniff the tranny fluid for signs of wear.
In all, its a thoughtfully designed car that does little wrong and a few things right.
———————————————
RATINGS:
Ride: 8/10 — The ride is on par with most midsize sedans, with comfort and softness in mind.
Style: 9/10 — The cab-forward look pushes the windshield too far forward and shortens the hood, but the curves and lines are clean, balanced, and have worn very well with time.
Powertrain: 4.9/10 — The engine is wheezy and loud. The transmission is just sort of there, running through the cogs indifferently.
Braking: 6.8/10 — Gets the job done. Unremarkable in any good or bad way.
Steering/Handling: 6.5/10 – The emphasis here is on comfort. Steering is light and easy. Not exceptionally sophisticated in any way.
Audio/Accessories: 8/10 — This particular car has an aftermarket amp and a sub, but I've heard the original Infinity sound system when the Sebring was brand new. While it isn't exactly concert-quality there's enough power to enjoy it at highway speeds. The power top is well designed, made of long-lasting fabric that stays taut over the expansive cabin.
Interior: 6/10 — The fake wood is fake-looking and the plastics are hard. However, the switchgear feels solid and everything is laid out intelligently. The Limited trim spruces things up a bit but overall, its just another 1990s Chrysler interior. Cheap but functional.
Comfort: 9/10 – The front seats are pleasingly wide and the rear seats are unusually spacious. Six-footers enjoy plenty of leg and head room with the top closed.
Quality/Reliability: 6/10 — Credit goes to Mitsubishi for the V6's longevity. Body integrity is excellent with few examples of rusted Sebrings on the road, and the tops seem to last quite a long time. Many 41TE transmission failures have been attributed to owners flushing or topping off with Dexron rather than using the approved Chrysler fluid. DO NOT USE THE WRONG FLUID OR YOU WILL DESTROY THE TRANSMISSION. Still, some transmissions simply die from clutch wear, especially in hilly regions. There are a surprising number of quarter million mile examples on the road, as well as several that have suffered early transmission deaths for no explicable reason.
Overall Value: 7/10 — Compared to four-seaters like the Camaro, Firebird, and Mustang, you get adult-sized rear space, greater comfort, sleeker styling, snow prowess, and additional cargo room. You give up a lot in performance and handling though.
VERDICT: If you've got a budget of 2-4 grand and want to be comfortable while looking expensive, this is a favorable choice. It would make a good road trip car.
———————————————
SPECIFICATIONS:
Original MSRP: $25,000
6G73 Mitsubishi SOHC 2.5L V6, 170 horsepower
41TE Chrysler 4-speed automatic with Autostick
18/27 mpg
3500 lbs
Front disc/Rear drum brakes with ABS (standard on JXI)
Wishbone front and rear suspension
192.6 inch length
106 inch wheelbase
70.1 inch width
54.8 inch height
Power folding fabric roof with slip-in vinyl tonneau cover
.36 coefficient of drag