Anna Faris and her FJ Cruiser
You know Anna Faris from roles in films like Scary Movie and House Bunny, and television programs like Friends, King of the Hill, and Entourage. She pushes the envelope of comedy by blending filthy slapstick with girl-next-door approachability. This mix of affability and talent placed her on Maxim's Hot 100 list in 2004, 2009, and 2010 and earned comparisons to Lucille Ball.
Honestly, I'm at a loss for what else to write about her. I admit, I'm only putting this article together as an excuse to look at pictures of her under the guise of productivity. Can you blame me?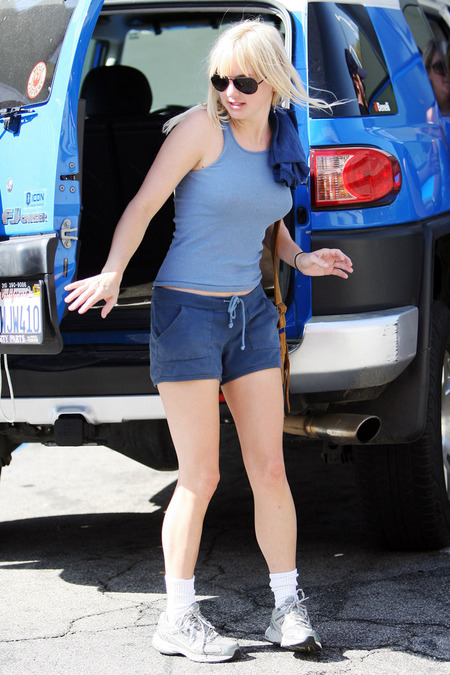 Her vehicle of choice, the Toyota FJ Cruiser, combines practicality and capability with a bubbly retro look. The FJ Cruiser hit the market at an unfortunate time. Just a year after its appearance in 2007, gas prices soared to $4/gallon, putting a dent in the sales of focused off-road vehicles like the Jeep Wrangler, Nissan XTerra, and Hummer H3. The fuel crisis put and end to the entire Hummer brand.
The legendary Land Cruiser lends the FJ its suspension components as well as its global 4.0L 236hp/266lb-ft V6. To further satisfy purists, the FJ Cruiser is by every measure a real truck, built in Japan with durable body on frame construction and the ability to tow 5000lbs.
Automatic 4×4 FJs will see 21mpg on the highway, slightly better than the Wrangler Unlimited at 19mpg.
The FJ comes dressed in bright primary colors including Jeep-inspired bright blue and sunshine yellow with a retro-styled white roof that pays homage to the classic FJ40. Supposedly, the white roof on the original FJ kept them cooler; they did not have air conditioning. The FJ Cruiser's eye-popping looks come with a major downside: terrible visibility. The C-pillar is big enough to cause a solar eclipse, and trying to park or change lanes is like driving with a blindfold on. The sharp-looking suicide doors are unfortunately too small to be useful.
Despite the FJ's advantages on paper, especially in terms of price, power output, and fuel economy, the Wrangler Unlimited seems preferred among off-road enthusiasts for its maneuverability and tighter dimensions.
US sales peaked in 2007 at 55,000 units and slowed to a trickle with 11,000 in 2009. This caused widespread rumors of the FJ Cruiser's discontinuation two years ago, with Toyota coming out and flatly denying it, explaining that the truck was intended as a specialty vehicle for a specific demographic, not the mainstream. Oil prices are on the rise again, and rumors of the FJ's demise are once again in circulation.
Fortunately, Anna Faris will be around for a long, long time. She's in a new movie, something about the 1980s, shoulder pads, and Topher Grace:

Fast Tube by Casper