Review: 2009 Cadillac CTS
This review was originally written in 2009 and posted at NICOClub.com and CadillacOwners.com.
Gary Hebding Jr took some of the beautiful outdoor photos.
———————————————
I went back and forth with the lady at the Budget/Avis counter, going through a list of luxury cars including an Infiniti M35. I told her, "If I'm going to pay extra, it needs to be a Cadillac." I asked for an STS, but found one CTS available. We agreed upon $99 for the weekend upgrade, in addition to the $158 I already paid online for a Grand Cherokee, for a total of $258.
First impression: BEAUTIFUL
Second impression: Look at the stitching on the dash!
Highs: APPEARANCE, handling, acceleration, braking
Lows: Ergonomics
STYLING: 5/5 – It looks perfect. Despite being a tall and short car, there are enough parallel character lines to make it look reasonably low. The sharply creased edges and decorative LED lights give the CTS an assertive look. Its a bit softer around the wheels, making the 2008+ model look much more upscale than the 03-07. This beautiful shade of paint is called "Blackberry."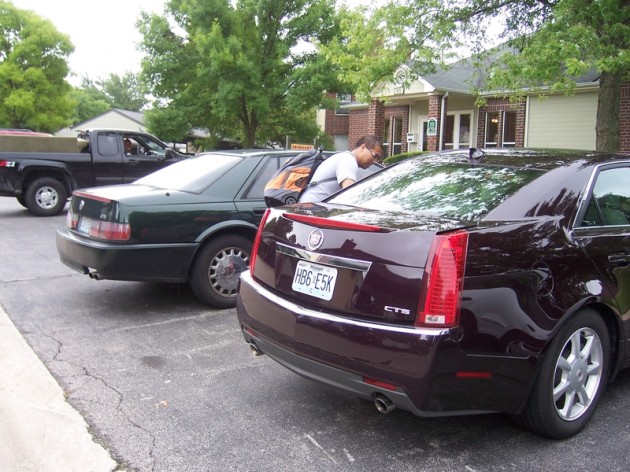 This picture was taken after picking it up from the airport, parked next to my 1992 Seville STS. The center high mounted stop light doubles as a delicately shaped spoiler, tastefully giving an end point to the trunk lid.
The tail lights meet the c-pillar with a straight intersecting horizontal line, directly inspired by the 1992 Eldorado.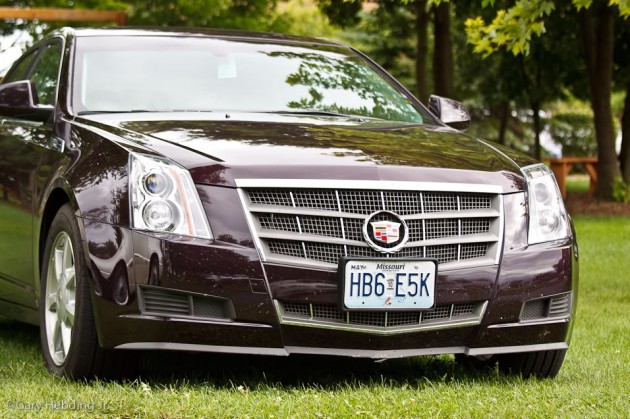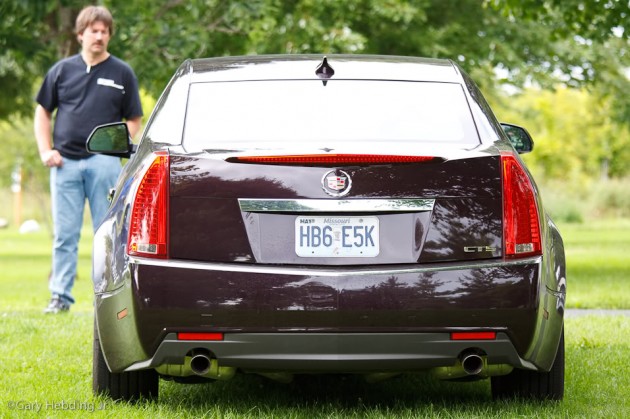 Parked at Volo Auto Museum in Illinois.
The front and rear light clusters have vertical piping that simulates a neon tube.
INTERIOR: 3/5 – One huge flaw ruins the interior, and that's the seating position. I have a long torso and short legs like Hank Hill. Combined, I stand at an average 5'9″ height. Unfortunately, the left side of the center console intrudes into my knee space and the dead pedal is unnaturally far away. As a result, my left lower back was sore after a few hours.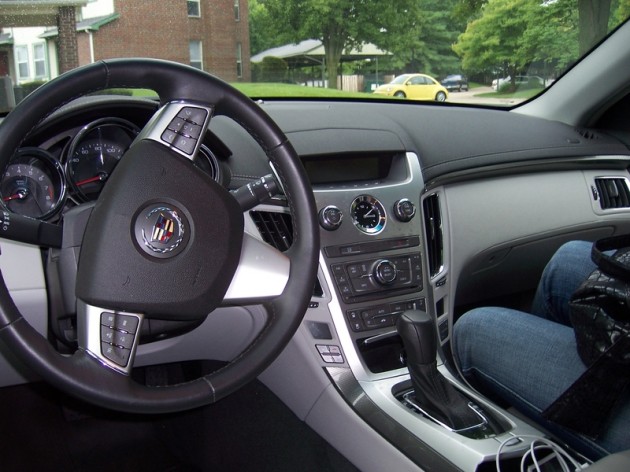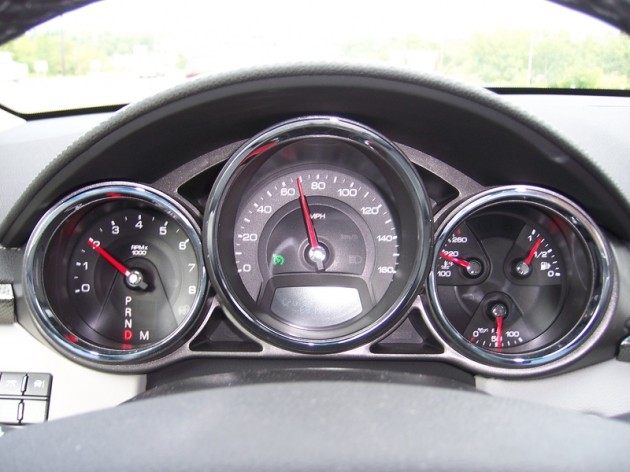 The gauges were attractive and clear but nothing really special. The deeply recessed needles made it look as if the needles were "live" and not covered by a plastic window. Otherwise, with the blue dials and red needles, they look like something out of an Acura. I prefer the bright three-dimensional optitron gauges in the 1998-2004 Seville, but this is still pleasant.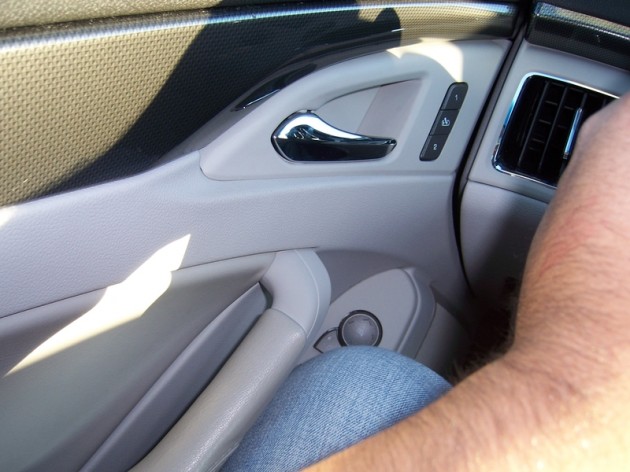 This door handle/arm rest is poorly designed. They put a nice piece of leather on top of the handle and on the door insert but failed to extend it all the way to the top of the pull handle. As a result, it looks tacked on and cheap.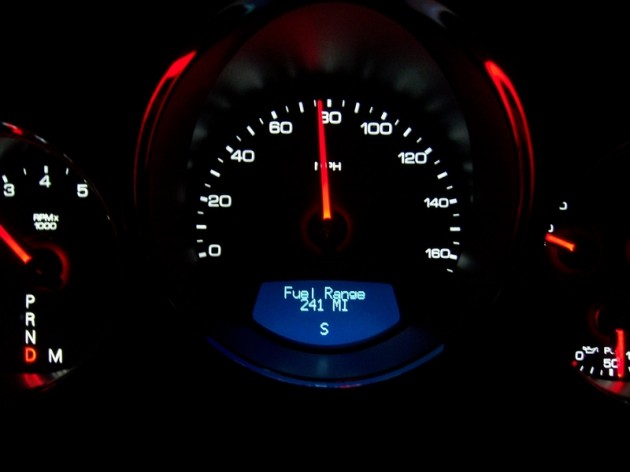 While a bit plain, the gauges were soothing at night. The best lighting trick, other than the piping on the head and tail lights, is the strip of LED lighting across the dashboard and in the front and rear door handles. It gives the interior an upscale night club feel.
BRAKING: 4.5/5 – Lots of feedback and smooth modulation. It's 90% as sharp as a BMW 5-series. It needs just a little bit more feedback to hit 100%.
I braked pretty hard on I-90 in Chicago as I approached heavy traffic and felt quite confident in coming to an abrupt and complete stop. A small SUV came up behind me, squealing and squirming as he came to a halt. Fortunately, a gap opened up in front and I hit the gas before he was able to destroy my luggage and kill my rear passengers.
SUSPENSION: 5/5 – No complaints at all. It felt buttoned down and firm in aggressive maneuvers but very comfortable over poorly maintained Chicago streets. Cadillac achieved that German "magic carpet" ride quality where you can still feel the road and have a control, but you aren't bothered by vibrations.
STEERING/HANDLING: 4/5 – I never thought about the steering system until now, which means it performed its job admirably. More feedback would have been nice.
Cornering was impressive. Once I got rid of my passengers, the CTS came alive. I had trouble finding the Avis rental return lot, so I found myself scooting around narrow streets and flying up and down small hills near the airport. There's more body roll than the BMW 3-series, but not enough to kill the fun. This could, if I was able to get comfortable, be the ultimate everyday commuter car.
The FE3 performance package (not equipped with this car) is supposed to stiffen the suspension and improve steering response and feedback.
COMFORT/CLIMATE: 2/5 – As mentioned above, I couldn't find a comfortable driving position. If I wanted room for my right knee, my left foot was too far from the dead pedal. If I was close enough to reach the dead pedal, my right knee was touching the dash and hitting the keys. Quite a nuisance, and uncharacteristic for a Cadillac.
The climate controls worked well but the temperature control and display were down by my knee, annoyingly requiring me to take my eyes off the road.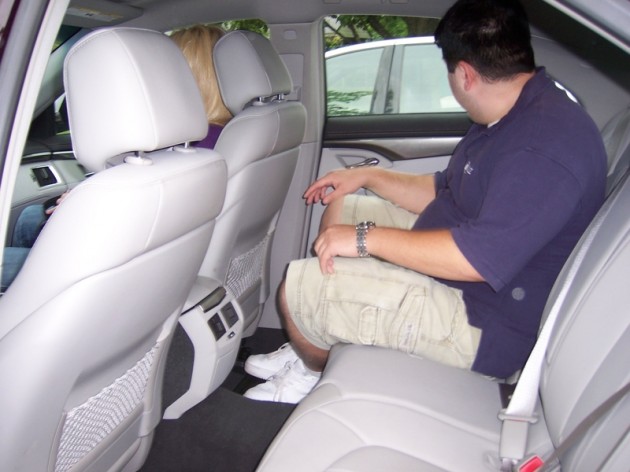 Rear passengers had sufficient leg room but the c-pillar made it awkward to rest your head on the door.
ACCELERATION/ENGINE/TRANSMISSION: 4/5 – My rental car came with the base 258hp V6 and I could easily see how the 304hp direct-injected engine would be ideal. Without passengers and cargo, acceleration was swift and shifts were immediate.
Unfortunately, with a weekend of luggage and four people (two fat ones), the transmission became sluggish and slow to shift. It never felt slow or underpowered with all that human weight, but I felt like I had to wait too long to shift down and pass. The manual shift mode didn't make it any quicker.
AUDIO/ELECTRONICS: 3/5 – Everything functioned well but certain features were poorly designed. This was a base model with some kind of Bose-branded audio system and a live XM and Onstar subscription.
I called OnStar. It worked. (What else is there to say?)
XM sounded horrible. I can't fault GM for this one since SiriusXM aggressively compresses audio on most music channels to make room for sports and talk channels.
Other audio functions were reasonably clear but in all, the system was a pile of bass (though deep and powerful) with mids and highs as a complete afterthought. Considering how difficult it might be to replace the OEM system, I hoped for better. The 2007 DTS I rented two years ago with the base stereo sounded perfect, so there must have been changes in suppliers and designs. The DTS is a more expensive vehicle, so I suppose that factors into it.
The control panel for the onboard computer was placed to the left of the steering wheel on the dashboard with tiny, vaguely defined buttons. I'm a tech guy and it still took me a few minutes to figure it out.
The rest of the audio controls are crammed together in a single panel with a knob in the center. None of the buttons feel any different from one another, requiring the driver to take his eyes off the road.
The rainsense feature was the most pleasant surprise. I tried it before in my BMW 3-series convertible and it was a complete joke, almost dangerously unusable. In the CTS, I never had to mess with it once it was set. A knob allows sensitivity adjustment, but it was otherwise its a true luxury feature, not a gimmick — set it and forget it. In both drizzles and downpours it worked perfectly, never drawing attention to itself. That's the way luxury should be.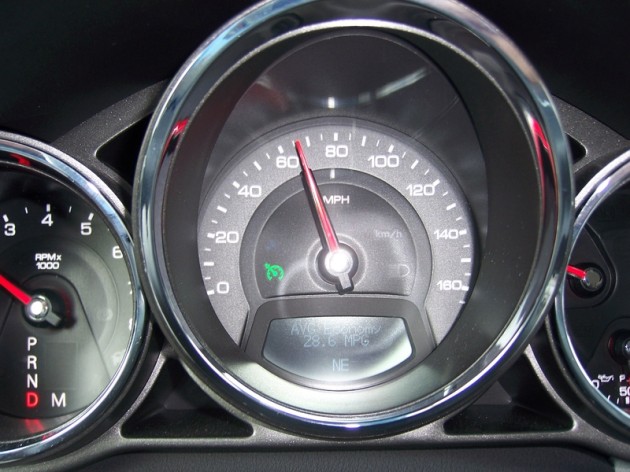 Fuel economy was impressive! [28.6 mpg at 70mph] Nothing on the fuel cap or fuel gauge indicated that premium was required. An owners manual was not in the glove box.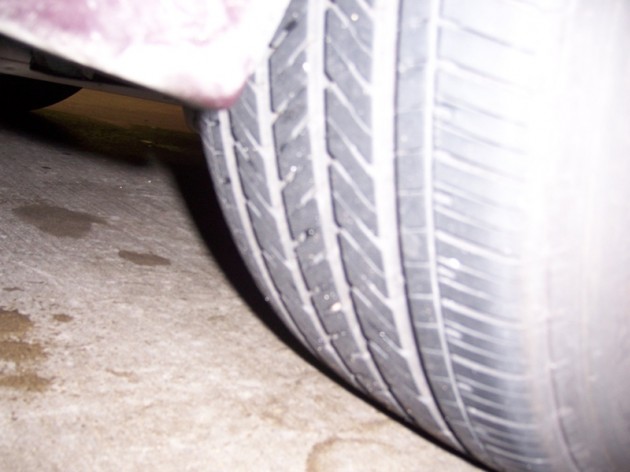 At just under 9,000 miles, the Michelin tires were very worn. That could be a cause for concern.
OVERALL: 4/5 – I'd suggest it to anyone with long legs. I'm almost angry that I couldn't fit because otherwise, this is a nearly perfect everyday car. For my money and for the kinds of long-distance drives that I tend to do, I prefer the larger (but more expensive) DTS.
I'd also like to give a 5/5 to Budget/Avis for their great rates and excellent service.
———————————————
SPECIFICATIONS:
Original MSRP: $37,080
0-60 time: Under 7 seconds
Curb weight: 3872 lbs
3.6L 258 hp DOHC V6
6-speed 6L90 automatic transmission
Front-engine, rear-wheel drive
GM Sigma II architecture shared with the CTS-V
Built in Lansing, Michigan
Wheelbase: 113.4″
Length: 191.6″
Width: 72.5″
Height: 58″