Review: 2011 Kia Optima SX Turbo
Back in 2007 I rented a Kia Optima from an Enterprise counter in Tampa: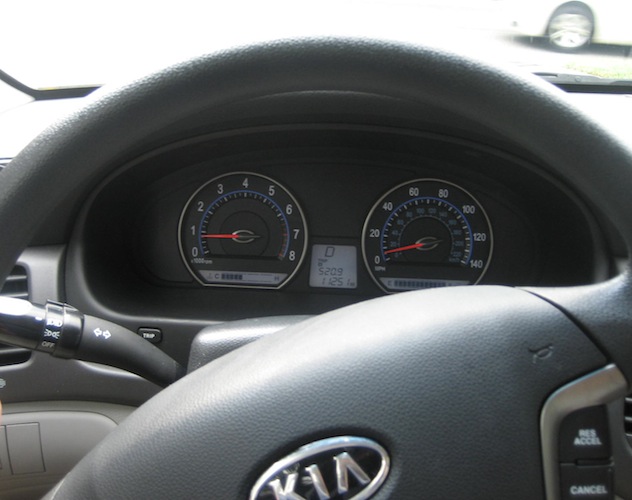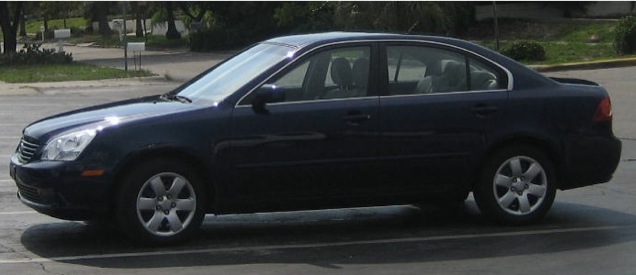 Driving it was like putting a fistful of crackers in your mouth and trying to eat them all at once: tasteless, dry, and bland, leaving you begging for water.
What a difference four years makes.

The new 2011 Optima was designed by Peter Schreyer, the man behind the Audi TT, A3, A4, A6, and Volkswagen New Beetle. Styling was always a weak point for Korean automakers, and hiring Schreyer away from the Volkswagen/Audi group was quite a coup, as significant as the new 274-hp Theta II turbocharged engine powering the Optima.
The Optima I drove belongs to my friend Josh who traded in his Mazda Protege 5 and assumed a new lease. The pictures I took, unfortunately, are at night, so here's a picture from the internet of an identical Optima photographed in the daylight: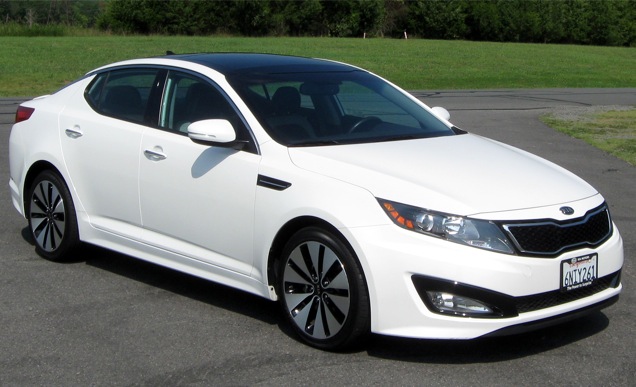 You can clearly see the Schreyer/Audi influence in the headlights, proportions, and side profile. For an entry-luxury car that's a few coins over $30,000 with every option, it looks like it ought to be $55,000 or more.
WALKAROUND
The first thing I noticed when opening the driver's door were the lighted sill plates, a nice touch often reserved for cars twice as expensive.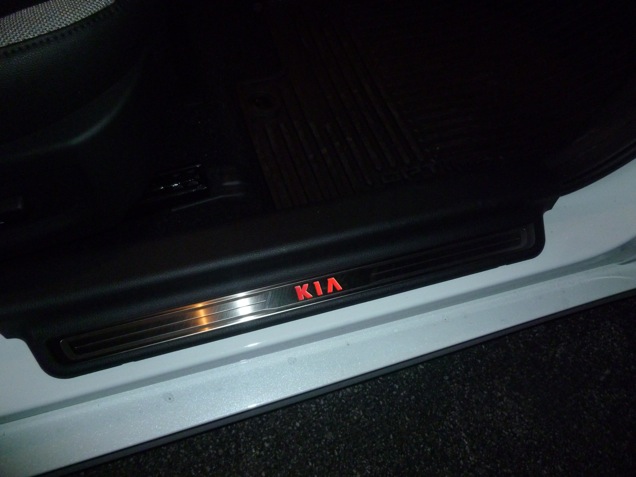 Illuminating the Kia logo in bright red is a bold move, one suggesting that Korean car owners are free to be proud of their purchases. No longer is the average Kia owner a meth addict with a 200-point credit score. Average transaction prices are higher and the typical Kia customer is wealthier and more educated than before, stealing several thousand sales from Toyota and Honda.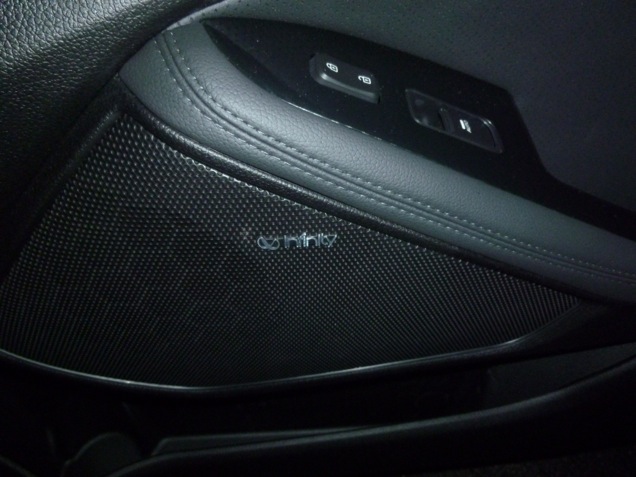 Infinity audio was once exclusive to well-optioned versions of Chryslers, Dodges, and Jeeps. The system in the Optima is commendably powerful but lacks a bit in brightness and details. Dare I say… it could use a little sparkle. For most people, it's good enough to leave as-is.
Notice the real stitching on the door pull that wraps around the power window and door lock switches. In the Chevy Malibu, this stitching is fake.
The controls wrap around the driver and the steering wheel is thick with buttons and switches for audio, telephony, cruise control, and information displays. Some Optimas have push-button start.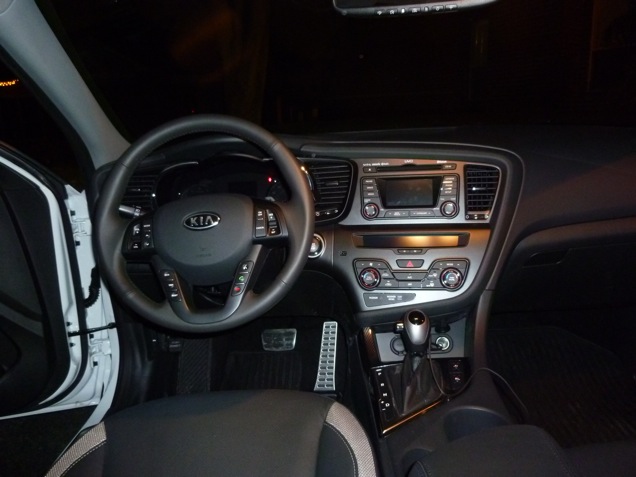 The piece that wraps around the top, right, and bottom of the center stack is covered in real stitched material, making the cabin look quite a bit more expensive.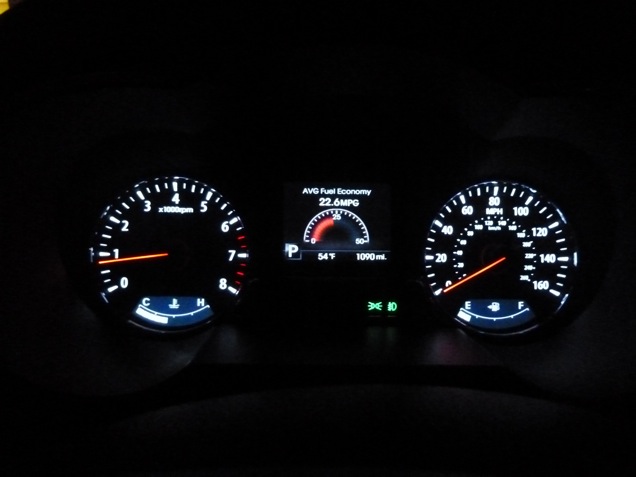 At startup, the LCD screen in the gauge cluster shows a greeting animation. Cycling through the menus brings up fuel data, maintenance reminders, and trip information.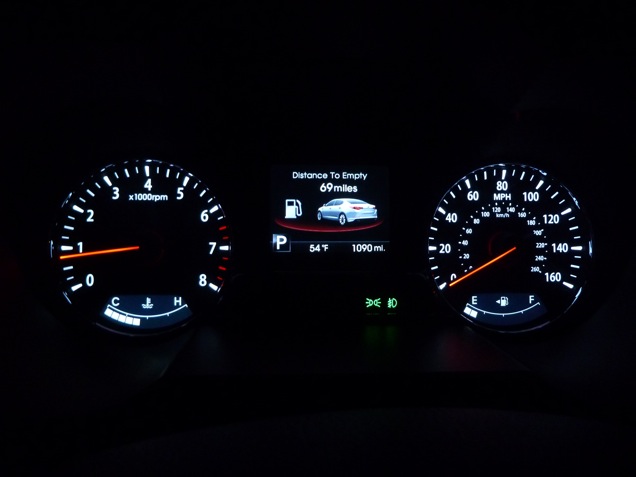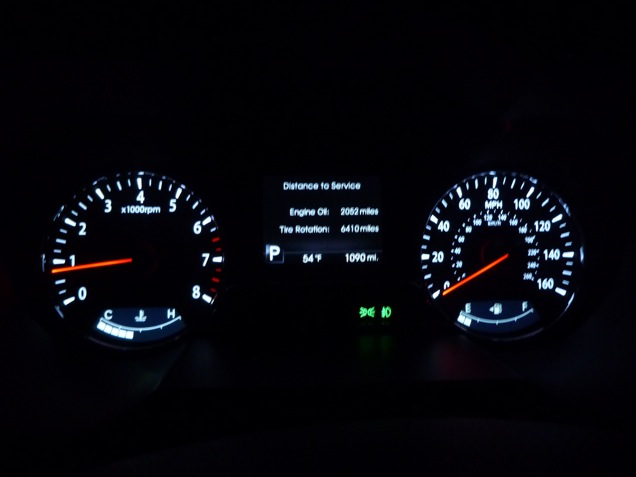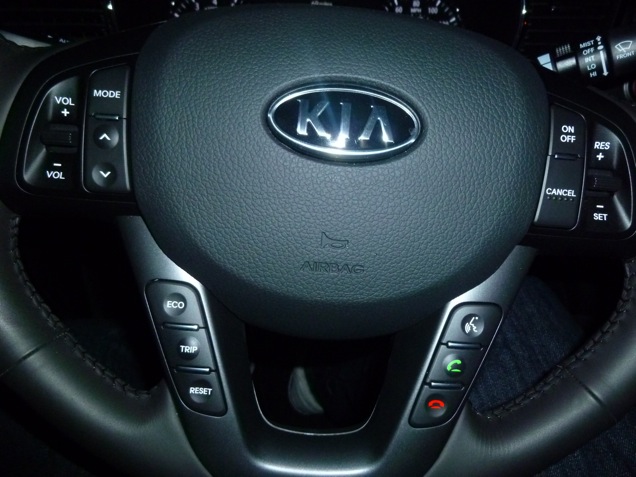 Here's a closer look at the steering wheel.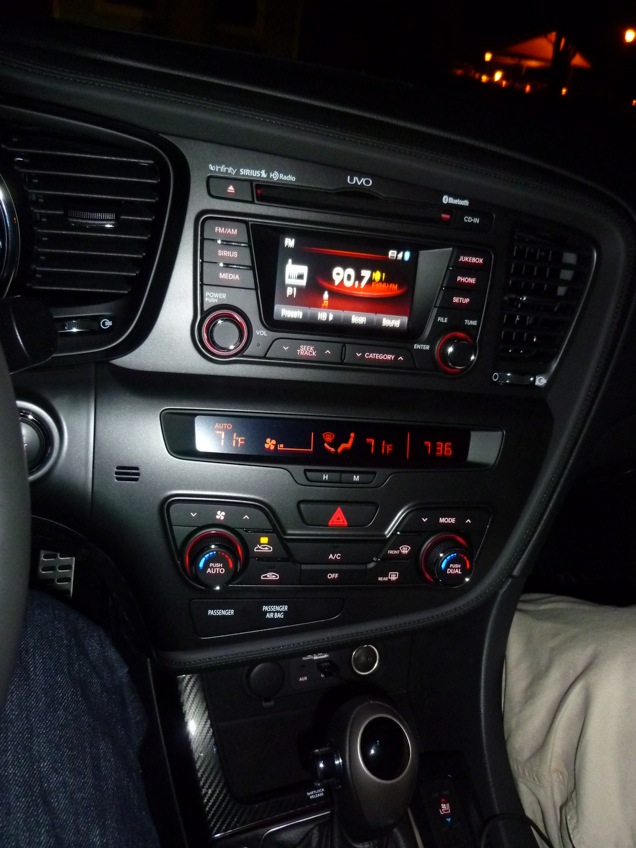 Like Audi, the knobs, buttons, and displays light up bright red. A hard drive allows music to be stored onboard. The only option absent from this car was navigation.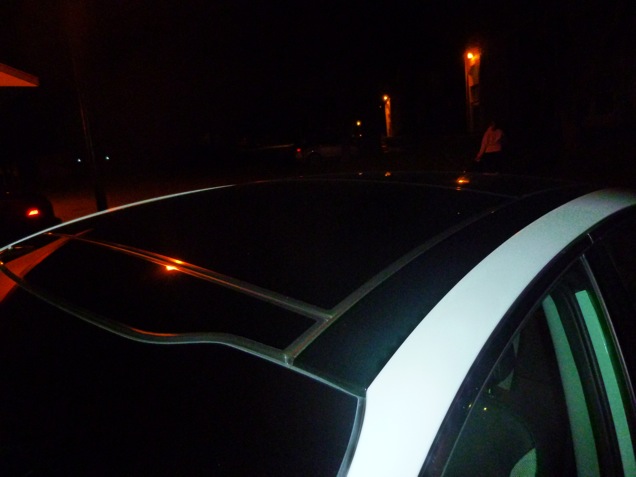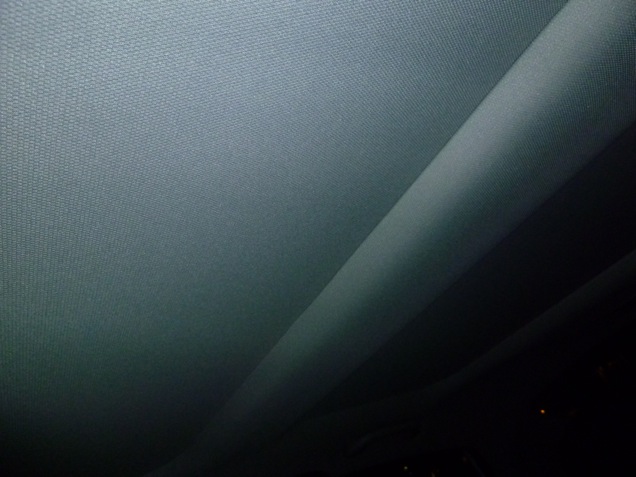 A full-length panoramic sunroof slides open with a pair fabric rollers.

Another feature unexpected for this class is a backup camera, adequately usable even at night.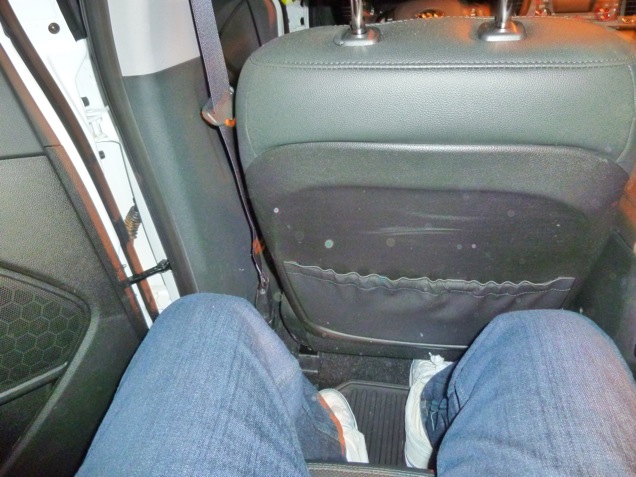 Rear seat room is quite generous. Observe the amount of space available in front of my knees. The upward swoop of the C-pillar unfortunately makes the back seat feel a bit cocooned and obscures the blind spot.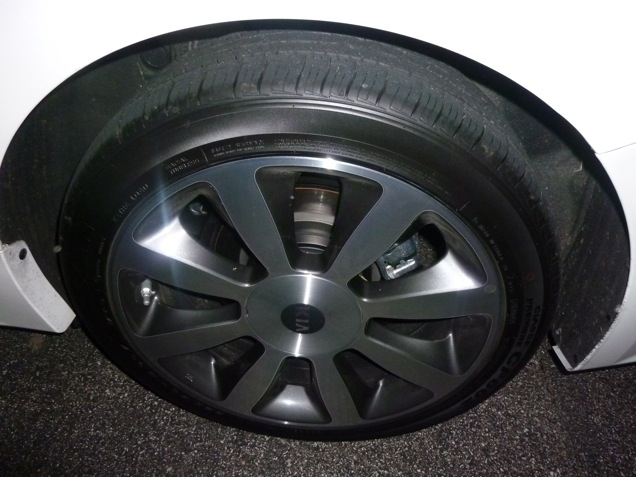 The insides of the wheel spokes are painted black to make them look more dramatic. Note the Korean-made tires from Nexen, a perfectly respectable manufacturer that's been in business since 1942. Hankook and Kumho are also based in Korea. We'll talk more about these tires in a moment.
This generation of Optima is assembled in Georgia at a non-union plant.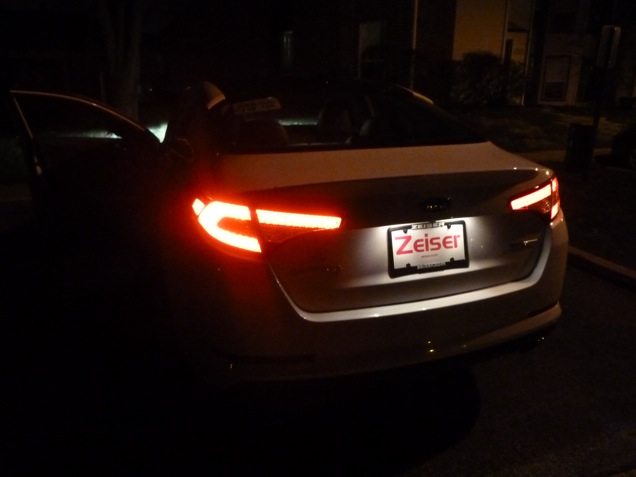 Inspired again by Audi, the Optima's rear LED tail lights draw a sleek horizontal wing tip shape.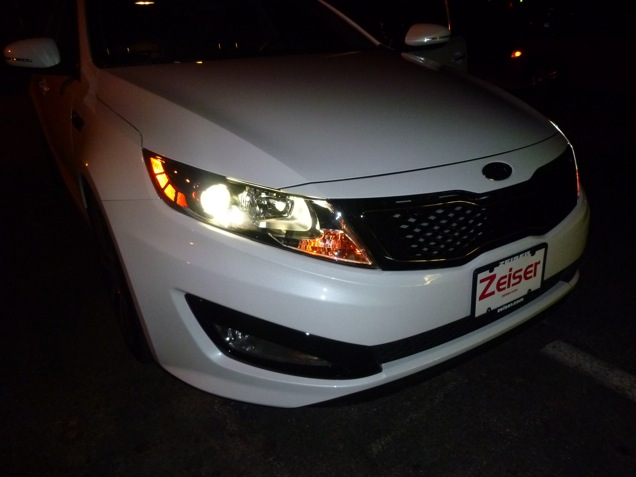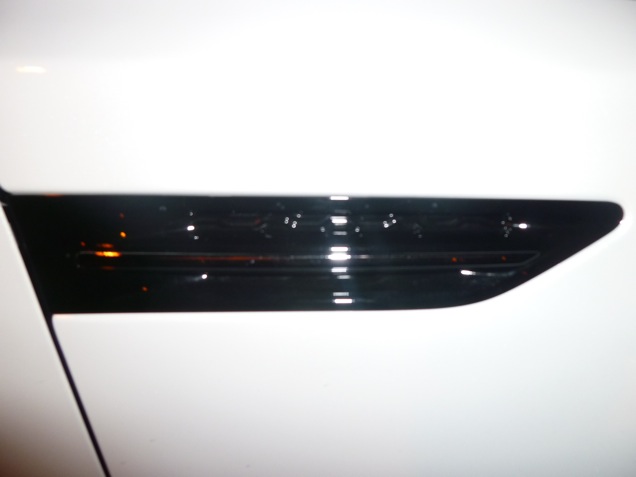 This fender vent is fake as it is on most cars.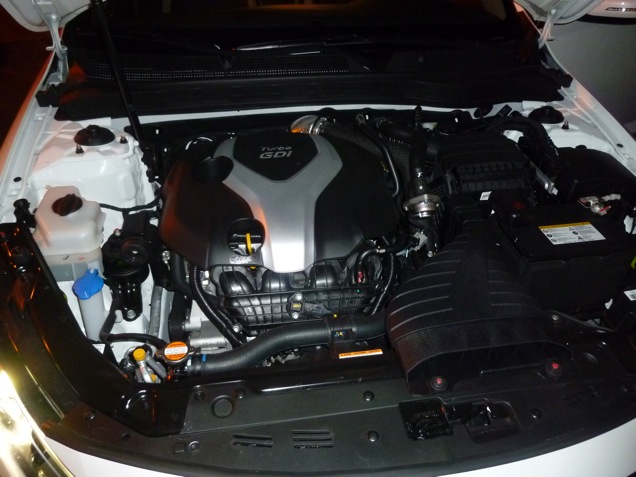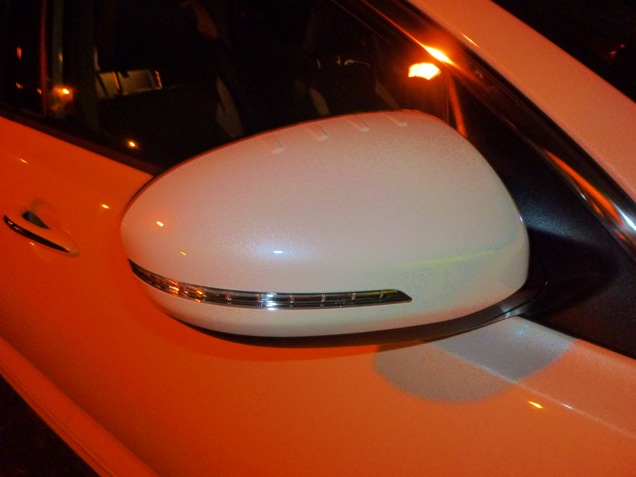 Ribbing on the wing mirrors reduces aerodynamic turbulence, resulting in a quieter ride at high speeds.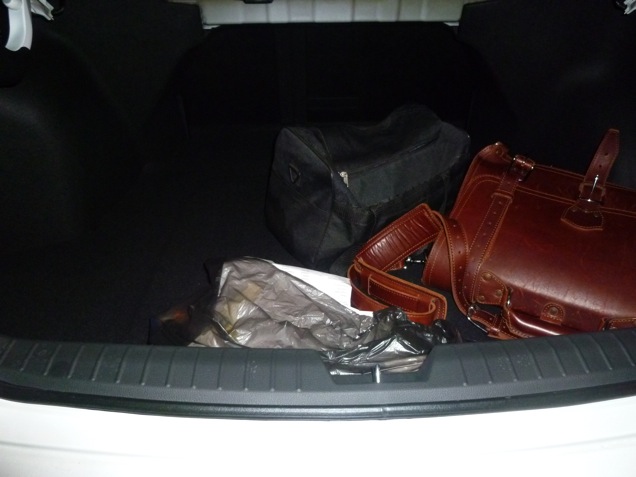 And there's the trunk.
DRIVING
I'm glad to see the auto industry catching on to forced induction. I love the silent, electric-like pull of the turbo in my classic Saab 900 and my former Volvo S60 T5, and it's even more impressive in Kia's "GDI Theta II" 2.0L 4-cylinder engine, producing 274hp without a hint of turbo lag.
Years ago, it was impossible to sell Americans on the idea of a small-displacement engine in anything but an economy car, especially when gas prices were hovering around two dollars per gallon. Even Saab, under GM's guidance, adopted a V6 to compete with BMW, Infiniti, and Lexus.
With inflation-adjusted fuel prices nearing an all-time high (peaked in 1981), public demand for small forced-induction engines and hybrids has increased, with turbochargers and superchargers being the cheapest to implement reliably.
Consider this:
–In 1995, the Cadillac Northstar V8 put out 300hp, or 275hp in the detuned version. Fuel consumption in a front wheel drive 1995 Cadillac Seville STS was 15 mpg city, 23 mpg highway. It was capable of 0-60 in 6.4 seconds.
–For 2011, the Kia Optima Turbo I4 produces 274hp. Fuel economy is 22 city, 34 highway. It soars to 60 mph in 6 seconds.
That's a 47% improvement in highway fuel economy and a 15% improvement in 0-60 acceleration. Who would have thought, in 1995, that the Koreans would be making this kind of progress 16 years later?
In the real world, the Northstar V8 will gladly soar onward to 155mph in Z-rated versions of the Seville. The Optima seems to lose its steam at higher speeds. That doesn't really matter to most — how often do you intend to exceed 85 mph?
Under full throttle acceleration from a dead stop, the Optima SX will spin the tires all the way through third gear, quite a difference from turbos of the past where off-the-line acceleration was typically sluggish. Peak power arrives at only 1750 rpm for an almost electric-like surge of torque (269 lb-ft). That torque curve remains fairly flat up to nearly 5000 rpm. And torque steer, thankfully, is almost non-existant.
Romping on the GDI Turbo over and over is addictive, producing a swell of power that comes on like a geyser.
There's nothing remarkable, good or bad, about the 6-speed automatic. I neglected to sample the manual shift mode, and the fact that I didn't need or remember to is sufficient evidence that the transmission requires no additional outside input.
So, we've established its ability to move in a straight line.
While Kias of the past drove and handled like agricultural equipment, the new Optima is worlds apart. Its sport suspension does feel like it would benefit from summer sport tires. The Nexen all-seasons are perfectly competent for daily driving and the occasional mash of the throttle, but you can feel a little bit of protesting as you throw the 3400lb (relatively light) Optima around corners.
The electric steering system is noticeably quick, responding crisply to inputs, though more feedback would be appreciated. It offers more road feel than a Saturn Aura or Pontiac G6, but it lacks the lively sizzle you get from a Mazda 6.
The optional sport suspension (front struts, multilink rear) did a more than commendable job of controlling body roll without producing a jarring ride. Though the Optima was noticeably stiff over minor imperfections, it wasn't enough to detract from the enjoyment of the car. At highway speeds, cruising was exceptionally stable without being jittery.
Turbo models also receive upgraded brakes with 12.6" discs, and the car comes to a stop with impressive force.
SITTING
What about comfort and convenience? The SX Turbo at just over $30,000 comes with HID headlights, memory power seats, a dual-pane panoramic sunroof, satellite radio, onboard music storage, a backup camera, heated and cooled front seats, heated rear seats, an Infinity sound system, dual-zone climate controls, a few lighting upgrades, and Bluetooth.
That's a metric ton of luxury goodies for midsize family car money. It makes you wonder what separates a standard car from a luxury car anymore. For now, the Optima SX Turbo falls under entry-luxury, and I would certainly choose it over the equally equipped Lexus ES350 which costs at least $5000 more.
You probably wouldn't believe me if I told you that the Optima was quieter on the highway than the new Lexus ES350 I drove last year, but it's the truth.
One minor disappointment was the front seats which would benefit from larger side bolsters, longer seat bottoms for better thigh support, and softer padding. I don't know how they would perform over a long distance, but I suspect they would be a bit of an annoyance.
If $30,000 is more than you want to spend on a Kia, the 200hp naturally aspirated LX version with cloth seats starts at only $21,000, arguably a much better bargain than the compact Buick Verano at $23,470.
All this car needs is a nice set of Michelin Pilots or Bridgestone Potenzas.

———————————————————
RATINGS:

Ride: 7/10 — Crisp but not jittery. Firm but not harsh. I would appreciate the firmness of the ride more if the handling was as sharp as the taut damping suggests.
Style: 9/10 — Peter Schreyer has experience in making front wheel drive platforms look muscular and lean. This is a successful design.
Powertrain: 9/10 — The little engine that can.
Braking: 9/10 — Good feedback, predictable pedal travel, firm grip.
Steering/Handling: 7/10 – The Nexen all-season tires are perfectly sufficient, but sufficient tires don't do the car justice. What's the point of a sport suspension and 274 horsepower if the tires aren't able to keep up? The electric steering is quick and responsive but lacks communication.
Audio/Accessories: 8/10 — The plethora of multimedia options, color displays, and luxury features like cooled/heated front power seats and heated rear seats places the Optima in a class just above the midsize norm. The Infinity sound system needs some refinment.
Interior: 8/10 — There's quality materials all over, all precisely assembled and nice to touch and look at. The black interior with fake carbon trim feels a bit stark, but the gauges and displays make up for it.
Comfort: 7/10 – Heated and cooled power seats are a nice plus, but the front seat shape is a bit off. Rear seating is commodious. At highway speeds, the cabin is as hushed as any premium car on the market.
Quality/Reliability: Unknown — There were no significant issues with past Kia Optimas, but the new turbocharged engine and 6-speed automatic are unproven because they are new. Overall build, paint, and assembly quality deserve a 9/10.
Overall Value: 9/10 — It's better looking and more fun to drive than the more expensive Lexus ES350. Lower trim levels offer significant value-oriented alternatives to the Camry, Passat, and Accord.
VERDICT: If you don't mind the badge, it's the four-door bargain of the decade. Even setting aside the discounted price, the Kia Optima is impressive to look at, fun to drive, and nice to be in.
———————————————————
SPECIFICATIONS:

2.0L turbocharged GDI Theta II Inline-4
274 hp, 269 lb-ft
6-speed automatic
0-60 mph: Just over 6 seconds
Curb Weight: 3385 lb
Economy, City/Hwy: 22/34 mpg
Original MSRP: $30,200
Update: Seating and tires were improved for 2012, a rapid response to customer feedback.