NAIAS 2016 – Reactions to the Detroit Auto Show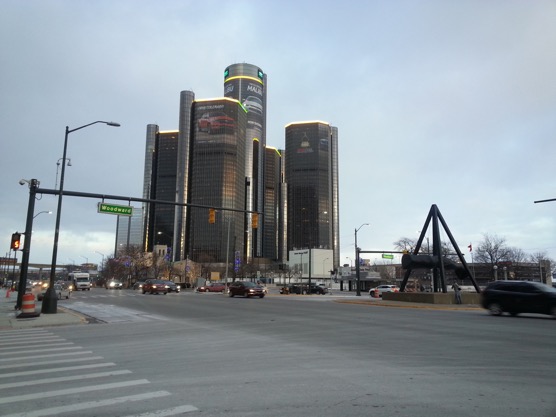 It's less of a special event now that I actually live in metro Detroit. I used to plan trips up here in the dead of winter with my Cadillac owners club, book hotel rooms at the GM Renaissance Center, indulge in drinking and eating, and enjoy the hell out of the city. But now that suburban Detroit is home, there's less of a sense of occasion surrounding the show.
That seemed particularly true this year as the show floor was more spacious and less crowded. Brands like Hummer, Saab, Fisker, and Saturn are long dead, leaving lots of extra space. California-based Tesla skipped entirely (and who could blame them?), as did Jaguar, Land Rover, Bentley, and Mini. Mini! One would think that with all the man-bun hipsters and childless yuppies populating downtown and midtown, a hip brand like Mini would be a natural fit for Cobo Hall.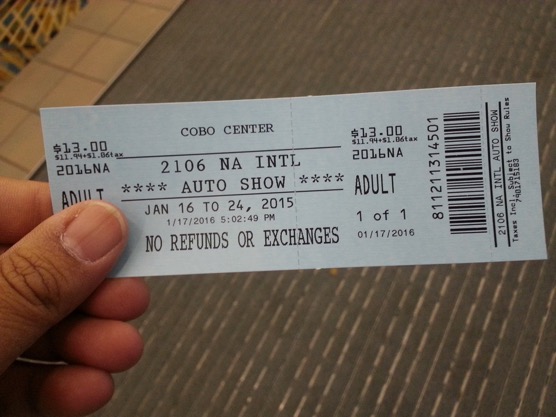 It all sends a message, and certainly not a good one, that the nucleus of the auto industry is quietly moving away from America as the Chinese become increasingly important markets for Cadillac, Buick, Ford, Toyota, and Volkswagen, influencing design (softer styling, larger back seats) and engineering (smaller engines). That's right — the reason today's Cadillacs, while still beautiful, have lost the iconic fighter jet look is because Chinese buyers like flowing curves — Chinese people buy a lot of Cadillacs. Whatever.
But all is not lost for the North American auto enthusiast. Nissan unveiled it's gaudy Cummins diesel-powered Ford Raptor knockoff, Volvo introduced the new XC90, NAIAS Truck of the Year winner and easily the finest SUV 55 grand can buy. After a few years of mediocrity Honda made a huge comeback with an Acura concept, the new NSX, a revised Ridgeline, and the spectacular new Civic, NAIAS Car of the Year.
The auto industry may be facing uncertainty as oil prices swing wildly each year and self-driving cars and ride sharing services conflict with private car ownership, but global sales are up, transaction prices are up (to $34,000!), and highly profitable trucks and SUVs are in high demand once again. Detroit may not be the industrial juggernaut it once was but the region is enjoying a brisk recovery.
Now, on to the show.
Lincoln knocked it out of the park. The Continental concept gave birth to the production car, a less dramatic but thoroughly attractive sedan that shares its underlying architecture with the Ford Taurus. While the Taurus bits lend it safety and solidity, Lincoln designers went full-tilt at making the Continental a fully distinct sedan inside and out with a traditionally long and elegant rear overhang, a spacious back seat, door handles blended into the beltline, and pillowy seats with more options than the menu at a Chinese restaurant.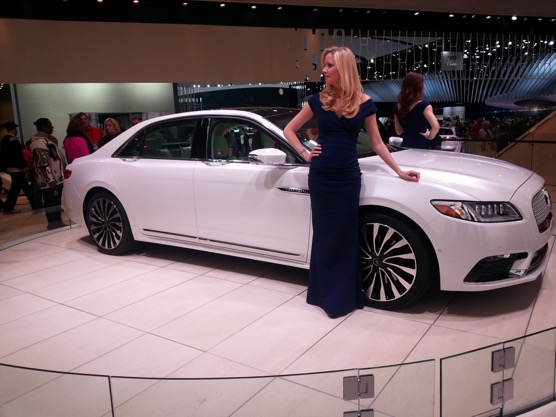 The MKZ was a looker too, losing the awkward split-wing face in favor of a Jaguar-inspired snout. Call it a copycat if you want, but after the billions of dollars Ford sank into Jaguar and never earned back, they're fully entitled to stealing some British styling. Of course, the volume sellers are going to be CUVs like the MKC and MKX, but the prestige in this market is derived from full size SUVs and large sedans.
For the first time, Lincoln's black and white two-story lounge environment had a classy car to go with it.
Cadillac was… present. There wasn't much interest in the new CT6 or XT5 but neither model name has the recognition of "Continental." CT6 is priced like a BMW 5-series at $54k but sized like a 7. It's also the first vehicle to adopt Cadillac's new new naming scheme (the three-letter thing is still new to Seville and Eldorado guys like me), sedans prefixed by CT followed by a single digit indicating class level and SUVs prefixed by XT. Escalade remains Escalade because you'd have to be a moron to discard that kind of international brand recognition.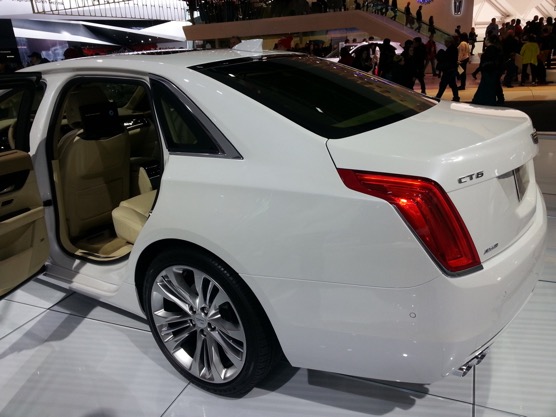 CT6 looks far, far more dramatic in person than in photos. The softened-for-China rear end is made up for by spectacular classic portions — a long dash to axle ratio, long rear overhang, and short front overhang. While the Continental seems more elegantly executed inside, the CT6 looks more sophisticated, like it's the real deal.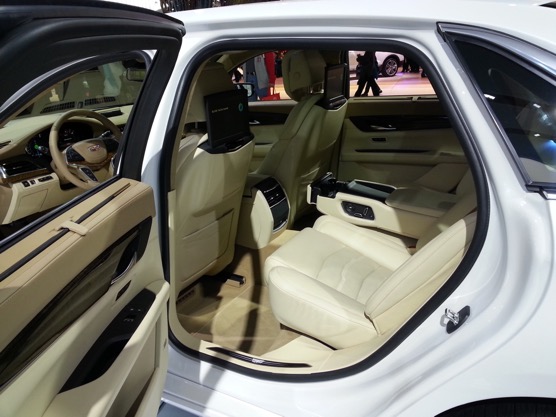 We'll see how the market responds to this plus-sized bargain-priced full sizer.
The ATS was roomier inside than I remembered, probably because I lost weight since 2012. I'm now considering one as a trade up from my Miata.
And speaking of fat, after seeing the new Escalade again I noticed the unfortunate use of hard, cheaper plastics on lower door panels. The competing Lincoln Navigator with its stitched, leather-covered surfaces, while far less modern in form, felt a bit more luxurious.
Bonus: The CT6 model/presenter complimented my Cadillac t-shirt, asking if I bought it from GM's media site. I told her no, that I found it through CadillacOwners.com, but thanked her for noticing. I should have asked if she wanted to come over for chicken and rice. Missed opportunity, right?
Mercedes-Benz showed off the new E-class, a blandly shaped oval thing with a beautiful interior. The return of the Maybach brand is well-timed for a recovering global economy but like before, there isn't enough to distinguish it from the S-class aside from length and some trim.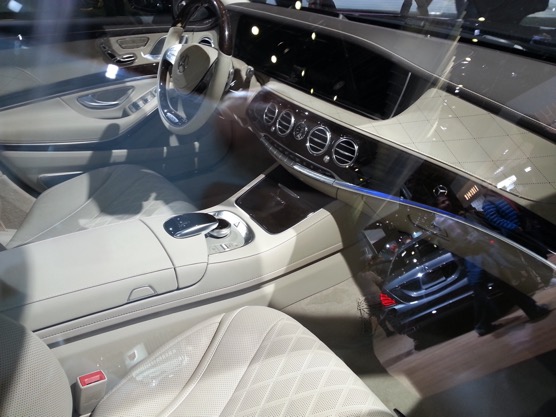 You get quilted leather if you're into that sort of thing. German styling, once reputed for being professional and clean, has gone the way of 1970s Americana, gaudy and tacky, appealing to global "new money" types — Chinese shoe factory owners and Saudi oil barons. Blech.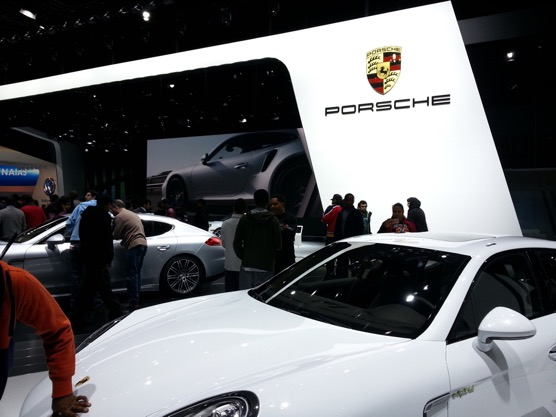 Porsche and Aston Martin made appearances. A-M was roped off, perhaps on purpose, to give an air of exclusivity. "You can't afford it and to drive the point home, you can't touch it either." The Cayman remains the world's best and least appreciated sports car.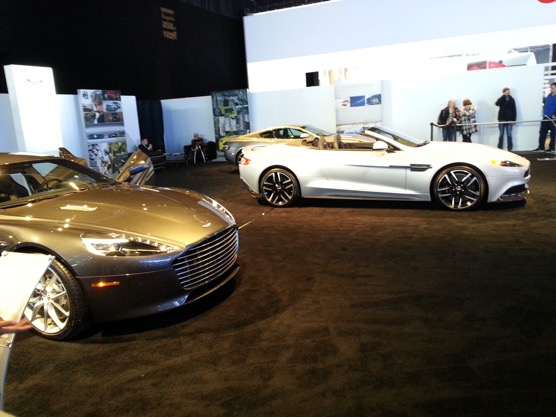 Across the way, there was a sense of desperation at Volkswagen. While plenty of people took interest in the Passat and Jetta, there was a lack of genuine enthusiasm especially in light of VW's recent emissions scandal.
A VW presenter asked for a volunteer to demonstrate a feature but no one took the bait. Finally, he pointed at a woman and nagged her over the microphone until she reluctantly complied. I didn't stay to watch the rest.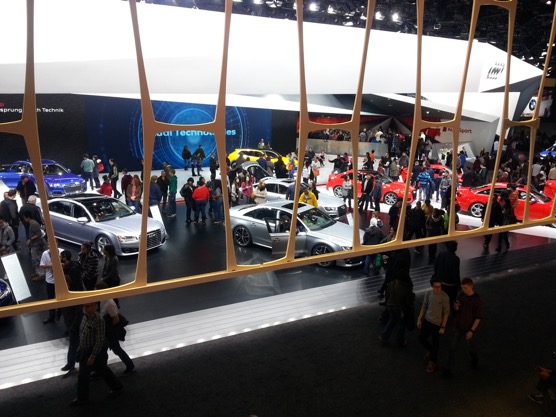 It was a brighter sight at Audi, however, and though I didn't snap any vehicle-specific photos there was plenty of buzz around the R8 and A7. As VW sinks amid scandals, Ingolstadt is keeping Wolfsburg from drowning.
I lost interest in BMW years ago except for the soulful 2-series and the spectacular hybrid I8, the promise of an electrified, sustainable future without the dour, shit-eating misery of the Toyota Prius. You can have your cake and eat the heck out of it, and the I8 is a perfect example of how.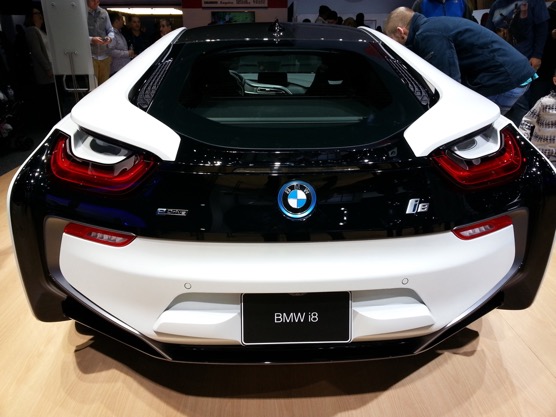 Over at Nissan and Infiniti was the stench of dead puppies (not literally). The new Infiniti G coupe (or is it Q60? Q40? Who even cares anymore?) had far less interest than it deserved. The Mercedes GLA-based QX30 crossover will carry the brand while the pointless Q70 sedan flounders.
Nissan, aside from the new Titan pickup, had nothing worth showing. The GTR, while still a spectacular driver, is getting stale while the Z was surpassed 4-5 years ago by the Mustang and Camaro. Nissan, once the thriving heart and soul of the Japanese auto industry, has devolved into little more than a purveyor of soulless shitboxes for paralegals named Martha.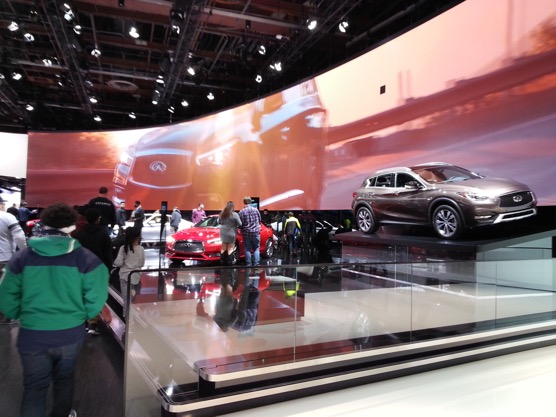 Volvo, now an underdog brand struggling for reacceptance, overcame perception to deliver two of the absolute best non-exotic cars at the entire show. Fighting the belief that new Chinese owners have cheapened the brand, the Swedes went above and beyond at delivering feature content and high levels of refinement. There is no interior, aside from the Mercedes S-class, that comes close to Volvo's panel fitment, materials quality, and cohesive design. The Inscription XC90 features a shifter made of crystal while a Tesla-style portait-oriented LCD offers a wide array of quick and easy vehicle and entertainment controls.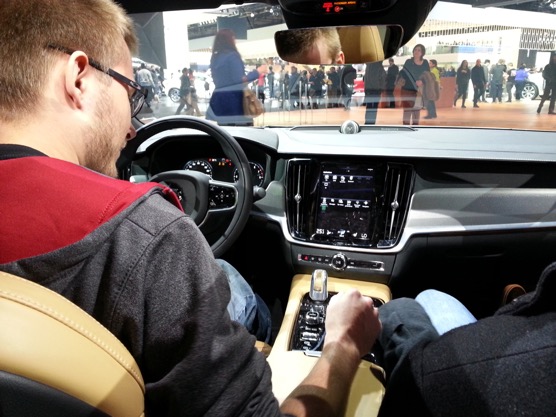 And look at the doors! It's pure Scandinavian indulgence.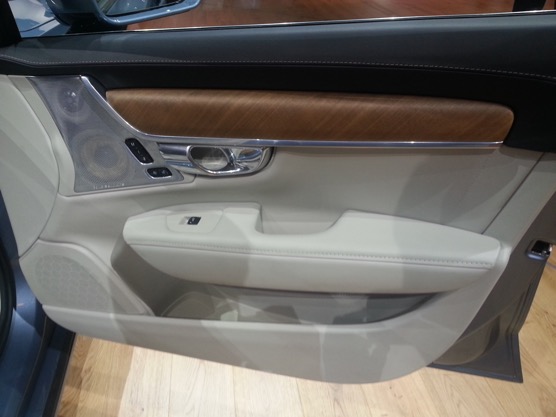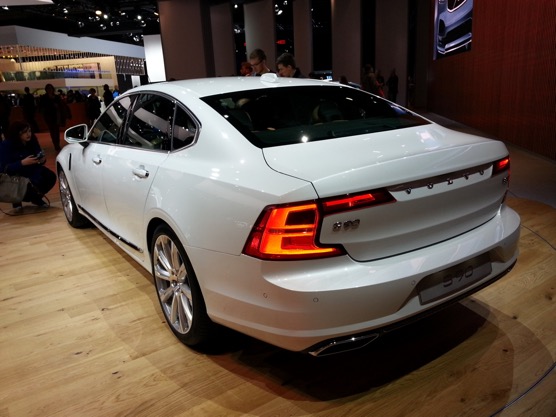 Buick stole the show with the Avista concept, borrowing some design cues from Tesla and Maserati while adopting the sculpting of the Velite concept from a decade earlier.
Even the very mainstream Lacrosse sedan took a massive leap forward with a transformed interior and concept-inspired sculpting that makes it look lower and more muscular than it is. Buick earns the bulk of its income from CUVs sold in China but remains committed to building comfortable American sedans. Thank goodness.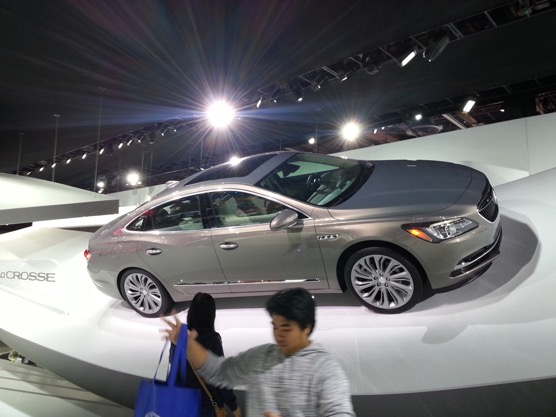 I did, however, overhear some negative comments about the Cascada convertible with people noting that the styling was bland and the interior was tight.
Ford was a bit strange with a large floor area that rotated slowly. If you stood on a vehicle platform you'd find yourself spinning in the opposite direction of the floor directly in front of you, rotating in two opposing directions at the same time. I don't often experience motion sickness but I had to get the heck out of there before I unloaded my lunch on some children.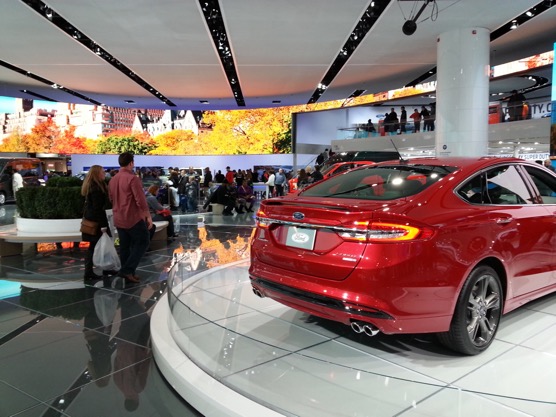 I know the guy who designed the front bumper on the updated Fusion and I have to say, it turned out nicely. Of course, I only have pictures of the back.
Acura drew in a crowd with the new NSX, some members of the public noting that Iron Man (Robert Downey Jr) drove one. For once, Acura is showing off a real, live production car that you can order today. After an 11-year disappearance and a dozen changes in design and engineering direction (a V8 was once proposed), it's finally here and it's good. This is the real deal, folks.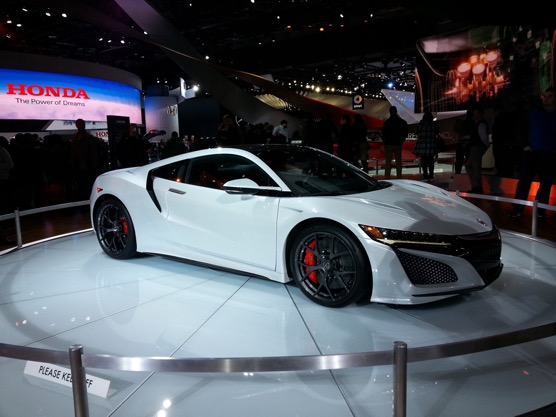 They also showed off the Acura Precision concept, hopefully a source of inspiration for the next TLX and RLX, two nice-driving, well-made cars sorely lacking in inspiration.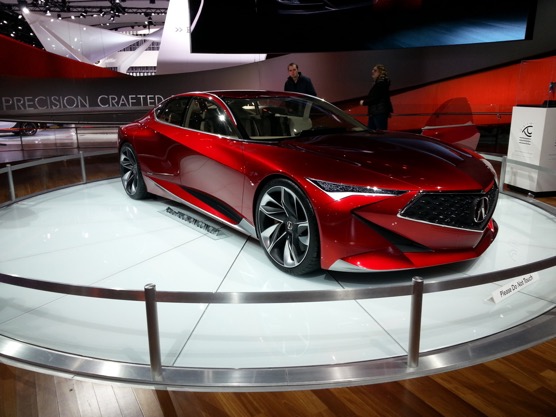 Honda showed off the new Ridgeline pickup with toned down styling and a fake truck bed gap. It should continue to be popular among landscapers and lesbians.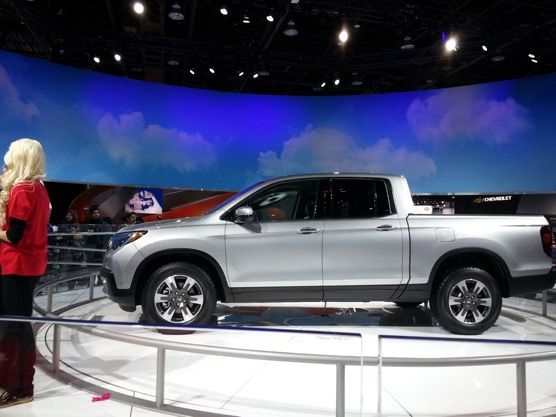 The new Civic, however, is on point. They truly knocked it out of the park. If you're looking for a small, efficient car for commuting, it comes down to the Mazda 3 and Honda Civic. Nothing else matters (unless Ford or Chevy get crazy with discounts).
Chevrolet showed off the Corvette, new Camaro, new Colorado, and all-electric Bolt.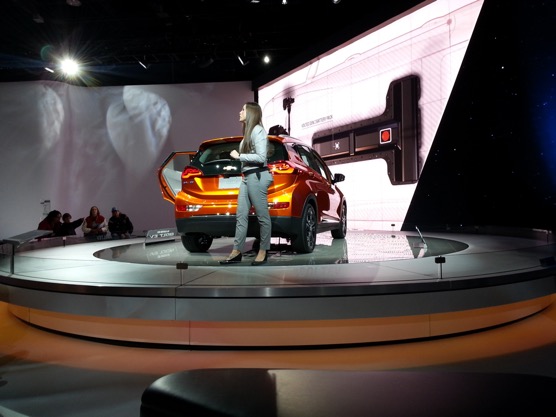 The promise is over 200 miles of range, a Tesla-level game changer.
Alfa Romeo is the epitome of vaporware. They've taken so long to return to the US market in any meaningful way after so much hype that I've lost interest.
Chrysler's new minivan was renamed Pacifica. Hometown heroes Viper and Hellcat were also in attendance.
Kia showed off a brawny SUV with retro-style headlight buckets.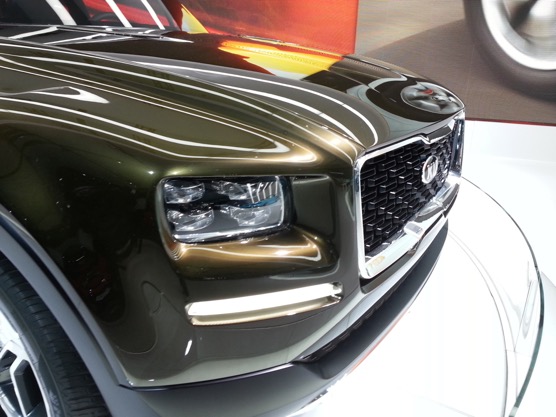 I like it.
Fiat brought the 124, a Miata-based roadster with retro Italian styling.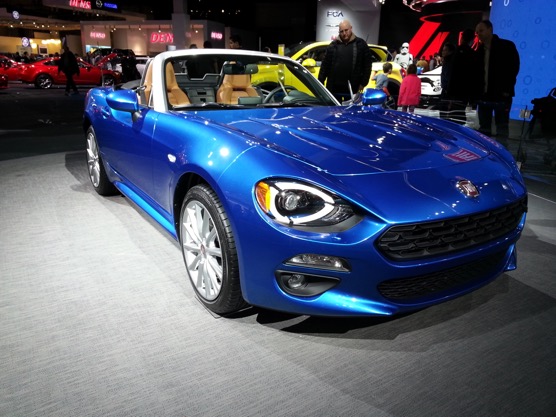 I hated the original photos but in the flesh it's more personable than the overly aggressive looking Mazda Miata.
But I still like the Mazda. I did find that the interior was quite a bit smaller than my 2006 third-generation MX5, but quality was dramatically improved inside and out. While my Miata suffers from cheap plastics, the new Miata features stitched leather and soft surfaces all over. This is a company that's trying hard to win over new customers.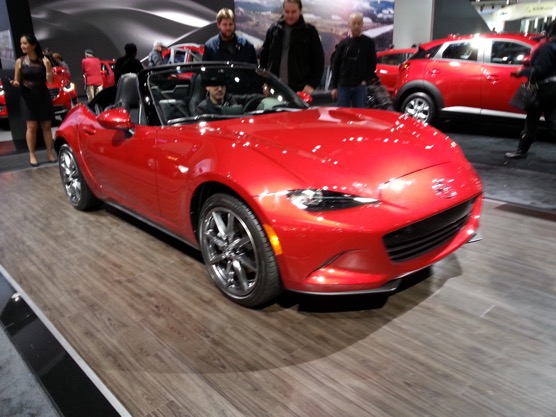 ZF showed off a plastic car.
Lexus had a bunch of hideous turds except for this stunning LC500 coupe. It's jaw-droppingly dramatic.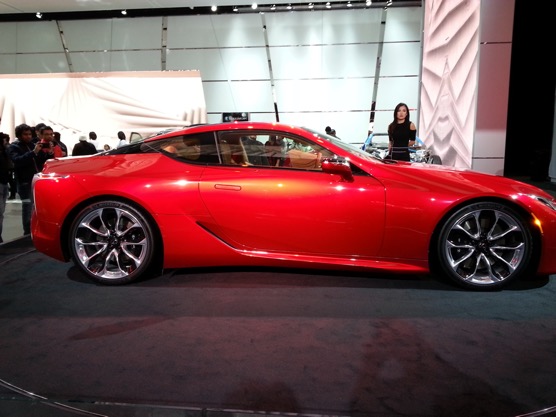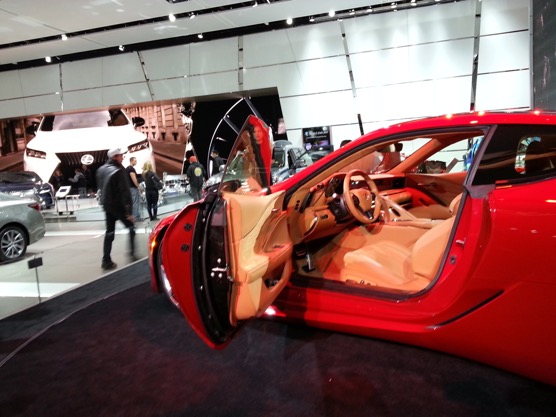 VLF is Bob Lutz's latest venture, turning Silverados into electrics and hybrid Fisker Karmas into V8 sports cars.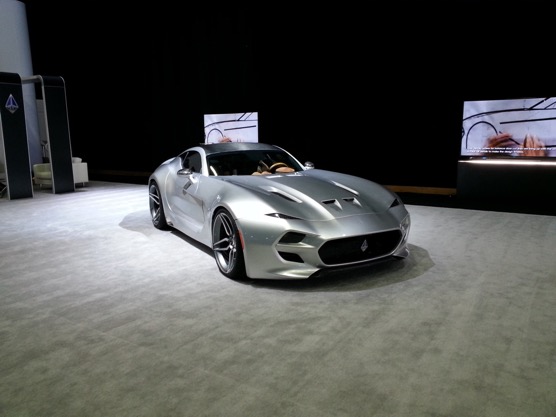 As I was leaving I noticed a drum line and some characters with giant heads. I don't know what any of it was about.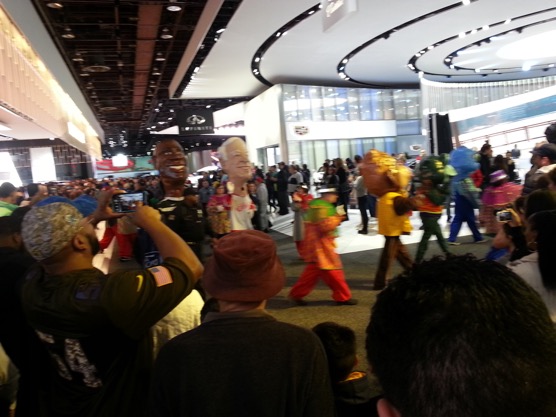 After finally figuring out which staircase to take to get to the People Mover monorail, I got a token for 75 cents and headed to the Atwater parking garage next to GM Headquarters.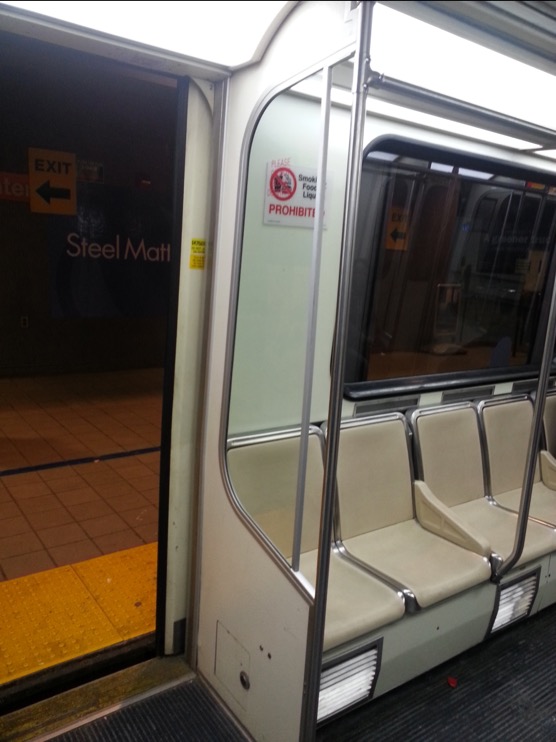 Flaws aside, Detroit is a fine city but NAIAS is losing its place as an auto show that matters.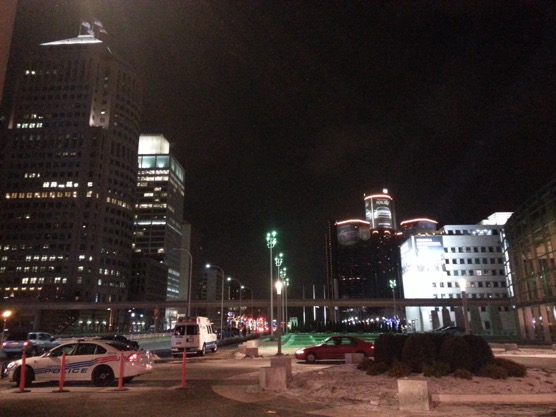 Thumbs up: Volvo, Lincoln, Acura, Honda, Lexus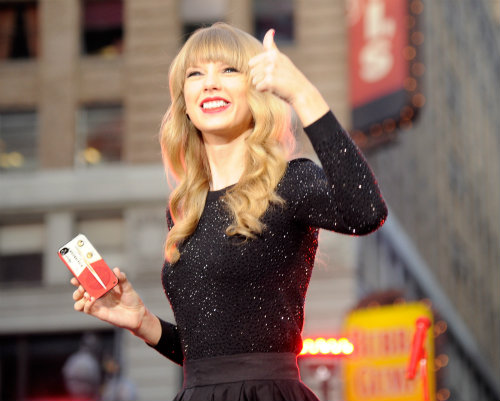 Thumbs down: Toyota, Nissan, Infiniti