Hyundai's Genesis Luxury Division: What's the point?
Korean industrial conglomerate Hyundai recently brought its Genesis sport sedan and Equus flagship under the umbrella of the "Genesis" brand, naming them G80 and G90, respectively.
It's a bold move in a saturated market where there really aren't any bad luxury cars, not like 1986 when Cadillac downsized its entire lineup and offered the disposable HT4100 as its showcase powerplant, opening the doors wide for competitors as its once-loyal customers fled in droves.
In 1989, Lexus dropped a bomb on the US luxury market (a reverse Hiroshima, if you will), introducing the exceptional LS400 at a price that undercut its competitors. The Germans were overcharging because they could while traditional buyers grew tired of America's indifference to quality and design.
By 1999, the century-long battle between Lincoln and Cadillac was over as Lexus had become America's best selling luxury car brand. Ford, the Anglophiles they are, didn't seem to care as they scooped up Volvo, Jaguar, Land Rover, and Aston Martin and poured billions into modernizing each of its European brands. GM, meanwhile, ended up with Saab, likely the reason why Lincoln suffered from severe neglect while Cadillac picked up the pieces and started over.

Fast Tube by Casper
If the Koreans aren't competing on price, what remains? Who is supposed to buy a Genesis? What type of person believes a Genesis is a better fit for their lifestyle than a Mercedes, BMW, Audi, Cadillac, Lincoln, Volvo, Infiniti, or Lexus?
Thus far, Hyundai has appealed to "smart" buyers who want top-tier comfort, power, and feature content without the price tag or snobbery, but as a standalone luxury brand prices will soon rise to match competitors. What, then, will be the purpose?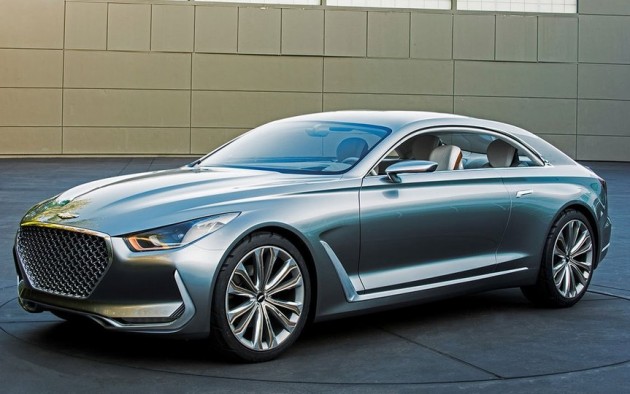 I've come to admire the sales and engineering achievements of Hyundai and Kia over the past decade but in the luxury market you need a purpose, a story, an idea that transcends nuts and bolts. A luxury brand has to go far beyond reality and into the human psyche. There's a bunch of gooey feelings and cultural ideals and aspirations involved, like falling in love with a woman regardless of how irrational it may be. Fantasy, not reality, is what gets luxury buyers to crack open their wallets.
The idea of Mercedes-Benz, regardless of how half-baked the CLA and GLA are or how terrible the W202, W210, and W220 sedans were, is one of peerless superiority. The three-pointed star is, without question, a global symbol of excellence, even if that symbolism is at times incompatible with reality.
BMW abandoned its laser sharp focus on driving pleasure and timeless, understated styling in favor of softer, fatter dung heaps like the X6 and 5-series GT, the kinds of cars that terrible people with more money than taste may find appealing. They even tried replacing their slogan, "Ultimate Driving Machine" with "Joy" until American BMW dealers scoffed at the abandonment of the brand's core values. Despite this, BMW remains a symbol of performance-oriented luxury. The blue roundel's place and position in the market are crystal clear.
Lexus has the edge on customer service and dependability while Jaguar and Cadillac offer performance, design prowess, and heritage. The only room left for Genesis, it seems, is at the bottom tier with Acura, Lincoln, and Infiniti.
Buying a luxury car isn't like buying toilet paper or boxer briefs where function strictly defines the market (and even then, some people have strong loyalties to certain brands of TP). You're buying an idea, a statement about yourself, an assertion of place in the world and your perception of others. It isn't about reliably getting from A to B — the Chevy Cruze is perhaps the only car anyone actually needs. It's about conveying yourself as an accomplished, enviable individual. It isn't just something you drive. It's something you wear.
Hyundai has demonstrated with the Genesis and Equus that it has the ability to build automobiles on par with the world's finest. Unfortunately, without bringing more to the table than nice cars for nice people, it's unlikely to find much of an audience.
I fully believe in Hyundai's engineering capabilities. The public, however, will need more convincing. I suppose that's why they recruited Bentley's Luc Donckerwolke to lead the brand.
The next ten years should be interesting.