2012 Japanese Classic Car Show, Long Beach California
The midwest can be pretty harsh. Tornadoes obliterate entire communities, scorching summers destroy crops that feed the world, and if that's not enough, the salt, muck, and grime of winter precipitation turns automobiles into piles of orange dust.
Growing up in Illinois in the 1980s, a new car was practically a necessity. Regardless of how well you maintained your vehicle with fresh fluids and parts, it was never enough to fight the effects of corrosion.
My mom recalled a story about our late-1970s Datsun B210 — Dad drove over a deep puddle which sent a geyser of filthy brown street water gushing into the passenger's lap. The floors had almost entirely disappeared from rust.
My dad also owned a 1978 Honda Accord CVCC adorned in faded orange paint and gray primer. We got an earful as kids every time we jumped in. Dad was concerned that if we sat down too energetically, the seats might fall through the floor. In retrospect, his concerns were probably valid.
It quickly became commonplace knowledge that Japanese cars, at least before the use of electrogalvanized steel, had the body integrity of papier-måché. In my neck of the woods, Japan's well-reputed fuel economy and dependability were meaningless if the vehicles themselves were physically junked after 3-5 years.
None of this, of course, applies to dry and sunny Southern California, an appropriate setting for the 2012 Japanese Classic Car Show, America's best and largest display of fully functional, vintage Japanese cars. It was quite a treat as most of the vehicles on display had long ago disappeared from middle and northeastern American roads.
If a pristine Datsun 240Z is like a unicorn in its rarity, then JCCS is an entire stable of single-horned ponies.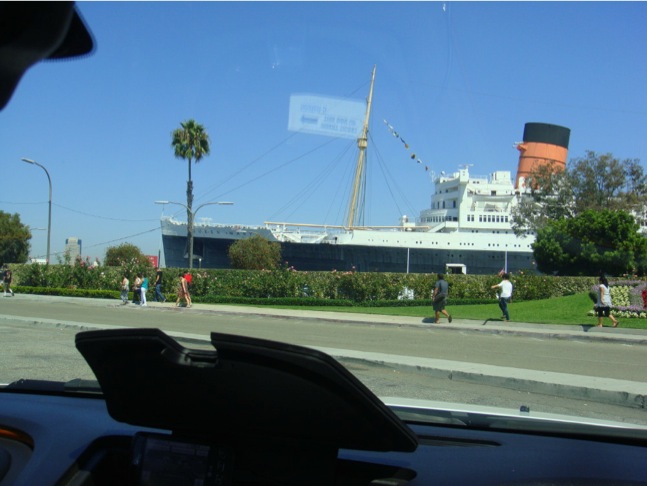 The show takes place on the grounds of The Queen Mary, itself a piece of transportation history, now in use as a permanently docked hotel and museum. Predictably sunny skies promised a large turnout, but 100F temperatures and the lack of a coastal breeze discouraged me from hanging around for long. Fortunately, the show was small enough to take in every car in sufficient detail.
Noteworthy:
This 1982 family-owned Toyota pickup was converted into a camper with a fully carpeted bed, overhead skylight/vent, and insulated cabin pass-through: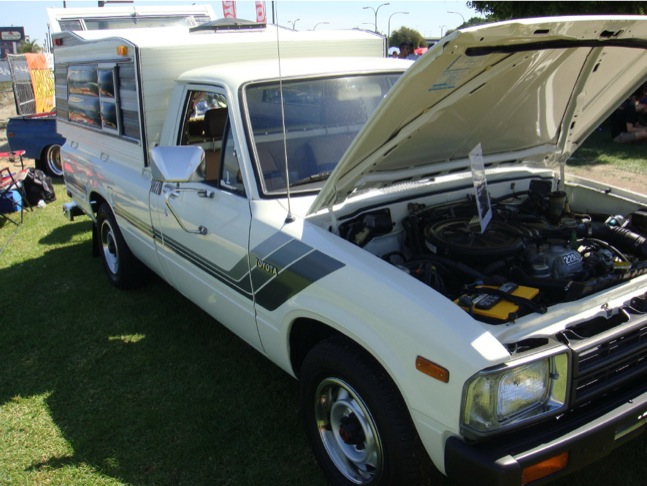 The current owner bought it from his dad so it could be shared with the public.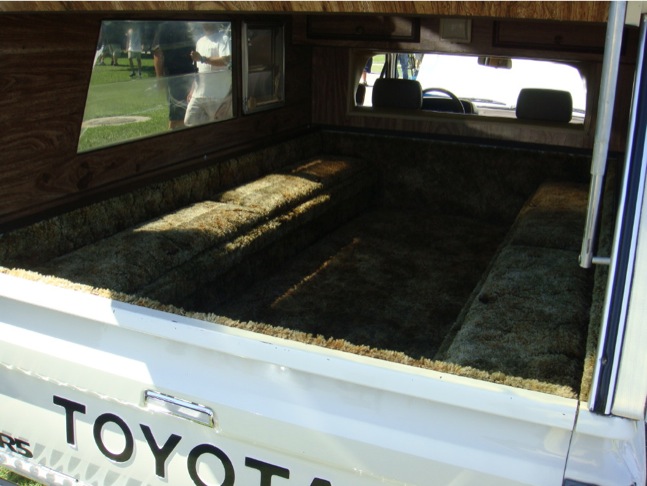 Several Toyota 2000GTs were on display from Toyota as well as private owners. This is often referred to as Japan's Jaguar E-type: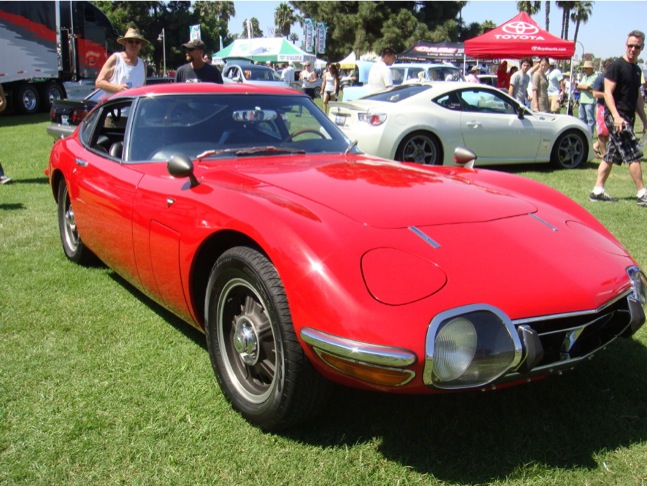 Greg and Becky from NICOClub brought a few members of their growing fleet of classic Datsuns.
This is a 63,000 mile unrestored 1963 Datsun Bluebird:

And this is Alice, the red Datsun 411 stationwagon I drove last year: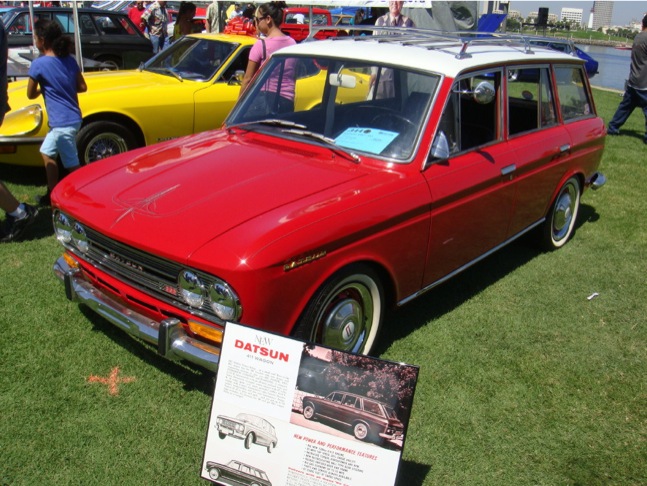 You can see photos, a video, and my comments here:
http://jesda.com/2012/03/15/driven-1967-datsun-411-sss-wagon/
This rare Honda CRX convertible was factory-sanctioned and warrantied, converted by an aftermarket coachbuilder: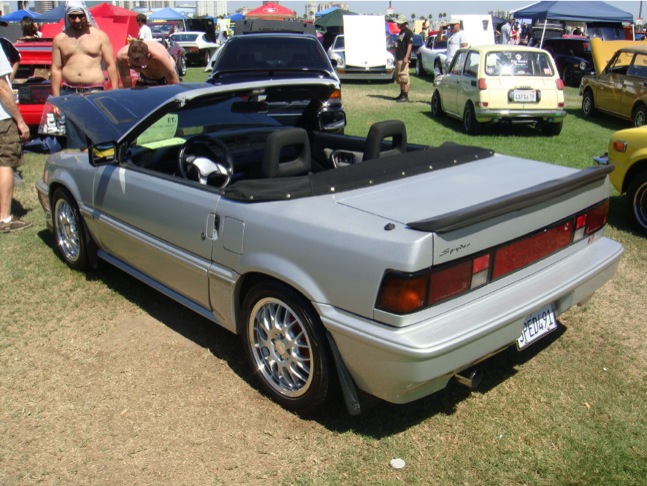 I seriously considered taking this 1971 Honda N600 home for $4500, but it seems cruel to take a pristine piece of history and park it outside: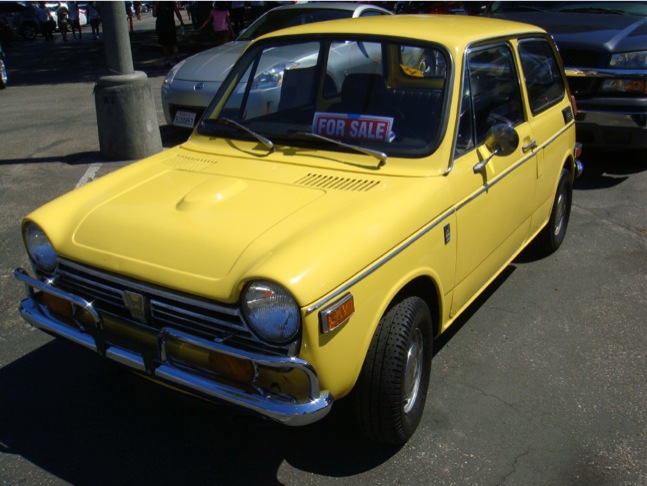 I need a garage.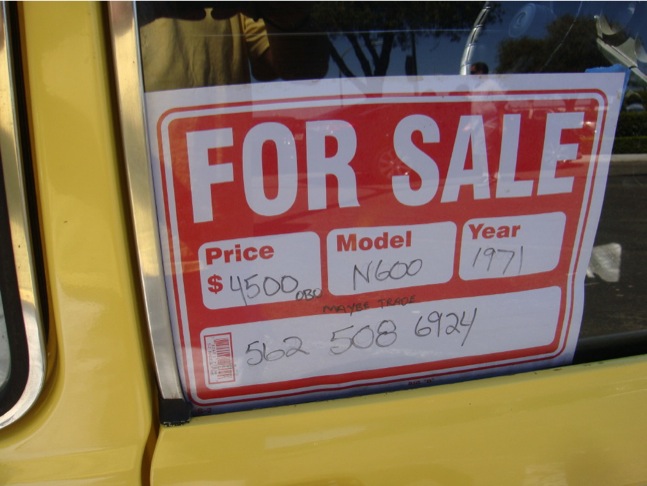 The largest quantity of Datsuns roadsters I've ever seen in one place: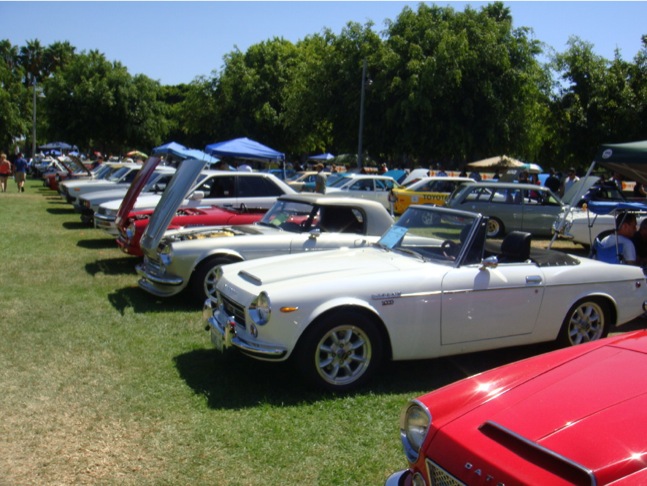 This is Mr K's personal Datsun 240Z: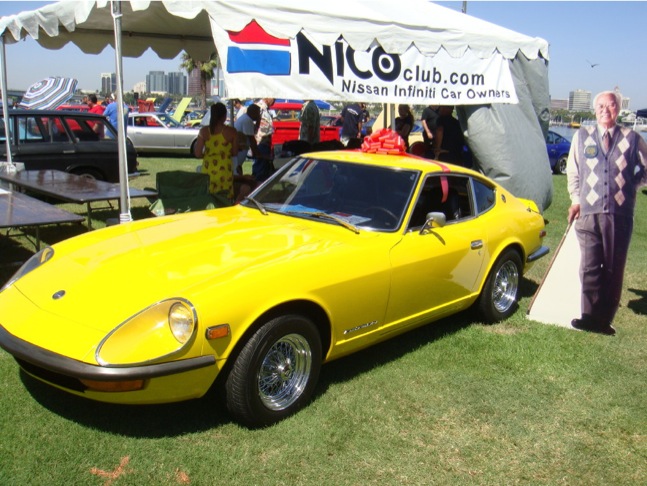 Yutaka Katayama is a former Nissan executive, now 103 years old, who played significant a role in the export of the legendary Datsun 510 and the design of the Datsun 240Z. In the late 1990s, "Mr K" was played by Dale Ishimoto in Nissan's advertising, shown holding a Jack Russell terrier while declaring "Dogs love trucks!"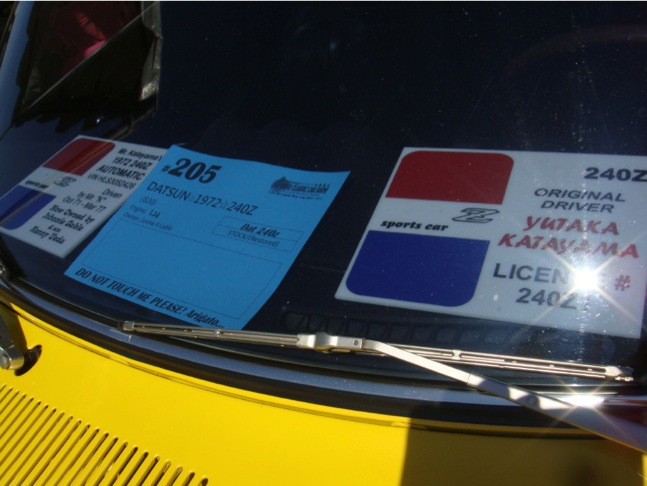 Katayama, considered the living embodiment of Nissan's heritage, had a mantra: Love people. Love cars. Love life.
He continues to attend car shows and promote the Nissan brand. Below is an advertisement from 1996 emphasizing Nissan's brand philosophy and colorful heritage:

Fast Tube by Casper
"Any car can get you where you need to go. A special car gets you there with a smile on your face. Remember, young man: Life is a journey. Enjoy the ride."
Brilliant.

And here are the rest:

I didn't stay for long due to the heat but I did have enough time to look at the most interesting cars in detail and relive lost pieces of my childhood. I fully intend to become a regular attendee.
More pictures:
http://forums.nicoclub.com/jccs-2012-it-s-not-too-early-to-make-plans-t555250.html
Show details:
http://www.japaneseclassiccarshow.com/