2012 Rental Cars Compared: Volkswagen Passat, Ford Fusion, Chevy Malibu
In October I joined a friend on a trip to Phoenix, Santa Maria CA, Los Angeles, and Las Vegas. He was looking for a high-end sedan, preferably a BMW 7-series, Mercedes S-class, or Mercedes CL, to purchase and drive back to Missouri for resale, so I tagged along for free.
During our time there, we rented a Volkswagen Passat and two Ford Fusions, driving up and down the west and southwest on a search for new and classic cars. A month earlier, I traveled to Long Beach for the 2012 Japanese Classic Car Show where I rented a 2012 Chevy Malibu.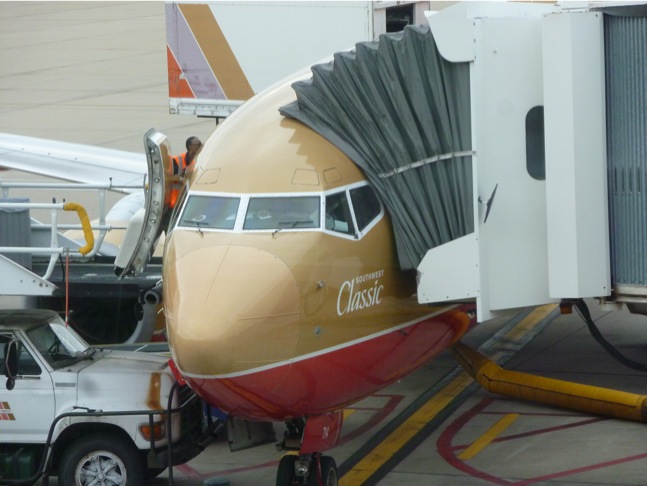 Leaving Lambert Field in St Louis, MO.
"Southwest Classic" is code for "really old plane, good luck."
Upon landing in Phoenix, my friend Becky picked us up and took us to Surprise AZ where she and her husband Greg, owner/founder of NICOClub.com, generously hosted us at their home for two days while we did some car shopping. They generously put up with my snoring, treated us to delightful southern cooking, and offered their Nissan Frontier and Honda Insight so we could get around town.
After passing on a 2008 Mercedes CL (repaint) and a maroon S-class (unpleasant salesman), we decided to rent a car and drive to Las Vegas to enjoy some entertainment and continue our car shopping. We booked online with Alamo and picked up a beautiful white Volkswagen Passat at the Phoenix airport.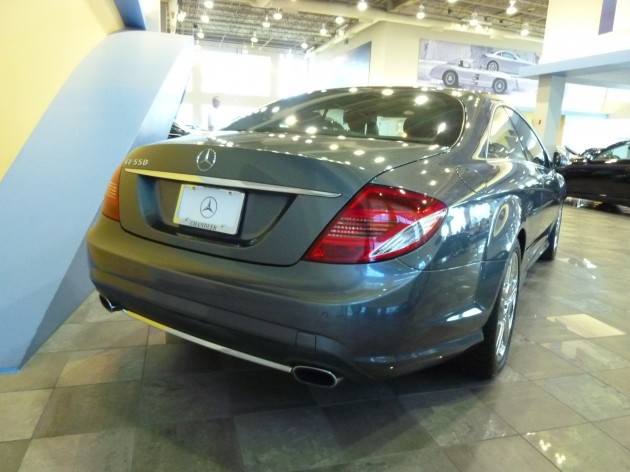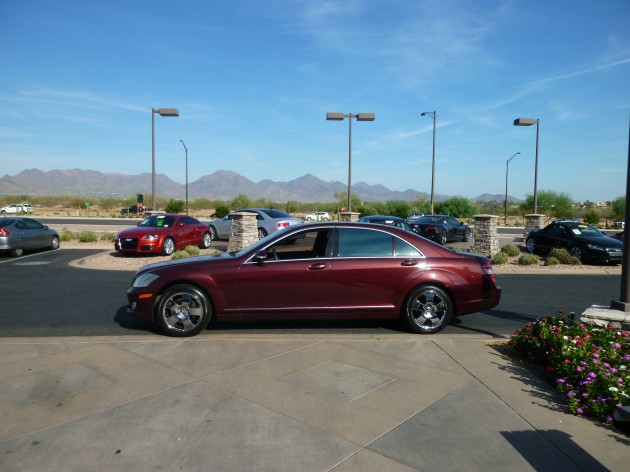 3rd Place: 2012 Volkswagen Passat

When we first sat down in the Passat (Alamo lets you pick your own car from the lot), my friend Ian actually thought it was a Jetta. I wasn't sure I believed him because I remembered the new Jetta having a small back seat and a particularly cheap interior, and the car we were sitting in felt slightly upscale and pleasantly well made.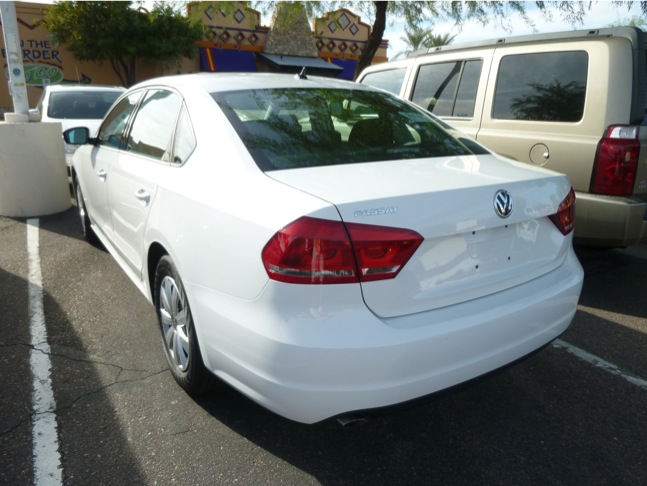 He dropped me outside of Sky Harbor's rental complex where I parked the truck and as he drove off, I saw the Passat badge. I knew I was right. In fairness, Passat and Jetta do appear quite similar.
This year (2012), the Passat is all new for the United States. In 2011, Europeans received the real successor to the Passat while here in the states, we received a different car by the same name, built in Tennessee and $8000 cheaper than its predecessor. This larger, cheaper version is also built and sold in China and South Korea.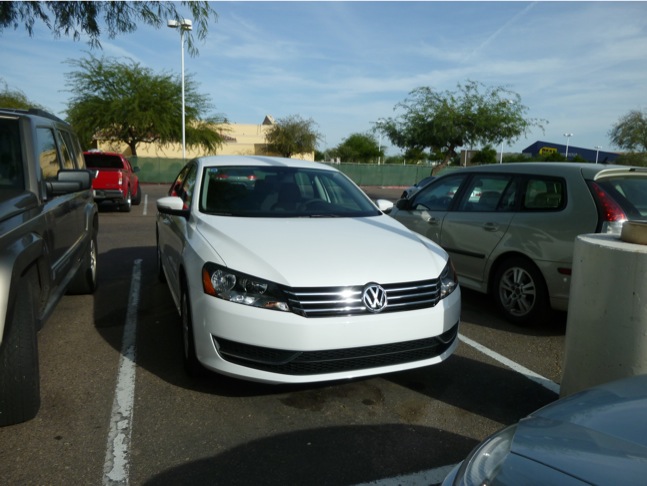 Due to the declining value of the US dollar against the Euro, the old Passat was priced thousands of dollars more than its competition. A well-optioned 4-cylinder Honda Accord could be had for thousands of dollars less than a similarly equipped base model Passat, forcing the Volkswagen brand into a small niche, never achieving more than a 2% share of the US market.
As a somewhat premium brand (a status mandated by pricing), Volkswagen had difficulty expanding beyond its core audience of cute college girls in Jettas and individualists who flocked to the expressive New Beetle. You could think of Volkswagen as Apple right before Steve Jobs returned, building costly, polished products that lacked mass market appeal.
After years of lackluster sales, Volkswagen altered its US strategy, building a new plant in Chattanooga which introduced a new Jetta and Passat, cheaper, larger, and softer models tailored for the US market.
The result was similar to what happened when Apple introduced the stylish, bargain-priced iMac in 1998. VW's premium image became available to the masses at non-premium prices with customers flocking to showrooms, quadrupling in sales volume over outgoing models.
Most of the dramatic price cut is due to US production, avoiding costly US-EU currency conversions while employing non-union American workers. Other savings were achieved by downgrading the interior, replacing some of the outgoing Passat's premium soft-touch surfaces with hard plastics.
Still, the cabin presents itself as an upscale-leaning motoring environment with beautiful LED lighting and luxurious knobs, switches, and displays. The tasteful colors, lights, and fonts used throughout the cabin suggest Audi more than Volkswagen, and even parked alongside an Audi A6 it would take a brief moment to tell the two cars apart.
Easily, the new Passat's interior and exterior are the most upscale-reaching of midsize family cars.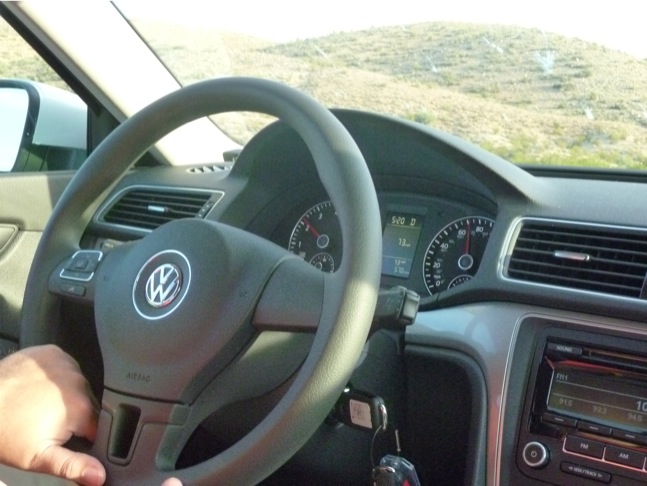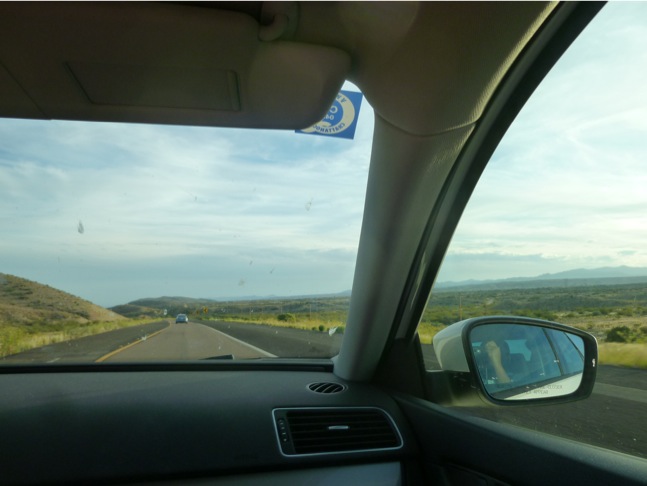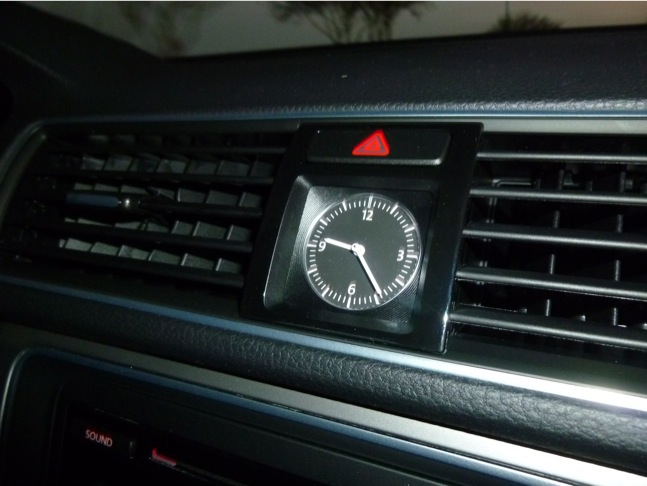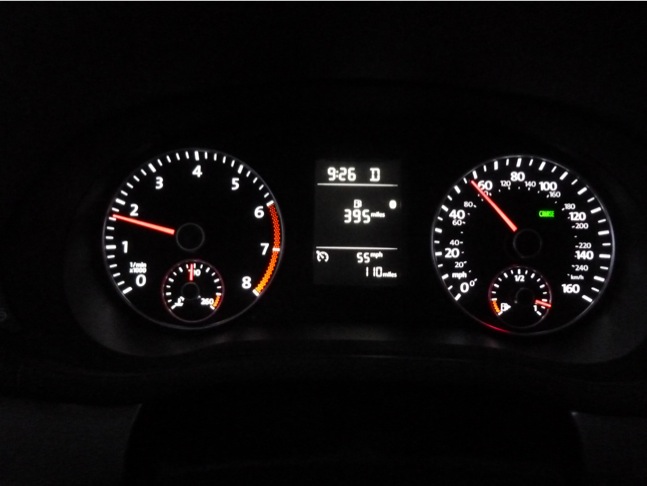 The Passat grows in size with a limousine-like back seat that draws comparisons to larger cars like the Chevy Impala, Chrysler 300, and Ford Taurus. Thanks to the its traditional three-box sedan shape, a six-footer can sprawl out in the back seat without feeling like a fat guy flying coach.
With cloth seats, satellite radio, a 170hp 2.5L I5 engine, and 6-speed automatic, the 2012 Passat we rented from Alamo would have retailed for just under $23,000, undercutting the CVT-equipped Honda Accord by $400. What we have, then, is a plus-sized car with a semi-premium interior at a bargain-basement price, and Americans love bargains, especially when it comes to size.
Though I commend the build quality of the Passat with its elegant lighting, durable switchgear, and precisely installed interior and exterior panels, I did find one defect. A wire was hanging down from underneath the climate control unit.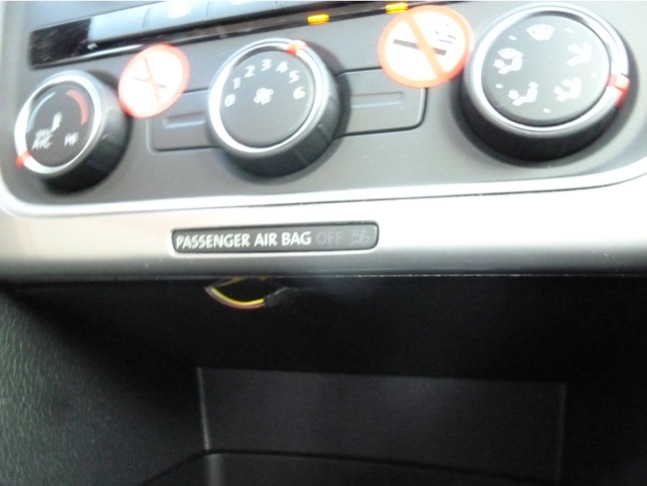 Though this minor flaw was fairly insignificant, over time I can see the edge of the plastic housing cutting slowly into the wire insulation.
This was, as far as I could tell, the only apparent defect. The Passat's other flaws were design-related, especially the narrow front seat seat bottoms which proved to be terribly uncomfortable. For the passenger sitting directly forward it was fine, but for the driver with his left foot planted on the dead pedal, you had to cross your leg over the large side bolster of the bottom cushion, resulting in a sleepy foot and numb thigh after an hour of driving.
For all of Volkswagen's bragging about the Passat being right-sized for America, this narrow chair was a rather unfortunate oversight.
Additionally, the Passat's driving dynamics were nothing special. The aging 2.5L inline-5 wheezes about like a tired old dog, exhibiting little eagerness as it lazily climbed the rev range. The automatic transmission performed its duties in the hilly parts of rural Arizona and Nevada admirably, downshifting on command and responding well to changing elevations, but around town it was too eager to upshift, killing the fun of stoplight launches.
The overly eager upshifting, fortunately, does translate into respectable fuel economy, 31.9 "instant mpg" on the highway and 26 mpg calculated by hand for the entire tank.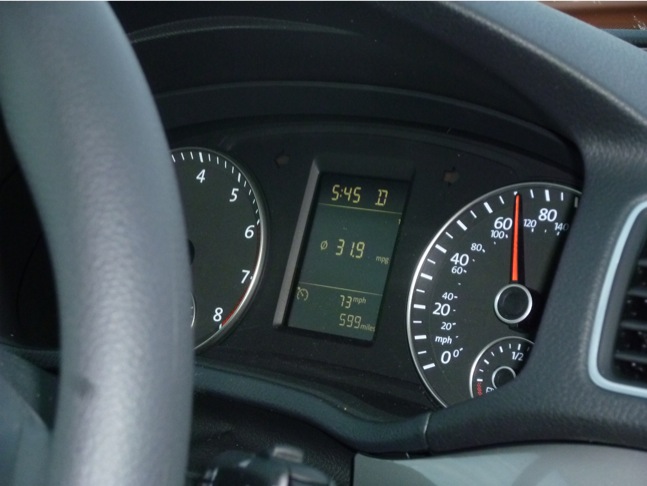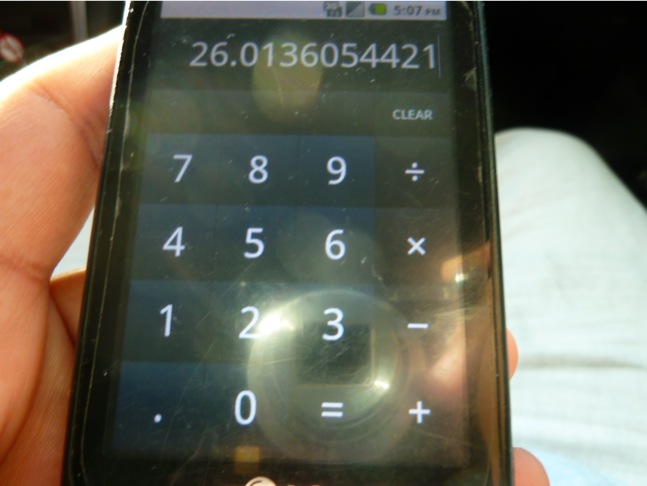 And although the steering had a weighty, substantive feel at low speeds, it was slightly vague on the highway with a numb on-center feel, not mushy but noticeably imprecise.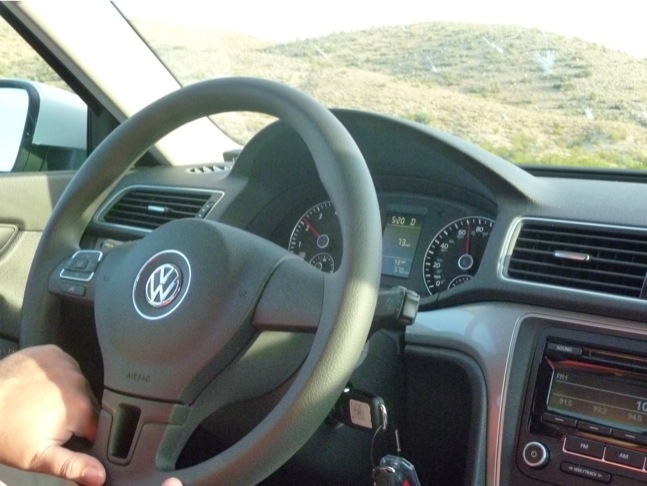 The front-strut, multilink rear suspension was pleasingly supple around the city streets of Phoenix and Las Vegas but painfully sloppy around corners, leaning over on its rocker panels like a Chevy Impala. It seemed as if the Passat wanted to be a firm, sporty sedan, but VW's engineers chose to separate the car from the pavement with a pile of marshmallows.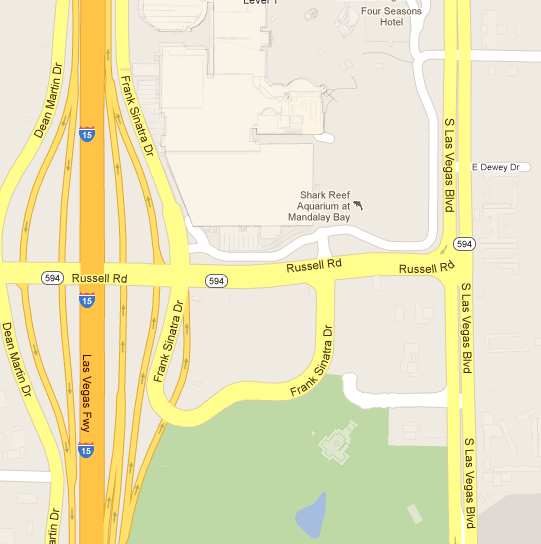 In Las Vegas we headed south on Frank Sinatra Dr (pictured above and below), approaching a left turn hook that a Fusion, Malibu, or any other standard car would be able to handle gracefully. The Passat leaned hard to the right, tires squealing like pigs in a burning barn, and plowed into the right lane before I hit the mushy brake pedal and regained control. This was clearly not a driver's car.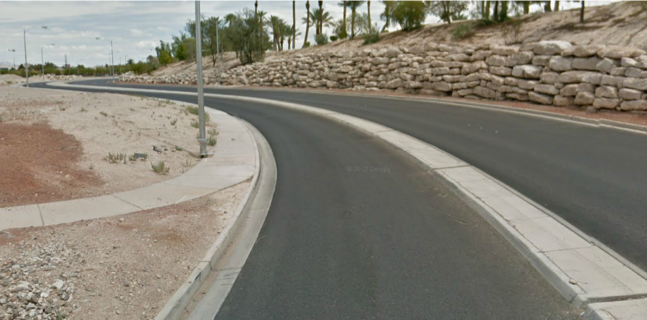 The rental-grade 2012 Chevy Impala, unfortunately, is what the 2.5L Passat's driving dynamics compare to, except the Impala at least has GM's excellent 3.6L V6. If you're into floaty, old-tech cars with wheezy engines and sloppy brakes, consider the Passat your slightly roomier, more upscale alternative. Otherwise, I expect more from something that carries a VW badge. This stylish car is a better place to sleep than it is to drive.
While in Vegas, we took a look at another S-class (price wasn't right) and I met up with a friend from Washington who flew in with his wife and some friends to celebrate his birthday — an outstanding coincidence.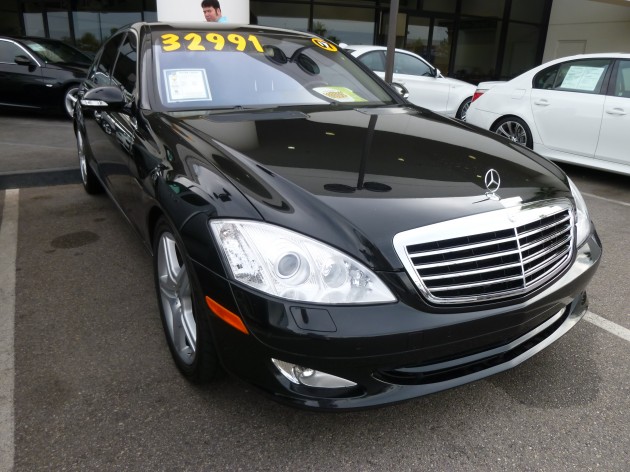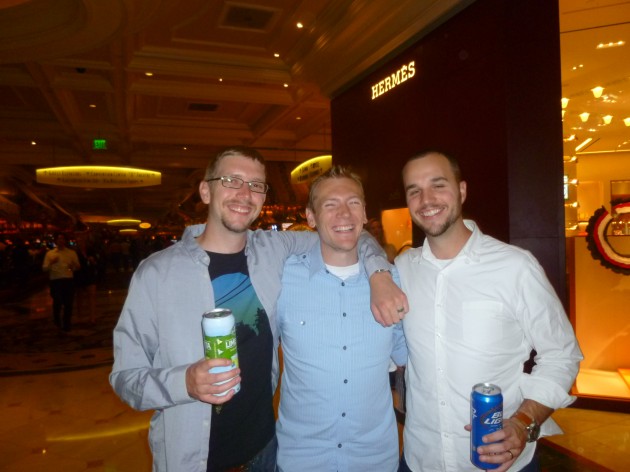 After an outstanding weekend in Las Vegas, including a David Copperfield show, the bland Passat was quickly forgotten.
Second Place: 2012 Ford Fusion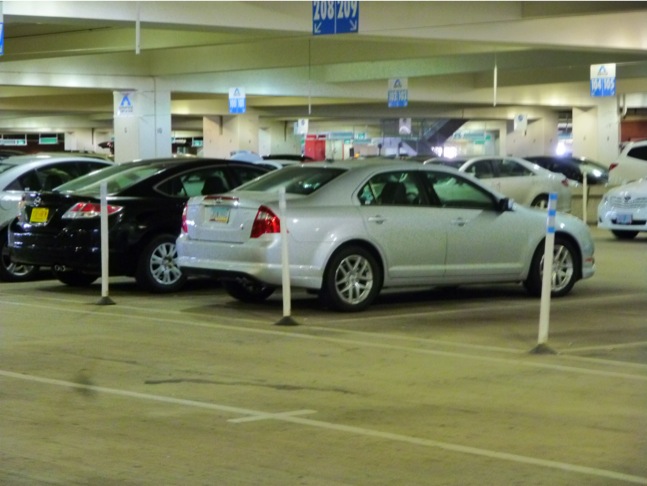 We returned to Phoenix from Las Vegas and changed rental companies to lock in a lower rate, choosing a smaller firm called Fox Rentacar. Unfortunately, the trade-off is that their fleet is older and with that age comes a few minor issues.
Like Alamo, you're free to choose any vehicle in a given class. At first, I wanted to take a black Mazda 6 (pictured above, left) to California but it lacked satellite radio which Ian insisted on. As a result, we ended up in a silver Fusion.
(A Dodge Avenger was also available, but who wants to suffer on a vacation?)
I have always been a fan of both the Mazda 6 and Ford Fusion, two dynamically excellent cars built on the same platform that are more fun to drive than the average family car. Compared to the stodgy Taurus, the sharply-styled Fusion was a breath of fresh air.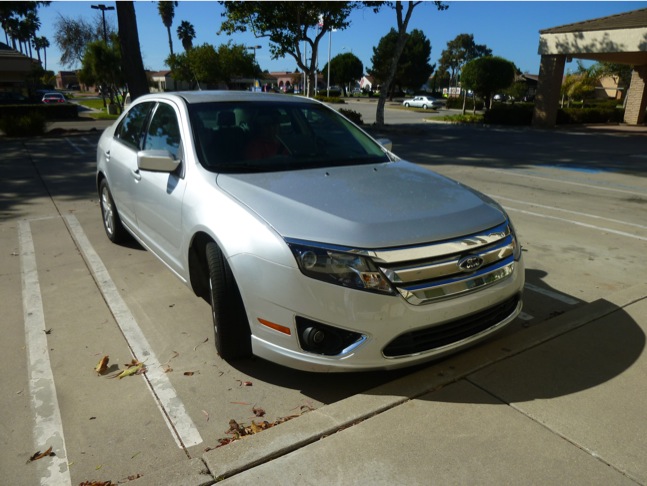 The Fusion's angular styling draws minor comparisons to the edgy Cadillac CTS and ten-spoke wheels on our SEL look as if they were pulled from a Mustang GT. On the other hand, some see the three-bar chrome grille as a mass of reflective metal that draws its inspiration from Gillette razors.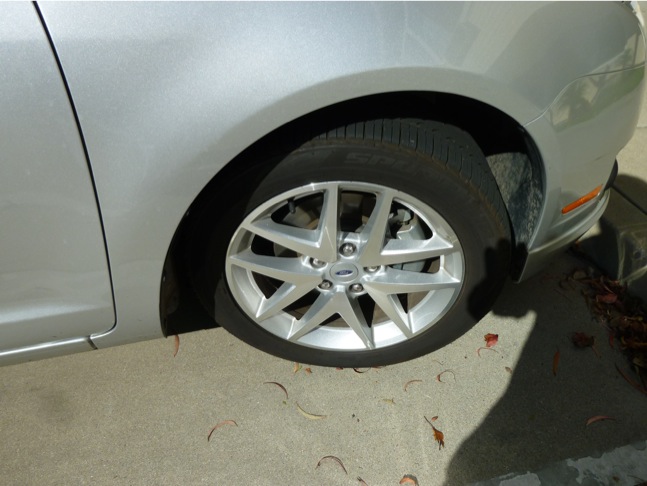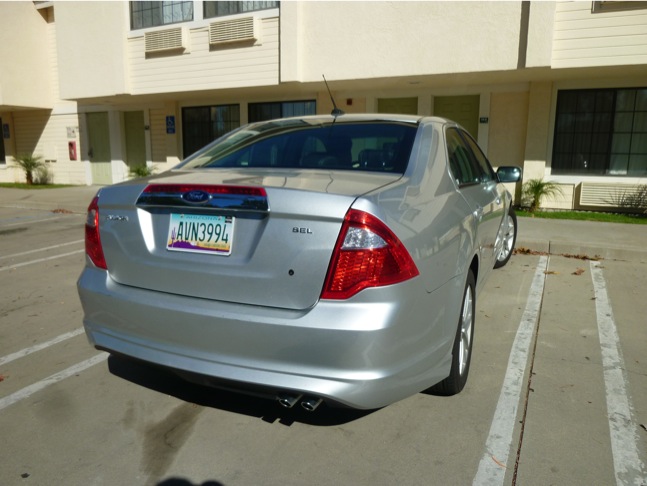 Twin tail pipes are nicely finished in chrome, tucked underneath a rear bumper cover that turns upward at the bottom for cleaner aerodynamics.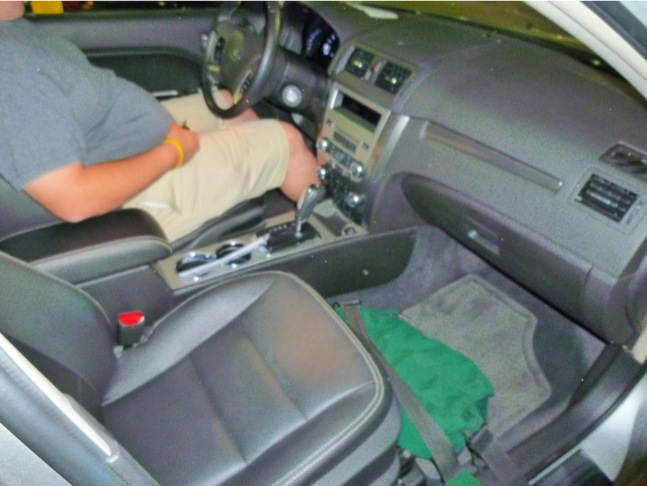 Up front there's plenty of room for two large Americans. I immediately took notice of the white contrast stitching on the leather seats and arm rest, completely unnecessary but tremendously pleasing design details that give the midsize Ford an upscale look and feel.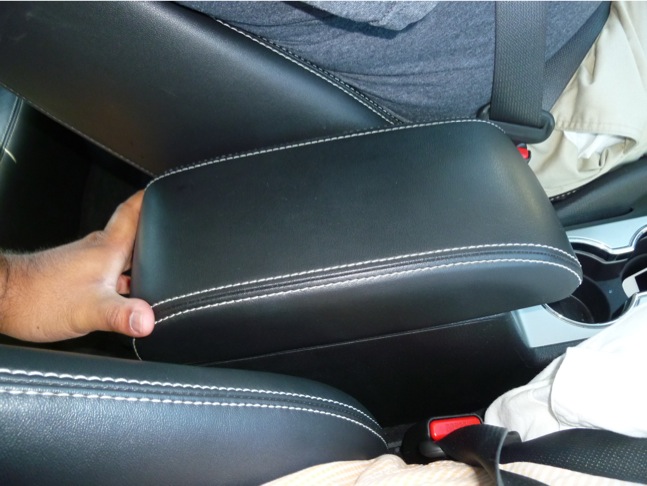 Even the door panels were thickly padded on the sides and arm rests with the only hard plastics found at the far bottom and far front sections, a nice upgrade over the Passat which had a larger quantity of hard surfaces.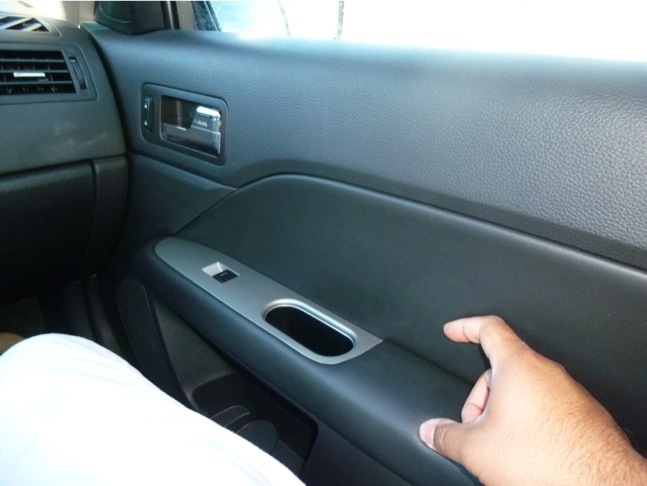 The compromise, unfortunately, is in the rear. The Fusion's platform is adapted from the Japanese and Euro-centric Mazda 6 which lends it a smaller wheelbase than the made-for-America Volkswagen Passat. Rear passengers will encounter a shorter, lower seat cushion with noticeably less leg room. Still, it compares reasonably well to the Accord, Camry, and Malibu and a parent should have no trouble dealing with a rear child seat in the space available.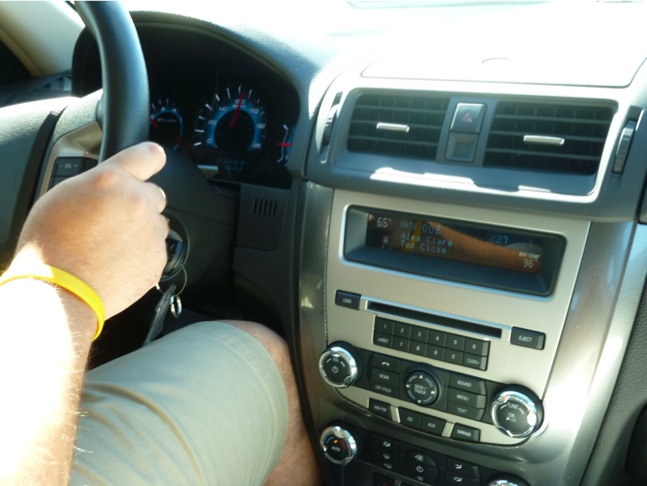 Additionally, the narrower cabin offers less room to stretch out with the driver's knees resting up against the unusually wide center stack. And that center stack is a ridiculous mess of buttons, buttons, and more buttons.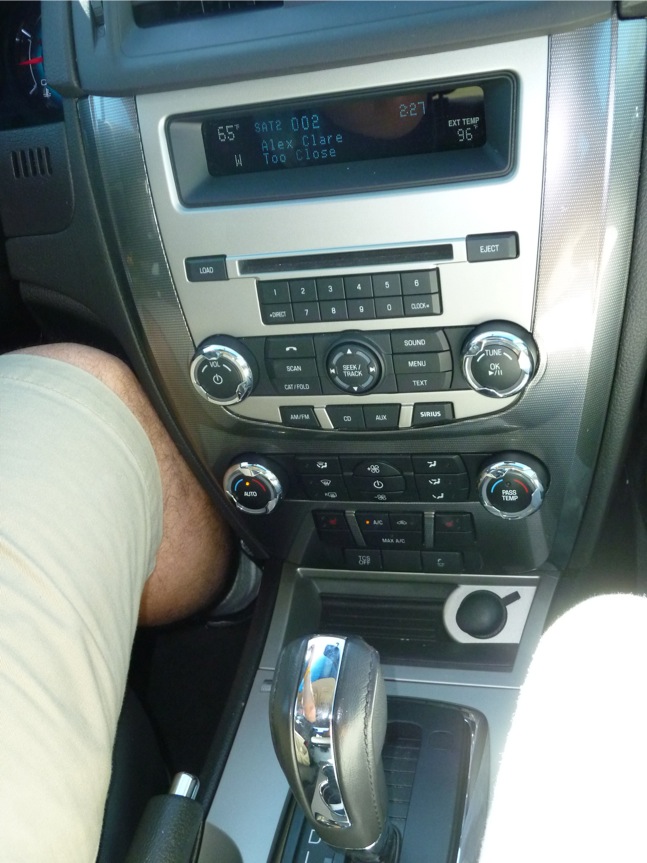 Traditionally, Fords have offered some of the simplest and most logical fan, radio, and climate controls with three sets of knobs for the fan, vent flaps, and temperature and two knobs for the volume and tuner. Unfortunately, in the Fusion, the fan knob is replaced by up and down buttons while the ventilation flaps are controlled by an array of tiny buttons crammed into the bottom of the stack. We never really got used to it as it required your eyes to be removed from the road as you peered over the little icons.
Ford also had a tradition of presenting information in the plainest, most logical way possible with adequately lit needles and gauges marked with plain sans-serif fonts that quietly said "Peoria."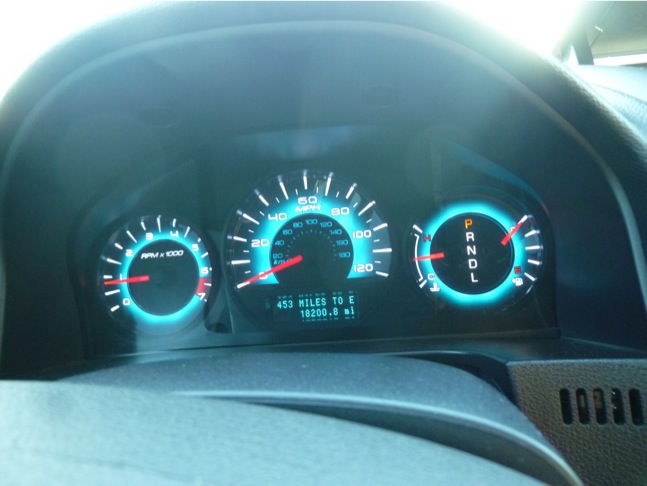 The Fusion, however, abandons decades of functional simplicity in favor of garish cyan blue lighting that draws its inspiration from video games. If this was Ford's way of making up for the stodgy, boring gauge clusters found in the Taurus and Explorer, then they went overboard. It's as if Nicki Minaj was tapped for design inspiration.
Fortunately, those shortcomings are made up for by Sync, a brilliant method of combining in-car audio with the modern capabilities of smartphones. Bluetooth pairing with the iPhone 5 is quick and painless with clear call quality and reasonably accurate voice recognition, though some artists could not be interpreted by voice.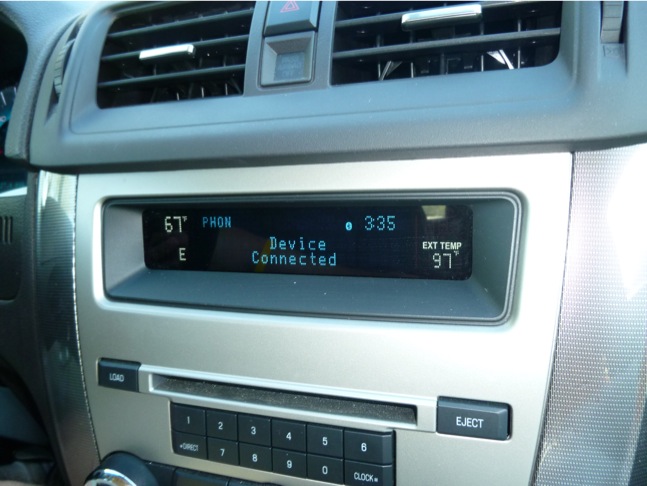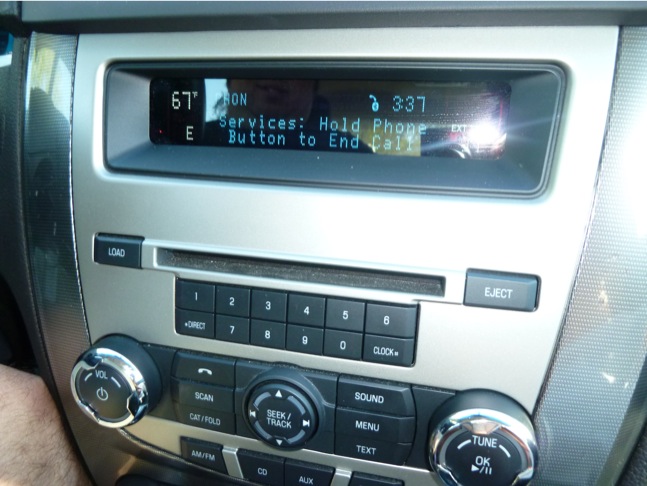 Satellite radio functionality was a bit confusing, using both the tuning knob and the four-way seek button in the center. Fortunately, the electroluminescent display was easy to read with large, well-arranged text. The far left displays the current climate control setting and compass position while the far right shows the outdoor temperature. The top line is used for the climate, connectivity modes, and source displays.
You can call up genres, artists, or song titles by voice in English, French, or Spanish. More advanced versions of SYNC support navigation, SMS reading, voice dialing, and custom ringtones.
Most importantly, music sounds incredible with thunderous, trench-deep bass and highs that glisten and sparkle with impressive clarity. It's almost enough to make up for this car's greatest flaw, the obnoxious MyKey system.
In theory, MyKey is the ultimate implementation of vehicle safety and security, preventing valet drivers from going on triple-digit joyrides and keeping teenagers within normal highway speed limits. Unfortunately, MyKey is seldom configured correctly in most rental fleets, resulting in electronic speed limiters (75 mph in our case) that make it dangerous to pass slow-moving vehicles and get out of dangerous highway traffic situations.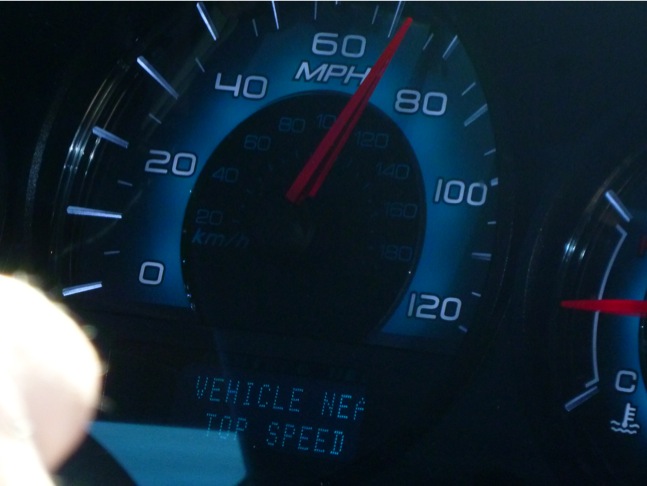 As we approached 75 mph, the Fusion beeped and ceased to accelerate no matter how hard we pressed the throttle. This obnoxious feature was not necessarily enabled by Fox Rentacar. Any user with one of the master keys can play with the configuration menu and turn the master key into a slave key, enabling the speed limiter in the process. The only solution is to use the other master key (which we didn't have on hand) to override the setting.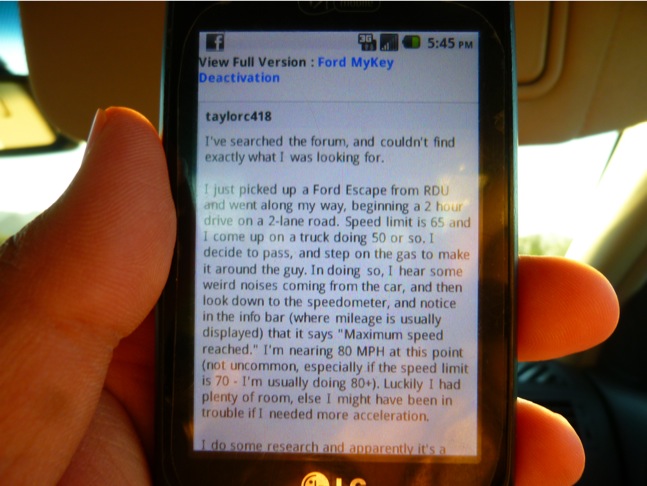 As we traveled up the California coast I did my best to look for solutions. People suggested disconnecting the battery and pulling fuses but I learned that the setting was stored in the PCM and could not be bypassed without the master key.
In retrospect that worked out fine since we discovered an obnoxious wheel bearing vibration and low speeds were probably safer anyway. After being on hold with Fox for an eternity we decided to put up with the problem until we got back to Phoenix.
We stopped in Lompoc, California and stayed at a Days Inn for a few days while we waited for the paperwork for a BMW 7-series to go through. To my surprise, the BMW was quite bland, not only to look at but to drive as well.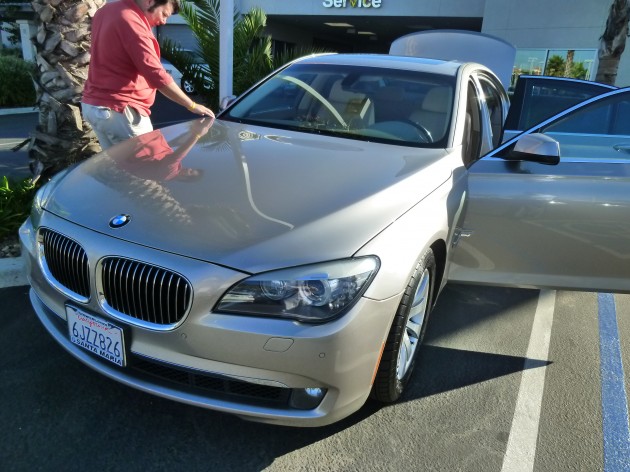 The coast, however, was strikingly beautiful. We checked out the beach which featured a coastal Amtrak station.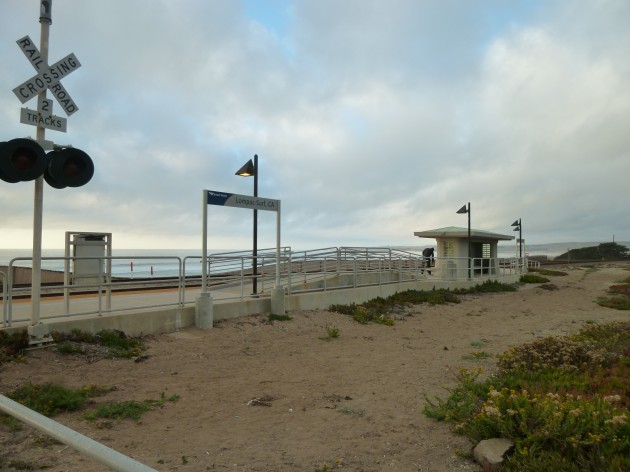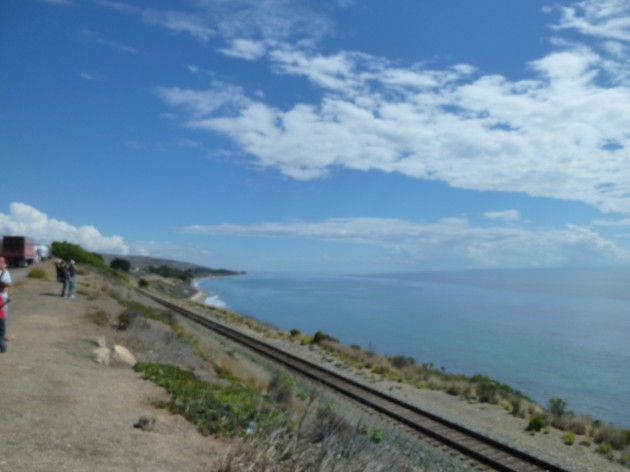 At the last minute, Ian changed his mind on the car and we left town. On the way back, his business partner called and asked him to look at a couple BMW 2002s. That's when we met up with the founder of Socal Vintage BMW and took a 1974 2002 for a spin. More on that later.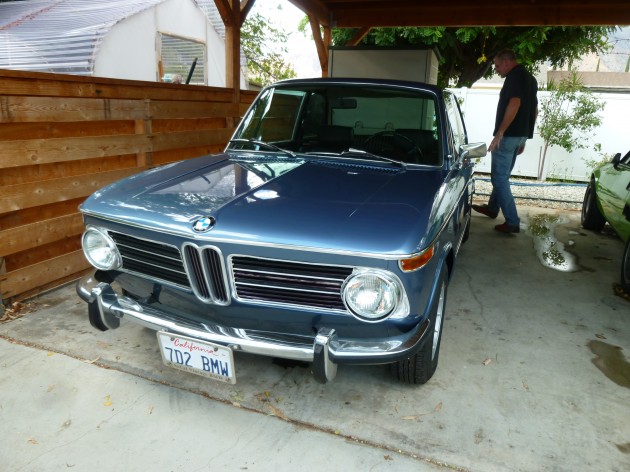 One additional annoyance was the visor peg that mounted from the front rather than the rear. Whenever I tried to reinsert the visor peg I found myself banging it on the back of the hook until I noticed my error. Why such a simple, obviously thing designed this way is beyond me.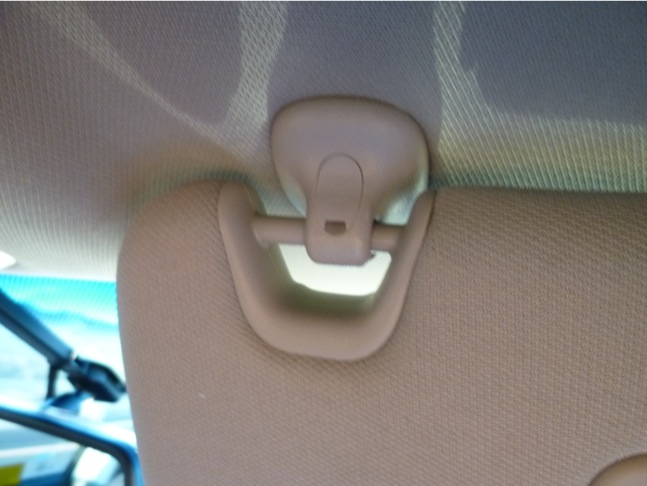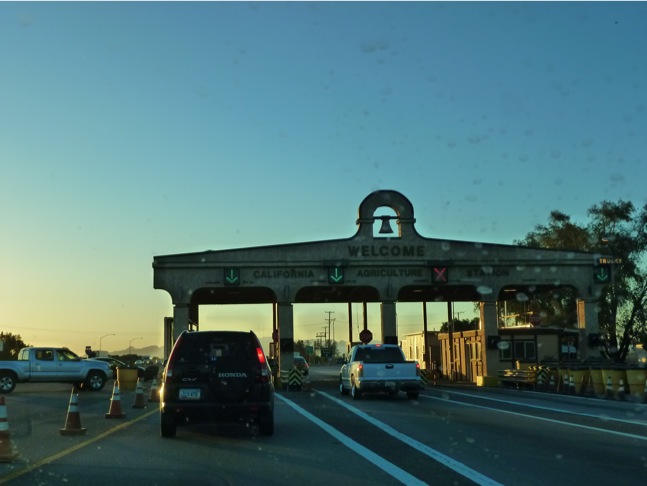 Welcome to California, the only state that stops you upon entry and asks if you have any fruit.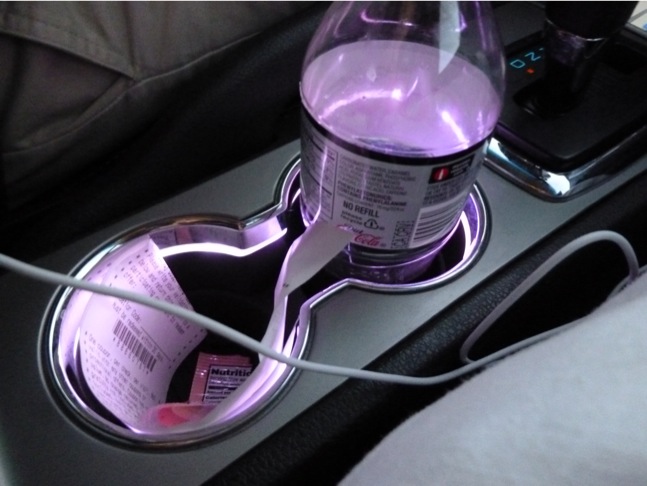 As night fell the Fusion's cabin turned into a night club (a night club that played Phil Collins). Around the front and back of the interior, an option on the SEL, were LED lights that illuminated the foot wells and cupholders.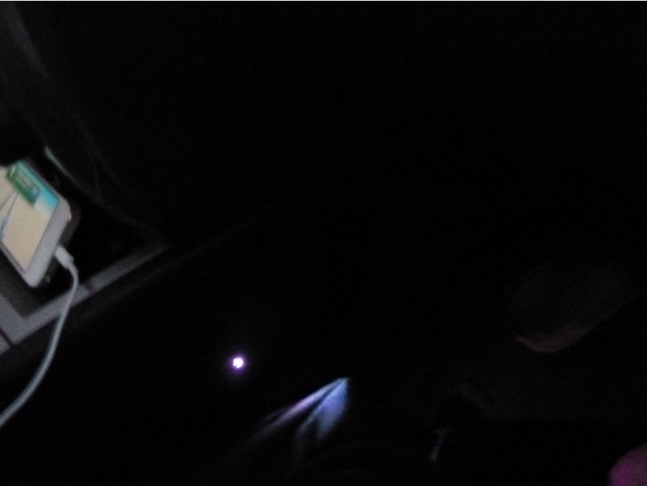 A decade ago I remembered someone I knew putting LED lounge lights in his Mitsubishi Eclipse, a trendy thing to do among the ricer crowd. Apparently Ford caught on and took it mainstream.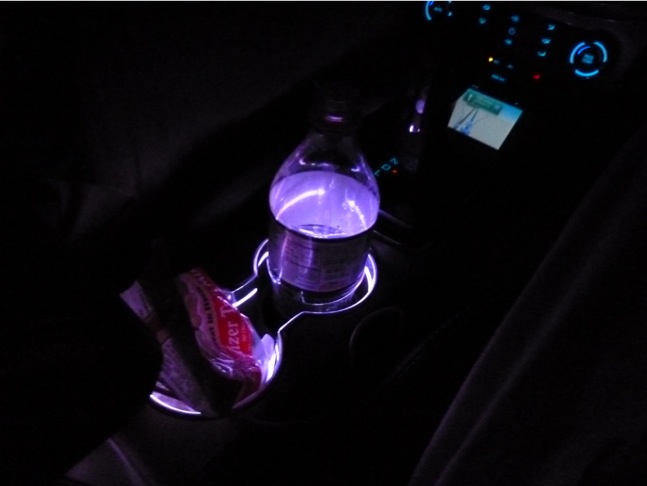 I've never seen pretzels and Diet Coke illuminated in such a vulgar, boorish way. Fortunately, we discovered that a button on the very bottom of the crammed center stack (labeled with an inexplicable sun and moon icon) allowed the illumination to be changed to other colors or disabled entirely. I chose a much less obnoxious shade of dark blue that provided a sufficient level of light without making the inside of the car look like Larry Flynt's Hustler Club.
While the Passat was at times painfully conservative, the Fusion was conversely obnoxious, trying its best to be edgy by laying it on thick with superficial bullshit.
That said, as a car, and by a car I mean a breathing, mechanical machine that responds to human input, the Ford Fusion is an outstanding way to travel, genuine fun to throw around corners and quick to respond to steering inputs, not to mention superbly comfortable on long-trips whether it's on flat, wide interstates or winding narrow roads.
The Fusion's double-wishbone front suspension works wonders, tucking and digging in to tight corners while offering a smooth and compliant ride on all kinds of surfaces. All of this is motoring pleasure is expected for a car that traces its lineage to excellent drivers like the Mazda 6, Mazda 626, Mazda MX-6, and Ford Probe.
Averaging 30.8 mpg on our trip to California was yet another delightful bonus.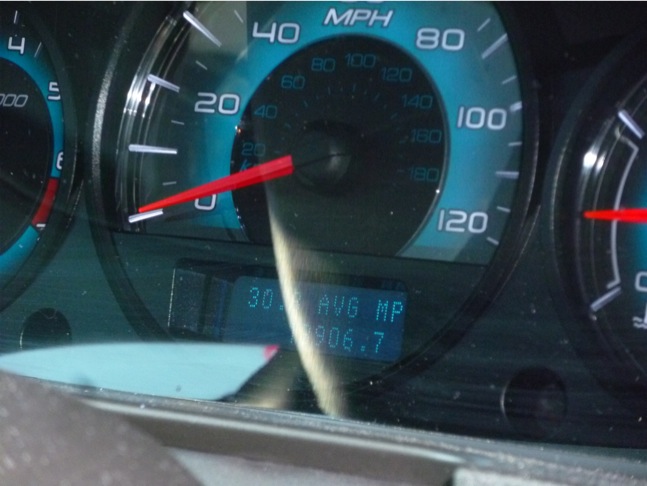 Unfortunately, where the Fusion falls short is in the implementation of the 6F35 6-speed automatic, mated to the I4 and 3.0L V6 starting in 2010. A combination of mechanical and software issues have resulted in occasionally lumpy or harsh shifts.

Fast Tube by Casper
The contrast-stitched leather, brilliant sound system, clever SYNC interface, comfortable seats, high crash test ratings, excellent visibility, and sharp styling are all icing on one hell of a cake, but the transmission issues on certain 2010-2012 models make it hard to recommend the certain versions of the Fusion.
If you want one, find a 3.5L V6 with the Aisin TF-80 6-speed automatic instead of the 3.0L or 2.5L with Ford's 6F35. In addition to being more dependable, the 3.5L Fusion is quicker to 60 mph (under 7 seconds) and more powerful.
We gave the Fusion another chance after we left California and returned to Phoenix, picking up a less-optioned model with fewer miles for a trip to Tucson AZ where where inspected a 1970s BMW 2002 (more on that later). It lacked SYNC, leather, automatic climate controls, selectable interior lighting, and heated seats but still offered satellite radio.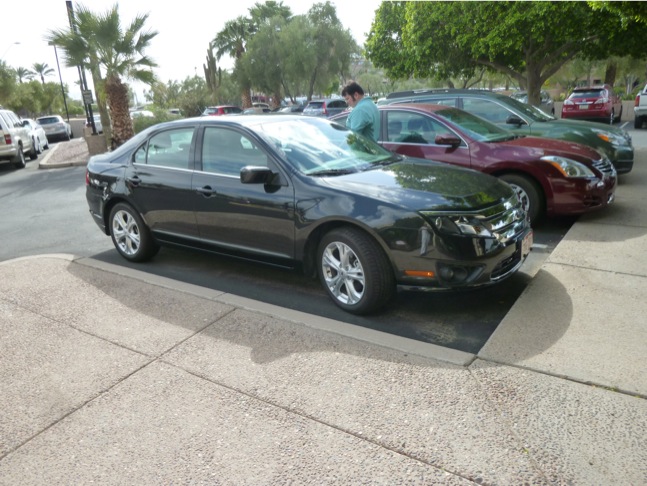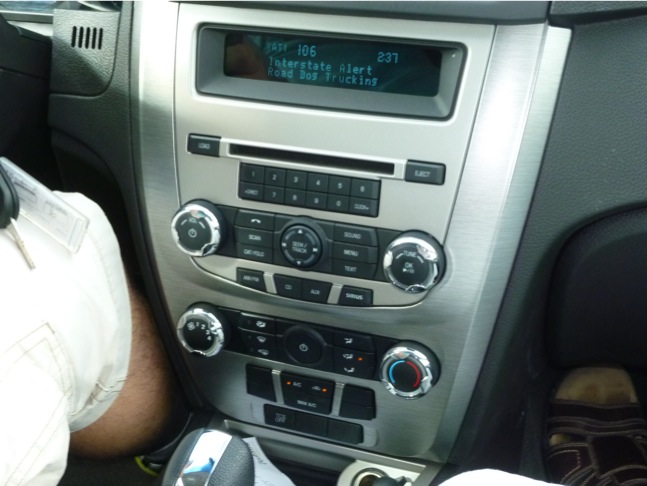 Thankfully, this one was not plagued by MyKey settings, transmission issues, or wheel bearing vibrations. Compared to the almost-loaded SEL, we also lost the leather-wrapped steering wheel and some padded interior surfaces.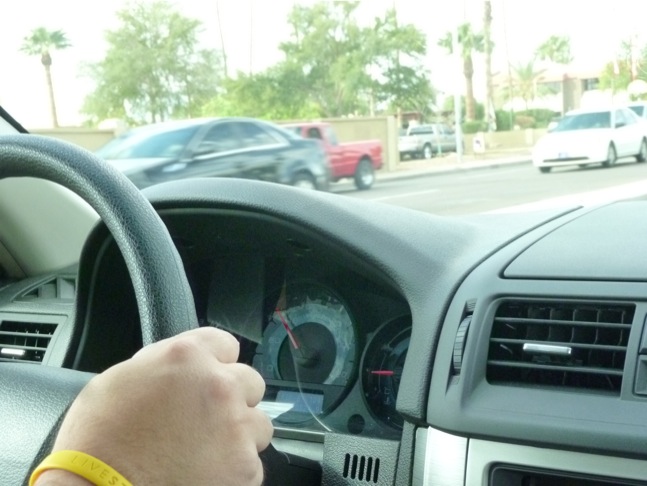 We also lost the exterior temperature display, fake carbon fiber trim, and compass.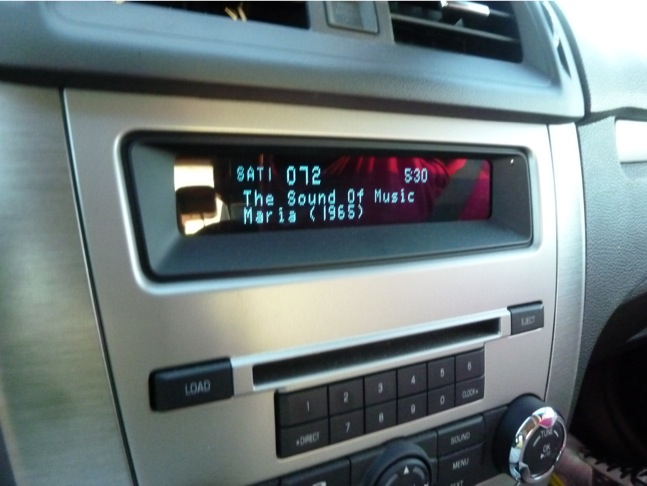 For me, the absence of those features was a positive. The manual climate controls were much easier to use, the selectable lighting in the SEL was ridiculous, and the lively steering and sharp handling remained in tact. It's reassuring to know that after being stripped of its superfluous frivolities, the Fusion retains all of its style and driving enjoyment.
On the way to Tucson, to look at a 1976 BMW 2002, I dozed off in the passenger seat again, enjoying the Fusion's compliant ride and thickly padded seats. More on the BMW later.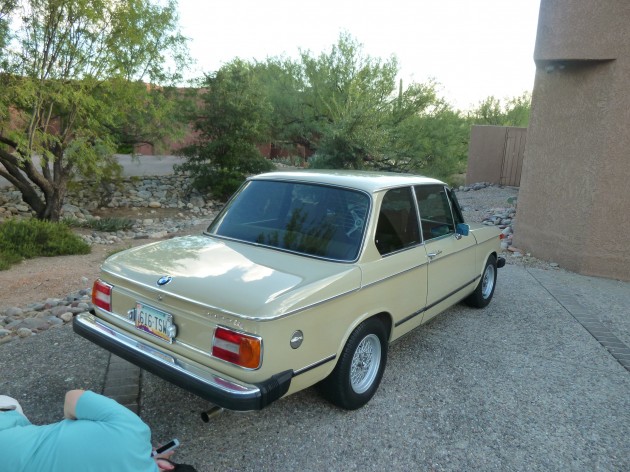 For 2013, the all new Fusion loses its double wishbone suspension in favor of more conventional Macpherson struts, though Ford insists that the new car is intended for drivers. It also gains more elegant styling and abandons the aging naturally aspirated Duratec engines in favor of Ford's latest Ecoboost turbos. Technologically, the new Fusion ushers in a new era of efficiency and design. Dynamically, I hope Ford hasn't abandoned driving fun in favor of total refinement.
First Place: 2012 Chevrolet Malibu
Introduced in 2008, this particular generation of Malibu was Chevy's first fully competent and genuinely impressive family car to come along in several decades. I rented this car from Hertz on a separate trip I took to California earlier in the year, and you can read the full review with photos and detailed ratings here.
Compared to the 2012+ Passat and 2006-2012 Fusion, the Malibu looks more upscale with its thick C-pillar, German-influenced formal roofline, straight beltline, and muscular wheel arches. The body looks sculpted and strong without being fat, owing to its long wheelbase, long rear overhang, and narrow dimensions.
Unfortunately, the styling comes at the cost of ingress and egress, causing tall people to hit their heads on the roof and pillars when climbing in. The slightly narrow cabin also results in a tighter back seat in terms of width, but it makes up for it with generous leg room, straddling the difference between the Fusion and Passat without compromising on the depth and length of the rear seat cushion.
The new 2013 Malibu that replaces this car takes a different approach, shortening the back seat while widening it to appeal to a global audience. While that may be beneficial for the rare occasions you have three people sitting across the rear bench and may make parallel parking easier in, say, a British village, it makes the cabin feel more cramped and makes installing a child seat a bit more cumbersome.
Click the link below for a complete write-up on the 2012 Malibu, written last year.
Conclusions and Ratings:
Interestingly, though the purpose of this trip was to buy a car, we ended up coming home in a 1991 Buick Riviera that I found on Craigslist in Phoenix. More on that later.
Powertrain:
Passat – 4/10 – The 2.5L 170hp I-5 that powers much of VW's lineup is lazy, gutless, and unrewarding. The 6-speed transmission is reasonably responsive when called to action but too prone to upshifting in routine driving.
Fusion – 6/10 – Ford's 3.0L Duratec V6, despite its age, is adequately powerful. Unfortunately, the homegrown 6F35 6-speed automatic is prone to odd behaviors.
Malibu – 8/10 – The 6T40 6-speed automatic transmission makes the best of GM's 169-hp 2.4L Ecotec engine. Unlike its sibling, the Saturn Aura, the Malibu is often in the right gear, rarely hunting or searching. Shifts are pleasingly smooth but perceptible enough to offer a bit of feedback. Gearing is nearly perfect though the 2.4L Ecotec I-4 can be raspy at high revs.
Braking:
Passat – 4/10 – After shoving your foot through a mushy pedal, the car dives forward like an ocean liner.
Fusion – 9.5/10 – Sharp, steady, and athletic.
Malibu – 9/10 – Strong and progressive.
Ride:
Passat – 10/10 – The Passat rides as if it's suspended in a bowl of thick white country gravy. Supple and steady on the highway.
Fusion – 9/10 – An excellent balance of sport and comfort, never harsh but pleasingly firm.
Malibu – 9/10 – Quietly sturdy in a way that brings to mind German sport sedans with a nice balance between American-style smoothness and European firmness.
Steering/Handling:
Passat – 4/10 – The soft suspension that lends the Passat a Rolls Royce-like ride also turns it into a queasy, sloppy handler even in city driving. Steering is also a bit numb on center.
Fusion – 9.5/10 – The Fusion was born for curves with quick steering and a firm but compliant ride. From a driver's perspective, the Fusion feels like a lively Japanese sport sedan.
Malibu – 8.5/10 – While it may lack the on-paper handling prowess of a BMW, it offers the feel of a car that's imported from Germany. Through sweeping curves and banked on-ramps, mild body roll serves as an indicator of grip rather than a symptom of queasiness. The steering could offer more feedback, something the Mazda 6 and Ford Fusion excel at.
Audio/Accessories:
Passat – 5/10 – For a near-base model, the 2.5L Passat comes equipped with a pleasing if not mind-blowing sound system with MP3 playback, auxiliary input, a clever multifunction digital display built into the gauge cluster, steering wheel controls, power mirrors, manual seats, and Bluetooth audio streaming. A Fender premium sound system is optional. A basic alarm still costs an additional $325, a strange omission. For the same price, the Honda Accord includes dual zone climate control, Pandora streaming, a backup camera, and an alarm among other features. Despite moving production to the US and dropping 8 grand off the price, the Passat still comes up short on features and options for the money.
Fusion – 9/10 – The Fusion SEL comes packed with everything but the kitchen sink and an unusually pleasant sound system. Unfortunately, climate and audio controls are sometimes difficult to use and the interior is a mess of poorly organized buttons. SYNC is a nice touch.
Malibu – 6.5/10 – When this review was initially written last year, the Malibu seemed well-equipped for 2012. Now, especially after reexamining the Fusion, the Malibu comes up short in connectivity, though this was remedied for 2013 when the debut of the new Malibu. The Malibu's radio display looks a bit dated as well compared to the competition, even from a year ago. Fortunately, everything is easy to use and the standard GM radio is punchy, powerful, and bright, though it doesn't match the Fusion's glistening clarity. The 110-volt electrical outlet on the center console is a nice touch.
Interior:
Passat – 8/10 – Though it loses some soft-touch surfaces compared to the previous Passat, the elegant lighting and tasteful displays lend an upscale feel missing from the competition. The analog clock is a nice bonus.
Fusion – 5.5/10 – Fake carbon fiber trim, garish looking gauges, and cheesy interior lights come across as amateurish, as if the Fusion's interior designers spent a day at Autozone pulling accessories off the shelf. While it is a comfortable place to sit, it isn't so great to look at. The door panels and seats feature beautiful stitched leather and padded vinyl, so while the design is weak the quality is high.
Malibu – 7/10 – Showing its age, the Malibu doesn't have as many soft-touch surfaces as its competitors, but what it lacks in softness it makes up for with lots of storage, faux-suede "ultralux" seating surfaces, and a dual-cowl configuration that creates a feeling of space between the front seats and the windshield. The bright wood trim that curves from door to door is an elegant touch. The back seat is a bit too dark and cave-like due to the thick C-pillar and high door sills, but the long and supportive seat bottoms help make the rear a comfortable place to be.
Comfort:
Passat – 7/10 – Narrow seat bottoms make road trips an uncomfortable burden. Rear leg room is limousine-like and sure to please back seat passengers. The driver's seat gets a 4/10 while the rear earns a 10.
Fusion – 8/10 – Front seats are an ideal blend of comfort and sport though the back seat could use additional thigh support and leg room. The wide center console intrudes into leg room. I dozed off peacefully in the passenger seat for several hours.
Malibu – 8/10 – Front seats are well-bolstered with excellent thigh support. Adjustable lumbar on lower trim levels would be nice, but the default configuration is perfect for long-distance trips or hours spent idling in California traffic. The driver gets a power seat adjuster with manual rake.
Quality/Reliability:
Passat – 7/10 – Volkswagens have a reputation for electrical and mechanical issues which is perhaps why VW USA has priced most Passats with the durable-but-dull 170hp 2.5L I5 and the diesel to appeal to mainstream value-minded buyers while the more interesting (and problematic) V6 start at $30k. This new crop of less complicated, American-minded Volkswagens may finally improve VW's reliability scores. Otherwise, build quality is quite good.
Fusion – 7/10 – In the pre-Ecoboost era of Ford, the Duratec lineup of engines proved to be dependable and efficient, though not particularly noteworthy otherwise. 6F35 6-speed transmission issues on 2010-2012 Fusions take a reliability rating that would have been a 9 down to a 6.5. Find a 3.5L Fusion instead, mated to an Aisin automatic.
Malibu – 8/10 – The Ecotec 2.4 is well-reputed and proven. Unfortunately, from 2004-2008 (possibly 2009) the HF 3.6L VVT V6 had issues with timing chains. A new part was issued in 2010 to remedy the problem under warranty. See details. Build quality is high with narrow and consistent panel gaps, perfectly fitted bumpers, consistently applied paint on metals and plastics, high-quality trim pieces, and doors that close with a reassuringly muted "thoomp." The interior could use a couple refinements but the execution is elegant. I experienced one defect — the remote start did not work every time.
All three cars are imperfect but well made.

Overall:
Passat – 49/80 – If you insist on a European badge and don't mind driving a bowl of thick syrup, this could be a worthy alternative to a Chevy Impala.
Fusion – 63.5/80 – Polarizing front styling, polarizing interior, always fun to drive.
Malibu – 64/80 – The car Goldilocks would choose. Reasonably talented, likely to be bargain-priced, and easy on the eyes.
Wildcards:
2011+ Kia Optima – Many prefer its driver-focused interior, high-tech features, sleek styling, powerful GDI turbo-4, big back seat, and bargain price. It is a very compelling choice among family sedans. Read the full review here.

2008+ and 2013 Honda Accord – The 2013 Accord offers a nice interior, an optional manual transmission, a silky V6, and the option of a two-door coupe. The 2008+ Accord, despite its dumpy styling, was competent if not eye-catching.