Review: 2012 Chevy Malibu, Long Beach California
Farewell, Chevy Malibu.

GM's best mainstream car in five decades ends production this year, making room for the much-maligned 8th-generation model for 2013. Nothing is fundamentally wrong with the new 'Bu, but the five-inch shorter wheelbase, reduced rear leg room, loss of a V6 option, half-baked "eAssist" powertrain, and incongruous Camaro-inspired taillights have resulted in poor initial reviews and slow sales.
Treasury-appointed CEO Dan Akerson accelerated the release of the 2013 Malibu even though the mainstream 2.5L 4-cylinder powertrain wasn't yet ready for market. As a result, the mild-hybrid 'Eco' model was rushed into production, utilizing a small battery that offers marginal gains in fuel economy at a cost that's higher than it's standard gasoline 4-cylinder competitors.
The 8th-gen sedan improves over its predecessor with reduced wind and tire noise, better fuel economy, improved chassis rigidity, reduced aerodynamic drag, and a noticeably upgraded interior.
Unfortunately, Chevrolet's efforts may have been overshadowed by hungry and aggressive competitors from Asia. The Nissan Altima, Toyota Camry, Honda Accord, and Kia Optima have all grown in size while including additional luxury and standard technology, benchmarking each other while the Malibu lingers a quarter-step behind.
The new 4-cylinder Nissan Altima, for example, undercuts the mild-hybrid 2013 Malibu Eco by $4000 yet offers slightly better fuel economy, more trunk space (Malibu Eco's battery consumes two cubic feet of cargo room), more interior space, and less weight.
So, while the new Malibu may be an improvement over its award-winning predecessor, the competition appears to have taken the segment a step further, enough to earn the new Malibu Eco the unfortunate title of "Most Disliked Car of 2012."
Adding insult to injury, the outgoing 2012 model is available for $6000 less than the 2013 Malibu Eco thanks to generous factory and dealer incentives. Until inventories of 7th-gen models are depleted, sales of 2013 Malibus are expected to remain low.
The general consensus among the motoring press is that while the new Malibu is a thoroughly competent, nicely refined family car, its launch was botched by managerial impatience.
It is because of this debacle that we bid a sad farewell to the old Malibu.
I drove to Long Beach with my brother and a friend to attend the 2012 Japanese Classic Car Show. Unfortunately, we had diverging plans for the weekend so he took his Honda CRV to hang out in North Hollywood while I booked a rental and stayed in Orange County.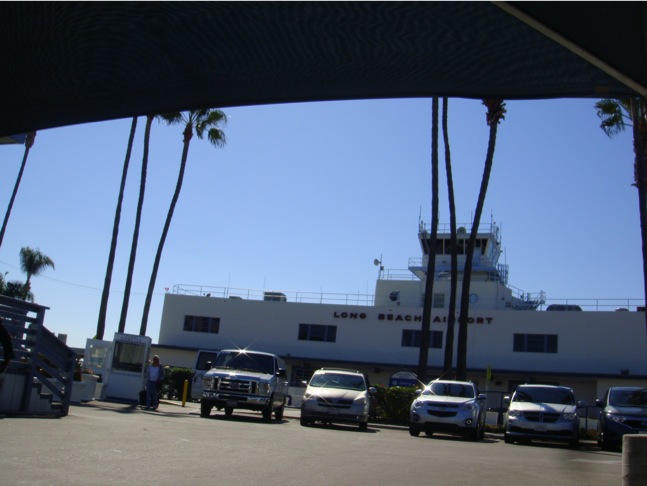 I booked a full size car on Priceline and headed to the airport. With my laptop in hand (no printer was available at the hotel) I approached the Hertz counter with my reservation number to pick up a full size car. Instead of a sprawling Grand Marquis, Avalon, or Taurus I was offered a Chevy Malibu, not exactly what comes to mind when I think of "full size."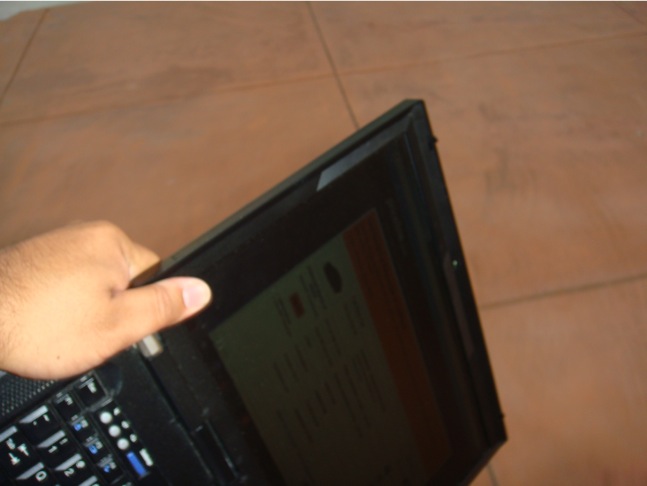 Curious about how the Malibu has endured after four years of production and eager to compare it to the 2008 Saturn Aura 3.6 I put 10,000 miles on four years ago, I caved in to Hertz's stingy interpretation of "full size" and accepted the keys to my midsize-plus Chevrolet.
With a 169-horsepower 2.4-liter engine, 6-speed automatic transmission, leather-wrapped steering wheel, power heated driver's seat, remote start, satellite radio, "ultralux" faux-suede/leatherette upholstery, 110-volt power outlet, Bluetooth, and 18" chrome wheels, a 2012 Malibu LT equipped this way would likely retail for just over $26,000 before rebates and incentives.
Except for a sunroof and a 252-hp V6, there isn't much else to add, and for $32/day with unlimited mileage including tax I seemed to have done well.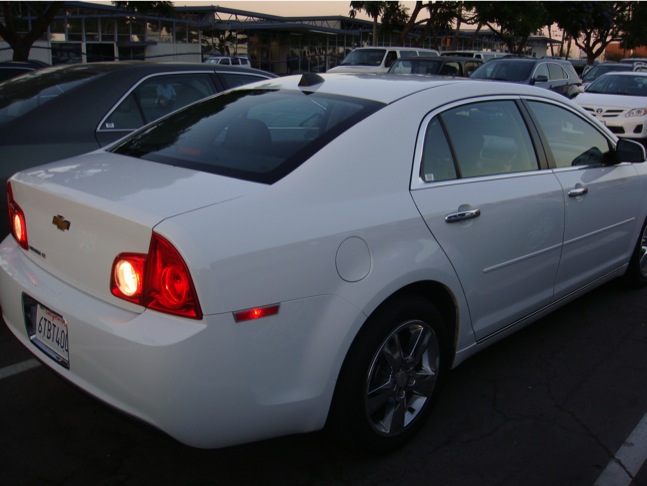 In profile, the Malibu looks unusually expensive, adopting a formal C-pillar and rear glass design typically found on large Audis. The look of luxury is further enhanced by a straight, clean beltline that extends into a flat rear decklid. There's a pleasing absence of the silly swoops and dips that were visible on the discontinued Pontiac G6, one of the Malibu's Epsilon-platform siblings. The upscale rear-quarter appearance is spoiled only by bland and lifeless tail lights that appear to be an afterthought.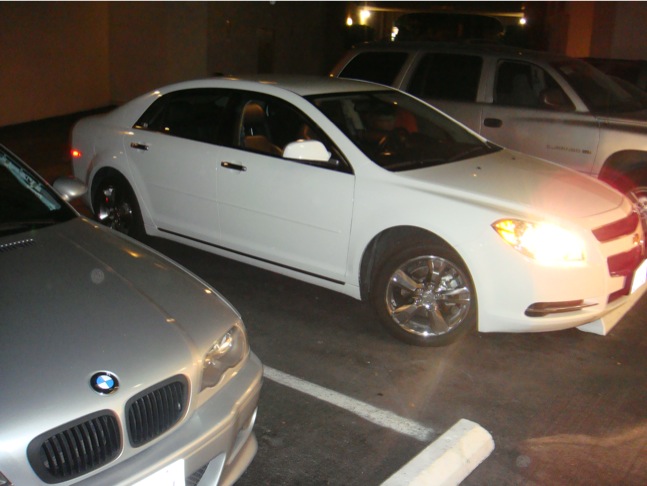 In front, the Malibu is slightly less distinctive with teardrop-shaped headlights that could have been plucked from any Japanese car. The protruding nose and chrome-accented fog light housings add a bit of class and distinction, however, and Chevrolet thankfully ditched the garish chrome bar that adorned the 6th-gen Malibu in favor of a painted segment between the upper and lower grille.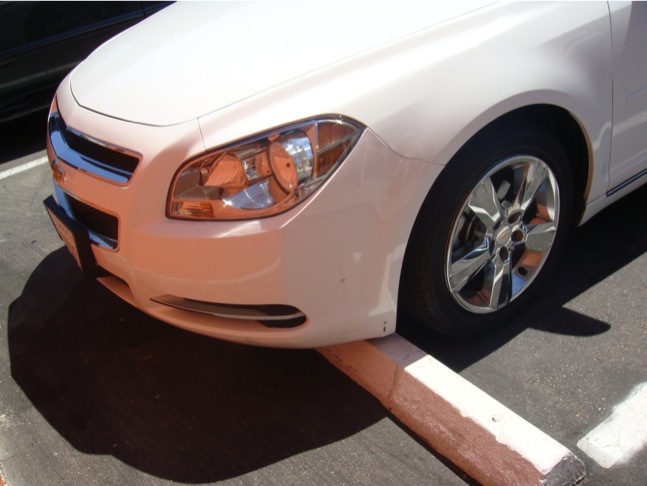 Inside, Chevy designers mended a flaw that was present on the Saturn Aura (also an Epsilon-based car) by properly matching the lines on the dashboard to the door panels. A tasteful strip of simulated wood sweeps across the doors, over the cowls, and down through the center stack, creating a sense of space and dimension.
The fake wood is complemented by silver plastic trim on the center stack and grained black surfaces on the doors and dashboard.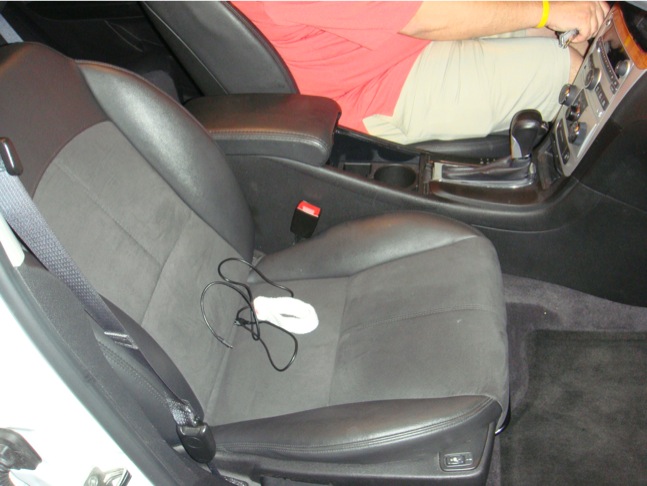 Chevrolet's "ultralux" seating combines vinyl bolsters (they call it leatherette) with simulated suede inserts to create an expensive look at a low cost. The faux-suede inserts are also a clever workaround for problems typical with vinyl where hot seats can scorch the skin and cause excess perspiration.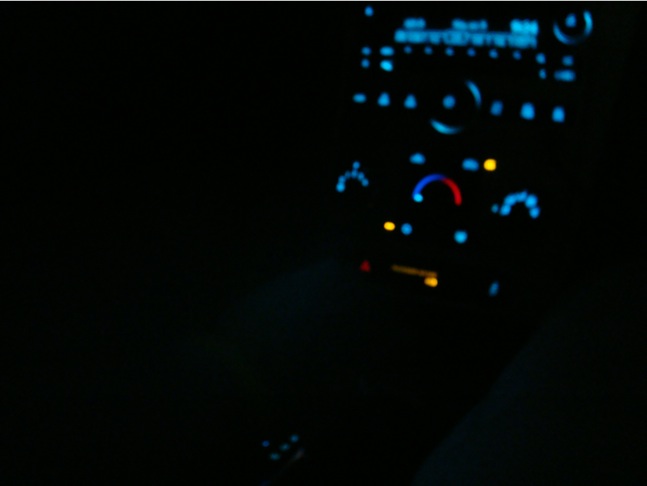 Ian and I drove to LAX after dinner to pick up my friend Torry. Gliding around I-405's sweeping on-ramps, the Malibu's all-season Hankook Optimos felt firm and planted thanks to stiff sidewalls and tenacious grip. Body roll was plentiful but predictable, far from queasy and more than manageable, a welcome compromise in suspension tuning that allowed for an impressively smooth, sturdy, and upscale ride that mimicked a Mercedes E-class.
I got a chance to sample the Malibu's pleasing interior lighting and aside from my blurry photography, all gauges and controls were clearly marked. As an added bonus, two lights in the overhead console gently illuminated the shifter and cupholder, making it easy to find coins or other objects without having to turn on the map lights.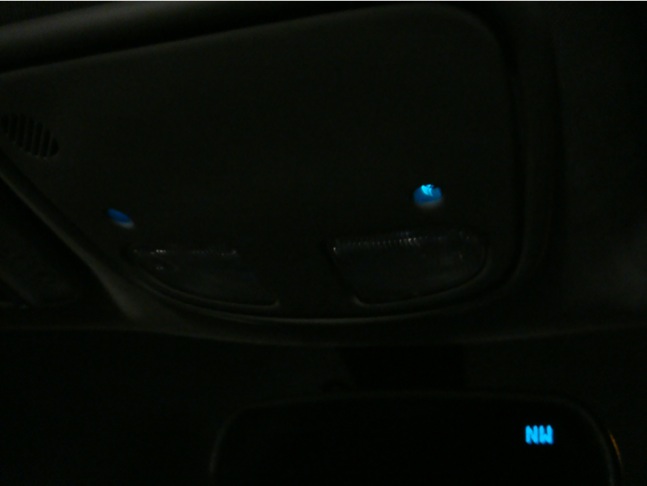 Ambience lighting is typically found in luxury cars, especially BMWs. Not surprisingly, GM's Vice Chair of Product Development, Bob Lutz, worked for BMW decades ago and likely borrowed the idea for the Malibu. Some suspect that the "LTZ" trim level applied to top-level Chevrolets was even named after Lutz himself.
[From Chad: "LTZ was first used by Chevrolet in 1992 for the "sporty" Caprice. The LTZ had the 350 as standard (back when the 305 was normally standard), a firmer suspension, blacked out grille, alloy wheels and the analog gauge cluster (with a digital speedo…go figure). When the Impala SS hit the market in '94, the LTZ Caprice was history."]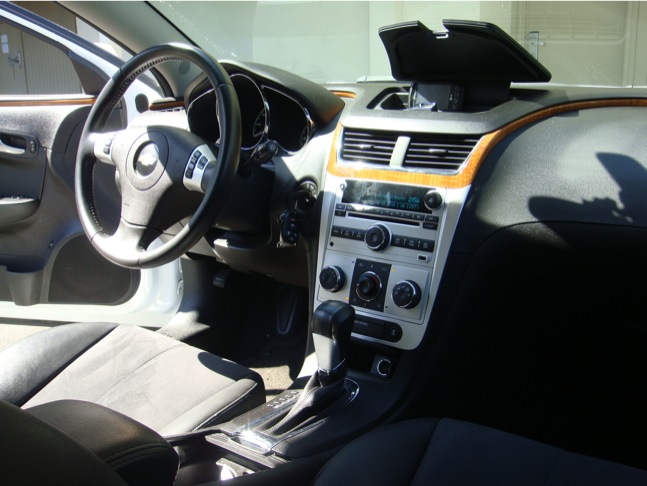 Even the perfect shape of the sporty steering wheel is borrowed from BMW's E46 3-series.
After navigating the nightmare of congestion at LAX, we finally found Torry waiting in front of Delta arrivals and returned to the hotel in Long Beach. Ian dropped us off while Torry and I walked next door to check out the hotel bar.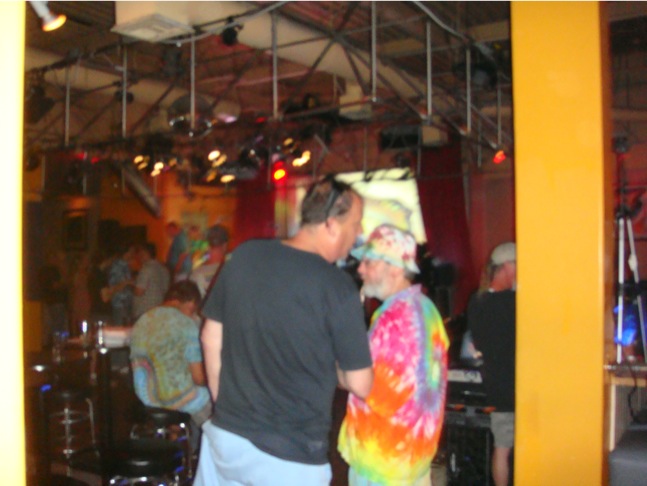 Unfortunately, a mess of aged hippies in tie-dyed shirts were reliving Woodstock. We ditched that scene and walked next door to The Gaslamp where "Knyght Ryder" performed stellar tributes to Don Henley, Journey, Huey Lewis, Michael Jackson, Bill Idol, U2, Modern English, Kenny Loggins, and The Police.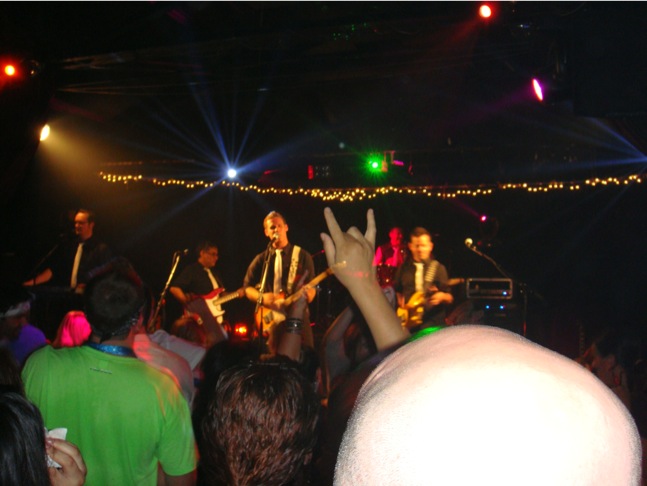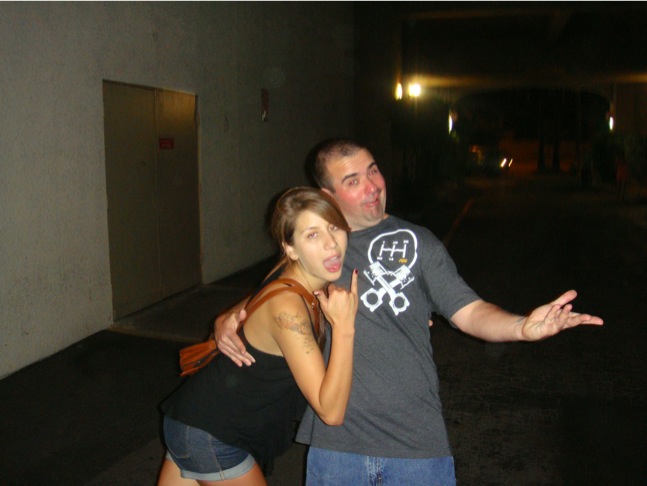 Since Ian was sober (he always is), we walked back to the hotel, dragged him out of the room, and harassed him into driving us to some bars on Second Street.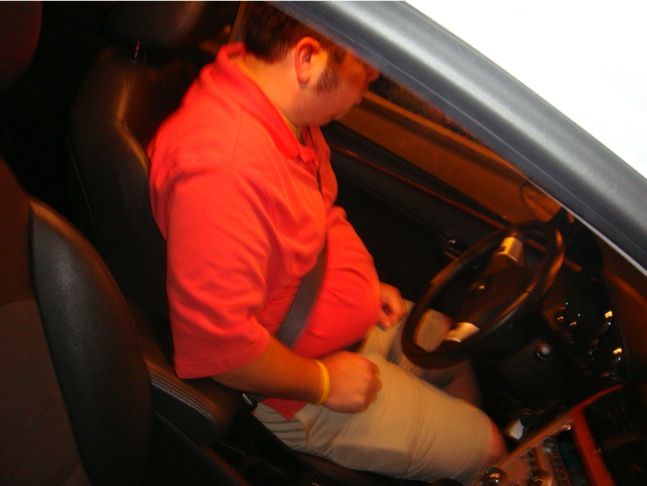 Ian's driving impressions were quite positive, noting the direct and perfectly weighted steering, supple suspension, and shockingly secure handling. I made sure to interrupt his talk radio station on XM by tuning to "20 on 20" and blasting Carly Rae Jepsen's "Call Me Maybe," because that's what obnoxious drunks are supposed to do.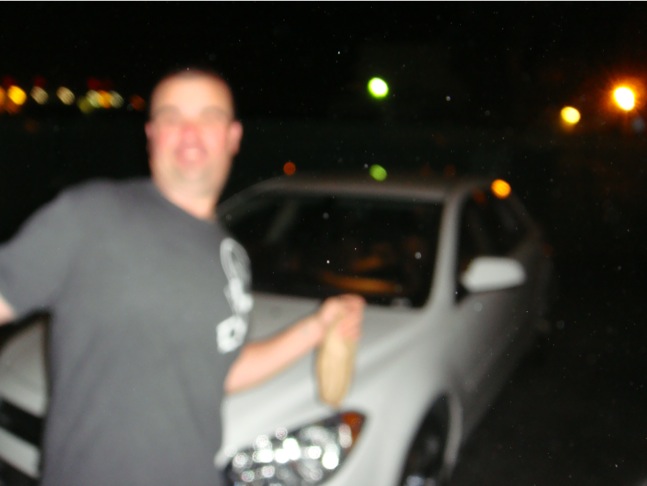 Around 2am, after we failed to get into any bars (or get any phone numbers) as last call neared, we had Ian take us back to the hotel. My vision by that point was as clear and crisp as the picture above.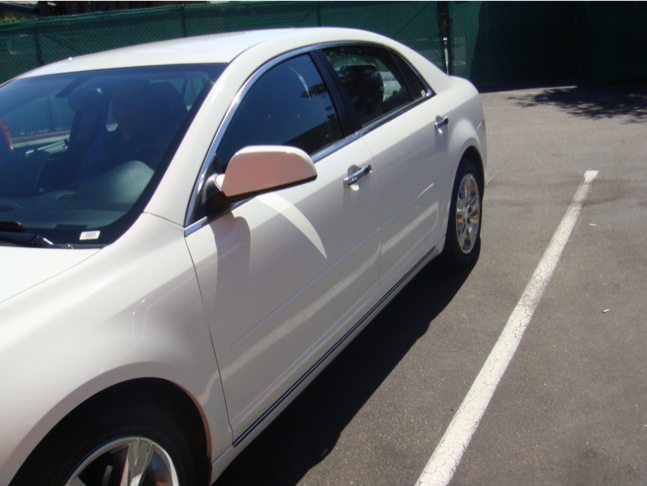 The following morning, I woke up and drove Torry to the Japanese Classic Car Show where he was helping out with the NICO Club booth. I wiped the sleep from my eyes, threw on a t-shirt, and headed down the stairs.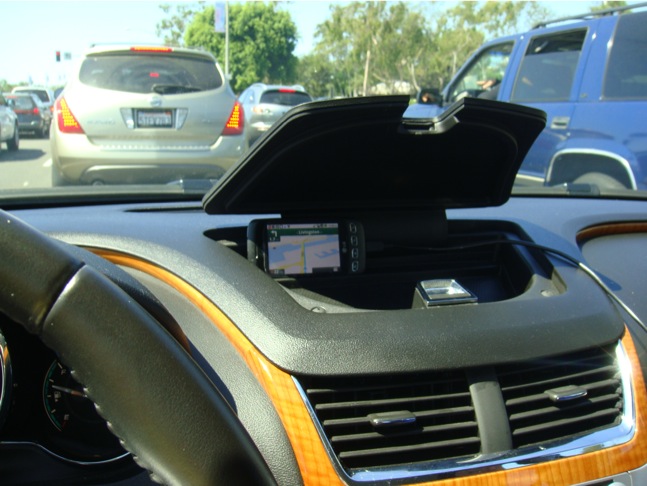 A narrow tray in the back of the upper storage compartment was designed to hold pens and pencils but it happened to be perfect for propping up my phone and shading the display from sunlight. The bottom is rubberized to prevent rattling and also kept my phone from sliding back and forth.
I plugged it into the USB port on the dash and set my GPS app for the Queen Mary where JCCS was setting up.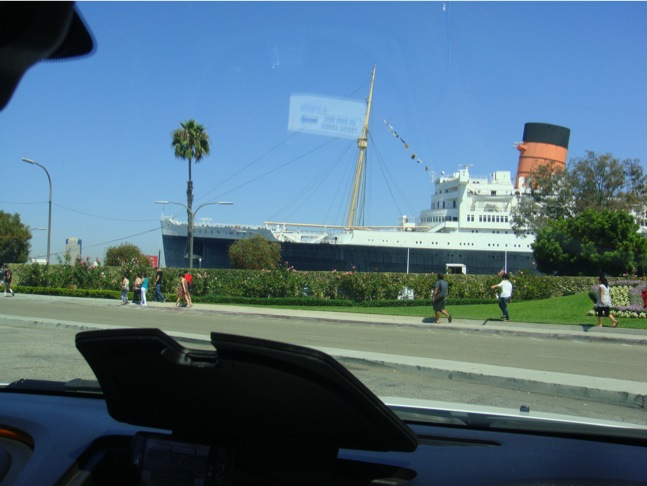 There's the Queen Mary, currently a hotel and museum.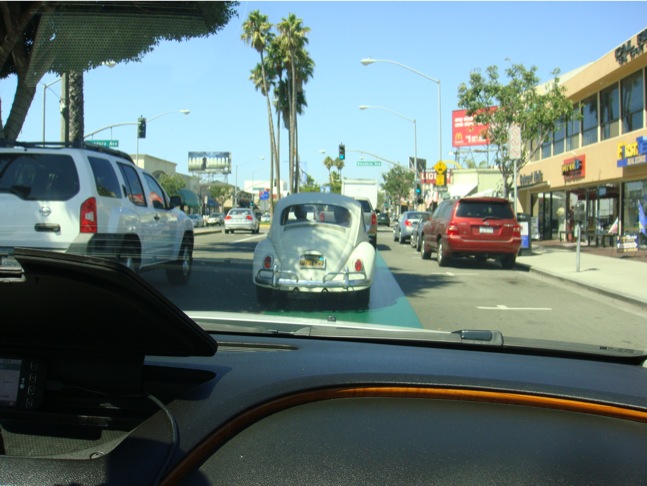 Only in California can so many classic cars be found in like-new condition, driven routinely in regular traffic. We spotted this Beetle near downtown Long Beach. Note how close the driver and passenger are.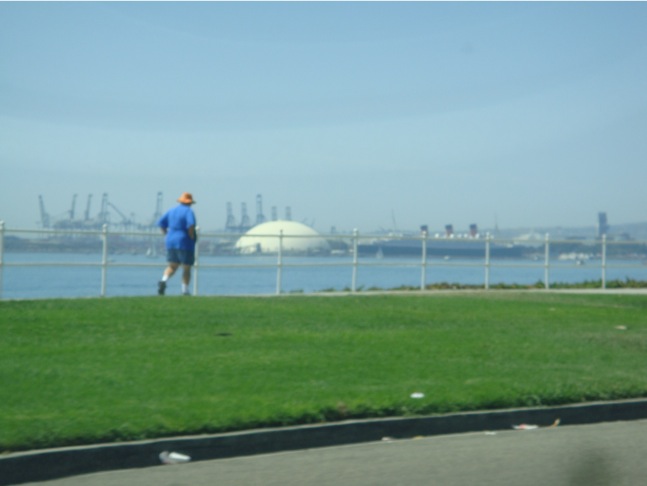 Southern California's coast is an abrupt mix of industry and natural beauty, where oil platforms and beaches occupy the same line of sight.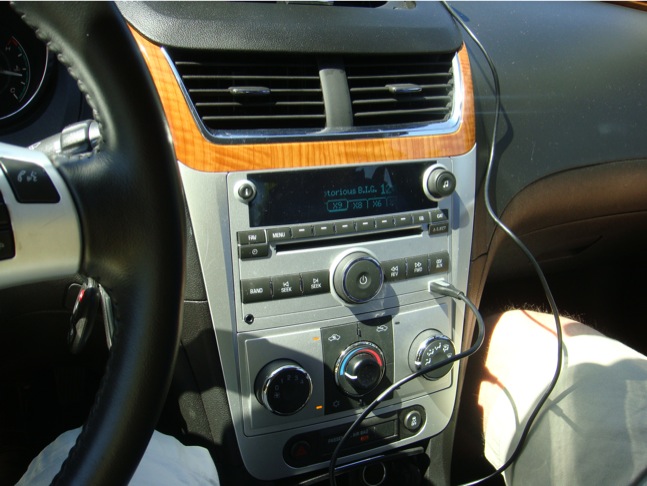 General Motors once owned Frigidaire and like most GM vehicles, the Malibu's easy-to-use air conditioning was cold enough to turn the cabin into a rolling meat locker.
The factory sound system exceeded expectations with deep bass and strong highs. Mids were a little muddy but part of the blame can be placed on XM satellite radio's heavily compressed audio. Compared to the 2008 Saturn Aura, the Malibu offers noticeably improved clarity and a much wider soundstage.
In addition to selectable presets, the digital EQ allows for separate adjustment of bass, treble, and mid range.
With my eyes on the road, I occasionally pressed the Menu button instead of the first radio preset button by mistake, otherwise the CD, AM, FM, USB, Bluetooth, and XM functions were straightforward and logical. A large, central volume knob (with additional steering-mounted controls) is a welcome feature, especially as manufacturers foolishly attempt to replace reliable rotary controls with finicky capacitive-touch buttons and sliders.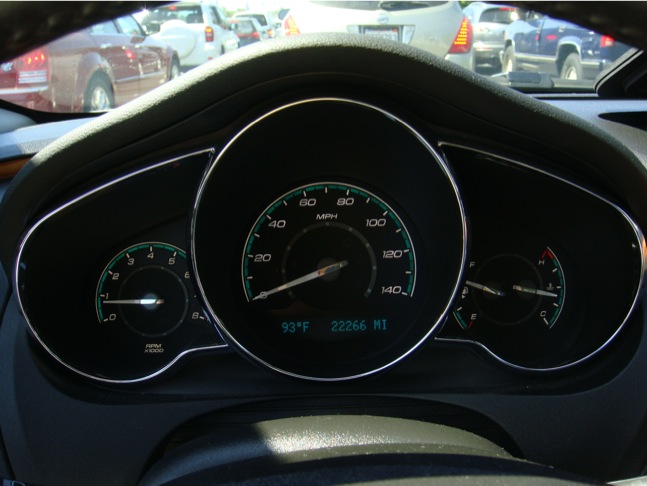 Like the Pontiac G6 and Saturn Aura, the Malibu places its gauges inside motorcycle-style pods. While this was interesting to look at a decade ago, it hasn't worn well with time. Otherwise, the needles and numbers are large, well-lit, and easy to read. The pixelated information display can be changed with steering wheel-mounted buttons to show fuel economy, oil life, outdoor temperature, trip data, and tire pressure.
After dropping Torry off, I returned to the hotel and enjoyed two additional hours of sleep. I woke up again, showered, and drove back to JCCS in the afternoon with Ian.

(Car show pictures here.)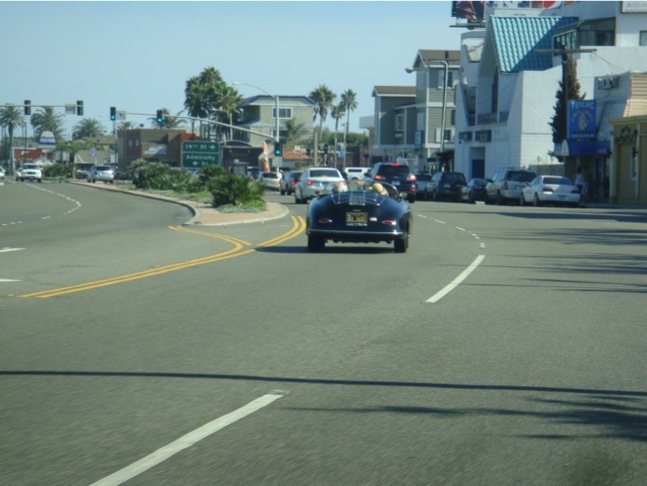 Porsche sighting!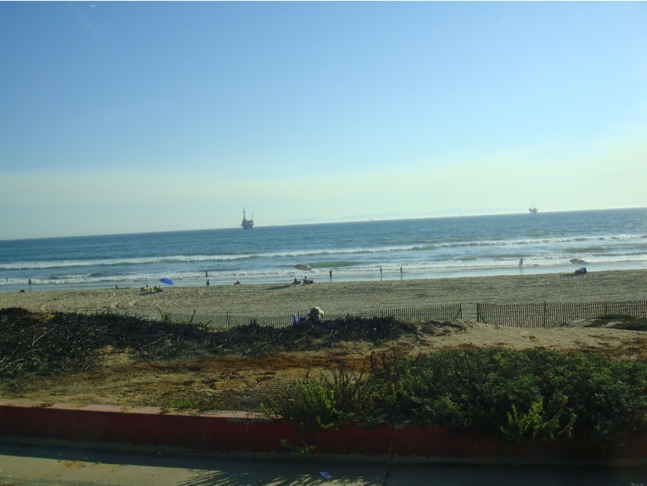 After the show, Ian, my brother, I threw our beach gear in the Malibu and headed down the Pacific Coast Highway. In Texas and Florida, the beaches are free or near-free with little or no congestion. In California, beach entrances were packed with queues that were at least 20 cars deep.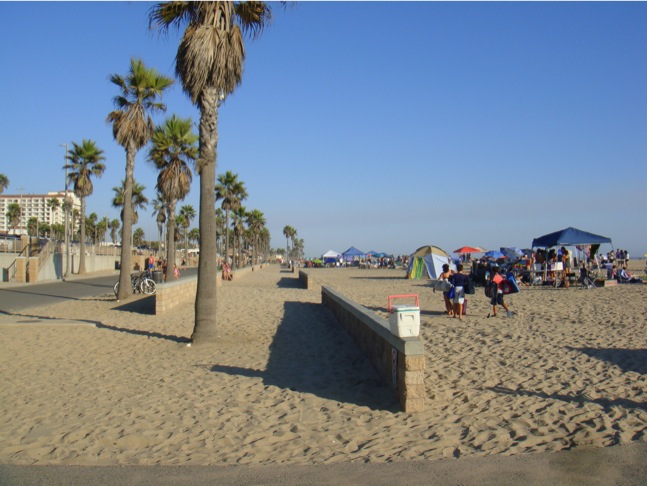 We were forced to drive an additional 20 minutes south to Huntington Beach where we paid $15 to park the Malibu.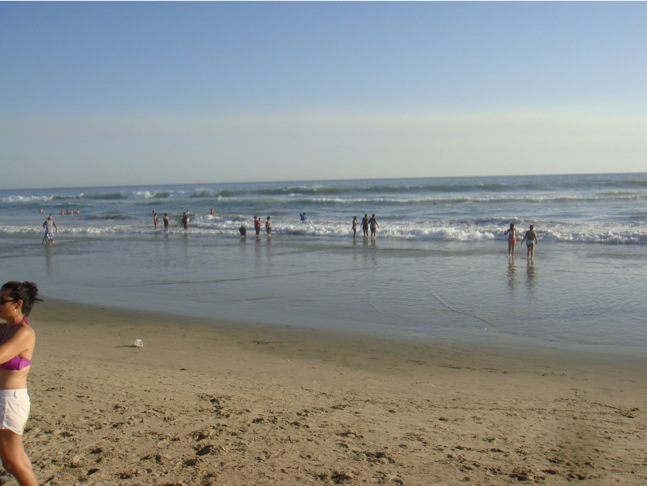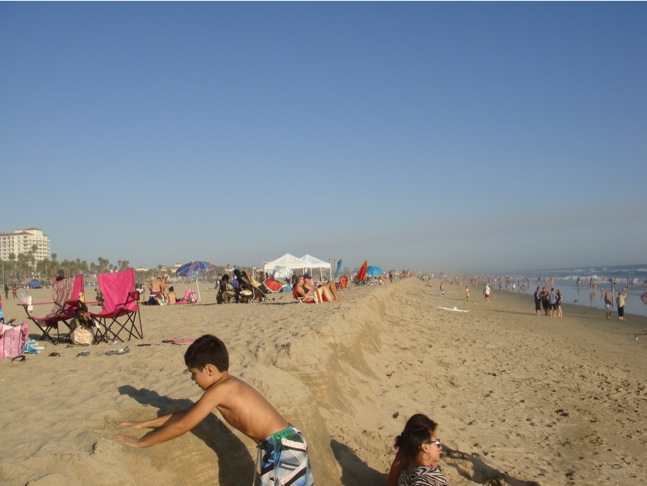 There was a staggering number of people enjoying the sand and surf on a Sunday afternoon. The problem with the "California Dream" is that everyone wants it and, subsequently, California is now full.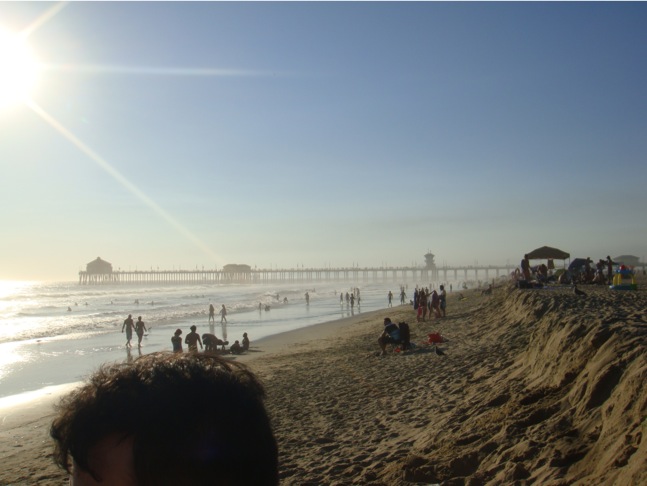 Unlike the warm, soothing water I enjoyed in The Gulf of Mexico a couple weeks earlier during a trip to Texas, the Pacific Ocean in Southern California was brutally cold with powerful waves that repeatedly slapped me in the face with frigid salt water. It was far less pleasant for swimming though perhaps ideal for surfing. It certainly wasn't my cup of tea.
After an hour or so of dabbling around, the three of us took the Malibu back to the hotel to meet up with the NICO Club crew for dinner.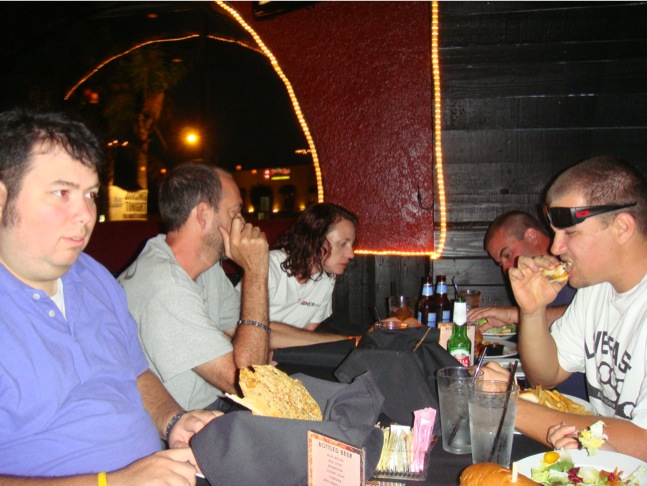 The food at The Gaslamp was thoroughly mediocre, salvaged only by strong drinks and prompt service.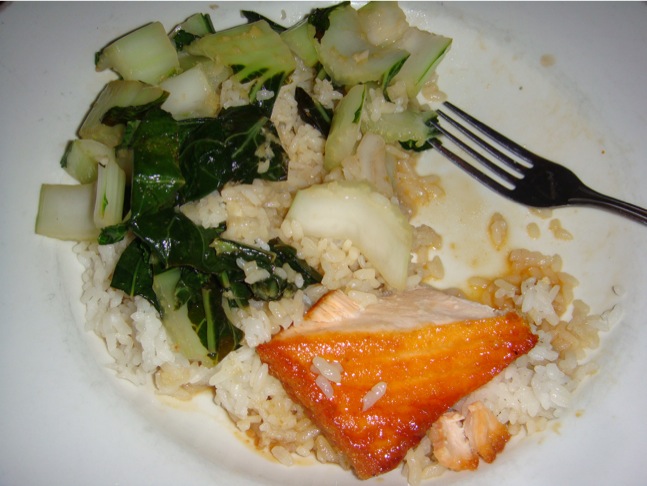 My overcooked salmon was thankfully complemented by perfectly cooked bok choy and fragrant white rice.
Eager to forget about our below-average meal, I sent a text message to my friend Dustin, a Subaru WRX-driving chef who I met during a Northern California road trip last year. After doing a one-year stint cooking in The Hamptons, he recently returned to California to run the kitchen at Houston's, an upscale-casual dining establishment.
The Malibu wasn't due back at Hertz for several hours so we left my brother's Honda at the hotel, threw my luggage into the Malibu's spacious 15.1 cubic foot trunk, and headed south to Irvine for a late lunch.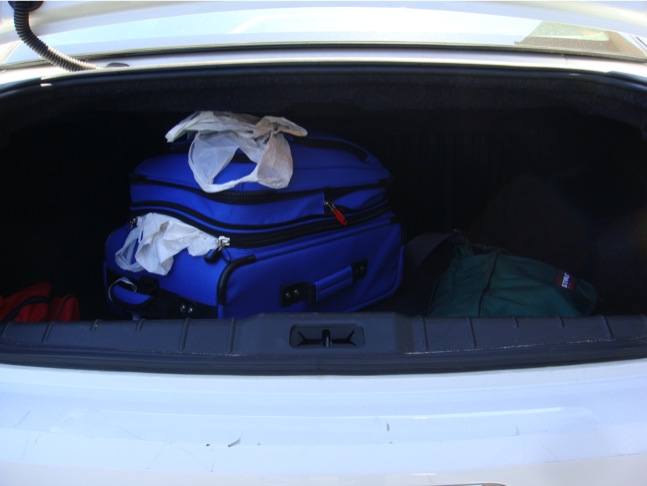 The Malibu's cargo space is further enhanced by the use of outside-mounted gas-charged struts instead of large metal articulating arms, a clever touch typically reserved for more expensive cars.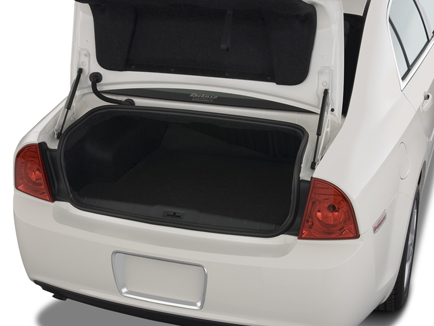 This makes it possible to use the full capacity of the trunk without worrying about whether the trunk lid has room to close. Neither the Toyota Camry or Honda Accord offered this clever feature.
Walking into Houston's, the atmosphere reminded me of J Alexander's or Red Rock Canyon Grill, casual but pleasingly upscale with a focus on quality ingredients and a wide selection of wines. The food at Houston's, however, was significantly higher in quality.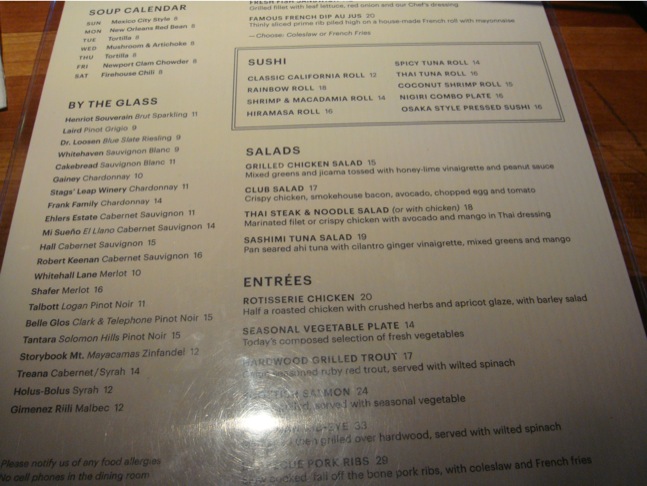 I ordered a California Roll as an appetizer. Normally, I shy away from sushi — the ingredients have to be exceptionally fresh and perfectly balanced, otherwise it tends to be bland and lifeless.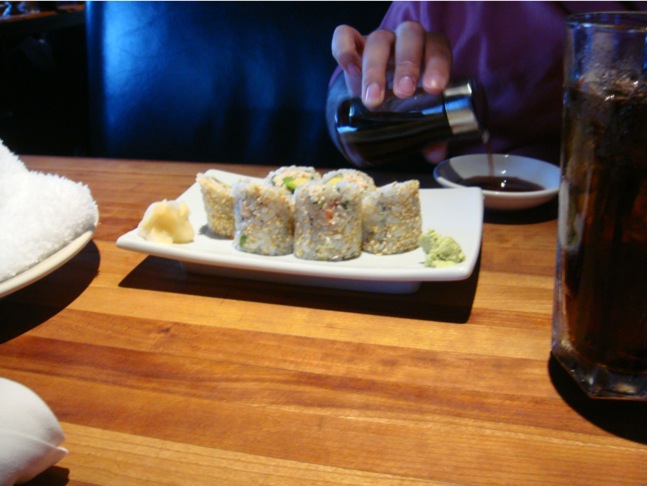 Pleasingly, what came to our table was moist, delicate, eye-catching, and fragrant.
I sent Dustin a text message to let him know we arrived and he walked over to the dining room to greet us.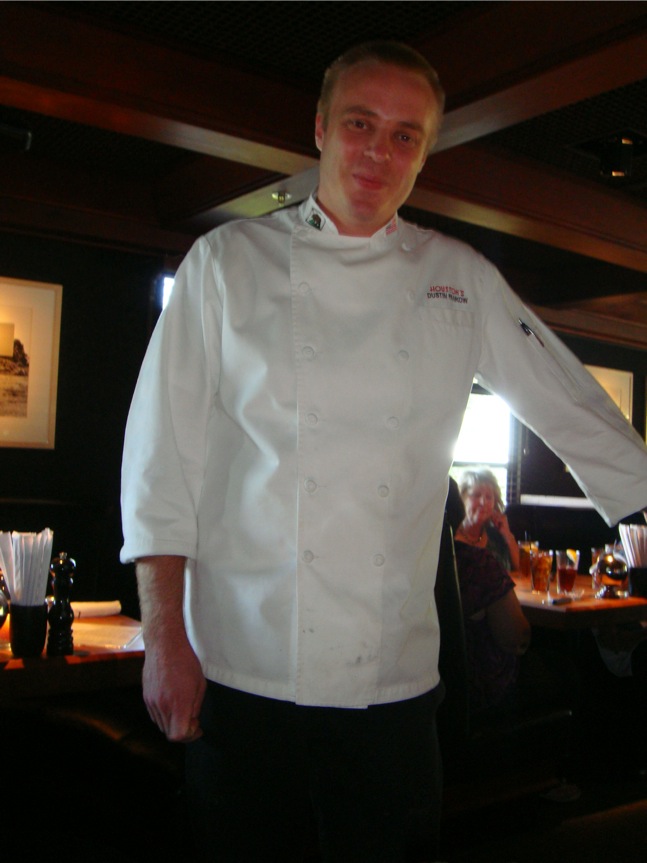 Professional chefs lead interesting lives. After working in the San Francisco area, Dustin was transferred to The Hamptons where he spent a year cooking for the well-heeled in one of America's wealthiest communities. His housing and food costs were paid for while he worked long but satisfying hours.
I asked him about the roast chicken but he suggested trying the ribs and steaks. You don't travel 1,800 miles across the country to eat a salad, so my brother and I each ordered a rare Hawaiian ribeye and Ian ordered a medium-rare filet.
What arrived was a stunning piece of perfectly cooked, sweetly marinated beef with a side of sauteed Peruvian corn. The corn was seasoned with curry, tumeric, and other spices that elevated a typically plain and lifeless vegetable to something lively and vivid.
The Hawaiian ribeye, I learned, is one of Houston's most-favored dishes. Several have attempted to duplicate the sweet marinade including this food blogger. Of course, recreating the recipe at home doesn't come with the excellent service, pleasing atmosphere, and attention to detail of a professional cook.
Despite being stuffed to the brim, I went ahead and ordered a dessert. Dustin came to check on us and suggested the sundae.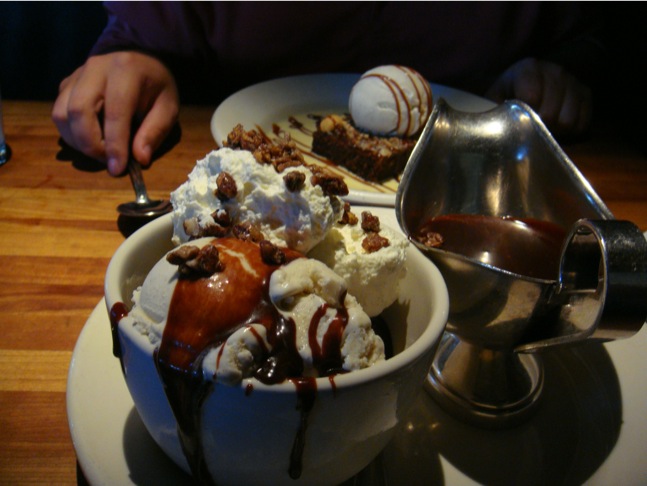 That's enough sugar to feed a village… for a month! The gravy boat on the right contains real hot fudge which I poured directly on to the Double Rainbow vanilla ice cream, which happens to be my favorite brand. I was deeply disappointed when my local Trader Joe's in St Louis stopped carrying it years ago.
I can say with confidence that this was the best steak I've had since dining at Bern's Steakhouse in Tampa, Florida.
Additionally, we owe a huge thanks to Dustin Pankow for an outstanding lunch.
It was getting close to 2pm and although the Malibu wasn't due back until 7 that evening, we wanted to head to Simi Valley in time for the Reagan Museum which closed at 5. We headed back to Long Beach to top off the car and pick up my brother's Honda which was still parked at the hotel.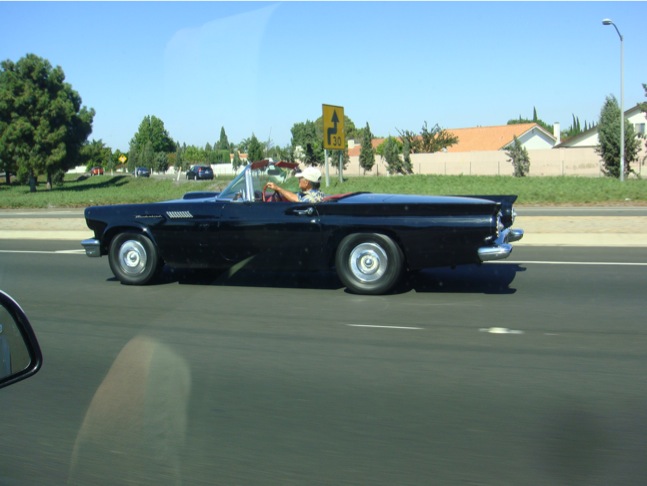 Nice Thunderbird!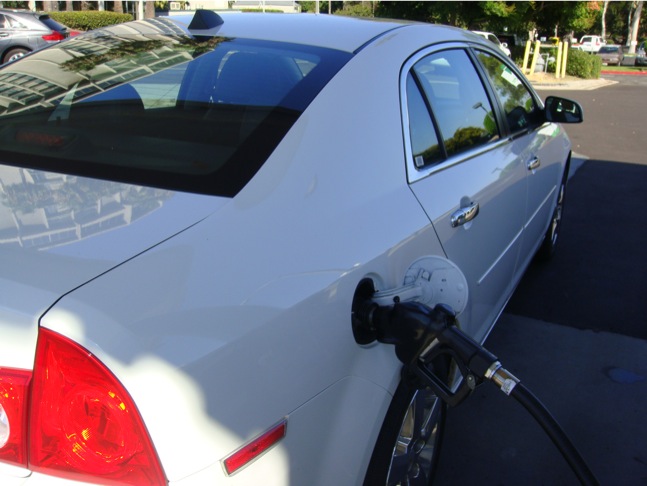 A full tank cost a little over $62 at $4.25 per gallon. Back in Missouri, gas was "only" $3.70 for regular unleaded.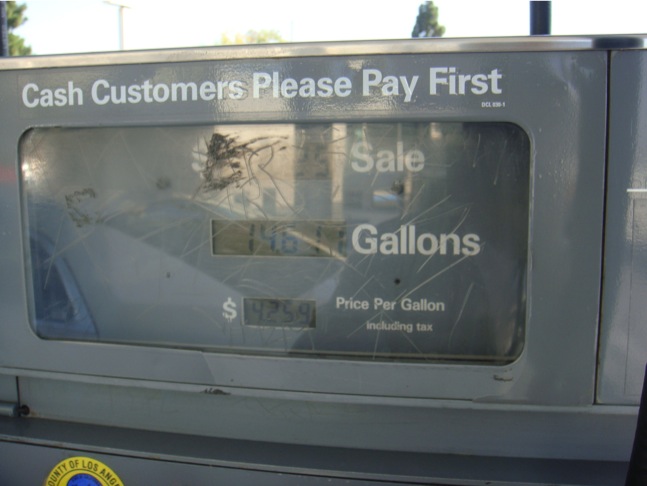 With mostly assertive city driving, the 20.4 MPG average was quite commendable, especially because I neglected to reset the counter at the beginning of our weekend. The EPA gives the 4-cylinder 6-speed Malibu a rating of 22 city, 33 highway.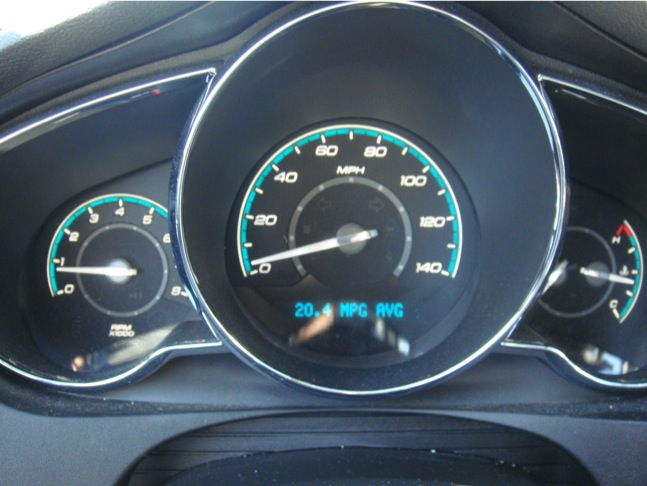 Before handing the keys back to Hertz, I took a few additional photos of the interior to highlight a couple of the Malibu's minor flaws.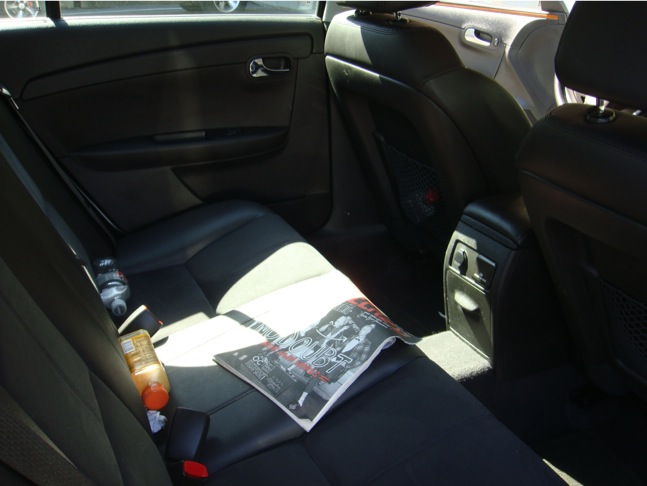 Though back seat leg room is quite generous, the openings for the rear doors are too low. As a result, tall people are likely to bump their heads when getting in and out.
Rear air vents mounted on the back of the center console would have been nice to have in such a long cabin, although the 115-volt power outlet is a nice touch. With the Malibu's popularity among government, service, and sales fleets, the power connector is wonderfully handy for laptop and cell phone chargers.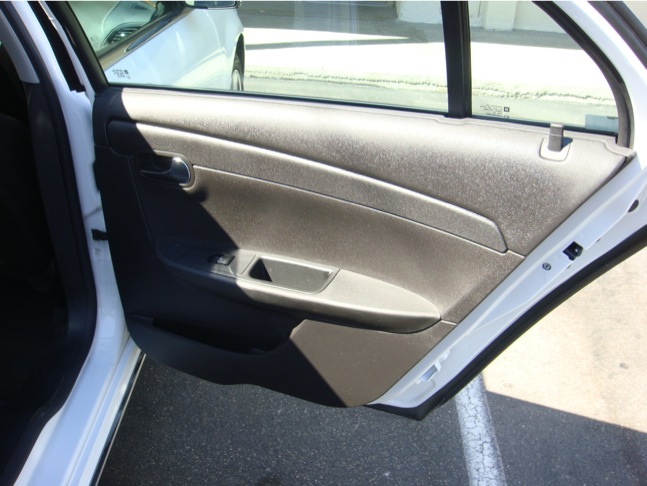 Additionally, the materials on the dash and door panel have differing textures. The upper door is adorned in a softer material while the lower doors feel a bit cheap and hard. In pictures they look the same but after a few hours of driving these imperfections become more apparent.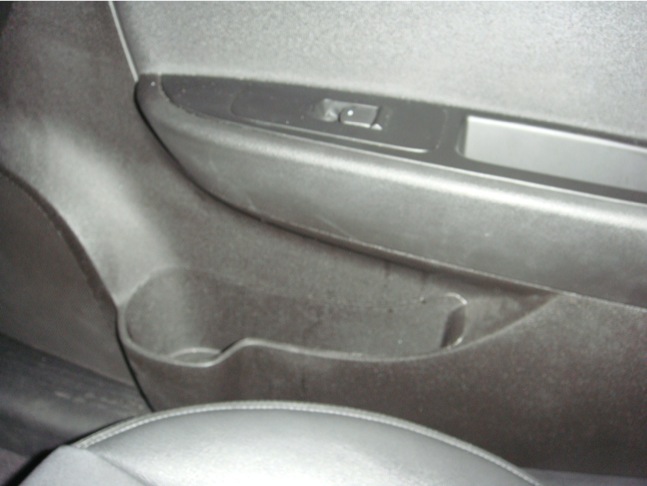 Perhaps the worst offender is the map pocket on each door. You can see and feel the sharp plastic casting flash leftover from the plastic mould. Additionally, the hard plastic on the arm rest is prone to scratches. This kind of cost-cutting slightly spoils an otherwise ideal family vehicle.
Rarely do I develop a fondness for the cars that I rent — two noteworthy examples include a solidly built 2007 Cadillac DTS I drove to Tennessee and a sprightly 2007 Mazda 6 sedan I rented in Tampa. Rental fleets tend to offer cars that we auto enthusiasts would never buy, rolling appliances that drive like cold porridge, but the Malibu is a refreshing exception.
I will miss its quiet comfort, secure handling, smooth ride, generous offering of standard features, and understated elegance. This was quite an achievement for Chevrolet.
Grudgingly, I gave the keys back to Hertz.
RATINGS:
Powertrain: 8.5/10 — The 6T40 6-speed automatic transmission makes the best of GM's 169-hp 2.4L Ecotec engine. Unlike its sibling, the Saturn Aura, the Malibu is often in the right gear, rarely hunting or searching. Shifts are pleasingly smooth but perceptible enough to offer a bit of feedback.
The 2.4L Ecotec isn't particularly pleasing to the ear, especially compared to GM's racy 3.6L VVT V6, but the firewall is so well-insulated that the 4-banger's angry cries are muted.
Full application of the accelerator is unnecessary for swift take-offs thanks to excellent gearing. I only found myself flooring the throttle when passing on the highway or maneuvering into gaps in traffic. The only disappointment is in weak mid-throttle acceleration, like when approaching a traffic circle at 25mph then flooring it to speed up to 40.
With the 6-speed, the Ecotec 2.4 is perfectly usable and frequently satisfying, but the V6 would add some missing entertainment.
Braking: 9/10 — The Malibu's pedal modulation is firm and progressive, almost BMW-like in its immediate response and short stopping distances. It's quite a contrast from the Toyota Camry which suffers from a bit of mushiness.
Ride: 9/10 — The body structure is rock solid, gliding over bumps and imperfections in a quietly sturdy way that draws comparisons to midsize German luxury cars. Malibu's ride and handling compromise is ideal.
Steering/Handling: 9/10 – Body motions are well-controlled while zipping left and right through traffic. Body roll around sweeping curves is noticeable but entirely manageable, never bouncing, floating, or exhibiting any loss of control. Credit goes to all-season Hankook Optimos for exceptional grip, stiff sidewalls, and a luxurious ride on California's badly neglected freeways.
Steering is lively and direct with a sporty BMW-like 3-spoke wheel that's nice to hold in the hand. Steering effort builds up nicely while cornering.
A little bit of additional road surface feedback would be nice, but the Malibu is better than the norm for this segment. Mazda still sets the standard for steering.
Audio/Accessories: 9/10 — The standard GM sound system is surprisingly powerful and bright. Logical controls and a clear radio display make XM, bluetooth, and USB functions a breeze.
Climate controls are a standard three-knob setup with two buttons for recirculation settings.
Every button, knob, and switch feels fluid and luxurious, adorned in tasteful bits of plastichrome.
Audio, phone, and information buttons on the steering wheel are a bit too small to see and press easily.
Bonus: A 115-volt outlet mounted on the back of the front arm rest makes laptop charging easy.
Interior: 7.5/10 — The dual-cowl setup creates a sense of space while sweeping segments of faux wood from ear to ear break up the monotony of grained black surfaces. Chevy took too many shortcuts in the materials chose for the lower door panels, unfortunately.
The back seat can feel dark and isolating, a problem exacerbated by high door sills and an encroaching roof that makes ingress and egress a challenge for tall people. Fortunately, once seated, rear passengers enjoy outstanding leg room. The lack of a rear arm rest is a bit unusual.
It can also be a bit difficult to see stop lights if you're sitting at the front of an intersection due to the windshield's low sight lines.
Overall, the inside of a Malibu is a nice place to be.
Comfort: 9/10 – Front seats are well-bolstered with excellent thigh support. Adjustable lumbar on lower trim levels would be nice, but the default configuration is perfect for long-distance trips or hours spent idling in California traffic. The driver gets a power seat adjuster with manual rake. We never sampled the heated seats because it was 100 degrees outside.
Quality/Reliability: 8/10 — The Ecotec 2.4 is well-reputed and proven. Unfortunately, from 2004-2008 (possibly 2009) the HF 3.6L VVT V6 had issues with timing chains. A new part was issued to remedy the problem. See details.
Exterior build quality is exceptionally high with narrow and consistent panel gaps, perfectly fitted bumpers, consistently applied paint on metals and plastics, high-quality trim pieces, and doors that close with a reassuringly muted "thoomp."
The interior, as mentioned above, could use a couple refinements but the execution is classy and elegant.
I experienced one defect — the remote start did not work every time.
Overall Value: 9/10 — Compared to the Camry and Accord, the 2008-2012 Malibu is a very strong contender. It's biggest competition is from the more powerful and head-turning 2011+ Kia Optima Turbo.
VERDICT:
This isn't just a great Chevrolet. It's a great car, period. If you're in the market for a new family sedan, take advantage of GM's incentives and buy one now.
RESOURCES:
Malibu Forum
SPECIFICATIONS:
2.4L Ecotec I-4
169 hp @ 6400 rpm
160 ft-lbs. @ 4500 rpm
6-speed automatic transmission
Front wheel drive
Curb weight: 3421 lbs
Length: 191.8 in.
Wheel base: 112.3 in.
Independent front struts and coil springs
Independent rear multi-link configuration with coil springs
Front and rear stabilizer bars
EPA fuel economy: 22/33 mpg
Related: Saturn Aura, Pontiac G6, Saab 9-3, Opel Vectra