Driven: 1967 Datsun 411 SSS Wagon
Datsun is an odd brand, and Nissan itself is an odd company, created out of a series of mergers and acquisitions over the course of half a century.
In the 1930s, Nissan acquired DAT Motorcar, resulting in a two-tier brand strategy where Nissan was used on more luxurious models while Datsun was applied to small, economical cars. The word "Datsun" simply meant "son of DAT," and son was replaced by sun in reverence of the Japanese flag and because "son" means "lose." As for the DAT name, it came from the initials of the company's partners in 1914.
In the 1960s, Nissan merged with Prince Motor Company, the manufacturer behind famous model names like Gloria, Laurel, and Skyline. The current-day Infiniti G37 traces its history back to Prince's 1957 Skyline.
In America, Datsun was applied to cars while Nissan was reserved for trucks. Then, in 1986 the Datsun name was dropped entirely. Nissan became the company's single global brand until 1990 when Infiniti was introduced to the US market.
Just a week ago there were reports of the Datsun name making a comeback, to be applied to entry-level economy cars in markets where people may be transitioning from mules and rickshaws to cars. In other words, don't expect to see a new Datsun in America anytime soon.
There's a lot that happened in between but it adds up to quite a lengthy story. You can read about Datsun's corporate history on NICOClub.com.
—————————————-
Now, let me introduce you to Alice, a red 1967 Datsun wagon I had the privilege of driving back in December.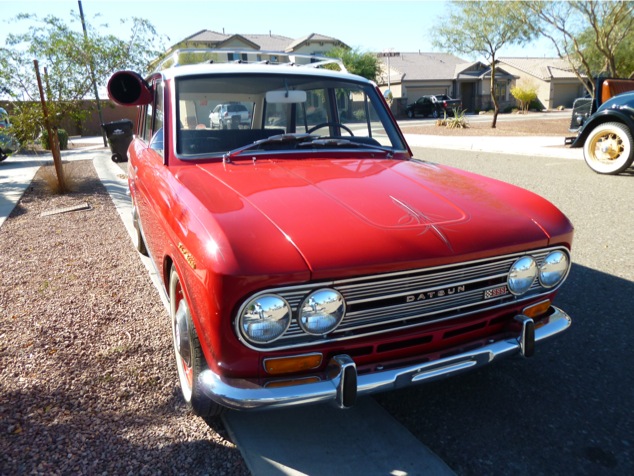 Greg and Becky Childs of Surprise, Arizona found this gem on bringatrailer.com, a sharing site for classic car ads of all brands and nationalities. When someone sees an interesting ad on eBay, a forum, or Craigslist, it gets posted and discussed on BaT. Even if you aren't in the market, it's great for looking at four-wheeled time capsules.
Alice was owned by Peter Murnik, the actor who plays Trooper Bergen on FX's "Justified," and it was located 380 miles away in California. I've done some long-distance cross-country internet purchases, but I've never had the guts to drive home a 40 year old car. Greg paid the guy, got the title, hopped in the Datsun, and headed home — no breakdowns, no drama.
The car was in unrestored condition, a good thing as it leaves an empty canvas to work with and guarantees that no questionable work was done before.
The interior was fully in tact so much of the labor involved detailing, cleaning, and replacing the carpets.
As for the motor:
"We settled on a plan to build a stroker motor. A stroked 1600 is a fairly common build. Basically, it involves using the U20 crank (from a 2000cc Datsun engine) and different pistons. Ultimately, we decided on a .030 overbore along with the stroker crank and rods, and a custom ground cam (440 Lift / 276 Duration)… These changes effectively make the 1600 into a roughly 135-hp, torquey 2-liter (without sacrificing appearance or reliability). Since the 1967 came with a 3-main block, and we wanted to use a more robust 5-main block, a motor from a 69 Roadster was sourced. I retained the original block (just in case anyone ever wanted to return it to a "numbers matching" car)."
The leaking Borg-Warner 35 automatic was sent to a shop for refurbishment. The brakes and suspension were also rehabilitated with new springs, bushings, calipers, and hoses.
While Alice was sent away for a new coat of red and white paint, Greg and Becky polished and cleaned the exterior trim pieces and badges. Then the new, larger 2.0L motor (upgrade from 1.6) went in.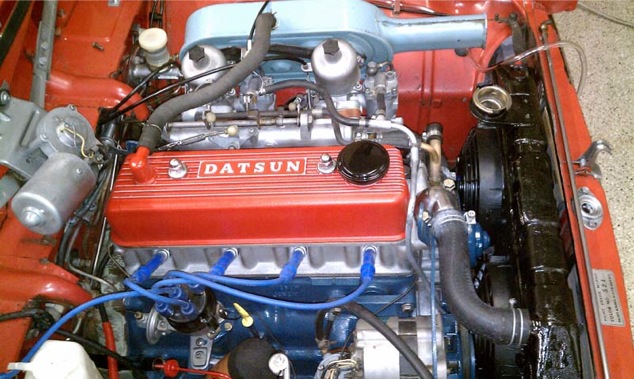 By the end, this little red wagon was fully restored and sharp as a tack.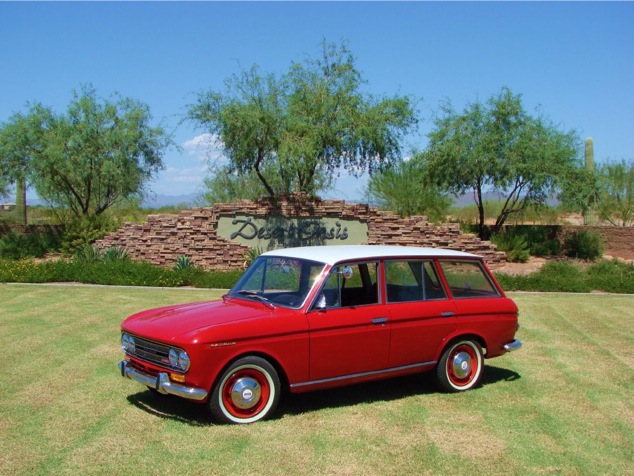 When I say sharp, I mean trophy-winning sharp. It could have rolled out of a 1967 Datsun showroom.
In October, Sam Mitani at Road and Track ran a story covering the Japanese Classic Car Show in Long Beach. Alice got a bit of national attention, making it into the splash photo: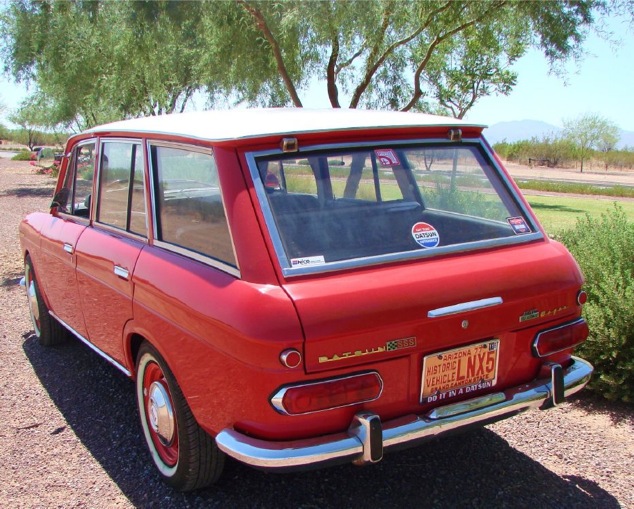 And while Alice may be a classic, she's no garage queen, driven a couple times each week where the public can see and admire an artifact of Japanese history. I'm a firm believer in cars being treated like machines, exercised and used regularly as they were intended.
Now, let's talk about the drive…
In the picture below, there's a tube attached to the door. You fill it with water or ice, take off down the road, and the air rushing over a soaked pad cools the interior. It does not, unfortunately, remove humidity, which is why they're often referred to as desert coolers.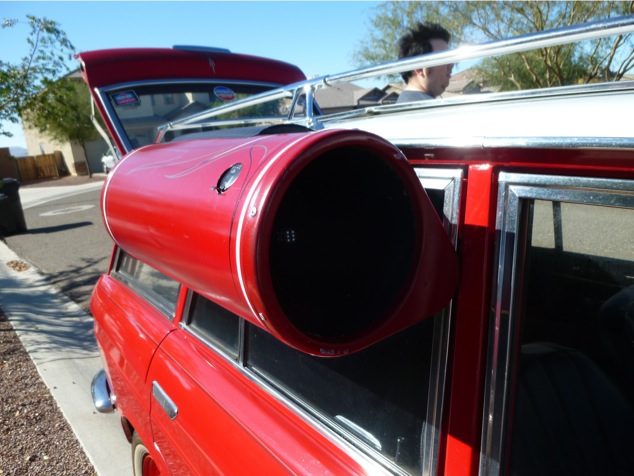 The cooling effect, unfortunately, only lasts for 75-150 miles before having to be refilled. Some had electric fans so they could be enjoyed while idling in traffic.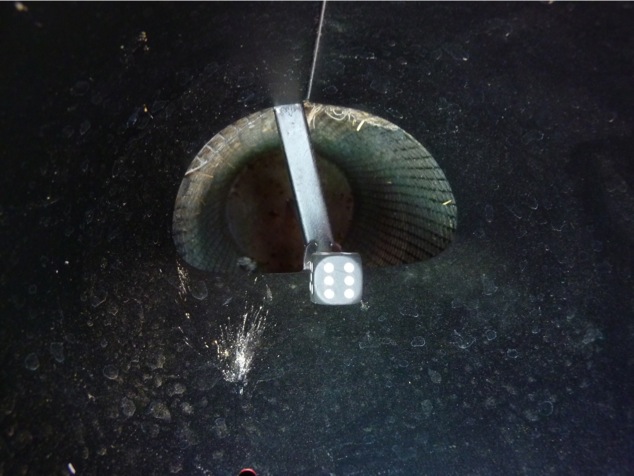 Inside the desert cooler.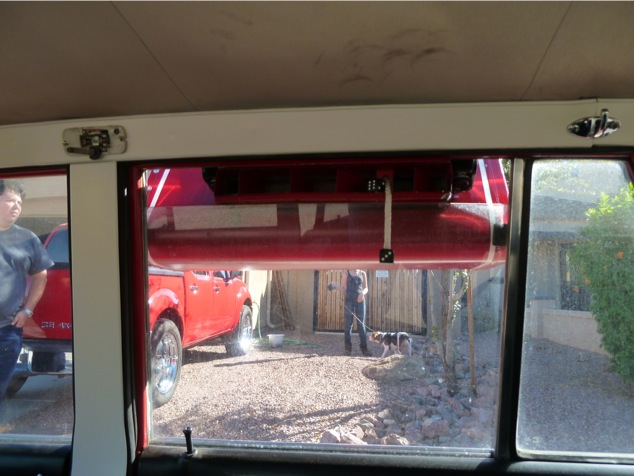 A view of the cooler from inside the car.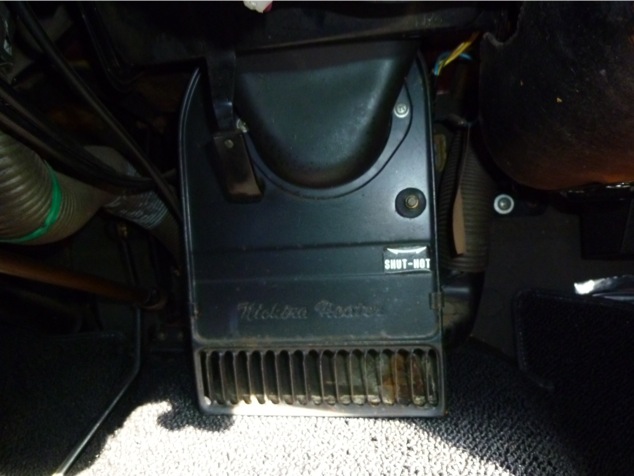 And of course there's heating.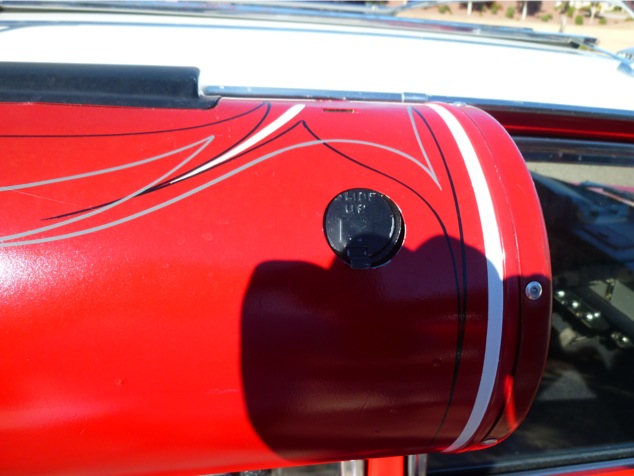 The entire body is adorned with attractive painted pinstriping.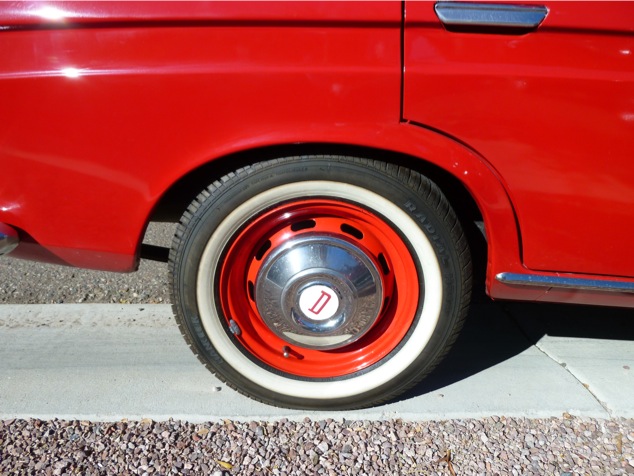 In the background you can see Greg's 1931 Ford Model A, which I also drove, and my silver 2001 Cadillac Seville.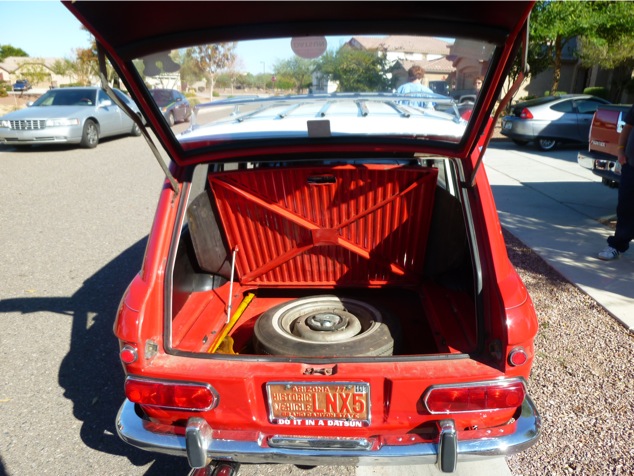 Plenty of cargo space.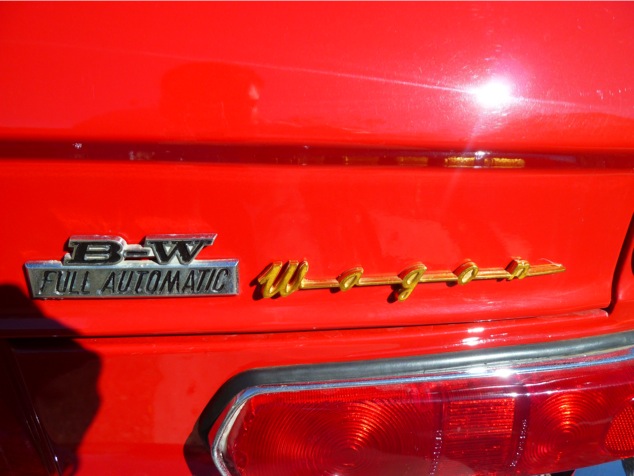 Automatic 411s were quite rare. The Borg-Warner 35 was a predecessor to the BW T37 in my Saab. It's a stout, dependable unit.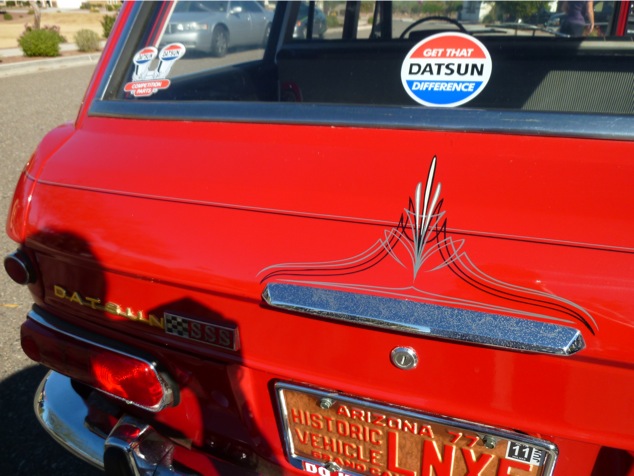 The "SSS" trim level originally received a 1.6L R16 I-4 which produced about 90 horsepower. As mentioned earlier, this motor has been upgraded, producing 135hp.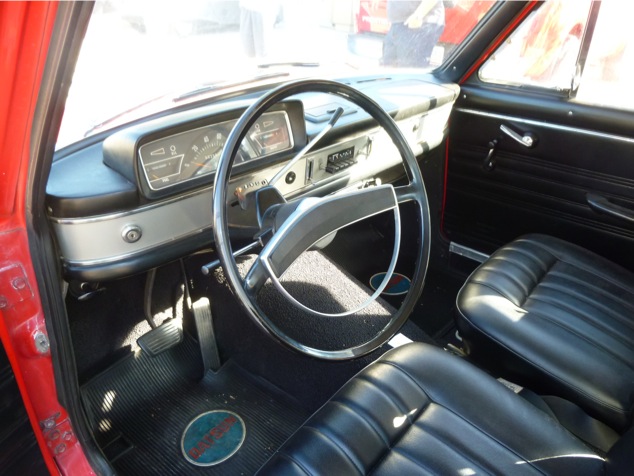 I climbed inside and was greeted with a beautifully trimmed and intelligently designed cabin.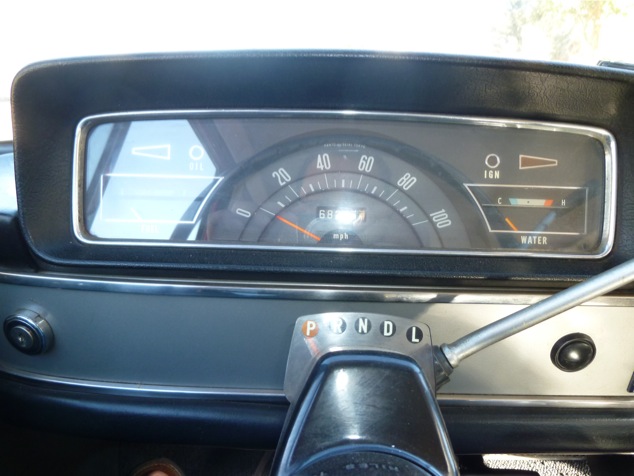 Everything is 3/4 scale from the little bucket seats to the switchgear and panels. Imagine your child's Power Wheels, upsized to fit grown-ups.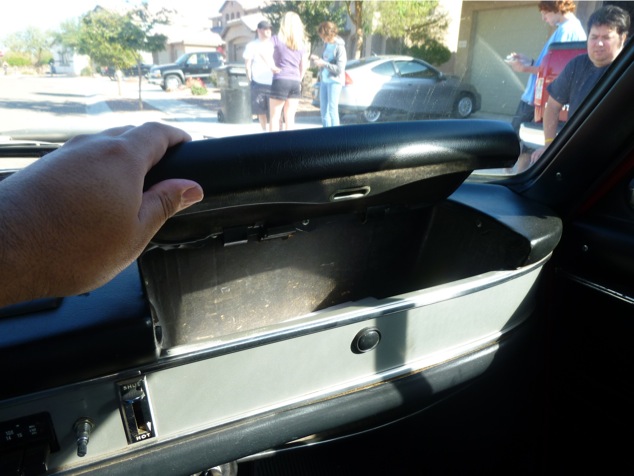 I grew up in a Datsun household. We had a rusty pickup from the 1970s as well as an orange-and-primer B210 with floors that had completely rusted through. This wagon's vinyl and glue smells immediately brought back childhood memories of sitting in the bench seat of dad's white Datsun pickup and the water that intruded the cabin whenever the B210 drove over a large puddle.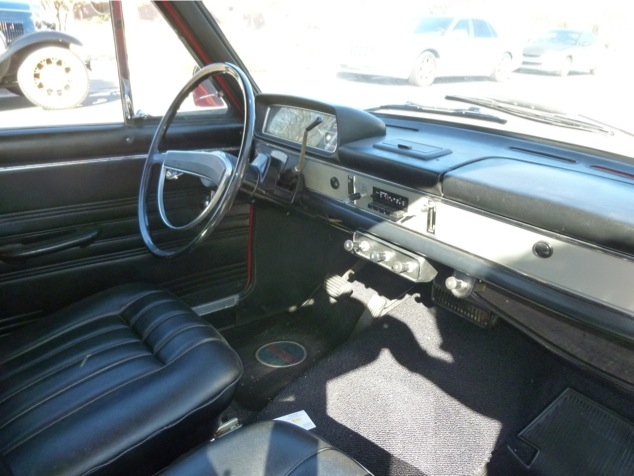 Alice started up immediately, settling into a gently buzzing idle. In the picture above you can see how close together the seats are, but the squarish Pininfarina-penned styling allowed for sufficient head room — an upright seating position similar to a modern Mini Cooper. A family of four could cruise across the desert comfortably while achieving more than 30 mpg.
It's a small car, without question, but even with two fat guys in the front it didn't feel cramped.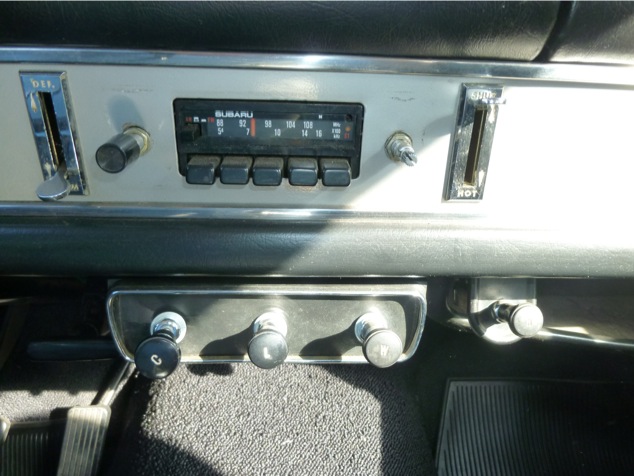 In the center of the dashboard underneath the radio were three knobs labeled C, L, and W. Unsure of what they were, I thought about playing with them but my friend Ian advised that I probably shouldn't. I assume they mean Choke, Lights, and Washer. The shaft AM radio was functional.
After familiarizing myself with the interior, I pulled column shifter into Drive and took off.

Fast Tube by Casper
The light, easy steering and user-friendly controls made it easy to casually cruise around the neighborhood at moderate speeds. The upgraded 135hp motor had sufficient torque to push 2000 lbs of car (plus two guys), quietly taking off without complaint.
A four-speed manual would have added some briskness but it would have detracted from the low-effort cruising feel of the wagon. Borg Warner's dependable BW-35 3-speed automatic was also used in MGs, Citroens, Jaguars, Reliants, Austins, Volvos, Rovers, Triumphs, European Fords, and Morrises. Thanks to its popularity, having the unit serviced or replaced is generally not a problem.
Here's some extended discussion on it:
http://www.mgexperience.net/phorum/read.php?48,1680737,page=1
Like a lot of older cars, braking performance required little a bit of planning ahead.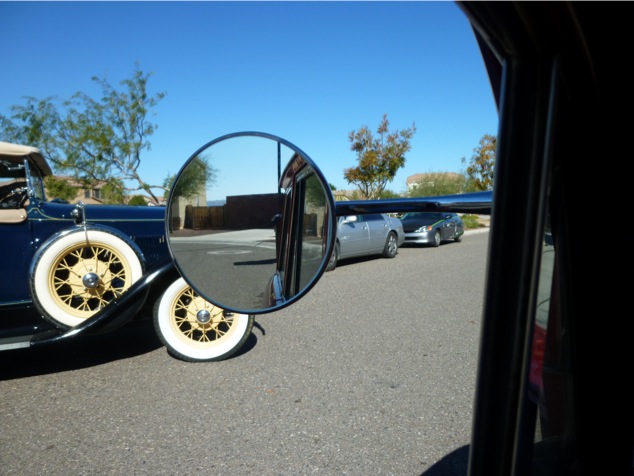 I'm a fan of wagons, especially when you look through the rear view mirror (above) and see that extra bit of car that you otherwise wouldn't in a sedan. In addition to practical advantages, the wagon format elongates a car's visual appearance, conveying length and a little bit of luxury.
And Alice has more charm and delight in her D-pillars than most cars have from bumper to bumper.
You can learn about this Datsun's detailed restoration process here:
http://www.nicoclub.com/archives/1967-datsun-wrl411-1.html