Review: 2011 Toyota Corolla, St Patrick's Day in St Louis
There's only so much to say about a mundane rental car, so I'll throw in some photos of last weekend's St Patrick's Day shenanigans.
I sent my Saab to my specialist for transmission maintenance and cruise control service, and because it was taking a few days I booked a rental car. [I recently sold my Cadillac Seville, whittling myself down to one vehicle in case I need to move away for work or school opportunities.]
Thanks to an special from Enterprise, $34 scored a 2011 Toyota Corolla LE from Friday through Monday ($9.99/day weekend deal) and they picked me up at home. If not for cruise control, an MP3 stereo, and 4-speed automatic transmission I would have assumed it was a stripper model.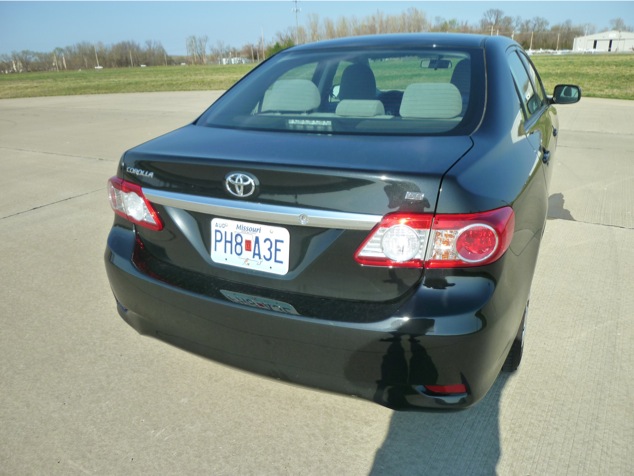 It looks like a brand new ten year old used car. The door sticker confirmed that it rolled off the assembly line in June of 2011.
The outdoor temperature display is a nice feature, although a fuel consumption readout would have been more useful (available as an option). The gauges and displays are otherwise as plain as ever, a trip back to the 90s.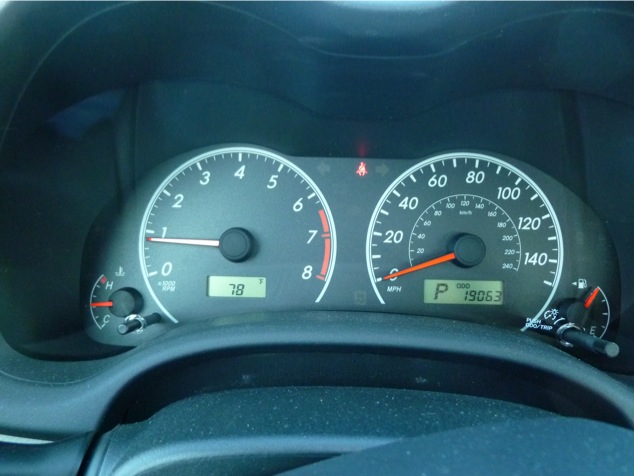 Really, the entire car looks and feels like it came from the Clinton era, not an entirely bad thing when you consider that the Corolla's steady dependability [partly due to its lack of technology] has helped it earn the title of best-selling automobile in the world. Every 40 seconds, someone on this planet is buying a new Corolla.
In Bangkok they use them as taxi cabs, subjecting them to brutal climate conditions and poorly paved streets, brutalizing the torsion beam suspension. Here in America, decade-old examples fall into the hands of careless high schoolers who can't be bothered to change the oil, but they start and run everyday without complaint.
Indisputably, the Corolla deserves praise for its role as a global workhorse, as it has been for decades. Unfortunately, working hard doesn't necessarily translate into high marks for style, comfort, or performance.
THE BODY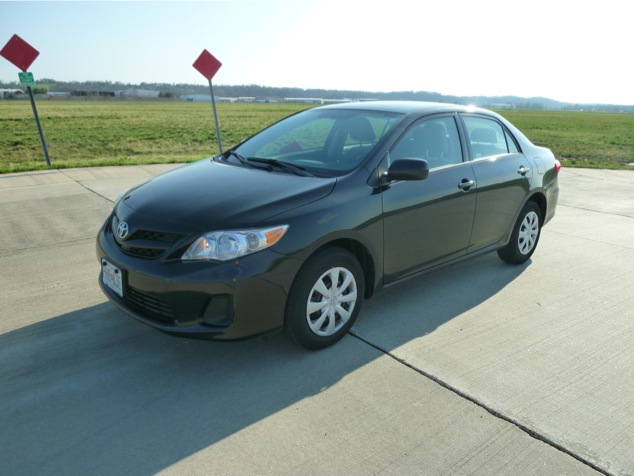 Toyota's designers recently sculpted the headlights, tail lights, and hood to give it a more Camry-like appearance, lending the Corolla a slightly more expensive but somewhat awkward look. The unusually high ground clearance, tall fenders, and high ceiling combined with a short wheelbase give it a stubby, compromised stance.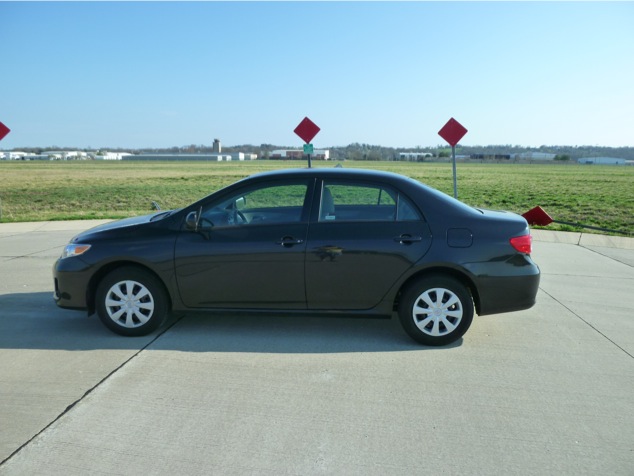 A decade ago, styling could be cast aside as a low priority — buyers of compacts cared more about ownership costs than curbside appeal.
In recent years, the new Ford Focus, Mazda 3, Chevy Cruze, and Hyundai Elantra have surpassed the Corolla (and the Honda Civic) in comfort, performance, style, and standard features. As Americans downsize in response to high fuel costs, compacts have emerged as the new standard, and the downsizing public expects the same creature comforts they enjoyed in the larger and more expensive vehicles they traded in.
This poses quite a problem for a stodgy car determined to stay in a pre-9/11 world.
THE INTERIOR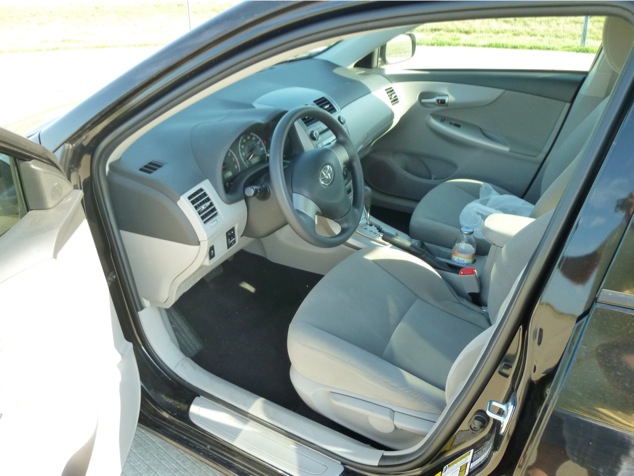 Inside, the cabin extensively uses durable but hard plastics. A few swaths of padded fabric add a bit of comfort and well-fitted panels give the impression of quality until you touch the harsh surfaces.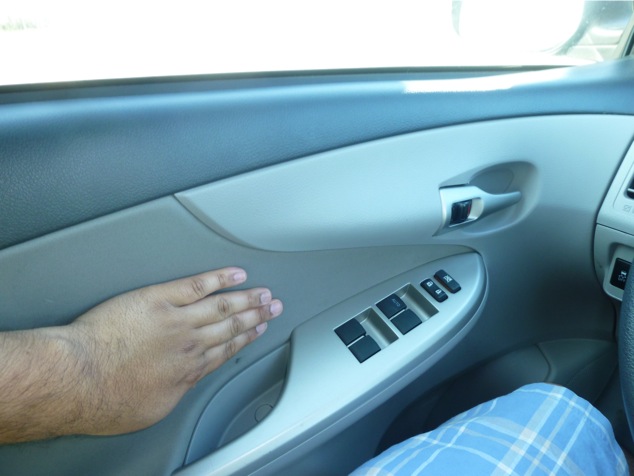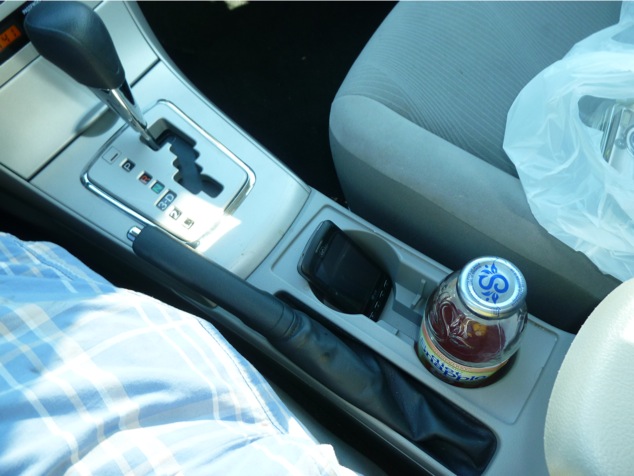 There are a total of EIGHT cupholders — two in the front center console, one in each door, and two in the rear. Stay thirsty, my friends.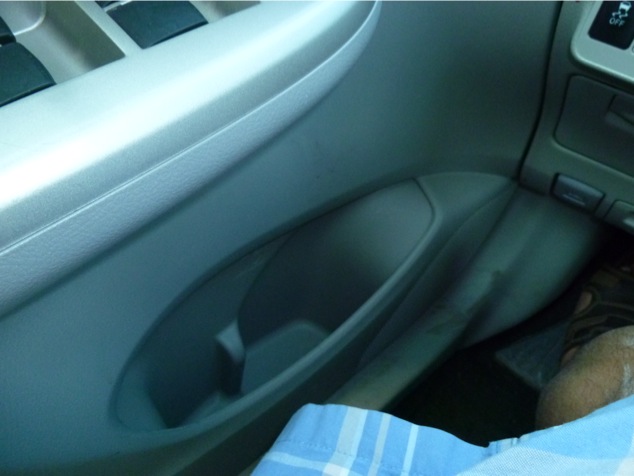 There's a front door pocket and cup holder.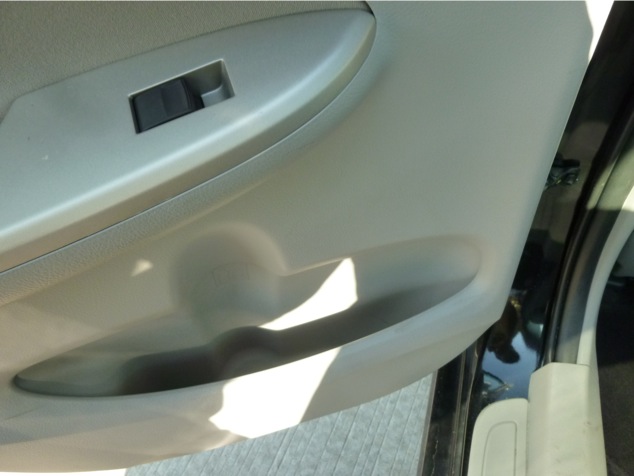 This rear door also has a pocket and cup holder.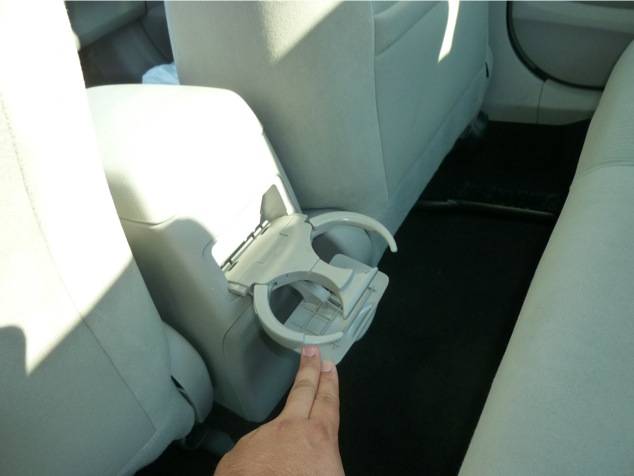 Rear center cup holders fold out from the back of the front center console. They feel quite flimsy.

Two generously sized glove boxes built into the passenger side dashboard provide space for documents and sunglasses. An additional storage compartment is in the center console under a small lid.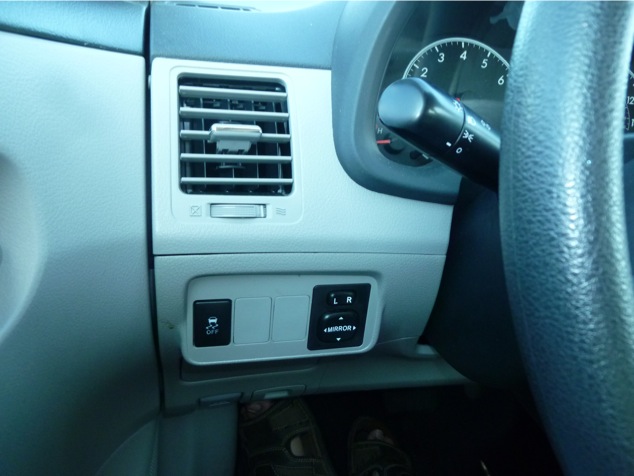 With a few exceptions, the panel gaps are tight and even. It presents well compared to past Corollas but against the competition it looks tired, cheap, and dated.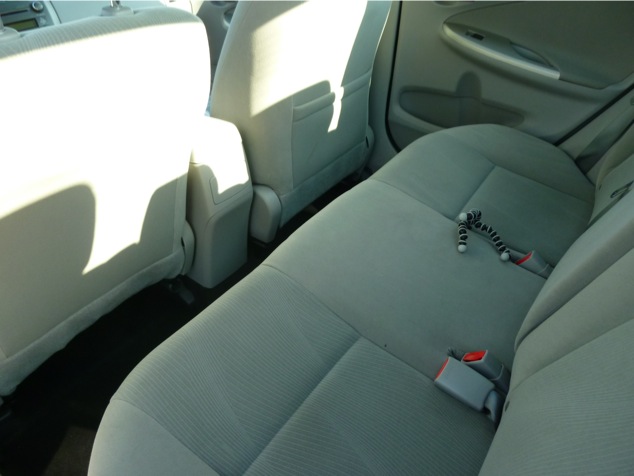 Rear seat passengers are treated to hard seating that feels a bit like a park bench. Cushioning is too firm and the seating position is unusually straight and upright. Thanks to the Corolla's tall roof, head room is more than adequate.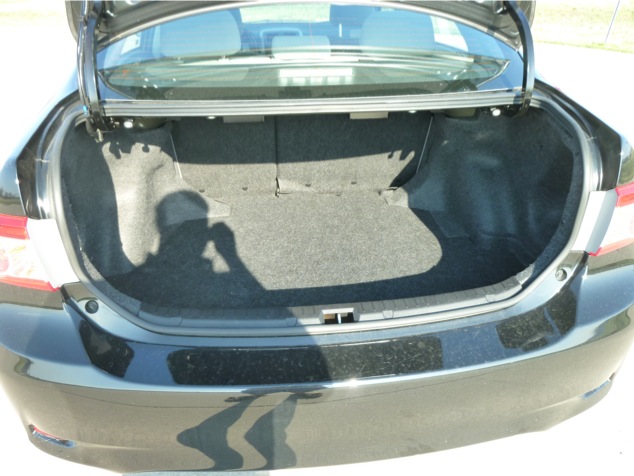 I suppose a typical Corolla owner would put his or her school books here… or cases of Natural Light.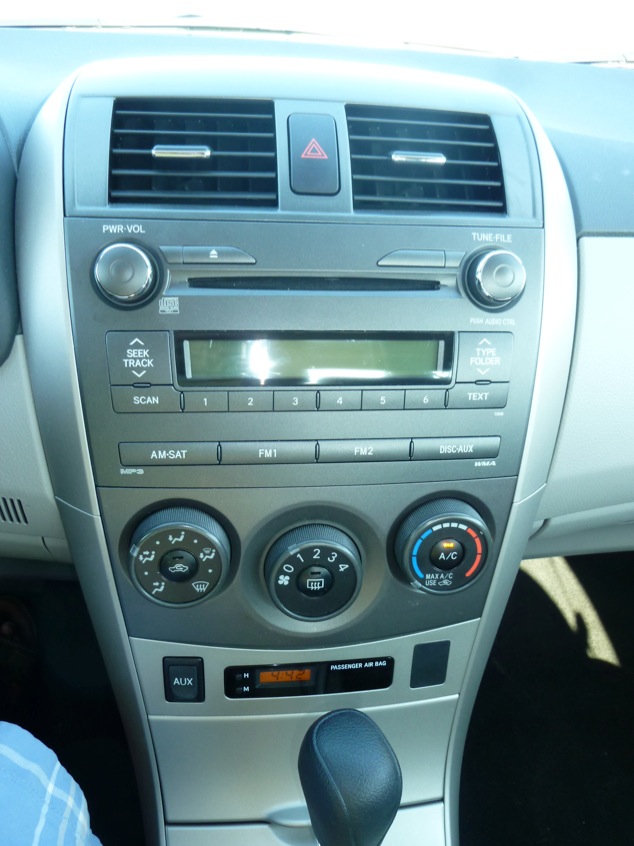 The center stack is laid out logically except for the clock, rendered useless by forcing the driver to take his eyes off the road to read the time. Knobs and switchgear feel reasonably durable and precise.
The inside of a Corolla is a drab place to be, like hanging out at the DMV.
THE DRIVE
Driving a Corolla is a plain, uninteresting experience, like operating a dishwasher.
As I backed out of the Enterprise parking lot I immediately noticed the overboosted steering. Rotating the wheel back and forth met with almost no resistance. Later on, I learned that it was an electric steering system, not hydraulic, which reduces weight and complexity and saves a bit of fuel. Unfortunately, there's a big trade-off in driving enjoyment.
To give the Corolla a bit of credit, the steering wheel does transmit surface imperfections reasonably well, but turning doesn't feel like a real, physical act. It's a bit like playing with a video game controller. Yes, your finger movements cause the on-screen character to perform a task, but you aren't actually performing it. You're asking the machine to do something for you and hoping it executes properly.
Think of it as an artificial representation of steering rather than the real thing.
The throttle pedal is much the same way, isolated and disconnected from the mechanical actions of the car. Stepping on it offers almost no physical resistance and few of the engine's vibrations can be felt through the feet. If you've ever played a sit-down racing game at an arcade, the pedal on the floor is nothing but a shallow electronic representation of a car, a piece of plastic with a spring underneath. If you want to control a machine that looks, sounds, and feels like an actual automobile, you'll have to graduate to the real thing — likewise with the Corolla.
While I may be inclined to blame drive-by-wire technology, most manufacturers seem to understand how to make it feel as if the pedal is still connected to a throttle cable. Toyota, at least with its Corolla, has not.
ONWARD TO ST PAT'S
I drove to the city on Saturday morning to pick up my friend Paul. I don't wear bright green, nor do I own anything in that hideous color, so we headed to a costume shop for St Patty's attire. I ended up in this classy shirt: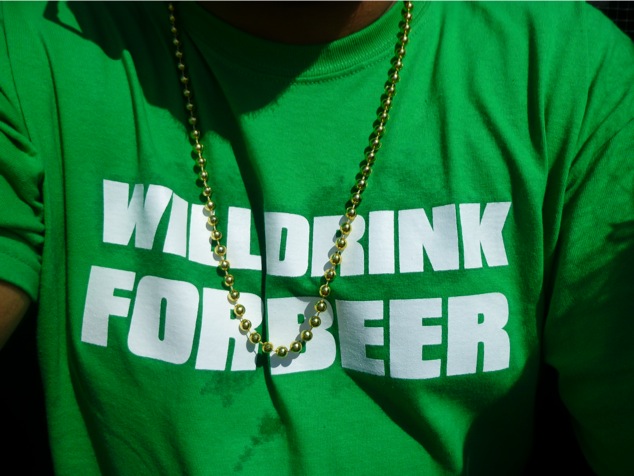 Paul knew someone who was part of a non-profit group that was operating some parade floats, so we drove to the staging area nearby to join.
I parked the car; as we walked around the corner we saw the floats quickly pulling away. He and I took off running (I look like an idiot when I run, so you can imagine by reluctance) and jumped aboard while it was in motion, like a cliche movie scene where the eager protagonist runs after a train leaving the station.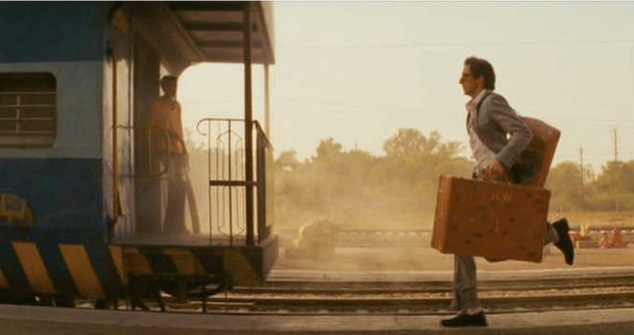 Coincidentally, the float happened to be themed after a steam train.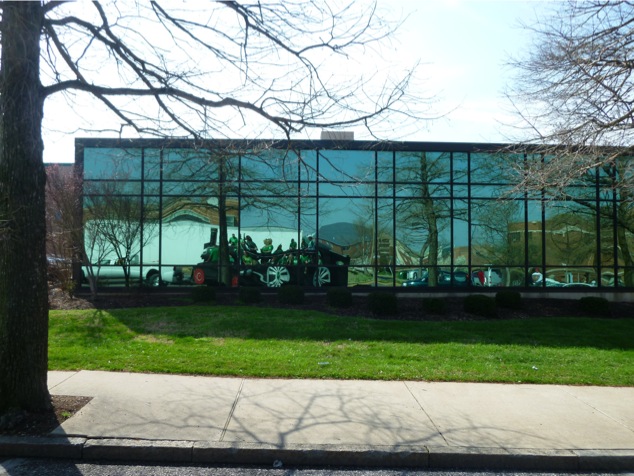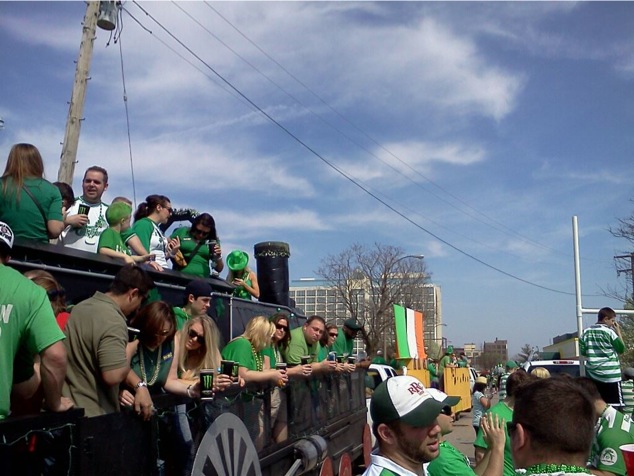 The most important part about this story is the free beer. Sure, it was a Bud Light, but would you say no to free Bud Light?
(I suppose some would.)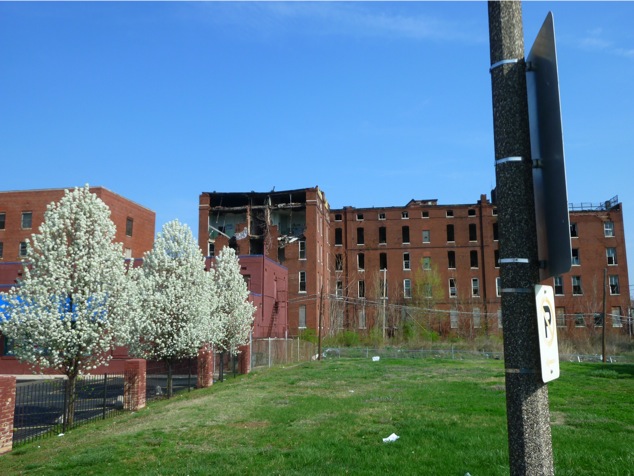 Approaching the main parade route, we took in the sights, sounds, and unfortunate smells of St Louis City.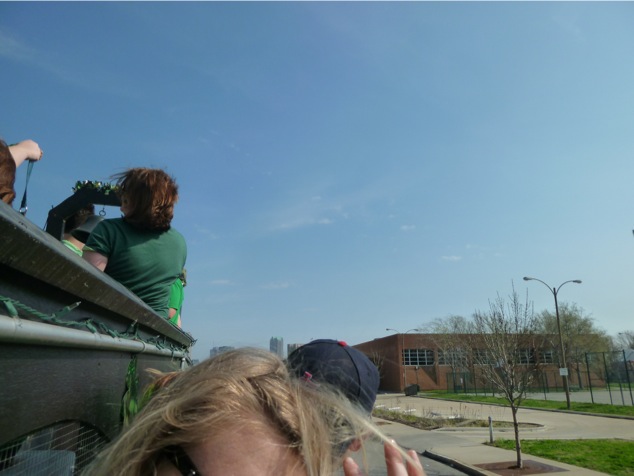 We arrived at the staging area and hopped off the float for a break at Sybergs where I regrettably had a shot of Jagermeister.

The teal blue car to the right is a Packard.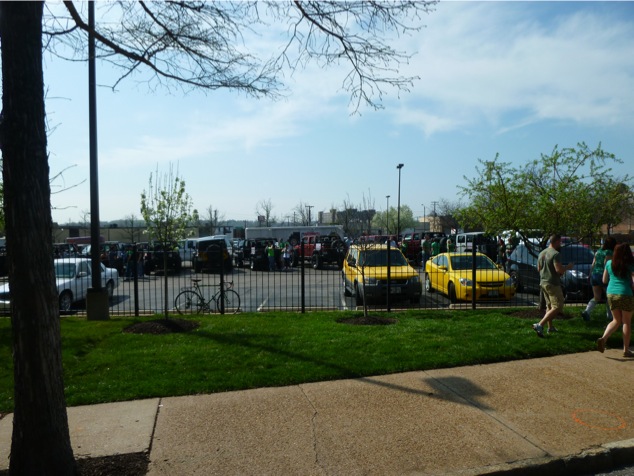 A Jeep meet is taking place in that parking lot.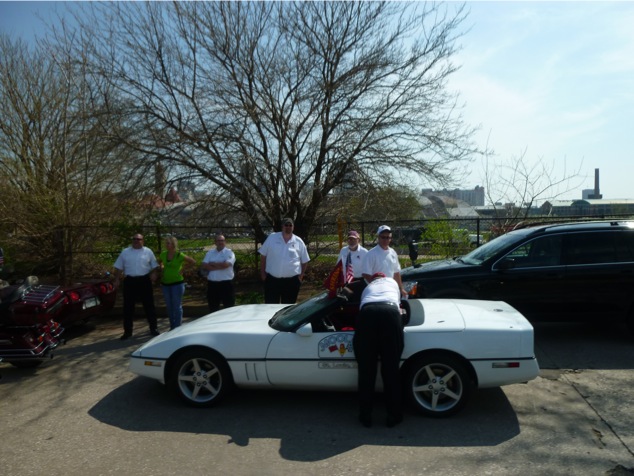 Nice C4 Corvette.
The weather, so far, was cooperating. It was 79 degrees with a nice breeze and storm clouds were not expected to reach the city until later in the afternoon.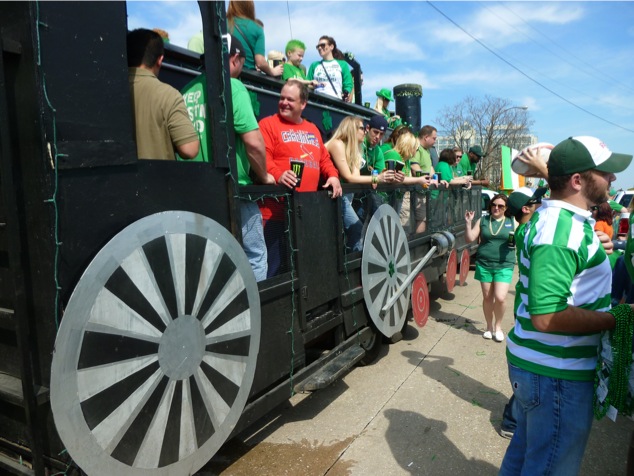 After a drink and piss break at the bar we climbed aboard. There was a porta-potty on the trailer but I didn't want to risk falling or peeing on my leg in while going around a corner.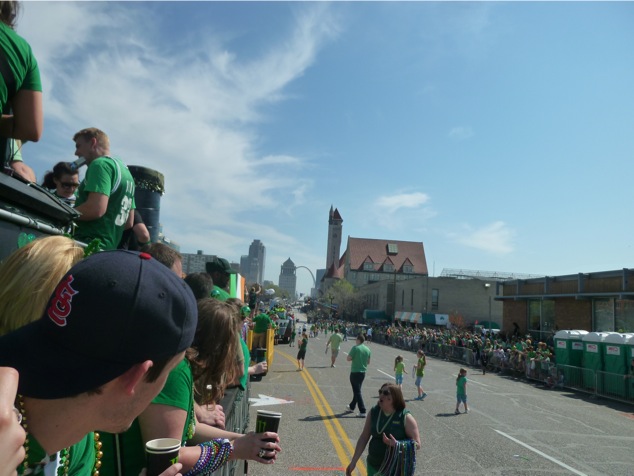 Quite a crowd.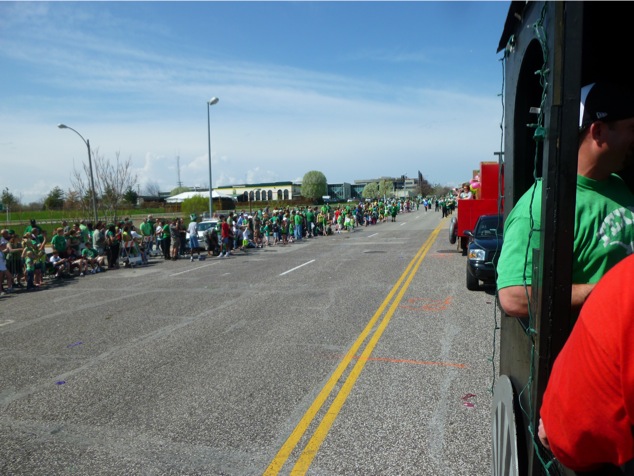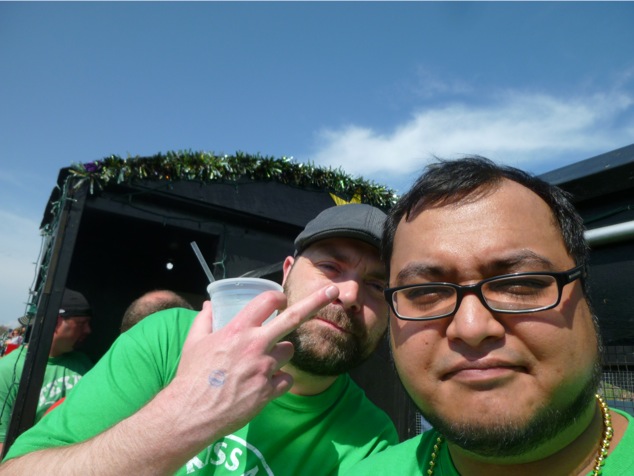 I was having a much better time than my facial expression suggests. The sun was in my eyes and I was still recovering from the Tylenol PM I took the night before to get myself to wake up early.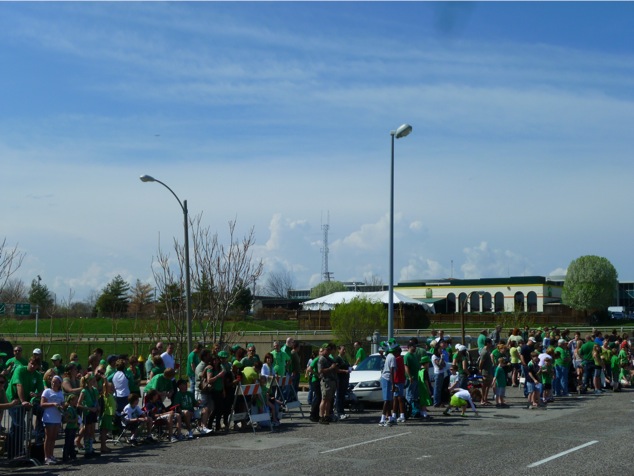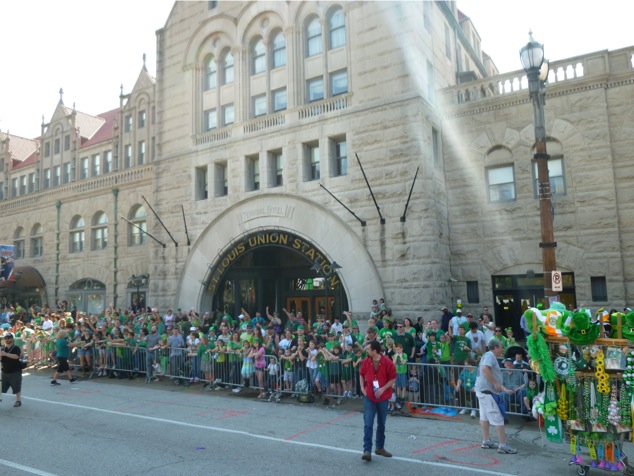 Approaching Union Station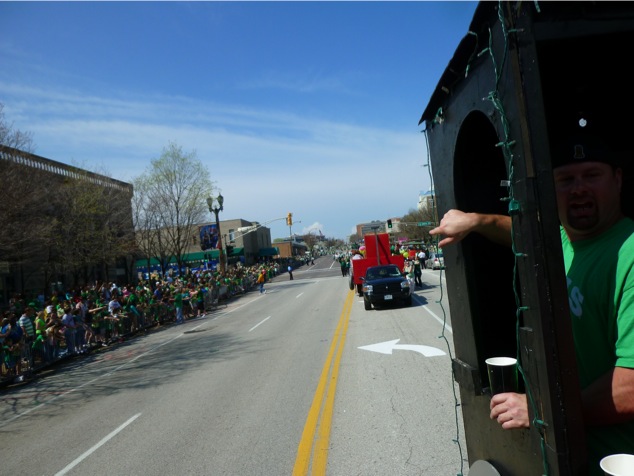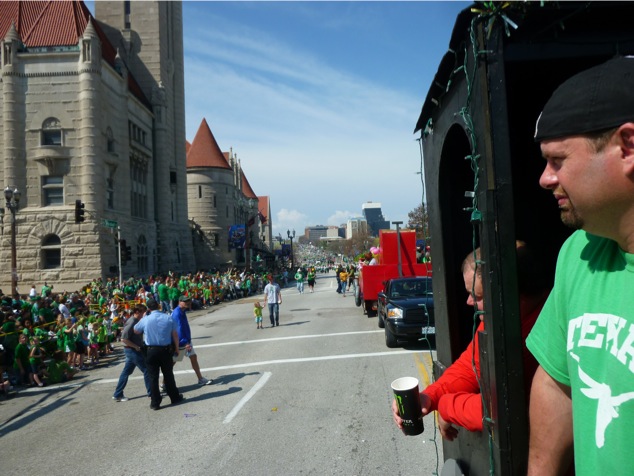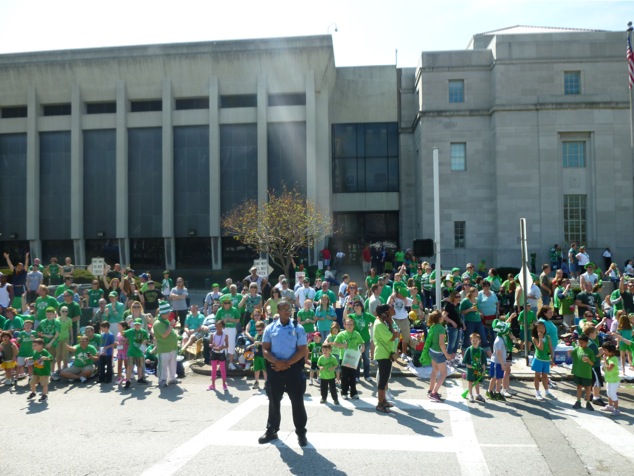 Metro PD, friendly and omnipresent.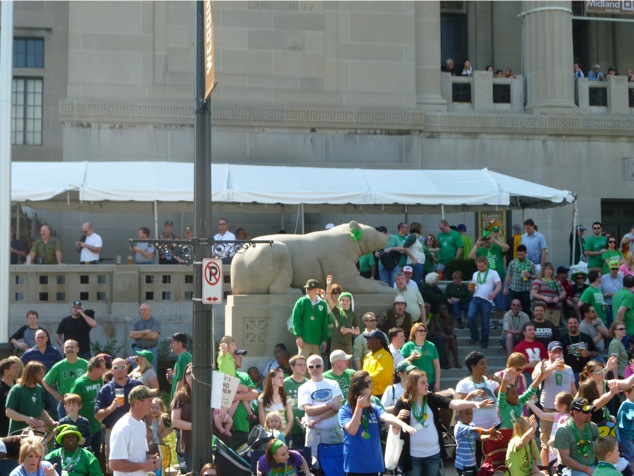 Someone carved a statue of me.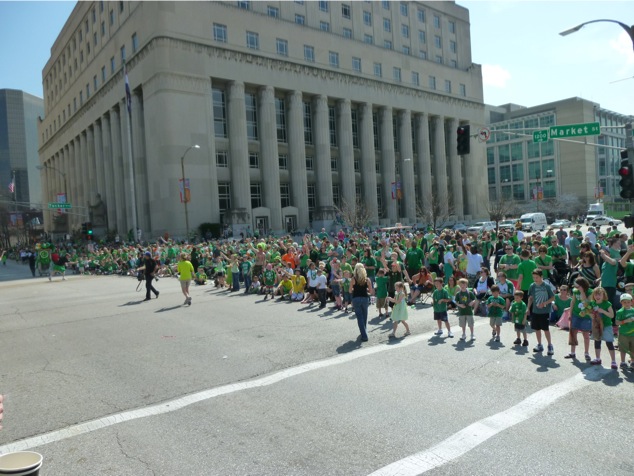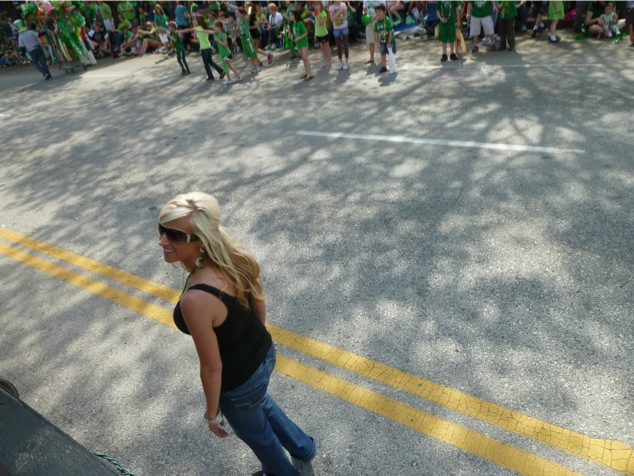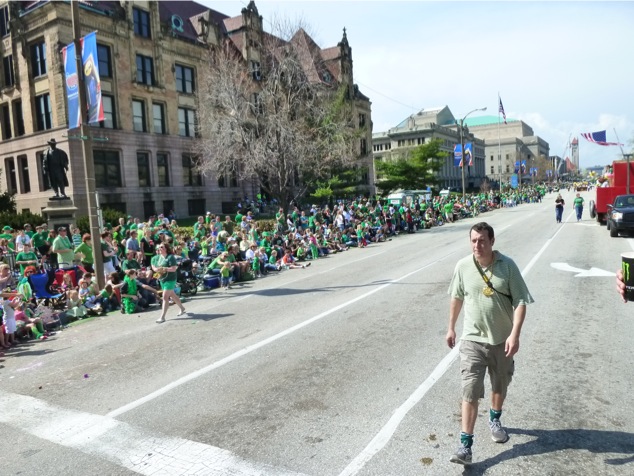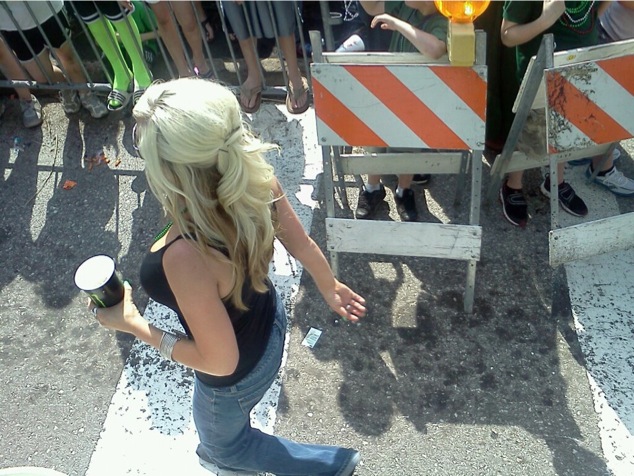 😀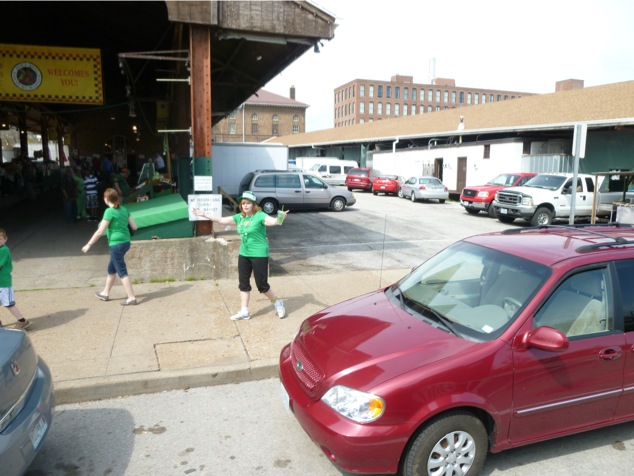 We picked up speed heading south through Soulard.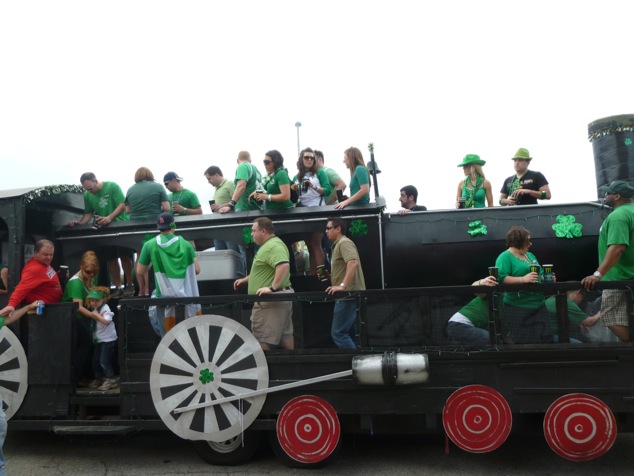 Deboarding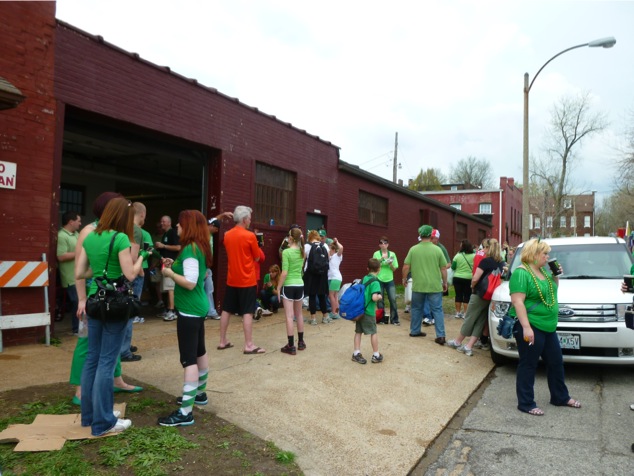 Unloading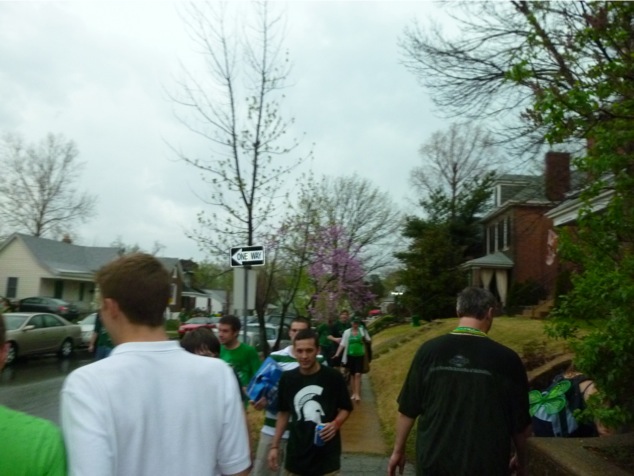 From here, Paul and I went to a keg party. Unfortunately, the walk from the car to the house was more than a mile in a thunderstorm that arrived just as we parked. Paul carried a 20-pack of Bud on his shoulders the entire way.
There wasn't a whole lot going on when we arrived so we walked all the way back, leaving the beer behind, and headed to McGuirk's to meet up with Paul's wife. You can imagine how crowded an Irish pub is on a rainy St Patrick's Day.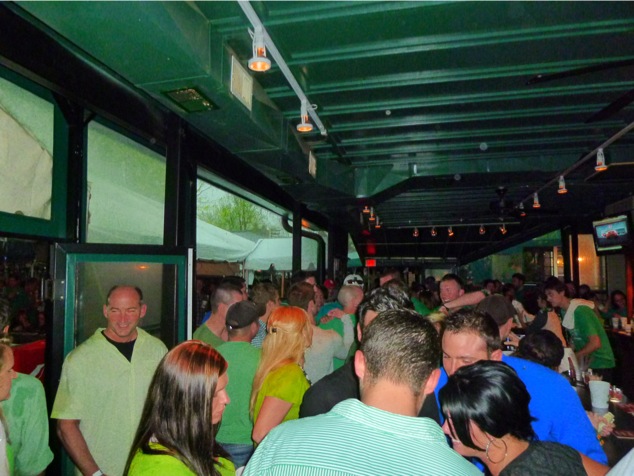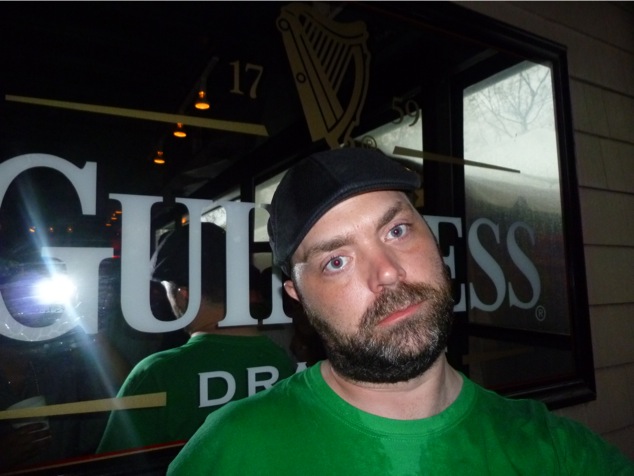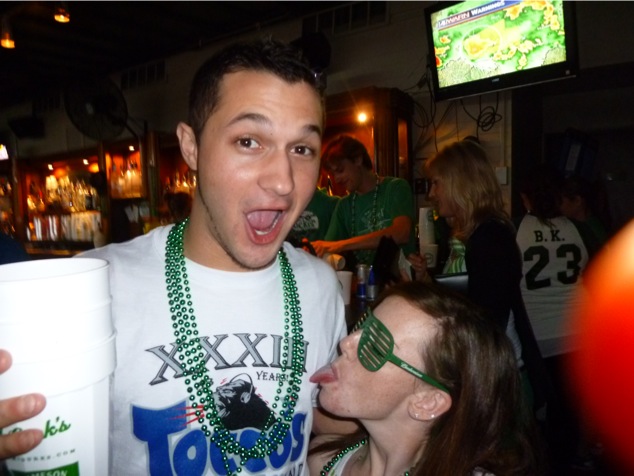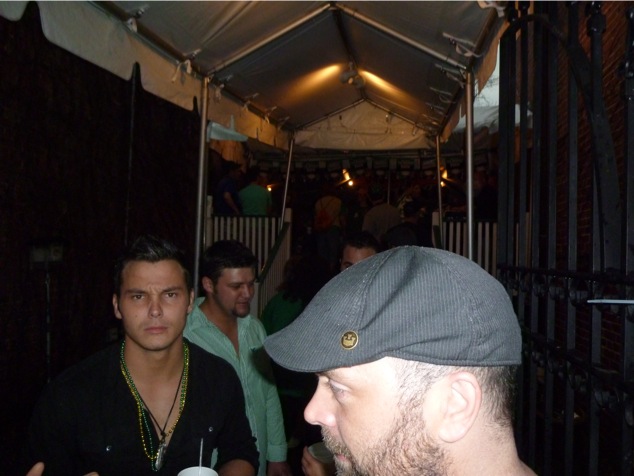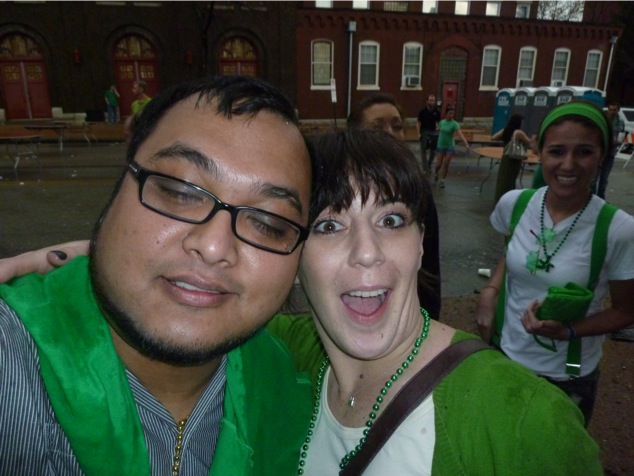 It was still early in the evening but I was ready to take a nap… for 12 or more hours. We walked back to Paul's house where I fell asleep on the couch at an unusually early 9 pm.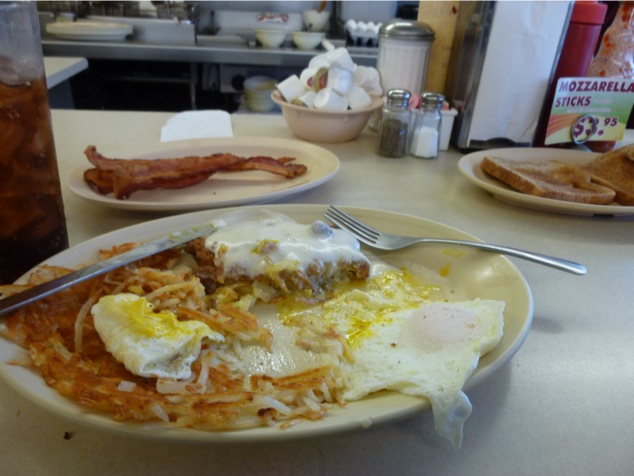 On a groggy Sunday morning, Paul and I drove to Courtesy Diner where we sought much-needed nutrients, most of which I left in the toilet the night before. Chicken-fried steak, bacon, toast, eggs overeasy, and hash browns have never been so heavenly.
CONCLUSIONS
My Saab was delivered later that afternoon with fresh transmission fluid, new vacuum lines, and a new transmission filter, then on Monday I gave the dependably dreary Corolla back to Enterprise.
Fuel consumption for the weekend was 29 mpg, an adequate number for mostly highway driving but far short of the Hyundai Elantra's EPA-rated 29/40 mpg (33 combined).
My back was a bit sore after spending 165 miles behind the wheel. Although the seats offer surprisingly thick side bolsters, lumbar support is inadequate. This is not a car I would enjoy on a road trip.
I'm left scratching my head, baffled by how Toyota manages to unload more than a million of these worldwide every year. In developing regions like Southeast Asia, India, and Brazil I can respect the Corolla as a significant upgrade over, say, a rickshaw or a donkey. But here in America and especially Western Europe, the options for fun-to-drive, feature-packed, and fuel-efficient cars are endless.
Is the Corolla a microcosm of Toyota itself, coasting along on its stellar reputation while offering nothing more than mediocrity? Perhaps.
There is, however, something to be said about ubiquity. No matter where you go on this planet, Corolla parts are widely available along with people trained to service them. It's Generation X's Volkswagen Beetle minus the Nazi legacy.
RATINGS:
Powertrain: 5/10 — The "intelligent" transmission usually responds well but sometimes feels a bit delayed. Perhaps because this is a rental car the system is constantly learning behaviors of several drivers. Four gears is rather inadequate and has an adverse effect on fuel economy. At 26/34 mpg, the Corolla lags behind many of its competitors.
The somewhat anemic 1.8L engine is well insulated from the cabin. The throttle pedal movement feels cheap and fake, too much like a game or driving simulator.
Overall, it's a fairly sufficient amount of power (132 horsepower) delivered in a somewhat sufficient manner. Stay out of the left lane.
Braking: 4/10 — Pedal action is a bit spongy. ABS is far too aggressive, eager to come on even in dry weather. The Goodyear Eagle LS tires may be part of the problem, offering poor traction in wet weather. The brakes are easy enough to modulate but stopping distances may be too long in an emergency.
Steering/Handling: 3.5/10 – Steering communicates the road surface adequately but movement and weight feel terribly artificial. The somewhat soft suspension allows the car to lean more than it should while turning but the highway ride is nice and steady.
Somehow, the Corolla manages to feel isolated in a way that isn't at all comfortable or luxurious.
Again, the Goodyear Eagle LS tires are no help in the rain, squealing in mid-throttle turns. This car was equipped with traction control but it didn't seem to do anything.
Audio/Accessories: 7/10 — The use of a stalk for cruise control seems a bit out of date but it works just fine, located in a convenient position attached to the steering wheel. It maintains cruising speed accurately over gentle inclines.
The four-speaker MP3 stereo is unexpectedly bright and powerful, somewhat compensating for the dreariness of the rest of the car. Unfortunately, the CD player has no random playback function, something which would be nice when listening to 700MB of music. For everything else, there's an auxiliary input jack for iPods and phones.
The digital clock is in a bafflingly low position on the center stack.
Interior: 4.5/10 — Plastics are hard and nothing feels very expensive, but panels are mostly well-fitted. No squeaks or rattles were present.
Believe it or not, the Corolla is quieter on the highway than the Lincoln Town Car. Though expansion joints are heard and felt, wind and tire noise is nicely muted.
This score would be higher if the competition wasn't exceedingly competent.
Comfort: 4/10 – Heavy side bolsters do their job as the Corolla exhibits quite a bit of lean in turns, but padding is too firm and lumbar support is lacking. Rear seat passengers have sufficient space but the seating position is too vertical.
Quality/Reliability: 9/10 — It's dependable and reasonably well made.
Overall Value: 5.5/10 — A history of dependability is the only thing the Corolla offers but the price tag (over $15000 for LE) isn't low enough to offset what the car otherwise lacks. Competing cars from Mazda, Hyundai, and Ford offer similar dependability with more style, features, fuel efficiency, and comfort.
VERDICT:
Pick up an old Corolla (any age) as a spare car, winter beater, or something to give your 16 year old kid as a set of training wheels. There's absolutely no reason to buy one brand new.
We often joke about Toyotas accelerating unintentionally, but the aging Corolla is going nowhere fast.
Specifications:
132 hp I-4 VVT, 128 lb-ft torque
4-speed intelligent auto (26/34 mpg) or 5-speed manual (28/35 mpg)
Front-wheel drive
Optional sunroof, bluetooth, and USB
2734 lb curb weight
102.4 inch wheelbase