Review: 2011 Chevrolet Express – "We're out of trucks. Is a van okay?"
I'll take it!
I needed a new (used) hood for my old Saab and the local PickNPull finally had a car in inventory, a silver 1989 naturally aspirated 900 sedan. The problem was, I needed some way of carrying it home.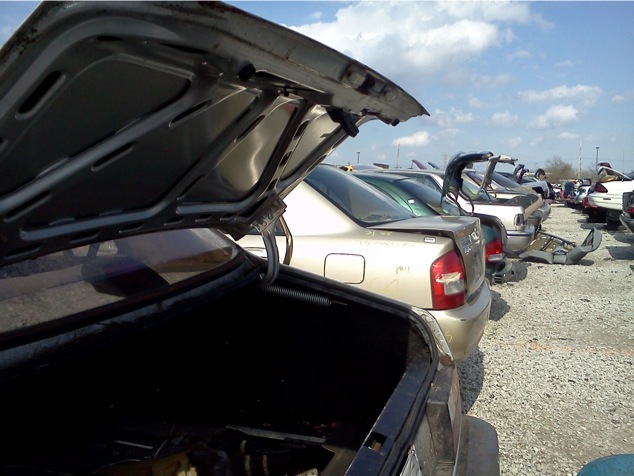 A nice day for junking.
Sure, I could have driven my car into the city and installed the replacement hood in the junkyard parking lot, but what if a bolt refused to come loose or what if started raining? I figured the best option would be to rent a full size pickup, bring the hood home, clean up the small rust spots, and have it painted and installed later.
Once again, I booked with Enterprise where I was promised a Ram, Silverado, or F-150. Unfortunately, they called me the following morning to tell me they were out of half ton trucks and offered a Chevy Colorado as an alternative. I measured the Saab's hood and due to the wraparound clamshell shape, it was too large to fit into the bed of a midsize truck, so they offered a full size cargo van instead.
Again, there was the dilemma of whether it would fit through the van's doors, so I brought some measuring tape to the Enterprise location to see for myself. It was going to be a tight fit.
$58 got me a day and 150 miles with a white Chevy Express panel van, GM's dependable workhorse for plumbers, electricians, traveling bands, and cake shops.
I've done a lot of vanning in my time (yes, that's a verb), finding myself behind the wheel of a couple Econolines, a Rally Vandura, and a Mazda MPV. The MPV wasn't much of a utility van but it did offer three rows of seating and rear wheel drive, used primarily to haul musical instruments and equipment.
I once drove a GMC van 300 miles to a car meet in Indianapolis, deboarding through the back door on a hydraulic wheelchair lift like some kind of low-end royalty.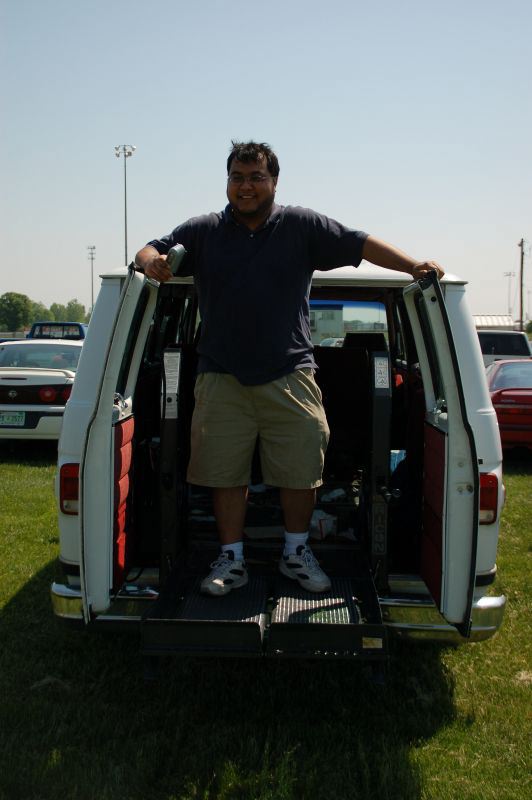 On another occasion I rode in the back of a red Econoline in nothing but a plastic lawn chair, holding on to whatever I could as it leaned like a wine glass around corners. Additionally, I personally know the guy who owns the original "Free Candy" van — it was seen on Leno a couple years back.
I guess you could say that vanning is my "thing," so when Enterprise offered one as a pickup truck alternative, I was naturally pleased.
Most would spurn the venerable cargo van for its lack of charisma, suspicious demeanor, and its lowly status as a somewhat of a social pariah. They've been associated with everything from working-class heroes to failures at life who use them as temporary residences.

Fast Tube by Casper
But that's what makes them so darn great. If you're down on your luck, you can grab a box of clothes, toss in a mattress, and move right in. If you happen to have a panel van with no side windows, the police and the neighborhood watch won't know you're living inside, stealing wifi and eating food cooked on a 12-volt hot plate. And when life finally turns around, it doubles as a handy utility vehicle.
To heck with society, a big panel van is all a man needs.
I will admit, while I was driving the Express around my quiet suburban neighborhood at night to run errands or go to dinner, long after regular daylight business hours, I felt as if the local police were watching me with extra care. A brown guy in a white van could only mean trouble, right?
Let's talk about the 2011 Chevy Express.
It's huge. I overestimated my measurements and we (my roommate and my friend Marvin) were able to load it through the back door at an angle with plenty of space to rest it on the rubber floor.
The van I received from Enterprise looked like this: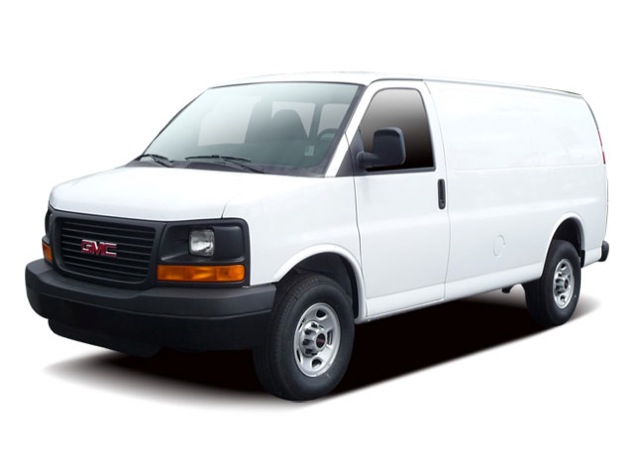 Yep, that's a van. I could have taken my own exterior photos but staging it with some pretty scenery in the background would have been a bit silly.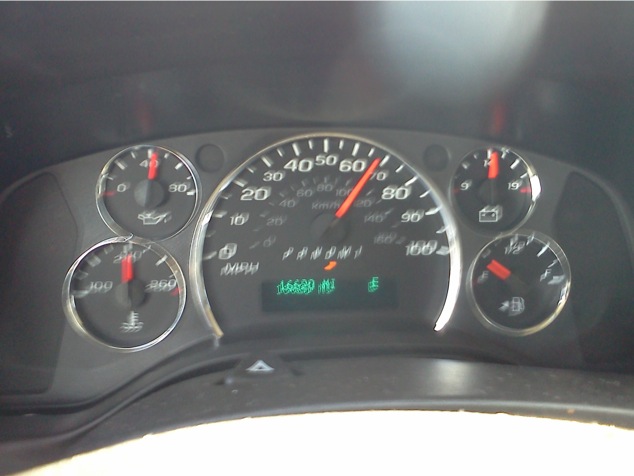 2011 Chevrolet Express, 16620 miles
Express 2500 vans come with a 4.8L Vortec V8 with 280hp and 295 lb-ft of torque (6.0L 324hp V8 optional), mated to a smooth six-speed automatic transmission.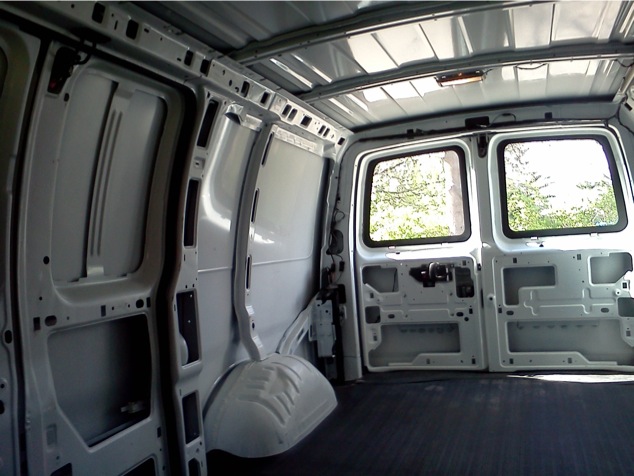 My base-model van included a rubber utility floor covering, two vinyl bucket seats, air conditioning, rear wheel drive, manual locks, manual mirrors, and manual windows. The only added features were a crummy sounding but easy to use AM/FM radio with no tape, CD, or aux input and… well that's it. Front air conditioning is standard. Rear AC is optional.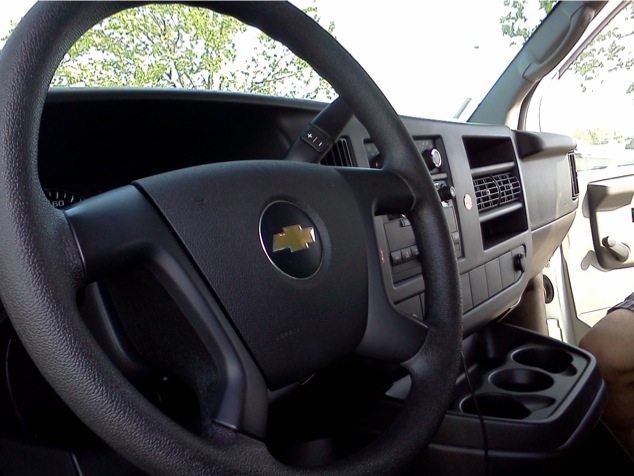 GM gives retail customers the option to save $240 by deleting the spare tire. I didn't check underneath to see if it was present but I'm hoping Enterprise didn't cheap out by omitting it. For a retail buyer, the price would have come to $26,590, a reasonable deal for a vehicle with limitless configuration options, but for anyone who doesn't need a large covered cargo area, a shortbed Dodge Ram can be had for under $20,000.
Bonus: The Chevy Express and GMC Savanna are built here in St Louis.
Driving the Express was more car-like than I expected.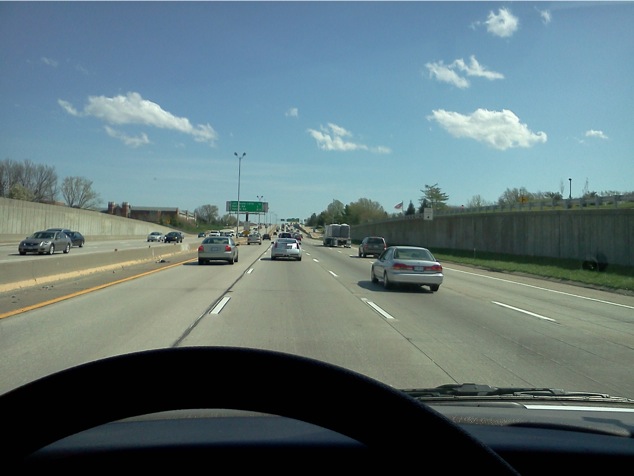 The six-speed transmission shifted smoothly and throttle tip-in was slow and easy to modulate, important to keep my cargo load of books and car parts from sliding around. The easy shifts kept the cabin from jostling around with each gear change, important in a vehicle that could be carrying sensitive items like glass antiques or a tall wedding cake.
There's a manual mode on the column shifter for selecting your own gear, handy for towing and climbing or takeoffs in the snow, and a there was a button on the dash with a trailer icon.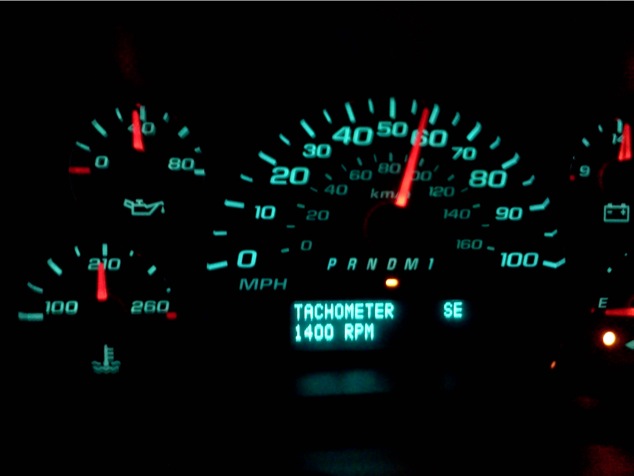 The gauges are nicely laid out with a digital display that can show the tachometer, fuel economy information, distance to empty, oil life status, trip computers, tire pressure, and more. When you start the truck the digital text display does a nifty sweeping animation.
The 70s-inspired loosey-goosey steering, awful ergonomics, hilarious handling, and freight train braking typical of GM vans are long gone. All good things to lose, but because of these modernizations, the era of vanning as a motoring novelty is over. Sadly, the ultra-comfy, throne-like front seats of the old GM vans are gone as well, and the old Delco radios sounded a little nicer.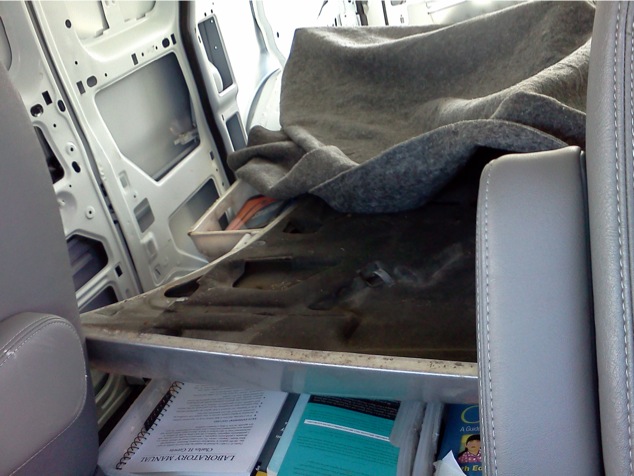 Around town, the Chevy Express drives like a tall Impala, emulating the big sedan's average steering, average handling, average braking, and average feedback. I could spin around the parkway without worrying about tipping over on my side and I could brake without having to plan ahead by marking it on my calendar for next week.
Unfortunately, after a day and more than 100 miles on the road my back was aching a bit. Yes, the seating position is much improved over GM's long-discontinued Vandura and G20 vans, allowing more space for the left foot by moving the wheel arch away from the driver's seat. Climate and radio controls are closer to the driver as well but the seats lack the depth, support, and long-distance comfort of the old van.
For people who spend all day in these vehicles for their livelihood, that slight bit of discomfort is kind of a big deal. The Econoline has the edge here.
Ride quality is a positive with some of the bounciness of past GM vans smoothed out. A series of surface undulations will eventually get the van rocking fore and aft, but it recovers quickly. Of course, the ride is noticeably more stable with cargo in the rear.
In the end, with combined city and highway driving, I averaged 17.0 mpg. The following day I stopped at the BP station and filled the tank to 3/8, which is where it was when I picked it up from Enterprise the day before. I noticed a Flexfuel label on the filler cap and selected E85 at $3.59 per gallon. It only saved me about four bucks over regular unleaded — Missouri doesn't subsidize the cost as aggressively as some others states. The next driver might notice some extra power but lose 10-30% of his fuel economy. Not my problem.
Next time, I'd like to rent Nissan's new NV, a monster van with Nissan's torquey VK56 V8.
For now, a silver Saab hood sits in my guest room. I'll need to go over it with some POR-15 to eat the surface rust and then take it over to my preferred body shop for prepping and painting.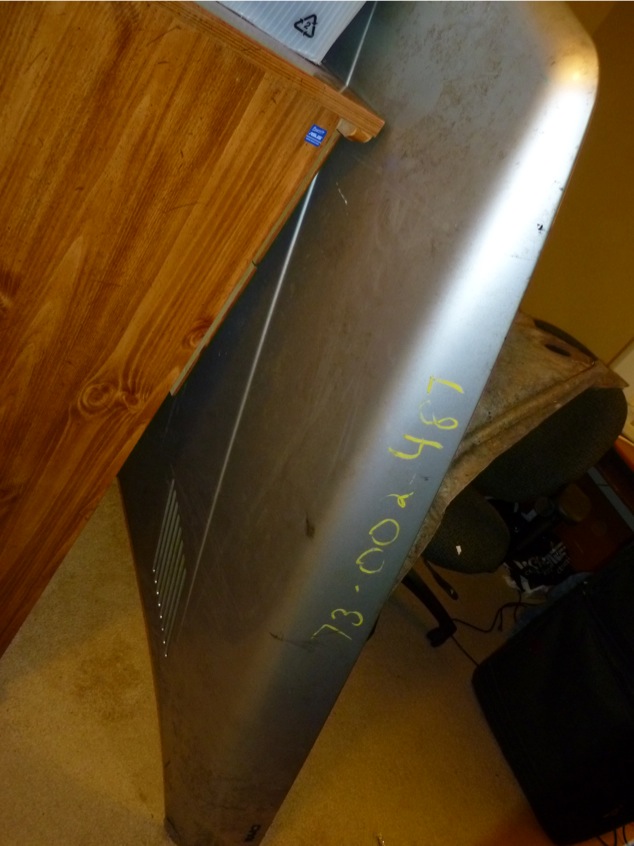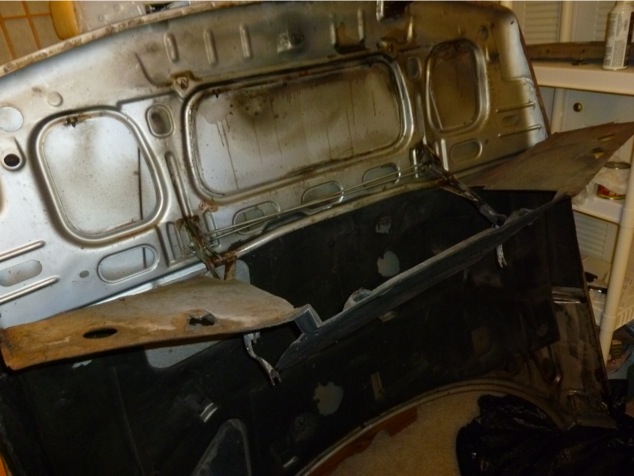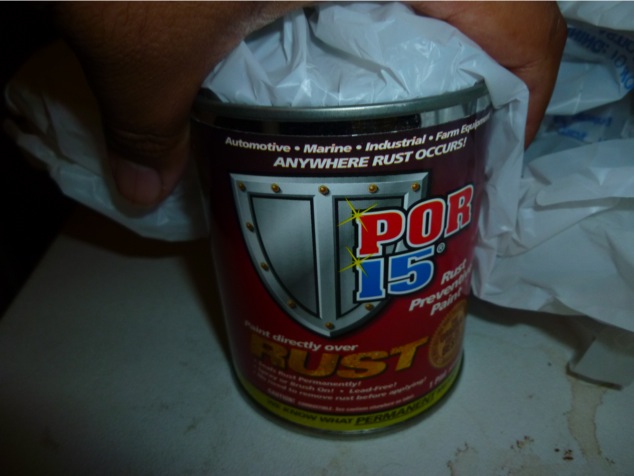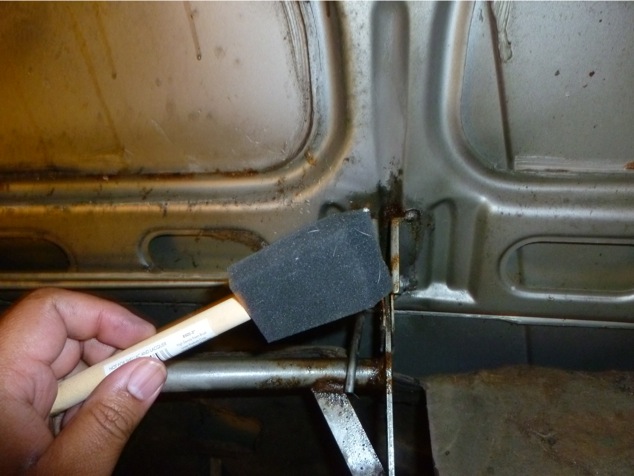 RATINGS:
Powertrain: 8/10 — At first, I was going to criticize the transmission for being mushy and the throttle for having a slow tip-in until I realized how important it was for cargo stability. Takeoffs were smooth and gear changes were pleasingly lazy, keeping my car ports from slamming against the bare walls of the van. Acceleration with the 4.8L Vortec V8 is adequate.
Braking: 8/10 — Pedal action is easy enough to modulate with surprisingly good stopping power as I approached traffic jams on the interstate. It feels like being behind the wheel of a large sedan.
Steering/Handling: 7/10 – For a van, it corners sufficiently and offers a modest level of feedback. There's nothing sporty going on here and perhaps there shouldn't be. It tracks down the road straight and true and goes around street corners without feeling like a motor home. You could even push it just a little bit.
The ride is fairly smooth and with a cargo load in the back it's reasonably steady.
Audio/Accessories: 6/10 — The manumatic shifting feature is handy for towing and climbing. Air conditioning worked exceptionally well, as expected in GM products.
Clear analog gauges display oil pressure, coolant temperature, fuel level, speed, and voltage. A transmission temperature gauge would be a nice addition. A tachometer, fuel computer, trip computer, oil info, and tire pressure are all within the two-line digital display, accessible with four small but confusing buttons located to the left of the gauge cluster.
The basic AM/FM head unit had two speakers, no CD player, no cassette, no satellite radio, and no auxiliary input. How GM charges an additional $150 for this garbage is beyond me.
If I was to rate the Express on options, I'd give it 10/10. The possible configurations of engines, doors, interiors, seats, and side panels is endless. GM smartly recognizes its full size van as a multifunction tool, a means to an end. The more ways to use it, the better.
Interior: 3/10 — When I climbed in the first thing I noticed was the nasty creaking of the door handle. Instead of using a single, solid piece of plastic, it's two pieces poorly sandwiched together around what I assume is a solid door handle underneath. The layout of the controls is logical and ergonomically reasonable… for a van. Some of the climate controls were a little bit of a reach. Hard, drab plastics cover the rest.
There is, however, plenty of storage for personal items and three large cup holders in the middle.
Comfort: 5/10 – There's a nice fold-down arm rest and tall seat backs. Cushioning feels perfectly adequate but the seats lack the long-distance depth and width of GM's older vans. My lower back was just a little bit sore after 100 or so miles.
Quality/Reliability: 8/10 — They're built to last and they typically do. The only wildcard is the six-speed auto.
Overall Value: 7.8/10 — It's a handy multifunction tool with a history of good dependability, but it's long overdue for a major update. These GM vans date back to 1996, before I was old enough to drive. With Nissan now competing in the cargo van market, it may be time for GM to come forward with additional improvements.
VERDICT:
GM's Express and Savanna offer superior fuel economy and a plethora of options and customizations, but check out the Ford Econoline for its comfort and value and the Nissan NV for its V8 engine and tall roof.
More on vans:
http://jesda.com/2011/08/05/the-joy-of-vanning-full-sizers-compared/