Let's Go Vanning — Full Sizers Compared
Decades ago, full sized vans were cool, or at least trendy among various subsets of the population: stoners, perverts, business owners, hippies, and recreational families.
Janitors seem to enjoy them, like the character on "Scrubs" who sacrificed his beloved 1965 Dodge A100 to a lost bet with Dr Cox:

Fast Tube by Casper
Their long slab-sided bodies were canvasses for elaborate murals. Tall rooflines and spacious interiors turned them into mobile lounges, elaborately customized with curtains, beds, lighting, and audio systems.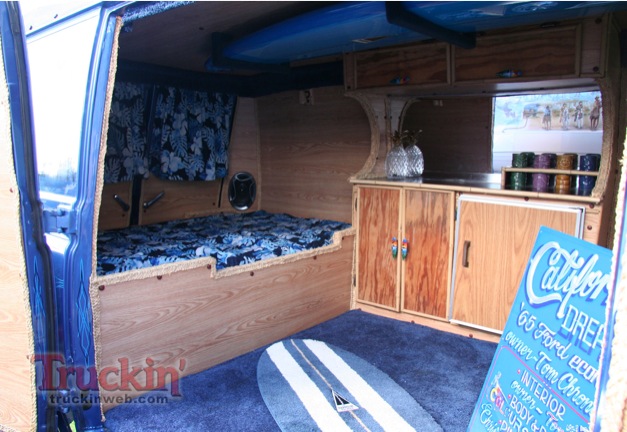 You can do anything with them, in them, or on them, and because of that I have a lot of affection for big vans.
Before I could afford freight service, I routinely borrowed my parents' 1995 GMC Rally STX which allowed me to carry pallets weighing as much as 2000lbs each. It wandered all over the road requiring constant steering corrections at high speeds. Braking was best described as "easygoing" — hopefully you had a shoulder available to avoid driving over the Miata in front of you.
[I still liked it anyway.]
In 2007 I drove it to a Winged Warrior/NICOClub event in Indiana: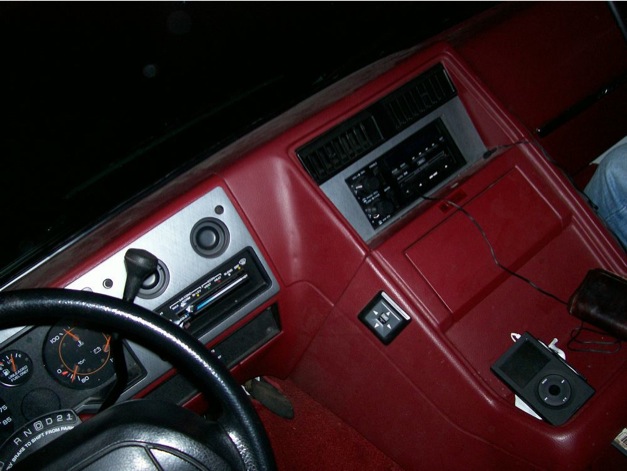 My brother and I left very early in the morning. What you're seeing is plastic painted to look like brushed aluminum. I hated how far away the Delco radio controls were, so I adjusted the volume with my iPod. The two black holes above the climate controls seemed to do nothing.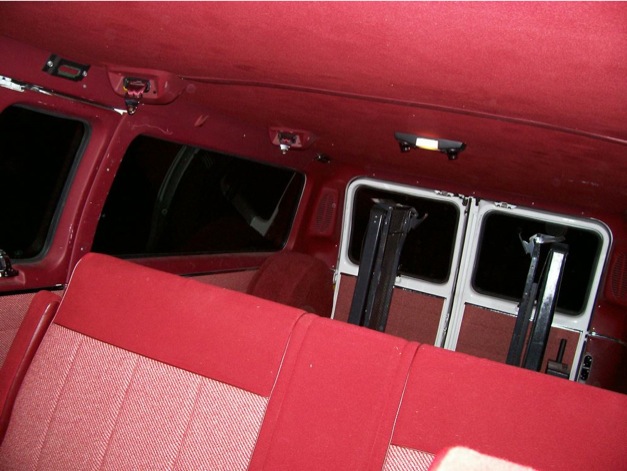 The interior is decked out in whorehouse red. This 1995 Rally STX is the top trim level with full upholstery and a removable seat. The bench seat was a simple enough design but the rails had to be properly aligned to the floor before they could be latched, a chore for one person.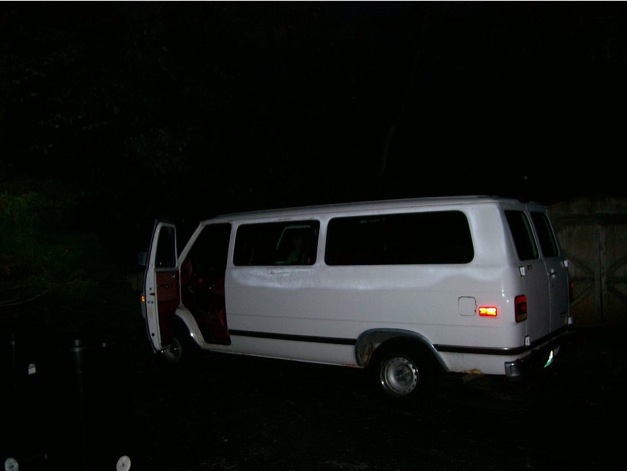 The full glass windows took away some of the "Free Candy!" spookiness.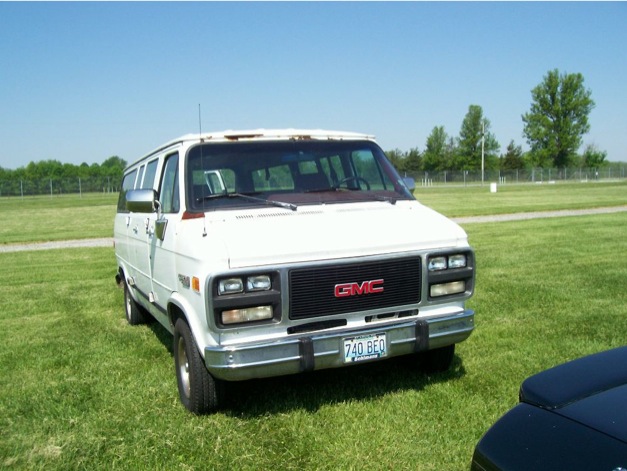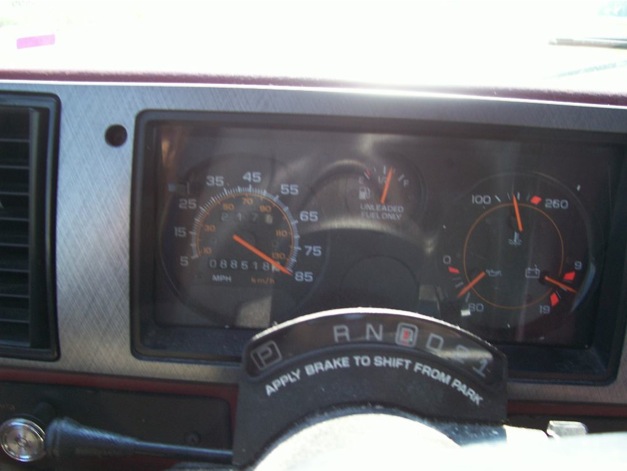 That's as fast as I dared to drive in a house on wheels. The steering column and shift indicator are straight out of the Carter era.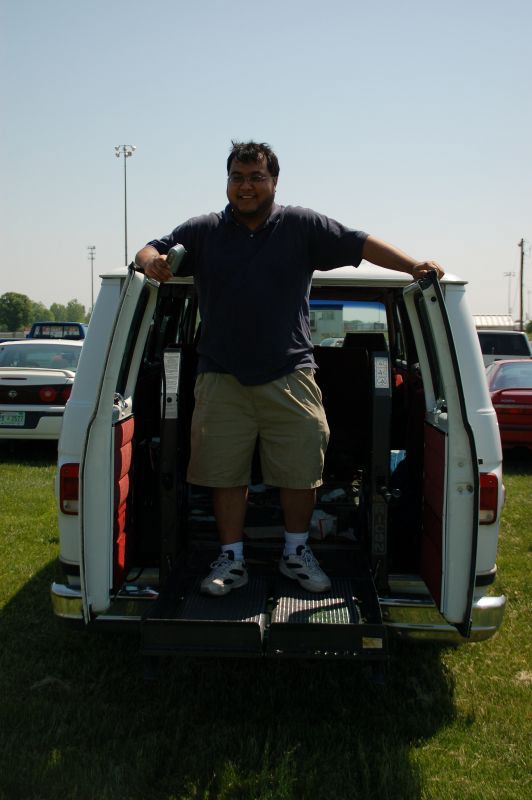 Making my grand entrance — it has a hydraulic wheelchair lift for loading cargo. Pictured in my right hand is a remote control that gradually (and somewhat elegantly) lowered me to the ground.
This creepy-looking white box is how I started my business and I'll be darned if it isn't downright heroic.
Speaking of heroism, remember the A-Team? They executed missions with a GMC Vandura.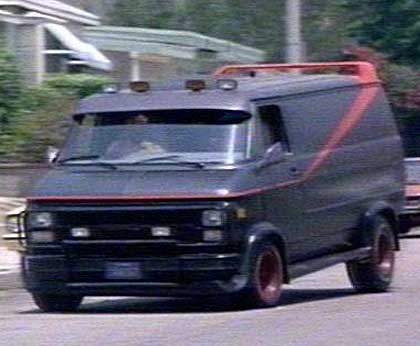 This beast was the weapon of choice for the good guys.
After discontinuing the third generation van, GM introduced the Express and Savana in 1996. Interiors were vastly improved and they looked and felt more like modern trucks. Dodge replaced its venerable Ram Van with the Sprinter, no longer available through Dodge dealers due to the DaimlerChrysler de-merger. Ford's Econoline, meanwhile, continues to dominate the business-driven van market with a 50% share.
Honda and Toyota, without a credible full size truck platform, stayed out of the full size van market, leaving a window open for Nissan to apply its truck expertise (Titan, Frontier) to a focused commercial cargo vehicle.
Introducing the Nissan NV: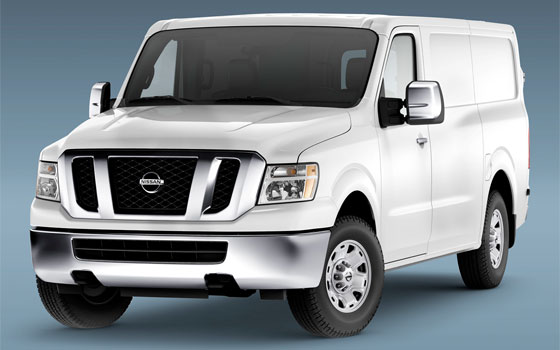 At a hair under $25,000 the NV comes with (pulled from Nissan's site):

–261 HP, 4.0L V6 engine (317hp V8 available on NV 2500 HD)
–Full-length, fully-boxed ladder frame
–234.1 cu. ft. cargo space
–Rear wheel drive
–Five speed automatic transmission
–Auxiliary transmission cooler
–14" disc brakes
–Recirculating ball steering
–Front double wishbone and rear leaf suspension
–17" steel wheels
While several components are derived from the durable Titan pickup, Nissan says everything from the engine compartment to the rear bumper is all new.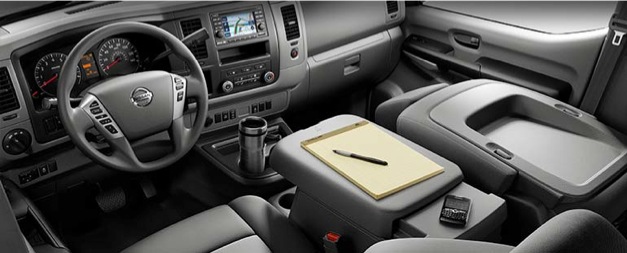 A surprisingly inviting cabin features a large center console and storage bin, water-repellent seating, heavy duty vinyl, durable plastics, four cupholders, optional bluetooth and navigation, and a passenger seat that folds flat.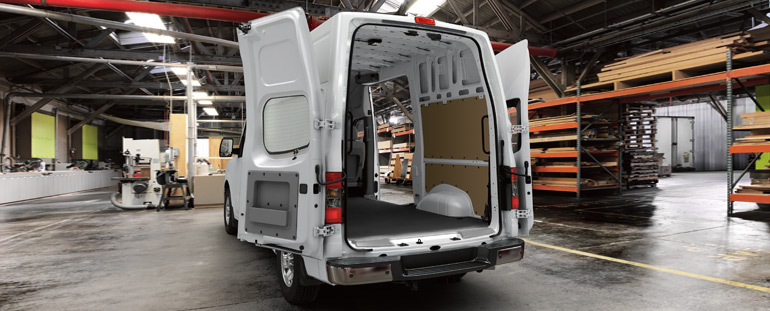 The rear doors open wide with swing-out hinges for better cargo clearance. With 54" between the boxed rear wheel arches, there's enough room to load a standard sized pallet in the back. The 76" high roof is optional.
Unfortunately, the NV cannot yet be ordered with rear bench seats or side glass, rendering it unsuitable for livery service (think church buses, hotels, airport shuttles). If the cargo version is successful, a passenger configuration may be available in 2013. Unlike passenger cars, trucks and vans are tools for performing specialized tasks and one size does not fit all. The Japanese are learning this the hard way as the Titan and Tundra struggle to compete.
To Nissan's advantage, the commercial van market has been badly neglected with little competition and few changes over the last forty years.
Pickuptrucks.com reviewed the NV and praised its visibility, easy ingress/egress, and high value but criticized its lack of engine options (no diesel), its snouty looks, and its lack of trailer sway control:
"Nissan has spent six years creating its North American light-commercial vehicle group from scratch. During that time, a team of former Detroit Three managers and engineers identified full-size vans as a market opportunity because their research showed van owners' needs weren't being met, according to Larry Dominique, Nissan's vice president of product planning for North America.
"There are no more dissatisfied customers than the people who drive [full-size vans] around, Dominique said. "Most people hate their vans. We asked what needs we could address to make them happier, and that's what you see in these vans."
Meanwhile in Detroit…
General Motors prices the Chevy Express competitively, starting at $24895.

Following tradition, the RWD or AWD Express is available with a V6, V8, or diesel. Two wheelbase options are available but strangely, there is no high roof option, something that set the Dodge/Mercedes Sprinter apart.

With 48% of the market, GM knows how to build vans, and though the Chevy Express and GMC Savana lack the refinement of the Econoline and the comfort of the NV, they do have a proven track record for reliability and vast configurations to suit any purpose.
Nissan and GM both charge extra for power windows, mirrors, and locks, but Nissan includes a standard CD player with two speakers. GM charges $150 for an AM/FM radio and an outrageous $705 for a basic CD/MP3 player. You could have an aftermarket stereo installed at Best Buy for under $200, though it would be quite cumbersome if you were ordering a large fleet of vans.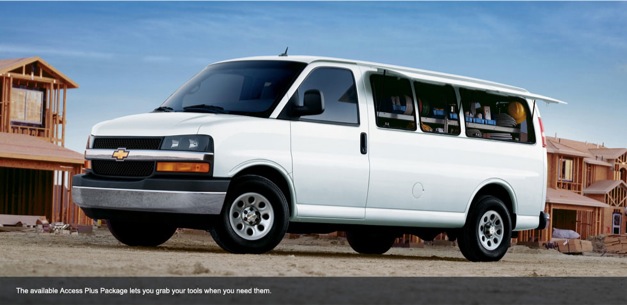 One nuisance of using a van everyday is having to climb into the dark cargo area to fumble around looking for tools and equipment. GM opened up the sides with an optional swing-up access door, similar to what you might find on a taco truck. At a job site where going back and forth to fetch tools may be necessary, this is a nice convenience.
Passenger configurations start at just under $29000 with seating for eight. The diesel LT, at just over $46,000, offers seating for up to 15 with two front seats and three rear benches.
The Express/Savana has the most to offer for the largest number of buyers, but options quickly add up, making the Nissan NV quite appealing for light-duty general-purpose cargo van users.
So, what about Ford?
For 32 years, the Econoline has retained the title of America's best-selling full size van. Mechanically, today's fourth generation "E-series" dates back to 1991, the oldest of the bunch with the highest base MSRP at $28,645. Still, despite being the oldest, the E-series has undergone several body, interior, and powertrain updates.
The new face, debuted in 2008, mimics the appearance of Ford's heavy duty pickup trucks.
V8 engines are standard at $28,645, with a 4.6L Triton V8 putting out 225hp and 285lb-ft. An 5.4L Triton V8 offers 255hp, and a 6.8L V10 producing 305hp and 420lb-ft of torque. The V10 is the only engine available with a standard 5-speed automatic.
Ford does not offer a high-torque V10 (GM) or a low-cost V6 (GM, Nissan), placing itself in the middle of the market which apparently makes up for majority of van sales.
Haven't rented Econolines myself, I find them to be much more refined and comfortable than GM vans with softer seats, more convenient storage, more accurate steering, quieter engines, and less wind noise. Braking is noticeably better as well.
Ford charges only $295 for a CD player with an audio jack. A basic AM/FM radio is standard. Ford Sync, for hands-free calls, music controls, and basic information/traffic service, is $475 more and $9/month.
Ford's 15-passenger E350 starts at only $32,000 with a 5.4L V8, undercutting GM by more than $10,000, which explains its popularity with large families, churches, schools, hotels, and airports.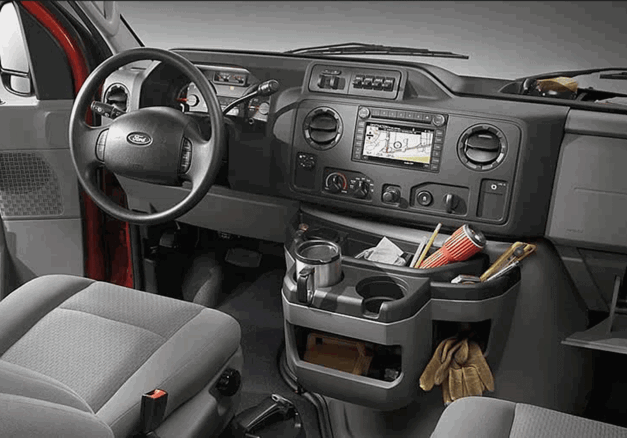 Conclusion:
Buying a van is hardly an exciting process. You are, in essence, purchasing little more than a box on wheels. You won't find any high-performance SVT, SS, or NISMO editions, and luxuries are few and far between. The romantic era of vanning disappeared decades ago with the demise of disco — there is nothing stylish about driving one.
The decision then comes down to cost, practicality, efficiency, and reliability — boring left-brained exercises.
Chevrolet/GMC:
–Better V6 and V8 fuel economy, more powerful engines
–High-torque diesel engines available
–More configurations and sizes
–Expensive options
Ford:
–Options and accessories cost less.
–For large-capacity passenger service, the E-series has an entry price more than ten thousand dollars cheaper than Chevrolet.
–More technology (sync)
–Superior comfort and refinement
–Easy to drive
–Sharper styling
Nissan:
–In theory, if Nissan has applied the Titan's driving dynamics, it should have the best braking and steering.
–Smartly designed cabin
–Lack of a passenger version (for now)
–The only full size van other than Mercedes Sprinter with a tall roof.
–Best-equipped base model
–Lowest base price
–Unproven track record. New.
For now, I'd buy the Ford for moving passengers and towing, the Nissan for a basic cargo/utility van, and the Chevy for more specific applications.
The full size van will always be with us, but its popularity may be threatened by compact newcomers like the Ford Transit Connect.
For florists, caterers, mobile IT professionals, and other light duty services, the Ford Transit offers superior fuel economy (21/26 mpg), cheaper insurance, better maneuverability (great for urban deliveries), and adequate space thanks to its tall roof. At only $21,290, the Transit Connect offers both short and long term savings for small businesses.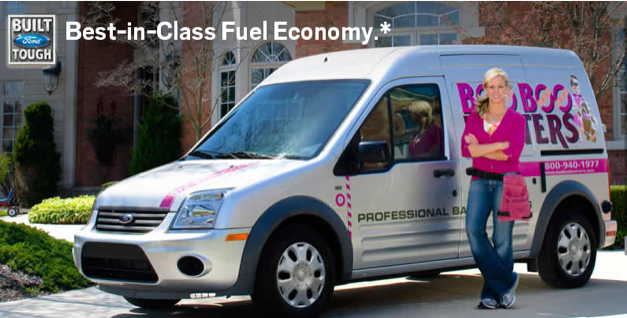 Perhaps I'll drive and review one later on.
In the meantime, happy vanning.