2017 Detroit Auto Show – A Snoozer
I used to get excited about auto shows. For the last ten years I've been organizing Cadillac owners meets in Chicago, booking rooms and coordinating travel for the Chicago Auto Show at McCormick Place, the largest show and biggest convention center on the continent.
But over time my interest in new cars has waned. Maybe it's because I've driven and experienced hundreds of modern cars and they're starting to feel somewhat alike, or perhaps it's because the features and creature comforts that used to be rare, costly, and dazzling have found their way into the once-laughable Kia Rio. Yes, you can get a complete infotainment system in a Rio, not to mention a $100 smartphone.
Maybe it's because I'm getting older and feeling nostalgic for the cars that I used to dream about, finding more joy at Cars and Coffee and various classic car groups on Facebook than a manufacturer's rotating display. Whatever the reason, Detroit's once prestigious North American International Auto Show has lost its spark. Chrysler debuted its Portal electric minivan concept at CES while Tesla, Jaguar, and Land Rover remained conspicuously absent.
The evening did, however, have a few highlights.
First, we met up at Two James distillery in Corktown. I drove down with friends in my 2002 Cadillac Seville STS and Luke arrived in his 2016 CTS.
Like a lot of trendy cocktail bars, Two James' tasting room was packed full of people. A standard menu of classics flanked some experimental mixes. I tried something with gin that contained butter as an ingredient, effectively replicating the texture and taste of apple pie. It looked like jam and even the bartender was baffled by how I could enjoy something so off putting.
I owned a Saab for five years so I like it weird.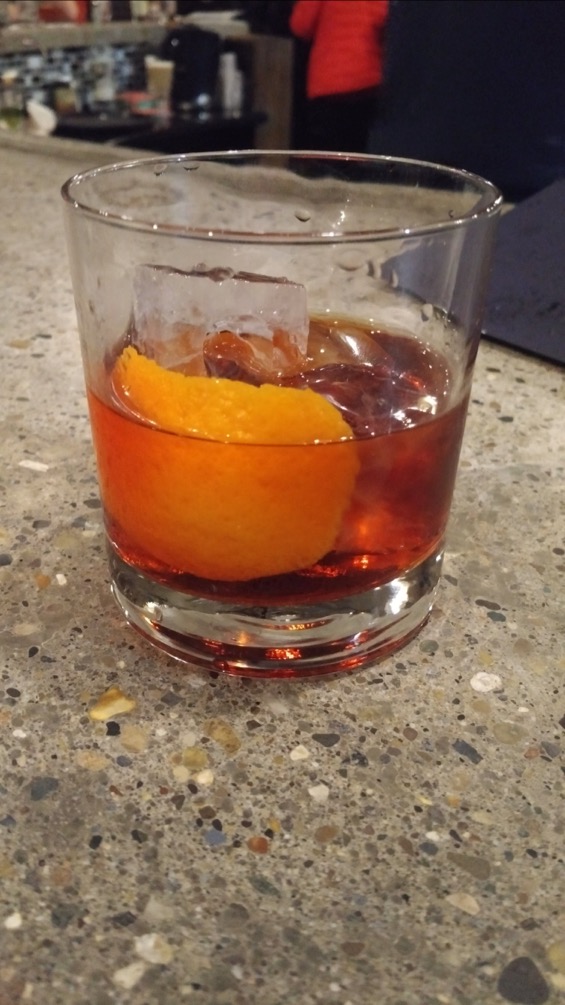 I also ordered a sweet, refreshing Negroni though I tend to prefer a more traditional version that's heavier on Campari and lighter on red vermouth for added bitterness.
After warming up with a couple drinks we headed over to Taqueria El Rey in Mexicantown. The food was fine great but they ran out of cilantro, a travesty! Service and ingredients weren't as impressive as Lupitas (closed on Sundays) but El Rey got the job done.
After that, we parked near Greektown and boarded the People Mover.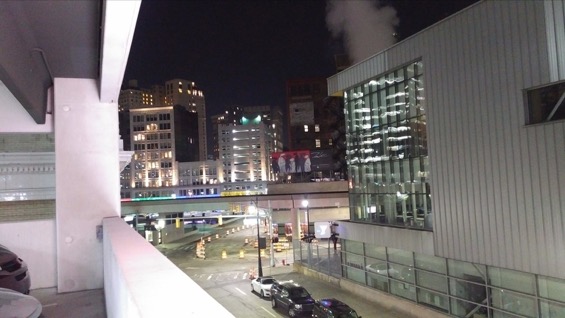 With just 65 minutes to spare before closing it worked out fine as the cars I actually wanted to see took less than an hour to enjoy.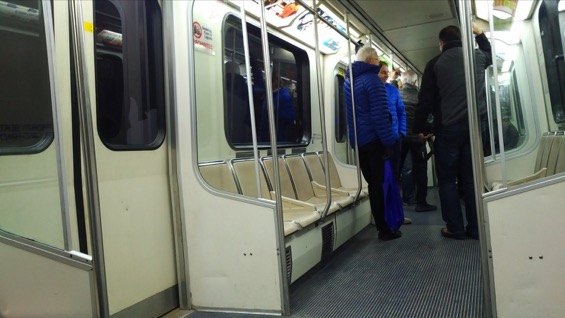 Kia's Stinger turned heads and pushed the long-ago bottom-tier brand closer to BMW in performance and refinement, if not prestige. Unlike the K900 luxury sedan aimed Buick, Toyota, and Lexus, the Stinger is a direct shot at Stuttgart, Ingolstadt, and Munich. Zero-to-sixty times just over five seconds and 365HP from a turbo six promise exhilarating performance. The only possible disappointment may be the chassis as the Koreans tend to struggle with suspension tuning; we'll know when it hits the market later this year.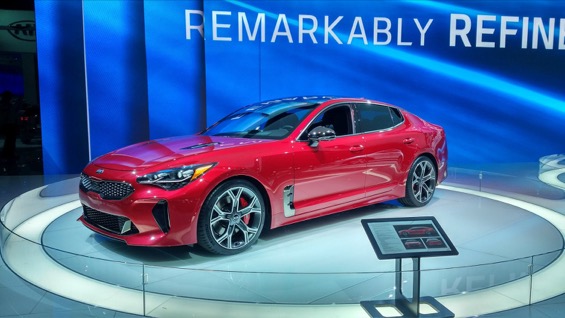 With the massive, Audi A7-inspired Escala touring car, Cadillac distanced itself from its edgy Art and Science design theme in favor of a classier but duller shape, emphasizing large, plain sections of sheet metal instead of crisp, confident angles that once defined Cadillac's aggressive fighter jet look.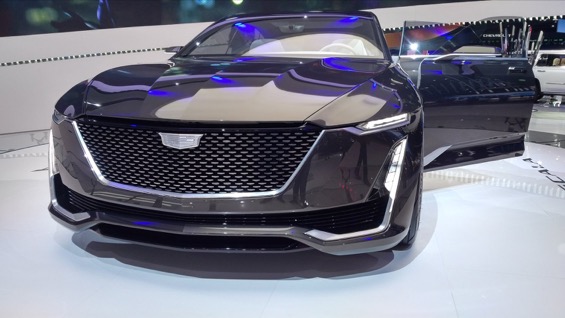 A heather gray and ivory leather interior lends a nod to midcentury aesthetics while a liftback rear cargo area brings SUV-like practicality to the low, long shape of a sedan.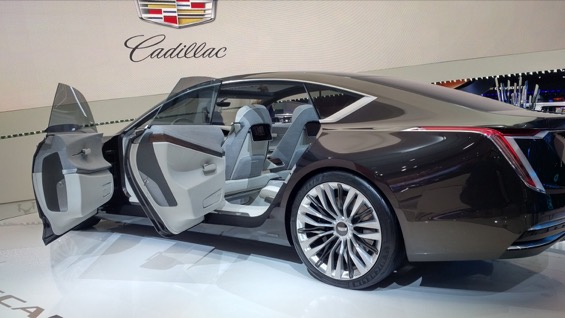 I can deal with the Audi-knockoff C-pillar, the soulless but clean monochromatic badge, as well as tail lights that indecisively run both horizontally and vertically, but the front end is unforgivably incomplete. A tall, domed hood is a necessary concession to European pedestrian safety regulations while thin, characterless headlights give way to a massive grille that seems to draw inspiration from steel manhole covers, similar to what Infiniti was doing a couple years ago.
The overall shape and proportions are a success but exterior details lack authenticity. If you slapped an Audi, BMW, or Jaguar badge on this thing, no one would know the difference.
Chevrolet's new Traverse looks fantastic, shedding weight while replacing the balloon-like CUV shape with a more chiseled, truck-like look. The high "T R A V E R S E" badging on the doors is jarringly high but the side and front sculpting are, like the new Malibu, home runs for their respective segments.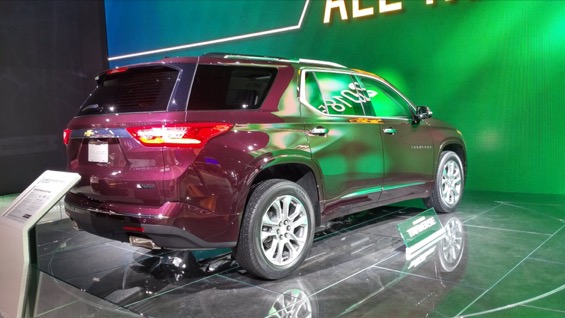 Mazda showed off its Miata RF folding hardtop which, at $34,000, seems high for a Miata. However, for a vehicle with an electrical metal roof that tucks into the trunk it's quite a bargain. More than half of the previous NC Miatas sold had power hard tops and stickered around $33k despite a less compelling look. We'll see if Mazda can win over the same crowd with a more daring design.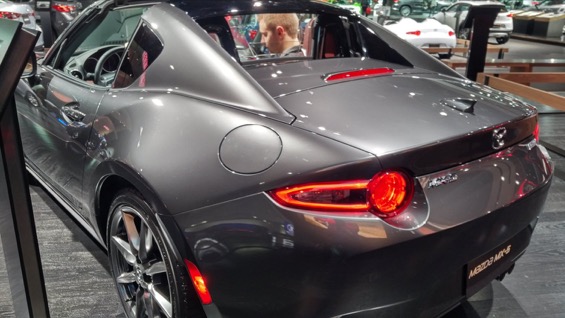 I finally got a chance to sample the interior of the Lincoln Continental and walked away fully impressed. Indeed, the production body with its front-wheel drive proportions lacks the drama of the concept. However, most of the interior carried over into the production car with few compromises. Cossetting seats move in nearly three dozen directions while wood, leather stitching, and brushed aluminum speaker grilles suggest a far higher class of car. A strip of metal along the outside of the daylight opening conceals the door handles which open electrically with the touch of a button inside the handle, soft-closing with a motorized assist that brings to mind the Mercedes S-class.
The 400-hp AWD Continental, though impressive on paper, lacks the advanced chassis engineering of the Cadillac CTS and CT6 with their application of mixed materials, weight-saving metal lattices, and exotic adhesives but it showcases where Lincoln intends to go with the brand. Unlike Cadillac, Lincoln has no intention of going head to head with German sport sedans. Instead, Ford's luxury brand is paying homage to American (and Chinese) values, emphasizing comfort and opulence over performance numbers and driver engagement. It's a smart move that gives Lincoln a reason to exist.
I was told that the next version of the Continental will be on a bespoke platform with traditional proportions (long dash-to-axle, shorter front overhang, a wider and more imposing stance) to rival Cadillac and Mercedes-Benz. We'll see.
Lexus's LS500 was a bizarre mess. The long, low body is a refreshing counter to the rash of sedans becoming taller in response to the popularity of CUVs. Unfortunately, the plain sides that seem to draw inspiration from a late 90s Grand Prix are adorned by razor sharp lighting elements and a spindle-shaped grille that may give Remington a reason to sue for copyright infringement.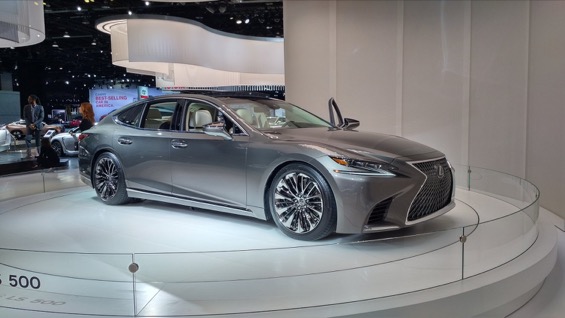 As the luxury market becomes increasingly crowded, Lexus's approach stinks of attention-seeking desperation, like a nerdy high school senior who shows up to AP Calculus with a barbed wire tattoo on his neck after getting teased. At least the interior has improved. The old LS460 suffered a bit from cheapness especially on the doors and pillars.
China's GAC made an appearance with a fleet of bland, anonymously styled cars that looked like knockoffs of Nissans, Volkswagens, and Ivory soap bars.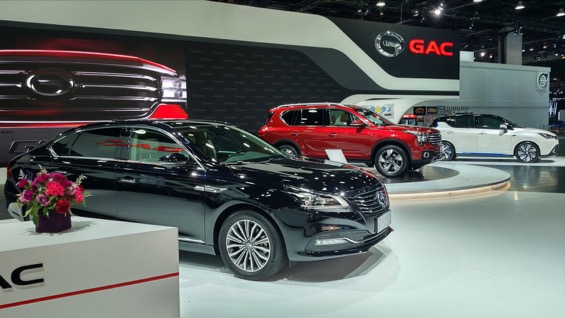 Toyota showed off the new Camry. Tell your parents or someone lacking taste and originality that there's a new Camry.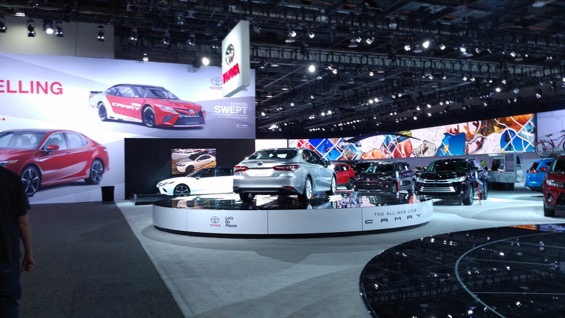 Volvo brought a moose. The new BMW 7-series is as focused as it's ever been since the 1995 E38, Mercedes-Benz continues to churn out exceedingly nice but painfully ugly cars while Audi's styling has failed to evolve.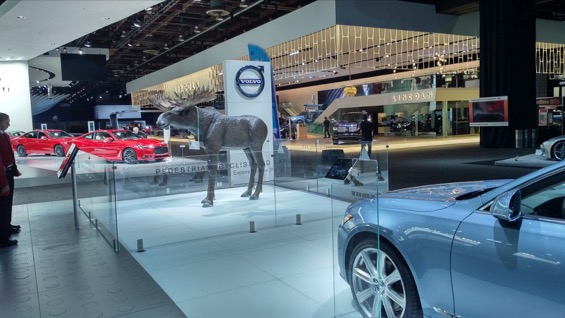 I saw some exotic Alfas and very nice Genesis luxury sedans from Hyundai and then went home.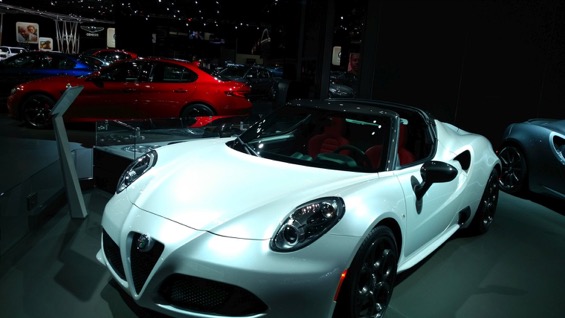 Hopefully next year will be more exciting.
BONUS: We went to Astoria, a bakery in Greektown, and blew about 30 bucks each on cakes and cookies. It was a delight.