Review: 2001 Honda Accord Coupe, St Louis to Denver Road Trip
Most road trips are enjoyable but St Louis to Denver in January was painful, a challenge to my body (fatigue), my mind (boredom), and the limited traction of a 2001 Honda Accord V6 coupe on aging tires.
My stepsister was moving to Colorado so we packed up two vehicles with luggage and boxes: my stepbrother's Honda and my stepdad's 2004 Lexus LX470. My mom, stepdad, and stepsister rode in the Lexus while I took turns driving the Honda with my friend Ian.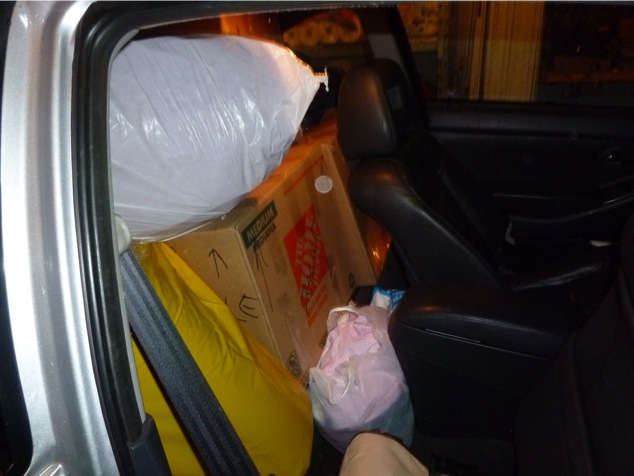 The four-seat Accord was loaded to the ceiling with boxes and bags, leaving little room for us to recline.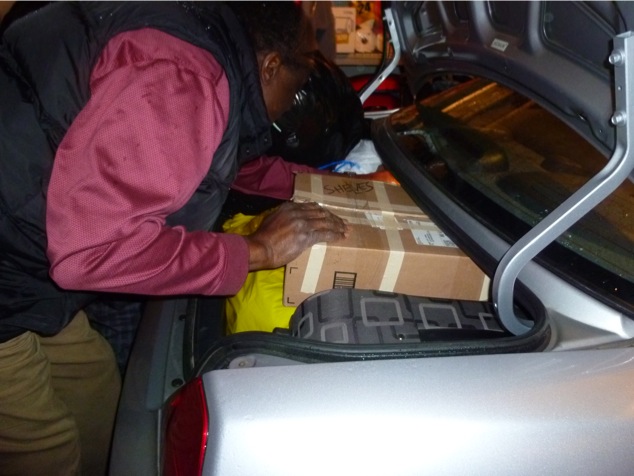 "Hold on! I think I see a square inch of extra room!"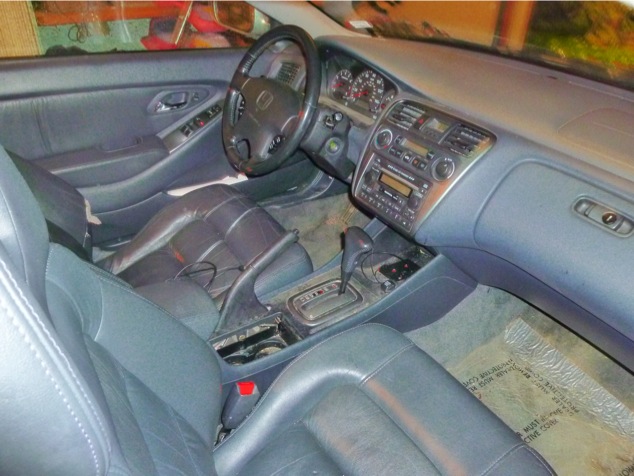 This was, in my humble opinion, the last genuinely pretty Accord coupe. It's horizontal tail lights paid homage to the exotic Acura NSX while the rest of the body was sleek, angular, and straight.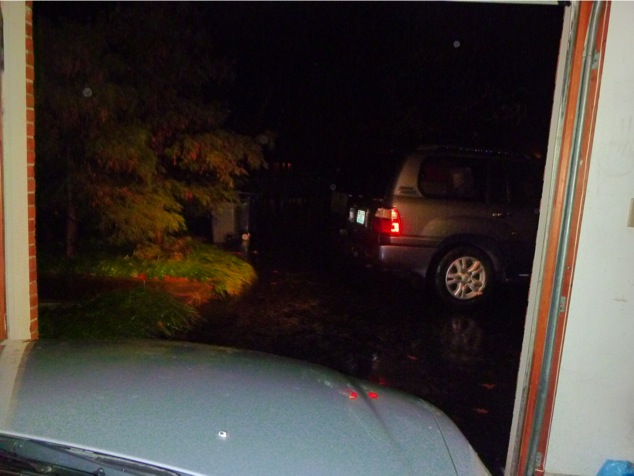 We finally got out the door at 10pm, embarking on an 850-mile, 13-hour drive.

This Accord was purchased three years ago at Plaza Motors with around 70,000 miles. Unfortunately, the head gaskets failed a couple months ago. A Honda dealer in Denver quoted $4000 for a new engine. Instead, we had it towed back to Missouri to our preferred shop, A to Z Auto on Watson Road, where the repairs were performed for significantly less.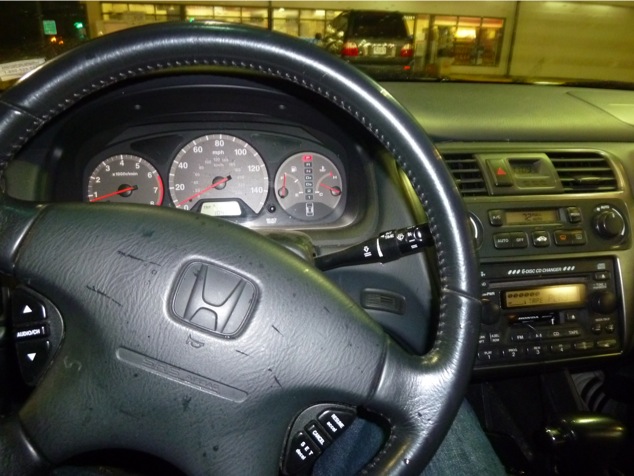 There isn't a whole lot of difference between this and the Acura CL coupe. The CL had a 5-speed automatic that was prone to failure while the Accord retains Honda's 4-speed auto. Ergonomics and controls are nearly identical to the CL with logically placed automatic climate controls and a factory CD changer that sounds, believe it or not, a bit nicer than the Bose system in the CL (the 2001 CL I drove years ago was not equipped with a subwoofer).
The CL has a nicer interior with softer materials, wood trim, and higher quality leather as well as more interesting wheels, Xenon lamps, heated seats, and a more ornate gauge cluster. Otherwise, the suspension was basically the same. The less reliable 5-speed in the CL did feel a bit nicer with crisper shifts and, as a result of having one more gear, offered slightly better fuel economy and acceleration.
The 01-03 CL also delivers 225hp from a 3.2L V6 compared to the 1998-2001 Accord's 3.0L with 200hp. The Accord, however, is 140lbs lighter.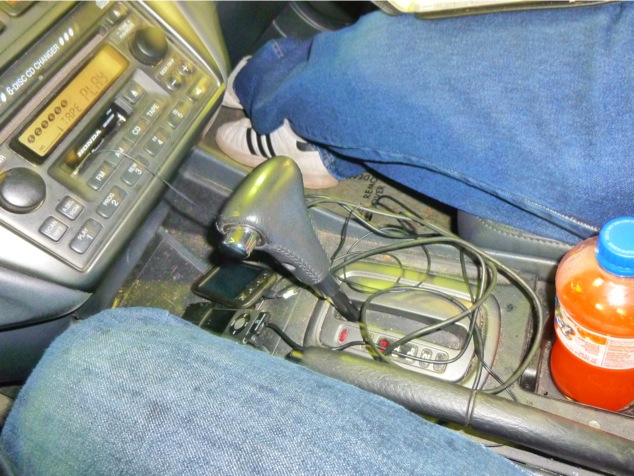 One interior design feature I dislike is the gigantic cubby hole underneath the radio. Anything you place in there requires quite a reach to retrieve. Otherwise, the two cupholders are logically placed and the seats offer excellent side bolstering.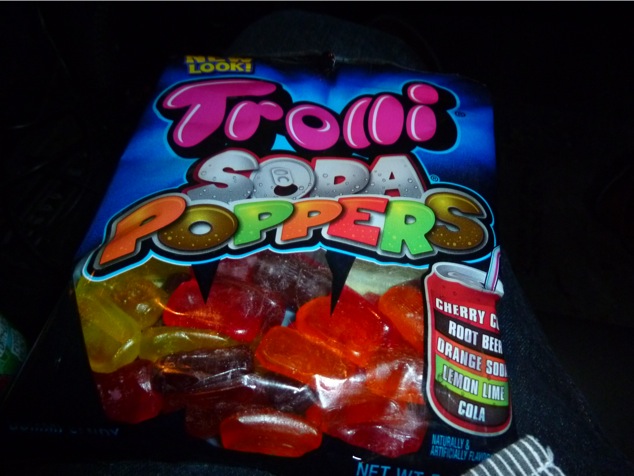 We stopped at a gas station where I bought some gummy bottles. Candy that tastes like cola is… strange. Chewing is a great to stay alert.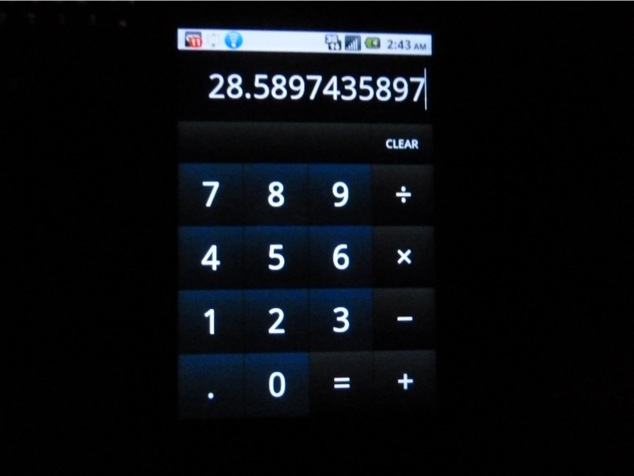 For the first half of our trip, we averaged 28.5 mpg in pouring rain and light winds. Not bad for 70 mph.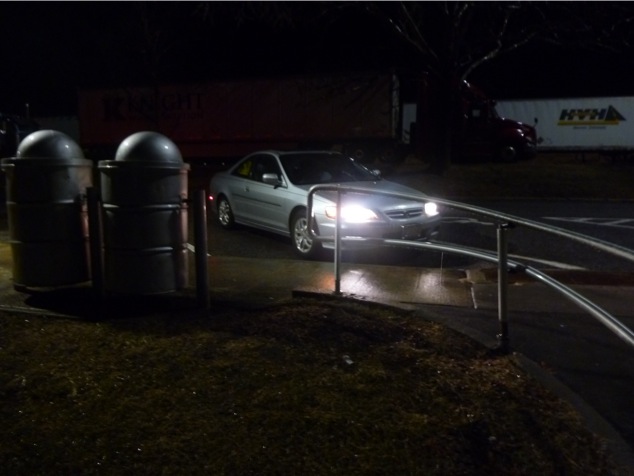 At a rest area in Missouri off I-70.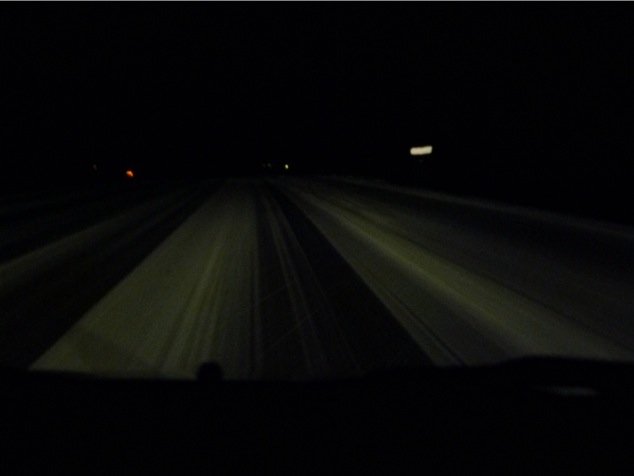 Snow fell heavily as we approached central Kansas. The Accord's steering was seriously lacking in feedback. While I appreciated the electric-like V6, silky transmission, and smooth ride, I needed to know more about what was going on underneath.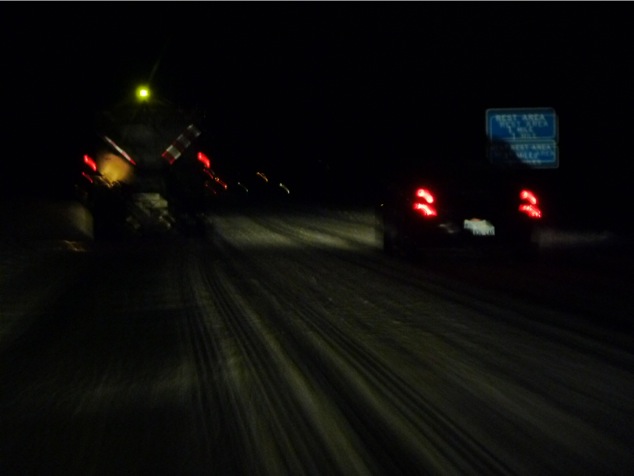 For a while, we were stuck doing 30mph behind some plows.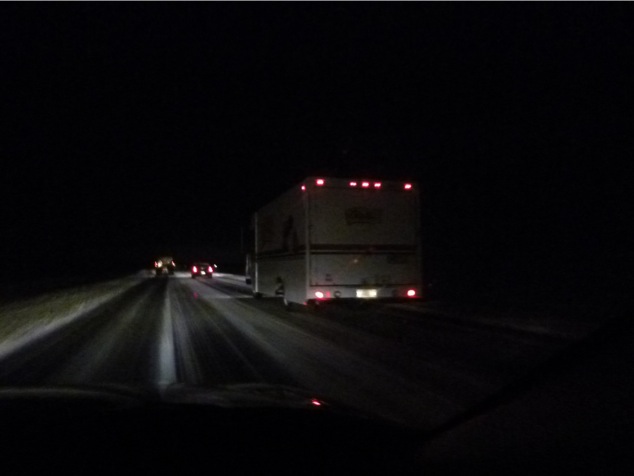 This Sara Lee bread truck was quite eager to pass me. Apparently, someone in Colorado needs their bread, safety be damned.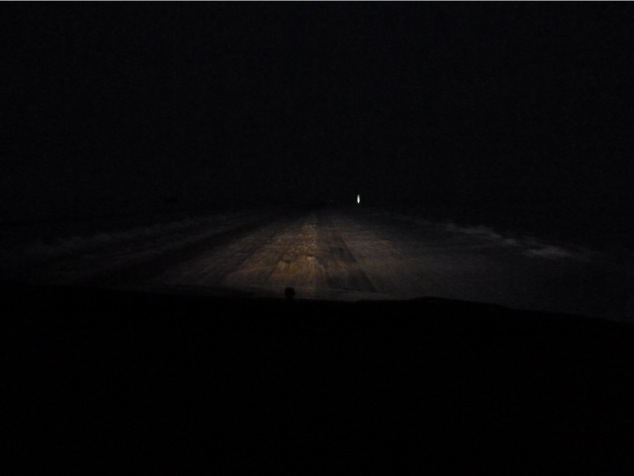 Eventually, I got to a point where it was pitch black, the road was covered in several inches of snow, and I was left to create the path (it got worse than the picture above depicts) with my well-aged General Altimax summer tires in a midsized Honda.
Once in a while the car would lose traction and squirm thanks to the cargo weighing down the rear, and without additional steering feedback it was hard to safely manage throttle input. I relied on my eyes in the darkness rather than the feel of the pavement through my hands and feet.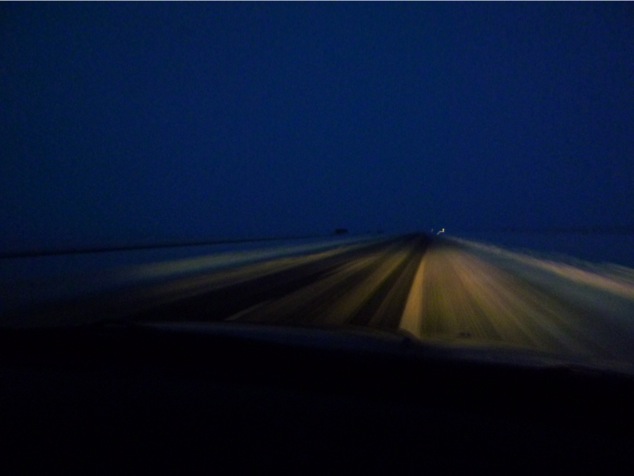 At dawn the road was sparse and completely empty. I was alone on the interstate. I-70 was closed in Goodland KS a couple hours ahead but my parents insisted that we keep driving. I was dead tired and inclined to find a motel room and sleep.
But I carried on.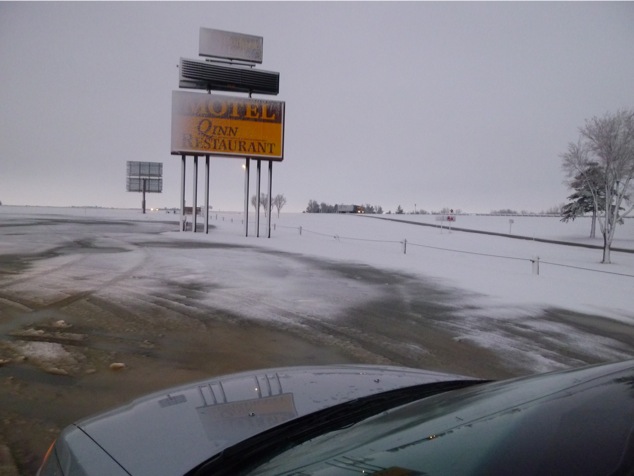 Signs along the way warned that hotels in Goodland were full and I-70 was going to be closed without any indication of when it may open.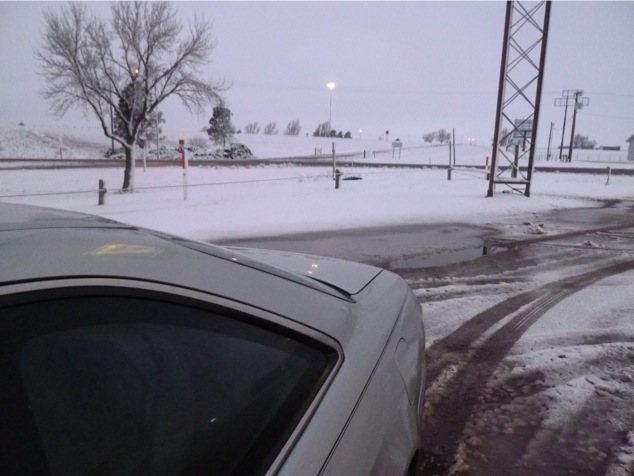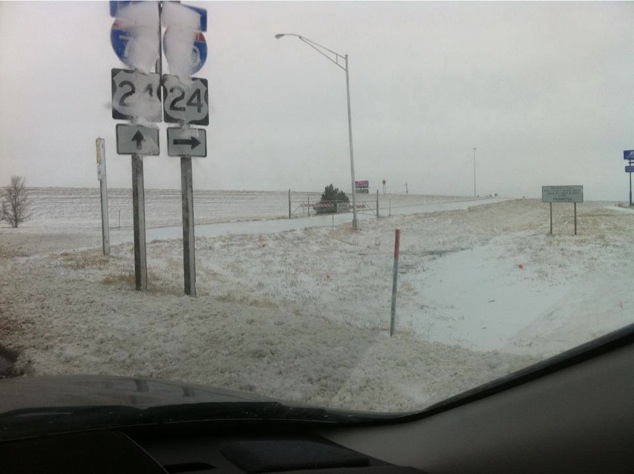 The closed interstate onramp at Goodland KS.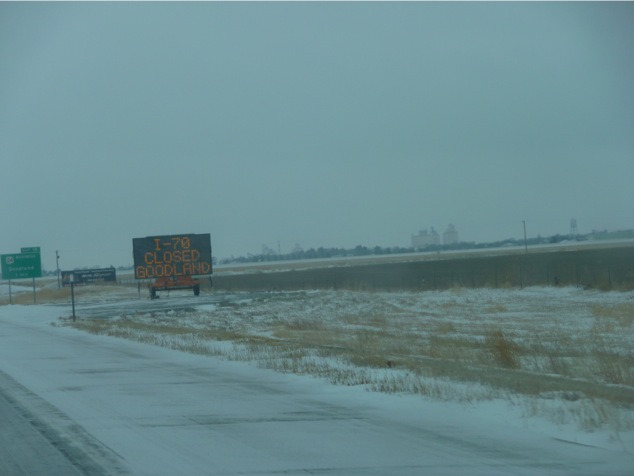 We kept driving anyway.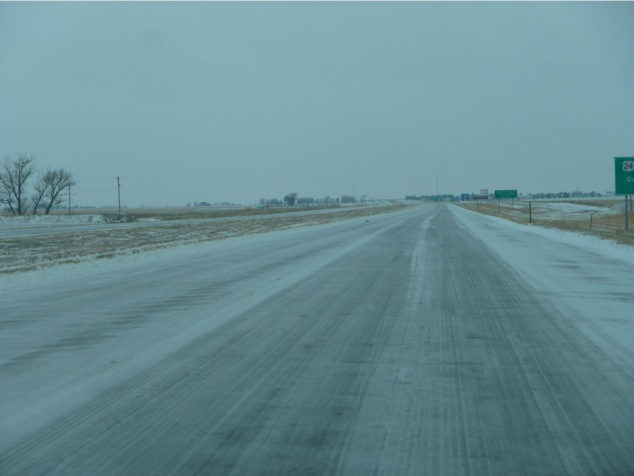 This was worse than falling snow. It was packed down like a sheet of ice.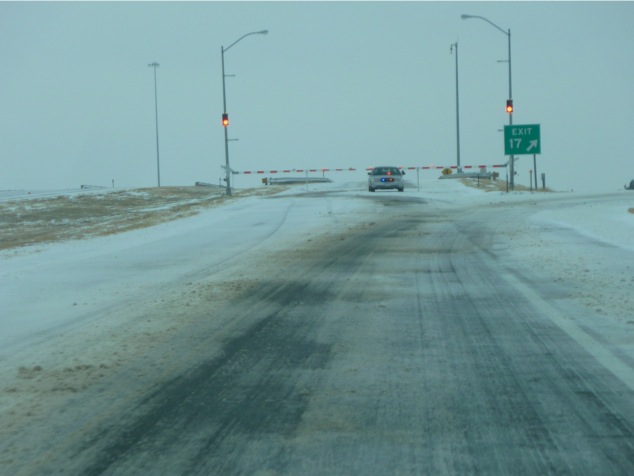 Around 8am we finally arrived in Goodland KS where gates were lowered to prevent access to the highway.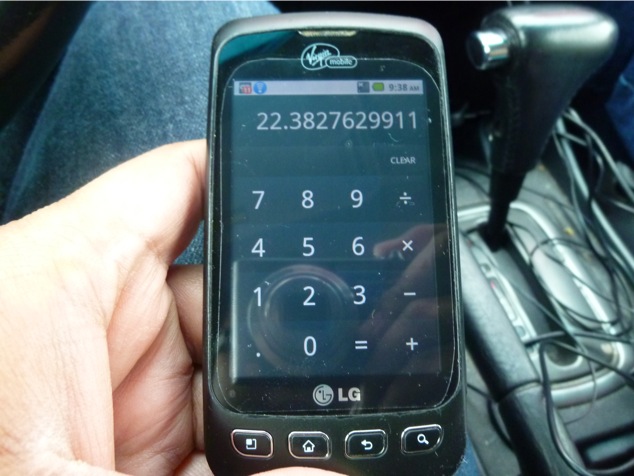 We topped off and checked our fuel economy. My varying throttle application in the snow reduced our fuel consumption to 22.3 mpg.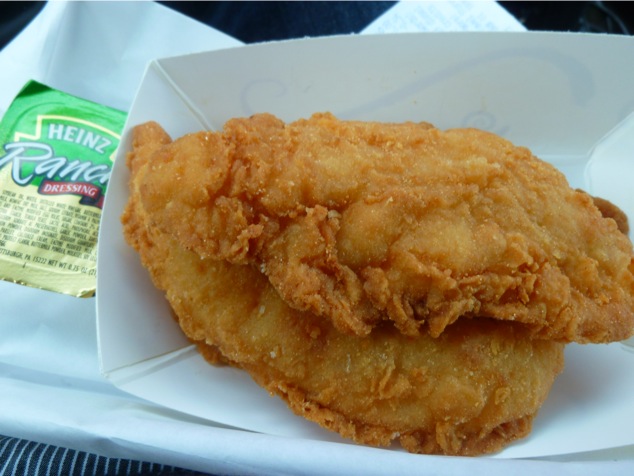 Gas station chicken strips. Tastes better than I expected.

Minutes after eating they reopened I-70.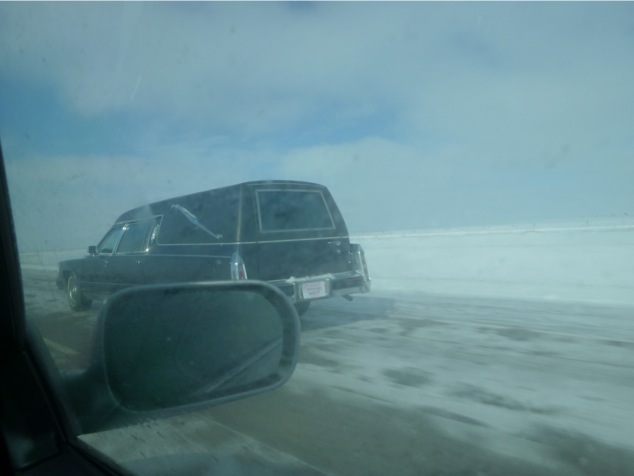 This guy was probably trolling the interstate for frozen corpses of unfortunate drivers.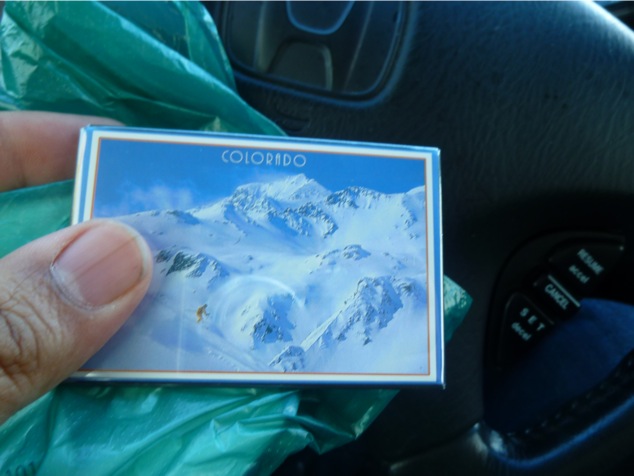 Stopped for a Sunkist orange soda (caffeine!) and a magnet.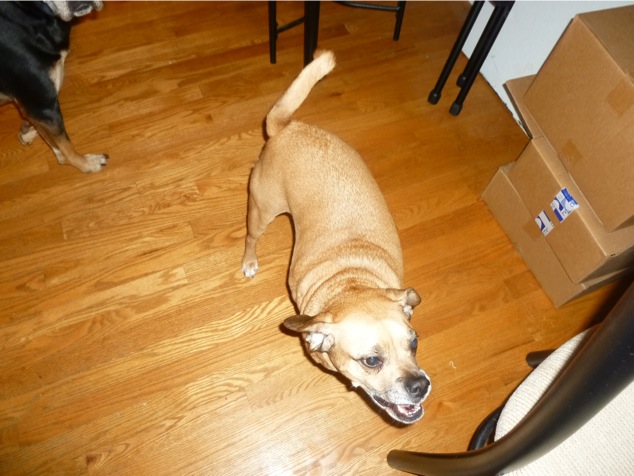 We finally arrived at my stepbrother's house in Boulder. This three-legged fellow greeted us. I love this dog.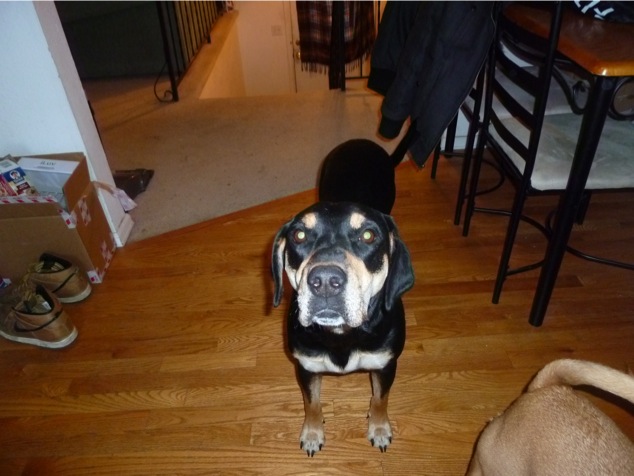 WHAT'S UP, BRO.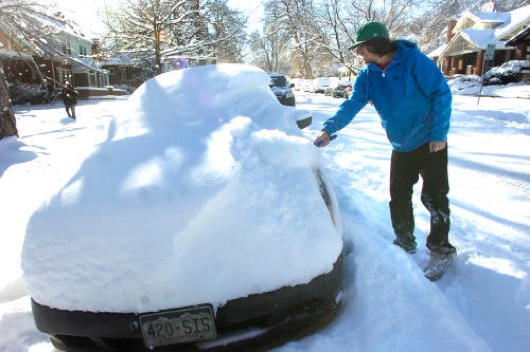 [Not actual photo]
We spent several minutes outside shoveling snow in front of his house. The neighborhood hadn't been cleared at all. Frustrated and unable to find a place for the car, I plowed it into a huge snow berm and climbed out. Eventually, after some shoveling, the Honda was freed.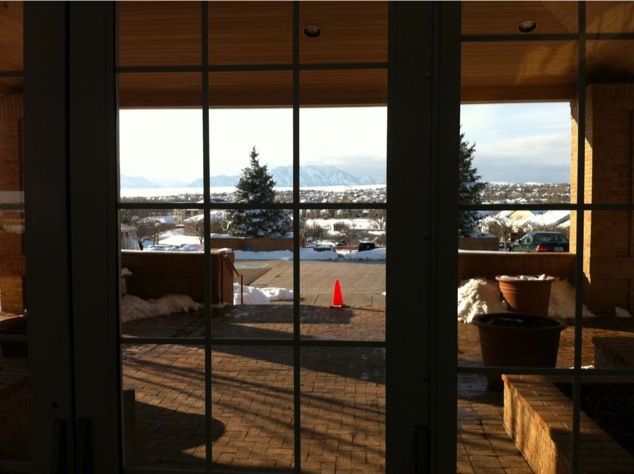 We spent the rest of the morning and afternoon finding my stepsister an apartment. The views here are incredible. Unfortunately for her, she got a cheaper place closer to Denver rather than this one.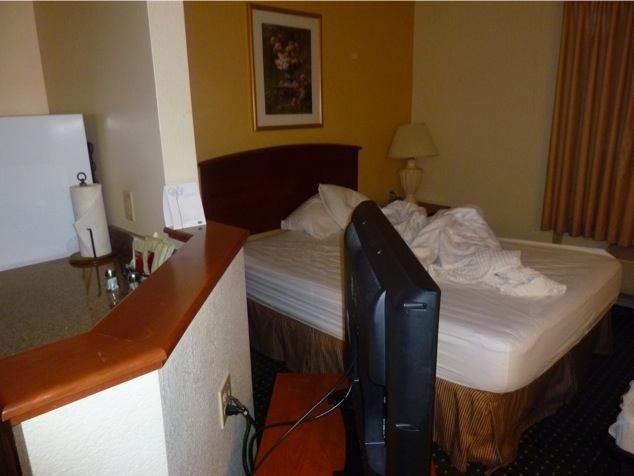 Finally at around 7pm we checked into a Mariott in Broomfield CO.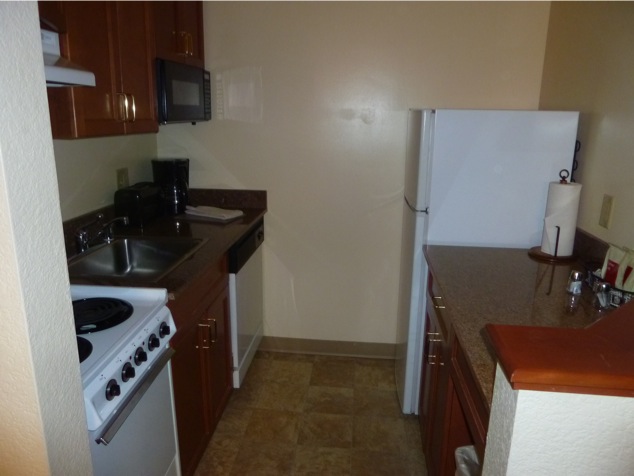 Came with a kitchenette.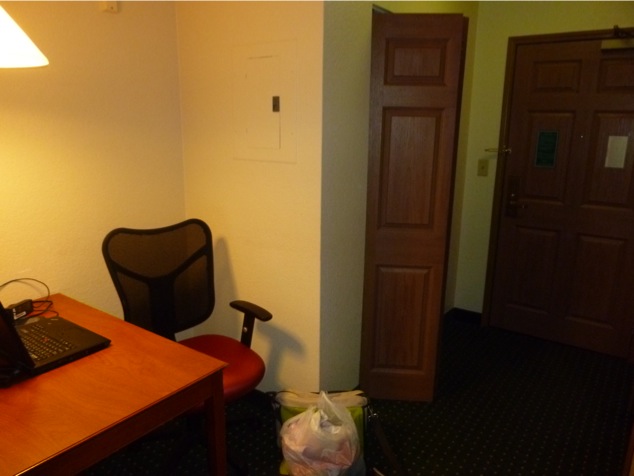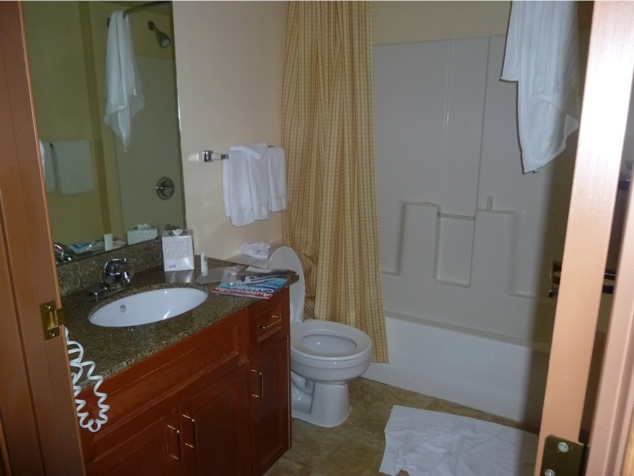 All clean.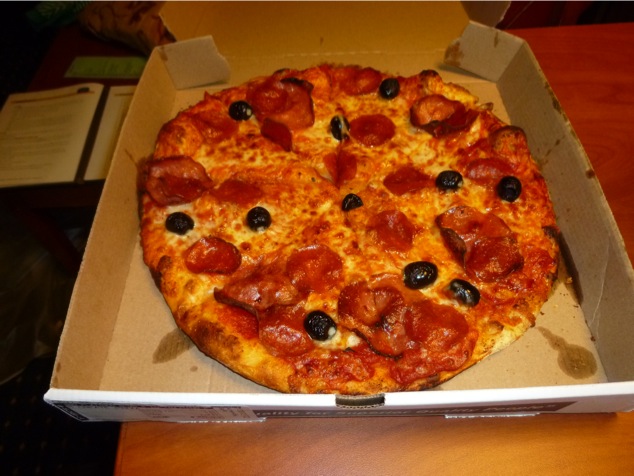 We split a pizza, watched some TV, and dozed off. I was absolutely exhausted.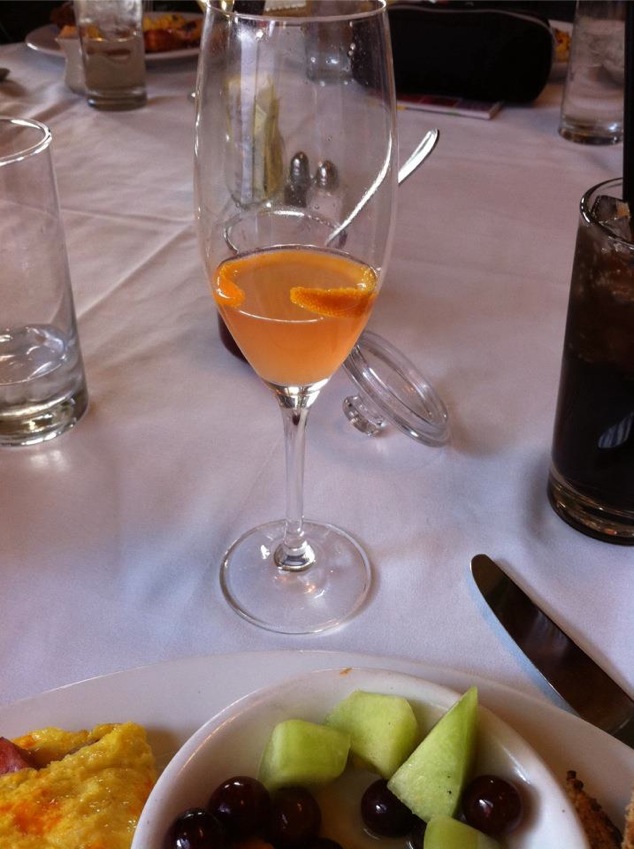 The next morning we went to Q's Restaurant in Boulder for breakfast. I ordered a juice mix.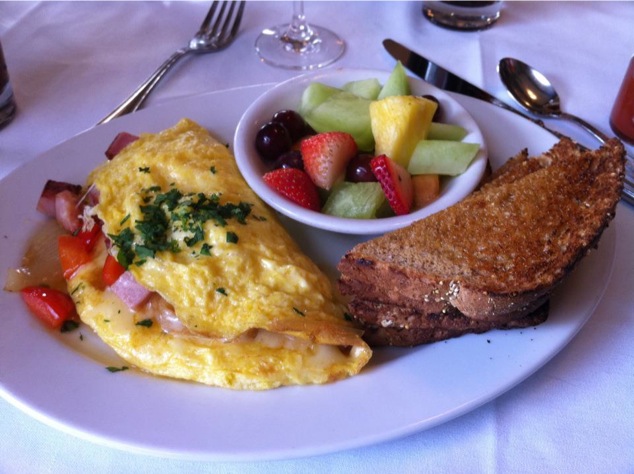 Ian got an omelet.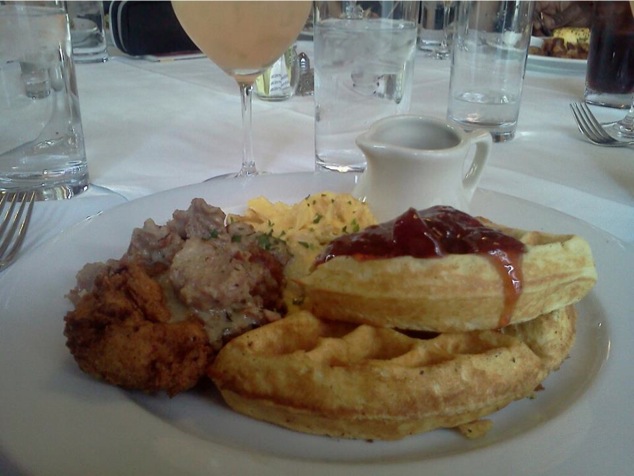 I ordered chicken and waffles. IT BLEW MY MIND. The chicken-fried chicken was super tender, covered in sausage gravy with slices of sausage within. The waffle was crisp outside and soft and warm inside. Even the scrambled eggs were creamy and light.
Absolute perfection.
http://qsboulder.com/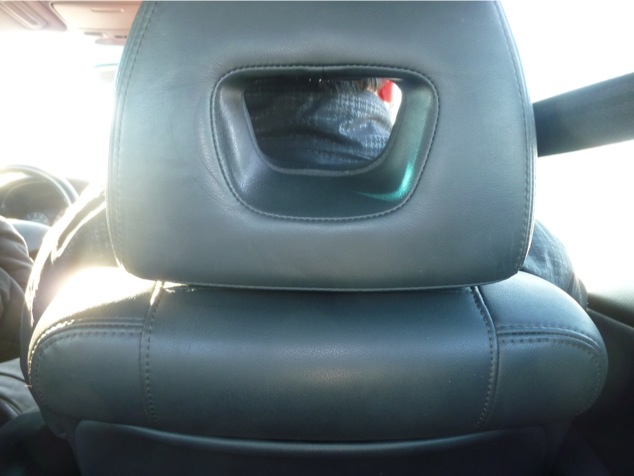 We gave my stepbrother back his car the following day. From the back seat I noticed the careful and detailed stitching on the seats. Honda put together an interior that could arguably pass for being a Cadillac Eldorado or Lincoln Mark VIII.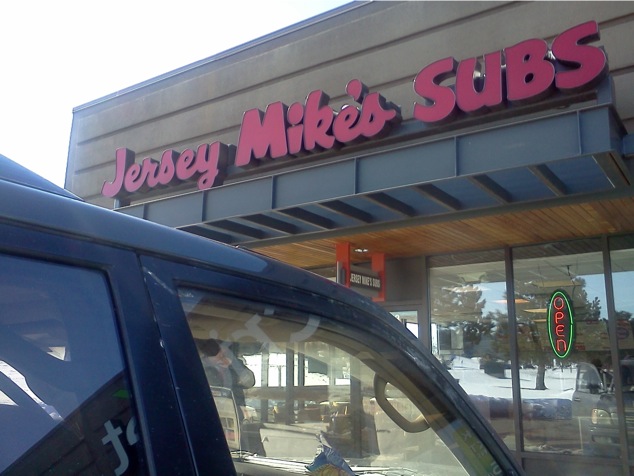 For lunch I got to try this place for the first time, Jersey Mike's.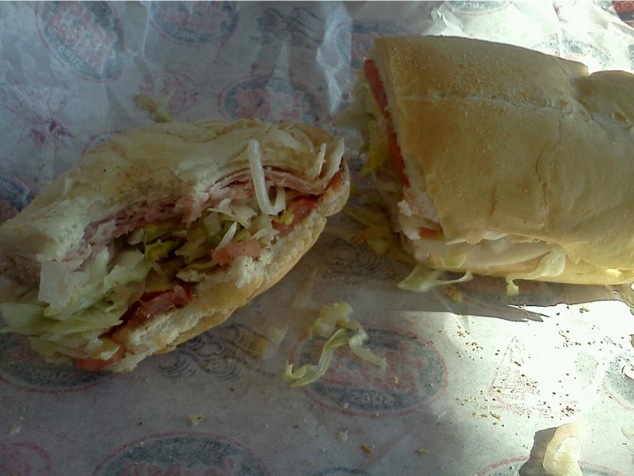 I have to say, it was excellent. I ordered the Snooki special. Instead of hepatitis and herpes I received a hearty sandwich. I can't remember what was in it, but it was so good I ate half of my mom's order.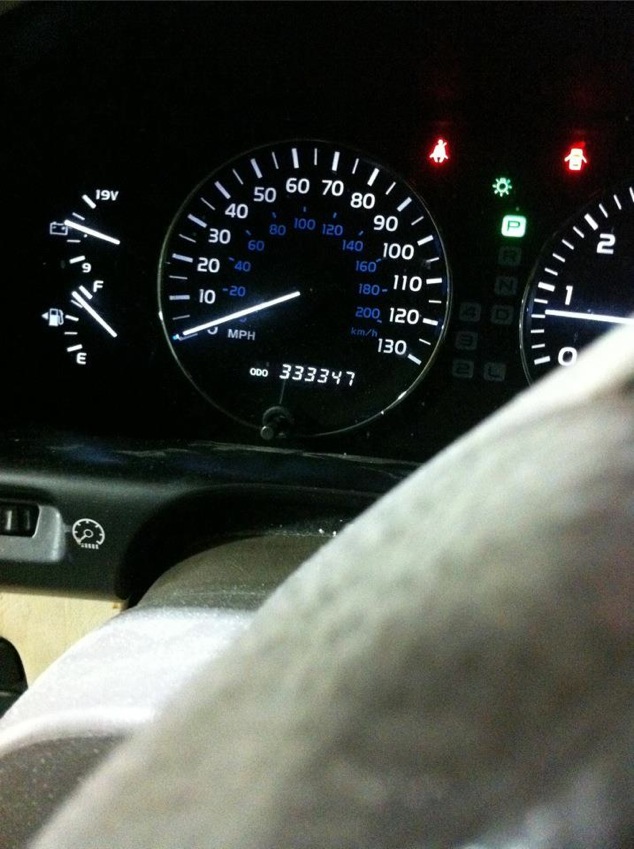 We finally found my stepsister an apartment and after hours of unloading cargo and assembling new furniture, we hit the road around 10pm.
I don't know how my mom and stepdad manage to stay so awake and alert on these long-distance drives. Note the mileage on the '04 Lexus, 333,347. He's aiming for a million miles.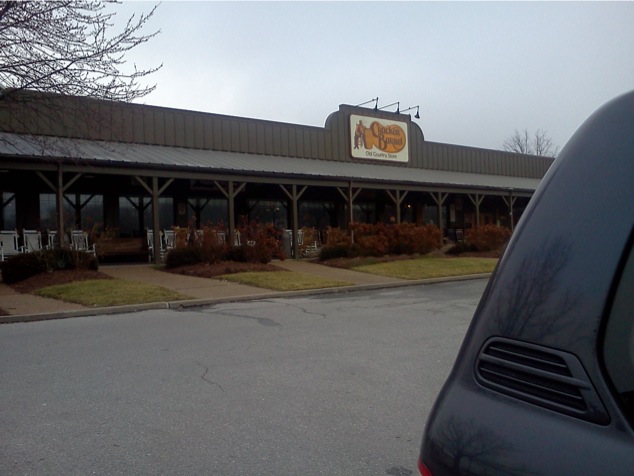 We arrived at a Cracker Barrel in Columbia MO for breakfast. My face was covered in grease from a lack of sleep and my eyes were heavy — I have trouble falling asleep upright whether its a chair, car, or airplane.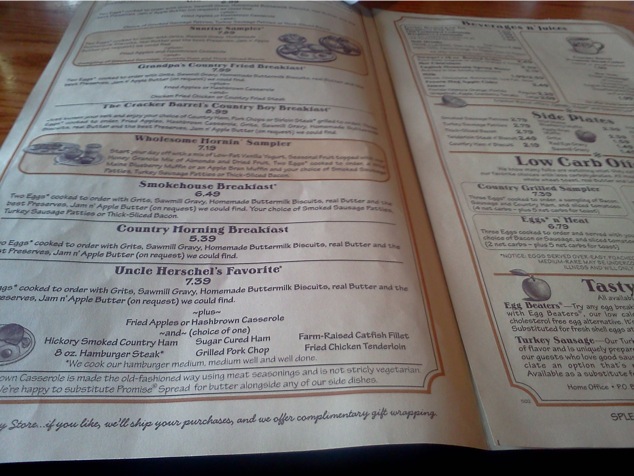 My first time here. Cracker Barrel was selling rocking chairs out front. A country-style gift shop was attached to the restaurant. I ordered "Grandpa's Country Fried Breakfast." I don't think "Grandpa" lived long eating chicken-fried steak, but I certainly enjoyed it.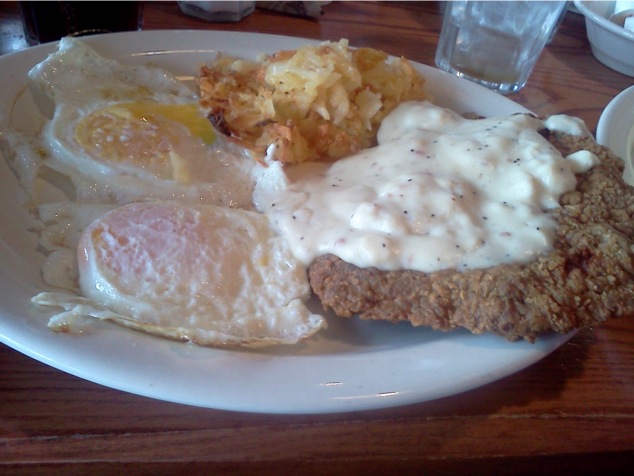 The hash browns are served as a delicious casserole. I ordered eggs overeasy.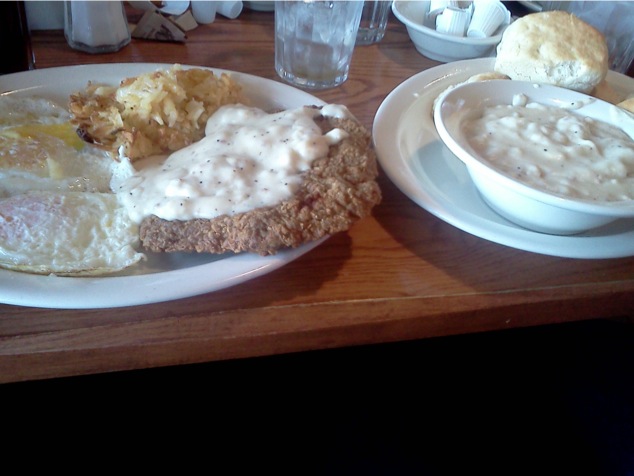 Bonus: A pile of biscuits and a bowl of country gravy deep enough to swim in.
After that meal, I finally managed to get a few minutes of sleep.
———————————–
Now, let's talk about the Honda:
Ride: 9/10 — Smooth and stable. Zero complaints. The Accord dominates the highway.
Style: 9.1/10 — The wedge-shaped body has aged well:


The low nose and long rear deck slightly resemble the [legendary] Acura Legend Coupe from the early 90s, giving the two-door Accord an upscale look.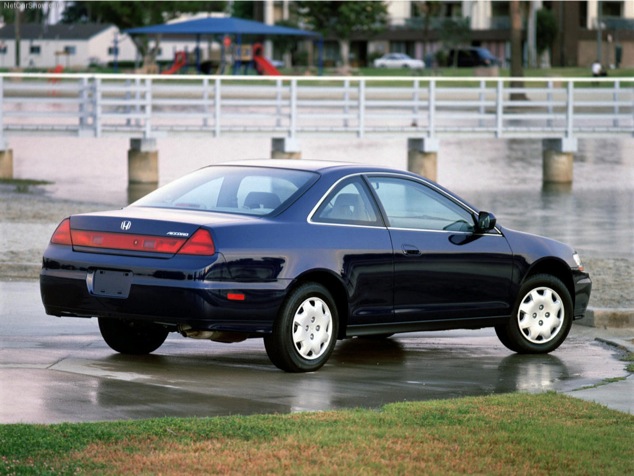 The tail lights should look familiar to Honda enthusiasts, adopting their shape from the exotic Acura NSX.
Powertrain: 7.8/10 — I wish the shifts were crisper. The V6 engine is almost too quiet. Otherwise, it was silky and effortless, Lexus-like in the way power was delivered. That level of refinement unfortunately detracts from what could be an exciting powertrain.
Expect 3.0L V6 4-speed 0-60 times in a little over 7 seconds.
You'll be surprised to learn that fuel economy for the automatic VTEC 150hp I4 is 23/30 while the 200hp VTEC V6 is 20/28. The difference in fuel consumption is minor. There was also a 135hp I4 available in base models. Avoid it.
Braking: 8/10 — Predictable and easy to modulate.
Steering/Handling: 7.5/10 – It's hard to fault a car's handling when the tires are overdue for replacement. These General Altimax tires had soft sidewalls and one was leaking air while another had a small bulge. A couple weeks after we finished this trip one of the tires blew.
Most say that steering in the 6th generation accord is a bit numb, which was the case for me. Otherwise, it corners reasonably well.
Audio/Accessories: 8/10 — You get automatic climate controls and a powerful stereo. As long as you leave the bass and treble settings in the middle, you'll find that it's unexpectedly loud and clear. You'll have to upgrade to the Acura CL for HID headlamps, heated seats, Bose audio (which I would argue is a step down) and wood trim.
Interior: 8.8/10 — Materials are pleasing to touch and nice to look at and assembly quality is excellent. Even the back had padded surfaces and supportive seat cushions. Panel gaps are razor thin and stitching on the leather seats is precise and exudes quality.
The storage cubby under the radio is less like a compartment, more like a bottomless hole. There's plenty of leg and head room for tall people in the front or back.
Comfort: 9/10 – Heavy side bolsters and adjustable lumbar support make long journeys easy. Automatic climate controls work exceptionally well with typical Honda logic and ergonomics.
Quality/Reliability: 8/10 — V6 head gaskets and cooling systems are an uncommon but still noteworthy issue around 100k and the automatic transmissions aren't exactly faultless. Keep the fluid fresh and use Honda's ATF. A friction modifier like Lubeguard may be a good idea. Join a Honda forum or ask an expert for more details.
The overall build quality of the car, otherwise, is outstanding. It feels like a premium car and if I told you it was an Acura or Lexus there's no reason you would doubt me.
Overall Value: 8.5/10 — My suggestion is to get one with a manual transmission. The automatic is a bit mushy.
VERDICT: Buy one for your kid or use it for economical commuting. Accords are safe, practical, cheap to own, easy to service, cheap to insure, and attractive. Unfortunately, they lack in emotion, doing everything well on paper but offering little entertainment for the spirited driver. From this era, I prefer the Nissan Maxima for its robust powertrain and lively personality.
Specifications at ConsumerGuide