12,800 Mile Update: 2011 Infiniti QX56
In September of 2011 my mom took home a new 2011 Infiniti QX56, loaded with everything except the deluxe touring package which comes with hydraulic body motion control.
Original story:
http://jesda.com/2011/09/20/bringing-home-a-monster-moms-2011-infiniti-qx56/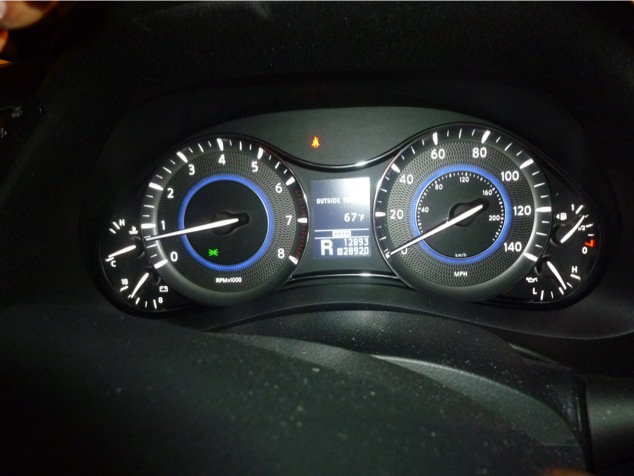 After 12,893 miles the big Q has been free of defects and flaws. The first oil change and tire rotation were performed at no cost thanks to a prepaid Infiniti service plan. No other services were required.
Unfortunately, that makes this article unusually short. The bulbous sheet metal has grown on me, though the hideous portholes on the fenders remain… hideous. The light gray paint masks some of the garish swoops while masking some of the whale-like proportions.

Fitting the monster into the garage is a bit of a chore…

…made easier by Infiniti's brilliant around-view camera. In the background you can see my white Saab parked in the driveway. The camera on the right shows the position of the truck relative to its surroundings. There's a Subaru Impreza parked on the left and the frame of the garage door on the right. It's a tight fit but the clever camera system makes it less of a guessing game and more like a video game.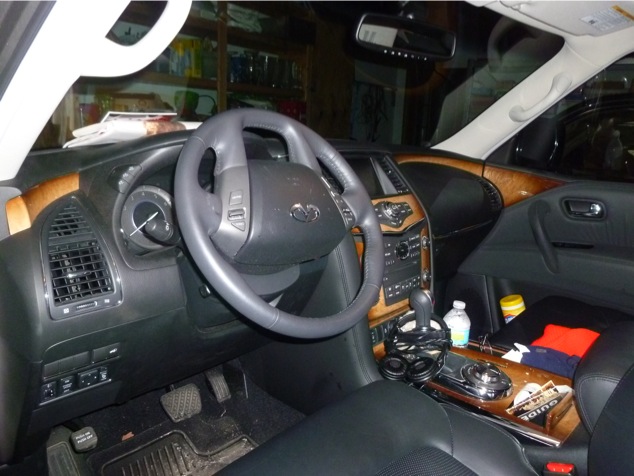 The interior has held up well though it's accumulated quite a bit of clutter. With the amount of driving my mom does between work, picking up the kids from school activities, and taking road trips, she practically lives in her car.
As a luxury vehicle, the QX56 is an outstanding machine, built to an exceptionally high standard not only for SUVs, but for luxury automobiles period.
Luxury trucks may have fallen out of favor with most of the public — QX56 sales hover at just over 1,600 units a month — but for those who can afford them, they're a no-compromise way of having luxury, comfort, and all-weather capability in one package. The pleasure makes up for the guilt.
Maintenance Costs:
None
Unexpected Repairs:
None
Positives:
Top-view camera
Ride
Power
Comfort
Technology
Value for money
Negatives:
Styling
Parking
So far, so very good.