October 2011 Auto Sales Figures and Data
From Autonews and Wards Auto World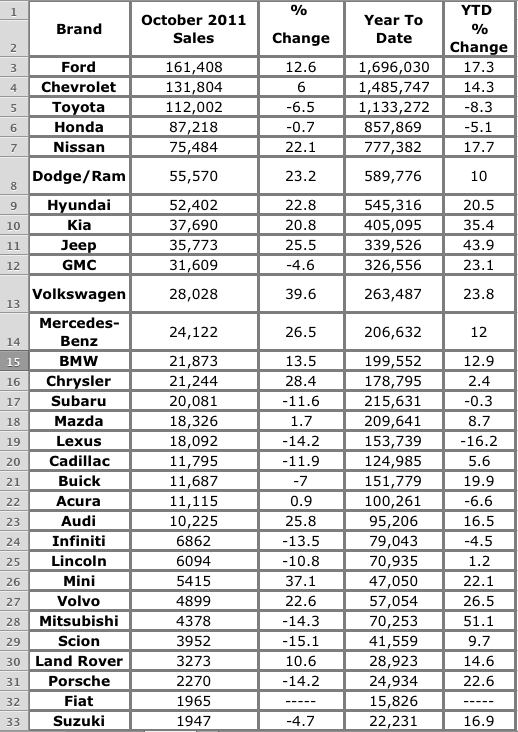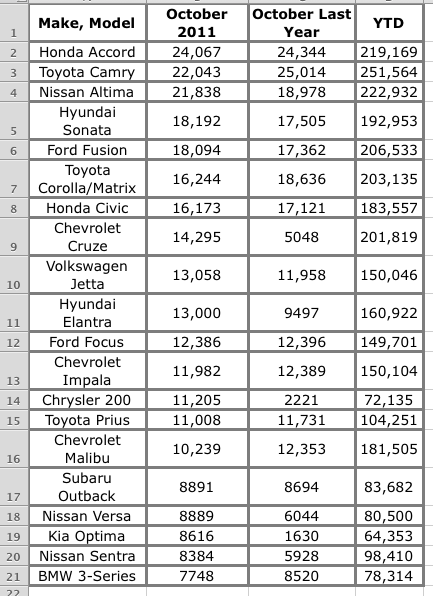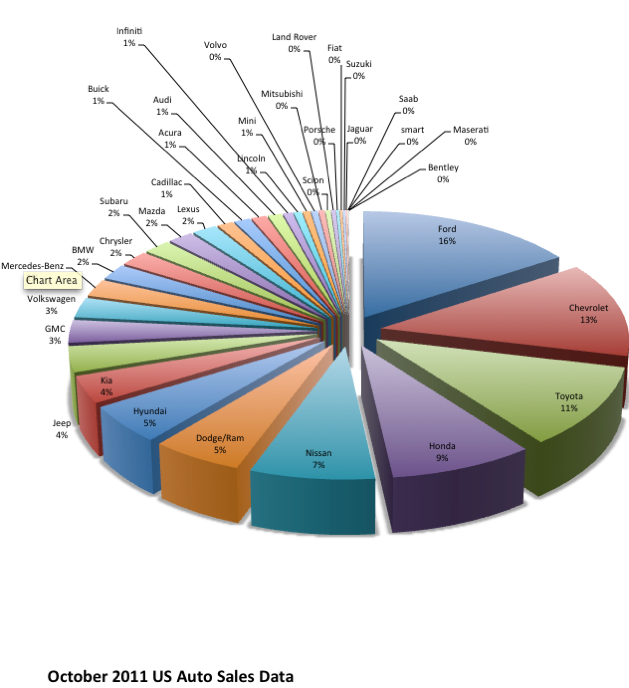 ---
Best-sellers by class:
Subcompact cars: Nissan Versa
Compact cars: Toyota Corolla/Matrix
Midsize cars: Honda Accord/Crosstour
Large cars: Chevrolet Impala
Entry-luxury cars: BMW 3-Series
Luxury cars: BMW 5-Series
Compact SUVs: Honda CR-V
Midsize SUVs: Chevrolet Equinox
Large SUVs: Chevrolet Traverse
Entry-luxury SUVs: Lexus RX
Luxury SUVs: Mercedes-Benz GL
Vans: Honda Odyssey
Pickups: Ford F-Series
http://www.examiner.com/cars-in-national/best-selling-cars-of-october-2011-by-class
Notes:
General Motors is flat with only Chevrolet posting sales gains. Earlier this year, Cadillac ended production of the STS and the fleet-favorite DTS. The ATS compact and XTS full size sedan are due to arrive next year, leaving Cadillac dealers with only the CTS, SRX, and Escalade.
Chrysler, Fiat, Jeep, and Dodge enjoy their best October since 2008, turning a profit for yet another quarter thanks to the Dodge Ram, Jeep Compass, Dodge Journey, Chrysler 200, Dodge Avenger, Jeep Compass, Jeep Liberty, and Fiat 500. European exports have boosted sales volume for the Dodge Journey, rebadged as a Fiat Freemont.
Fiat sales have missed targets thanks to poor marketing (Jennifer Lopez), but interest in the new Fiat 500 is high with sales volume expected to grow rapidly.
Mercedes Benz, thanks to the facelifted and improved C-class, has outsold BMW. However, Mini and the BMW 3-series continue to be strong sellers.
Nissan is up 22% thanks to the Altima and Rogue, with the Altima receiving heavy sales incentives and aggressive lease offers. Infiniti posts a 13.5% decline, though the upcoming JX crossover should help.
The Chevy Volt outsold the Nissan Leaf by a few hundred units.
337 Saabs were sold. The 9-4x crossover built by GM is currently the only Saab in production. Over in Gothenburg, Volvo's new "naughty" S60 is selling like hot cakes.
VW and Audi are both up significantly, with Volkswagen posting a 39% gain in the US. Credit for the increase go to the new Chattanooga plant and significantly cheaper VW models.
Flooding in Thailand has made it difficult for Honda and Toyota to resume pre-Japanese-tsunami global production levels.
Ford's Explorer crossovers and F-series pickups continue to sell briskly.
Lexus posted a 14% decline. I'd like to believe that it's because boredom has finally fallen out of favor with luxury buyers, but it's really due to Tsunami-related supply issues as most Lexus products are built in their home market.
Summary:
Based on auto sales, the US economy may be showing signs of recovery despite EU debt concerns and slower growth in China.