Review: 2004 Lexus LS430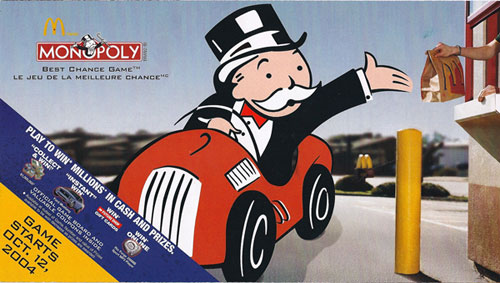 I love luxury, cruising in smug comfort like the Monopoly Man, checking on high-end properties at Park Place while zipping through Baltic Avenue with the windows up and doors locked. When you're piloting a luxury sedan, you can't help sneering at the unwashed masses trapped in Dodge Caravans, Toyota Camrys, and other depressing forms of mobility.
It's a good feeling, but there's more to driving than sitting in a fancy box and moving from place to place. It's an act of assertion, freedom, emotion, and personal expression, at least in America.
And as far as expression goes, few sedans say "I've made it" like a full size Lexus. One could safely assume that the owner, at least when the LS430 was new, attended a respectable university and enjoys a secure, upper middle-class lifestyle as a doctor, lawyer, or banker. Unfortunately, aside from how they're dramatized on Boston Legal or E.R., the average doctor or lawyer leads a quiet, responsible life free of rough edges or excitement… just like this Lexus.
On a checklist of what a luxury car should be (Lincoln's old slogan), the Lexus LS430 encompasses quality, refinement, prestige, reliability, comfort, and retained value. All of the intellectual, practical, and reasonable questions are positively affirmed.
The LS430 also scores top marks in JD Power and Consumer Reports quality and dependability surveys, and with that honor the LS430 retains its value like nothing else.
A 2003 Lexus LS430 with 100,000 miles and every single option including radar cruise, "ultra luxury" with special wood, rear reclining seat, premium sound, and navigation is worth $21,000 in perfect condition, retaining about 30% of its original $71,000 MSRP.
A 2003 Cadillac Seville STS with 100,000 miles, also loaded, is worth $8000. That's 15% of its original MSRP of around $55,000 with the technology package. Kelly Blue Book is being a bit generous to the Seville — realistically, 2003 Sevilles sell for $5000-$7000.
In the minds of consumers, the Lexus brand is a sure thing, a safe bet with no risks and high expectations of ownership satisfaction. The problem is, none of those expectations or criteria include driving pleasure. That's my greatest complaint about the LS430.
It's a stunning piece of craftsmanship with soft stitched leather on every possible surface, perfect build quality, deep and lustrous paint, perfect dependability, exceptional comfort, high market desirability, and surprisingly impressive fuel economy (26.5 mpg highway). It is, dare I say, the best mass-market car ever produced, with arguably higher quality than its successor, the LS460.
Unfortunately, it's a bit of a bore to drive.

Effectively, you could argue that in this category of car, the notion of driving "fun" is irrelevant — and you may be right. On paper, at least, the pros vastly outweigh the cons, the only con being my subjective evaluation of how it looks and feels.
The responsible, well-educated, well-off folks who choose their cars based on checklists and pragmatic criteria can expect to be thoroughly satisfied. Nothing will make the "don't pirate music and follow the speed limit" crowd happier than a Lexus LS. Trust me.
Otherwise, for those of us who make up 20% of the car buying public, the passionate enthusiasts with heart, soul, and gusto, the LS430 is dreadful. It's a rolling tribute to rules, formalities, and order.
[Here comes my predictable Lexus bashing.]
EXTERIOR
It's not ugly!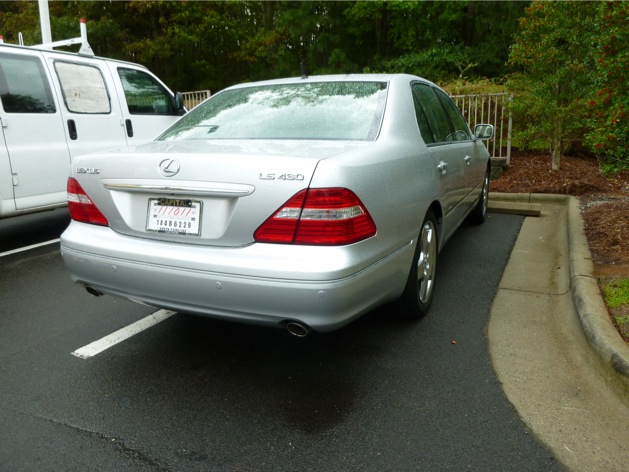 That's a polite way of saying it isn't pretty, like telling a girl with warts on her face that at least she's not dead. While the original LS400 had somewhat of of a swoopy shape and a long, low body, the LS430 went the opposite direction with tall, lifeless proportions and dulled edges. There's about as much design inspiration in this unimaginative three-box contraption as a Ford Econoline.
The added height does create significantly more headroom than the LS400, but it makes the car a bit more susceptible to wind at high speeds.
You can see in the sculpting of the tail lights and the roof how the LS430 was closely modeled after the legendary W140 Mercedes S-class from the 90s, but the S-class had more wedge-like proportions and straighter, more formal creases and lines.
The S-class says "I have all the power and money," while the LS430 says "I work for the guy who has all the power and money."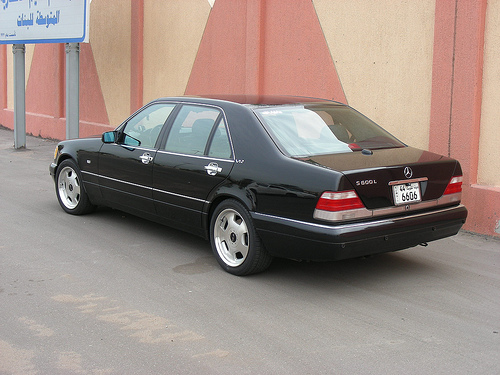 Panel gaps are impressively tight and the doors, if you close them gently, will quietly latch themselves shut (optional), just like like the S-class.
Apparently, Lexus intended to copy Mercedes-Benz but were afraid of being sued, so they rounded off the corners and edges to create something that looks, unfortunately, more like an elongated Toyota Avalon. However, thanks to the credibility gained from carrying the "L" badge on the trunk, it gets away with being plain.
It isn't tuxedo sharp, nor is it a classic. It's a gently carved box, efficiently shaped to maximize cargo and passenger room, and nothing more.
INTERIOR
We've established that the LS430 is a bore to look at. You might argue that looks are less important in the luxury game, as traveling in superb comfort is far more important. You would probably be right.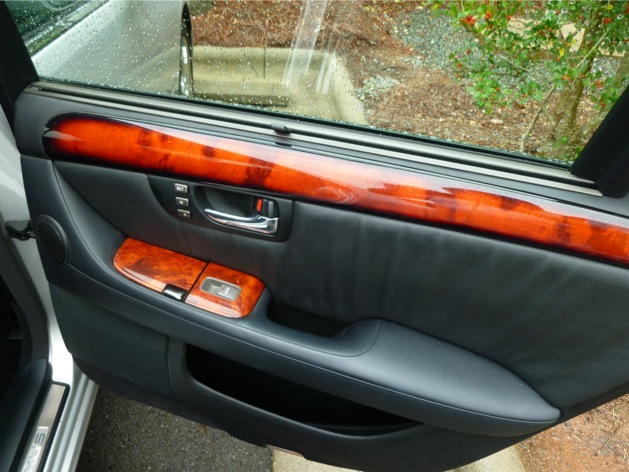 Every ounce of disdain I have for the way the LS430 looks and drives is made up for by two ounces of praise for its stunning interior. With the Ultra Luxury package, the LS430 receives burnt wood trim with faded edges that gracefully blend into the door, a beautiful effect on a black interior. Every single surface is lined with soft, thick, odiferously delightful stitched leather. When I say every surface, I mean every single surface.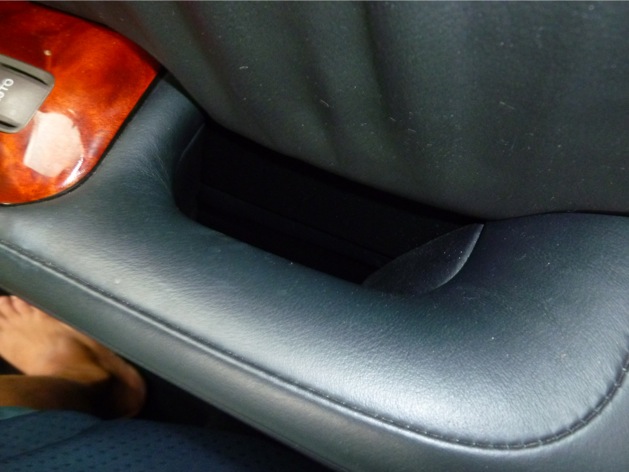 The insides of the door handles have the same high quality leather as the seats, door panels, and outer handles, all perfectly stitched and precisely installed.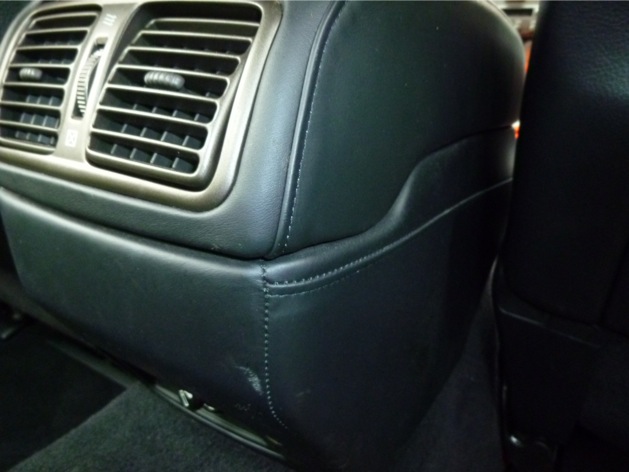 The rear vents have stitched leather where they could have easily gotten away with plastic or vinyl.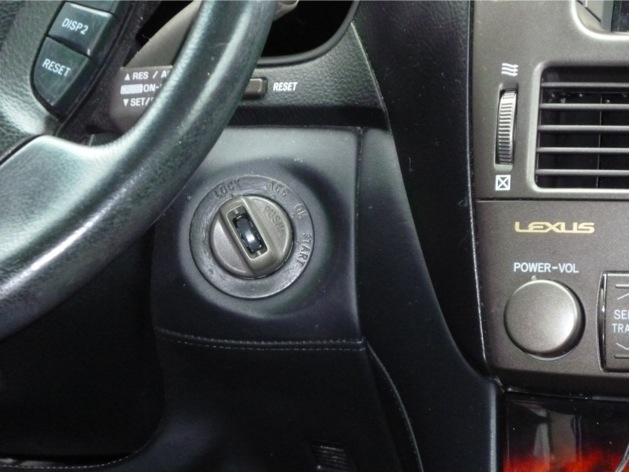 Even the ignition is adorned in stitched leather which is, by the way, keyless. You can walk up to the vehicle, get in, and turn the nub on the dashboard (a predecessor to pushbutton start) without ever removing the key from your pocket. Upon exiting, you close the door and push the little button on the door handle to lock the car.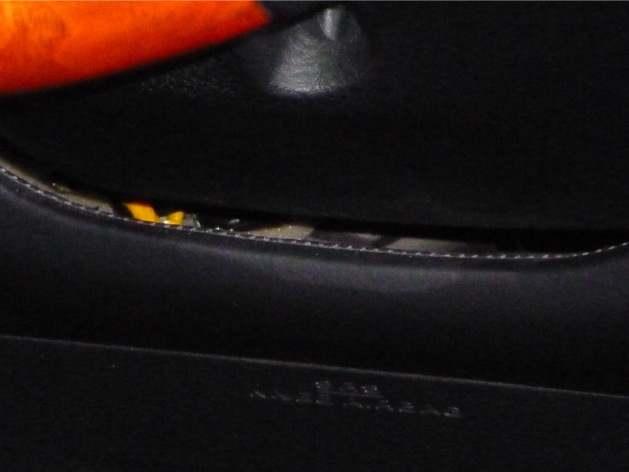 The knee board under the steering column (where no one ever looks or touches) is needlessly and delightfully done in finely stitched leather. An entire herd of grass-fed cows must have been sacrificed to create this stunning interior. It's a Hindu's worst nightmare.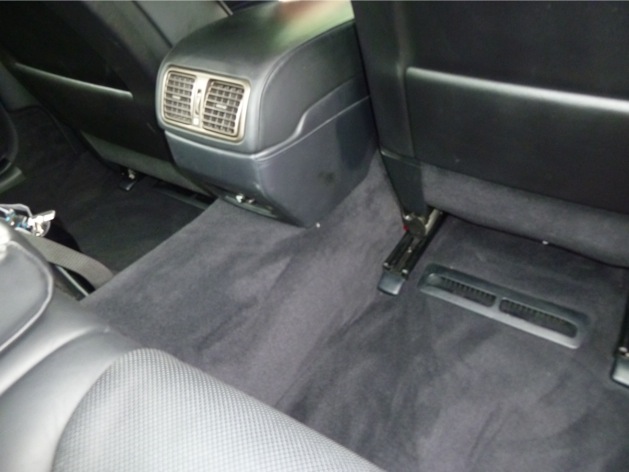 They didn't neglect the floors either, covering them in thick, luxurious carpet that's vastly superior to what's offered in the standard LS460, the LS430's successor.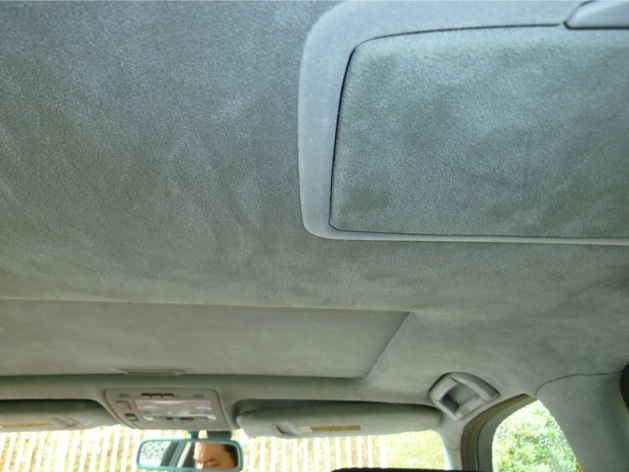 The headliner is made of real suede that also covers the pillars.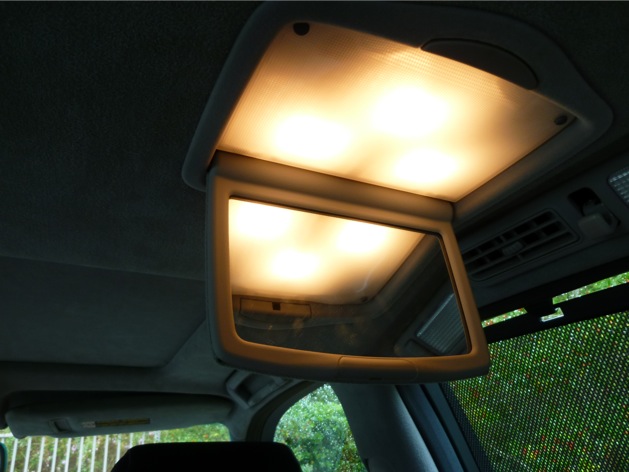 Rear passengers get their own lighted vanity mirrors, a feature that was fairly common on top-level Cadillacs built before the late 1990s.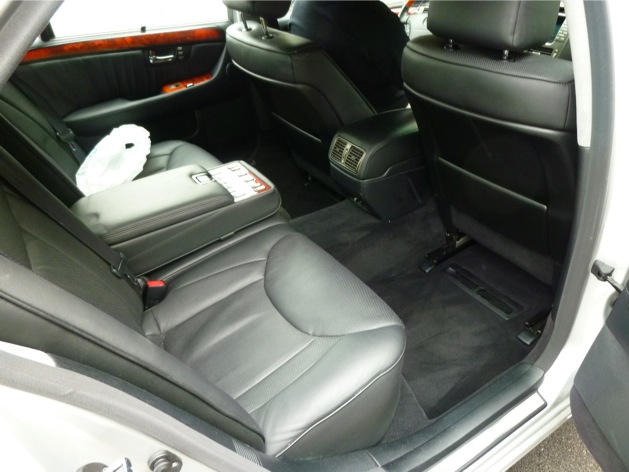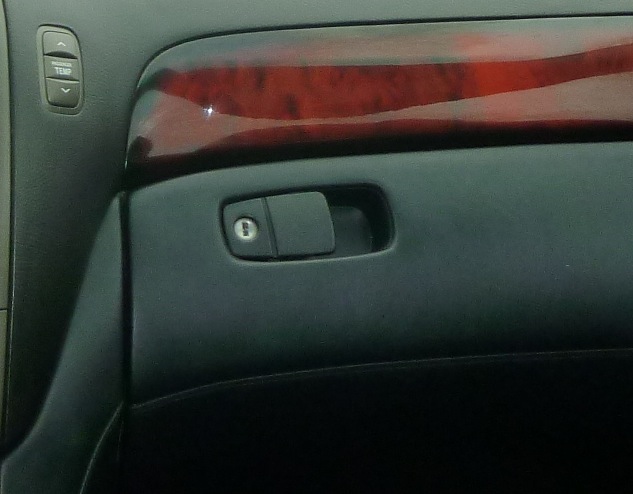 If you look very closely, you can see that even the inside of the glove box door latch is lined with stitched leather.
Unfortunately, a lot of these special features were optional. I drove a standard LS430 a year ago and found the interior to be well made but stoic, lacking in warmth with unexpected hard surfaces. A lot of the stitched leather was replaced by panels of vinyl and plastic, less like a Lexus and more like a Cadillac Deville.
The LS400 came with several of these niceties at no extra cost.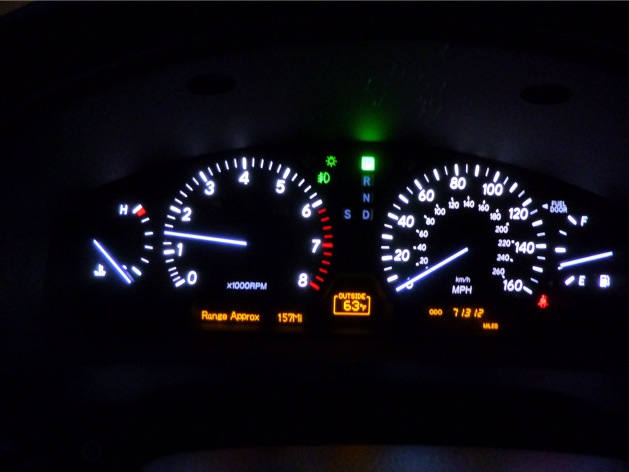 Electroluminescent gauges follow more than a decade of tradition for Lexus, and as always they're clean, beautiful, and informative.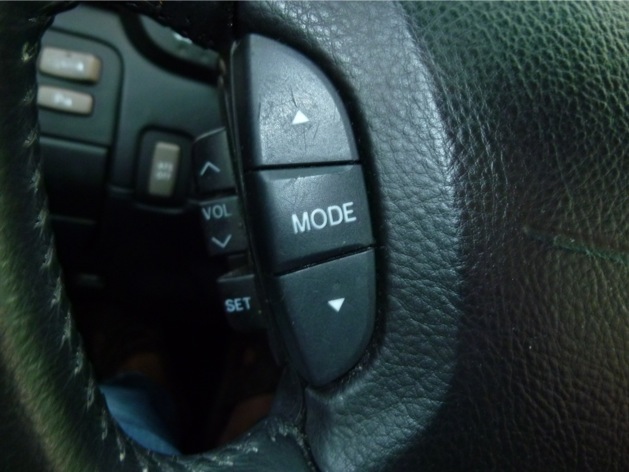 There's a mess of buttons on the steering wheel. The left side has three layers of buttons, some for displays, some for phone functions, some for navigation, and some for the radio. You have to get to know them with time, because the layout is unintuitive. If you aren't careful, trying to adjust the volume will prompt you for a voice command.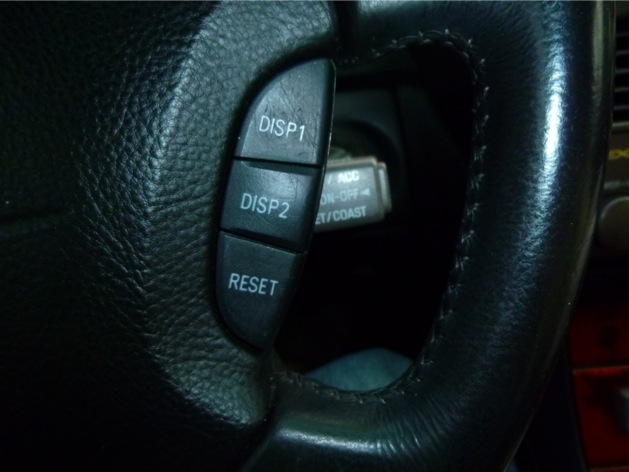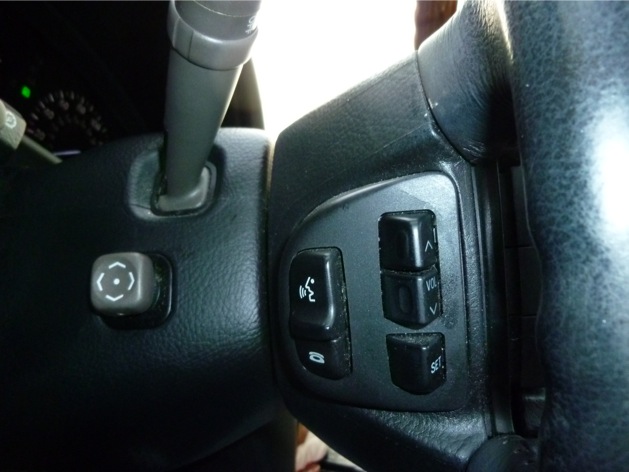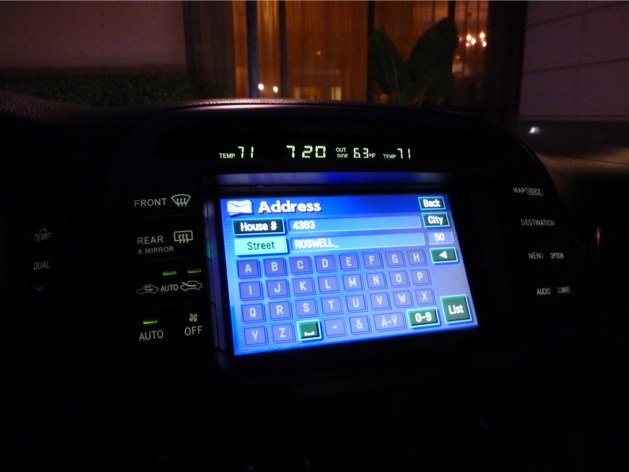 The navigation system was acceptable for 2004, certainly easier to use than what Cadillac, BMW, and Mercedes-Benz offered at the time, but accuracy is lacking. While it guided us somewhat successfully to our destinations, it didn't provide sufficient warning of exits and turns. Guidance distance is adjustable on aftermarket navigation systems — I could not find a setting for this on the Lexus.
The Auto Recirculation button to the left of the display allows the car to choose on its own between ventilation and recirculation. When pollutants enter the environment, it automatically changes to recirculation mode to keep them out. Unfortunately this feature, which was also available on my 2001 Volvo S60, doesn't work very well.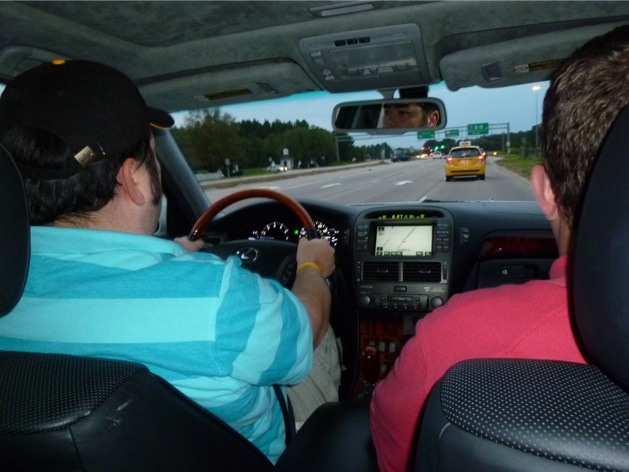 It isn't often that I describe the smaller details of an interior before discussing the cockpit, but in the case of the LS430, the details are far more interesting. All of the controls are well within reach but the dashboard feels unusually short and high. For some drivers, that creates a sense of protection and security. For me, it comes across as old-fashioned, like it was plucked out of the LX470 SUV and placed into a sedan. I've become accustomed to longer, sleeker dashboards in longer, lower cars.
Because of this, the best seat in the LS430 is the back.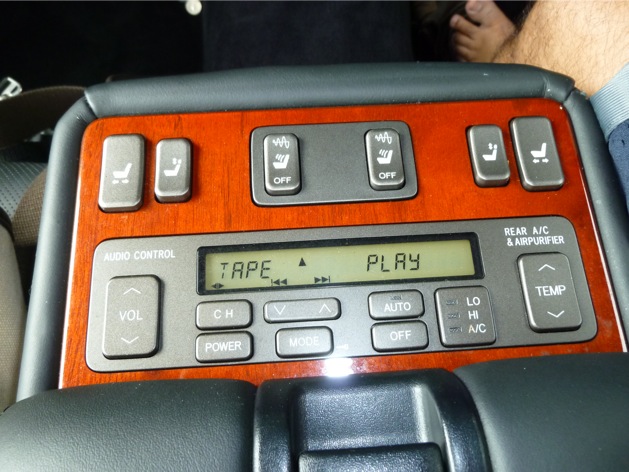 The top row has controls for power reclining, massaging, vibration, and headrest adjustment. The second row has audio and AC controls. Right above the door is an additional vent for more direct ventilation and air conditioning, controlled independently of the front. Unfortunately, rear audio controls are not separated from the driver with no headphone jacks available for private listening.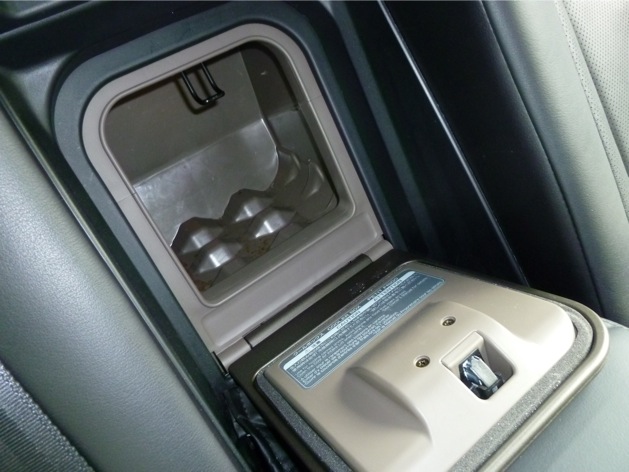 Behind the arm rest is a cooler for canned drinks. This one could use a cleaning.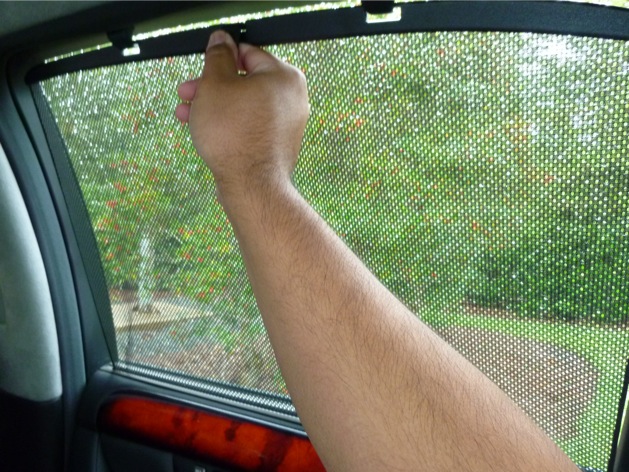 Bonus: Rear windows have slide-up sunshades.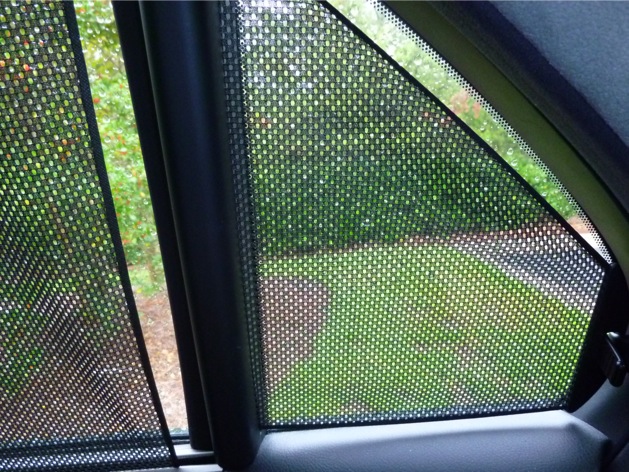 Super Bonus: The corner windows have shades too.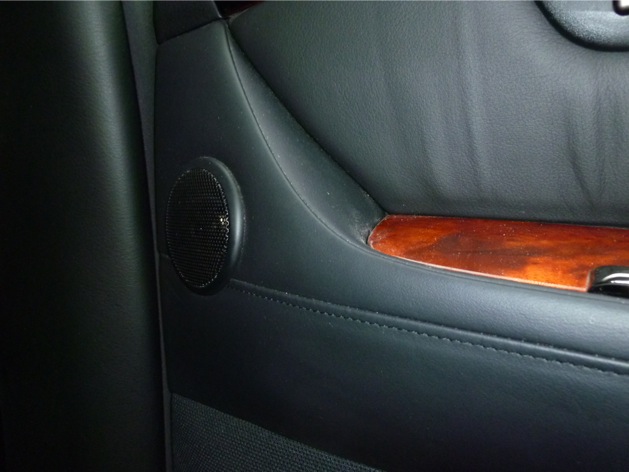 Additional tweeters and smart equalization keep rear seat passengers from being blasted in the ears. The Mark Levinson system, while unexciting, produces clean audio. It suffices.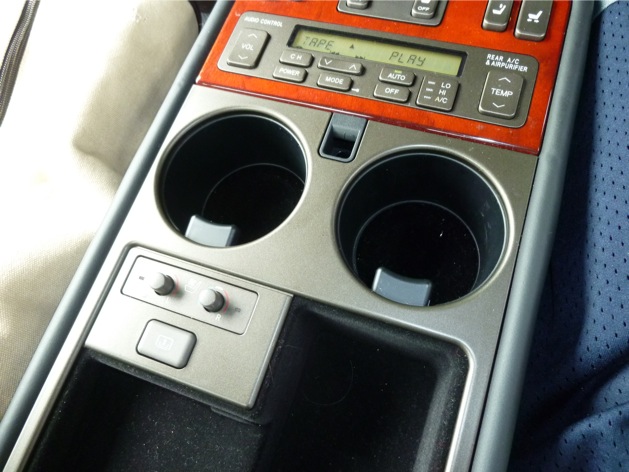 Opening the rear arm rest reveals two large cupholders, storage space, and additional controls.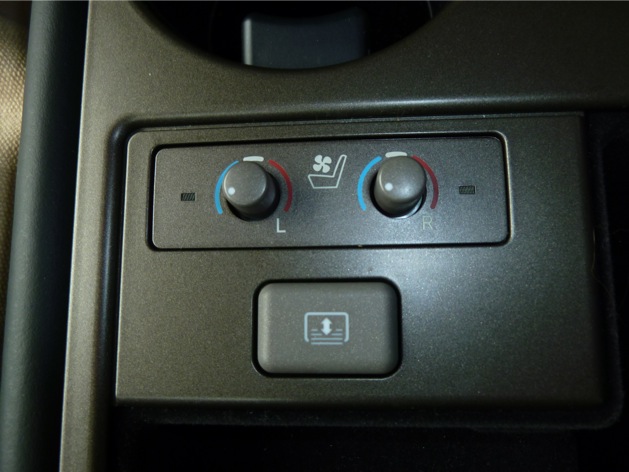 The two knobs control rear seat heat/cooling and the button controls the power rear sunshade.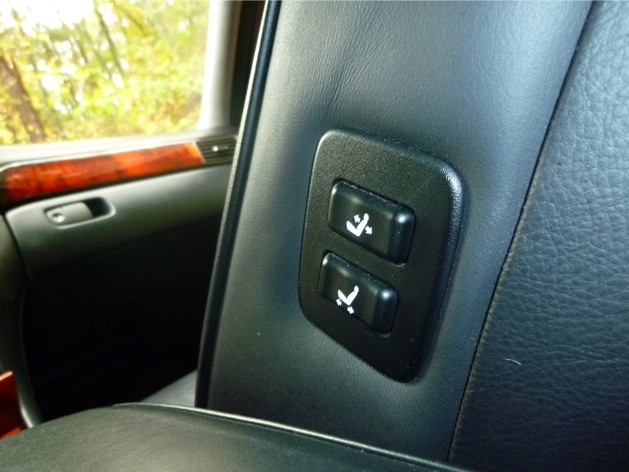 On the left side of the passenger seat are buttons that allow the rear passenger to move the front seat forward, creating more leg room in the back.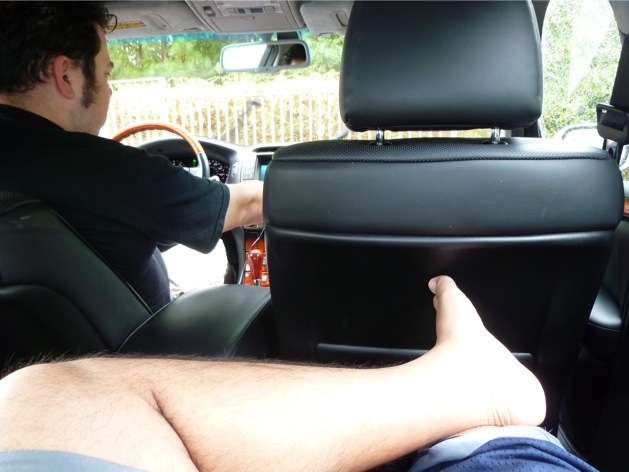 I had more space than I knew what to do with. Japanese market versions offer a front seat pass-through for the feet.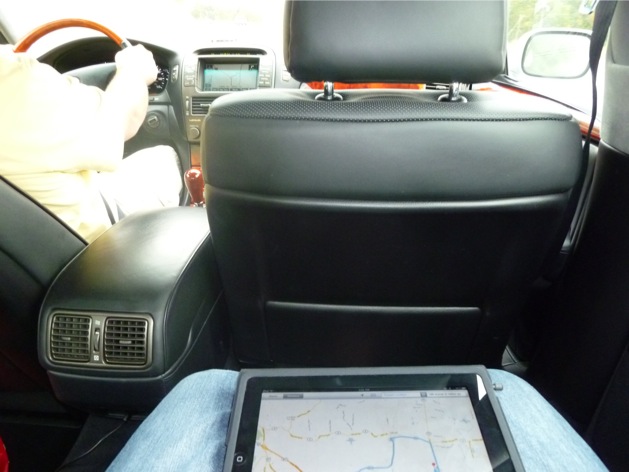 I spent the entire trip from North Carolina to Georgia to Tennessee to Missouri right here, browsing around on my iPad while dozing off on occasion.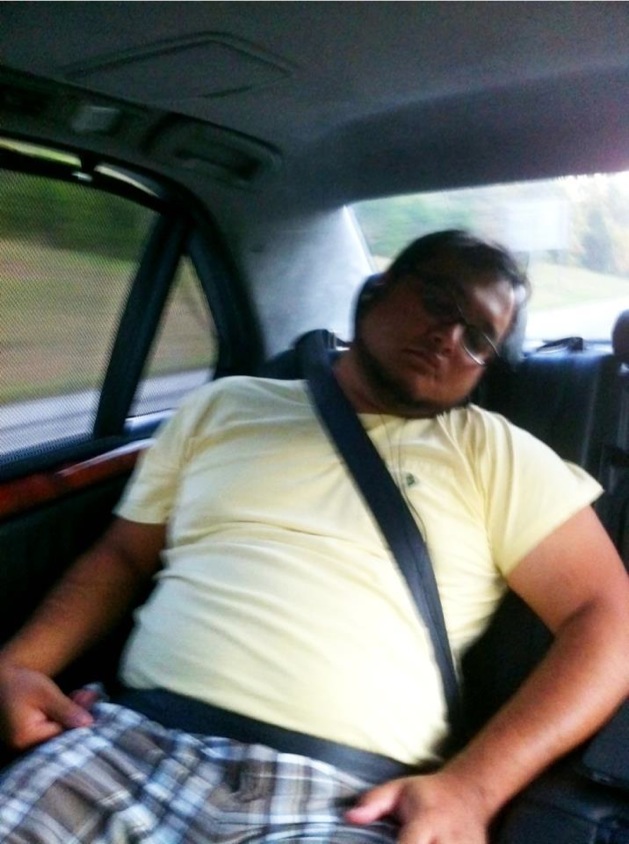 Normally, I find it impossible to fall asleep in an upright position which makes it impossible for me to get any rest on an international flight. But with my seat heater on and the vibration function working on my lower back, I managed to doze off quite frequently, snoring loudly as we cruised through the south.
Thankfully, I had my iPod handy to drown out my friend's collection of shitty Coldplay albums.
This is by far, without question, the most intensely detailed, well-appointed, and relaxing luxury car I've ever experienced.

But I still would never buy one. Allow me to explain.

THE DRIVE
Details can be impressive, and in medicine, law, and accounting they're absolutely critical. In the act of motoring, however, they're less essential. Yes, you have to have a precisely timed mix of air, fuel, and ignition for a combustion engine to function efficiently, and strict manufacturing guidelines and standards are required to build a reasonably dependable piece of complex machinery on a fast-moving assembly line.
But details, while obviously important, contribute nothing to a car's soul or personality. With the LS430, Lexus is attempting to derive the car's personality from its quantitative achievements. That's like reading a book and admiring the quality of the paper and the number of pages rather than understanding the story behind it.
Would you eat pancakes that are perfectly round but taste like wood? No, of course not. Why would you drive a car that's well made but lifeless behind the wheel?
While it may be unreasonable to entirely disregard the importance of details, it's outlandish to suggest that the "Pursuit of Perfection" (Lexus's slogan) is desirable in and of itself. Perfection in and of itself is boring, and being passionate about perfection alone is like being passionate about tree bark. Who cares about perfection if the thing being perfected is nothing of interest?
This isn't to suggest that the LS430 drives like a Toyota Camry or a Buick Lesabre. It's actually quite sophisticated.
In front of the well-appointed cabin is a 4.3L Toyota 3UZ-FE V8 sending 290 horsepower and 320 lb-ft of torque to the rear wheels. From what little of it I can hear, it's a sonorous engine with amazing potential. The engineers have unfortunately chosen to silence this gem of a motor, keeping it out of sight and out of mind based on the belief that Lexus owners will take offense to the "crude" noises of air intake and exhaust rumbling. I suppose that's true, and it's a bit sad because aside from the finely crafted interior, that V8 engine is most impressive part of the car. It deserves to be heard.
The steering system offers a reasonable level of surface feedback although the wheel itself is the size of a screen door — you feel like a midget driving a school bus. Parking maneuvers are feather light while highway cruising is well-centered and accurate. Unfortunately, it feels numb and artificial while turning and taking curves, like the system is filled with molasses rather than hydraulic fluid.
A sport mode button tightens the steering and firms the suspension quite noticeably, and when I drove the LS430 I kept it enabled. Turning it off resulted in less precise steering and a somewhat mushy ride.
The six-speed automatic transmission was tolerable, a step above the clunky 5-speed in the LS400 but far from the responsive, silky perfection of GM's 4-speed 4T80E in the Seville and Deville. With the Power switch enabled, shifts were less reluctant on kickdown and it felt more eager to change gears, but it still felt unnatural and hesitant. This land yacht had no interest in being hammered like a speed boat.
That said, speed is no problem. The LS430 soars to 60 in 6.5 seconds and finishes the quarter mile in under 15 seconds, competitive for any 4000lb luxury car. If you're willing to put your foot down and put up with the slightly reluctant shifts, the LS430 will go head to head with the Cadillac Deville DTS, although the Mercedes E500 and BMW 545i can reach 60 in under 6 seconds. The LS430 would prefer to lope along at 70mph in the middle lane, cosseting its passengers in heat and soothing vibration. Lexus owners are unlikely to engage in stoplight races.
Where the LS430 shines, its ace in the hole, is ride comfort. The electronically damped air suspension neutralizes surface imperfections, turning annoying bumps and highway expansion joints in to distant, muted whispers. The body remains steady and linear over undulations, never feeling unsettled or queasy, nor is it squishy and mushy like the Lincoln Town Car (a review of that coming soon).
Credit also goes to the Michelin Primacy tires, grippy and sublimely quiet while offering adequately stiff sidewalls for spirited daily driving.
Whether that stable, neutral ride translates into lively cornering is another matter, one that's somewhat irrelevant when talking about this kind of vehicle. The LS430 is no sport sedan, nor does it intend to be. It is, however, powerful and quick, not to mention superbly quiet with little wind or road noise. Refinement is everything to the Lexus brand, and the LS430 is a strong example of what Toyota could achieve in 2004. Unfortunately, excessive refinement has a tendency to dial out the fun.
The old LS400 was a more satisfying driver's car.
CONCLUSION
The LS430 is an outstanding piece of Japanese precision, but accuracy doesn't translate into enjoyment. Most drivers will interpret its numb, muted tendencies as peaceful and serene, a Japanese zen garden on four wheels, a place to neutralize stress and calmly transition from work to home. Passengers will be impressed by its array of comfort features and, in turn, may be impressed with the owner.
As a luxury object the LS430 excels, achieving levels of refinement never before seen in a global mass market automobile, but it lacks in interactive enjoyment and visceral pleasure.
My recommendation is to buy a black one, tint the windows, and hire a driver.

Fast Tube by Casper
RATINGS
Drivetrain: Rear-wheel drive, 4.3L 3UZ-FE V8, 290 hp, 320 lb-ft torque, 6-speed automatic
Economy: 16/23 mpg (achieved 26.5 on a road trip)
2011 Purchase Price: $21000 with 70,000 miles
Curb Weight: 3995 lbs
Problems: None.
Positives: Smooth, neutral ride. More luxury and comfort options than you'll ever need.
Services: None needed.
Ride: 10/10 — No floating, wobbling, or mushing about. The LS430 turns the road surface into a sheet of glass.
Powertrain: 8/10 — A silky, robust V8 engine paired to a lazy transmission. 26.5 mpg is an impressive feat, so it scores a point for that.
Braking: 7.5/10 — Stops on a dime, but brakes are touchy and difficult to modulate. It's too easy to jerk the car around with slight movements of the brake pedal.
Steering/Handling: 6.9/10 — It's a big car and it feels like it. Steering offers sufficient road surface feel but seems numb in handling maneuvers. Body roll is ample.
Audio/Accessories: 9.9/10 — A plethora of features for the driver and passenger. More luxury than a first-class flight. The Mark Levinson system is competent but it pales in comparison to the stunning Nakamichi system that came with the LS400.
Interior: 10/10 — Plush, soft, and attractive. The layout is nothing interesting but the panels, switches, and surfaces are nice to touch. Infiniti has adopted the burnt-edge wood trim look in its current models.
Comfort: 8.7/10 — I wish the seat bottoms were spring-supported like the LS400 — they reduced long distance fatigue. The cabin seems a little bit narrow compared to the Town Car and Deville. You can't sprawl out like you can in a Lincoln. Heated, cooled, and vibrating/massaging seats make up for those shortcomings, but you have to get the Ultra Luxury package to enjoy those features.
Styling: 4/10 — It doesn't look ritzy, and that may be preferred for the typical low-key Lexus owner. If you're the rebel dictator of an African nation, buy a fleet of these in black and stick some Toyota badges on them. You'll blend in with traffic and avoid assassination attempts.
Quality/Reliability: 10/10 — It's a Lexus, and it's the best Lexus ever made, if you're into that.
Overall: 9/10 — The right buyer will adore this car for its value, comfort, refinement, and prestige. I am indifferent to its joyless demeanor.