Got two grand? You can afford a luxury car.
In September I drove and reviewed a $2000 Geo Prizm, calling it an ideal choice for the recently unemployed. The jellybean Geo is efficient, faultlessly dependable, and cheap to maintain, but it serves as a constant reminder of economic hardship, questionable life choices, and uncomfortable compromises.
There has to be, for the same kind of money, a more comfortable, more expressive, and equally dependable way to travel.

You could, with a couple grand, indulge in European luxury, perhaps an early 90s BMW 5-series, Audi V8, or a Mercedes W124, but any of those will come with a quarter million miles and repair bills with more zeroes than the national debt. The Japanese have a few options, but resale value is prohibitively high.
I may have found two strong contenders, both American, both under $2000.

During my multistate tour of the south last week, I stopped in Georgia to visit my friend Austin and sample two of his cars, a $1200 1993 Lincoln Town Car and a $1800 1992 Buick Roadmaster.
————————————————————————
We'll start with the Buick. Of the 1990s GM B/D-platform cars, including the Caprice, Impala SS, Olds Custom Cruiser, Cadillac Fleetwood, and Buick Roadmaster, the Buick had the most impressive name, by far. The Roadmaster badge dates back to 1936, named after the car's ability to "level out" on the highway, a testament to its smooth and civilized nature. The name returned for 1991 on the last of GM's traditional, full size, body on frame sedans and departed along with its platform mates in 1996.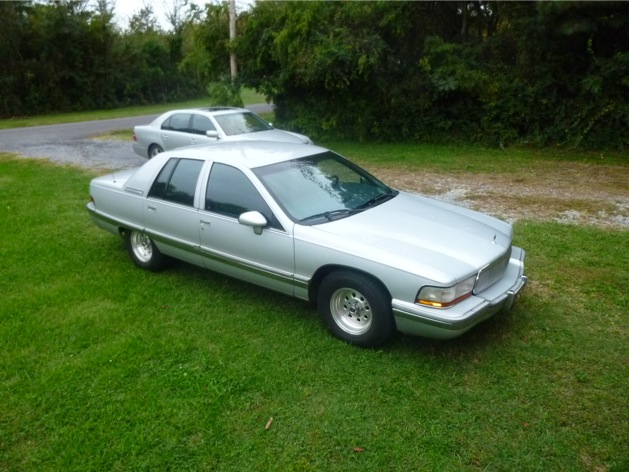 I've never cared for the Roadmaster's looks, with fender skirts that seem a bit tacky and a nose inspired by a bulldog's underbite. The styling does, however, give the car its own unique character. The more agreeable looking Chevy Caprice, once a staple of police and taxi fleets, has lost its visual distinction with the passing of time, though the wagon retains its charm. The larger Cadillac Fleetwood Brougham, though luxurious and imposing, can be a bit ungainly from some angles. The Buick's wheelbase, six inches shorter than the Fleetwood at 115.9 inches, makes the Roadmaster significantly easier to park than the Fleetwood.
Roadmasters were offered with most features available in the Cadillac Fleetwood including leather, power windows, power seats, a semi-premium sound system, keyless entry, and automatic climate controls. There was no GPS navigation, parking sensors, or satellite radio back then, so the American auto industry's concept of luxury was heavily oriented around size and comfort, at which the Buick excels. Roadmaster also receives a simulated wood dash that stretches across from door to door, giving the Buick's interior a warmer feel than the Cadillac.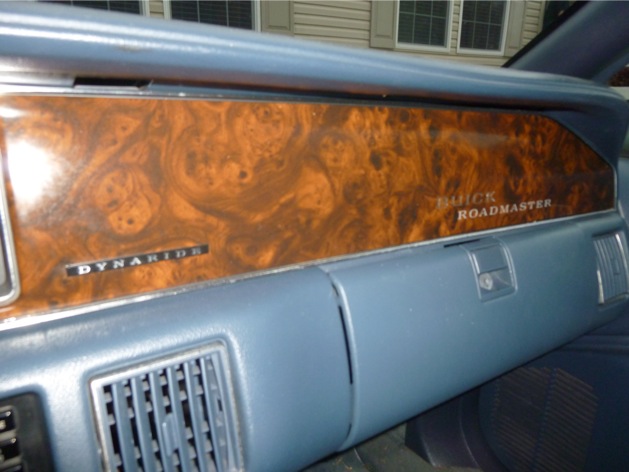 "Dynaride" is Buick's branding for its cushy ride and suspension. There are no electronically controlled dampers, sonar sensors, or magnetic fluids, a good thing for someone seeking low-maintenance $2000 transportation. Despite being tuned for softness, it glides around corners with ease, leaning heavily into curves and recovering predictably.
[Buick did offer a Grand Touring suspension on some of its cars with firmer springs and additional stabilizer bars.]
Gliding down the highway there's plenty of float, but I enjoy that sort of thing in an old American cruiser. It gives you a sense of value, that you bought a much larger car than you paid for. There are no pretenses of European luxury or Japanese precision — the portly Roadmaster is proud of its heritage and determined in its pleasingly unsophisticated, comfort-seeking purpose. I can certainly respect that.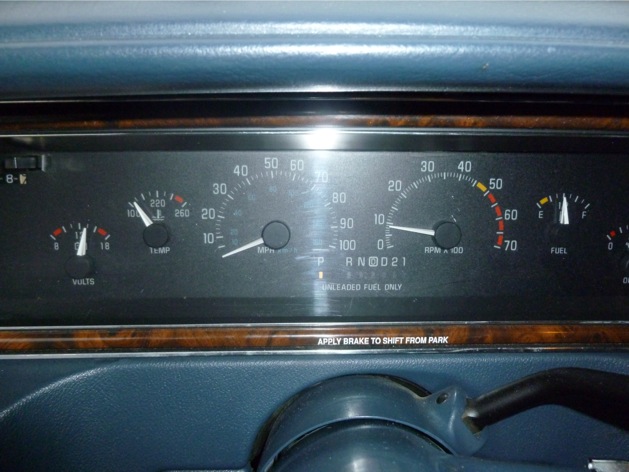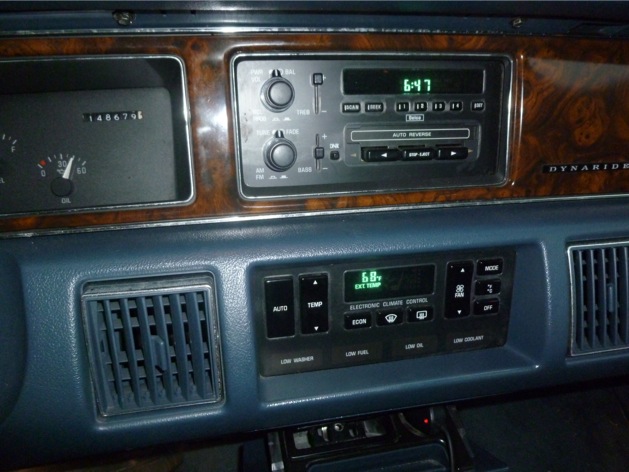 Buicks had the option of a Concert Sound audio system. It was a far, far cry from the Bose, Nakamichi, and Harman Kardon audio systems available in other luxury cars, but it sounded marginally better than the factory Delco radio. With only six speakers and modest amplification, the Concert Sound II audio package didn't add a whole lot to the enjoyment of the car. Austin's Roadmaster is equipped with a standard GM Delco tape deck which is perfectly adequate. If you buy a Roadmaster, add a subwoofer and amp and call it a day.
Engine output for this generation, with GM's small-block L05 180hp V8, looks quite unimpressive on paper, but it can pull tree stumps out of the earth with 300 lb-ft of torque, pushing this 4000lb monster off the line with ease. It cruises on up to 40mph effortlessly, laboring a bit from 50 to 60, taking a hair over 9 seconds to reach 60mph. That's perfectly reasonable for a car of its stature and heft, and thanks to its easy takeoffs, it feels adequately quick.
[In 1994, an LT1 V8 arrived with 260hp and an electronically controlled automatic transmission.]
You can expect highway fuel economy in the mid-20s on regular unleaded.
This $1800 American super cruiser feels inside and out like a much more expensive car. Buick's build quality, as always, is exceptional. Nothing squeaked, shook, or rattled when I drove it and the steering and suspension felt fairly tight. It certainly helps that this car spent all of its existence in Georgia where rust is rarely seen and roads are generally well maintained.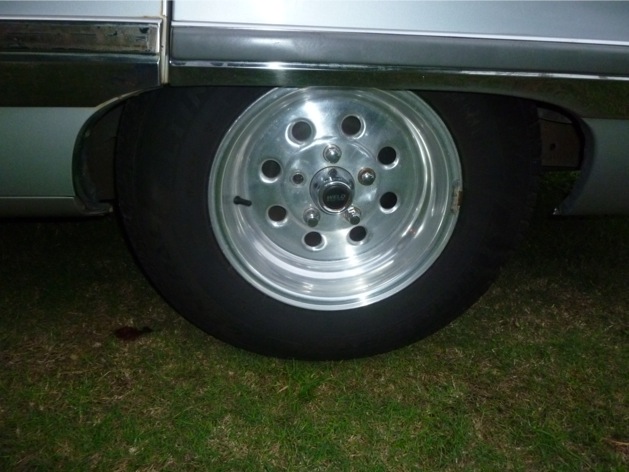 I've never previously cared for the odd looking Roadmaster, preferring the Chevrolet Caprice/Impala SS and Cadillac Fleetwood Brougham, but after driving it and coming to understand its purpose and personality, I'm now open to owning one.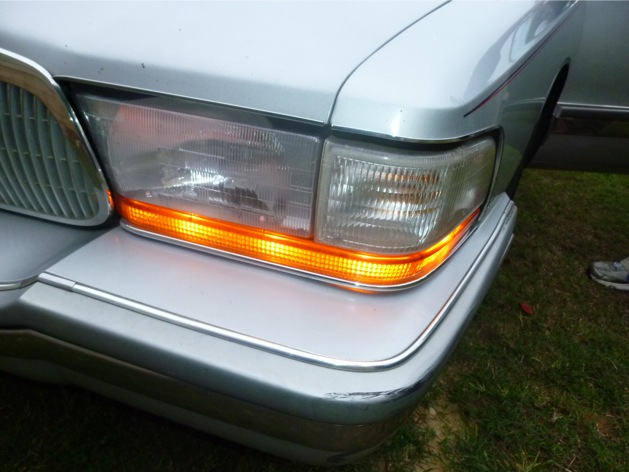 Because of its lower demand, you can usually find a Roadmaster in excellent condition, like this one, for a very low price. They were seldom used in livery fleets or in government service, typically owned by older people who tended to take care of them. If you can find an example that's been babied by an octogenarian, buy it.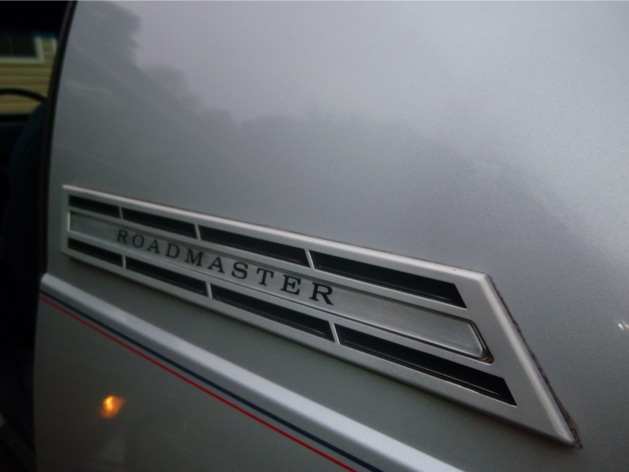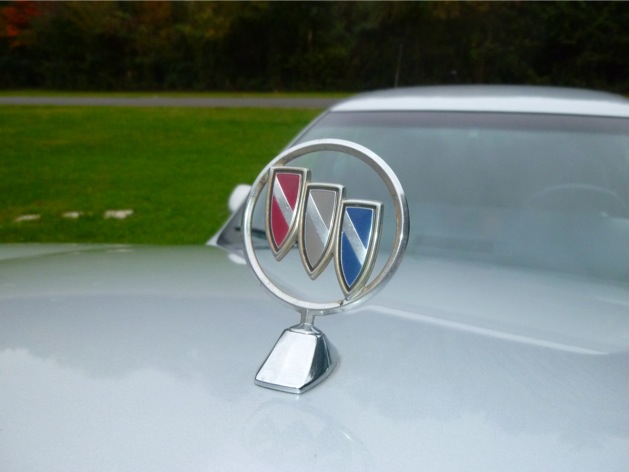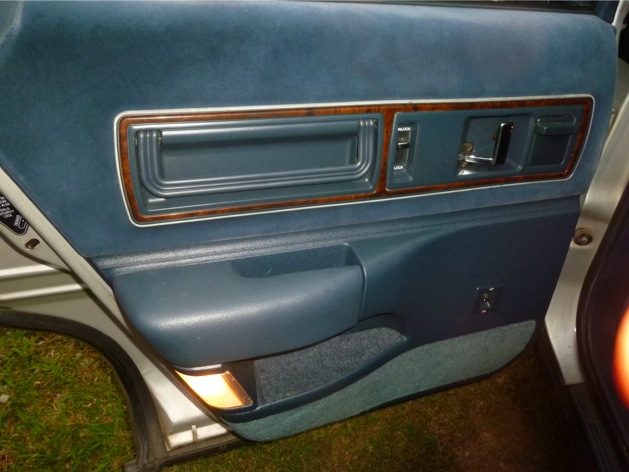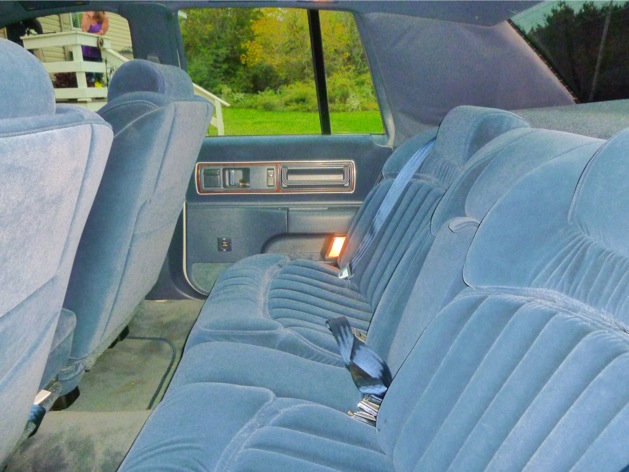 I forgot to mention braking. Eventually, after pressing the brake pedal, the car will stop.
BONUS: With the optional towing package, you won't need a truck or SUV. The body-on-frame Roadmaster is capable of pulling 5000 lbs.
1992 Buick Roadmaster
Current Mileage: 143,000 miles
Drivetrain: Rear-wheel drive, L05 5.7L V8, 180 hp, 300 lb-ft, 700R4 4-speed automatic
Economy: 15/23 mpg
Curb Weight: 4211 lbs
2010 Purchase Price: $1800 w/134k
Problems: None.
Positives: Air conditioning and all power accessories work. Came with a set of Wald wheels as well as factory wire wheels. Clean interior with surprisingly plush velour seating.
Services: Brake pads and rotors serviced, window tint removed.
Ride: 8.5/10 — A bit of float, though I like and prefer that sort of thing.
Powertrain: 9.5/10 — A robust engine. Durable "analog" transmission keeps servicing costs low.
Braking: 5.5/10
Steering/Handling: 6/10
Audio/Accessories: 7.8/10 — Nice buttons and switches.
Interior: 8.5/10 — Plush. With beige leather, it looks fairly expensive.
Comfort: 9/10
Styling: 6/10
Quality/Reliability: 10/10
Overall: 8.8/10
————————————————————————
The 1993 Lincoln Town Car, if you can imagine, is a significantly different car. Austin handed me the keys and I climbed in, immediately noticing the more modern buttons, controls, and steering wheel. The only signs of age were the square-pod digital gauges that looked like they came from the early 1980s and the crisply rectangular dashboard. The digital climate controls, steering wheel buttons, switches, and radio looked like they could have been plucked of a late-90s car, and Ford-Lincoln-Mercury did in fact use these controls through the latter half of the decade.
You know what a Town Car is — it's the Ford Panther platform shared with the Ford Crown Victoria and Mercury Grand Marquis, a traditional body-on-frame design that spanned three decades of production. Over the years, the steering, engine output, and suspension were improved, quietly tiptoeing into the modern era.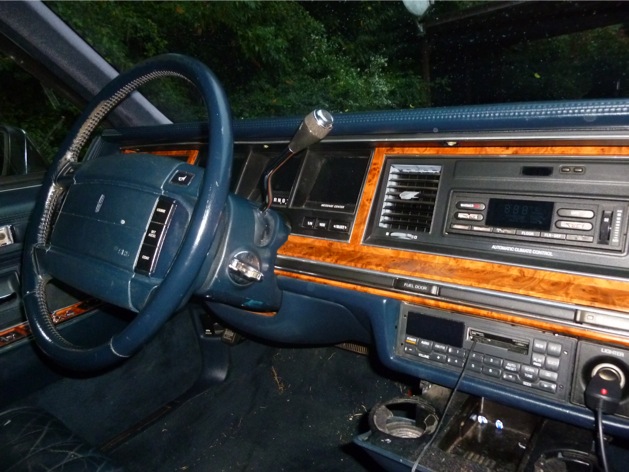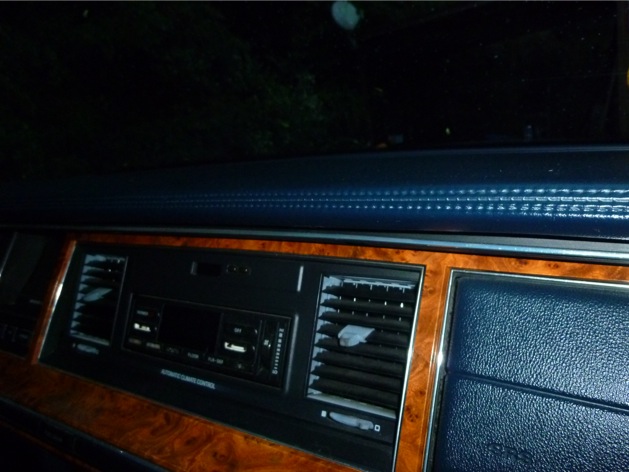 The buttons on the climate controls were broken but functional, a common problem on 90s Lincolns. You can replace the control unit with a newer one that uses larger, more durable buttons.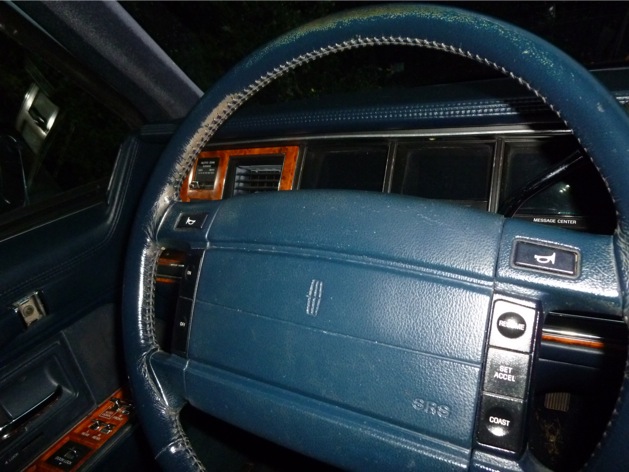 The Lincoln's air bag steering wheel looks a bit sharper than the dowdy "bread loaf" in the Roadmaster, with four spokes instead of two and squared-off styling to unsuccessfully mask the presence of an air bag.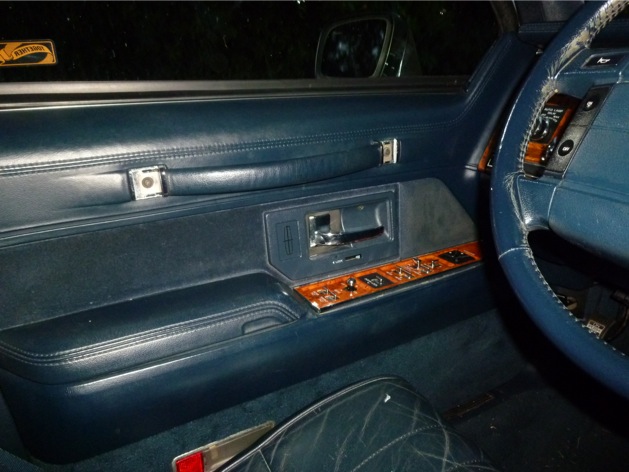 The fake stitching on the doors and dashboard look pretty convincing.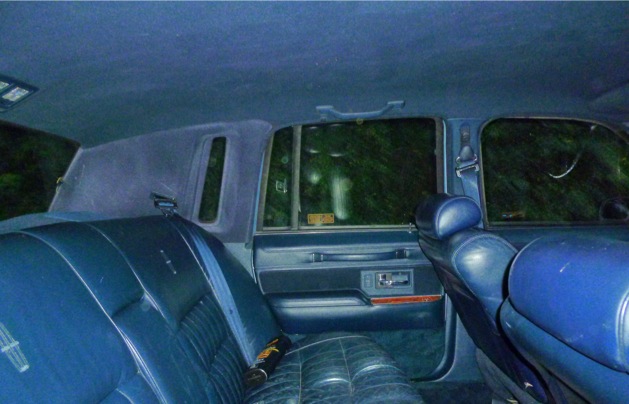 The Lincoln's seatbacks seemed lower but felt more supportive. Even though it was a flat bench, I felt more secure around corners and more deeply cosseted. The whole car felt a bit narrower, however, and this was noticeable when parking and backing out. On paper, the Town Car is only half of an inch narrower, but it feels like more.
Rear leg room was smaller by more than two inches, but considering how massive the Roadmaster is, the Town Car felt "right sized" to me, tidy enough to sprint around town and large enough to cruise the interstates with confidence.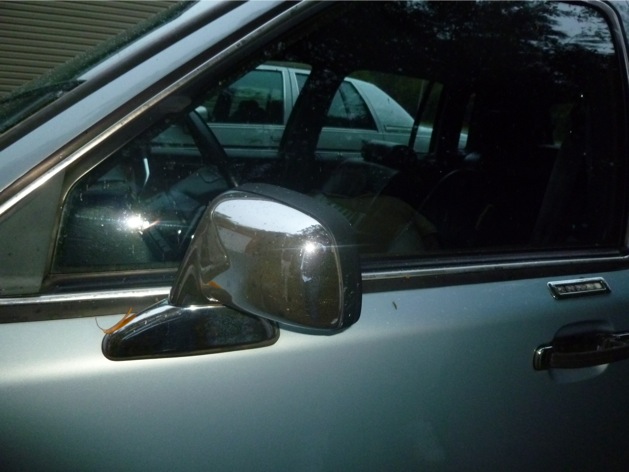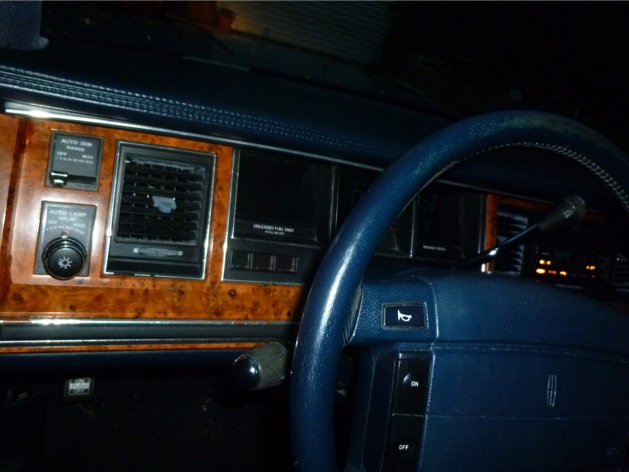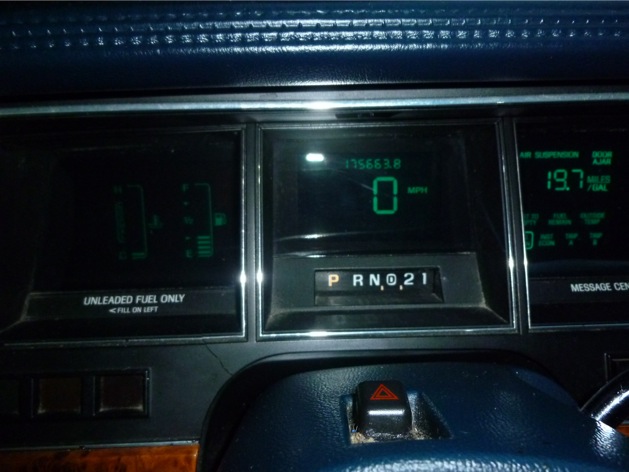 While I enjoyed the Town Car's digital instrumentation, I preferred the calm look of the Roadmaster's analog needles. In later years, the Town Car combined an analog speedometer with a digital information center, an ideal balance of gadgetry and readability.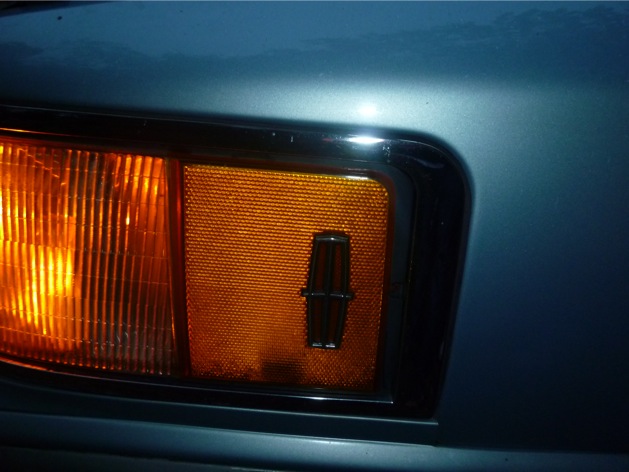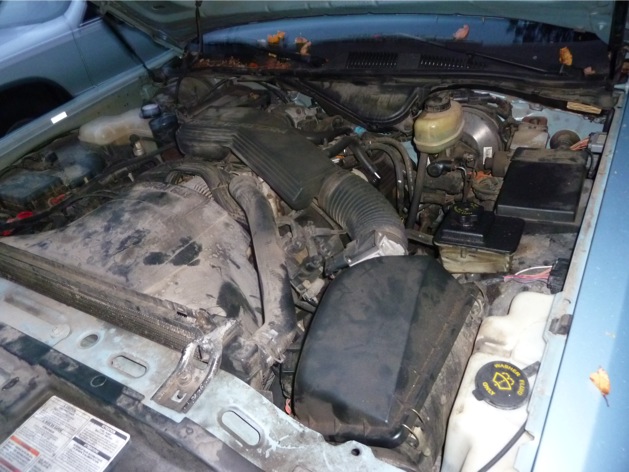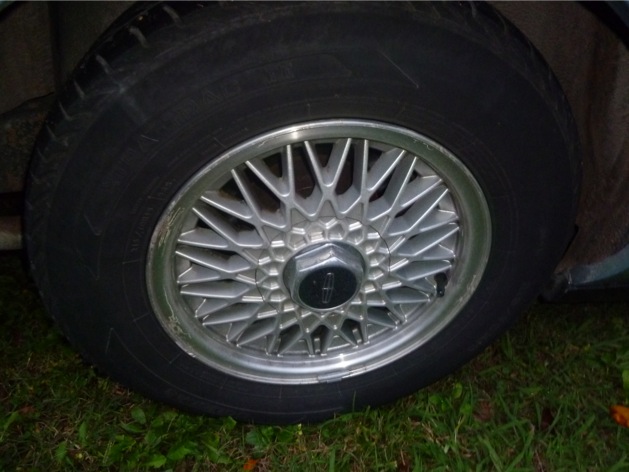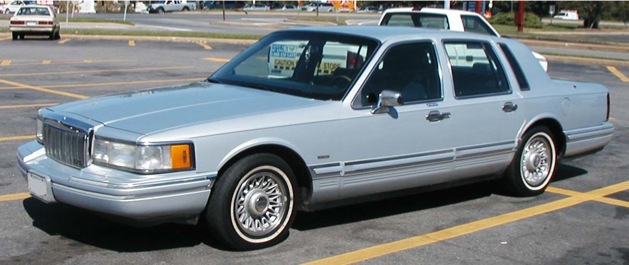 Although the dampers were long past their expiration date, this Town Car felt steadier and tracked down the road more accurately than the Roadmaster. Steering was slightly more precise, though there was plenty of on-center mush, and there were fewer uncontrolled body motions. While the Roadmaster floats, the Town Car glides, offering a more neutral, steadier ride.
Acceleration is respectable. Due to its smaller size and lower weight compared to the Buick, it sprinted to 60 in just over eight seconds, about a second faster than the L05 Roadmaster. [The 1994-1996 LT1 Roadmaster, however, can do it in just over 7 seconds.] Expect highway fuel economy in the mid 20s.
Reliability is a strong point as evidenced by the Town Car's popularity in limousine service, but early 90s examples like this one occasionally suffer from valve seal failure. You can leave it as is with no consequence other than a puff of smoke at startup, otherwise expect to spend $700.
In all, the Town Car feels like a more modern form of transportation. If that's your imperative, then consider this as well as the Lexus LS400. Unfortunately, it lacks the Buick Roadmaster's fat, indulgent, pleasingly excessive qualities, characteristics that define a classic American cruiser.
1993 Lincoln Town Car
Current Mileage: 176,000 miles
Drivetrain: Rear-wheel drive, 4.6L SOHC V8, 190hp, 265 lb-ft torque, 4-speed automatic
Economy: 16/24 mpg
2011 Purchase Price: $1200 w/174k
Curb Weight: 4040 lbs
Problems: Sagging driver's door, valve seals lightly worn, dampers worn.
Positives: Air conditioning and all power accessories work. Very smooth, neutral ride.
Services: None needed.
Ride: 9/10 — Steady and neutral ride.
Powertrain: 7/10
Braking: 6.5/10
Steering/Handling: 6.4/10 — Feels a bit lighter around corners.
Audio/Accessories: 7/10
Interior: 7/10 — Doesn't feel as luxurious as the Buick.
Comfort: 8/10 — Noticeably more wind noise.
Styling: 7/10 — An inoffensive rectangle.
Quality/Reliability: 7.8/10
Overall: 7.5/10
————————————————————————
I prefer the Buick. The Roadmaster's powertrain is a bit more robust thanks to GM's legendary small-block V8 and Hydramatic transmission. The Buick will likely have fewer electrical or mechanical issues and offer slightly better body integrity, owing to the brand's legendary build quality. While the Town Car feels more modern, the Buick feels more expensive with more lustrous paint, additional sound insulation, and higher quality upholstery.
Although it may be easier to find a cheap Town Car, it could have been used as a taxi or limo. Livery service promises fresh fluids and routine maintenance, but the interiors of ex-taxis tend to smell like cheap hotel rooms. Buicks, however, are almost always privately owned, carefully maintained, and unjustifiably cheap to buy. Hold out for a clean Roadmaster and keep it for life.
Alternatives:
93-96 Cadillac Fleetwood Brougham
Oldsmobile Custom Cruiser
Buick Roadmaster Wagon
Lexus LS400
4.9L Cadillac Deville
94-97 Chrysler LHS / New Yorker
Ford Crown Victoria / Mercury Grand Marquis