Review: 2008 Cadillac DTS Platinum
This is the end of the line for American comfort cruisers. The Lincoln Town Car and Cadillac DTS will cease production later this year.
The Town Car ends 31 years of service (on its existing platform) on a sad note, losing features, options, and configurations every year since 2000, with the notable exception of rack and pinion steering in 2003. The Cadillac DTS gained a well-received Platinum edition in 2007 with upgraded interiors and limited-run paint choices, and GM put some marketing muscle behind the car to keep it relevant.
Both cars will be manufactured until summer 2011 when parts supplies run out. Its a sad ending for two quietly pleasing cars.

Fast Tube by Casper

Fast Tube by Casper
The DTS as we know it began as a top trim level for the 2000 Cadillac Deville DTS, a car that sold in respectable numbers on the popularity of The Sopranos and baby boomers that were still young enough to drive. In 2006 the body and interior were heavily revised and the Deville name was dropped in favor of the more European-sounding DTS.
Since 2006, DTS earned several awards for quality and reliability, including a recommendation from Consumer Reports, a publication typically unkind to General Motors and especially Cadillac. The Hamtramck plant in Detroit that built some of GM's worst cars (remember the robots that painted each other instead of the vehicles?) earned several awards from JD Power including "1st Place Plant / Lowest Problems per hundred" in 2010.
I'm sad to see this car go, especially because the front wheel drive 2012 Cadillac XTS that will be replacing the STS and DTS looks like a tarted up Dodge Intrepid.
Enough nostalgia. Let's talk about my test drive.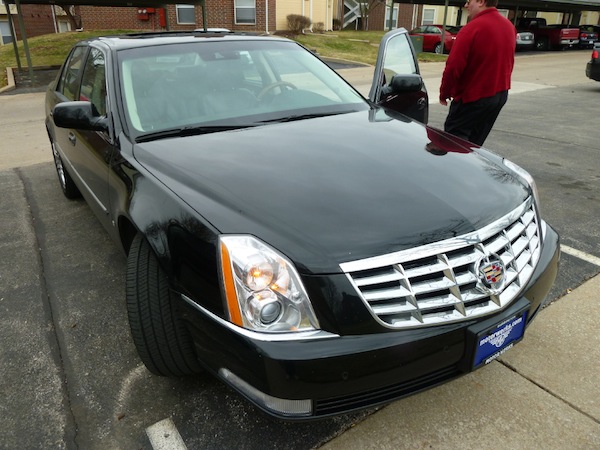 After the 2011 Chicago Auto Show, everyone gets the itch to buy a car. My friend Mike owned six vehicles and decided it was time to unload a few of them and pick up a newer car to go with his Escalade. He headed up to Chicago and took home a 2008 Cadillac DTS Platinum, black with black Tehama leather and light ash wood.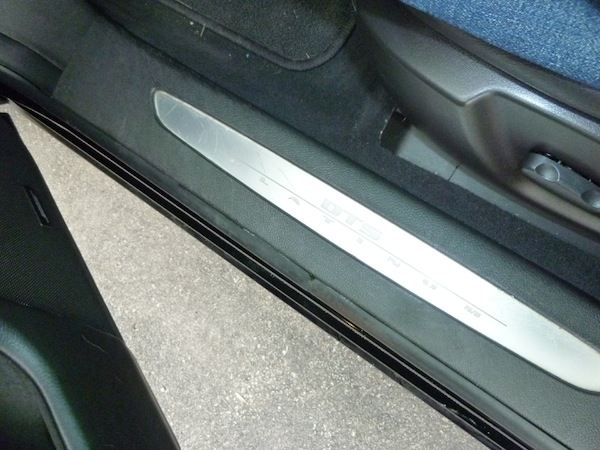 The car had an MSRP of $64300, and it showed. The first thing you notice when you get in is the lighted aluminum rocker panel that says "Platinum." French-stitched leather covers the soft padded dashboard from ear to ear. Platinum also receives a steering wheel with light ash trim and chrome accents.
And then there's the intoxicating smell. If you've ever walked into a high-end leather goods store, you know the scent goes straight up your nose and triggers the pleasure region of your brain. Its the smell of money, a rich and inviting scent normally found in high-end European cars and luxury lounges.
At night, the analog clock gives off a mysterious glow. Here's a picture of the clock in the 2007 DTS I rented years ago: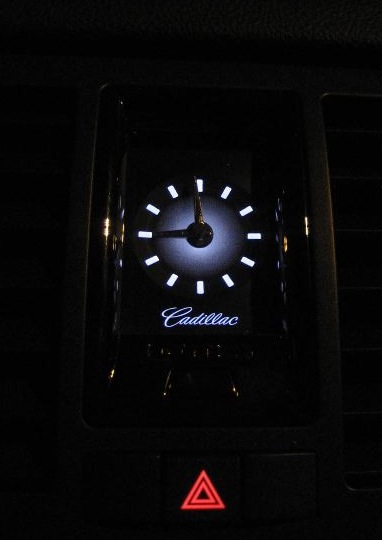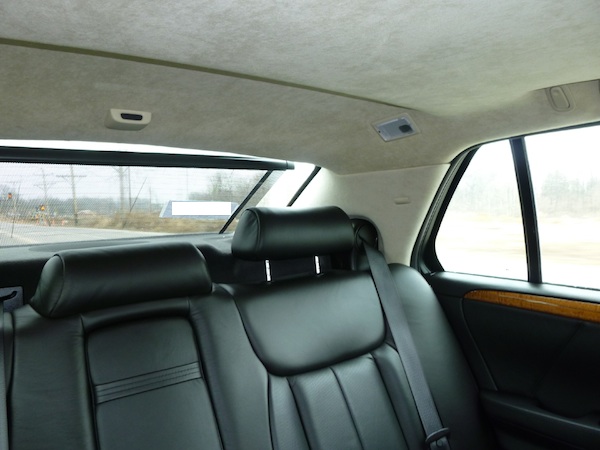 Front seats have a massaging function that moves the lumbar adjuster up and down, forward and back to keep you refreshed. Front seats are heated and cooled. Back seats get heat as well as lumbar adjustment, an unusual treat for rear passengers.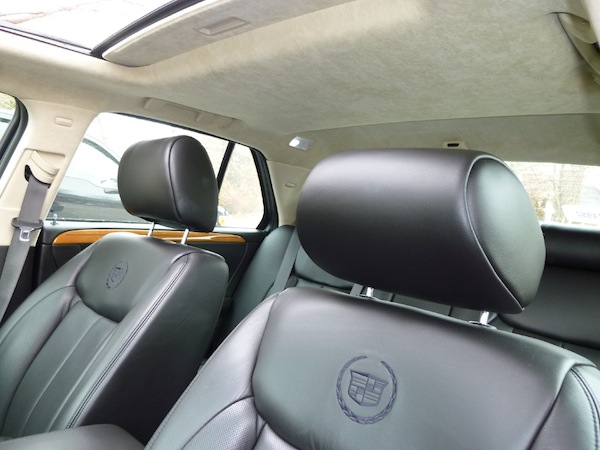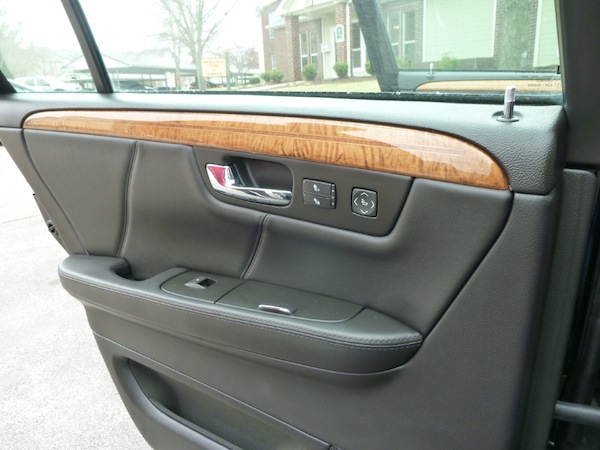 Door panels front and rear are dramatically improved over the standard DTS, with sitched leather inserts and a soft fuzzy material lining the map pockets. Real light ash wood with horizontal accents look exquisite.
The most impressive detail is the expensive Alcantara used to cover the headliner, pillars, and visors. This is a genuinely nice place to be.
These kinds of details separate luxury items from standard consumer goods.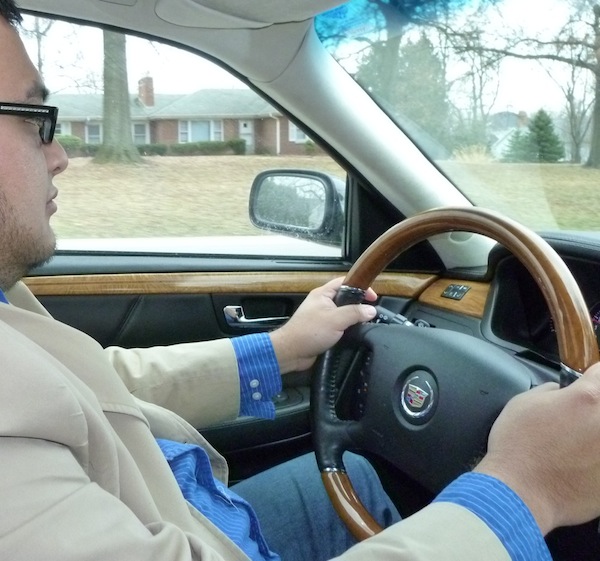 The compromise, you might assume, is that the DTS Platinum will drive like a marshmallow, and you would be wrong. The Performance and Platinum versions of the DTS receive Delphi's Magneride which firms up the suspension quite dramatically when cornering, using a charged fluid to stiffen the ride and reduce body roll. The technology is also used by Ferrari, Audi, and the Corvette. Magnasteer noticeably increases steering effort at higher speeds and while cornering.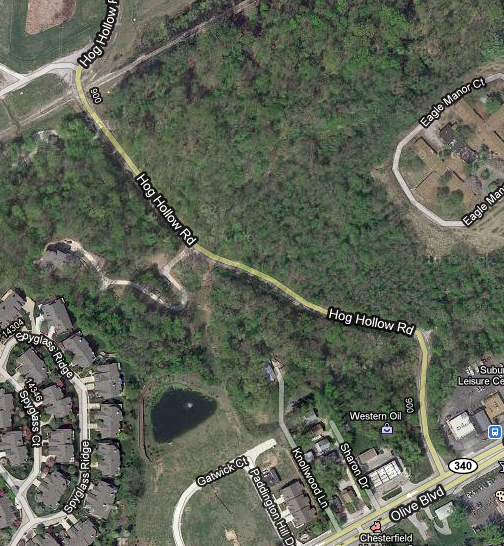 Winding down Hog Hollow Road, which goes straight downhill and has a few curves, I felt completely in control. While it was nothing like a BMW 3-series, the nose-heavy DTS did what it was told without drama or fuss and felt like it was willing to take on more. Compared to the base model 2007 DTS I rented years ago, Magneride made a dramatic difference.
Performance and Platinum DTSes receive a 292hp version of the front-wheel drive Northstar V8, an improvement of 17hp, and it shows. Its easy to pull into traffic or pass on the highway, with the satisfying deep growl of the Northstar entering the cabin at full throttle.
Unlike my 2001 Seville STS, which has brakes that feel a bit mushy, the DTS has linear pedal modulation and a nice bite at the beginning, but not such a strong bite that it upsets the ride. It certainly doesn't feel like it weighs 4009lbs.
Unfortunately, for city folk, the DTS has a massive turning radius, which makes the car feel much bigger than it is. Fortunately, here in the suburbs, most of our mall parking is diagonal.
As for gadgets and gizmos, it has a power rear sunshade, the previously mentioned heated and cooled seats with lumbar front and rear and a massaging function, bluetooth, Onstar, XM, navigation, front and rear park assist, and a Bose sound system. The Bose system gets the job done, producing more bass than the standard DTS, but its nothing earth-shattering. Unlike past Devilles and Sevilles, the LCD display is cleanly blended into the center stack. Buttons are large and easy to use.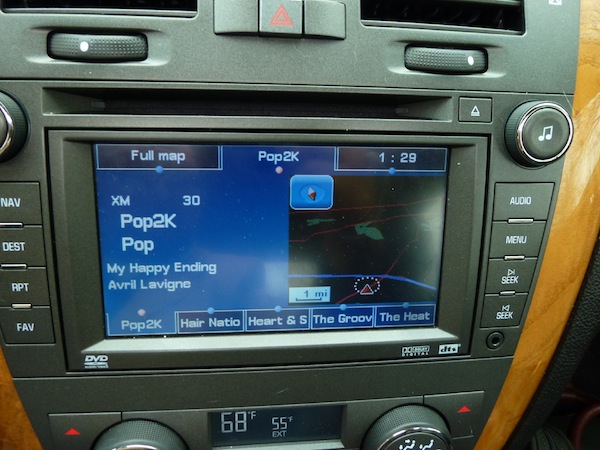 Expect 20-22mpg on the highway, which is where this car belongs. The DTS is a heck of a way to see America and the last of a dying breed, unless you count the Hyundai Equus and Genesis. It figures that GM would finally get something right and then discontinue it.
Ratings:
Ride: 9/10 — Magneride stiffens the suspension a bit but not excessively so.
Powertrain: 8/10 — The Hydramatic transmission only has four speeds, but torque is sufficient enough to make up for it. Gears change responsively.
Braking: 8/10
Steering/Handling: 7/10
Audio/Gadgets/Accessories: 8.5/10
Interior: 10/10 — Did I mention the Tehama leather and light ash wood? I'll mention it a tenth time in case you missed it.
Comfort: 10/10
Quality/Reliability: 9/10 — Cooling system issues with the Northstar seem to have been resolved for this generation, and quality surveys reflect it.
Overall Value: 10/10 — This is the used luxury car bargain of the decade. If you find one, buy it.
————————————————-
Additional pictures of this 2008 DTS Platinum:
————————————————-
For comparison, here are pictures of the standard 2007 DTS I rented years ago:
————————————————-
A couple brief videos of me driving the 2007 DTS (275hp) four years ago:

Fast Tube by Casper

Fast Tube by Casper