Reality: Actually Owning A Miata
Fall, 1990.
I was nine or ten years old, milling around at Auffenberg Mazda in Fairview Heights, Illinois. My parents were signing papers on a new B-series pickup and the process seemed to take an eternity. This was their first Mazda (they were typically Nissan people) and like always, they negotiated hard.
I walked around the shop poking, prodding,, being an annoying child in general when I walked up to a red Miata in the showroom. The buttons on my jacket lightly brushed up against the steel body, making a metallic contact noise, prompting a salesman to tell me to step away from the vehicle.
Naturally, being told I can't ruin something only makes me want it more (apologies to the women I've dated) and since then I've been fixated on the MX5.
I knew nothing about it except that it was small, red, and had an open roof. It could have been powered by a lawnmower engine and I wouldn't have been less impressed at that age.
As a kid, however, you aren't thinking about prestige, comfort, or the need to carry people and cargo. Your youthful spine doesn't require the soothing warmth of heated seats and your frosted fingers would rather throw snowballs than indulge in a heated steering wheel.
And as we get older, we fixate on jewelry, timepieces, the color coordination of our curtains and countertops, and the thread count of our sheets. We become increasingly disconnected from nature as we distance ourselves from simple joy.
A part of who we are and who we were born to be dies in the pursuit of ever-greater refinement.
Consider this a return to basics, an automotive "Walden" that scrapes away the complexities of adulthood and restores the joy of riding a bicycle downhill with a baseball card in the spokes, streamers fluttering in the wind.

Fast Tube by Casper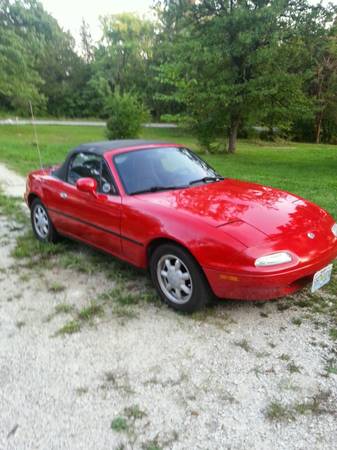 I didn't scour the earth looking for an ideal example the way I did when I bought my silver Cadillac Seville. This little red Skittle was owned by a guy in Illinois who liked to tinker with cars (a serial trader like myself), asking a reasonable $2800. I took it for a quick spin, came back impressed, and snagged it for $2550 with a clean title in hand. No bullshit, no hard sell, just a wad of cash in exchange for a teaspoon of car.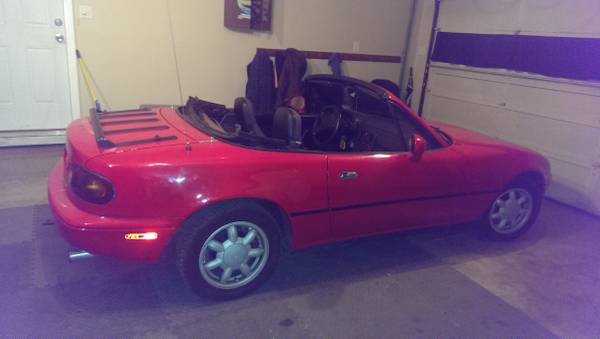 In addition to being rust-free it came with new brakes, new fluids, a fresh paint job, new tires, a new fuel pump, and functional AC. That's right, the AC still worked! And at 155,000 miles, I had at least another 850,000 to go.
It even comes with speakers in the head rests and what appears to be a dealer-installed luggage rack.
The little hitch bar sticking out underneath the rear bumper, however, was an oddity. I can't imagine towing much more than a small trailer full of suitcases.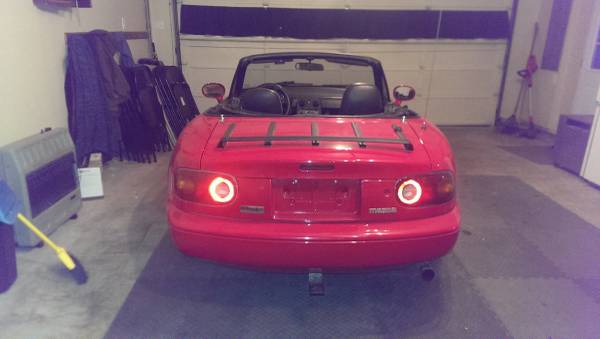 This car, most importantly, had to be more than the fulfillment of a long-delayed childhood dream. This was going to be my only car, the vehicle that would take me to and from the office, to grad school, and all over the country. It had to be more than a toy. It had to be a loyal and usable means of conveyance.
On regular commutes I discovered… civility? At 5'9" and [too many] pounds, I fit nicely in the well-bolstered driver seat. My arms and legs meet the shifter, steering wheel, and pedals at just the right points though my large shoes have to slide under the clutch to get to the dead pedal.
Even with the top up, it's loud at highway speeds. Wind combined with an engine "cruising" at over 3000rpm could be fatiguing on long trips, but the ride is astonishingly forgiving and tracking is straight and true.
So it succeeds as a daily driver. What about people, cargo, and the basic needs of adult life?
Well, forget about having any friends and if you travel, pack lightly. A third of the trunk is occupied by the battery and spare wheel leaving just enough room for two large soft bags. Even my laptop bag is a tight fit.
But that didn't stop me from Tetris-packing it the night I moved across town in December.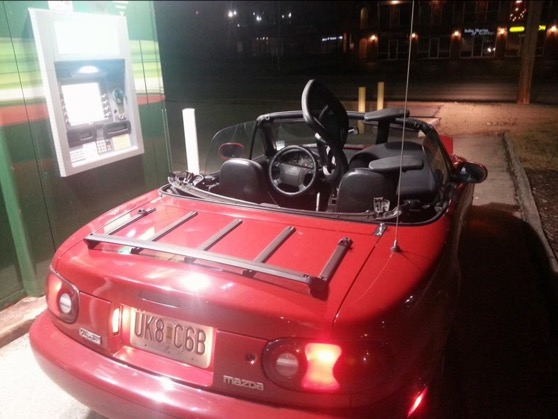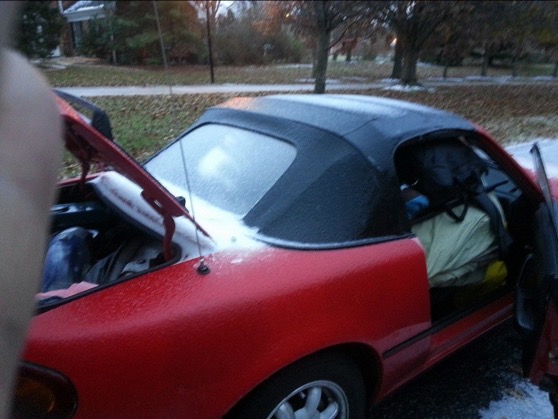 I borrowed my mom's Infiniti QX56 to haul the bulk of my largest items while the Miata was stuffed in every possible space with clothes, folding furniture, computer items, my mattress pad, and dog.
Yes, my beagle is in this picture. Bonus points if you can point him out.
Note also that in this photo, the body is coated in a thick sheet of ice from a evening of freezing rain. It would be dishonest to claim that the Miata has any kind of prowess over snow or ice, but somehow I've managed to get by without losing control, landing in ditches, or crashing into guard rails the way so many cocky Subaru Impreza owners do.
Finally, does the Miata live up to all of my childhood fantasies? Yes, absolutely, except for the part where I drive to work every day instead of the beach.
There will always be sharper, faster, better looking, and more lively sports cars, all with higher price tags, but few of them have the charm, cult following, accessible limits, and dependability of the Miata.