Slumming It: 2014 Chevy Spark
I have no ill will toward cheap cars, I promise. If you read my take on the Geo Prizm, you'll see that I gave it a 10/10, high praise from a die-hard Cadillac guy who scrutinizes wood trim and leather aromas.
There was a 3-day gap between the day I sold my Deville and the day I picked up its replacement, a disparately different Mazda Miata. While I searched for that Miata, I needed a way to get myself to karaoke bars and Chick-Fil-A. As a proud American, I sure as heck wasn't going to do it on a bicycle or *gasp* on foot like a filthy communist.
So, the fine folks at Hertz hooked me up with a Chevy Spark. My other rental option was an Aveo and knowing what we all know about that rolling tribute to poverty, the Spark was an easy choice. Having recently driven the spectacular Sonic Turbo, I knew Chevrolet was finally capable of building a competent small car. The Spark, however, was a size and price class below the Sonic, delving dangerously into third-world minicar territory. This looked liked the kind of a car an upper middle class family man in Vietnam would buy to cart his family around. Yes, Vietnam, a place where motor scooters are the norm and fully enclosed cars are still a luxury.
Since the arrival of $3.50 gas as the accepted norm (though prices have dipped to $1.98 as I write this) most Americans, myself included, have quietly come around to the idea of an economy car as mainstream transportation for respectably employed people rather than a form of punishment for poor life choices.
Rising tuition and living costs combined with the aftermath of the Great Recession have most of us aspiring less to the Escalade and more to anything that isn't a bus pass.
I pulled up to the Hertz counter at St Louis-Lambert International with low expectations. Seldom does the bottom-rung rental category promise anything remotely interesting, maybe a Mazda 2 if you're lucky. Rental companies have a knack for categorizing cars in creatively confusing ways, coming up with nonsense like "Standard" and "Intermediate" for midsize sedans while breaking economy cars into "Compact" and "Economy."
It's a meaningless structure to designed to screw with your head, empty your wallet, and give artificial to status to entirely pedestrian cars.
But I digress.
The ladies at the Hertz counter were a delight, helpful without being pushy. I took my key fob and wandered into the parking lot looking for stall number 55. Renting a car is a lot like going on a blind date, a ritual defined by hope, anticipation, and frequent disappointment.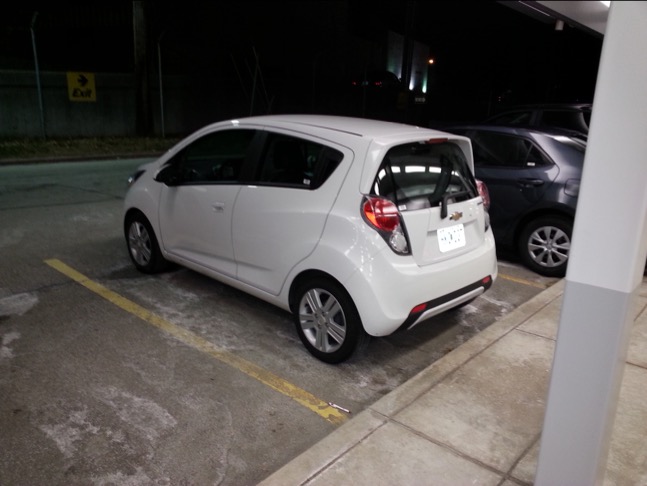 Naturally, I set my expectations low. While we recognize Chevrolet as a leader in trucks, its track record with small cars — Cavalier, Chevette, Aveo, Vega, and Citation — has been sorely disappointing, sending millions of loyal customers into the arms of Honda and Toyota.
I slipped easily into the tall cabin, low to the ground but upright like a cargo van. With your back straight and your arms directly in front of you, being in the Spark feels like sitting down for a turkey dinner. Of course, your mom's dining table doesn't come with motorcycle-inspired digital gauges or a MyLink touch screen with XM, USB input, and Bluetooth audio.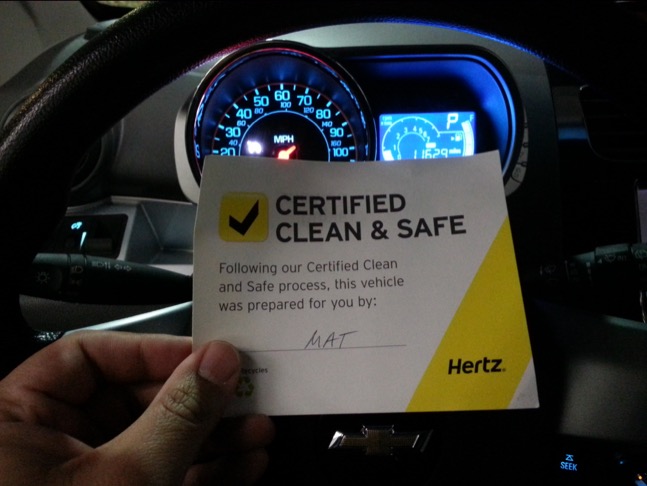 Thank you, "Mat"
Unlike some of my past experiences with Enterprise, Hertz does a commendable job of keeping its cars clean and even notes the name of the porter who inspected and cleaned it.
Perhaps as an ode to millennial norms, Chevrolet's MyLink infotainment system is knobless, using large touch "dimples" to control the volume. They, along with the touch screen controls, require a firm push, more like real buttons than the ultra-sensitive surface of an iPad. Presumably, this was to prevent accidental "clicks" with the vehicle in motion.
Thankfully, the 1LT trim level comes with redundant steering wheel controls. Once you plug in your USB flash drive, you simply set it to shuffle and hit the road, changing tracks and adjusting the volume with your finger tips at the wheel.
There's just enough power to overcome some of the wind and road noise, of which there is plenty, but at higher volume levels it quickly becomes distorted. As for bass response, there isn't any. That's a shame because loud and clear car audio, as we learned from our high school days in beater Tercels and Sentras, is enough to compensate for a lack of real driving enjoyment.
While it seems, thus far, like driving the Spark is a woefully miserable experience, it isn't. What it lacks in total comfort and refinement it makes up for with reasonably communicative electric steering and competent handling. You can throw the Spark around corners and, thanks to the wheels being mounted in the far corners of the chassis, it stays planted and secure, or "grounded to the ground" as Camry owners might say.

Fast Tube by Casper
The upright seating position, however, makes you feel as if you're leaning hard in corners, like your elbows are about to scrape the pavement. But like Michael Jackson in "Smooth Criminal," you can lean until your nose is sniffing the asphalt — rest assured that you are not going to tip over.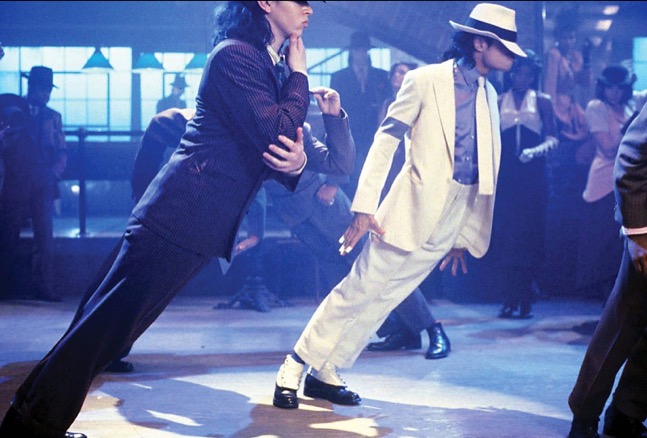 Once you finally reach highway speeds (it takes somewhere in the neighborhood of 11 seconds with a two-stage CVT), you get the feeling that you don't quite belong there. Steering that's quick and lively in the city becomes slightly nervous as you try to maintain a straight line over uneven pavement with winds rocking the tall, lightweight (2370 lbs) body side to side.
Acceleration feels better than numbers would suggest thanks to GM's two-mode CVT, utilizing two output ratios to improve performance. Romping on the gas from a dead stop, the 84hp 1.2L four-banger responds quickly (and noisily), making 0-30mph stoplight runs a breeze. You can feel when it shifts into its second output ratio, taking on a more relaxed demeanor as the CVT adjusts its ratios to deliver lackluster 30-60mph performance. It was fine for St Louis, a large city with some of the easiest commutes in the country, but I would feel uncomfortable merging aggressively into LA traffic.
With my heavy right foot, I averaged 34mpg. Not bad at all.
Fortunately, the diminutive footprint makes slipping into gaps in traffic a breeze. Parking is easy thanks to clear outward visibility, a reasonably tight turning radius, and a narrow body. Touted by Chevy as a city car, the Spark's natural home is an urban parking garage.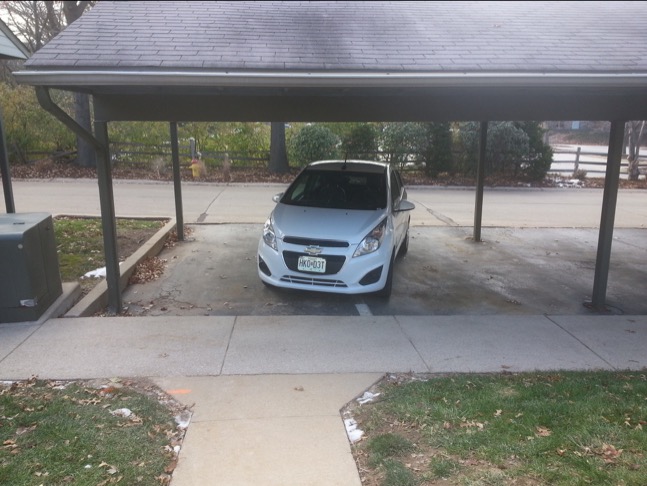 Years ago I acquired these two parking stalls to accomodate one Lincoln Navigator. The Spark could have parked sideways in slightly more than one space.
The oversized headlamps further emphasize the Spark's tiny footprint, like a toddler wearing his dad's work boots (aww, how cute!), and the narrow wheels are slightly undersized, almost roller skate-like in proportion. The designers did their best to mask it with accent lines and wheel arches that sweep backward, giving it a slight sense of length.
While the body struggles to express itself with artificially broad shoulders, interior packaging is clever with room for four normal-sized adults and a few soft bags. I wouldn't take any back seat passengers across the country but if you're in charge of your carpool, you'll find the interior perfectly usable. Yes, really. You can put adults in the back seat as long as front passengers are willing to adjust. As the airlines discovered years ago, upright seating makes it possible to cram more people into a smaller space.
The rest of the interior is decorated in cheerful body-color trim, unpleasantly hard plastic surfaces, and plenty of storage for textbooks, drinks, sunglasses, and mobile phones.
So what do we make of this… thing? Well, consider the price. At around 15 grand, you're getting a brand new car with a warranty, a touch screen infotainment system, an automatic CVT, and standard power accessories. You are not, however, getting much of a statement.
The other problem is that if you're willing to forego power windows, an automatic transmission, and MyLink, the Chevy Sonic is roomier, more refined, and more livable on the open road for about the same price. And let's not forget about how much amazing used car you can get for that kind of money like a Cadillac CTS, BMW 3-series, or Mercedes C-class with an aftermarket warranty. Expect to fully utilize that warranty though as fancy cars have fancy problems.
It's a tough call but against other budget cars like the Hyundai Accent, Nissan Versa, Toyota Yaris, and the entirely unimpressive Mitsubishi Mirage, the Spark holds its own with grown-up options, a nimble chassis, class-leading safety scores, plenty of room, and styling that its entry-level competitors lack. Hold out for a heavily discounted clearance model and you could end up with the deal of the century.
Did GM finally come up with a small car worth buying?
Yes, absolutely. Pardon me while I step outside to see if the sky has fallen.
PROS:
Color choices
Passenger space
Fuel economy
Price
MyLink infotainment
Safety
Practicality
Somewhat lively steering
Styling that tries to impress
CONS:
Try-hard styling
Awkwardly upright seating
Perceived lean in corners
Somewhat brittle ride
Unimpressive sound system
CONCLUSION:
With the Spark and Sonic, Chevrolet finally has small cars that sell for reasons other than price.
OVERALL: 7/10