Review: 1988 Ford Mustang LX 5.0 Convertible
One might use this as an opportunity to bring up Vanilla Ice, the rapper-turned-Kawasaki-dealer of "Ninja Rap" fame who wrote a song dedicated to his white Mustang "Five Oh."

Fast Tube by Casper
Gross.
I prefer to associate the cleanly styled Fox Body convertible (named for the Ford Fox platform that underpins this Mustang) with Alicia Silverstone and Liv Tyler, as seen in Aerosmith's 1994 music video, "Crazy." Silverstone runs across a field with Tyler, pleated skirts fluttering in the wind. Like acrobats they jump into a topless black 5.0 without opening the doors, a move reserved for the slim and youthful, a move that would send someone like myself to urgent care.

Fast Tube by Casper
The two embark on a "Thelma and Louise" adventure of mischief and crime with stripping, shoplifting, seedy hotel rooms, skinny dipping, and a naked farm boy. It's a raunchy story about friendship and youth made possible by an American muscle car, the kind of freedom-themed, fist-pumping, "fuck yeah!" fable that would have been pretty awkward if it featured, say, a Honda Accord.
Ford couldn't have asked for better advertising.
Liv Tyler auditioned for the role independently, hiding the fact that her father was lead vocalist Stephen Tyler. Only after the video was produced did he discover that she was chosen for the role. Unfortunately, Dean Kelly, the guy who played the farm boy, was convicted of rape and possession of child pornography.
Crazy indeed.
————————————–
The video is spot-on with its depiction of the Mustang, muscular and brutish with a just-right serving of raw unrefinement. Like Aerosmith, the smooth-riding Fox Body convertible has a rebellious edge that's still mass-market friendly, brash and bold despite considerable commercial polish.
This is the kind of car you buy to tell everyone you're a total badass, to announce to cops and pedestrians that you're a bold alpha male who eats granite for breakfast and flosses his teeth with sections of chainlink fence.
In reality, aside from teenage boys who race up and down public streets, Mustang guys tend to be pretty decent folks.
Despite the bravado associated with domestic V8 muscle cars, the Fox Body isn't particulary rough around the edges, not the way older Camaros and Firebirds are with their buckboard rides, rocket ship seating positions, crummy interiors, and heavy steering (I say this as a fan of F-bodies) — you need a little hair on your chest to live with those on a daily basis. Sure, there's enough torque to do burnouts without touching the brake pedal and the notion of a wobbly, open-top car is kind of edgy and dangerous in its own right but otherwise, the 5.0 is an easygoing cruiser that happens to have a chiseled, boxy exterior. Its wide pillowy seats and light, accurate steering are as comforting as chicken noodle soup in a Chicago ice storm.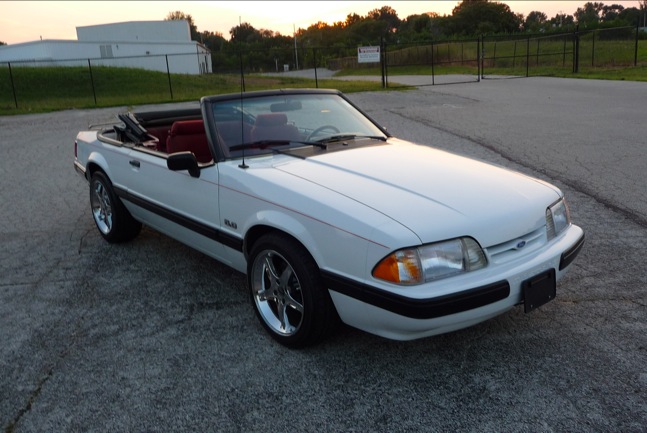 This in turn means that most of the adult-aged men who drive these cars are likely to be in stable relationships, earn a decent living, and have a chocolate lab or two as pets. Their other car is an innocuous "thing that carries people," maybe a Tahoe or Focus. They're also into baseball, beer, outdoor grilling, and supporting the troops no matter what.
While they're inclined to cruise suburban boulevards blasting Black Sabbath and Iron Maiden while their blatty aftermarket exhausts draw scowls from the elderly, Mustang guys always come home to their wives or girlfriends, subjecting themselves to shitty Hugh Grant romcoms on Netflix… because she insists… because he wants her to be happy…. because Mustang guys become nice, normal people once they park their cars.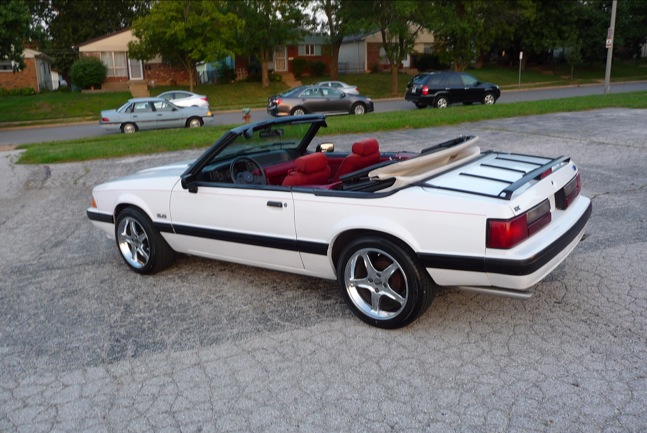 This particular Mustang, a white 1988 LX 5.0 convertible, was sold to a collector and enthusiast in the spring of 2014. A babied local car with just 42,000 miles, it idled like glass and hummed like a sewing machine. Registration data backs the validity of the mileage and the keychain features a variety of tags from local Ford dealers, most of which are extinct.
And although these chrome Cobra wheels are a bit garish, the styling of the LX trim stands the test of time far better than Vanilla Ice's GT. With an aggressive underbody aero kit and louvered tail lights, GTs were a sporty-looking choice for the 80s but a little over the top for 2014.
Unlike the round, quickly dated bubble body that followed in 1994, Fox Bodies are pleasingly restrained with clean, rectilinear lines and tasteful black trim. Unlike the "I drink Natty Light and play with fireworks" Camaro, this Mustang LX convertible today could be valet parked without being terribly out of place, a respectable classic that's civilized enough for civilized people.
It's patriotism and pride without the off-putting arrogance.
An exhaust upgrade on this one brings to life a 225hp (300 lb ft) 4.9L (marketed as 5.0L) V8 with a smooth baritone roar absent of blatty, raspy, or otherwise cacophonic noises. A light step on the Go pedal produces an all-encompassing tone that encourages heavy use of the throttle, negating the unexpectedly decent highway fuel economy — 24mpg.
While enthusiasts prefer the manual, the cruising-oriented convertible is best enjoyed with the smooth AOD 4-speed automatic. Shifts arrive without delay, delivering promptly on requests for passing power while easing into a fuel-sipping overdrive mode at normal highway speeds. It is, like most older autos, prone to some defects, but thanks to wide deployment in every rear-drive 1980s Ford/Lincoln/Mercury product from the F-150 to the Continental, spares are plentiful and most transmission shops have experience with rebuilds.
————————————–
Though convertible Fox bodys are ill-suited to autocross events due to structural weaknesses, they stand out as touring cars, offering long-distance comfort, a compliant ride, and room for two small suitcases. Upright seating makes every day use a reality, sparing "American-sized" motorists the embarrassment of opening an exceedingly long door and rolling out at ground level like gravy that's spilled over the side of a dinner plate.
Though handling is perfectly commendable, capable of being pushed around corners with reasonable predictability and a good sense of control, it's no Mazda Miata. This is about style, comfort, and laid back enjoyment, a means of soaking up thousands of highway miles across the country and up the California coast. You want to look at it, be seen in it, and arrive at your destination with minimal fatigue.
As a place to spend hours at a time, the spartan cabin is surprisingly pleasant. A 'whorehouse red' cloth interior is restrained by a black instrument panel, center stack, and steering wheel, a throwback to the white-on-red 1955 Thunderbird without being garish and tacky as cars from the 70s and 80s tend to be.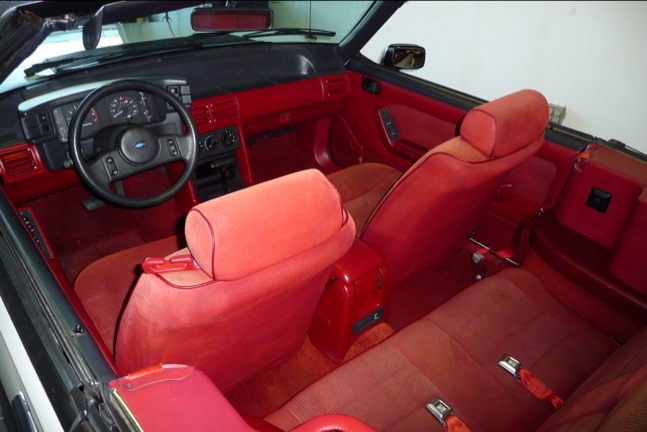 Although domestic cars from the Reagan area have a reputation for being cheaply built, the Mustang's interior is unexpectedly buttoned down and tightly assembled. Switches and knobs feel sturdy and firm, a noteworthy contrast to some of GM's switchgear, particularly the wobbly multifunction wiper/turn/cruise stalk that was found in everything from Chevy vans to Cadillacs.
The steering column and manually tilting wheel, featuring neatly arranged cruise control buttons, are covered in quality plastic and vinyl while clearly marked gauges are flanked by large, chunky switches for lighting and convertible top operation. Climate controls are obvious enough to use with three simple knobs and an air conditioning system that will freeze your nose hairs.
While this hardly compares to the sumptuous cabin of a modern Mercedes S-class or even today's Mustang, nothing inside sticks out as cheap or ill-conceived; every gauge and switch is thoughtfully positioned and clearly marked. In terms of interior quality, it's certainly comparable to European luxury coupes of that era including the BMW 6-series.
————————————–
Though I favor GM over Ford, I've always had a fondness for Mustangs. They find a way to be both urbane and edgy while appealing to a diverse mix of people. They're among a tiny handful of cars you'll find on both college campuses (V6 coupes) and the garages of older, wealthier car collectors (Shelby GT500), a triumph of design and marketing brilliance.
Some would rightfully complain that the Fox Body lacks a visual connection to the iconic original that debuted in 1964. Aside from classic rear-drive proportions with the engine in front and the front axle far forward of the windshield, little of the design borrows at all from the Mustang's storied past. However, as time passes, the car's identity becomes increasingly distinct, a mechanical representation of my generation, the last Americans who grew up playing outside until the street lights came on, when children were free to explore (as long as we checked in) and helicopters were aircraft, not parents.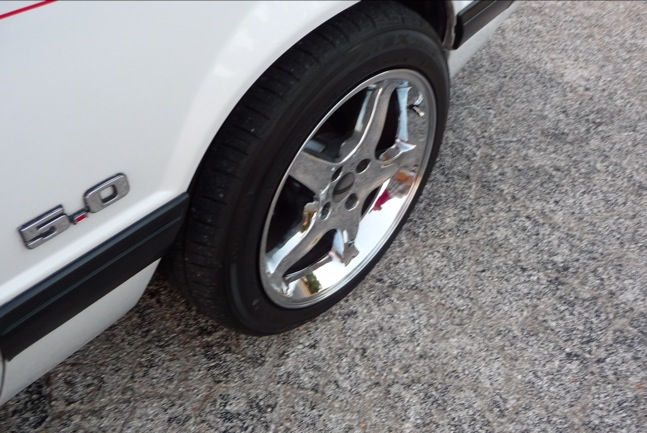 Looking back on the 1980s, we tend to remember disasters like the Renault Le Car, Cadillac Cimmaron, and Walter Mondale but it isn't until you sit behind the wheel of this Reagan-era Mustang that you start to think, "Hey, maybe those really were the good old days. Maybe we did build this city on rock and roll."
Most importantly, like the 1964 original, it adheres to Lee Iacocca's mission of offering stylish and sporty transportation without being costly or pretentious. It's as down to earth and purely American as ranch dressing and George Strait (separately, not combined).
Here's a video from when it used to be for sale:

Fast Tube by Casper
Above: Ian on a test drive.