1988 BMW 325i E30 Convertible – California to Missouri
The BMW 3-series is as ubiquitous in coastal California as the Buick Lesabre is in Wisconsin. In SoCal, owning a BMW, any BMW, is a statement that says you've made it, or at least made it far enough to afford a cheap lease payment on a stripped down sedan with a propeller badge. It's the bare minimum for keeping up with the rest of stylish Los Angeles, a social point of entry that says "I have something" without necessarily having much of anything. Vanity for vanity's sake.
Classic BMW enthusiasts, on the other hand, are do-it-yourselfers who prefer part-swapping to peacocking, who will tell you that greatness is spelled "E30" rather than "GUCCI."
These are people who love automobiles for the way they mechanically function and feel, for whom twisting mountain roads, hairpins, and S-curves are a transcendental experience.
This is a story about how I lived and went to heaven.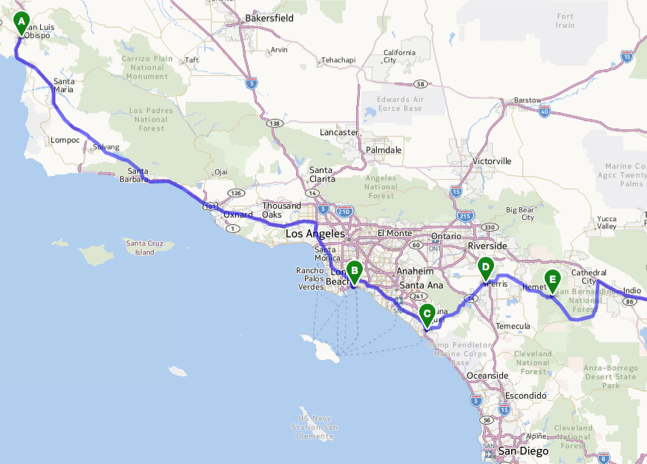 Back in March, Ian and I flew out to California and picked up an E30 convertible for a business partner, acquired from an estate sale and mechanically refreshed by a shop in San Luis Obispo.
As I approached the security checkpoint at Lambert Field in St Louis, I realized I left my drivers license at the DMV, of all places, where I went to request a copy of my registration the week before. As I nervously snaked my way through the security line, I rifled through my bags and wallet looking for anything that might serve as alternate ID.
No passport… no student ID… nothing with my name and photo on it except my COSTCO MEMBERSHIP CARD. At the booth, I nervously explained my situation to the TSA agent. My Costco card had a blurry, heavily pixelated black and white photo from 2007 that was just enough to get me through.
A brown-skinned guy with a foreign name and strong ties to libertarian groups successfully boarding an airplane with a warehouse membership card… I should have bought a lottery ticket that day.
After deboarding on the tarmac in Long Beach, I immediately took notice of the stiff way Southern Californians walk, adorned with massive black sunglasses, the eyewear of choice among plastic surgery enthusiasts and cocaine aficionados. Think of flamingos prancing around with breast implants and shades.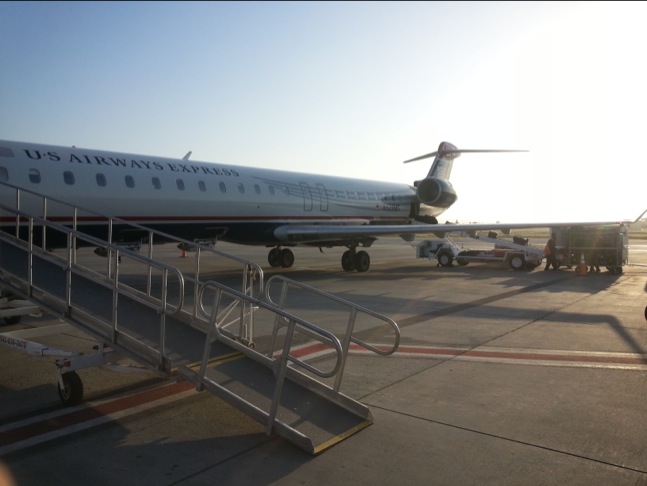 After collecting our luggage we wandered over to the Budget/Avis counter and ended up with a Kia Soul because Ian required a working XM subscription. I would have preferred something more comfortable or interesting to drive like a Mazda 3 but I figured it was an opportunity to take a three hour nap.
Unfortunately, the Kia's short wheelbase and California's ill-maintained freeways interrupted my slumber, doing their best to remind us of how rough California's highways were, as if Caltrans was competing with Michigan for a "Worst Pavement" trophy.
Instead of dozing off quietly I was kept awake as my teeth literally chattered over surface imperfections.
Thankfully, the stereo was crystal clear. We'll talk more about the Soul in another review.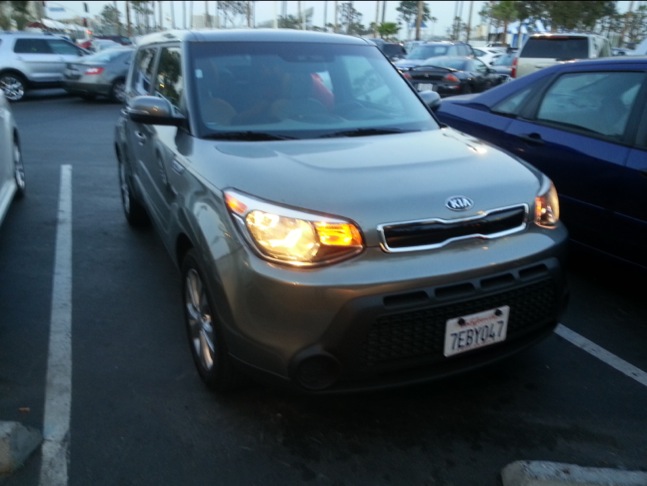 That night, in Thousand Oaks, I saw a Tesla Model S racing a Ferrari 458 at a stoplight. What blew me away wasn't the scorching sound of the 458's 4.5L V8. Rather, it was how a domestic hatchback with seating for seven was neck and neck with an Italian exotic, keeping pace without burning a sip of fuel.
Score one for Team America.
————————————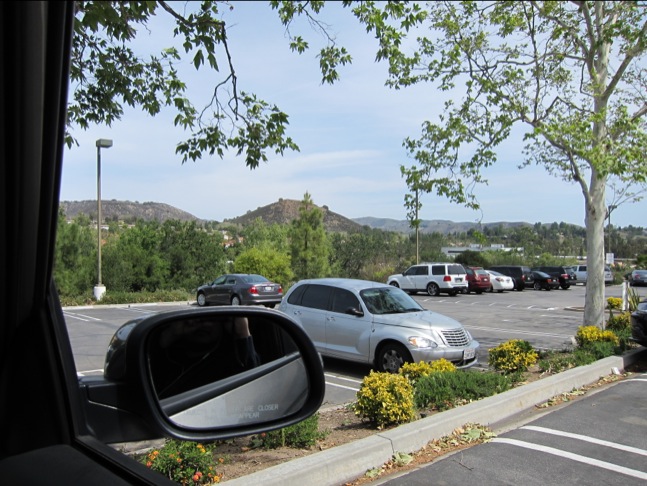 The following day we checked out of the Sheraton in scenic Thousand Oaks and drove up to San Luis Obispo. Upon arrival we were greeted by the shop owner who went over the bits that were replaced.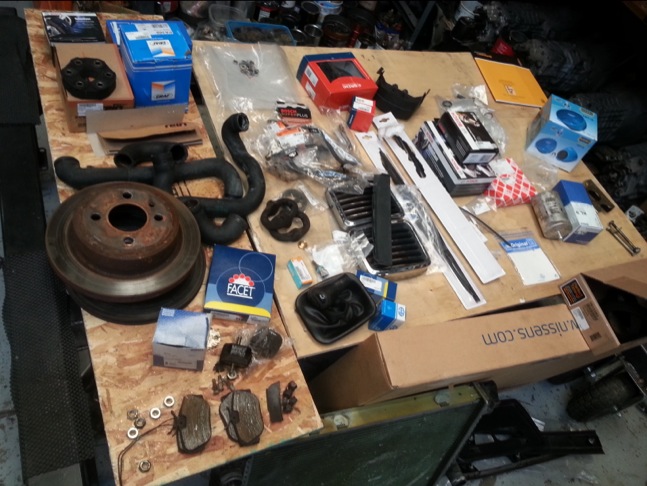 This 26 year old BMW needed a bit of refurbishing, nothing serious, and was completely rust free. Through and through, it was a properly clean California car originally sold at a local BMW dealer in SLO. Pictured above are brakes, bushings, hoses, minor cosmetic bits, wipers, knobs, boots, o-rings, filters… just about anything a car with 120k may need for a drive across the country. Later on we had some suspension work done to resolve some front end squeaking.
BMW's M20 inline six is a stout little engine, compact and light with a reputation for doing hundreds of thousands of miles. I once owned a 1990 525i sedan, equipped with the same engine, running strong at 230,000 miles. Other than timing belts and oil changes, this indefatigable motor needs nothing.
We looked over some receipts and discovered that before the original owner passed away, he spent $6000 on Dinan upgrades including a chip and exhaust, bumping the 325i from 169hp to a hearty 175-180hp. It also came with a copy of a death certificate. This gentleman worked for PacBell for decades as a utility worker, back when being employed by a phone company came with now-exotic perks like a pension.
Thoroughly satisfied, I slapped on a dealer plate and hit the road. With legendary California weather being what it is, I cracked open the top.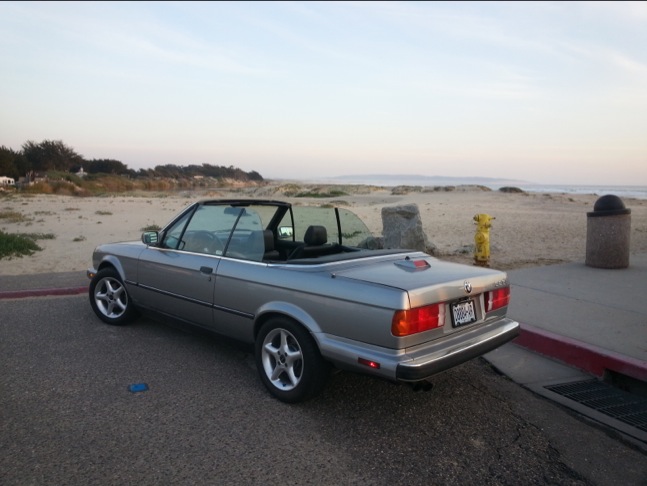 Unlike modern convertibles with origami hardtops that work their magic through hydraulic lines, sensors, and electric motors, this E30 functions manually (a power top was optional).
You first undo a latch at the header, then you fold back the front part of the fabric roof. Then, you pull a handle on the inside of the rear passenger seat area to released the tonneau cover and pull another latch to open it completely. Once you open that up, you tuck in a section of fabric by pulling a metal bar and folding the top in, snapping the tonneau cover shut.
It sounds complicated, and it is.
The E30's styling lacks the quirky niche appeal of the Saab 900, the sporty wedge shape of the Porsche 944, or the upright formality of the Mercedes SL. Rather, it takes on a slightly Japanese appearance, boxy and efficient but tastefully refined with its creased beltline, flared wheel openings, limited use of chrome, and traditional round headlamps. The hood and fenders taper gently toward the quad lamps and kidney grilles, just enough to look purposeful without trying too hard.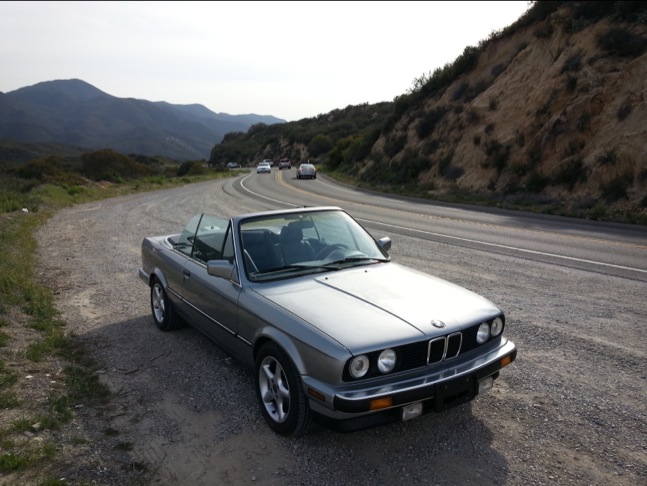 Like Scandinavian architecture or Japanese art, the E30's beauty is in its minimalism. The clean design fits into the 1980s without indulging in typical 80s excess, a superb example of German restraint, the likely reason this basic shape has retained its appeal for three decades.
The once-trendy Borbet wheels installed on this car, however, do look a bit dated but complement the lines of the body well. Ideally, this would be equipped with a set of silver BBS honeycombs.
————————————
San Luis Obispo is a nice break from cliche California, far north of the congestion, smog, and vanity of LA and far south of San Francisco's weird, uncomfortably progressive culture. The "crazy Californians" we jokingly refer to back east are nowhere in sight, replaced by farms, wineries, beautiful coastlines, and friendly, down to earth people. If not for the ocean and mountains, this could be Kansas.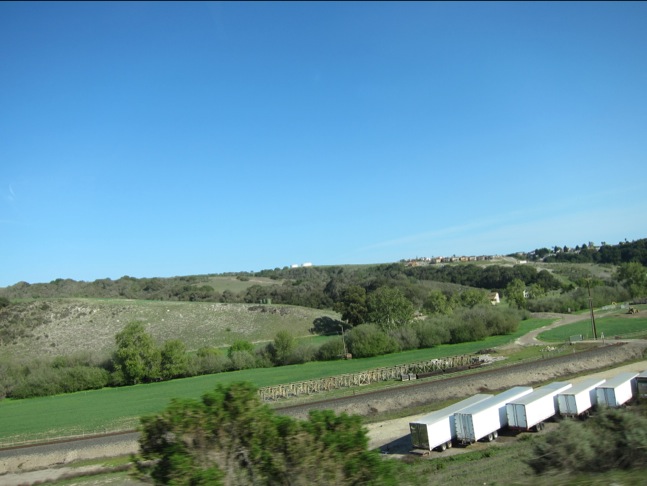 With a permanent population of just over 45,000 people (and 20,000 students at Cal Poly), this scenic town serves as a green oasis of mainstream sanity in a state otherwise known for cultural and political extremes. And just as I was beginning to enjoy this place, we had to head back to LA to return our Kia.
I took the long way back, stopping at beaches for photo opportunities and winding through fragrant farms (the smell of vegetation, not manure) and small towns. Ian was annoyed that I didn't meet up with him at the rental counter in time but frankly, I didn't give a shit. This was a dream drive in a dream car and I intended to relish every moment.
————————————
As I settled into the driver's throne I became intimately familiar with the E30's rectangular cabin.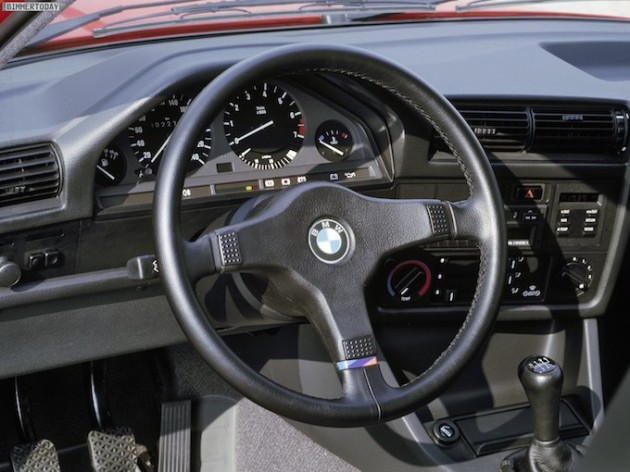 ABOVE: A similar interior from a 318. Our 325 has an Alpine stereo and more advanced onboard computer.
While it isn't exactly large inside, it's still spacious enough for two adults (plus two midgets) to comfortably sit together. With thick side bolsters, ample thigh support, and an almost perfectly vertical steering wheel, it nudges you into a purposeful yet comfortable long-distance driving position, encouraging alertness and reducing fatigue.
Gauges glow in a shade of orange-tinted red that BMW enthusiasts seem to prefer, clearly marked and perfectly laid out for quick glances. The center stack is driver-oriented, tilted to the left with easy access to climate and audio controls. The onboard computer offers fuel and trip information as well as a security code you can set to disable the starter. Clever stuff for the 80s.
Our 325 also included an original BMW/Motorola dealer-installed cell phone with a BMW mounting kit attached to the right side of the center console. We removed it for passenger comfort and placed it neatly in a cardboard box.
Aside from the lack of a cupholder, a problem primarily for Americans with drive-through dining habits, no feature was lacking. The unusually high level of control over ventilation, with separate sliders for windshield, panel, and floor ventilation, as well as a separate temperature adjustment for the top-center vent, seemed a bit excessive, but this was changed to a simpler configuration in later years with standard knobs.
On the header panel above, wedged between the sun visors is an array of warning lights. A "Check" button verifies that each red bulb is functioning. Just prior to taking off, a CHECK light flashes between the gauges, reminding the driver to look at the check panel above in case of warnings.
BMW never claimed to be "Born From Jets" like that competing brand from Sweden but this certainly conveys a strong aeronautical theme.
————————————
I took the scenic route back, skipping the 101 and taking the San Marcos Pass through the Santa Ynez Mountains. Without sunlight to see the ocean, I figured a winding mountain road was a better place to enjoy a sporty convertible.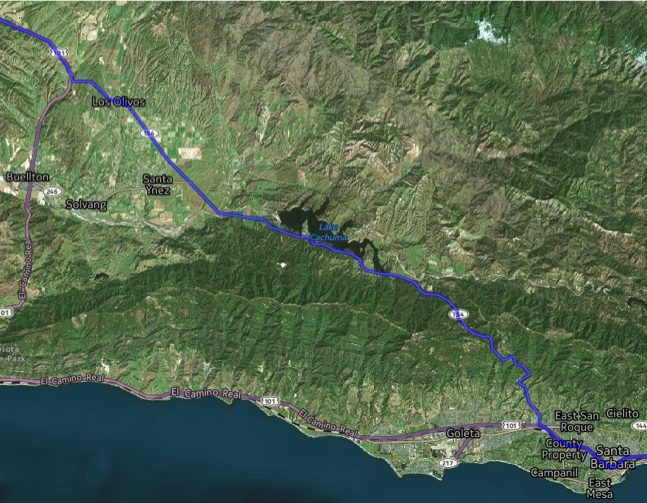 This is the kind of place a driving enthusiast dreams of, winding left and right, up and down, breezing through stunning scenery with cool dense air that boosts engine performance. There were some two-lane sections that caused a backup of cars behind slow moving trucks but frequently available passing lanes granted opportunities for downshifting and steady acceleration.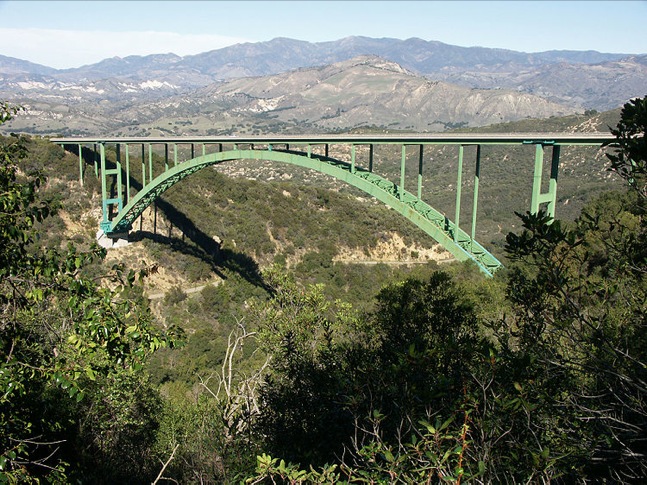 Unfortunately, driving at night robbed me of some spectacular views, particularly the Cold Spring Canyon Arch Bridge, the highest in California at 400 feet. That's okay — I intend to return soon.
The 325i isn't exactly fast, even with its Dinan performance upgrades, taking what feels like 8 seconds to reach 60mph, but power comes on effortlessly with just enough torque for easy takeoffs and adequate passing. The slick 5-speed manual transmission and light, forgiving clutch reward you for your efforts, making this type of motoring a fully involving, pleasingly mechanical experience.
This is exactly what manual transmissions were made for, digging in with your left foot and making an assertive declaration with your right fist, resulting in prompt physical action. It's a satisfying, full-bodied declaration of your intentions.
For a moment I believed I was Eric Carlsson commanding a rally car in Finland, at least until I was passed by a Mini Cooper Clubman stuffed full of luggage. That's how it went for most of the route, jockeying for position with a Honda S2000 and that packed-to-the-gills Mini, dancing through the mountains as I wandered toward the coast.
I took a deep breath of the fresh mountain air rushing by at 55mph, an awakening contrast to smoggy and congested Los Angeles. It was starting to get chilly so I cranked up the heat, rolled up the windows, and carried on — no way in hell was the top going up, not with the sound of the M20 I-6 performing a concert through the Dinan exhaust behind my head. As I wound through the cliffs toward the end of route 154 I could see the lights of Santa Barbara shimmering in the distance, as if the starry night sky was reflected on the earth.
After getting back on 101 I pulled into a McDonald's, bought a chicken sandwich, and checked my messages. [As a responsible motorist, I avoid taking calls while driving.] Ian left a couple voicemails, complaining about my disappearance, letting me know that he missed the scheduled dropoff for the rental car and checked into a Hyatt in Oxnard.
I didn't care. I just spent two hours in heaven.
————————————
The next day we took the plucky Kia Soul back to Long Beach and went looking for lunch. When in Rome, you do as Romans do, so we stopped at an In & Out Burger north of Los Angeles.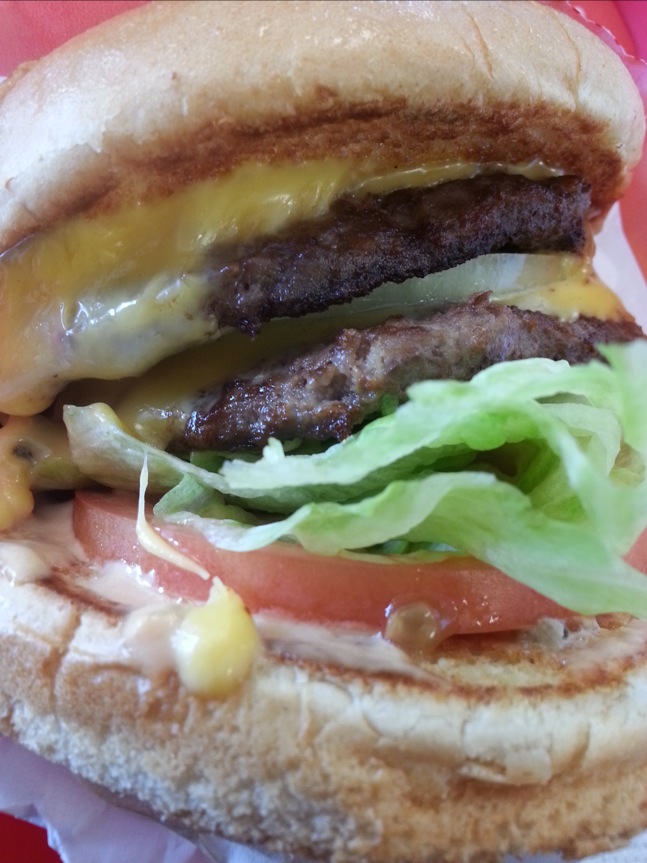 This picture was enlarged for meaty detail.
————————————
Our next stop was Surprise, Arizona, to meet up with James, Becky, and Greg, longtime friends I met through NICOClub.com (Greg is the founder/owner). I wasn't exactly in a hurry to leave the coast so I took us down congested Highway 1 through Sunset Beach, Huntington Beach, Newport Beach, and Laguna Beach.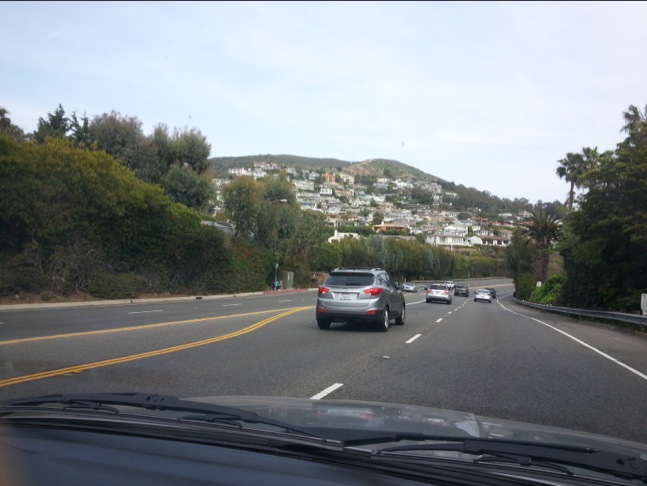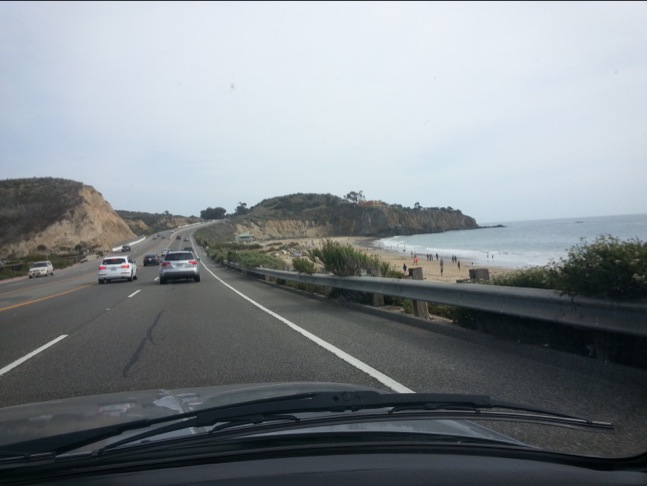 I was concerned, however, about seeing the Cleveland National Forest and San Bernardino National Forest before dark, so I made a left on Laguna Canyon Road (route 133) and headed north toward route 73, a highway that connected to I-5.
Unfortunately, until I turned right on to the ramp for 73, I had no idea I was entering a tollway. Short of any cash, card acceptors, or live toll workers, I put the BMW in reverse, backed up about 25 feet, and parked on the shoulder. Signs threatened $60 fines for blowing through so we scrambled through our wallets and pockets looking for change. We were too far down the ramp to back up all the way.
Other drivers ran into the same problem, parking on the shoulder or median while thinking over what to do. Finally, I said "screw it" and plowed through the toll booth. If California isn't going to warn people about tollways until they turn a blind corner and end up far down the ramp, they aren't going to get my money.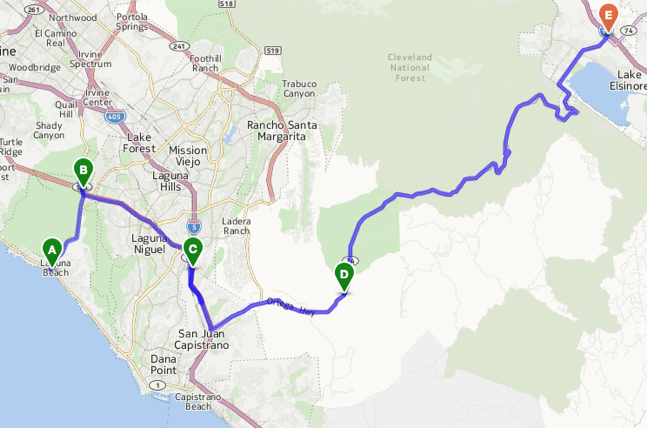 I chose this route to avoid traffic in Irvine and Mission Viejo, from 1 to 133 to 73 to I-5 to 74.
Known also as the Ortega Highway, route 74 earns a reputation for being one of California's most dangerous roads due to narrow lanes, blind curves, and steep, unprotected dropoffs. It connects San Juan Capistrano to Lake Elsinore on the other side, winding through Ronald W Caspers Wilderness Park, the Cleveland National Forest, and the Santa Ana Mountains.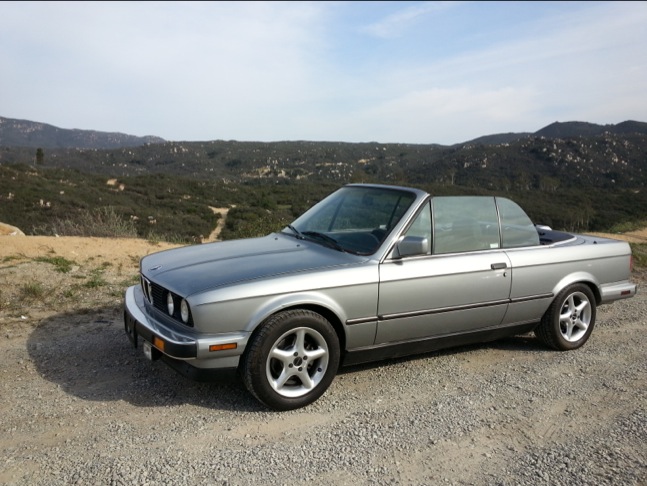 With spectacular views, I took the first opportunity to pull over and snap some photos. Ian decided it was an opportune time to relieve himself. I suppose there's nothing wrong with contributing moisture to a dry area.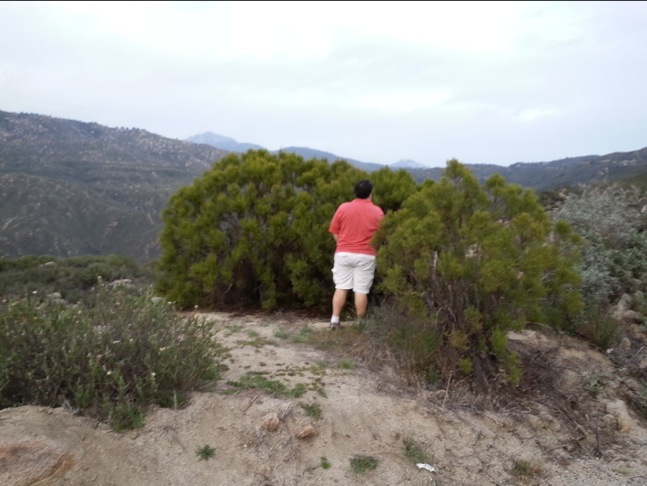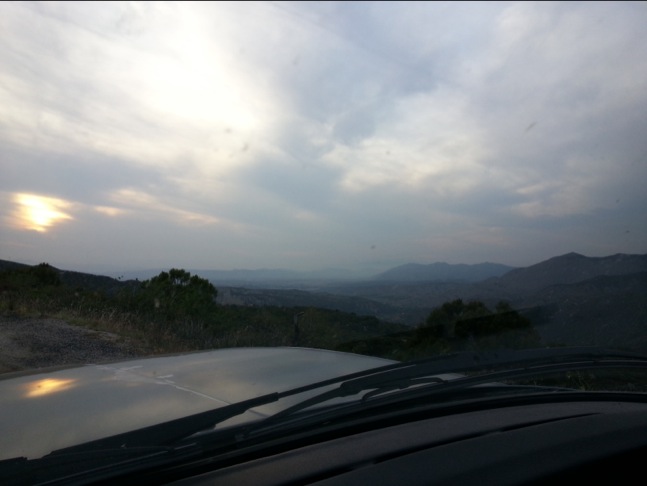 I kept my speed low and my ears open, watching for motorcycles or people parked on the shoulder. Due to the cliffs and curves, most of the corners were blind. Anything from stalled cars to deer could have been on the other side. Still, the little BMW demonstrated itself to be a strong runner despite the rising elevation.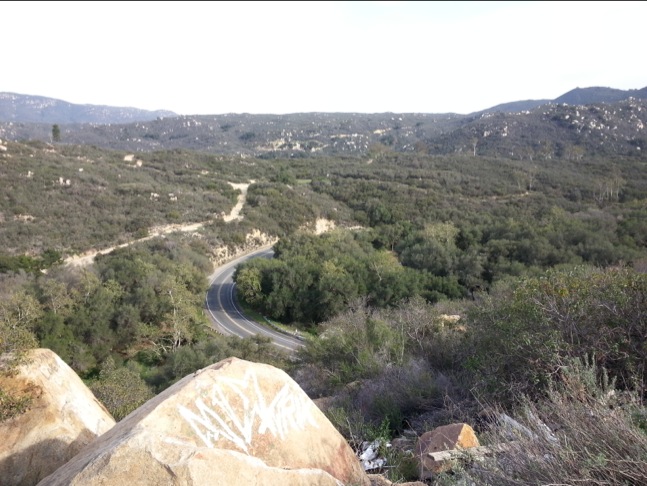 This wasn't as thrilling as my drive the night before but the spectacular scenery made up for the lack of speed.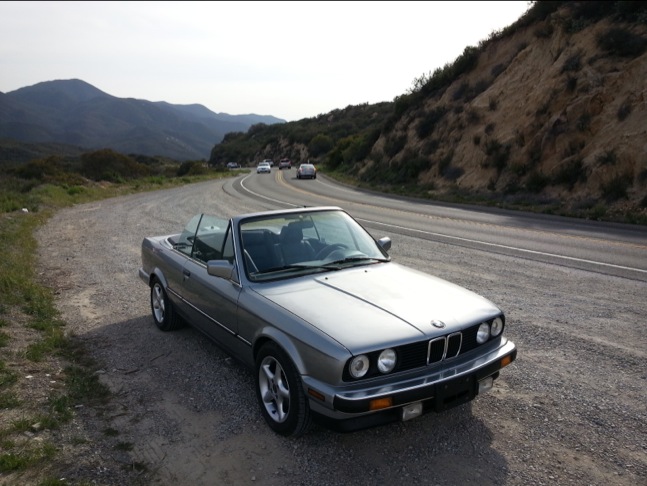 Tourist traffic turned out to be quite heavy, encountering everything from full-size SUVs to sport bikes, crawling along between 25 and 40mph with no opportunities for passing. Scenic stops such as this were a chance to break free from lines of cars.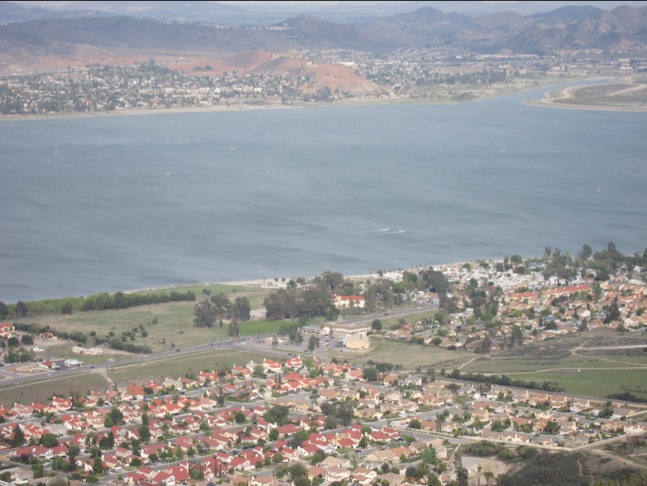 Lake Elsinore, at the other end of the Santa Ana mountains, is Southern California's largest freshwater body and home to the Elsinore Grand Prix, a dirt bike event where Steve McQueen participated in 1970.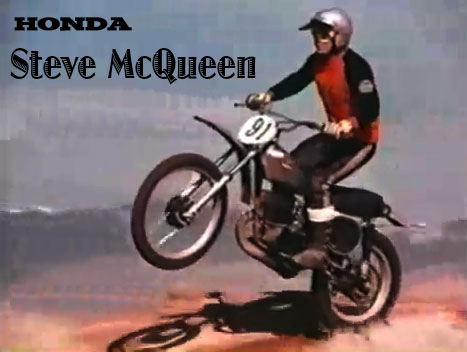 ————————————
We slowly ran out of light and traveled the final portion in the dark. The road however, straightened out and took us through the San Bernardino National Forest. Higher elevations resembled Wyoming with pine trees and cool, crisp air, temps as low as 55F.
Ian complained but I insisted on keeping the top open.
As we descended toward Indio, the scenery changed dramatically and the outside temperature reached 78F. A parking area offered offered a spectacular view of the valley below. Cars looked like fireflies winding left and right down the mountain.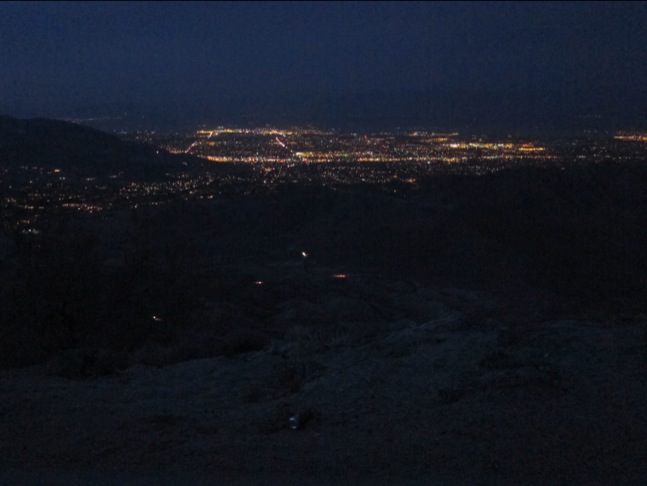 The descent also offered a chance to exercise the brakes which were fade-free with a progressive pedal and a strong initial bite. Of course, it helps that the pads and rotors were all new with OEM parts.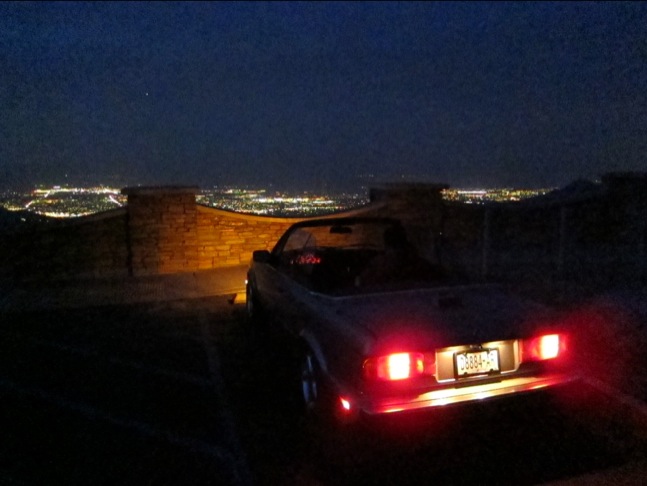 My timing was perfect with enough daylight to take in the ocean, the mountains, and a view of the valley with nightfall arriving at the end of the drive to enjoy the lights below. The rest of the journey to Phoenix, however, was flat, dark, and desolate along I-10.
Naturally, with the fun part over, I handed the keys over to Ian and dozed off.
At nearly 3000lbs, the hefty, somewhat flexy convertible structure is less than ideal for autocrossing but thanks to a compliant suspension, most shakes and shudders are insulated, serving up a surprisingly smooth and steady highway ride.
At high speeds with the top closed the cabin is impressively quiet, free of water leaks and wind noise, as precisely fitted as a brand new BMW (years ago I had a 2004 E46 convertible). Steering, however, is light and vague above 60mph, a common issue in older cars with fixed-ratio power assistance.
The rest of the drive home to St Louis was uneventful except for an annoying border checkpoint on I-10. Drug-sniffing dogs circled the car while a Honda Accord was pulled over nearby, being picked apart for controlled substances. Agents asked us if we were US citizens, which we were. I don't know what they would have done if we said no.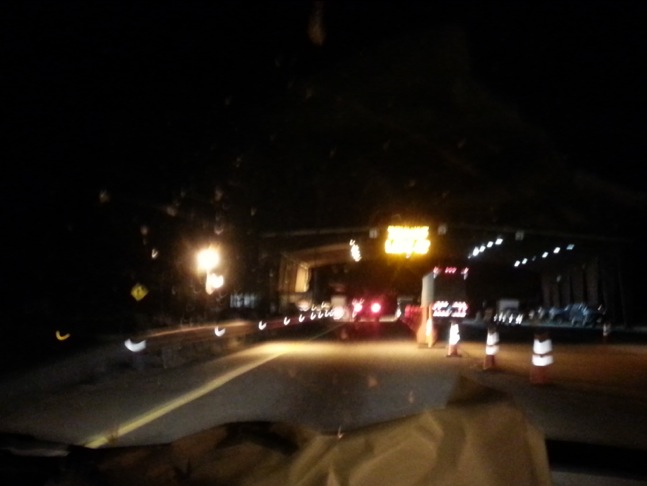 The rest of the drive through Texas, Oklahoma, and Missouri was otherwise free of trouble… or anything interesting for that matter, and I found myself yearning for the coast. In a sea of pickup trucks and SUVs on flat, unchallenging interstates, it became clear why the 3-series and the state of California are so perfectly matched.
With the exception of some later BMWs which have gone soft, the 3 represents a balance of practicality, quality, and freedom. Those willing to explore beyond the concrete jungles of Los Angeles are rewarded with some of America's finest winding roads, a stark contrast to the state's crumbling freeways that, combined with traffic congestion, make the word "freeway" a misnomer.
If the propeller badge isn't your thing, consider these late 1980s alternatives:
Mercedes SL — Heavier, more complex, more luxurious, costly parts, not at all sporty, timeless design, likely to increase in value.
Chrysler Lebaron GTC — Quick with the turbo, cheaply built, cheap to buy, comfortable, wobbly structure.
Saab 900 — Quick with the turbo, arguably safer, off-beat styling, winter prowess, superb seating, costly upkeep, spacious rear seat.
Porsche 944 — High build quality, superb handling, sporty looks, maintenance complexities due to rear engine, costly parts.
Pontiac Firebird TA — Poor build quality, harsh ride, spectacular styling, inexpensive parts, readily available performance upgrades.
Ford Mustang "Fox Body" — Smooth V8, wobbly structure, easy handling, inexpensive parts, comfort, readily available performance upgrades, clean looks.
Otherwise, if you can find a clean, well-maintained E30, topless or not, buy it and immediately head for the coast.
This particular vehicle sold for well over 10 grand within just a few days of being listed.