Bike Theft Caught On Helmet Camera
A man in South Africa was cycling through the woods, minding himself when three armed thieves appeared, demanding his bicycle, phone, sunglasses, and keys.

Fast Tube by Casper
Like most low-end criminals (these two looked like junkies), they forgot to take the camera. The Go Pro could have been worth as much as the bike if not more, and it provides crystal clear evidence of an armed robbery.
According to an analysis by Rohin Dahr, bike thefts are popular due to the ease, lack of criminal prosecution, and an easy profit. Like currency for addicts and the homeless, bicycles can be traded directly for drugs or cash.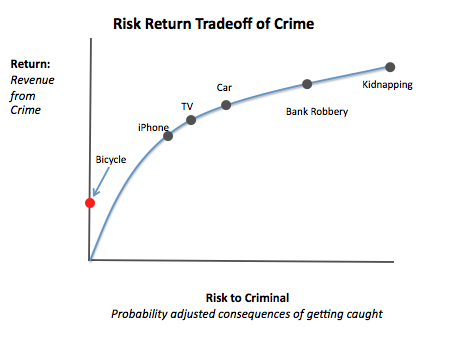 [Credit: Priceonomics.com]
Armed robbery, on the other hand, is a felony that comes with as much as 20 years in prison, though this incident took place in South Africa where sentencing standards are different. The criminals involved were arrested and the cyclist's stolen phone was recovered.