Shakeup at Automobile Magazine
By a thousand miles, Automobile Magazine is America's finest automotive publication. While Car and Driver is known for its irreverent wit and Road and Track has its roster of world-class columnists and regular contributors (now including Bob Lutz), Automobile has always focused less on track numbers and chest-thumping bravado and more on automotive experiences — the people you meet on the road, the places an automobile can take you, and the way a car or truck makes you feel.
Motor Trend, meanwhile, developed a reputation for glaring typographical flaws and its hilarious "Car of the Year" award given to questionable appliances like the 2012 Passat, 2007 Camry, 2004 Prius, 2001 PT Cruiser, 1997 Malibu, 1996 Cirrus, 1981 Dodge Aries, 1980 Chevy Citation, 1974 Mustang II, 1971 Vega, and 1983 Renault Alliance.
To be fair, Automobile praised a couple turds itself including Cadillac Catera, a sport sedan that handled brilliantly, was adorned in a beautiful European leather interior, but had a disastrous reliability record and anonymous styling that made the Chevy Cavalier seem handsome by comparison.
Interestingly, to me at least, Automobile is also the only major publication, thus far, to publish one of my letters and comments. This is from 2004 (click to enlarge):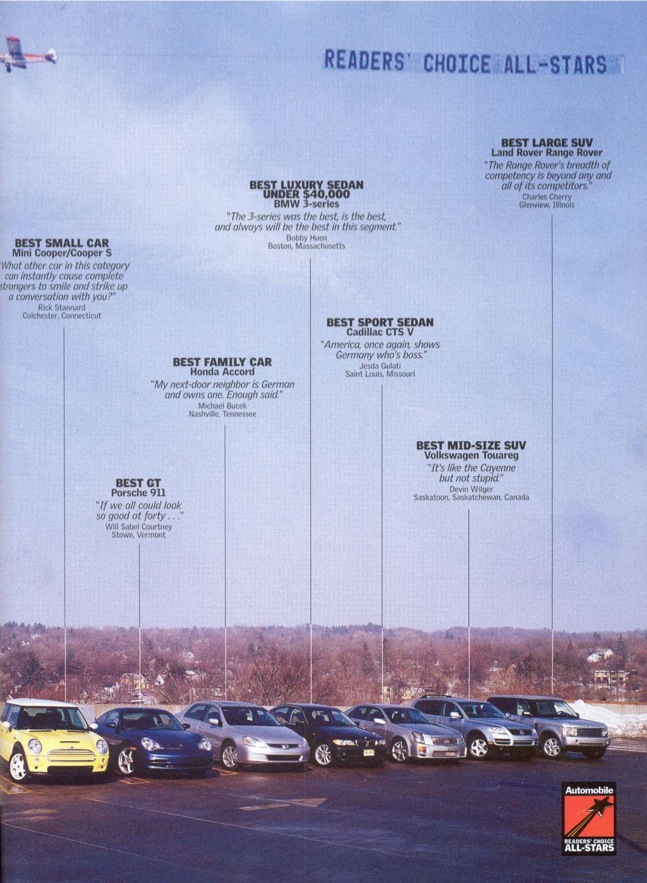 Today, Source Interlink relieved 90% of AM's staff, mostly in production, but also including Editor in Chief Jean Jennings. Jennings has been with Automobile nearly as long as founder David E Davis Jr, who founded the publication with the backing of News Corporation's Rupert Murdoch in 1986.
Davis had a reputation for being snarky at times, downright mean at others, wishing at one point that a piano would land on Jean Jennings. He refused to cooperate with editors at other magazines, refusing to take back his comments about some of BMW's poorly designed radios and calling out Ford for the controversy involving the Pinto and its tendency to catch fire in rear-end collisions. He didn't care if Ford pulled its advertising — he saw the truth the way he saw it and spoke it accordingly. An admirer of Cadillacs, Jaguars, and Mazda Miatas, Davis understood automotive greatness.
Life for his children must have been challenging too. His son, David E Davis III, offered me an interview a few years ago but never returned my calls.
After he passed away in 2013, Audi took out a full page ad mourning his passing: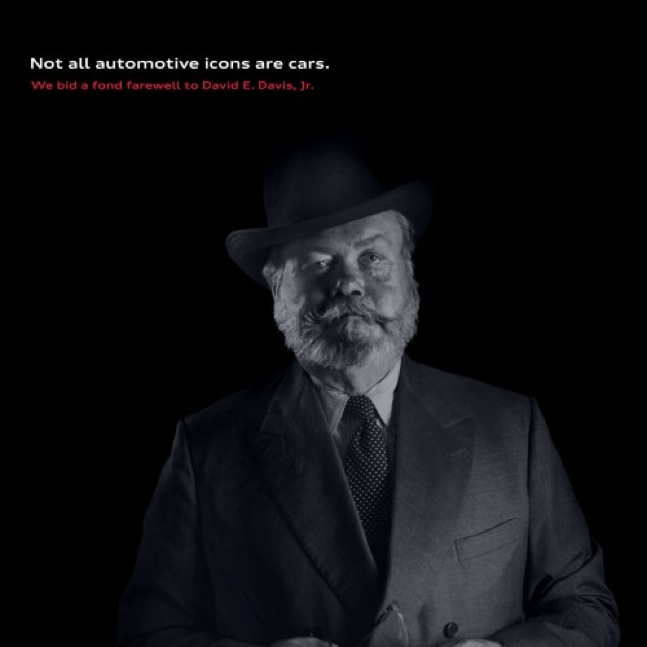 That larger than life personality set the tone for a fine publication. For decades, Automobile has been to cars what Wine Spectator is to beverages and without it, we enthusiasts become a bit less sophisticated, less cultured, and less literate when it comes to our beloved machines. Automobile elevated the hobby of automotive ownership and appreciation beyond grease and oil, raising automotive design and engineering to an artform, recognizing the car as a product of human imagination and creativity. In the AM universe, cars were not only manufactured products, they were forms of expression and escapism.
Now that Motor Trend chief Mike Floyd is taking over Automobile, I'm setting my expectations low.
Fortunately, the rest of the editorial staff including the effervescent Ezra Dyer will remain at AM. How the tone of the publication will be affected is uncertain. Without the upscale (some say snooty) feel set in place by David E Davis Jr, AM risks becoming yet another car magazine oriented around numbers rather than feelings, kissing up to advertisers instead of telling the truth.
I can get performance numbers anywhere. I rely on writers to share the experience.
More:
http://www.autoblog.com/2014/05/29/automobile-magazine-closes-ann-arbor-office-releases-staff/