Review: 2003 Mercury Marauder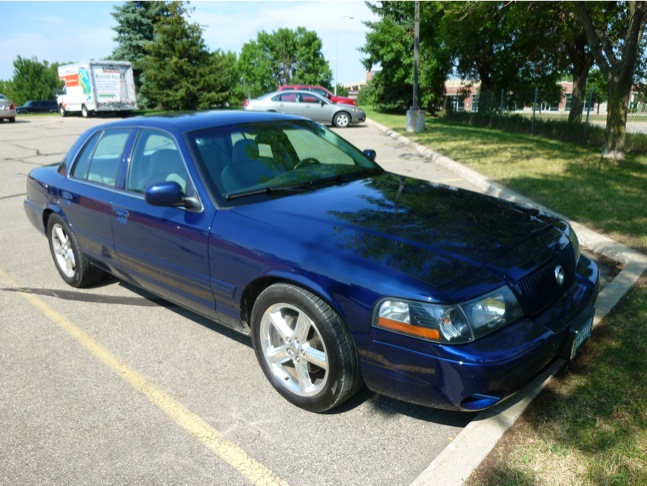 A decade ago, I worked in a call center and kept a stack of magazines at my desk to retain some sanity. I gleaned over the pages of Automobile Magazine and Car and Driver, obsessing over the Marauder's promise of sporty motoring in a car the size of Alaska.
That's always been the challenge of any sport sedan — finding a balance between comfort and sport while using clever suspension tuning and technology to allow a land yacht to simulate the reflexes of a speed boat.
The 302hp 4.6L Marauder compares closely to Chevrolet's rear-drive, full-size 1996 Impala SS, reaching 60 mph in 7.5 seconds and the quarter-mile in 15.5s @ 91 mph. The 260hp, 5.7L, LT1-powered Impala was just over a half-second faster.
The Marauder's "Panther" platform traces its roots to 1978, making it the longest-running architecture in American history — that's 32 years of production that finally ended in September 2011. The Mercury brand itself quietly disappeared in early 2011. Once a large-volume brand with 360,000 units sold in 2000, it quietly fell to 93,000 in 2010. Of the 155,000 Mercury Grand Marquis sedans sold in 2003 and 2004, just over 10,000 were Marauders, a take rate of about 7%.
Critics may be eager to deem the Marauder a flop, but like the 1994-1996 Impala SS which was based on the Caprice, the Marauder was a performance trim level for an existing car, in this case the Mercury Grand Marquis. Considering the low development costs, the only major expenses were sales and marketing. So, despite the Marauder's rarity, it was a profitable venture for the Mercury brand.
Differences from the Grand Marquis include the 4.6L DOHC V8 borrowed from the Ford Mustang Mach 1 with 302hp (compared to MGM's 239hp), a monochromatic exterior, Mercury-specific chrome wheels with special wheel caps, an upper storage console and information center, perforated leather, Autometer analog oil pressure and voltage gauges, real dual exhaust with chrome tips, suspension enhancements to control body motion, and a limited-slip 3.55:1 differential. 2003 was also the year Ford introduced rack-and-pinion steering and fully-boxed frames with hydroformed rails to the entire Crown Victoria/Grand Marquis/Town Car lineup.
Compared to the Impala SS, the Marauder was stiffer, quieter, safer, and more refined. Of course, that's expected for a car introduced to the market nearly a decade later. For a brand that did little beyond rebadging Nissans (Villager), Fords (Mountaineer, Sable), and Mazdas (early Tracer), the Marauder was a tremendous leap forward for Mercury.
And despite comparisons to the long-discontinued B-body Caprice, the Marauder's stiffest and most direct competition at $35,000 came from a new breed of premium family cars including the Nissan Maxima and Chrysler 300C. The market for "almost-luxury" cars had become terribly congested and Mercury, with its aging platform and stodgy image, had difficulty winning over import buyers with arguably more sophisticated tastes.
Then in 2004, the second and final year of the Marauder's production, Cadillac introduced the CTS-V, a "breakthrough" that raised standards for American (and later German) performance sedans. The Marauder was history.
Let's talk about how it drives.
I flew to Minnesota in July for a Cadillac owners meet and the Car Craft Summer Nationals Car Show. Chad, a longtime friend and fellow fanatic of luxury cars, recently traded his 2000 Buick Regal GS for a 2003 Mercury Marauder. The Regal served his needs faultlessly and dependably but lacked the size, heft, and substantive feel of a full size car.
[See my brief driving video of the Regal is on Youtube.]
He picked me up from the Minneapolis airport Friday night. The first thing I noticed was the presence of an upper storage console with an information display.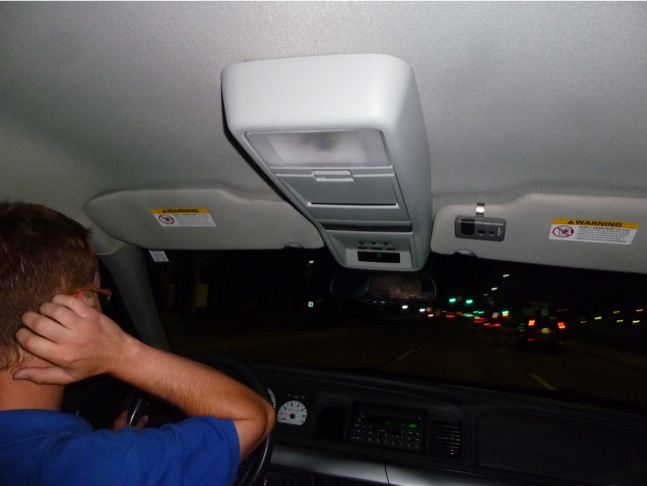 You also get the added bonus of two Autometer gauges in the center console for oil pressure and voltage.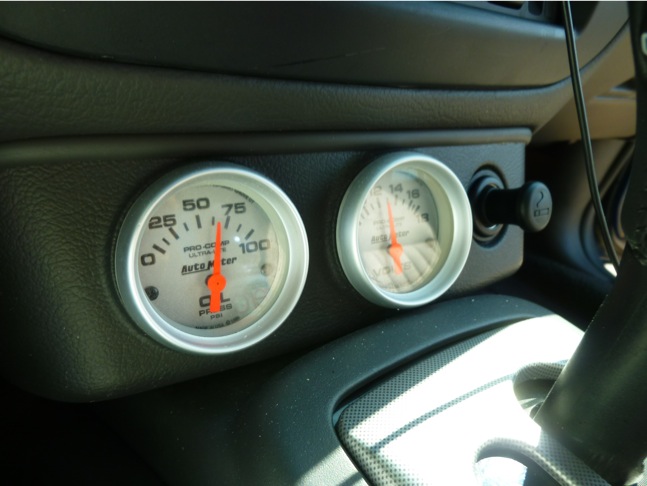 The rest of the dashboard, except for the white-faced gauges, was standard Crown Victoria/Grand Marquis.
When I climbed in I was impressed by the soft and supple leather seating. There was nothing taxi-like about it. With three of us stretched across the back bench, it was decent room for an airport ride, though leg room was somewhat lacking considering the extended length of the car.
The following afternoon, Chad handed me the keys and allowed me to take it for a spin, a nice day for marauding.
EXTERIOR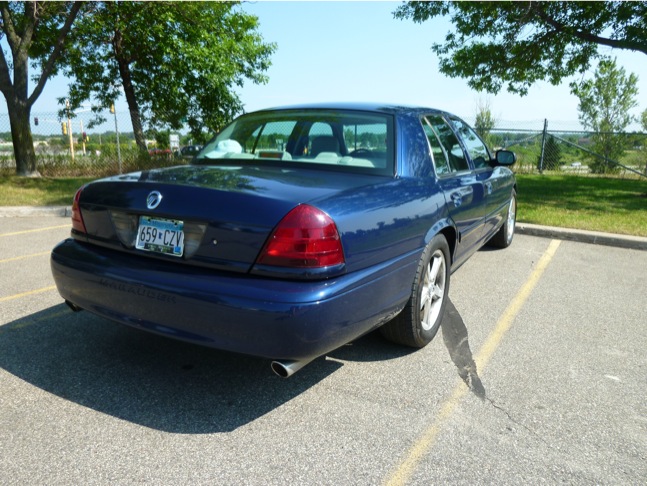 Compared to the Grand Marquis, the Marauder is dramatically dechromed, favoring a menacing monochromatic theme over traditional American brightwork. Nothing outside says "Marauder" except for the embossed letters on the rear bumper cover.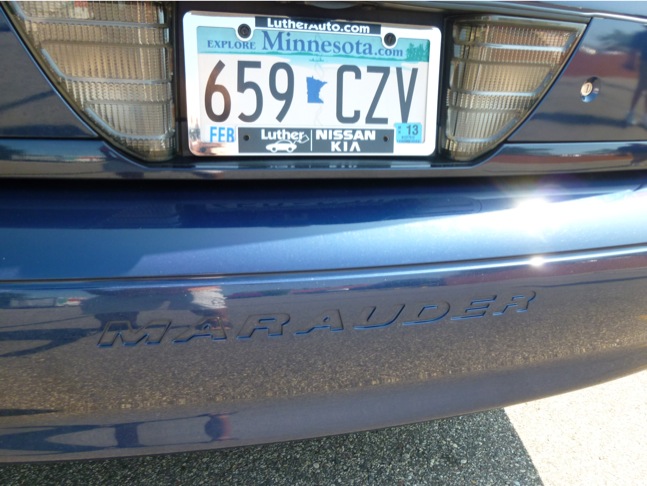 Without taking notice of the chrome wheels or dual exhaust tips, most laymen would assume the Marauder was a police car or a pensioner's means of conveyance. Though that may seem like a critique of its subtle styling, it's perfect for a sleeper sedan.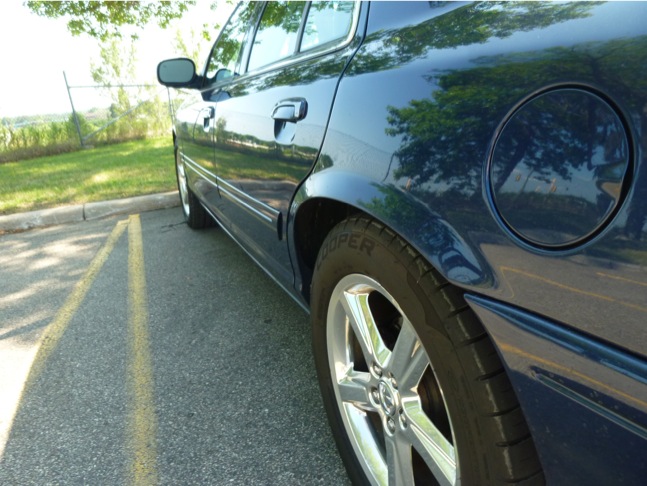 INTERIOR
The analog odometer is a dead giveaway to the aging platform and lack of modern technology. But that's fine, because the Marauder is well-equipped with power seats, power windows, power adjustable pedals, side-impact airbags, and five-star front- and side-impact crash ratings from the NHTSA.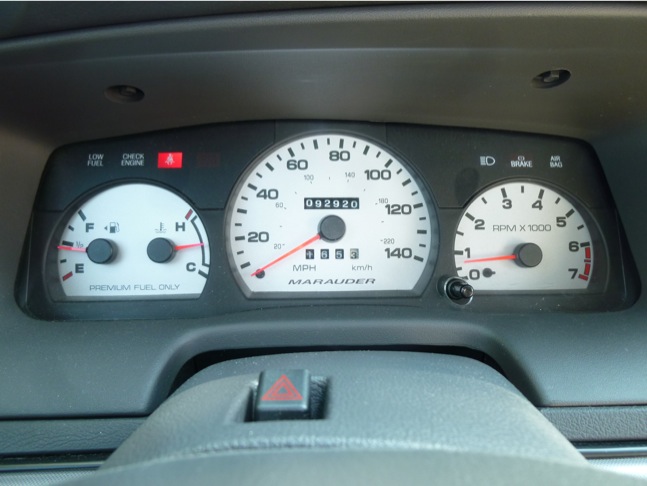 Despite being a traditional body-on-frame car, the Marauder's top-tier crash scores beat several large unibody cars including the Chrsler 300M, Buick Lesabre, Pontiac Bonneville, and Toyota Avalon. So, despite the Marauder's numerous anachronisms, it's actually safer than most cars on the road.
Additionally, Mercury has enjoyed top-tier rankings over the past decade in JD Power's Initial Quality and Vehicle Dependability surveys.
The dated dashboard screams "I MISS CHUMBAWUMBA!" with its 90s-inspired round shapes and mix of plastics, but there's nothing actually wrong with any of it. The large vents are positioned perfectly to cool driver and passenger faces and simulated aluminum trim with machined detailing adorns the surface from ear to ear.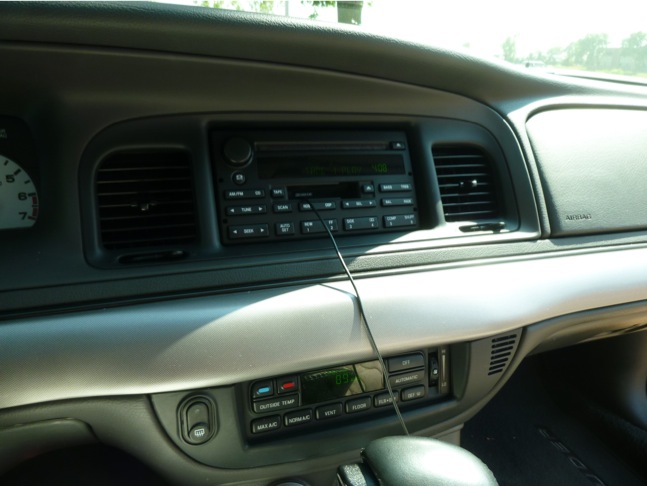 Seating is unique to the Marauder with thick side bolsters and a Roman Mercury "God's Head" logo sewn into the seat backs, the only appearance of this classic logo in any Mercury product since the 1950s.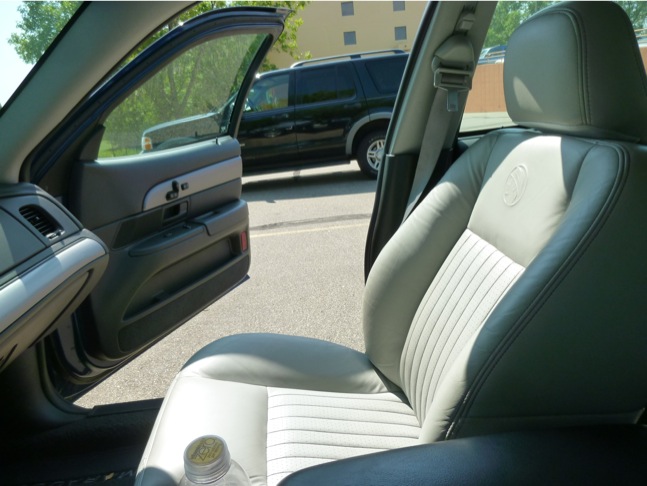 Above is a center storage console with a compass, fuel information, and overhead lights. This extended-length console was specific to 2003 as it was shortened in '04 to accommodate a moonroof.
The Marauder's better-than-basic sound system doesn't come with special branding or high-tech features but it does fill the cabin with plenty of bump and thump. That's a colloquial way of saying that even though there isn't a JBL or Bose system to brag to your friends about, it's powerful enough to drown out your inner thoughts.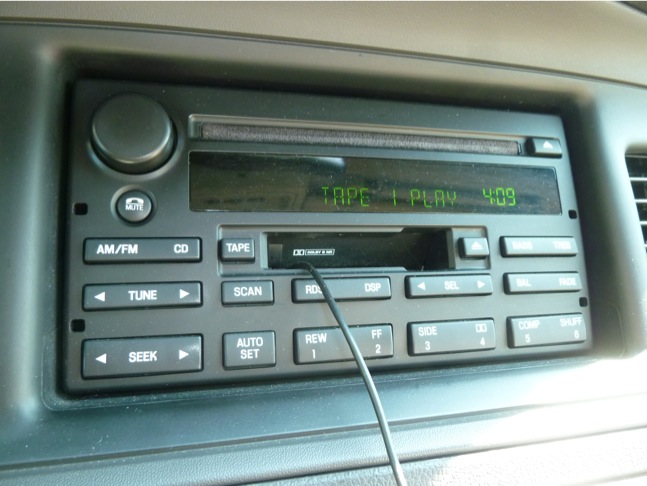 Unfortunately, the standard Ford head unit looks plain and well-aged. The four unpleasant looking holes in the front, seen on every Ford radio since forever ago, are designed to accommodate removal tools, as if all owners were expected to dump their factory radios in favor of aftermarket equipment. On the plus side, it's easy to use with well-spaced and well-labeled rocker buttons, a large text display with bright green segments, and a large volume knob with redundant controls on the steering wheel.
Further differentiating the Marauder from the 'Grandma Marquis' is a floor-mounted shifter, a muscle car requirement that also introduces two useful cupholders and an arm rest with storage underneath.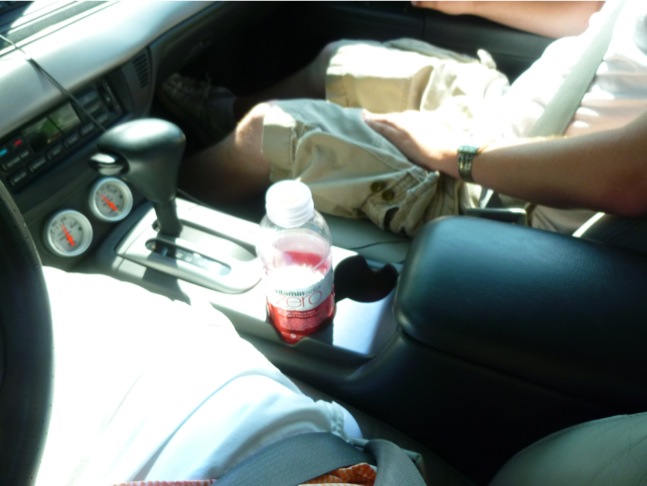 And thankfully, since I have short legs, the Marauder comes with a feature pioneered by Mercury — power adjustable pedals. One push moves the pedals forward or backward for maximum comfort, a nice way to maintain a safe distance from the steering wheel.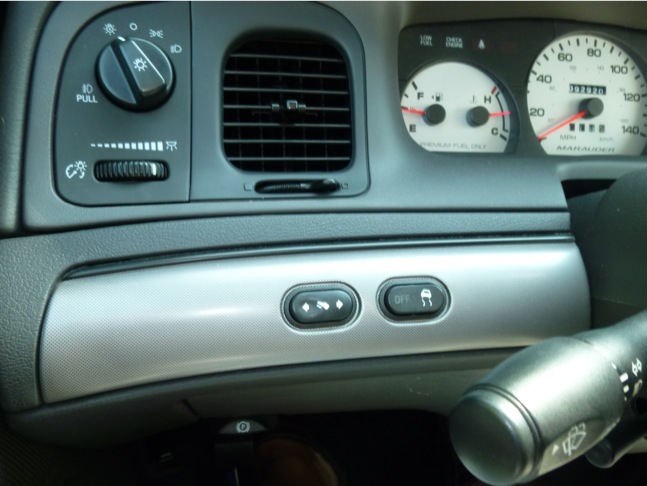 Further enhancing comfort are eight-way power adjustable front seats with heat. The adjustment switches are mounted on the door in an arrangement that logically mimics the shape of the seat, similar to what you would find in a Mercedes-Benz. In 1989, Infiniti applied this configuration to the Q45 luxury sedan but changed back to standard buttons when Mercedes-Benz sent a cease and desist letter.
This apparently didn't stop Mercury.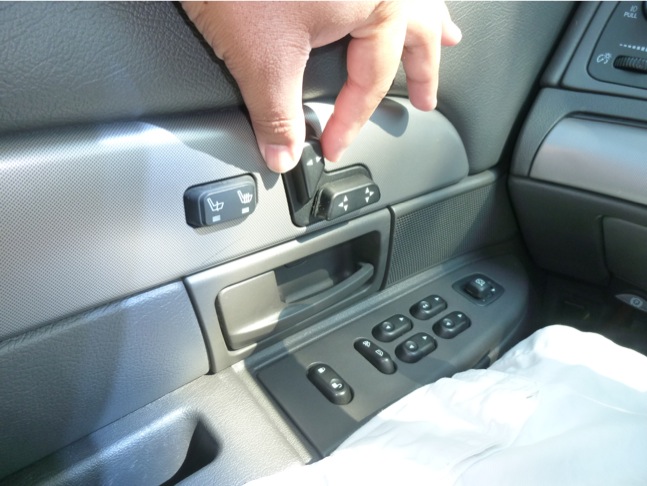 The rest of the knobs, buttons, and switches feel heavy and substantial and respond to input with a firm and audible click.
DRIVING IMPRESSIONS
WHOA. One light touch of the throttle induces off-the-line acceleration that throws your skull into the headrest; Mercury clearly intended for the Marauder to be a stop light drag racer. Though the sticky tires [this one has a set of Coopers] are unlikely to break traction and create a cloud of smoke, they offer a smooth ride with little road noise and a clean delivery of power from the wheels to the pavement.
Shifts arrive sharply and promptly when called for while behaving with peaceful civility during casual motoring.
As the tach needle jumped effortlessly to 4000 rpm I immediately noted comparisons to Cadillac's Northstar V8.
Ford's DOHC 4.6 and Cadillac's 4.6L Northstar V8 both produce 300 horsepower but deliver in dramatically different ways. Cadillacs tend to be slower off the line while building power at higher revs, pulling hard well beyond 100 mph. The Marauder's DOHC engine, part of Ford's long line of modular V8s, prefers to deliver the bulk of its power between 2000 and 4000 rpm while tapering off a bit at higher revs.
The Marauder will handily beat a Cadillac Seville STS off the line but the Seville would catch up to the Marauder by the end of the block or quarter mile. On the highway from a rolling start, the Seville offers more passing power on up to triple-digit speeds.
But that's the difference between an Autobahn cruiser sold in European markets [the Cadillac] and an American muscle car sold in North America [the Mercury]. Both cars were developed in Detroit but serve differing needs and tastes.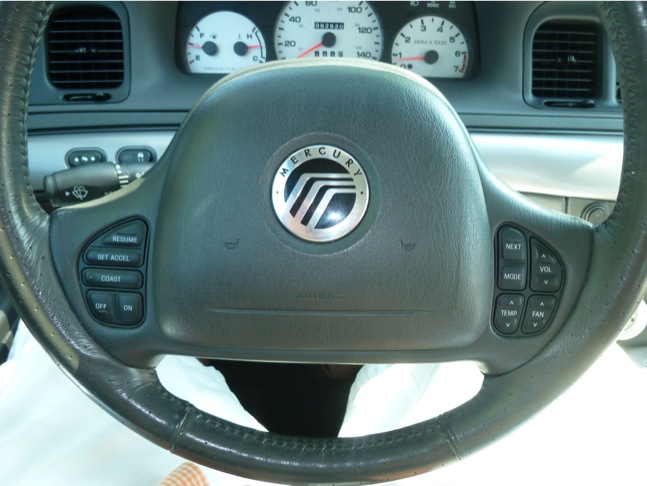 The Marauder's perforated steering wheel offers excellent grip and the two-spoke carryover from Lincoln comes with a plethora of climate, cruise, and audio controls. Unfortunately, the old-fashioned layout lacks a modern, sporty look. That's fine, because it's easy to find a comfortable place to rest your hands at highway cruising speeds and the buttons are raised so you can keep your eyes on the road. Looks old, works well.
Steering effort is on the lighter side for comfort but feedback is more than sufficient, offering a precise and direct sense of control thanks to the new rack and pinion system. Front-drive Cadillacs, on the other hand, can sometimes feel artificially heavy at high speeds.
Even base-model Crown Victorias are reasonably enjoyable to throw around corners. Typical Crown Vics are soft and wobbly, yes, but feel reasonably secure thanks to the sense of balance created by placing the drive wheels in the back.
Front-wheel-drive Cadillacs, on the other hand, while arguably more capable at the limit thanks to their mix of high-tech gadgets and electronic aids, rarely offer that "in the pocket" feel where the driver is at the center of gravity with the car rotating around him. So, even though the Marauder's body leans a little bit, it still feels light on its feet. It also helps that the Marauder's suspension components are mounted outside the frame, giving the car a more planted feel than a Grand Marquis or Crown Victoria.
And it truly is a novelty in itself to be able to drive such a massive chunk of car as if it was dramatically smaller.
Ride quality is superb without feeling disconnected. I've driven the standard Grand Marquis which shares some of the Lincoln Town Car's feeling of disconnection from the road surface. The Marauder, however, is sturdy and planted without the sensation of floating on air. And yes, the rear suspension does have air ride for load leveling.
After a decade of fawning over this car in the pages of magazines, it lived up to my expectations in real life. I don't know who Mercury was gunning for — was it old guys with money and fond memories of youth or young up-and-comers who never lived in the muscle car era but had a sense of nostalgia inspired by movies and television? I suppose after nearly a decade of being out of production it doesn't matter. This blunt-object sedan may not have found much of an audience but when evaluated on its own, it's one heck of a way to travel.
Overall, the Marauder is quick, surprisingly nimble, and offers a near-perfect mix of civility and comfort. Whatever technological sophistication it may lack is more than made up for by its safety, dependability, good fun, and good looks.
Driving Footage:


Fast Tube by Casper

Fast Tube by Casper
RATINGS:
Powertrain: 9/10 — The DOHC 4.6 is pleasingly smooth, never coarse or unpleasant even at high revs. The dual exhaust is tuned for extra feedback but never penetrates the cabin in a way that's cacophonic or unpleasant. The throttle can be a bit touchy.
More power throughout the rev range would be a welcome addition. The Marauder's menacing styling seems to suggest that it has 350-400hp. Fortunately, the Modular V8 has wide aftermarket support.
Still, as-is, the Marauder moves briskly and without hestitation.
Braking: 7/10 — The pedal is a bit soft as Fords tend to be but brake feel is progressive without being too touchy. They're easy to modulate and require little effort in heavy traffic.
Ventilated front and rear discs resist fade during spirited driving or while descending mountain passes.
Ride: 8.8/10 — Body-on-frame construction is often praised for isolating the cabin from the road, great for luxury cars but a negative for sport sedans. Somehow, the Marauder strikes a nice balance between keeping the cabin quiet and steady without disconnecting the driver from the road surface. Praise goes to both the suspension and revised steering.
Steering/Handling: 8.8/10 – Front and rear stabilizer bars, new rack and pinion steering, Tokico shocks, and a fully boxed frame with hydroformed rails contribute to surprisingly nimble handling for such a heavy car. Steering is accurate without being uncomfortably heavy in the hands and comfortable without being loose or imprecise.
Audio/Accessories: 8/10 — The sound system is perfectly adequate with redundant controls on the steering wheel for climate, audio, and cruise. Radio and digital automatic climate controls are easy enough to use with large buttons and bright displays. Most functions are easy to see, use, and reach with switchgear that feels substantial. The center overhead console is a nice touch.
Interior: 8/10 — The interiors of Panther cars were designed for taxi and police duty and as a result they last a long time and wear well. The layout and design look dated but remain functional and user-friendly.
Cargo space is commodious. If you filled the trunk with water, you'd have an Olympic-sized swimming pool.
Comfort: 9/10 – Additional side bolsters help with cornering but may not be firm enough for anyone interested in autocrossing or other amateur motorsports. Padding is generous with thick hides of leather. Front leg and knee room is generous thanks to the wide cabin but rear seat leg room is a bit limited for such a large car.
Quality/Reliability: 8.5/10 — Marauder, Navigator, and Mustang owners suggest modifying the engine to improve rear cylinder cooling. The electrical systems and driveline components are generally known to be dependable. The transmission was beefed up for 2004. Body integrity is excellent.
See info.
Overall Value: 9/10 — The combination of reliability, safety, rarity, comfort, performance, and style make the Marauder a desirable car. The only compromises are fuel economy (though reasonable for a 4200 lb V8 sedan) and rear leg room which should be greater for such a long car.
VERDICT:
As a used car, the Marauder is a solid choice. The working-class good looks come with first-class seating and a V8 as sonorous and smooth as anything on the market.
RESOURCES:
http://www.mercurymarauder.net/
SPECIFICATIONS:
4.6L 32V DOHC V8
302 hp @ 5750 rpm
318 ft-lbs. @ 4250 rpm
Curb weight: 4165 lbs
Length: 211.9 in.
Wheel base: 114.7 in.
Rear wheel drive
4-speed automatic
Limited slip 3.55:1 rear differential
Independent front struts
Rear air assist
EPA fuel economy: 15/21 mpg
Update:
I shamefully neglected to take any pictures of the engine. I blame the weather for my eagerness to get into an air conditioned environment. Here's a snapshot from Familycar.com: