You can buy a new Nissan Versa for $10,990, but should you?
No.
Nissan promises "innovation for all," but at $10,990 for a brand new car, complete with a factory warranty and the intoxicating smell of fresh plastic, vinyl, and what looks like rat fur, it's hard to imagine the Versa being packed with a whole lot of innovation.
For $10,990 you get a 1.6L 109hp 4-banger, 5-speed manual, your choice of blue, gray, silver, black, or white paint, a black cloth interior, a CD player with only two speakers, rear drum brakes, torsion beam suspension, ABS, electronic brake force distribution, power steering, air conditioning, manual seats, tilt steering, and… a clock.
You can get a tachometer, cruise control, power windows, keyless entry, power locks, and other comforts we come to expect from a 2012 model year car, but that shoots the price up to $14,560. At that point, you're only putting lipstick on a pig, slapping options on to a car that's awful to drive, awful to look at, and awful to be in.
And once you add destination fees, your bargain-priced $10,990 Versa is a pinch under $12,000.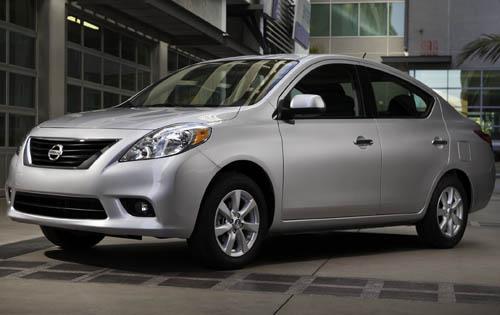 In addition to being cheaply made and crude to drive, the 2012 Versa is a rather ungainly looking thing. The top of the hood appears to be ten feet high while the 15-inch tires are lost in a wheel well large enough to swallow a train. If Harley Earl's mantra for attractive styling was "longer, lower, wider," the 2012 Versa is narrow, tall, and stubby.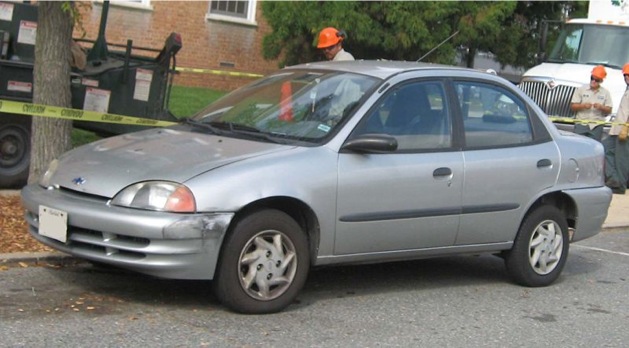 I'm inclined to believe that the Versa was inspired by the late 1990s Chevy Metro sedan, an odd looking pod that itself took inspiration from an American classic: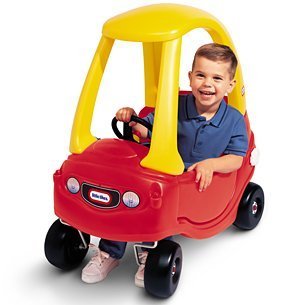 I loved the Little Tikes Cozy Coupe as a child, but the foot-powered toddler's toy was nothing to aspire to. Still, that didn't stop General Motors (specifically, Suzuki) and Nissan from copying its awkward proportions and applying them to cars intended for grown-ups.
With economy cars, there's only so much one can expect, hampered by market-mandated price points and basic functional requirements. Building an automobile that covers a larger footprint requires more weight, more materials, and results in a higher price tag.
Because of this, cheap cars have gotten taller, compensating for their short wheelbases by increasing height and placing passengers in an dinner chair-like seating position similar to vans and SUVs. This has the effect of increasing usable leg room without having to increase the amount of space between the front and rear seats. Instead of stretching out and relaxing, like you would in the back of a limousine, you sit like a sea gull perched on a stoop.
The old Versa was nothing to brag about either, but at least its French-influenced styling stood out in a sea of soul-sucking blandness: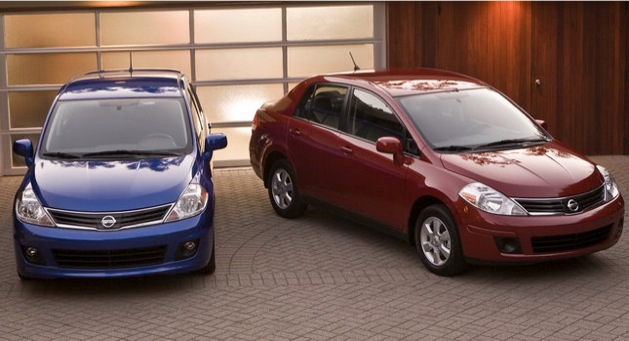 And despite all of this, styling isn't the new Versa's biggest problem.

Car and Driver gave the 2012 Versa a scathing review:
"Highs: Spacious back seat, low starting price.
Lows: Too many to list—call for details."
"Nissan says it cut about 150 pounds by reducing the number of parts by nearly 20 percent. Perhaps it left out a few too many critical components. The gap between the front wheel and fender makes the Versa look like it's on stilts, and it handles like it, too. Its stick on the skidpad is a scant 0.76 g, and enthusiastic drivers will quickly succumb to waves of body roll and understeer that have the front tires howling at normal cornering speeds. On the highway, the Versa is nervous and subject to directional changes determined as often by the wind as by the driver.
Things are worse inside, too. The new interior is constructed entirely of concrete-hard plastics, with the only soft materials being the carpet, the seats, and the headliner. As evidenced by the amount of road noise, the doors seem to have zero insulation. As your author climbed inside, the cord to his radar detector—a tool which proved unnecessary—fell against the door skin. The resulting ping sounded like someone had dropped an empty soda can. Eager to drown out the road noise and horrific engine note, we cranked up the tunes on the optional nav-equipped head unit, only to find an astonishing amount of distortion from the speakers at half volume. As a whole, the only positive from the Versa sedan is its enormous back seat, which offers tremendous legroom. But good luck finding anybody to sit there more than once. "
The previous-generation Versa had some zippiness to it, a little heart and soul buried underneath its vast expanses of shitty plastic. Unfortunately, the latest iteration feels like it was pulled out of an econocar design book from the 1980s, a time when manufacturers scrambled to build cheap, small autos in the face of high fuel prices and tough global competition, with typically poor results.
And just when we thought things were getting better, with build quality soaring in the 1990s and 2000s for major manufacturers across almost all makes and models, here comes the Versa, a lifeless, regressive mobility device that prompts a new owner to ask himself how his life went wrong.
The Versa's only saving grace could be its reliability, but if the last Versa is any indication, don't expect the new one to be free of defects and annoyances. Don't expect to see 40mpg either — the Hyundai Accent has it beat.
If a car is going to cheap, it ought to be cheerful. GM seems to have figured it out with the new Sonic, as well as Mazda with the 2 and Ford with the Fiesta. What's Nissan's problem?
—————————————
If you have around $10,000 or so to spend on a low-cost family car, here's a few worthwhile alternatives plucked from a quick search on Autotrader:
2010 Hyundai Accent – $10,995 – 20,000 mi
Cheap but fun to toss around.
2009 Kia Rio LX – $10,626 – 29,000 mi
Not particularly refined but light on its feet and easy to fling around corners.
2010 Nissan Sentra – $11,500 – 33,540 mi
Much more substantial than the Versa with better ride and handling.
2008 Saturn Astra XR – $11,499 – 42,000 mi
Rare, fun, reasonably refined.
2008 Scion xD – $11,500 – 34,000 mi
It's a strange looking box, but it's dependable and spacious with high resale value.
2005 Mercury Grand Marquis – $11,500 – 14,000 mi
A big, plush car from a dead brand that made cars for people who were nearly dead themselves. Cheap to buy, cheap to maintain, superbly comfortable, easy to service.
2006 Mazda 3 Hatchback – $11,500 – 37,000 mi
Basically a Miata with room for people and cargo.
2008 Suzuki SX4 – $11,500 – 33,000 mi
All wheel drive!
Also in this price range with reasonably low miles are the Toyota Corolla, Pontiac G6, Mercury Milan, Ford Focus, Hyundai Tucson, Dodge Magnum, Honda Civic, Hyundai Elantra, and Saturn Astra. Not all of these are attractive or interesting, but they'll save you from new-car depreciation and the sadness that comes standard with Versa ownership.