RIP Mr K – A loss for all motoring enthusiasts.
21 Feb 2015, NICOClub.com
I don't usually have "feelings," but this afternoon my face is dripping.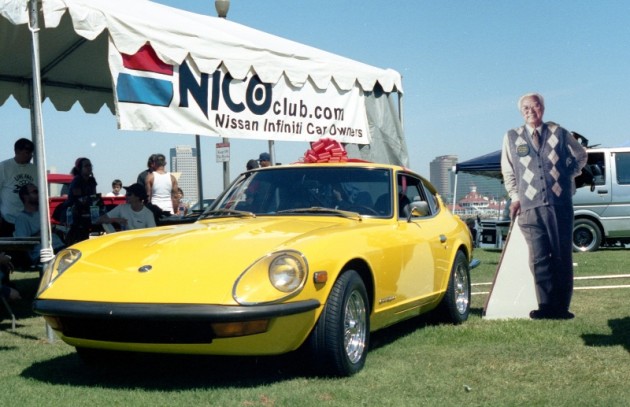 This guy got it. What makes his passing particularly sad is that few left in the industry understood the automobile the way he does, that they are machines that take you places, not just physically, but emotionally, and have the ability to connect you to nature and to yourself.
He is the antithesis of the Andy Palmers and Carlos Ghosns of the business who would rather churn out milquetoast crossovers of 20 sizes and varieties than take a risk on something that satisfies the soul.
As the marketing master who turned Nissan's North American dealer network into a powerhouse, the father of the Datsun Z car, and an advocate for exporting the legendary Datsun 510, Yutaka Katayama proved to the Western world that Japan could build cars with soul, substance, and style, backed by reliability.
The Z, in turn, influenced decades of engineering and design brilliance at Nissan with the Maxima, Infiniti Q45, 300ZX, and 240SX.
He was also a fan of the Mazda Miata:
Katayama retired from Nissan in 1977, but he remained a car guy right through to the end, earning a spot in the Automotive Hall of Fame in Dearborn, Michigan, in 1998. On his 100th birthday, Mr. K was still as feisty as ever, criticizing the Nissan 370Z as "so-so," bemoaning its weight and price. "I'd like to have a sports car like the Miata," Mr. K said in 2009. "The Miata is taking the place of the 240Z …. The fun of driving cars is the same as riding a horse. We need a car that is like riding on horseback. We are making robots. Robots don't like human control."
This is a loss for all of us who believe in the automobile as more than an appliance, who see the car as a product of human brilliance and inspiration with the ability to change the world and take us to new places both physically and spiritually.
Honored by Michigan's Automotive Hall of Fame in 1998, Katayama joined legends including John Delorean, Sir William Lyons, Enzo Ferrari, Caroll Shelby, and Bob Lutz as one of the industry's greats.
If there is an afterlife, I hope Mr Katayama is enjoying it in a Datsun 240Z with his dog, Sato, riding shotgun.

Fast Tube by Casper

Fast Tube by Casper
http://blog.caranddriver.com/yutaka-katayama-father-of-the-datsun-z-dead-at-105/
http://www.wired.com/2015/02/todays-automakers-learn-exec-treated-cars-like-horses/