1000 Miles: 2007 Hyundai Santa Fe AWD SE
Car guys rarely speak of crossovers with reverence or fanfare. We look down our noses at them as loathsome, trendy appliances grudgingly purchased to please image-conscious wives, a half-step above a dorky minivan.
You can hardly blame us — manufacturers promised improvements in handling and driving dynamics by replacing masculine body-on-frame truck-based SUVs with tall, car-based unibody wagons. Instead, most manufacturers have chosen to turn them into three-row rolling marshmallows, numb in every regard and entirely dull to look at or be in.
That's great for the 30-something mother carting her kids to school with Michael Fucking Buble in the CD changer, but for the rest of us it marks the end of a time when owning an SUV meant you were a go-anywhere, do-anything, active and outdoorsy kind of guy. It has become, like the Toyota Camry, a symbol of tied-down, predictable existence, a march to retirement marked with routine and repetition.
But there's a slight glimmer of hope from an unlikely hero.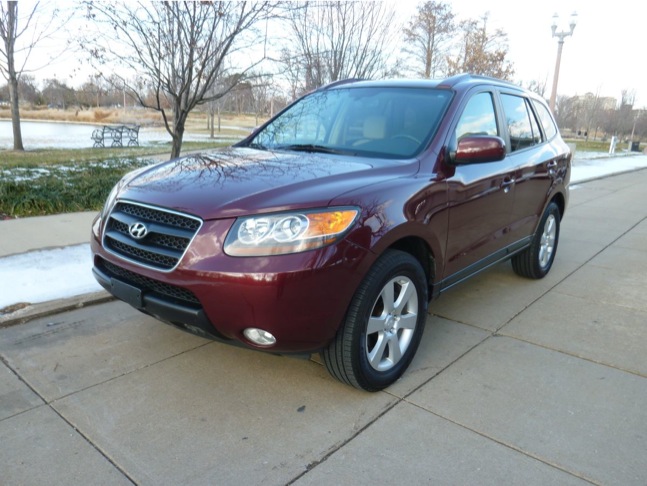 I picked up this unremarkably styled Hyundai at an auto auction back in December. Yes, a Hyundai. Hear me out.
We put a bid on it and I brought it back to our dealership on a rainy New Years Eve. My first impressions were neutral at best, casting it aside as a soulless appliance of suburban existence, little more than an extension of a woman's purse. All I cared about was the profit potential and the large (and rapidly growing) market for these trendy diaper-carriers. As a dealer, I had to set aside my emotions and pretend to be one of the unwashed masses, making loathsome compromises to fulfill transportation needs.
I couldn't make a serious living selling nothing but Miatas and vintage BMWs.
But over time, especially as the snow fell, the Hyundai took the place of my classic Saab 900 as a daily driver. Over that that same period of time, during which I accumulated 1,000 miles (odometer currently reads 102k), my opinion on the lowly Santa Fe changed dramatically.
Climbing inside, which requires a slight climb for me at 5'10", the light beige cabin welcomes with a tasteful mix of aluminum trim, fake plastic wood stretching from ear to ear, and cool blue LCD displays that glow like a Timex watch. Bright LEDs adorn the knobs and buttons which are clearly labeled and ergonomically sensible. Except for the heated seat buttons which are mounted a bit low on the center stack and the fog light/AWD Lock buttons on the lower left, everything is within easy reach.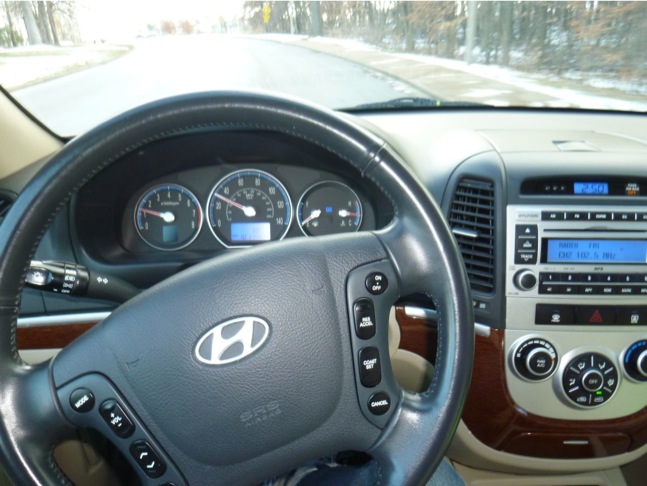 In the back there's plenty of room for three real adults across the supportive cloth bench seat. This generation of Santa Fe has been upsized to compete with the Highlander and Pilot rather than the Escape and CRV, offering enough width and height to create an airy atmosphere without being as ponderously huge as the GMC Acadia, though the Acadia's interior is easily the largest on the market.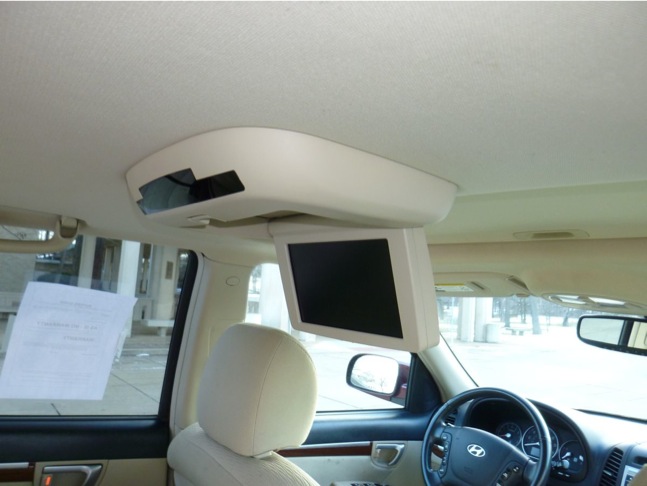 As an SE model, this comes equipped with a rear DVD player that includes a drop-down LCD monitor, remote control, and a pair of padded infrared headphones, just like the competing Lexus RX. Thankfully, the original owner decided against a third row seat which, aside from toddlers and small children, wouldn't have been tremendously useful. Instead, there's a massive cargo area with extra storage below a lid that stays propped open for tall items.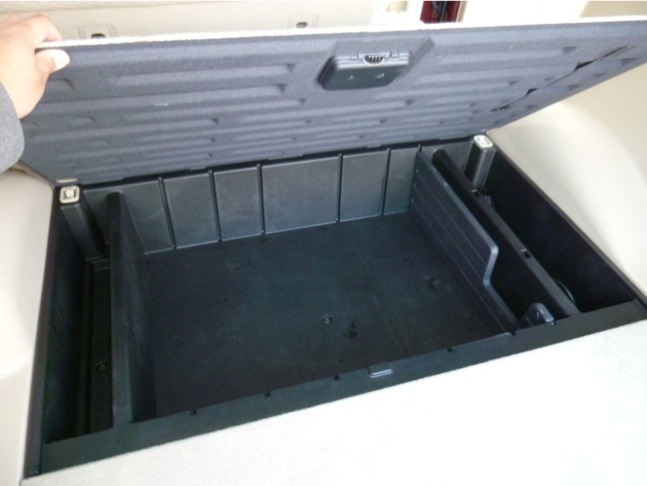 Unless you have a large family with lots of toddlers, you'll find the hidden cargo compartment to be more useful than the third row.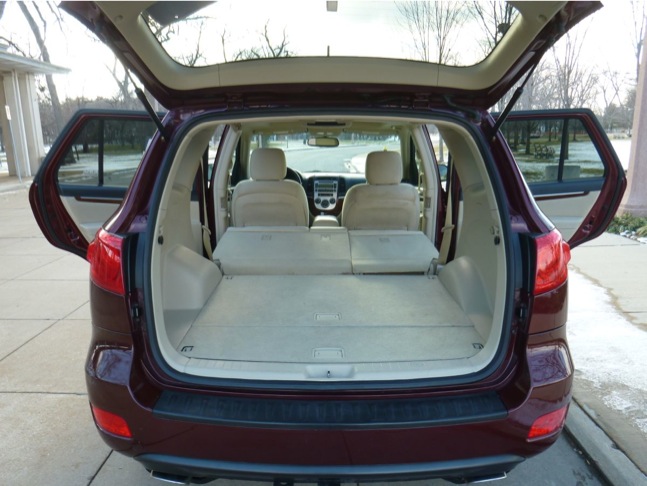 Owing to Hyundai's extensive market research, they picked up on America's love for tailgating and equipped the rear cargo area with a 115-volt wall outlet, perfect for a portable griddle or small fridge. An on/off switch in the front center console controls the outlet.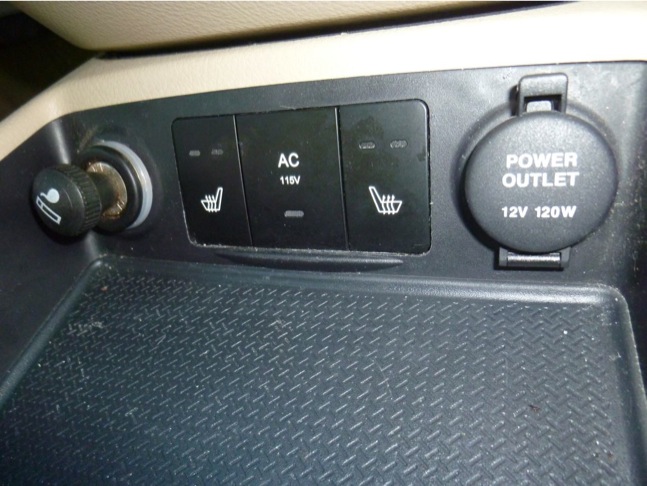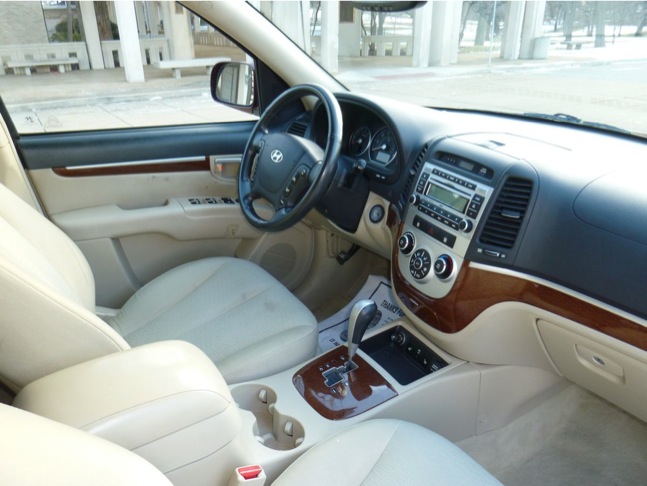 There's also an auto-dimming rear view mirror with an electronic compass, a leather-wrapped steering wheel with audio and speed controls, power seats, and a transmission that allows for selective manual operation. Not a bad list of features for a low-cost soft-roader.
The SE and Limited versions also come with a Borg Warner-sourced all wheel drive system that sends power to the rear wheels when slip is detected. Combined with stability control, it's quite capable in snow and sand, though it isn't quite as talented as Subaru's symmetrical all wheel drive. An "AWD Lock" button is supposed to help when you're stuck in the deepest of the deep, forcing 50% of available torque to the rear at all times, otherwise in routine snow driving I find it best to leave everything in its default setting.

Fast Tube by Casper
If you need to drive to a ski resort or a cabin in the woods, the Hyundai will perform adequately, but for recreational off-roading, a traditional SUV like a Jeep Wrangler is ideal.
All of this is par for the course for 2007 — features we once called luxuries have now become low-cost mainstream options. The only items lacking are leather (available) and automatic climate control. A Lexus RX will also have additional soft-touch luxury surfaces and nicer materials though the Santa Fe's harder plastics are equally well-assembled and rattle-free.
What truly sets the Santa Fe apart from the competition is the unexpectedly silky 3.3L 242-horsepower V6 engine that spins like a whisk through country gravy, tucked behind a well-insulated firewall. Throttle response off the line is instant, excitingly so, with electric-like torque that slings this bubble-shaped kid-carrier to 60mph in just over 8 seconds.
That doesn't sound particularly quick when Toyota Camrys can do the same in 5.7 seconds, but it feels gutsy with plenty of passing power as the speedo needle rapidly approaches 100mph.
The sublime and responsive five-speed automatic deserves just as much credit, reacting instantly to right-foot requests without drawing attention to itself. Shifts are quick, seamless, and pleasingly undramatic. While the manumatic feature is nice, I've never found it necessary as the transmission computer seems directly linked to the primary cortex of my brain.
Four-wheel ABS disc brakes are more than capable of keeping up with the V6's brisk acceleration, though the pedal requires a bit of a heavier foot, similar to some European sport sedans and hatchbacks, allowing for more accurate modulation and a greater sense of control.
The leather-wrapped steering wheel provides lively communication, sending the road surface directly to the fingertips. While talkative steering creates a sense of control during spirited driving, it also improves safety by letting the driver know intimately about the wetness, slickness, or roughness of the road surface below. The excessively isolated feeling of numbness that has become so commonplace in crossover vehicles is refreshingly absent here.
All of this makes for a surprisingly fun to drive wagon that inspires confidence behind the wheel. Unfortunately, most CUV owners will want and expect more sensitive brakes and a softer ride. The Santa Fe, this one equipped with a fresh set of Pirellis, is also on the firm side of ride comfort and does not hesitate to transmit expansion joints and surface imperfections into the cabin. Some would call that unrefined while I welcome the idea of a tall wagon that doesn't drive like a jacked-up coffin.
In all, the Santa Fe desperately wants to be a Lexus but thankfully drives nothing like one. The Consumer Reports crowd may take offense to its sporty handling, quick steering, and firm ride while I consider it an affordable breath of fresh air.
If you're tired of the average, soulless, multipurpose people mover, put this on your list alongside the Mazda CX.