Review: 1999 Honda Prelude
1999 was a good year — Silicon Valley boomed, US unemployment was at 4.2%, I still had plenty of hair on my head, and Honda was arguably building its best-ever cars. Accords were selling faster than the Marysville, Ohio plant could build them, the Civic Si redefined sport compacts, and Acura's NSX and Integra were design and engineering gems. Additionally, the S2000 roadster debuted that same year alongside the 70 mpg Honda Insight hybrid.
The problem with achieving greatness is the inevitable decline that follows. The Ridgeline pickup and Crosstour wagon-SUV-thing are head-scratching flops, the Acura NSX is long gone, and the Civic lost its soul and devolved into a substandard appliance.
Honda, once the purveyor of "dreams," has lost its way.
That makes the fifth-generation Prelude (1997-2001) among the last of Honda's best. With its angular lines, low stance, large greenhouse, and low sills, it was Honda's first "retro" car, drawing inspiration from the second- and third-generation Preludes that sold nearly half a million units from 1983-1991.
Unfortunately, the fifth-gen Prelude encountered stiff competition not from Toyota or Nissan, but from Honda itself. The Civic Si was more practical, the Acura Integra had more prestige, and the new Accord Coupe offered significantly more space and comfort with equal fuel efficiency and a rakish new body.
The Prelude's sporty, 80s styling came with compromises to its cabin space and with a price tag between $23k and $26k, it wasn't a particularly good value among front-drive cars. For the average American motorist, the looks came with far too many disadvantages. Spirited drivers willing to sacrifice practicality for fun could take home a rear-wheel drive Mazda Miata with a convertible top for only $20,000.
As a result, less than 60,000 fifth-gen preludes were sold over five model years.
But that's nothing but history to people like you and me who buy well-used cars. What matters to us, the second- and third-hand owners, are ownership costs, looks that age well, parts availability, comfort, and reliability.
My brother bought this black 1999 Prelude about three years ago. It was a one-owner trade-in at Plaza Motors in Creve Coeur, Missouri, a multibrand luxury dealer in suburban St Louis. The car was religiously maintained at a local Honda dealer and the body and interior were, despite over 100,000 miles and a few minor scratches, in surprisingly good condition. Leather side bolsters tend to crack, fade, and tear over time, but this Prelude's black upholstery was in outstanding shape.
Here are the photos from the Autotrader ad posted in 2009: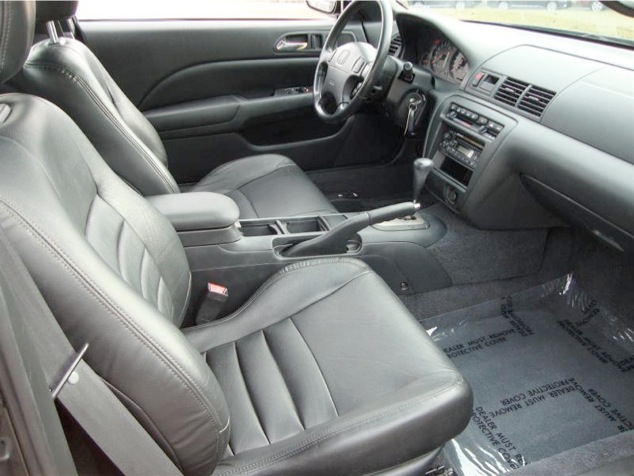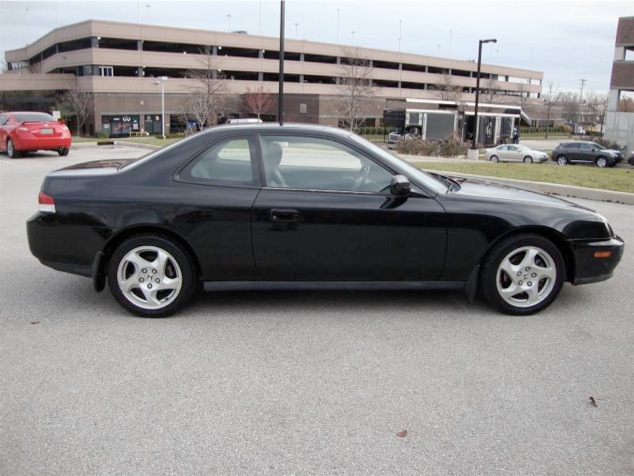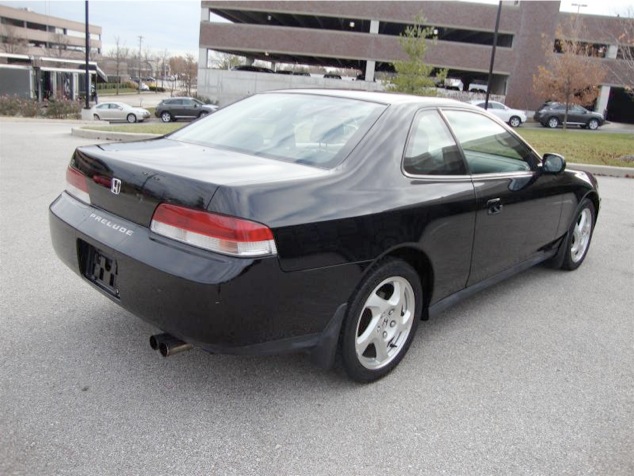 The tail lights recall the late 80s Prelude.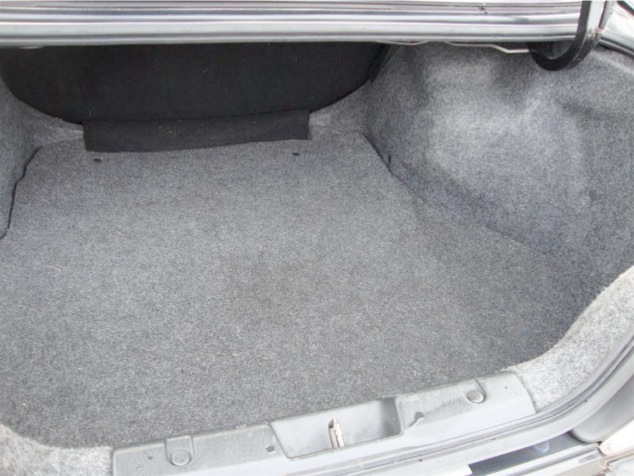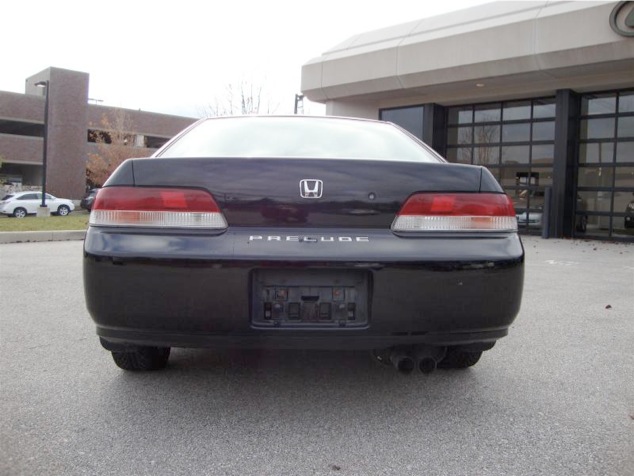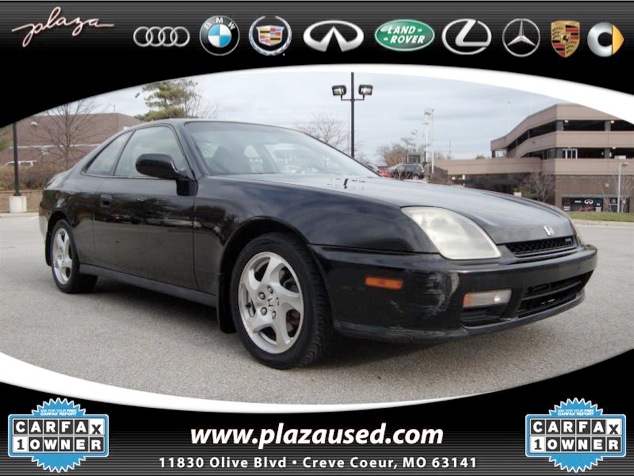 The headlights follow the shape of the second and third-gen Preludes but use plastic clear lenses in place of motorized glass pop-ups. The plastic, unfortunately, is terribly prone to fogging and yellowing.
Normally, I dislike Plaza Motors, but the salesman, Jack, was a friend we've been buying cars from for several years and he happened to take a job there. I drove with him back to my mom's house to check out the condition of the Civic that was being offered for trade because I was concerned that my parents didn't fully convey the severity of the body damage.
Since my brother was halfway across the state at school, the decision to buy the car was going to depend entirely on my driving impression.
Though I fit well enough with plenty of leg and head room (I'm 5'10"), the seating position was a bit awkward. You feel like you're in a tube that's angled down toward the street. I had to put the seat back in an unusually upright position to comfortably reach the unusually distant steering wheel while allowing adequate room for my legs.
Imagine an infant sitting on the floor: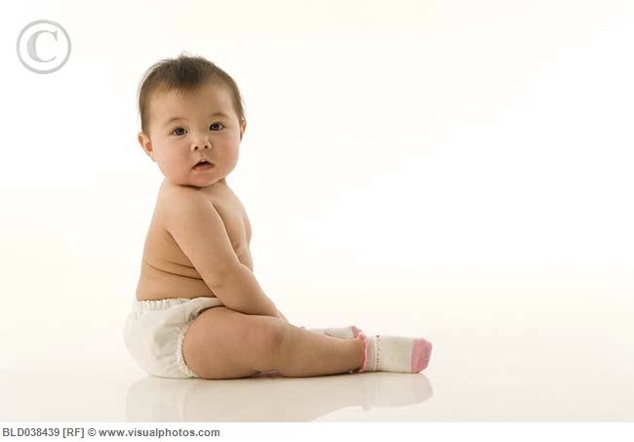 The low door sills and low cowl make it feel like you're sitting on the car rather than in it. That aside, once you find a bearable driving position, the well-bolstered and supportive seats prove to be quite comfortable on thousand-mile road trips. I've taken this car from St Louis to Georgia and St Louis to Pennsylvania with no back fatigue or discomfort. The only issue is the lack of cargo space in both the trunk and back seat. The rear seats aren't realistic for adults and stuffing a suitcase back there is a chore.
At least my dog fits (though he found it to be a bit confining as well), and the rear cupholders are perfectly sized for feeding: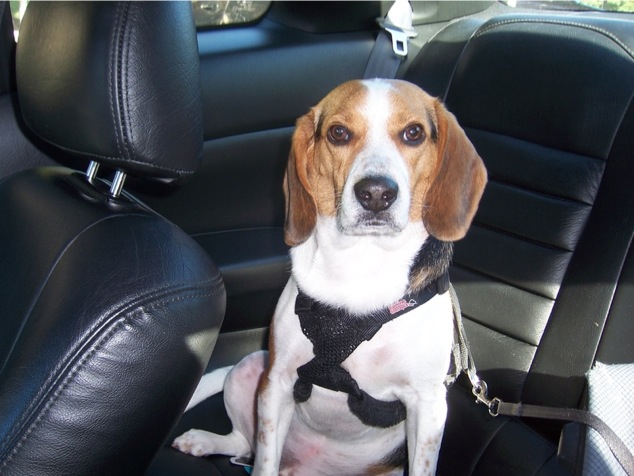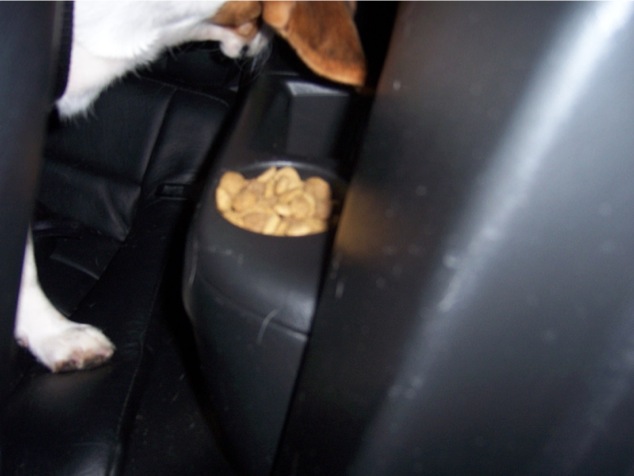 RIDE AND HANDLING
Despite its diminutive size, the Prelude rides like a much larger midsize car, soaking up highway imperfections like a sponge while digging into curves and ramps diligently. Despite the 63% front weight bias, the 3000-lb coupe zips through tight bends like a four-seat Miata thanks to its four-wheel double-wishbone suspension and rigid chassis.
Additionally, the quick and communicative 15.75:1 rack and pinion steering system provides an assuring sense of control.
There isn't as much isolation from tire and road noise as there is in the Integra or Accord Coupe, but with a quality set of tires the ride is fairly hushed with less wind noise at 70mph than a Lincoln Town Car.
Unfortunately, its low ride height and long front overhang prove to be a nuisance in urban areas where the front lip is terribly prone to scrapes and curb rashes. The front bumper has been repainted once in the last three years and its due again for a cleanup.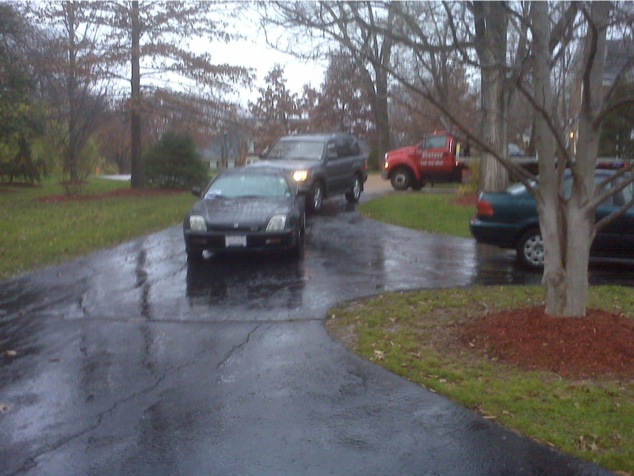 We headed to mom's house to show the vehicle since this was going to be a parentally-funded purchase. I accidentally put in a red security reset key (Honda has some kind of key programming system), so I wasn't able to restart the car.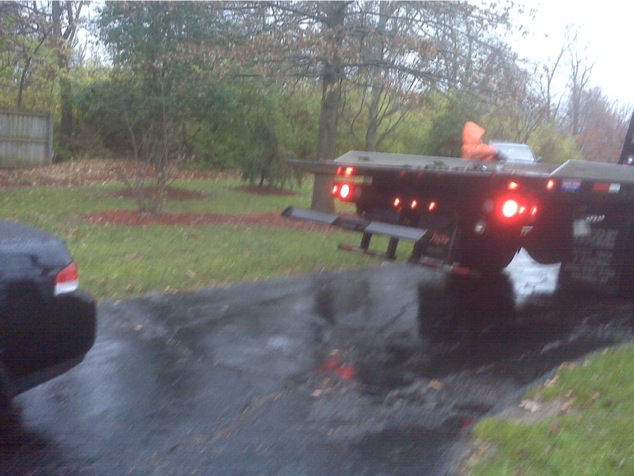 No one was home, so Jack and I sat in the driveway waiting for a flatbed. My aunt and stepdad showed up at the house just as the tow truck arrived. The tow operator managed to get it started, likely because there was a 5 or 10 minute security lockout timer caused by the red key that finally ticked over.
My stepdad looked at the car, asked for my opinion, wrote a check, and the deal was done right there in the driveway. Perfect timing.
It was purchased for $6500 in 2009, not a screaming deal, but for a one-owner car with an all-local dealer service history it was quite reasonable.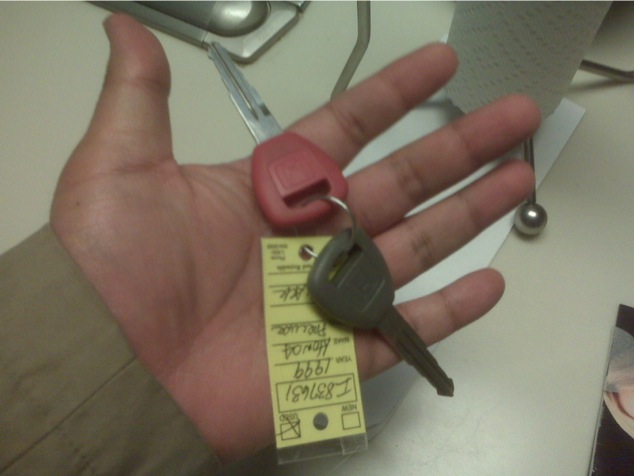 The lesson? Just avoid ever touching the red key.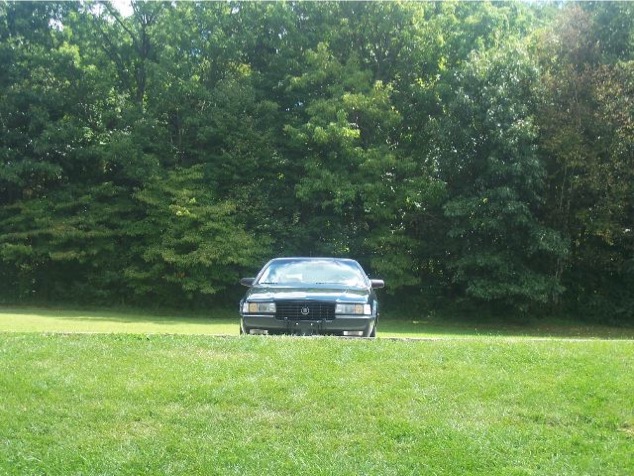 My brother took ownership of the Prelude while I adopted the 1992 Cadillac Seville STS he bought a year earlier (it used to be mine, then I sold it, then he bought it a year later from the guy I sold it to).
Just a couple weeks ago my brother and I took the Prelude to Carlisle PA for a NICOClub event. We planned on taking my Saab but the day before we were going to leave, the water pump took a dump. My Saab was left with my specialist while we stuffed the Honda with luggage and hit the road.
INTERIOR
I mentioned already how smooth it is on the highway, but after a few hours I took notice of how incredibly well-assembled the interior was. Despite nearly fourteen years of motoring, the interior looked like it hadn't aged a day. '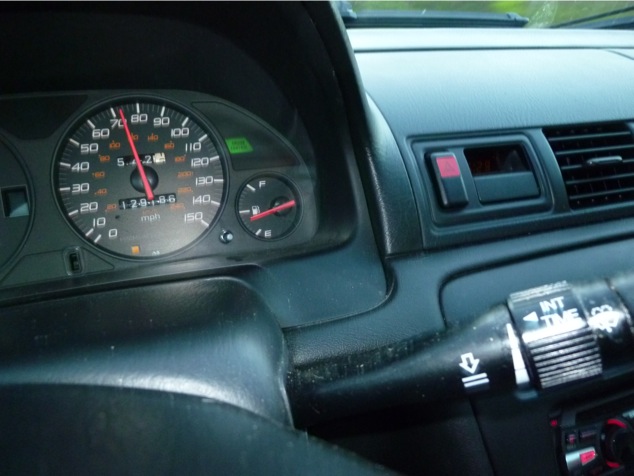 You can see where the gauge cluster, clock, and center stack all intersect. The panel gaps are faultless. The level of quality and precision is on par with Lexus, though Lexus uses softer materials. All of the interior plastics have a fairly soft touch and feel firm and substantial, arguably even better than a BMW 3-series from the same era.
The door panels are nicely padded and create a more luxurious atmosphere than the Civic Si and Accord Coupe.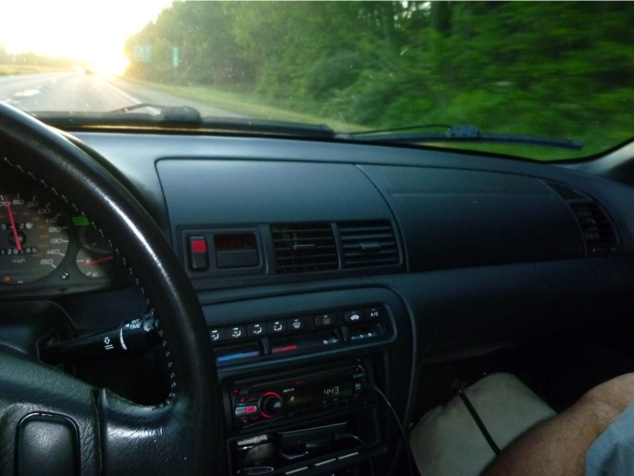 The dashboard sweeps across the passenger side cowl to form an elegant arc where it meets the vent. All of the buttons, switches, and knobs feel heavy, substantial, and fairly expensive.
My brother replaced the Honda "Acoustic Feedback" CD player with an aftermarket Sony head unit to gain auxiliary input. The factory amplified speakers have been retained.
On paper, the Acoustic Feedback sound system is pretty clever. From PreludeOnline.com:
"The Acoustic Feedback System is a 2-way, self-checking process. The head unit sends the signal to the speakers. The speakers produce sound. The microphone built into the stock speakers takes that sound and sends it back to the head unit. The head unit listens to the sound and alters the output to correct what it heard. The idea is to get better sound quality by reducing hiss, feedback, etc etc etc."

The person who posted that message said he had speaker output level issues after replacing his head unit. I experienced no such problems. Unfortunately, if any part of the system is replaced with aftermarket components, the AFBS is reduced to serving as an amplifier, losing its feedback capabilities. That's fine, because although "Acoustic Feedback" was a clever idea, I question its effectiveness. Clever and inventive for the 90s, but more of a gimmick than anything.
There's a surprising amount of clean, powerful bass produced by the rear speakers, negating the need for a subwoofer that would consume precious cargo space. The highs were a bit muddy and distorted with the stock AFBS CD player, but the aftermarket radio cleaned up the mids and highs quite nicely.
Unfortunately, the front speakers are now blown, as they tend to be in most fifth-gen Preludes. That's fine, because the rears produce surprisingly full, rich sound on their own.
James needed a ride to the airport from the Carlisle Fairgrounds, and he unfortunately was forced to share a back seat with two suitcases. We stacked the suitcases to his right while he shoved his toes underneath the back of the driver's seat. I moved my seat forward a bit to give him some breathing room. We made it work, but no one was comfortable.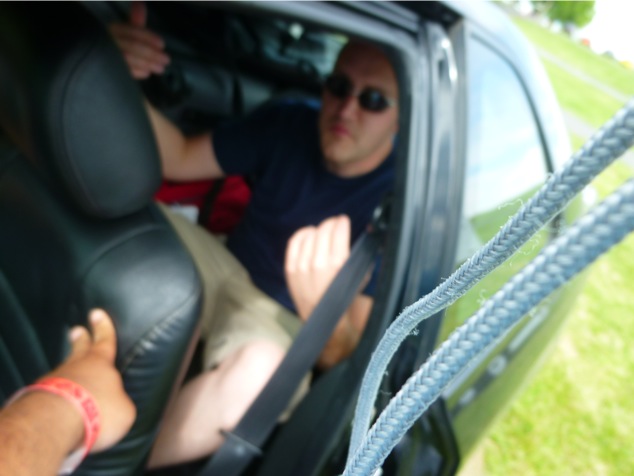 Fortunately for him, it was only a 25-minute drive. Despite the suspension being bottomed out with three guys and their luggage, the ride continued to be smooth and comfortable and the H22 I4 pulled with commendable power.
ENGINE
On that note, I've managed to go through nearly two dozen paragraphs without mentioning the Prelude's best asset: its H22A4 VTEC engine, an absolute gem.
Producing 200hp for the US market, this 2.2L DOHC I4 moves the coupe with surprising authority and thrift. On the way to Pennsylvania, we averaged more than 31mpg: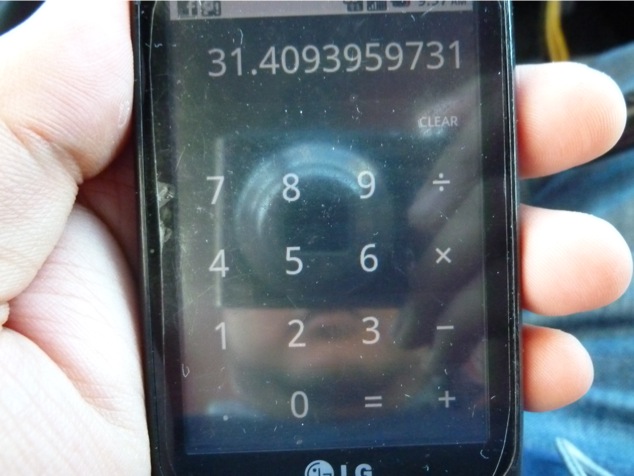 Unfortunately, the high compression ratio that contributes to its performance and efficiency also means it requires premium fuel.
If you want to hear the engine and exhaust, play this video and skip to 4:50:

Fast Tube by Casper
The stock exhaust gives the VTEC I4 a deep, racy tone without sounding like a garden appliance.
TRANSMISSION
Its performance around town is hampered by Honda's apathetic 4-speed automatic. Despite being fully serviced with fresh fluid and a new filter, it's agonizingly lazy and sluggish to downshift.
Advice: If you buy a Prelude, go manual or go home. It makes a world of difference.
Aside from space, automatic transmission, and seating position issues, the Prelude has one additional flaw: the body. Rust is extremely rare on late 90s Hondas but the steel feels thin and seems prone to dents and deings. The paintwork is a bit soft as well, too easily scratched and scraped. Be careful where you park.
BRAKES
The brakes grab with tenacity but the pedal feels a bit touchy for my tastes, but that's likely because I'm used to driving older cars that require more foot effort. The Prelude stops with authority and features vented discs at all four corners, 11 inches at the front and 10 inches at the rear. Aftermarket upgrades are available but seem entirely unnecessary.
OVERALL

On paper, the Prelude appears hampered by its limited space and practicality, appearing to be a car that's more style than substance. However, once you examine the cost that went into the extensive engineering and precisely built interior, you begin to understand why it cost so much when new.
Unfortunately, subtleties and design details are difficult to convey in automotive marketing, so most of the American public overlooked the Prelude.
RATINGS:
Powertrain: 5.5/10 — A fantastic engine is let down by a miserably indifferent automatic transmission. If this Prelude was equipped with a 5-speed manual, this score would be at least 9/10.
Braking: 9.5/10
Ride: 9/10
Steering/Handling: 9/10 – Without looking underneath or opening the hood, you would never know this was a front-wheel drive car. Thanks to front and rear wishbones, the Prelude digs securely into corners.
The steering is perfectly weighted for both spirited driving and highway cruising though a tiny bit more feedback would be nice. It's certainly more lively in the hands than most other Hondas.
Audio/Accessories: 9/10 — Nice amplifiers. Substantial low-range output from the rear speakers means no subwoofer is needed. Air conditioning is impressive, quickly turning the small cabin into a polar bear's habitat.
Interior: 10/10 — Every single panel is precisely assembled with thin and even panel gaps. Every button and switch feels chunky and substantial. All of the surfaces are fairly soft and feel very substantial. Gauges are logically arranged, easy to read, and well-lit at night.
The cupholder arrangement with the sliding divider is awkward.
Comfort: 7/10 – Thick side bolsters, supportive seats, and good ergonomics make road trips easy. The seating position is a bit strange at first.
Quality/Reliability: 8.8/10 — The transmission should be regularly maintained with fresh fluid every 30k. Preludes are prone to wiring issues in the driver's door.
Overall Value: 7/10 — You can find more car for less money somewhere else, if that's all you care about. And if that's the case, you're reading the wrong blog.
VERDICT:
It's no better on fuel economy than most four-cylinder front-drive cars, it's less spacious than a two-door Civic or Accord, and it costs more on the used market. But really, who cares? It's better looking, more fun to drive, and more satisfying to own. If you're a single commuter, consider a Prelude.
Bonus:
There's a higher-performance "Prelude SH" with handling and suspension improvements, detailed toward the bottom of this article:
http://www.honda.com/newsandviews/article.aspx?id=20010221001322
Specifications:
200 hp I-4 VTEC @ 7000 rpm
156 lb-ft torque @ 5250 rpm
4-speed auto (19/24 mpg) or 5-speed manual (20/24 mpg) – Real-world fuel economy seems higher than EPA numbers.
Front-wheel drive
Options: Sunroof, leather, SH handling package
3009-lb curb weight (subtract 50lbs for manual trans, add 50lbs for SH package)
101.8 inch wheelbase
Made in Sayama, Japan