Road Trip and Review: 2003 Range Rover HSE, St Louis to Tampa
This took place in October of 2007.
My time with the Range Rover was brief, no longer than four months if I recall correctly. I swapped cars with a friend — he got the 1998 Lexus LS400 and I got his 2003 Range Rover… and a higher payment, and higher fuel costs, and higher insurance, and so on and so forth.
Looking back on it four years later, I realize that my opinion of the Range Rover varied widely from love to disdain. On one hand, it was at the time the most exquisite, posh, and upscale SUV ever built. On the other hand, it was a potential reliability nightmare and a pretentious, conspicuous eye-magnet, at least in my somewhat conservative part of the country. [I'm sure it blends in with Miami traffic like a yellow cab in New York.]
At first, I was enthralled by the beautiful piped leather, the refinement, and of course the prestige. At 25 years old nothing mattered more in life than what I was driving. Its a product of immaturity I supposed, an inexplicable need to impress people you don't like.
Now at 29, I'm driving two thoroughly used cars, 10 and 20 years old, that cost as little to buy outright and maintain as the Range Rover did in only a year's worth of payments, repairs, and insurance.
After the passing of four years, I can reexamine the Range Rover from a more reasonable perspective.
We'll start with the road trip from St Louis MO to Tampa FL and conclude at the end with a review.

A nice morning in Chesterfield MO to begin a road trip.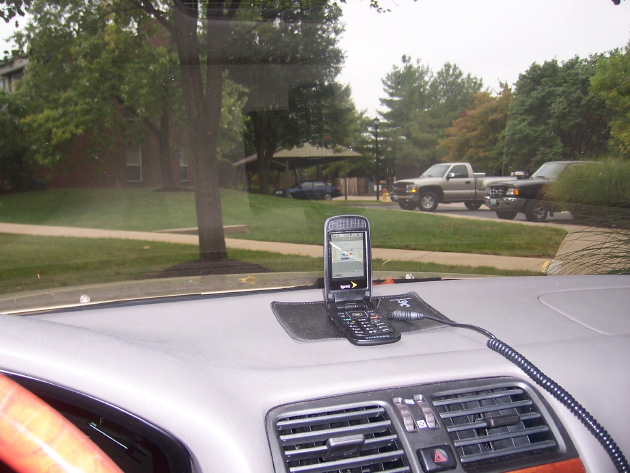 This was all I had for navigation, my Samsung M610 phone. It worked.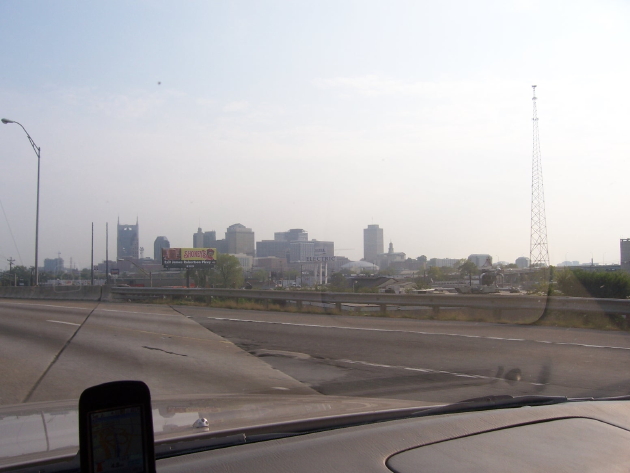 Approaching Nashville. You can tell you're in the south when you see signs for Shoney's restaurants.

Tennessee has friendly people. I chatted with the lady at the gas station for what seemed like ten minutes about orange juice, viruses, and colds. Unfortunately, their spelling is subpar.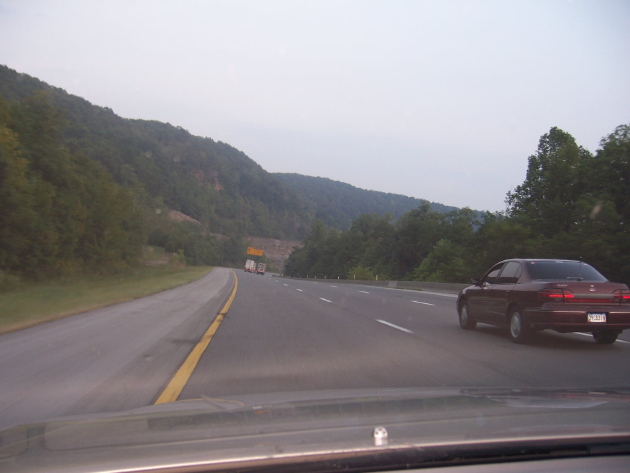 Winding through beautiful mountains in Tennessee. The Lexus LS400 really is an invisible car. On a couple occasions, semi trucks changed lanes and nearly ran me off the road, and they didn't seem to hear my wussy little horn.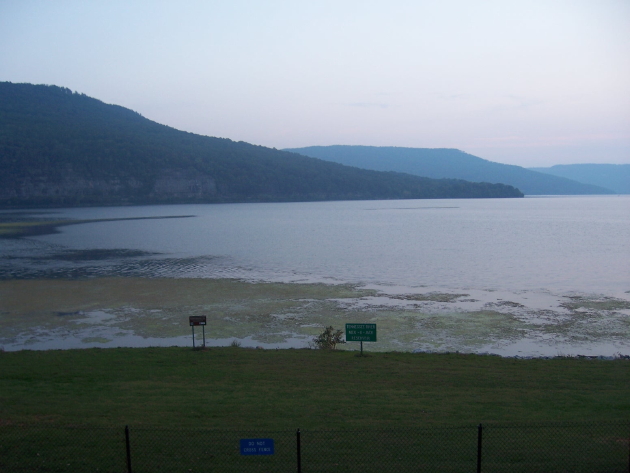 Stopped at a rest area to look at the Nickajack Reservoir.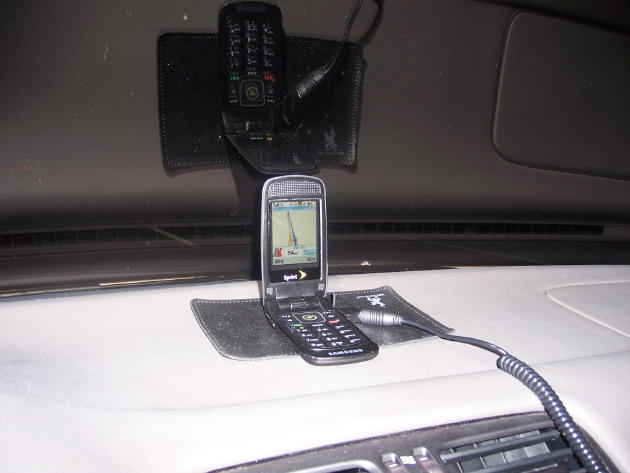 Approaching Atlanta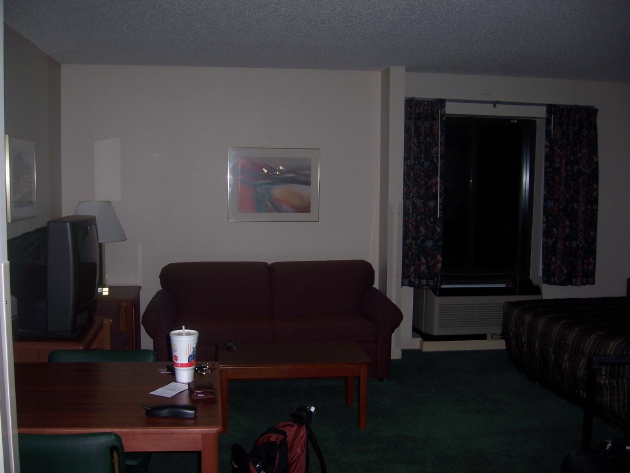 Extended Stay Studio, $25, Priceline. The carpets smelled old but the bed was clean.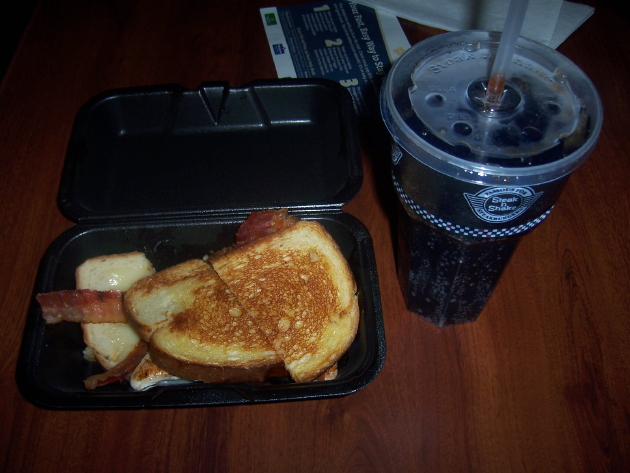 Crap dinner saved by bacon.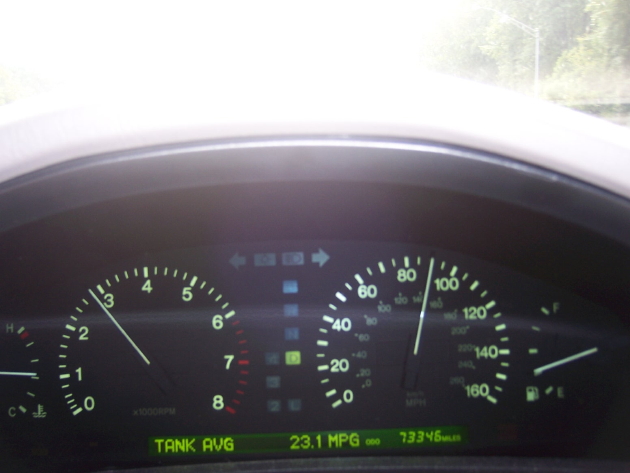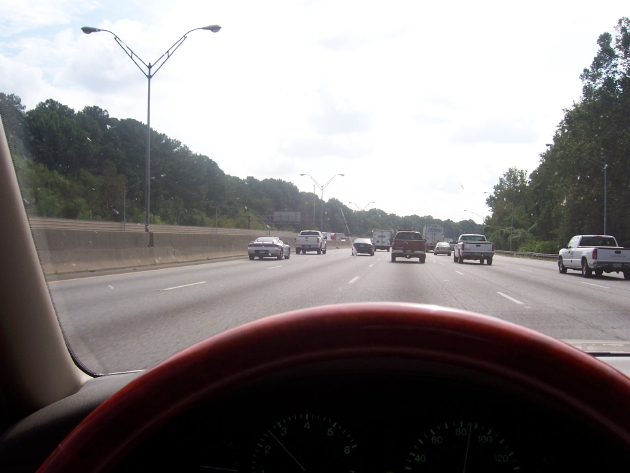 I was doing 80-100mph on I-75 through Atlanta and people were STILL passing me.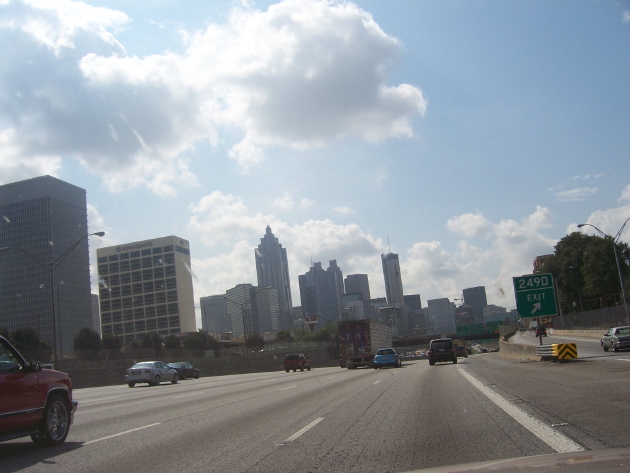 One of Altlanta's many skylines.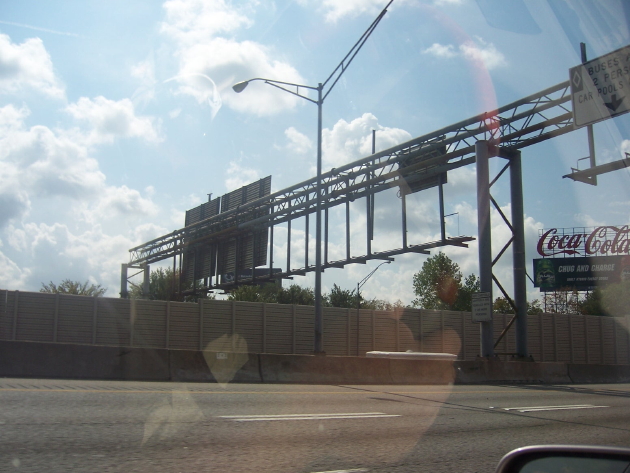 Home of Coca Cola. I also drove past the plant that built the original Ford Taurus.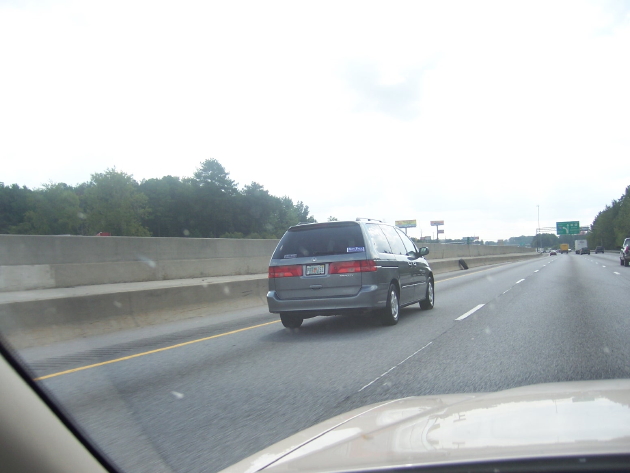 Honda with a Ron Paul 2008 bumper sticker.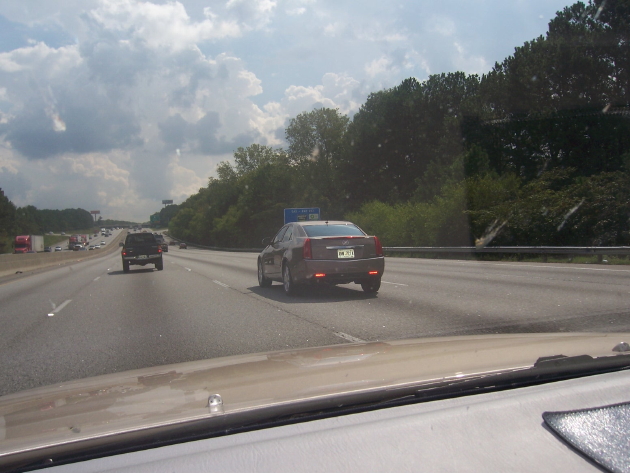 2008 CTS! I was excited to see it four years ago since the car had just come out.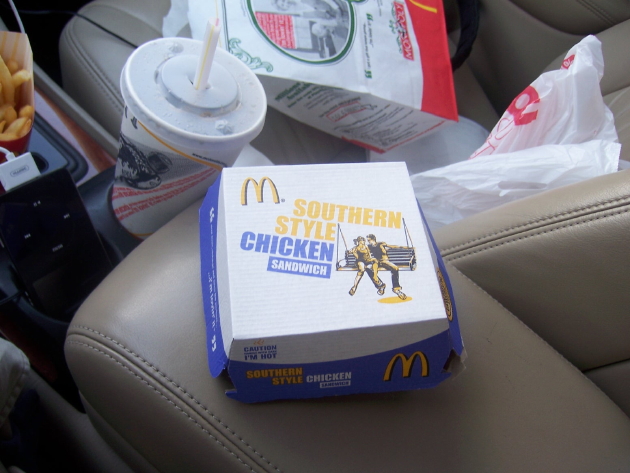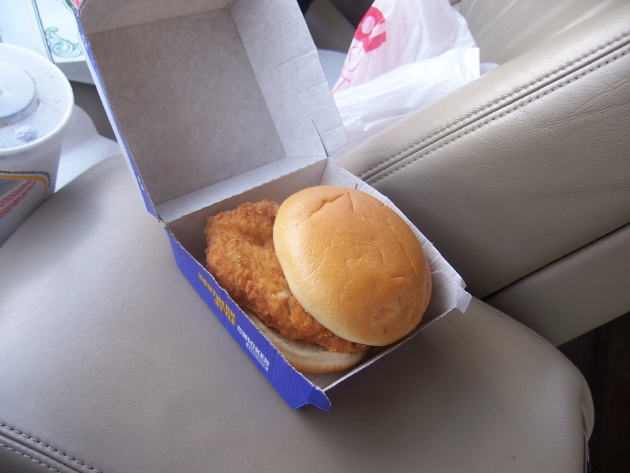 Shockingly tasty. Basically a large piece of fried chicken on a dense sweet bun. With pickle. After this trip I vowed to begin cutting back for my health (and I did), so I took every opportunity to indulge.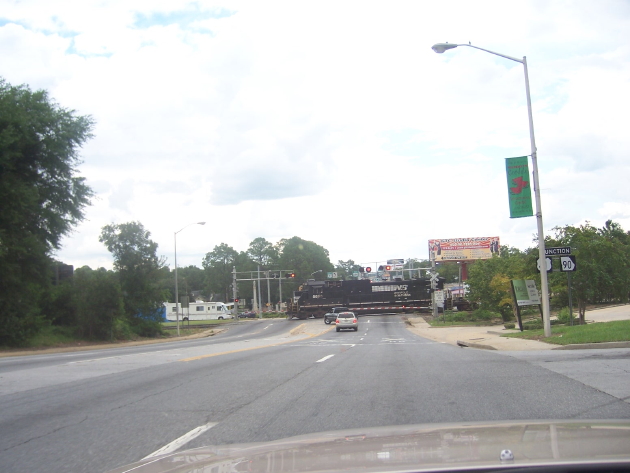 I left the interstate and followed a sign that was supposed to take me to a President Carter historic site. The signs eventually stopped telling me where to go, so I headed back.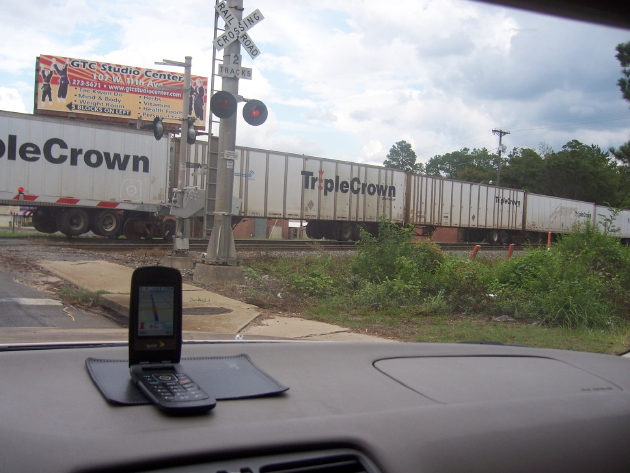 This train eventually just stopped. Fortunately, I was able to make a careful u-turn, go down the street, and cross elsewhere.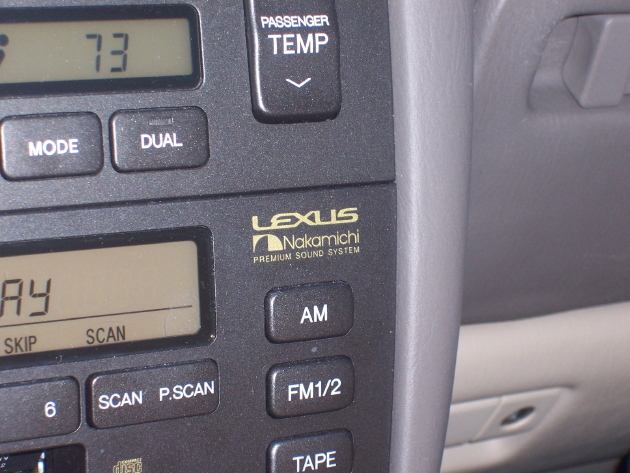 The one and only thing I miss about the Lexus is the Nakamichi system. It is, by far, the greatest OEM sound system I've experienced (as of 2007). The Harman/Kardon BMW system in the Range Rover was worthless, astonishing considering it had an MSRP of $73k.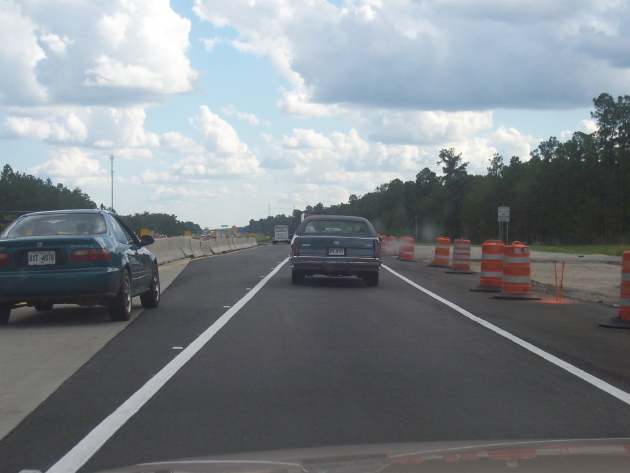 Clean and beautiful Fleetwood Brougham.

I hope thats a rental.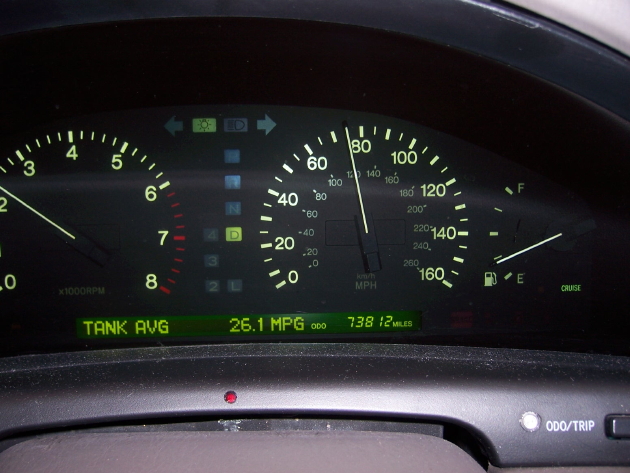 Average fuel economy keeps rising.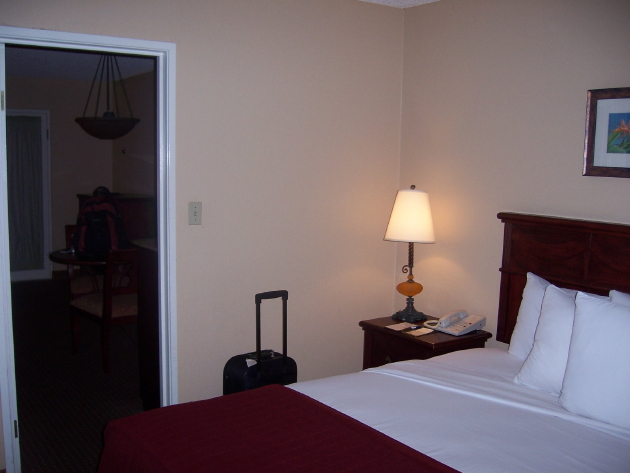 I finally arrived at my hotel in Tampa, the Grand Suites on the north side. I stayed here twice before and didn't have major complaints, especially being a $50 suite.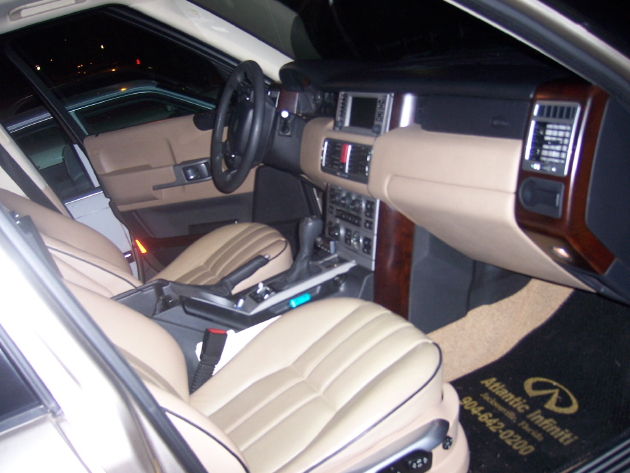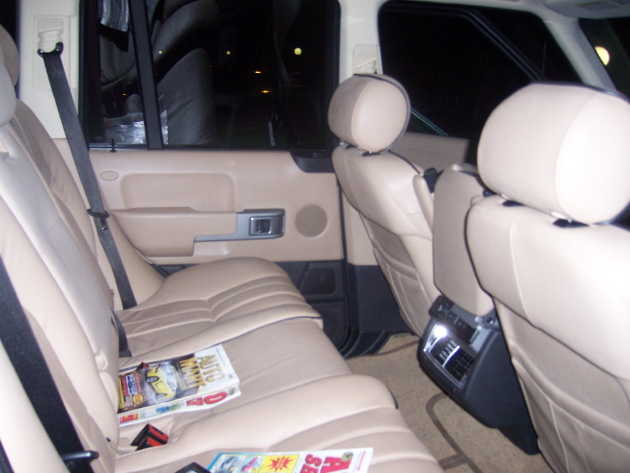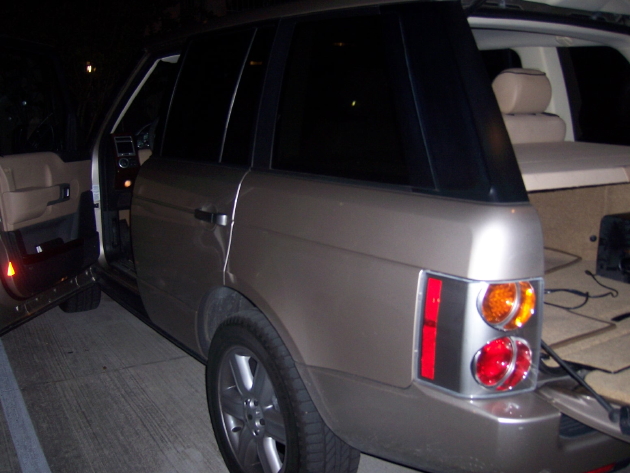 Picking up the Rover. Taking blurry photos.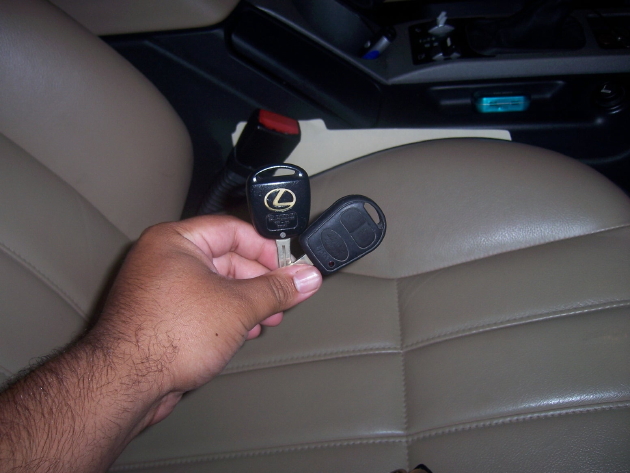 Swapping keys.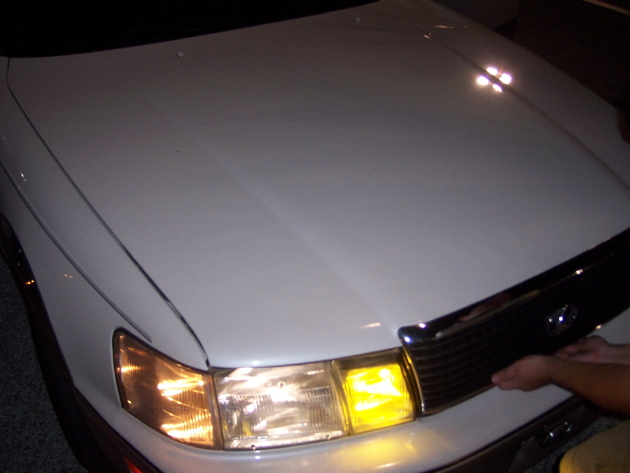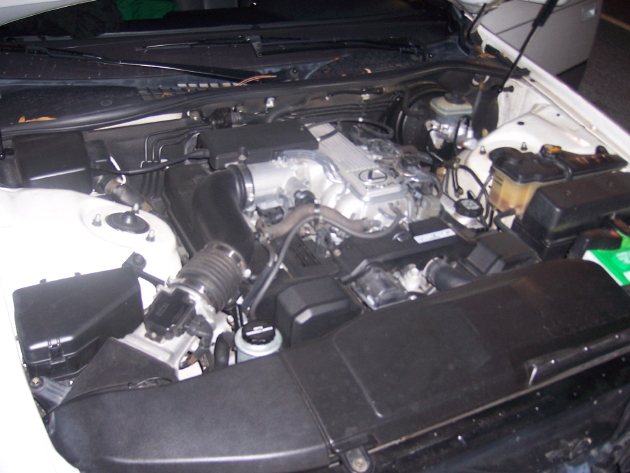 Ian's mom drove a 1990 LS400 in pristine condition. The engine is beautiful and ornate, designed before the arrival of ugly plastic covers.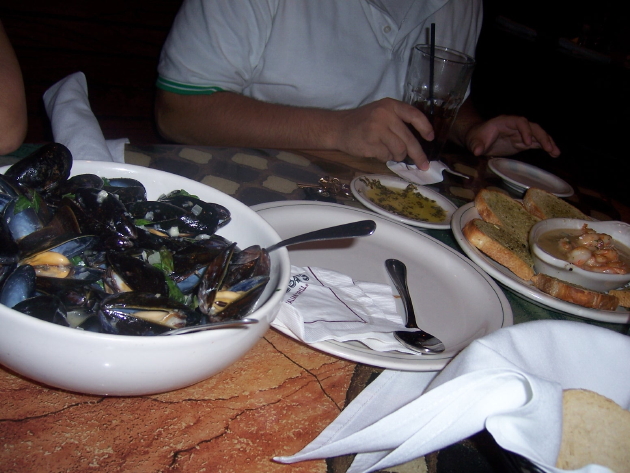 We went to Carabba's. I ordered mussels and pork chops.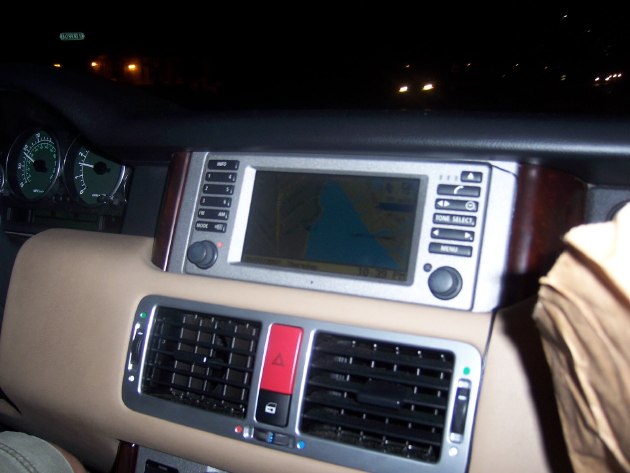 The CD navigation system is junk. $600 would upgrade me to a BMW DVD unit.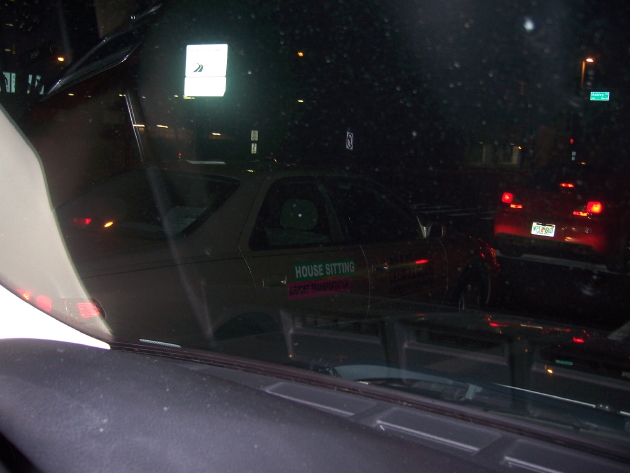 According to the stickers on the side of this Camry, the guy does house sitting, taxi service, personal errands, maid service, and probably computer tech support.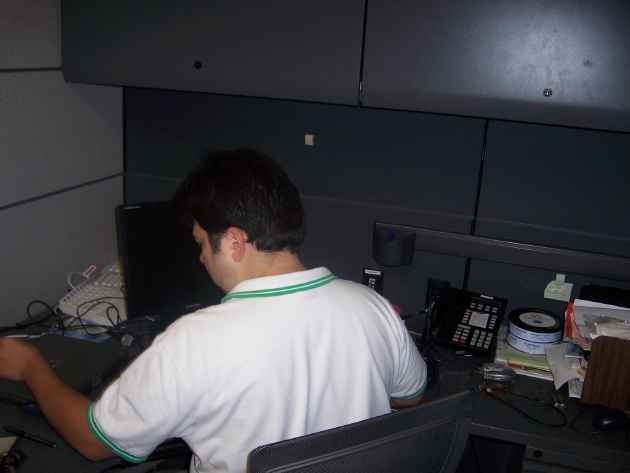 Ian's sad, undecorated cubicle.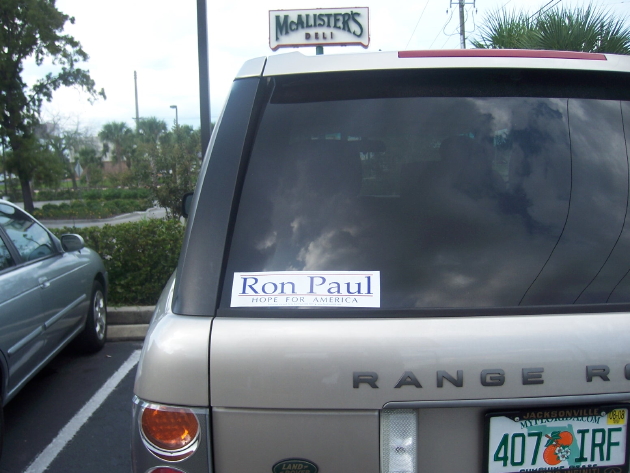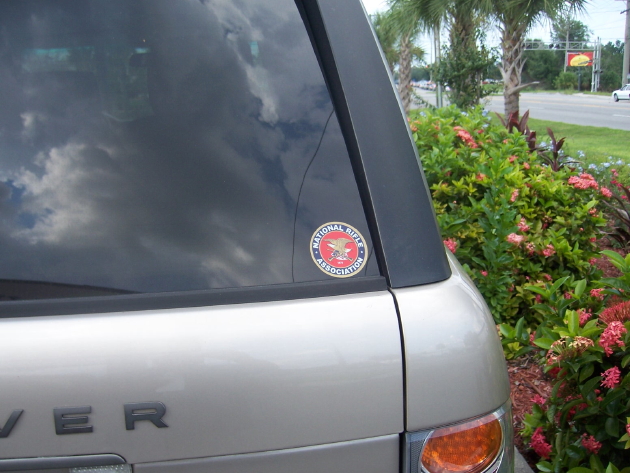 Personalization. Having a Ron Paul and NRA sticker on the same vehicle is somewhat ironic. In Texas, the NRA and GOP tried to campaign against Ron Paul (the #1 second amendment supporter in congress), and failed miserably.
These days, I prefer to avoid bumper stickers and keep politics to myself. You never know when some idiot will get angry and vandalize your vehicle.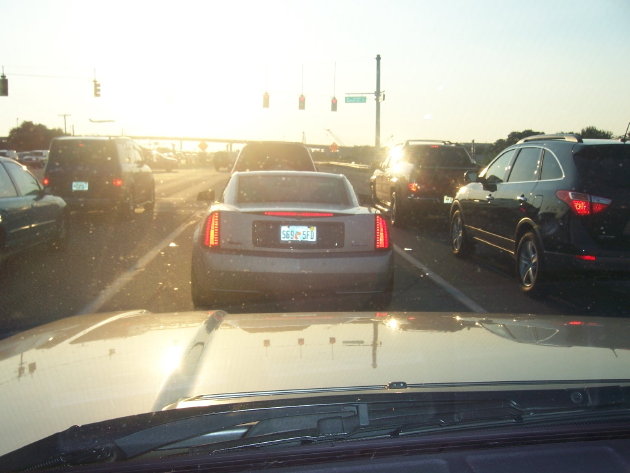 My dream car, the Cadillac XLR.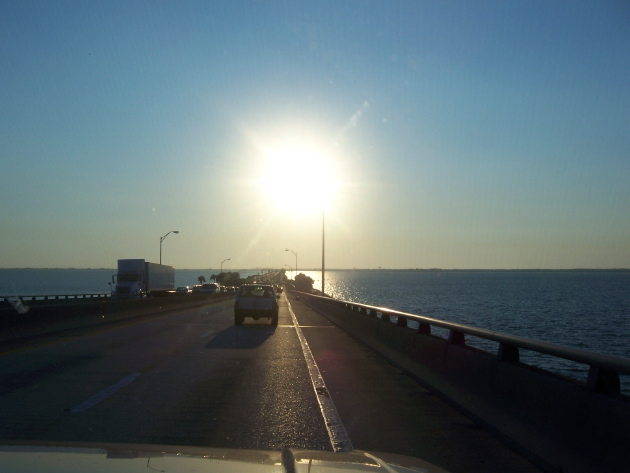 Heading to Clearwater for dinner.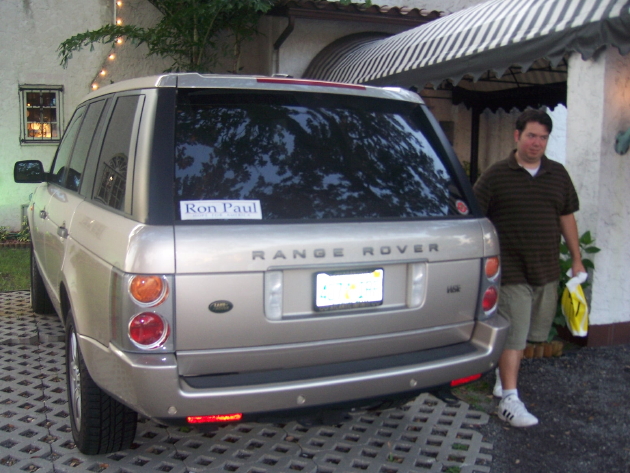 We found a hispanic restaurant that looked inside and out like an Italian place. Parking spot was excellent.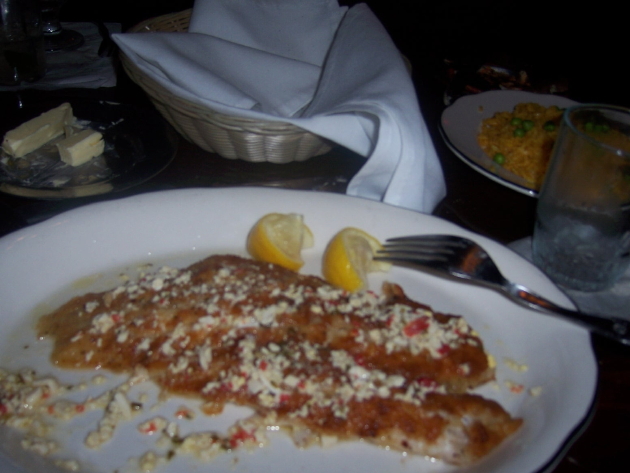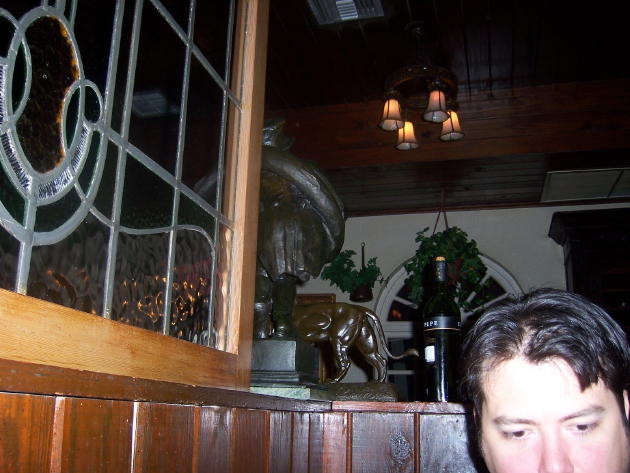 I ordered the grouper. Ian had chicken and saffron rice. It was decorated with Brazilian artwork. The owner was on site asking patrons if they were pleased.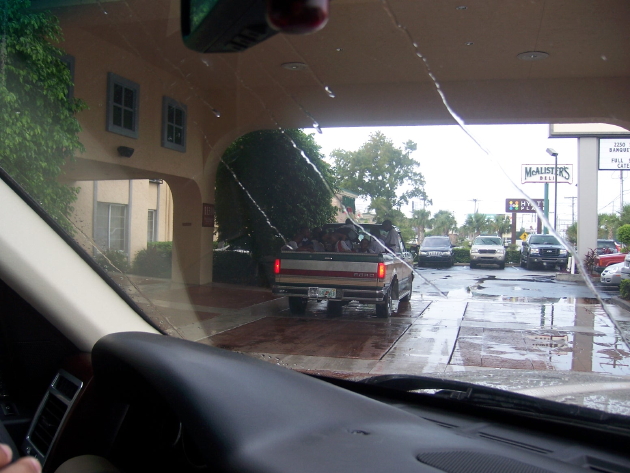 The next morning. There was a large group of kids standing in front of the hotel lobby just as a pickup truck pulled up. I joked about the kids climbing into the back of the truck, and they did!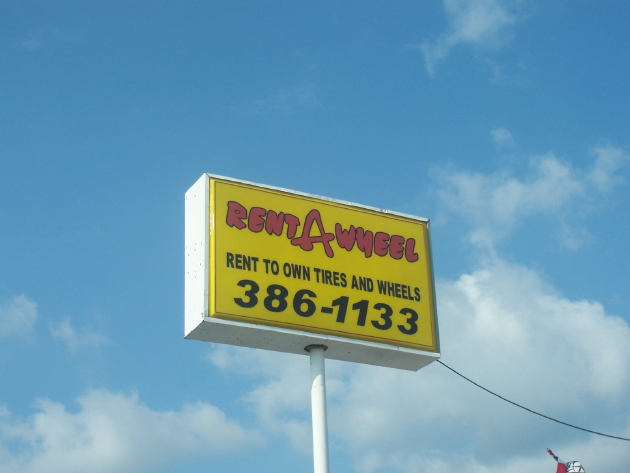 Seriously?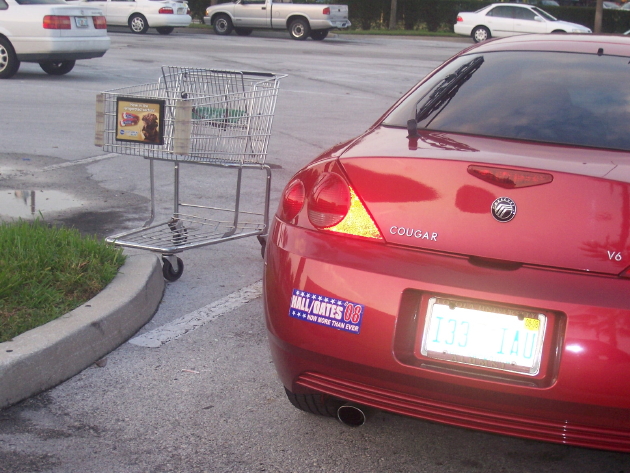 "I CANT GO FOR THAT. NO NO, NO CAN DO."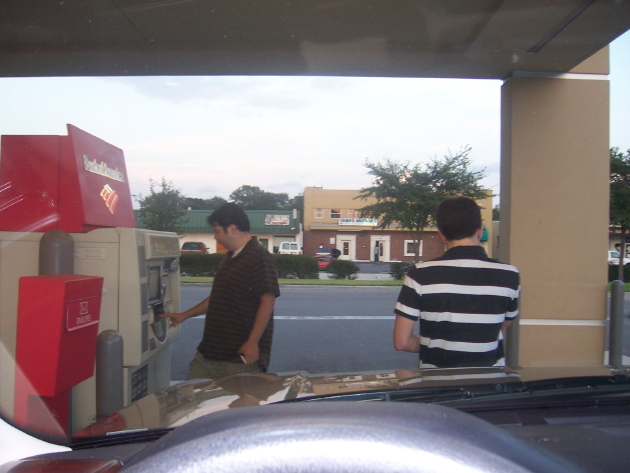 Busch Gardens was doing a "Fright Night" thing where the park was Halloween-themed. We stopped for some cash.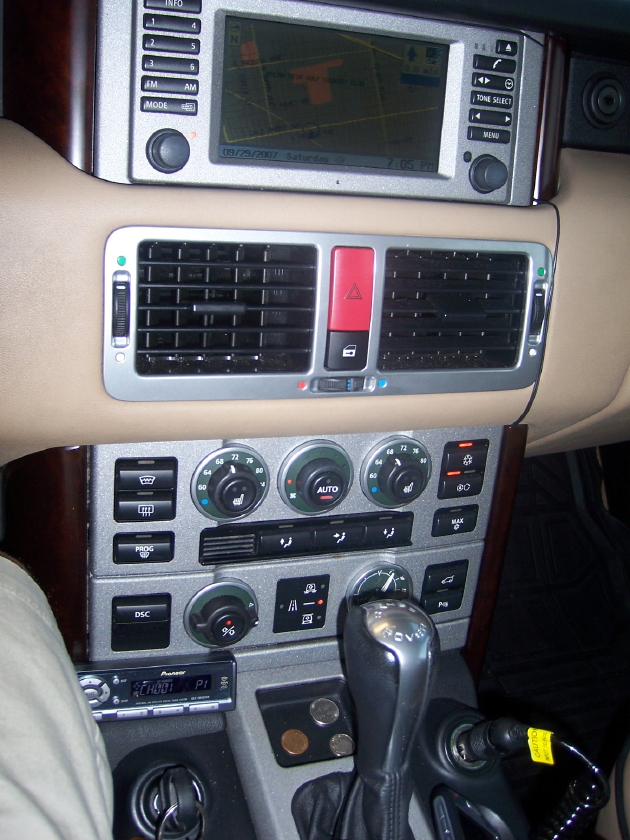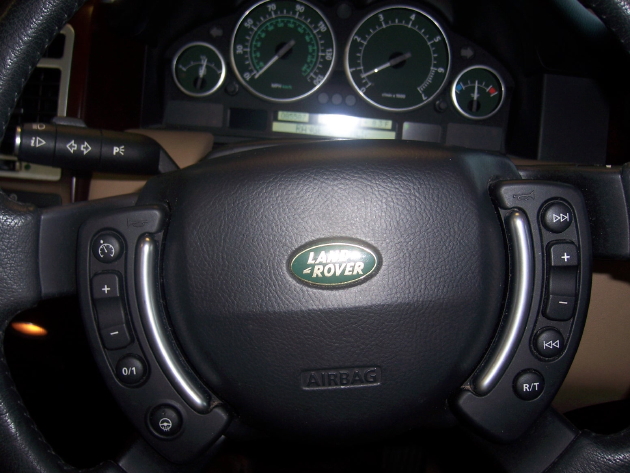 Some Rover pics.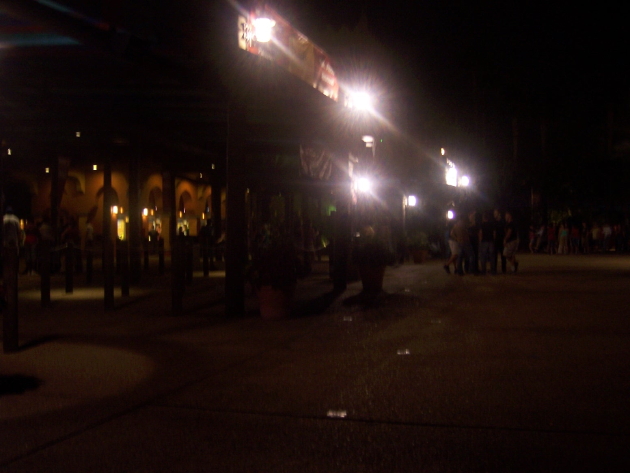 Ticketing entrance.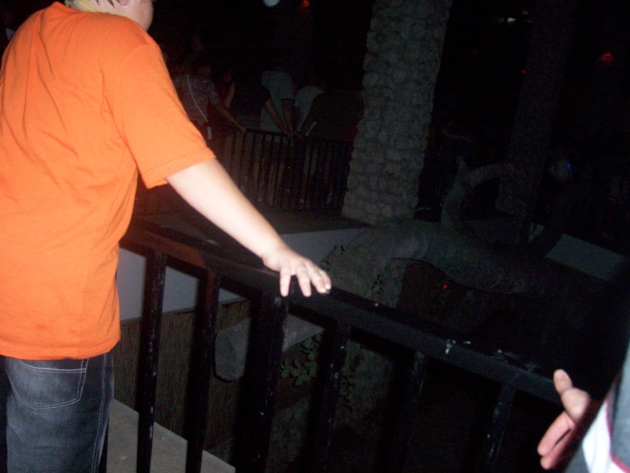 Waited in line to enter a haunted house. It was decent.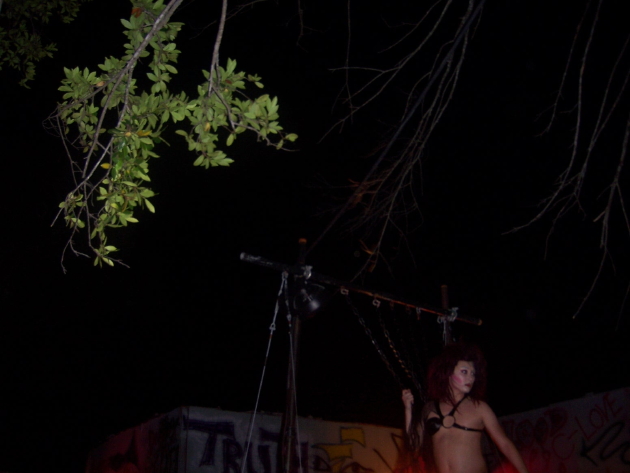 Gender benders bending.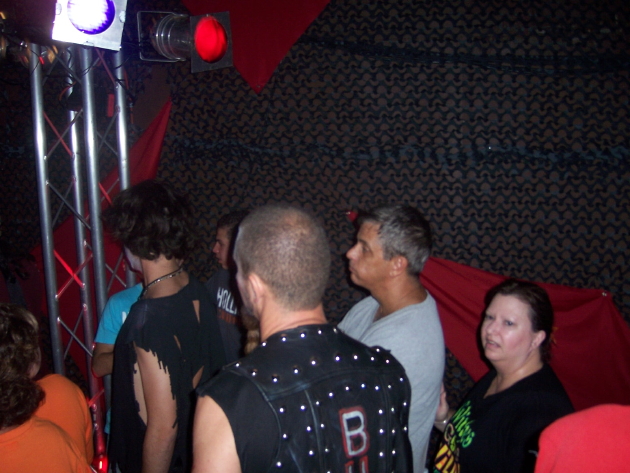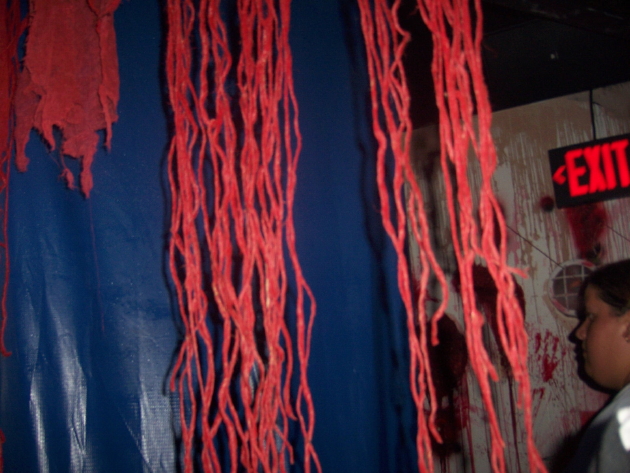 Camera flash ruins the mystique of a haunted house.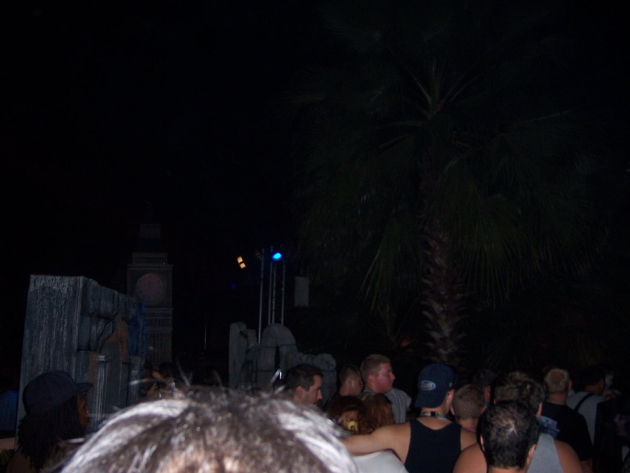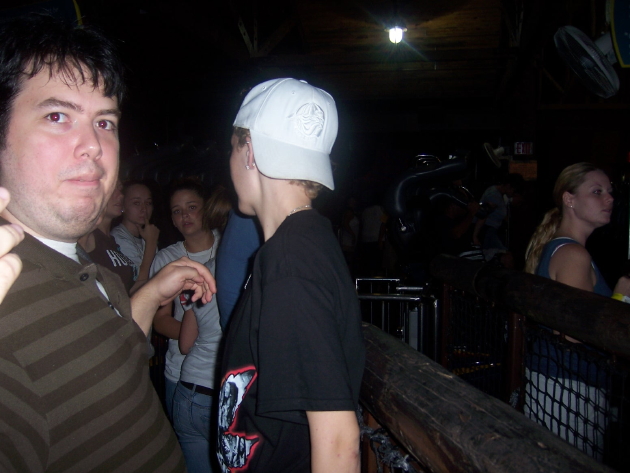 Waited in line for 45 minutes to board a roller coaster. No, it wasn't worth it. A white girl and a black girl got into a shouting match. Unfortunately, no hair was pulled.
Throughout the park there were areas covered by artificial fog. Costumed zombies jumped out of the dark and scared people. Feeling tired, cranky, and sick, I instinctively told one of them to get a job. He backed away quietly. He looked more homeless than scary to me.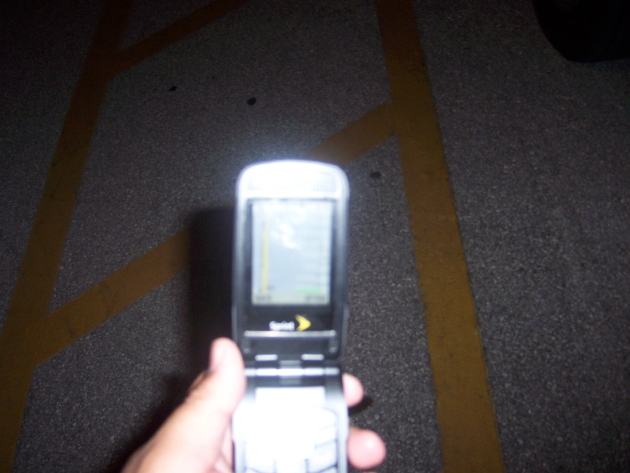 After being tossed around by a couple rides, I started to feel sick and went to the car to take a nap. I used my phone's navigation to help me find where I parked.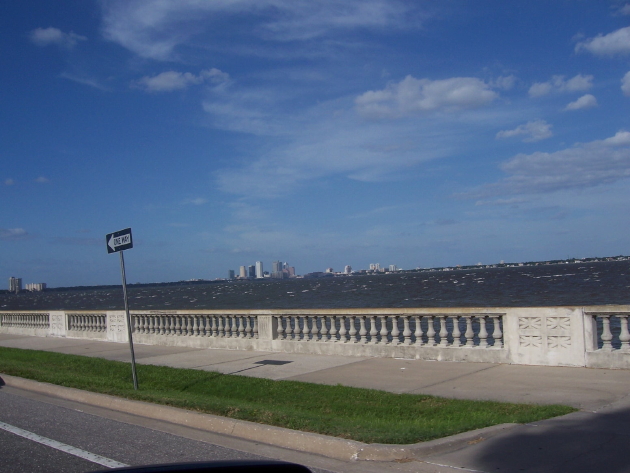 Tampa, downtown the next day.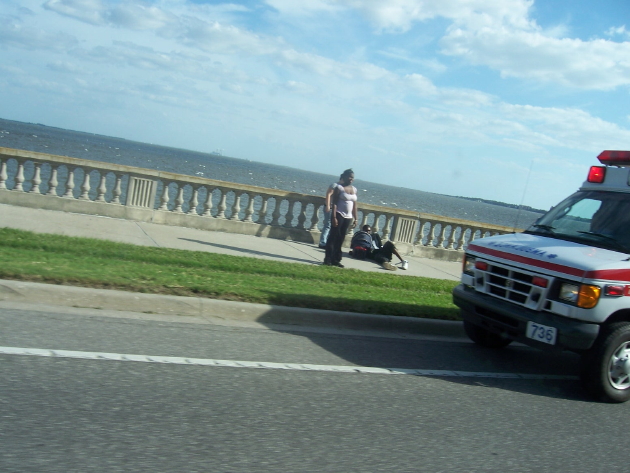 Something of some sort happened there to those people.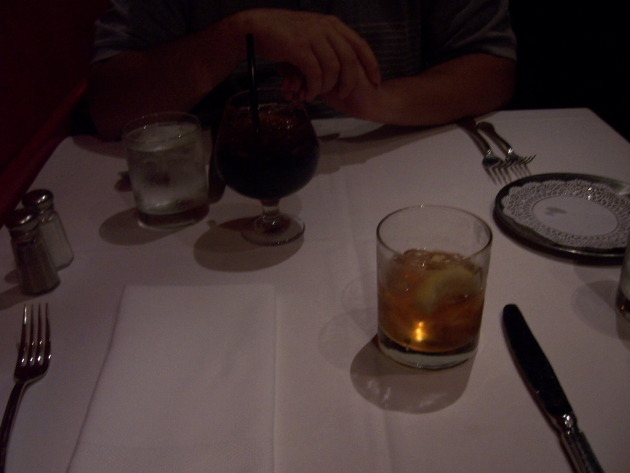 Bern's Steakhouse was the highlight of my trip. Supposedly (and believably), its among the top 5 steakhouses in the country. The place has a half-century history, and our server had been working there for 21 years. Each server goes through one year of training.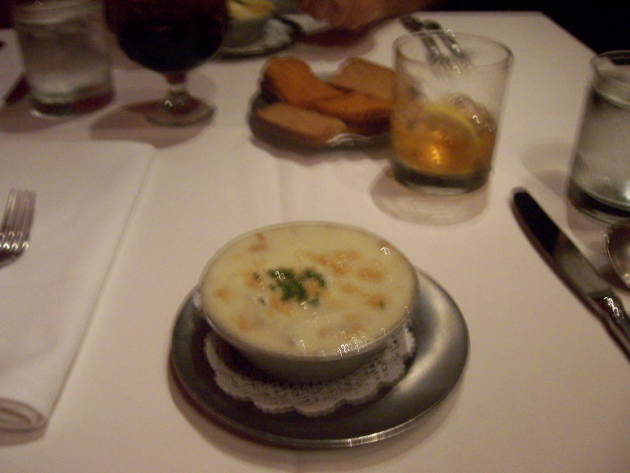 French onion soup.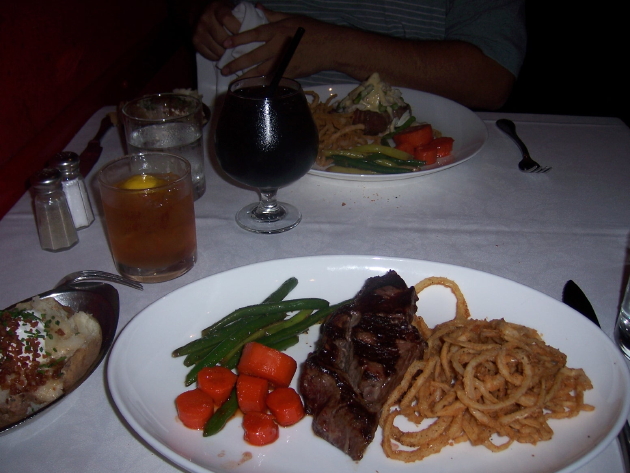 Loaded baked potato, onion rings, homegrown organic carrots glazed with Grand Marnier, green beans, and a 10z Delmonico aged five weeks.
Still the best steak I've ever enjoyed. Our server mentioned that all of their vegetables were organically grown in-house. A guy at another table commented, "Do you make your own furniture too?"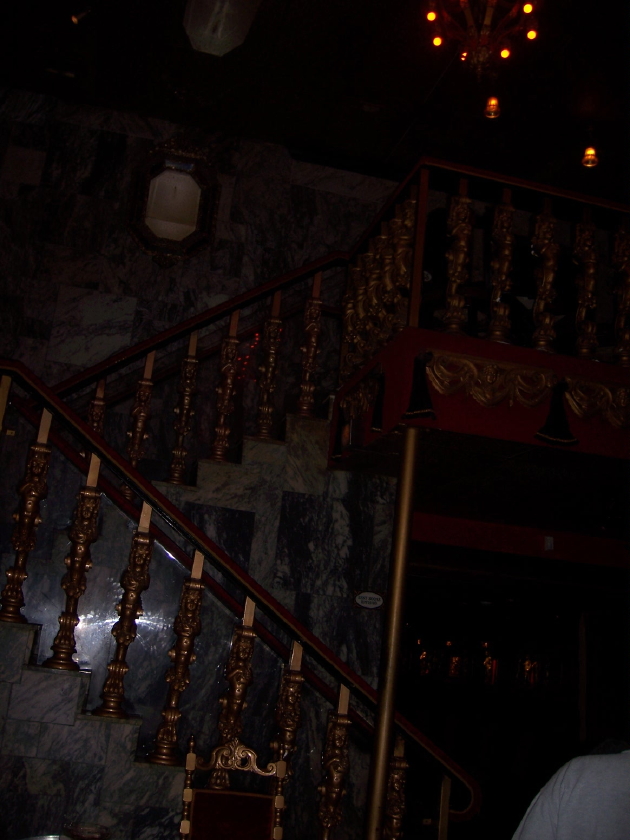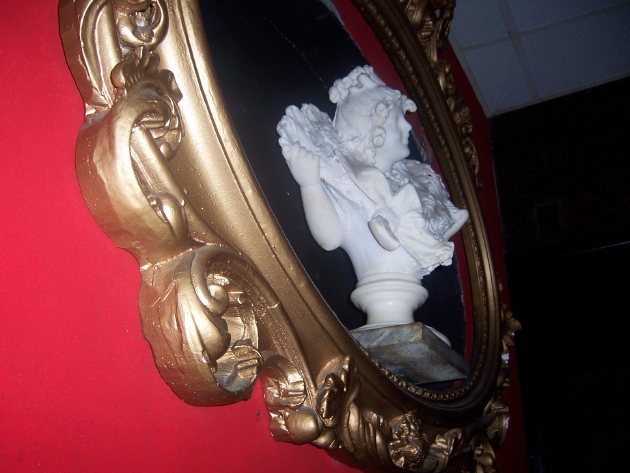 Its decorated like an old whorehouse.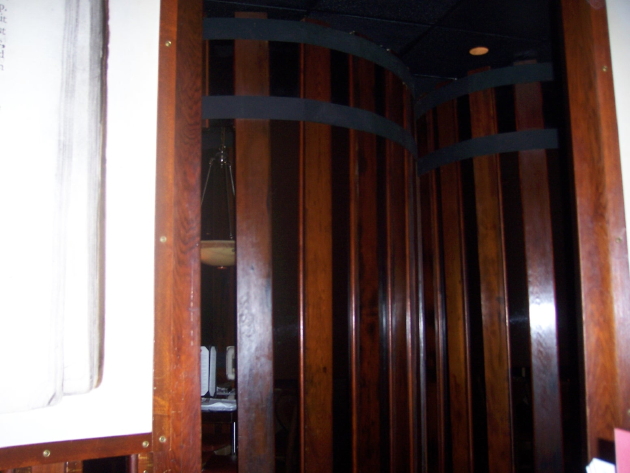 After our amazing dinner ($100 + $40 tip), we went upstairs to their dessert room. Each dining table is encapsulated in a big barrel.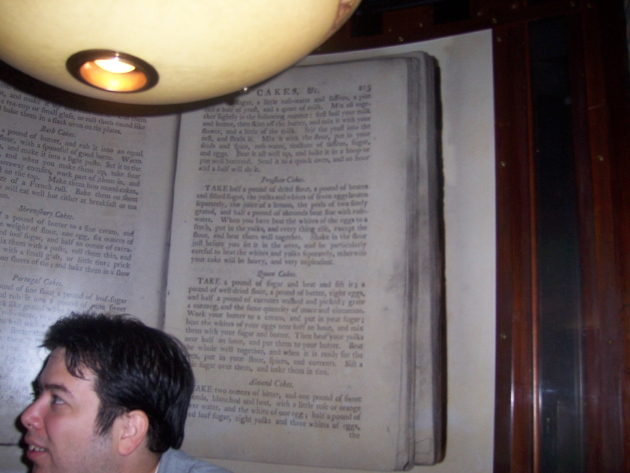 Recipes on the wall in Ye Olde English.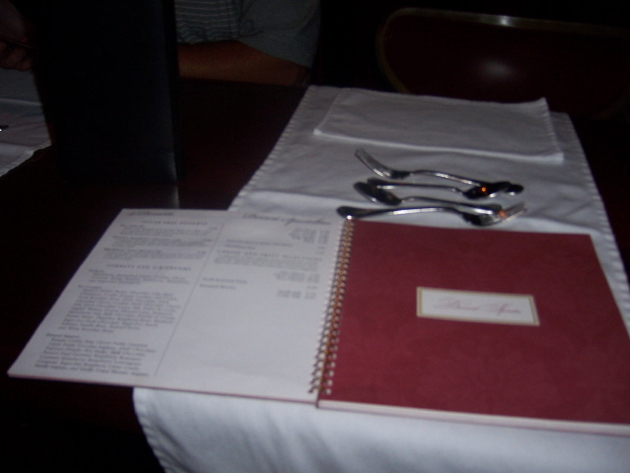 Elaborate dessert menu followed by an elaborate wine menu.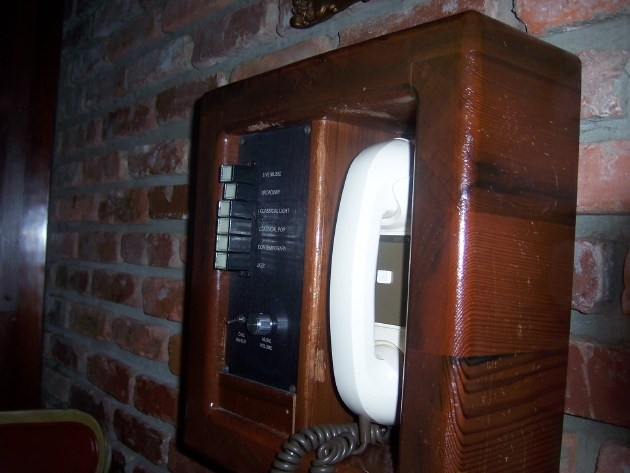 At our table was a phone and radio. The "contemporary" button started blasting punk rock. We changed it back to classical.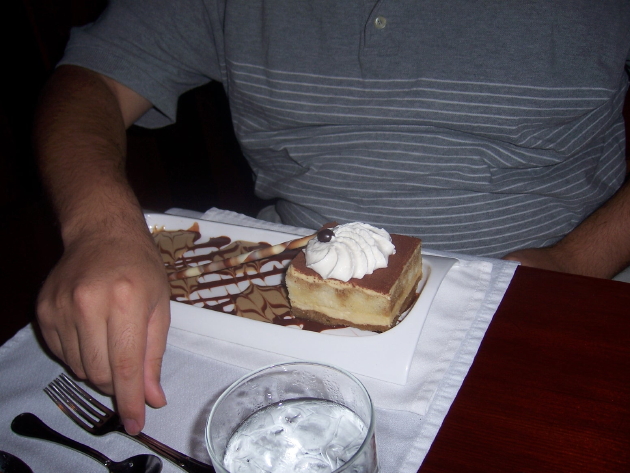 Tiramisu. Note that we're fat.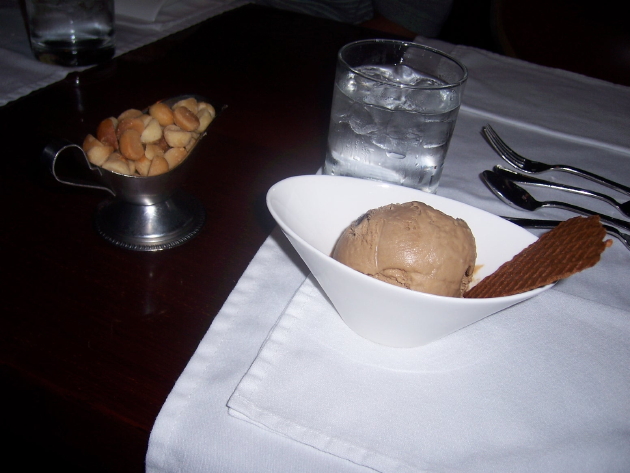 Macadamia nut ice cream with a side of macadamia nuts. The recipe is THREE HUNDRED YEARS OLD. It was, by far, the best ice cream I've ever enjoyed in my entire life.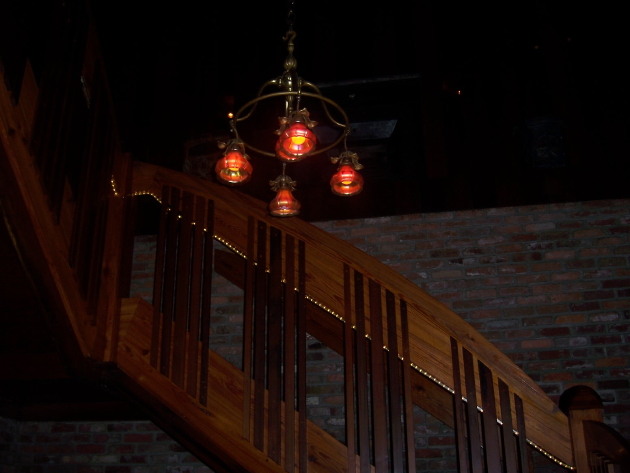 Staircase leading to the dessert room.
The next day we went to the Tampa Auto Museum. The Rover's navigation system barely got us there. It consisted of mostly European cars, including the Irish-built Delorean and the Cugnot, the world's first self-propelled vehicle. Every vehicle displayed can be driven out (and often are). It was basically some rich guy's garage.
The auto museum pics were unfortunately taken with my camera phone.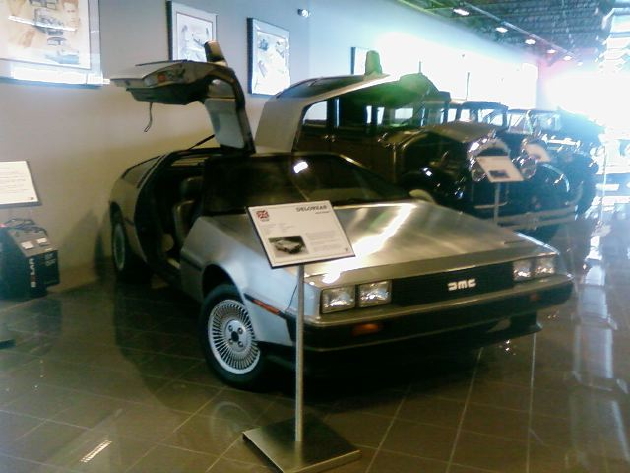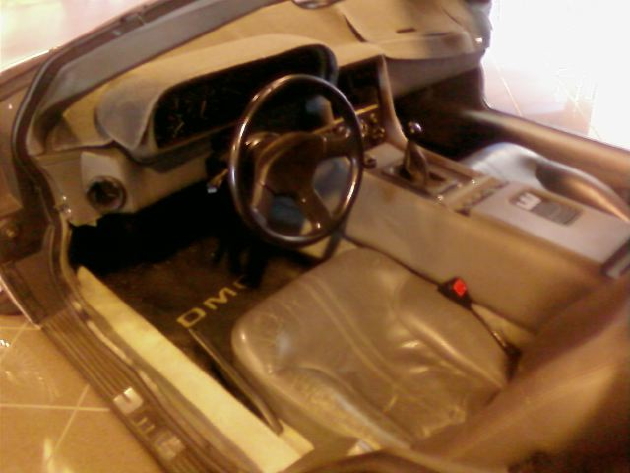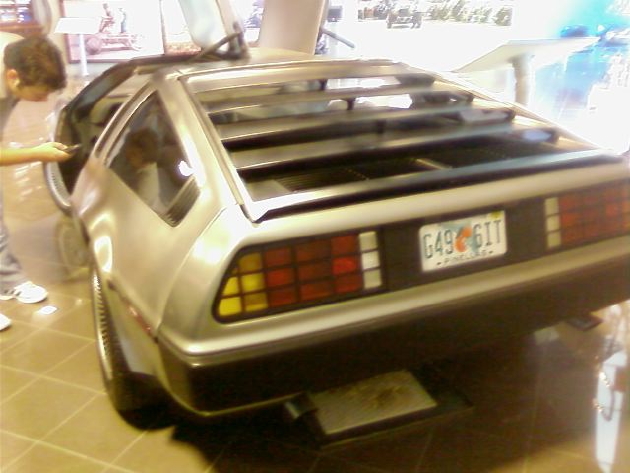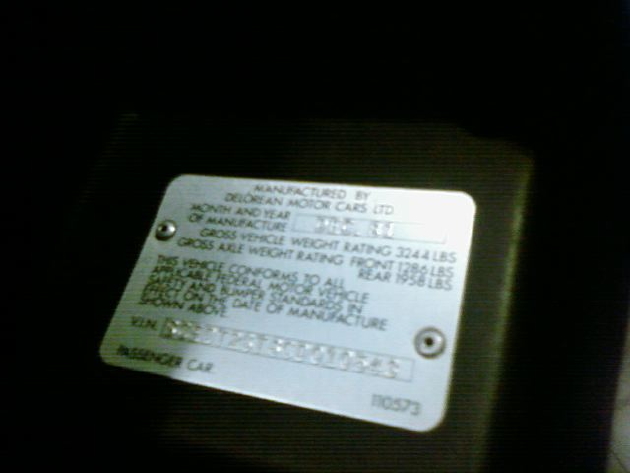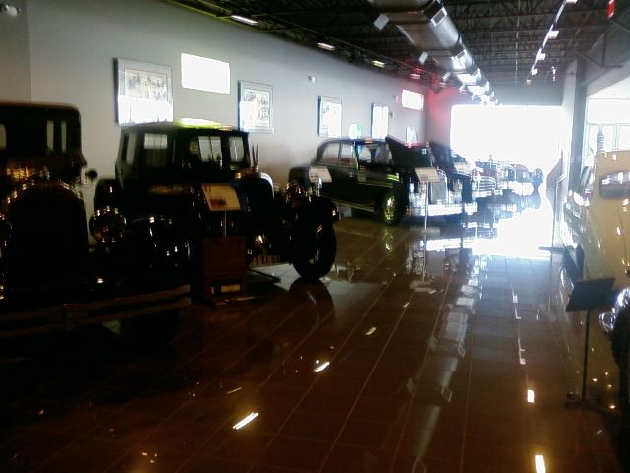 Lots of early front wheel drive cars.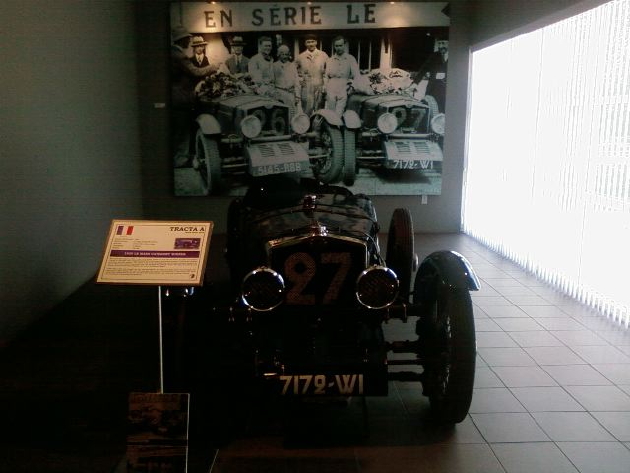 Every vehicle has a current registration.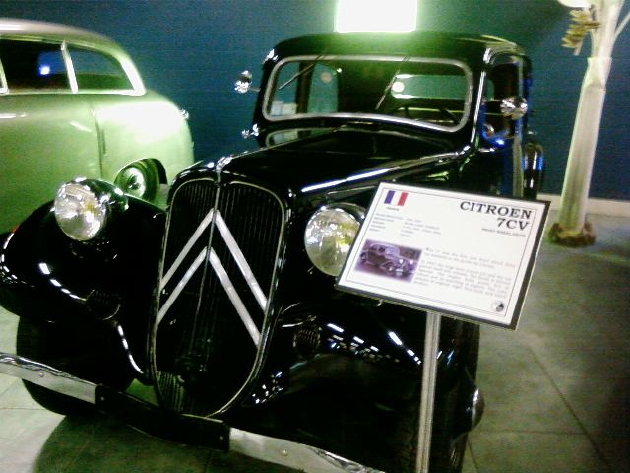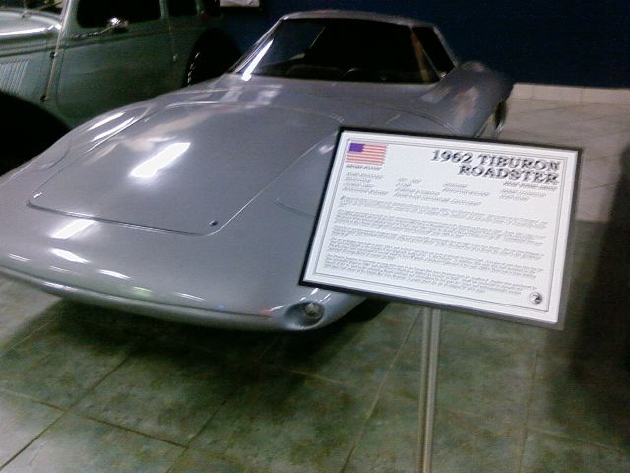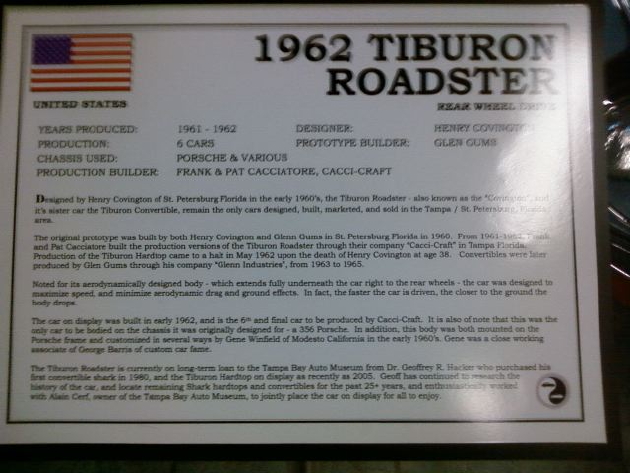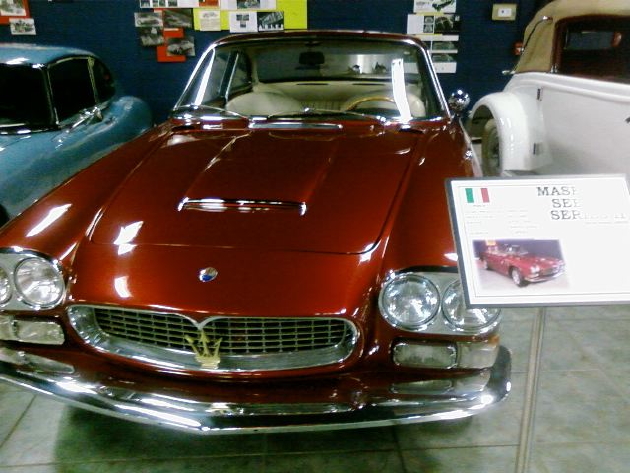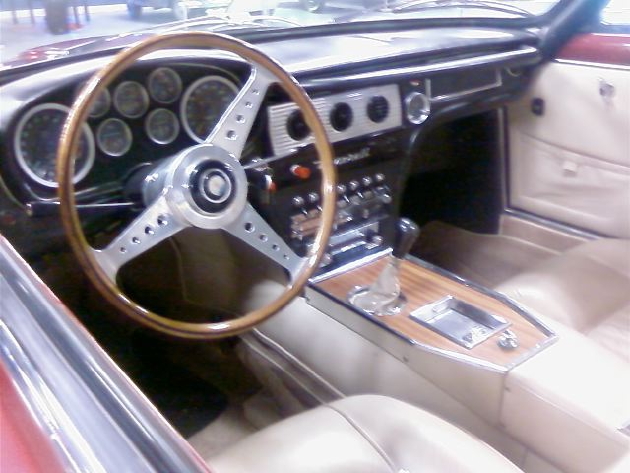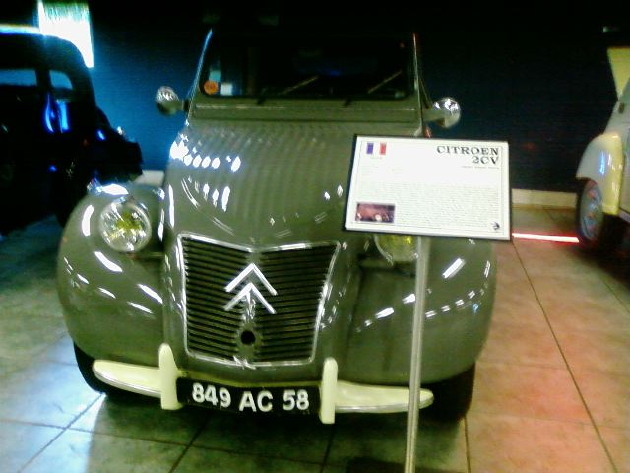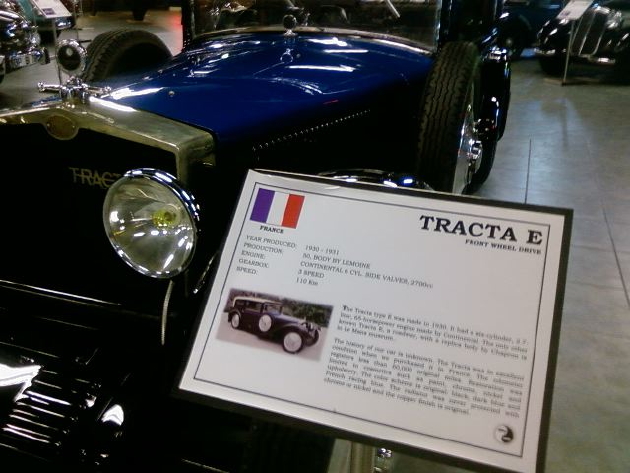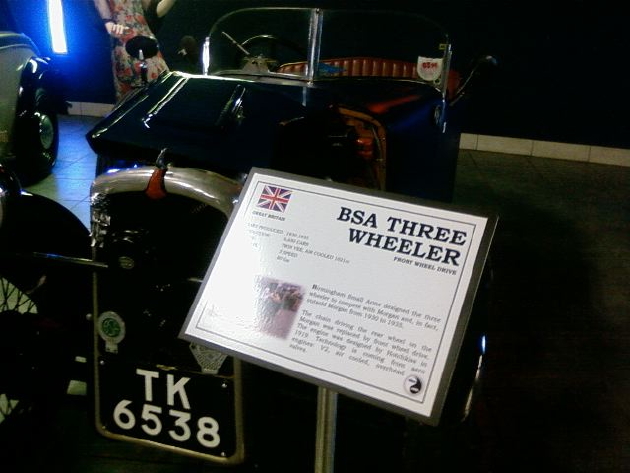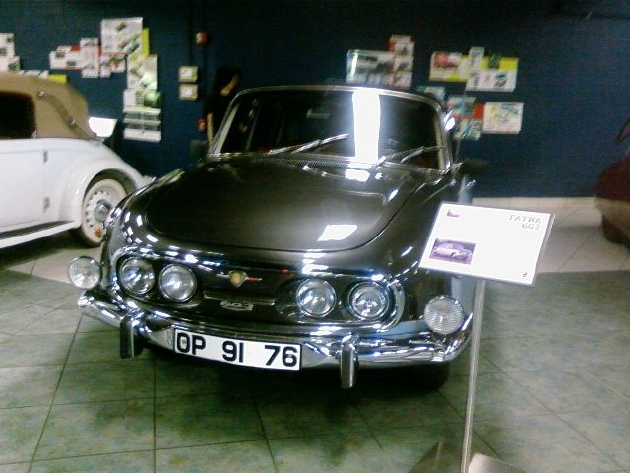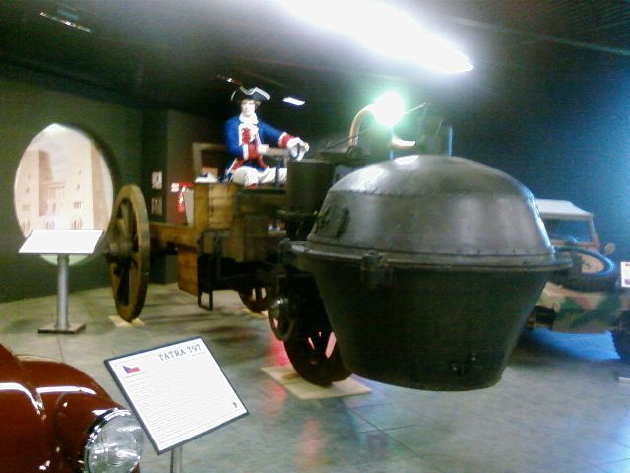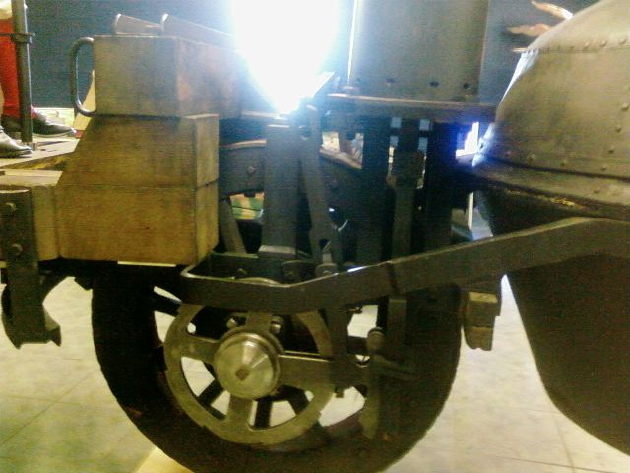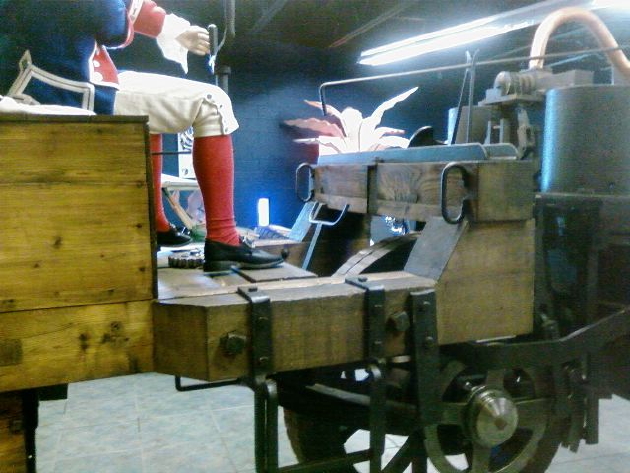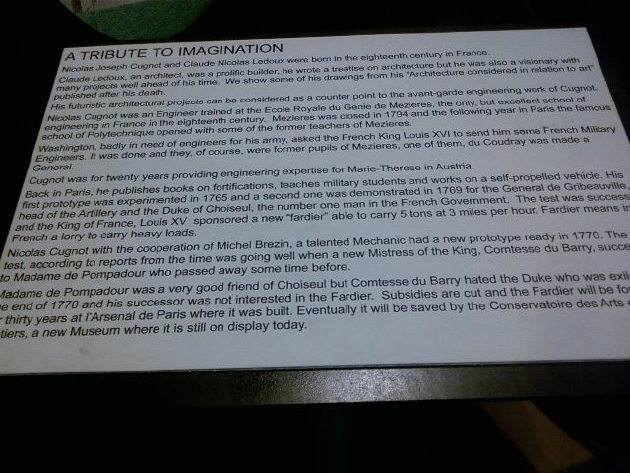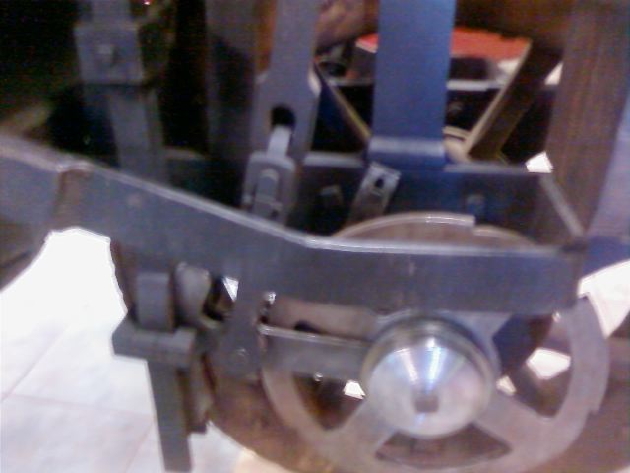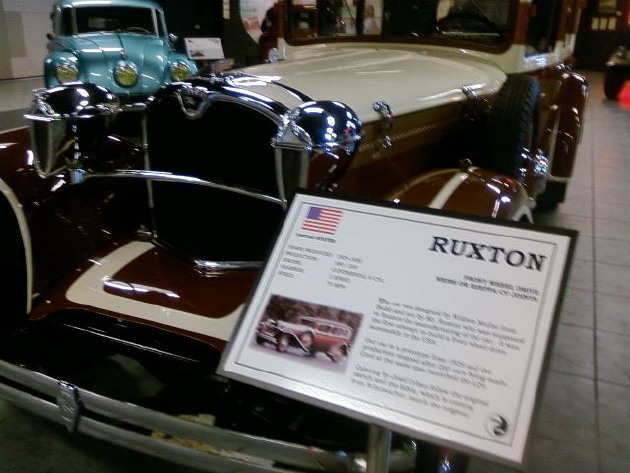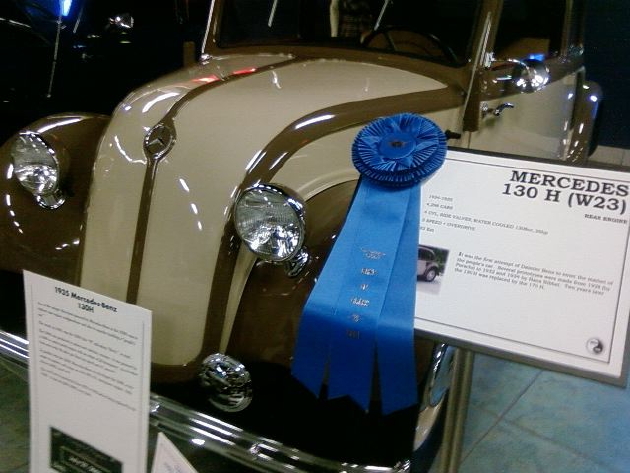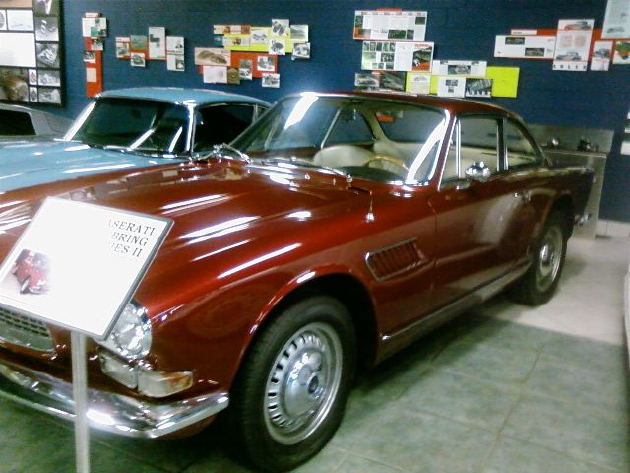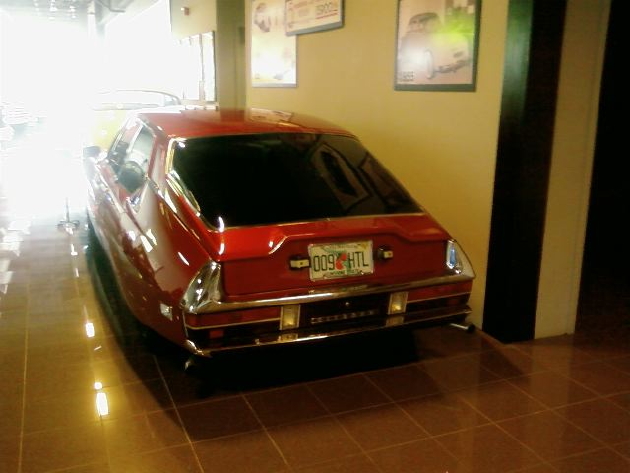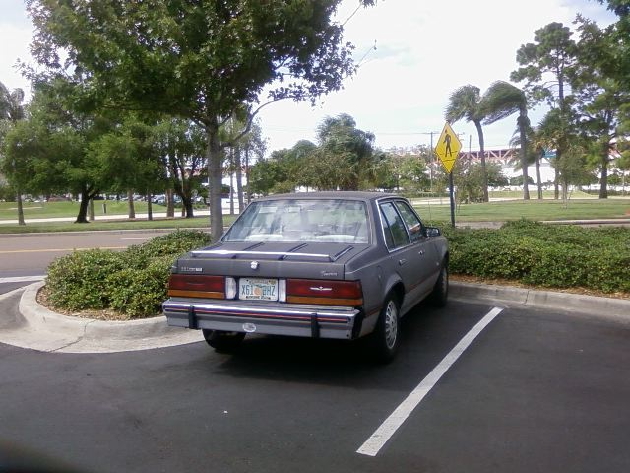 Parked outside was a Cadillac Cimarron. Along with slavery, Jennifer Lopez, and Windows Vista, the Cimarron is an example of the absolute worst America can do. Every example should be hunted down and destroyed.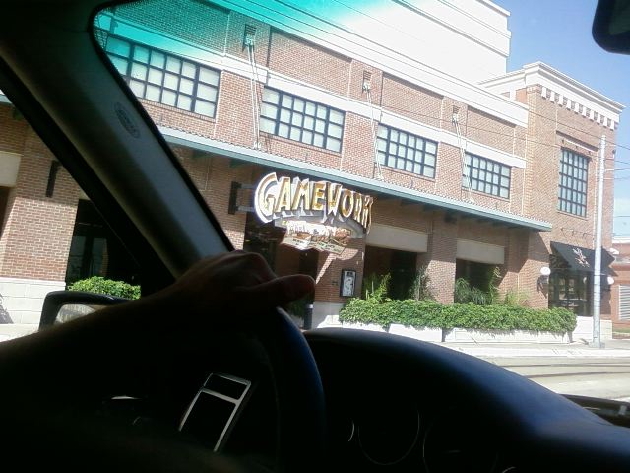 We went to historic Ybor City. Why? To eat, obviously.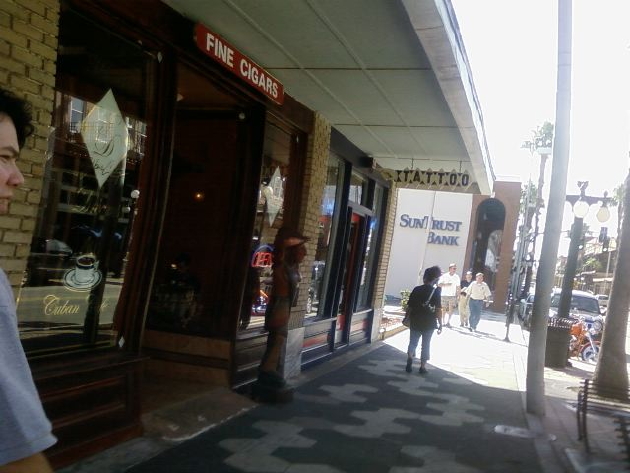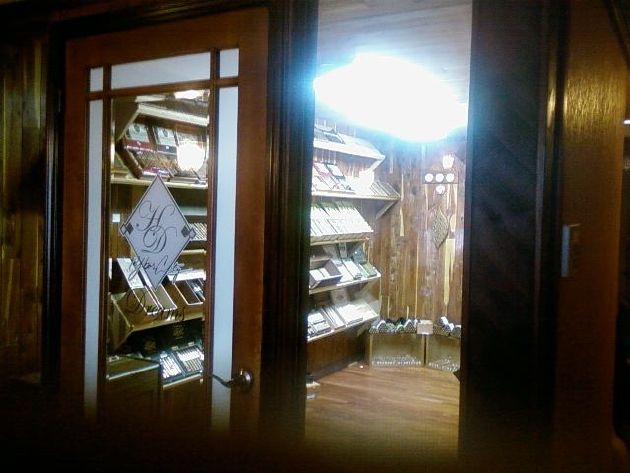 I suggested we buy some cigars.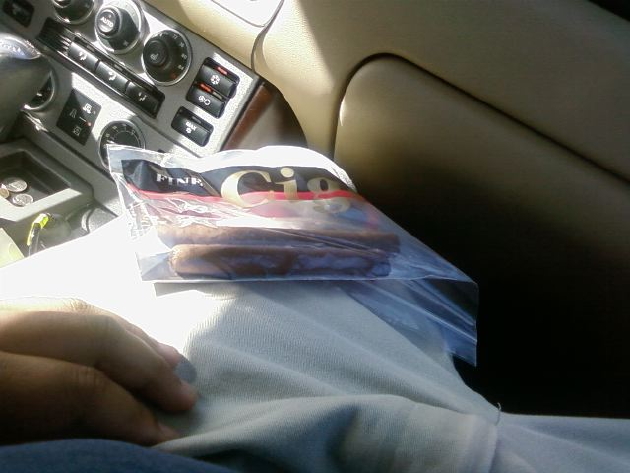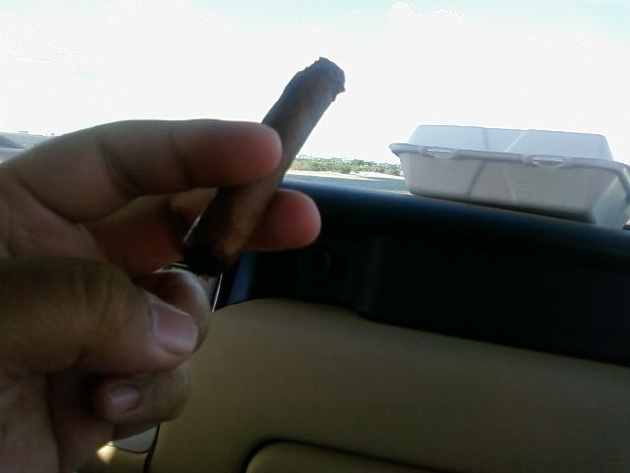 We stopped at the Gandy bridge to enjoy some scenery and smoke in the Range Rover.
That concludes my visit to Tampa.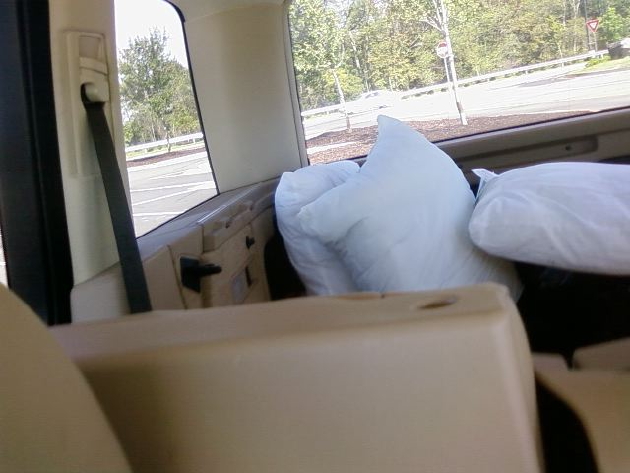 On my way back I was tired, so I bought some pillows, idled the car, and took a long nap in the cargo area.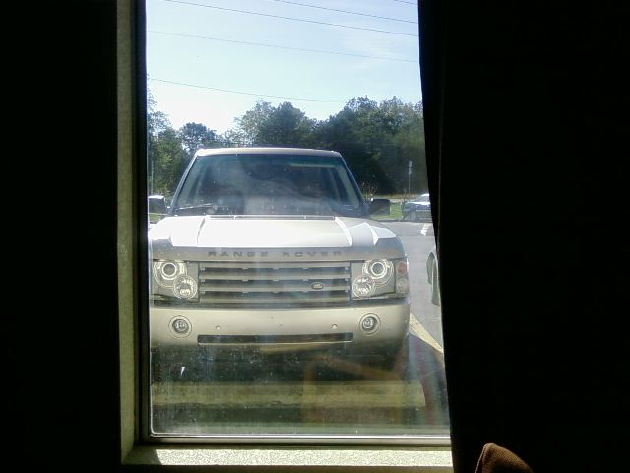 I checked into a Days Inn outside of Chattanooga and got a room with a nice view.
——————————————————————————————–
Now, on to the vehicle review.
HISTORY
BMW bought Land Rover in 1995 and embarked on their most expensive project ever, investing billions into the design and engineering of the next-generation L322 Range Rover. Ford bought Land Rover in 2000, which included the acquisition of the man at BMW who headed the Range Rover project, and released the Mark III Range Rover in 2002 as a 2003 model.
More info: http://www.rangerovers.net/rrmkiii.htm
MECHANICALS
BMW's 4.4L V8 moves it along reasonably well thanks to 290hp and 325 lb-ft of torque. 0-60 took 9 seconds — standard for midsize SUVs but slow compared to the Cadillac Escalade. In later years, the BMW powertrain was replaced by a 4.4L Jaguar V8, with supercharged versions producing 400hp.
The Rover delivers more of its power in mid and high RPMs, a change from the low-end grunt most Americans expect out of trucks and SUVs. It did feel a bit sluggish when loaded with 800-900 lbs of cargo.
The Range Rover moves like a large sedan, best described as an E38 7-series on stilts. You will hear tires squeal if you push it, but it never loses its composure, which is impressive for a 5400lb lounge on wheels.
The ride is never harsh or uncomfortable, remaining steady, firm, and communicative while keeping road imperfections out of the cabin.
Unlike the Cadillac Escalade and Lincoln Navigator, the Range Rover stops on a dime thanks to brakes engineered by BMW. Emergency stops, even with a full cargo load, are neck-snappingly short as I discovered on a few occasions in downtown St Louis.
Around town, the Rover proved to be an excellent daily driver thanks to its wide all-around visibility, sporty dynamics, and accurate parking sensors.
The air suspension comes with a few tricks, including a ride height adjustment with a feature called "kneel" that lowers the vehicle to allow easier ingress and egress by women and children. The system also has the ability to apply downward force to a particular wheel, increasing traction when climbing over rocks, similar to the behavior of a live axle. Arguably, this allows the Range Rover to handle off-road conditions more successfully than the classic Land Rover Defender, so say the off-roading experts (which I am not).
Riding in a Range Rover is like being a Persian king perched high on a throne. Slaves and servants hoist you up on a platform and carry you around on their shoulders while you smugly look down on your subjects. And if you drive around town in a throne, people will eventually think you are made of money, as I discovered one night at a gas station.
I was in Clayton Missouri near Washington University putting gas in the Rover.
A gray early 90s Buick Regal was parked near me. A guy was filling up, and his friend/girlfriend was standing outside the car yelling into her cell phone. She wasn't yelling at him or at the person on the other end of the line, but she was raving mad and cursing about something.
He asked her to quiet down, "People can hear you!"
Well, it was the middle of the night and I was the only one there.
She goes, "Its just some rich guy in a Range Rover. I don't give a f*ck what he thinks!"
I stared at her blankly and continued filling my tank. I am not rich.
EXTERIOR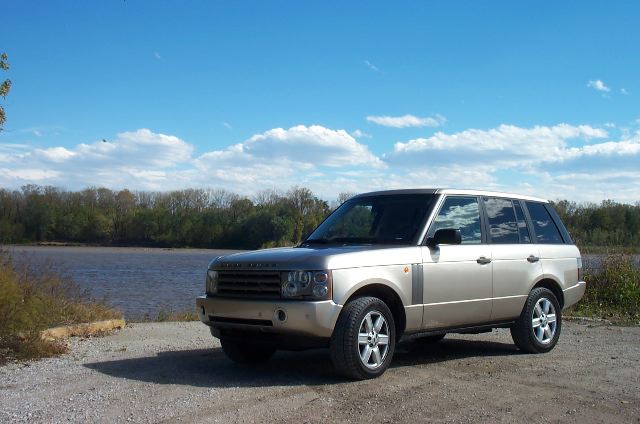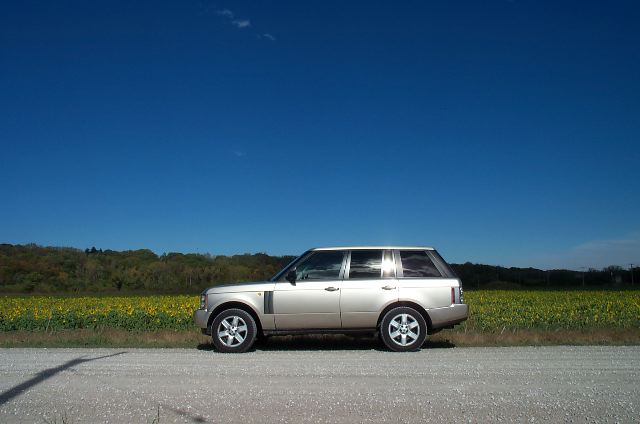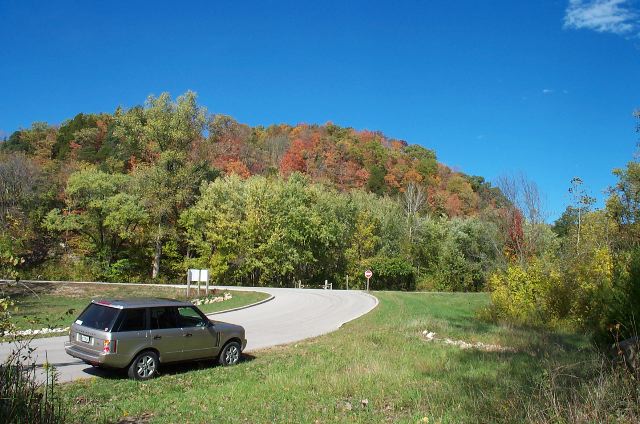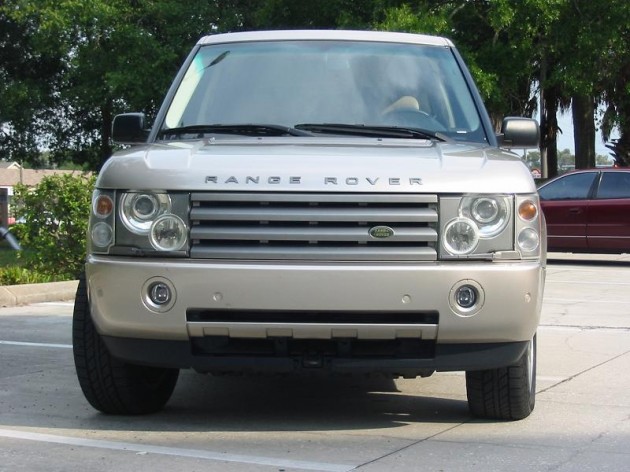 NOTHING looks like a Range Rover. If you want to make a statement about wealth and success, this is THE vehicle to do it in, short of something exotic. The designers did an incredible job of retaining the Rover's classic lines while bringing it into the 21st century. Over the years, the glass headlights were replaced by cheaper glass and the clean four-slat grill was replaced by an abomination that looks like a cheese grater. (2008 pictured below.)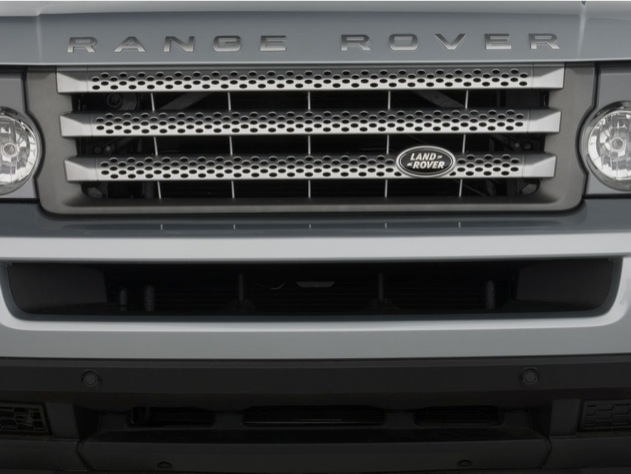 The Range Rover offers a wide view of the world around you thanks to its generous square feet of glass and high seating position. It bucks the trend of silly rising beltlines.
The only major styling flaws are the silver plastic tail lights that look like they may have come from your favorite auction site.
INTERIOR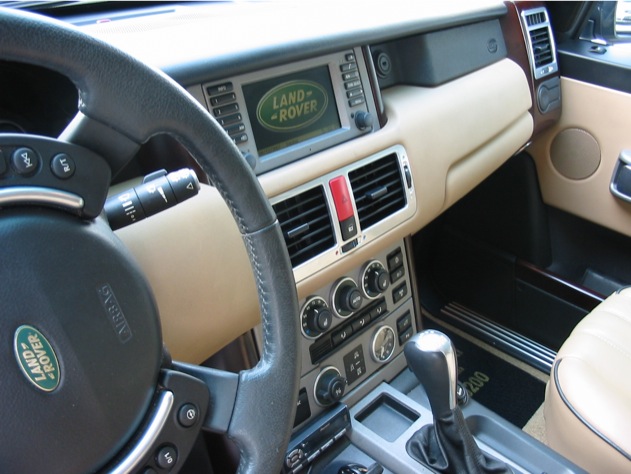 This is where the Range Rover shines. It smells delightfully British with real wood flanking each side of the center console and rich, thick leather with color-contrasting piping. Not one single visual detail was overlooked.
In earlier production years there were a couple spots where the arm rest on the door would wrinkle and the rubberized surfaces would flake off — that was resolved later on. I fixed the rear center console flaking by purchasing a piece of wood trim to cover it.
Storage is limited, and the cargo area is unusually shaped. When the rear seats are folded flat, there's a step in the load floor that makes it difficult to slide boxes and packages.
Like traditional American stationwagons, the rear hatch of the Range Rover opens in two sections, one bottom half that opens downward and one bottom half that opens upward. The bottom half offers a nice place to sit for tailgating.
A cupholders pops out from underneath the passenger side vent and in this truck, they were broken.
The analog clock at the bottom of the center stack is digitally set using the navigation system. When you set and save the time, the analog clock then rotates its hands to the correct setting.
The steering wheel is all leather, thankfully, though wood trim on the steering wheel was introduced in later years (blech).
GADGETS AND ELECTRONICS
I already mentioned the cleverly articulating air suspension with load leveling and manual height control. Like the 1993 Lincoln Mark VIII, it can be set to automatically lower the truck at highway speeds.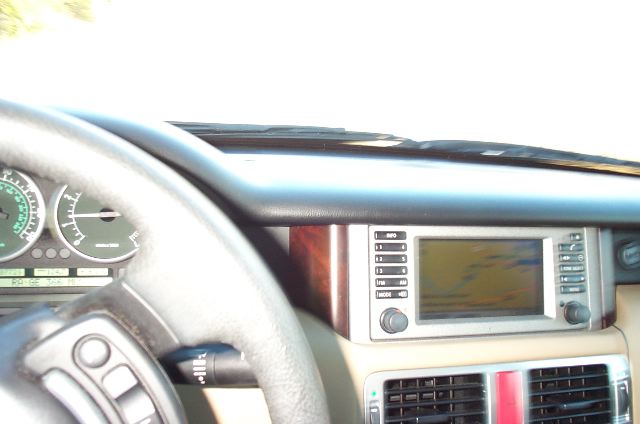 The BMW navigation system is awful. Because it does not have a touch screen, you are forced to manually rotate the knob to select one letter at a time. Because of a software defect, the navigation voice (a male British accent) will occasionally sneeze when saying "ahead." No, this is not an intentional feature, though it does add some character. The map graphics look like they were taken from a computer game from 1983, with what appears to be no more than eight display colors. On top of all this, the system's routing is terribly inaccurate.
This was remedied in later model years.
The BMW DSP sound system is awful. The equalizer offers a wide selection of settings but none of them produced a pleasing result. Highs were artificial and shrill, mids were harsh, and lows very easily overwhelmed the twin subwoofers. It is inappropriate for what was originally a $73,000 SUV.
This was remedied in later model years.
RELIABILITY
2003+ L322-chassis Range Rovers suffered from front propeller shafts that failed. I purchased an extended warranty specifically for this reason, but it didn't alleviate the problem of a possible breakdown in the middle of nowhere.
When the shaft and differential fail, the vehicle loses power and coasts to a stop. Some have reported a loss of braking and steering. The ECU detects a fault, takes over, and kills the vehicle, requiring a tow to have it repaired.
Only after I got rid of the Range Rover (after Ford sold the brand to Tata) did they issue a proper recall.
Later Jaguar-powered Rovers have reported engine failures and oil leaks.
This one had an ignition issue where the key sometimes had to be twisted two or three times to start.
The suspension behaved oddly, though nothing major went wrong. It sometimes jumped up or down a half inch while driving, perhaps due to a faulty height sensor. I once walked out to the truck on a cold December morning and hit unlock on the remote key fob, and it responded by unlocking the doors and raising the front suspension a half inch.
The windows liked to randomly open themselves. Occasionally, I would walk outside and find that it had lowered the windows two inches for no reason.
The telescoping steering wheel is known to break, and on this Range Rover, it was indeed broken. Apparently it binds easily and seizes. Steering continues to work fine.
It mysteriously leaked a little bit of oil and coolant, nothing serious but still annoying.
The horn didn't work.
Overall, the Range Rover is unusually dependable considering how insanely complicated it is, but when something does go wrong, the repair cost is astronomical. Air suspension issues could require a new valve body or new lines costing thousands of dollars — it isn't like a Lincoln or Cadillac where you replace a $100 air bag.
The front prop shaft is two grand with parts and labor. Electronic issues have the potential to be nightmarish.
While I never had anything major go wrong, some of the folks at rangerovers.net spent most of their time driving rental/loaner cars due to their Rovers spending so much time in the shop.
RATINGS
Ride: 10/10
Style: 10/10 — Chic and iconic.
Powertrain: 8/10 — Could have used a touch more power, which you can get in the supercharged version of the Range Rover.
Braking: 10/10
Steering/Handling: 9/10 — Outstanding handling for its class. The Lincoln Navigator, however, offers a bit more steering feel.
Audio/Accessories: 3/10
Interior: 10/10
Comfort: 10/10
Quality/Reliability: 3.5/10 — Interior and exterior build quality are excellent, but electronics and mechanical issues are a potential nightmare. How do you trust a vehicle like this in the wilderness? I suppose since 98% of them are used for commuting, its a non-issue. Even Land Rover Lifestyle magazine, which I subscribed to for a year, rarely mentioned L322s in off-road expeditions.
Overall Value: 6/10 — If you buy new, expect to get hosed on resale value. For those of us who buy used, its a potential bargain. The problem with Range Rovers is similar to the problem with classic Jaguars — loving one can be an expensive curse, and they have a devoted following. I greatly enjoyed this truck for the first couple months, but the infatuation wore off as the joy was replaced by worry.