Video and Review: 1991 Saab 900 Turbo Convertible
Designed in Sweden.

Made in Finland.

Driven by weirdos and architects.

Fast Tube by Casper
Video: Saab 900 driving footage and review.
Last year I got the itch for another convertible. I once had a 2004 BMW 325i convertible that was totaled when an old woman in a Kia Rondo ran a red light and t-boned me.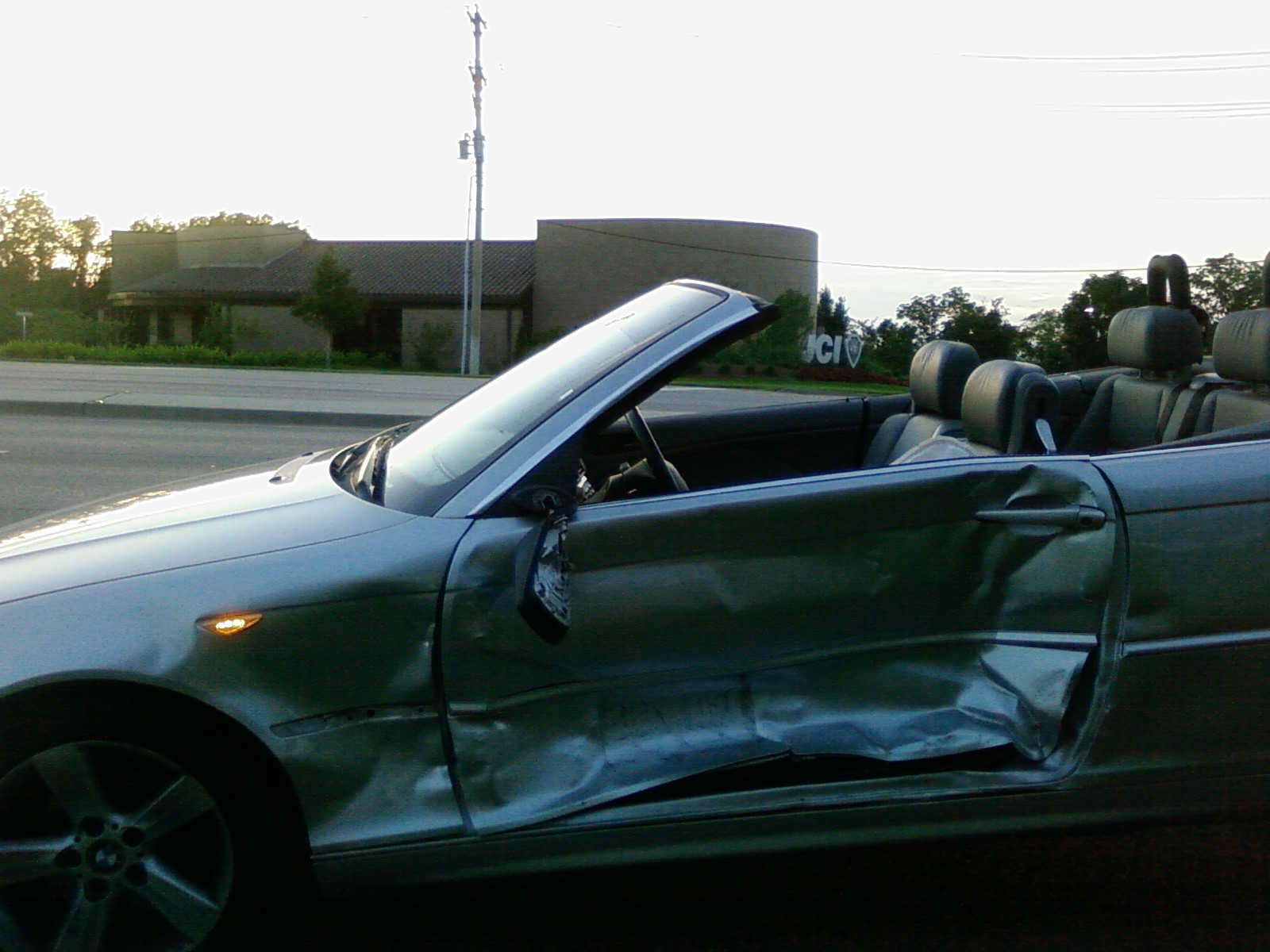 The accident left me with a small settlement for knee injuries, and Saab was fresh in my mind due to GM's decision to kill the brand (Saab was later purchased by Spyker), and there was something kind of cool about owning a vehicle produced by a manufacturer that no longer existed.
So, off to Craigslist I went, where I stumbled on a 1991 900 turbo  convertible for $1100, a little over an hour away in Cape Girardeau. I called the seller and asked a few questions but didn't think much about it after that. It was a strange car and I figured the repair costs would bury me.
I also decided that if I was going to buy another convertible, it would have to be a Miata. I longed for one ever since I was 12 — I was at Auffenberg Mazda in Illinois where my parents were buying a new Mazda MPV. A salesman asked me to back away from the Miata in the showroom because the metal buttons on my jacket were scratching it. From that moment on, I was hooked on them.
I forgot about the Saab after a few days and decided to hold on to my money but Mike, the seller, called me again to see if I was still interested. A third car was hard to justify, but I wanted to see it anyway.
It was a rough-running vehicle with shoddy brakes that took the weight of God's foot to bring it to a stop. The turbo spun wildly, activating the wastegate prematurely. It also had some water in the trunk and a rusty hood. But, the moment I got in and took it around the block, I fell for it. I can't really explain why I fell so hard (see video) — maybe it was the funny looking shape of the body, the smooth buzz of the turbo 4, or the fact that I'd been suffering from convertible withdrawal since the BMW was wrecked in 2008.
Whatever it was that compelled me, I knew I had to have it. I went inside to discuss the price with Mike, a college student who was in over his head with the repairs that it would take to make this old heap a safe and reliable everyday car. While it presented itself well with a new top and reasonable looking interior, everything about how it ran showed signs of neglect.
He paid about two grand but wanted out of it. I told him I'd give him $960 on the spot and take it home that night.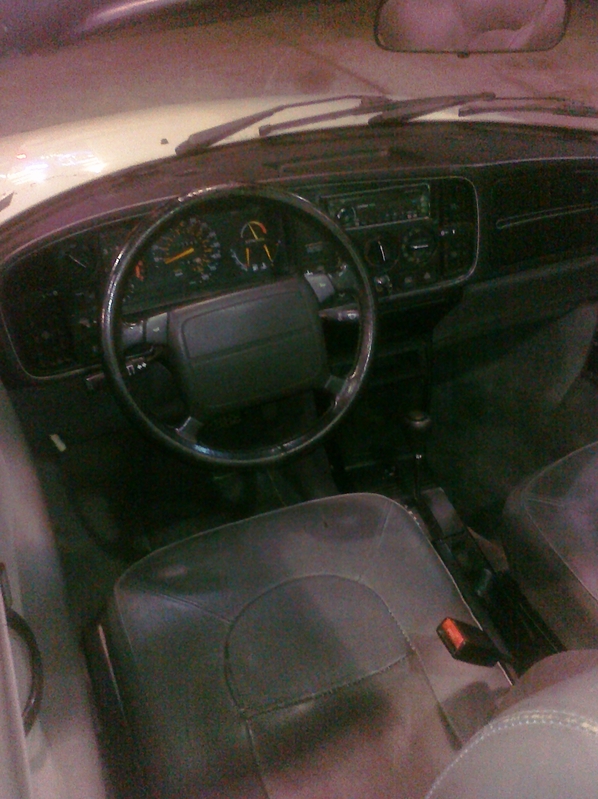 Not bad inside at all!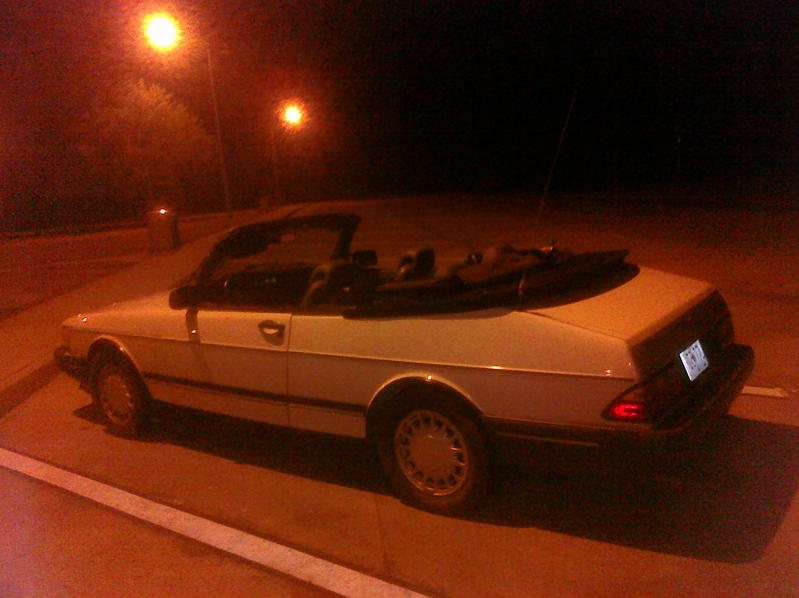 The majority of the body was straight and clean. It had been repainted probably a half dozen times before.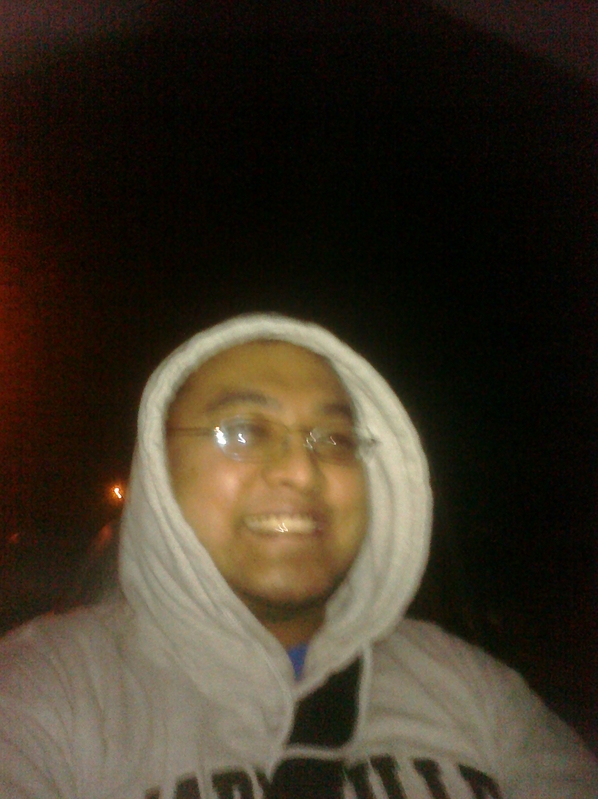 Despite two blown speakers, a malfunctioning turbo, bad brakes, and a complete lack of interior lights, I hadn't had this much fun since losing my BMW. My first night with the Saab was more new and exciting than any car I'd purchased in years. If your face doesn't occasionally look like this when you drive, then you're not driving.
—
Smitten with infatuation, I went overboard on repairs.
I found a guy named Kurt who owned a shop called Absolute Swedish. He was an hour away but did free pickup and delivery, and he worked exclusively on Saabs and Volvos.
Here's what it cost for my first round of service:
Oil pressure switch
Crank pulley
Outer CV boot
Ball joint
Reseal trans hoses
Trans filter
Trans fluid
Trans gasket
Alternator bushing
Heater control valve
Oil pump o-ring
Front crank seal
A few belts
Voltage regulator
Tension arm bushing
Vacuum lines
Oil/filter
Air filter
Spark plugs
Spark plug wires
New coolant
Reattach door panel
Reconnect hose for turbo
Power steering leak
Repair dash lights/bypass rheostat
Distributor o-ring
Total: $2956.39 including tax.Labor hours: 20.5Bonus: It has a recently replaced radiator.
I know, I probably could have saved thousands doing it myself, but I dont have a garage and it was cold outside (though not too cold to drive with the top down), so I deferred to Kurt for all service and repairs. And to be honest, DIY stopped being fun a while ago. Once you learn the ins and outs of a car and do enough wrenching, it stops being new and starts feeling like work. I also had that accident settlement to draw from for expenses.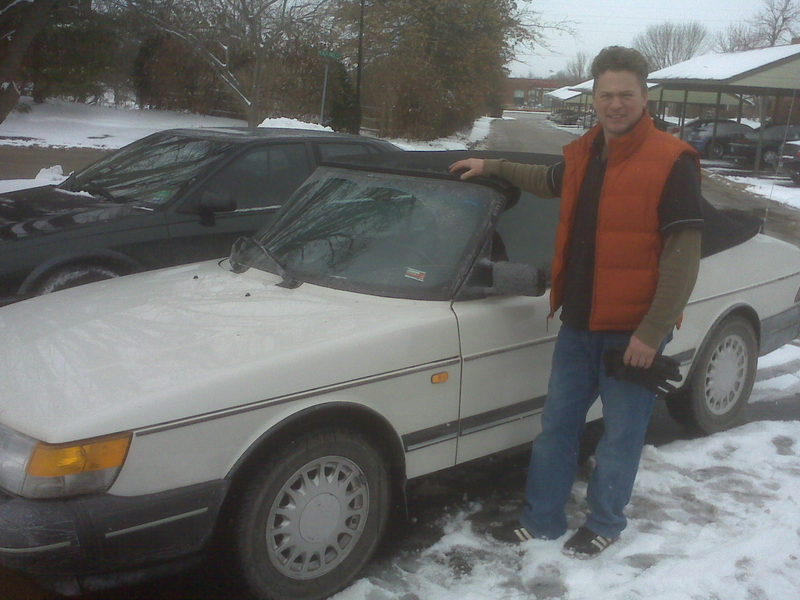 There's Kurt my mechanic standing next to my 900, which I've named Ducky after its long nose (beak) and duck tail spoiler. Later on I had the starter replaced and I have a new AC compressor ready to install. I  also found a paint guy to repair and paint the hood and the ding on the passenger door.
Since then, I've upgraded to three-spoke wheels, replaced the broken power seats with cloth manual seats, and replaced the rear bumper (girl at school rear-ended me).
Here's what it looks like now: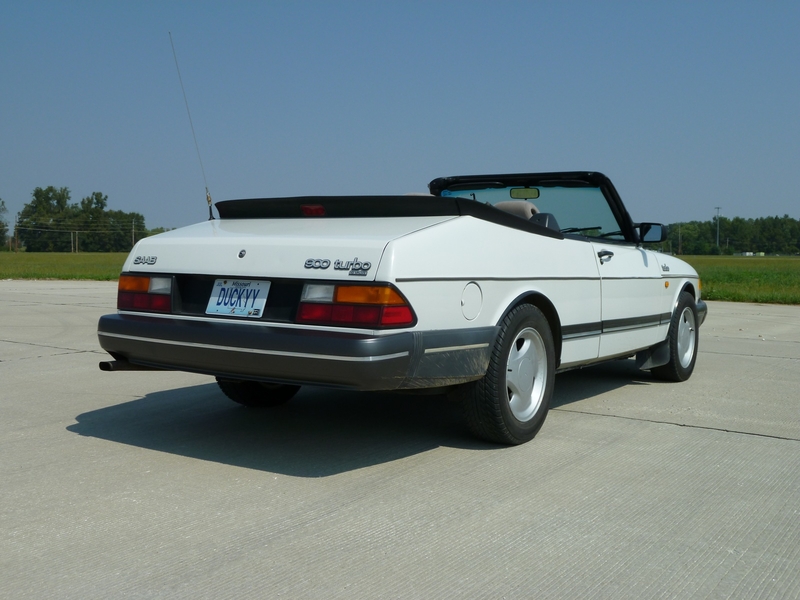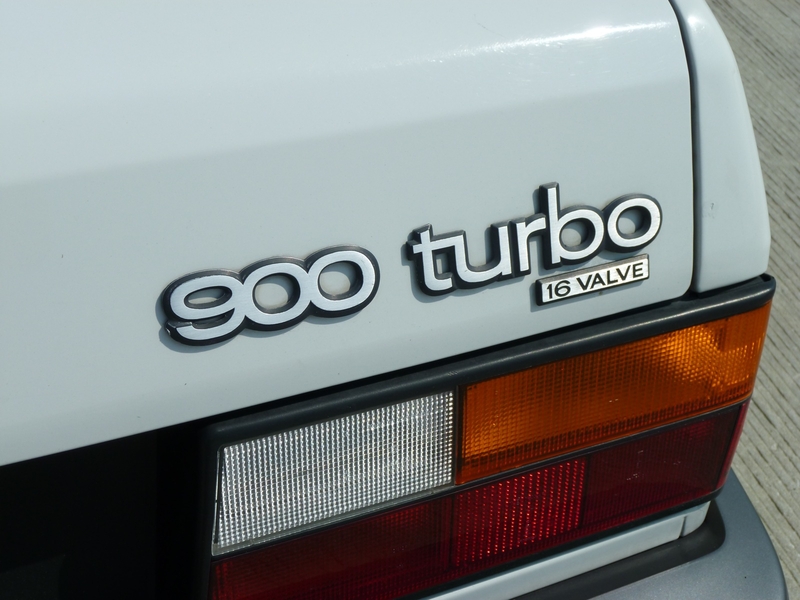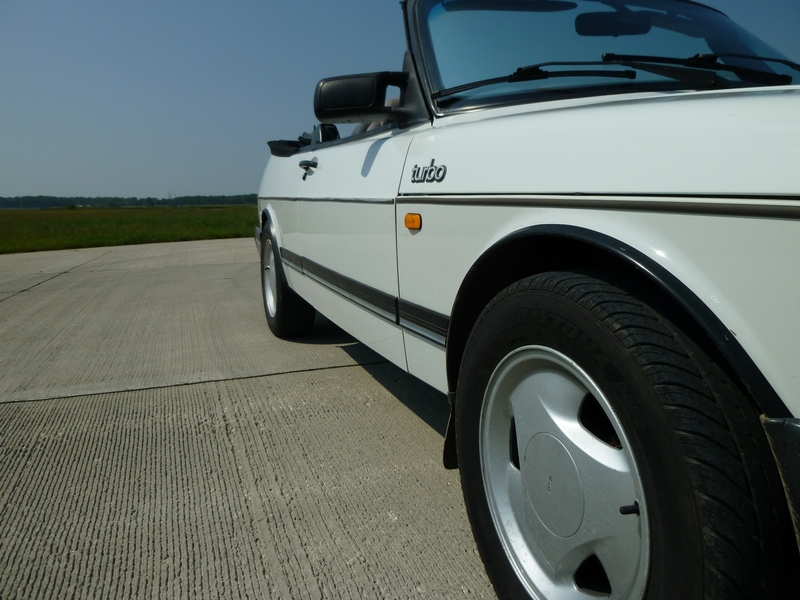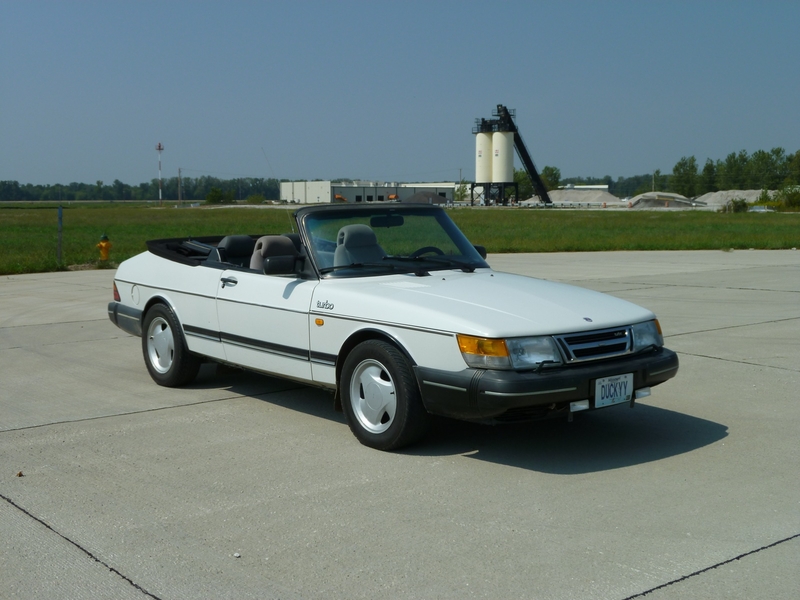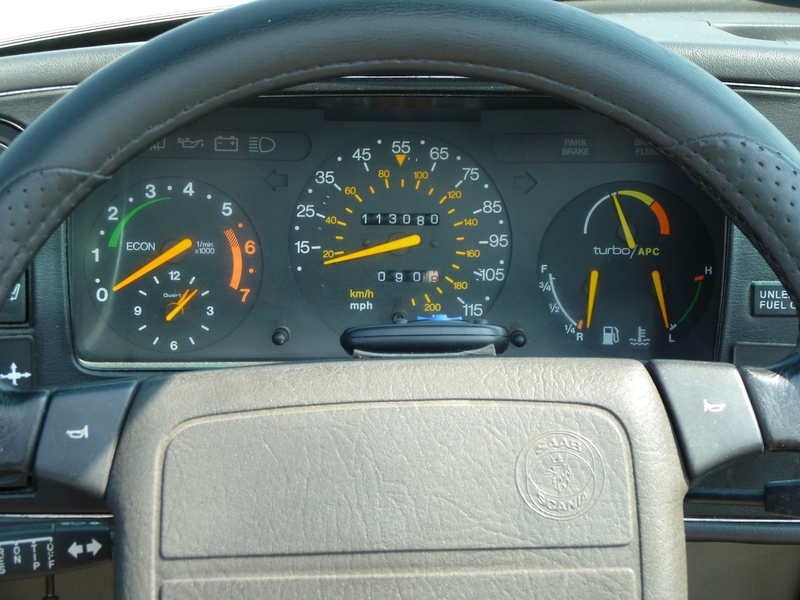 Specifications:
3-speed Borg-Warner automatic
transmission (Mounted in
front
of the engine!)
2.0L I4 turbo, 160hp
2950 lbs
Made in Finland (Same plant owned by Valmut that builds the Porsche Boxster)
Fuel economy: 19 city / 23 higway  (I get 17 city, 21 highway @ 70mph)
Front-wheel drive
How does it drive?

Ride: 5/10
Turbo 900s are firm and rough on harsh pavement but smooth out beautifully on the highway. It doesn't help that mine has six year old Dayton tires. I'm sure replacing them would make a world of difference.
Powertrain: 8/10
Its a slug around town, but once you get used to spooling up the turbo it rewards you with pleasing acceleration that comes on like a wave.  0-60 happens in about 8 seconds, which was great in 1991 and still entertaining now. It seems faster than it is because of the smooth buzz  of the 4-cylinder motor, the woosh of the turbo, and the low growl of the exhaust.
Braking: 4/10
Saab no longer makes the Bosch ABS brake pump assembly for this car, which shares its parts with several Buick and Mercury models. I found a used one on eBay for $200 and had it installed, but even reviews of the 900 when it was new complain that it requires too much pedal effort to bring the car to a stop. You get used to it, sure, but it takes a moment of adjustment. A lot of 900 owners have converted their ABS systems to non-ABS for better feel and modulation. After a few deer encounters, I've found it to stop admirably.
Steering/Handling: 6/10
Steering needs more communication. It also seems a bit heavy in parking maneuvers, but on the highway it tracks beautifully and goes down the road as straight as a ruler. Handling is a mixed bag. Yes, the firmer suspension does prevent body roll, but putting the transmission in front of the engine makes it terribly nose-heavy, which it already is due to being front-wheel drive, which means it wants to understeer quite a bit and never feels very balanced. In everyday driving there's enough comfort and straight line performance to make up for anything it lacks in cornering.
Even with suspension and chassis upgrades and modifications, it will never feel as natural or direct as a Miata or 3-series, and it doesn't matter. The sounds and sensations give the impression of non-serious, lighthearted joy. Like Ace of Base or Abba, its about capturing the moment, thriving on optimism, and soaking in the two weeks of sunshine they enjoy each year in Sweden. That, right there, may be the classic 900's greatest trait — it doesn't take itself so god damned seriously.
Audio/Accessories: 7/10
Climate controls are terribly illogical. There's several settings with cryptic symbols. Thankfully I was able to download an owners manual and figure it out. Because the HVAC system uses a heater valve rather than a fan flap, the temp adjustment can be touchy.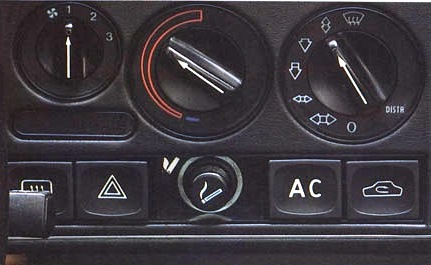 Okay, so maybe it isn't that bad, but the knob on the far right doesn't make a lick of sense to me.
The car comes with power seats, a power top (undo two latches, hit the button), courtesy lights, power locks, and just about anything else you might expect from an entry-luxury car that was made in the early 90s.
Music in the Saab sounds amazing. A lot of this has to do with the high quality speakers Saab installed in the top of the dashboard. Because the sides of the windshield are curved inward like you might see on aircraft, sound goes directly into your ears rather than up and out of the cabin. This means that without  an additional amplifier, I can listen to music at a very loud, satisfying volume with the top down at 70mph and it won't sound like the wind is carrying all the sound away. In the BMW, I sometimes didn't even bother listening to music unless I was going below 40mph, and even at a stoplight with the top up the sound system in the BMW was just awful.
Interior: 7/10
The quality of materials is superb, at least for its time. Other than a crack in the dash, everything held up well after 20 years of neglect. Unfortunately, the car was originally designed in the 70s which meant that as more and more accessories became available, buttons and switches were haphazardly crammed into the dashboard and placed in awkward locations. The driving position is perfect but ergonomics are otherwise very odd. I do like the central location of the ignition.  It feels natural after a while and it keeps my key chains from rubbing my knee.
Comfort: 10/10
Saab first invented heated seats when a fellow engineer was suffering from back problems. The seats are orthopedically designed and I have never been in a car so comfortable over long distances. The upright driving position and scoop-shaped seats keep you in place around corners without feeling confining. I wish every car seat was this good.
Heating and air conditioning, once you figure out the silly controls, are by far the best I've ever experienced. Athough my 2001 Cadillac Seville has a mainframe's worth of computing power to keep it safe on icy and snowy roads, it doesn't have the Saab's instant furnace-like heating system. And in the summer, the AC blows ice cold almost instantly. I sometimes have to turn the AC down because it gets shiveringly cold (it needs a new compressor though, the old one bit the dust).
Quality/Reliability: 8/10
The 900 classic is almost legendary for its reliability, but you have to measure that against cars from the same era. Over time, the car gained maintenance-free timing chains and updates to the turbo for improved reliability. The rule of thumb is, the newer the better.
Remember that a number of years, neglect becomes an issue.

Overall Value: 6/10
Any 900 you find on Craigslist will need a couple thousand dollars worth of work (maybe less if you do it yourself) unless it comes with a  documented service history, and if it does you can expect the seller to want over three grand, even more if its an SPG model. Parts are known to last decades, but neglect takes its toll. So, if you're in it to make a profit, you  won't. And despite my affection for this car, I can't tell strangers to go out and buy an old Saab — they're too unique for mainstream consumption. We live in a Camry/Corolla world, a world full of people for whom driving is a burden. Fuck those guys.

Styling is subjective, but some people find the 900 "classic" to be quite ugly. It isn't modeled after a phallus, a woman's curves, or a rocket ship as sporty cars often are. Its design was influenced by Saab aircraft but comparing it to a Viggen fighter jet would be a stretch. The best word I've heard to describe the look is "Smugly" — just ugly enough that you can be smug and take pride in its uniqueness.
I wanted to give it a 10/10 for overall value, but that wouldn't be entirely honest. What's a 10 for me, in the case of this car, probably won't translate into a 10 for most drivers. This is probably true of most Saab enthusiasts, who embrace the personalities and quirks of their cars so strongly that major flaws become non-issues.
Every car stimulates a different part of the body, heart, and mind. A Cadillac satisfies comfort and prestige. A BMW 335 corresponds to male libido. A Mercedes-Benz makes you feel safe and powerful. If you have a Nissan 350Z you're probably a douchebag — throw an Ed Hardy shirt on and embrace it.
A Saab, on the other hand, stimulates the analytical part of the brain. Studying economics causes a corner of my head to tingle with pleasure, and driving the 900 reproduces that sensation. I can't think of any other car on the road that does that. Fittingly, Saab's slogan at the moment is "Move Your Mind."
I won't to try to convert you. Religion is, after all, a very personal thing, but if you've managed to read this entire article, you might be a potential Saab fan.
Things to watch out for:
Reverse gear problems in manuals
Oil leak at distributor
Rust on bottom edge of doors
Power seat issues
Turbo problems, going too quickly into boost or blowing smoke
Check Saab Central for additional buying advice.
Through Saab Central I've had the chance to meet several local Saab owners. They have to be the friendliest and most down to earth group of car owners I've ever encountered. I also picked up a membership to Saab Club North America which includes discounts and a print magazine every two months.