I Delivered Pizza
Here's the thing I learned about delivering pizza — you don't do a whole lot of delivering.
I expected to spend my nights cruising around with the top down, listening to music and and collecting cash like a mission in Grand Theft Auto. Instead, most of my time was devoted to cleaning equipment, rolling dough, making salads, answering the phone, checking out customers, and washing pans. It was way too hot indoors but the crew was lively and the owners were great people so time passed quickly.
I moved to Michigan in 2015 after closing a bookstore and an auto dealership. I spent a month interviewing with Toyota, Chrysler, law offices, and healthcare providers but ran out of money sooner than expected.
As a cure for starvation, I responded to a Craigslist ad for a delivery job at Vincenzo's Pizza in Warren. Vince and his dad opened the shop a couple years earlier, making dough and sauce by hand with a secret family recipe, baking traditional round pizzas as well as a thick Detroit style, made in an oiled pan with an inch of mozzarella and a thin layer of sauce on top. Unlike Chicago's casserole-like deep dish, Vince's crust was made with traditional dough rather than cornmeal resulting in a deeply satisfying brick of cheesy heaven with crisp, chewy edges.
Between the hourly rate ($5/hr) and tips, I expected to bring home a couple hundred bucks a week, more than enough to cover gas, insurance, and beer. It certainly helped that I was living on my brother's futon in the living room. As an added bonus, starting at 5pm gave me the entire day to drive to interviews.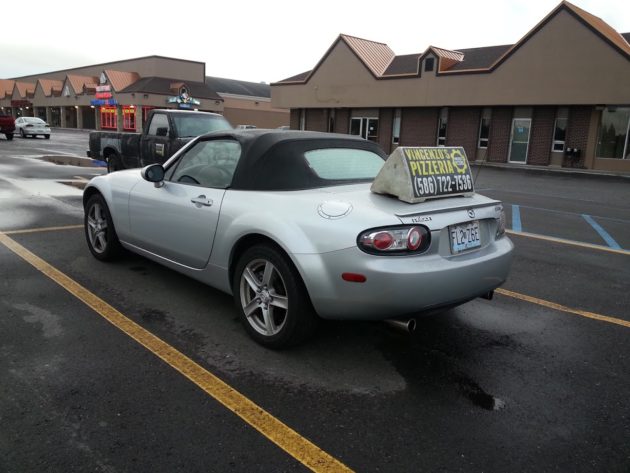 Unfortunately, my 2006 Miata was plagued by a mysterious electrical fault, requiring a tow to Suburban Mazda (charging me $200 for a worthless diagnostic) and another tow to Curt's Service in Royal Oak where, after weeks of troubleshooting including a half dozen ECUs, it was finally narrowed down to a problem with the main fuse block.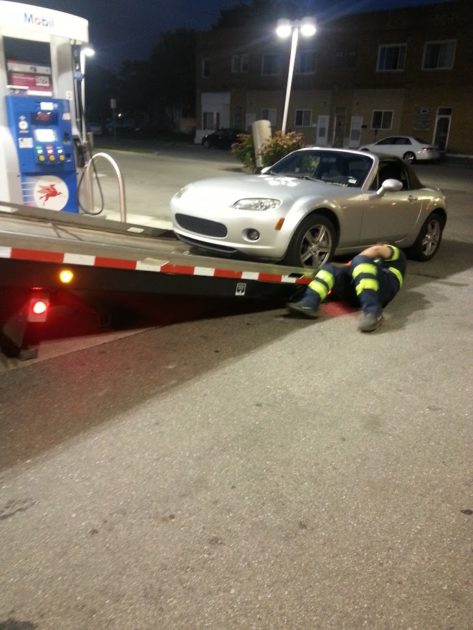 My brother's 1997 Honda CRV with over 300,000 miles then became my primary mode of transportation.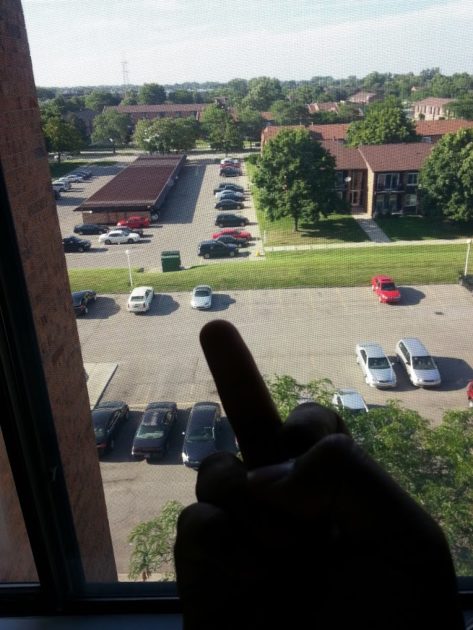 All delivery vehicles are, effectively, donkeys, subjected to traffic congestion, constant starting and stopping, and heavy braking. In Detroit, potholes rivaling the lunar surface conspire to dismantle old cars piece by piece, something I discovered as the Honda's exhaust system fell off its hangers and clanged against the spinning driveshaft. If not for the headers, the whole setup would have ended up on Mound Road.
Thankfully, Vince had a metal coathanger, an aluminum can, and a metal screw clamp in his tool box in the back of the store. After 15 minutes of wrangling, bending, and screwing (with a muffler cleverly fashioned from the can), I was back on the street earning tips.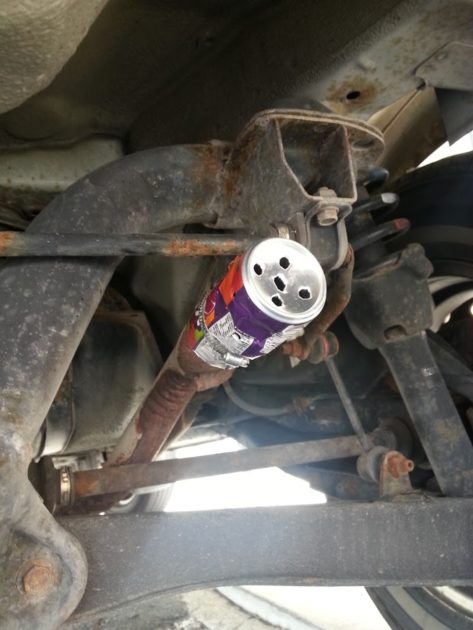 And those tips — without them, after subtracting fuel costs, I'd have worked for free. There was, from what I noticed, zero correlation between apparent affluence (Warren has nicer middle class homes to the north) and the tips I received. Aside from a racist mayor involved with sex scandals who also hates the mentally disabled, Warren is a mostly characterless lower middle class town full of cookie cutter postwar homes, strip malls, GM's Tech Center, and a few factories. Though it ranked among Forbes' 10 most miserable cities in the US and endured challenges in recent years, it's hardly a dangerous place.
Day to day, my routine went like this:
Clock in at 5pm
Walk next door to Dunkin's for an iced coffee
Help with prep and take phone orders
Make a half dozen or so deliveries throughout the night
Wash pans and dishes
Turn in cash and card receipts
Go home at 10pm
Stop at the liquor store for beer
Stay up all night looking for work
My feet ached by the end of each night but it was otherwise straightforward. You make pizza. You give people pizza. People love you for giving them pizza. Everyone wins.
A few of the more challenging orders were at GM and Chrysler where, after figuring out where the entrances were, I had to wait for the line workers to go on break and greet me. GM still has a sign that says foreign cars were required to park on the "far east side," an obvious reference to Japan.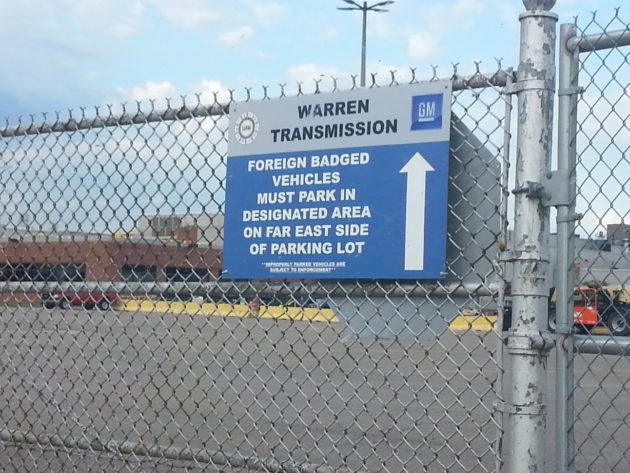 It's a pretty stupid sign when you consider the vastness of GM's global empire. The Buick Envision is made in China. Some Chevrolets are designed in Korea. Then there's Subaru, Saab, Isuzu, Opel, Vauxhall, and Holden. The Silverado is made in Mexico. Badging and nationality have become entirely irrelevant but dated attitudes persist.
I parked the Honda directly in front of the entrance and flipped on the hazards. If they want their pizza hot I'm not walking half a mile.
Inside, after calling and quite a bit of waiting I was greeted by an assembly worker who waddled through the door and handed me cash, tipping less than a dollar. Knowing how quickly I had arrived, how damn good the pizza looked (I pulled it out of the oven and sliced it myself), and how much these guys earned, I couldn't help feeling slighted.
I had a better experience delivering to Lear and Chrysler where parking was less of a mystery. I had to be buzzed in and waited several minutes at the front door but they always compensated me well.
Hotels and bars were popular too. We bribed front desk clerks with breadsticks in exchange for putting our menus on display while bartenders received free pizza for referrals. As an added bonus, hungry drunk people seemed inclined to tip well.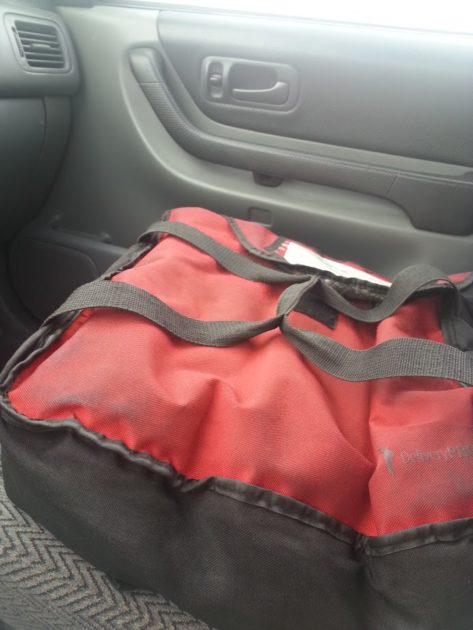 Finally, after a month, I turned in my pizza bag and moved on to a new job at a financial services company in Troy. I made new friends, learned a new city, and ate a metric ton of seriously delicious pizza. Aside from all the wear and tear on the car, I'm glad I did it.