Review: 2015 Nissan Sentra SV
This review began on a sad note, unfortunately, as my friend Linda Snyder passed away at the age of 54 at her home in Spokane, Washington. I dedicate this to her memory.
——-
A round trip flight to Spokane for the funeral, annoyingly, was going for $860, nearly enough for a one way trip to London. Seattle was better at $560 and Boise was equally expensive so I chose Portland, Oregon for $318 ($415 before Priceline bidding) and added a rental car. The drive to Spokane is an easy 4-5 hours with stunning scenery along the Columbia River.
The car from Hertz in downtown Portland was only $128 for the entire week so I had my friend Jen, who I hadn't seen in more than five years, pick me up at Portland International and drop me off in the city.
The kid at the counter was perfectly friendly but I walked out after being asked to put in a $200 deposit WITH my credit card to reserve the car. That seemed absurd to me, especially for a base model Yaris with hand crank windows.
Politely, I walked out the door and headed two blocks over to Budget/Avis with just 25 minutes before they closed. This being Portland, I was politely wished a happy Mother's Day by several homeless people. One of the bums asked me to help her up but I knew that was a scam to swipe my wallet, so I pretended I couldn't hear her.
A visibly frazzled and overworked Avis agent was taking calls from argumentative customers while I patiently waited my turn. While some women enjoyed Sunday brunch with their children, this poor lady (a mother herself, I learned) was at the office getting yelled at by strangers.
They were out of compacts and an SUV was going to run me $256, double what I originally intended to pay. Instead, I booked a compact car through Priceline (reserved for the exact Avis office I was standing in) which meant that I would have received the SUV at the economy car price.
The agent at the counter apologized, as if I was going to object to a free upgrade to a Chevy Tahoe (I guess folks are eco-minded in Oregon) but at the very last minute a couple turned in a new Sentra, a car that I knew came equipped with a dreaded CONTINUOUSLY VARIABLE TRANSMISSION.
So no Tahoe for me, woefully.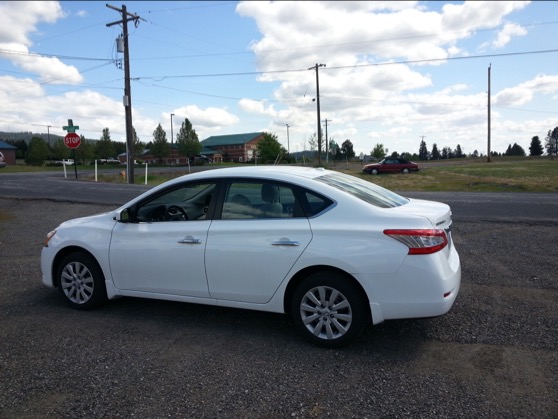 Notice the Saab 900 for sale in the background.
You're darn right I ran over there and gawked at it.
While casual drivers may not notice the difference between variable and normally geared automatics, we drivers certainly do. Standard automatics engage a sequence of gears with revs moving up and down through the range, offering a reassuring sensation of forward progress that corresponds with the sounds and vibrations of the engine. CVTs, on the other hand, use a band that adjusts through an infinite number of ratios, causing the engine to drone like a kitchen appliance as it maintains steady revs.
Nissan's lame solution for making the CVT feel more like a normal automatic is to have to revs move up and down a bit making the car, no thanks to its crude 130 hp four-banger, sound like someone is hitting the "Pulse" button on a blender… without the reward of frozen margaritas.
[https://www.youtube.com/watch?v=GroKhNifwPQ]
Despite the aggressive cacophony of the engine, the Sentra moves nowhere when you floor it. Eventually, after mashing the throttle, a period of time passes and, if you're lucky, you'll find yourself cruising at highway speeds. This isn't a vehicle I'd use to dart through heavy LA traffic, at least not without the scorn of people queued behind me.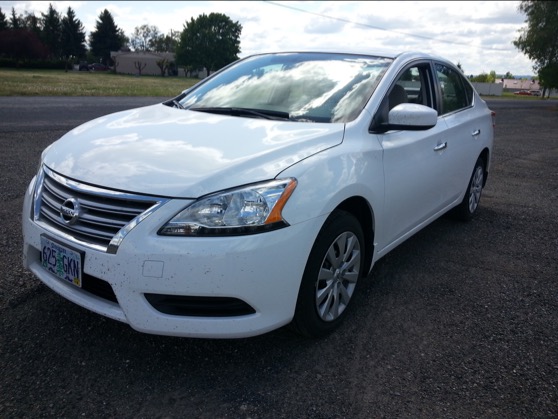 Yep, that's an automobile.
Thankfully, after a couple ice ages go by and I'm finally keeping pace with yellow school buses, the Sentra settles in to a nice, comfortable cruise, with its spongy suspension and extended wheel travel mellowing out the harshness of uneven, winter-beaten pavement.
At high speeds the otherwise noisy engine settles into a hum and wind noise is pleasingly muted. Meanwhile, the CVT/I-4 combo delivered an impressive 34 mpg, cruising at 80mph through the windy Columbia River Gorge. Except for some tire noise, it glides along like its larger and more expensive Altima sibling.
Braking needs some adjustment, however. Though it stops with some authority (diving forward on its tippy toes like an old Buick), the pedal goes from nothing-nothing-nothing to BAM!, flinging you into the steering wheel as it grinds to a sudden halt.
Thankfully, steering is light and lively with clear communication between tires and fingertips, great for physically sensing moisture, snow, and ice. It could stand to be a bit heavier on the highway but you can, at least, perch your left elbow on the door while making small directional adjustments with your thumb and index finger, also like an old Buick.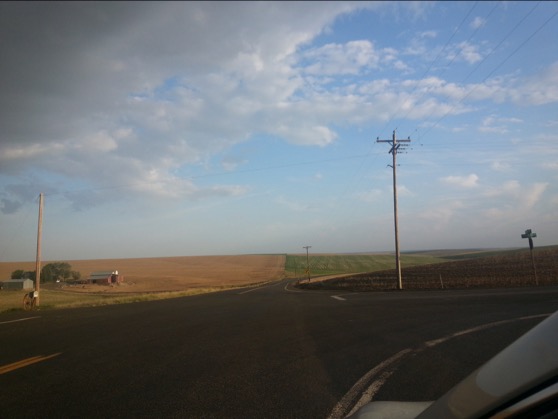 I got lost in rural Washington at some point, and I'm glad I did.
A thick, leather-wrapped wheel is a nice touch although the stitching on mine was slightly uneven. The rest of the cabin feels light and airy thanks to a tall roof, sweeping dash, and a surprising amount of rear leg room. The dash top is made of that squishy stuff you find in more expensive cars while the arm rests are generously padded with stitched fabric, an unexpected bonus for a car that starts at 16 grand (less with incentives).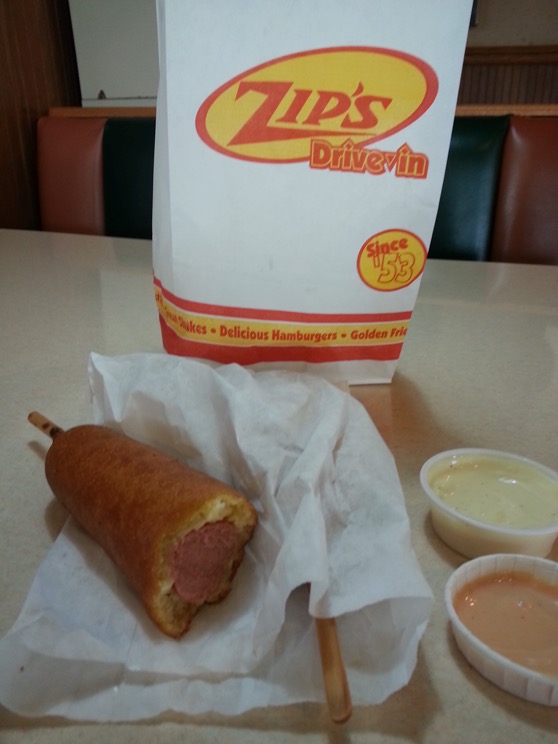 If you've never eaten at Zip's, you're missing out.
I stopped by on my way to Portland to relive my teenage years.
There's a decent mix of attractive matte and piano black plastic to distract you from some of the hard panels on the door and center console.
My Sentra SV came equipped with a reasonably responsive infotainment system with Bluetooth audio that shined and sparkled with crisp highs, nice midrange, and surprisingly strong bass, impressive for an economy car.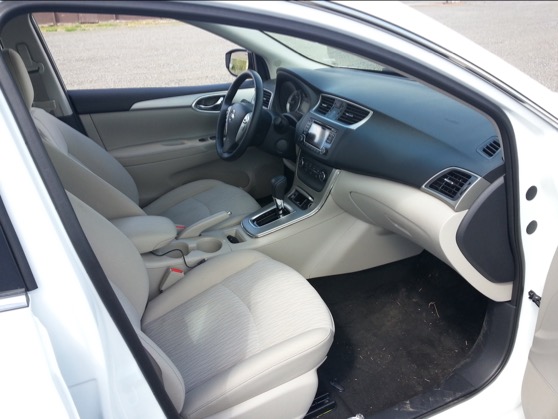 Menu options and modes flipped through without fuss and phone calls were adequately clear (or at least, no one complained). Unfortunately, it didn't play well with my Samsung Galaxy phone, losing phone entries and dialing the wrong people.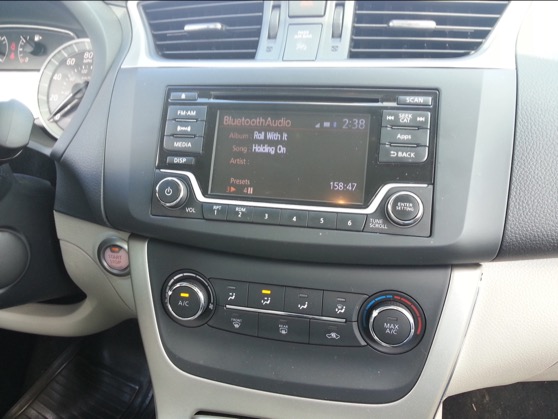 At 85mph through rural Oregon I figured I'd give the 2015 Nissan Sentra's voice recognition a try, so I hit the call button:
The Sentra says:
"Please say a command…"
I say:
'CALL JEN McBride'
The Sentra confirms:
"Calling Jim Wood."
Close enough, right? Jen needs to work on her beard and Jim's boobs are nothing special, but otherwise they're the same person according to Nissan's voice recognition.
I tried redialing but the car decided, inexplicably, that the only person in my phonebook was my friend George. It was only going to allow me to call George from there onward and no one else. Don't get me wrong, George is a nice guy, but I didn't need to talk to him.
And that wasn't the only quirk. Occasionally, after getting back in the car, music would inexplicably pause and play on its own, back and forth, pausing and playing like it was possessed. Sometimes it neglected to pause the music while giving navigational directions, though I suppose this could be blamed on my phone rather than the infotainment system.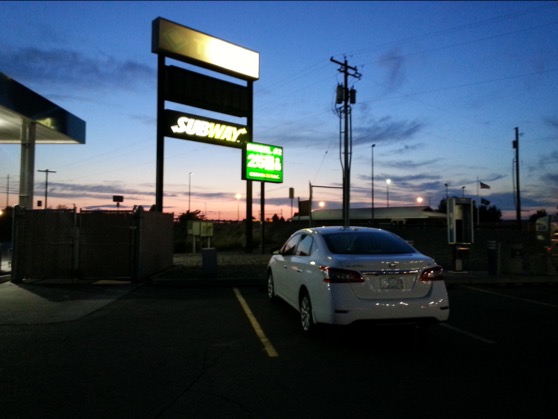 It also reads text messages aloud with the option to respond through voice recognition, though it didn't pick up on my Google Voice inbox. Additionally, there didn't appear to be a way to go through past messages or compose a new one from scratch. So close.
Above, a sunglass holder flips down while a soft mood light casts a glow over the shifter and cup holder area at night. And in case you're wondering, the front seats get four large cup holders. I never did check the back.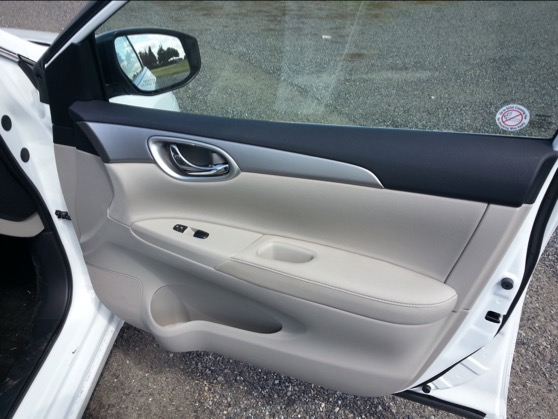 The overall impression is that the Sentra is a midlevel-aspiring car with the price tag of a smaller compact. The Altima-like styling and modern interior yearn toward mainstream achievement. Thankfully, there's a manual transmission available. If you're going to get the most out of a gutless motor, you may as well have the freedom and joy of rowing your own gears.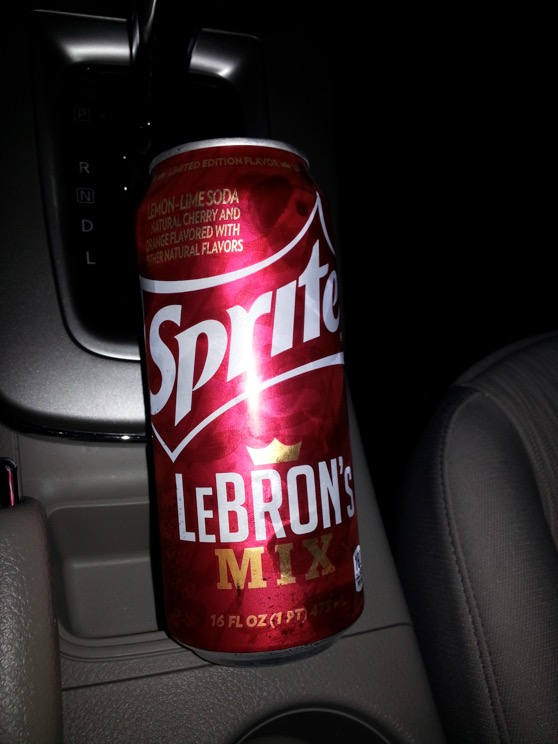 I picked this up at a gas station in Oregon.
Supposedly, drinking this turns you into an ass clown and causes you believe you're more talented than Michael Jordan.
The Mazda 3, Chevy Cruze, Hyundai Elantra, and Ford Focus are arguably more appealing cars for the same money but Nissan's generous sales incentives make the Sentra a possible alternative to (and upgrade from) subcompacts like the Chevy Sonic (a spectacular driver), Mitsubishi Mirage (awful) and the well-regarded Ford Fiesta.
For most commuters, Nissan's discounts may be enough to put up with the wallowy handling and unrefined engine.
For the rest of us: shop around.
——-
As for the rest of my Spokane trip, I was pleased to see people at the funeral I hadn't spoken to in years. I also binged on huckleberry-everything including huckleberry lip balm, huckleberry soap, huckleberry candles, and a huckleberry milkshake at The Milk Bottle on Garland Avenue.
Spokane has changed dramatically, at one time a redneck town with little reason to exist, it's evolved into what's starting to resemble a clean, sprawling suburb. If only the speed limits weren't so unreasonably low.
And the local beer selection is superb.