Rental: 2013 Chrysler Town and Country
Yes, I'm a car guy. Car guys are supposed to hate the mundane and practical. When a member of the general public asks us what they should buy to carry around their family of four and related cargo, Miata Is Always The Answer. Can't fit a child seat? Then get a divorce and give up custody.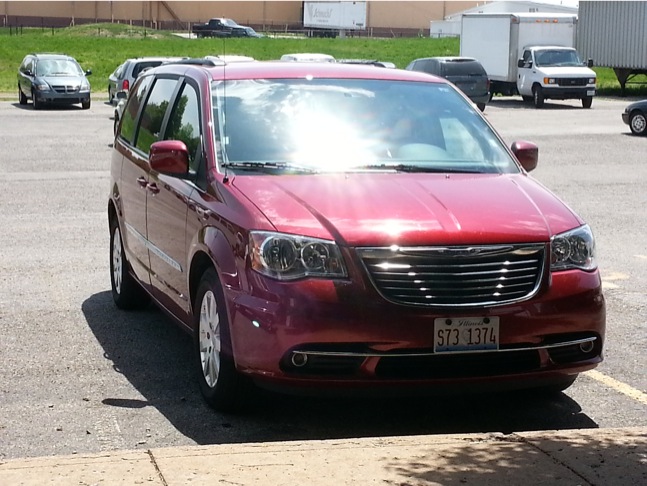 I'll tell you what though, I -like- this minivan. While the Deville was in the body shop after an old woman slammed into me, Enterprise brought over a cherry red Town and Country, Chrysler Corporation's (okay, Chrysler Group LLC's) finest offering for large families. The entry-level Touring edition starts at just under $31,000 but comes with enough of everything — leather, power seats, Stow and Go flat-folding second and third rows, rear entertainment, fog lights, wireless headphones, UConnect touchscreen audio with bluetooth, rear backup camera, tri-zone automatic climate control, a dozen or more cupholders, more than half a dozen air bags, third-row chairs that flip forward for tailgating, rear inputs with composite and HDMI, 115v power outlet, power sliding rear doors with power windows, power rear vents, and a power liftgate.
Sheesh, that was a mouthful.
Higher trim levels include a firmer suspension, lane detection, seat heaters, upgraded audio, navigation, heated steering wheel, Nappa leather, HID headhlights, blind spot monitoring, cross path detection, rainsense wipers, remote start, extra chrome, and a bunch of other odds and ends.
By the time you're finished adding packages and options, the luxurious Town and Country reaches $42,000 and offers an equipment level on par with almost any Lexus or Cadillac.
Styling is fairly unremarkable. The scalloped headlights are a carryover from the eagle-faced theme of the Daimler-Chrysler era. This generation abandoned the egg/dolphin-like shape of previous generations in favor of a boxier look that recalls the original. As a result, the interior feels a bit more airy. The winged logo that melts into the sculpted front grille is a nice touch as are the chrome trim pieces along the doors.
It's an execution that's butch but soft at the same time. Think of John Goodman's truck-like body with Charlize Theron's delicate face.
Okay, terrible comparison, but you get my point. Where most minivans look cheap and childish, this comes across as slightly classy, with just enough inspiration from the second-generation 300 sedan to give an impression of luxury.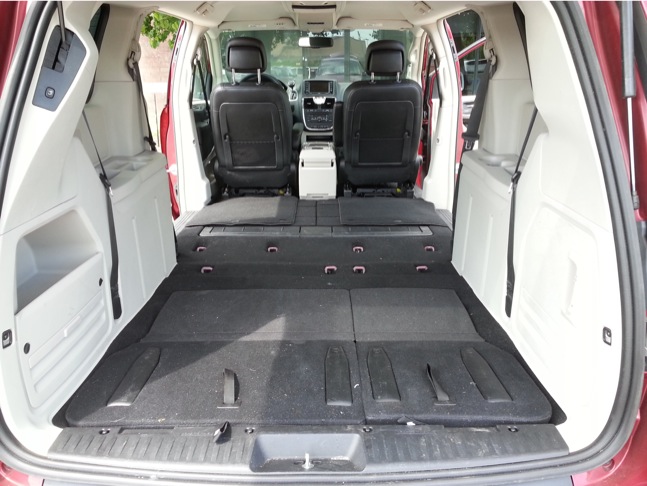 It seems like a misnomer to call these things "mini" as their interior volume exceeds extended-length Escalades and there's enough space for seven non-dwarf adults to travel comfortably for hours. Unlike the third rows of traditional truck-based SUVs, vans have low floors and high roofs which allow for third-row passengers to sit upright in real chairs, like civilized people.
To shake off the soccer mom vibe, the first thing I did was figure out how to fold the seats into the floor. In case someone caught me behind the wheel of a minivan, I could always throw a chainsaw, mulch, and lumber in the back pretending to be a domestic Paul Bunyan.
Folding the second row is simple. You lift up the lids covering the storage bins in the floor, pull a latch to flip and fold the seat, and it disappears into the floor. The lid then snaps in place. The third row folds backward into the cargo area with the use of two straps, marked with numbers to indicate operating sequence.
With the seats up, there's plenty of storage under the floor for toys, DVDs, food, small bags, or in my case beer.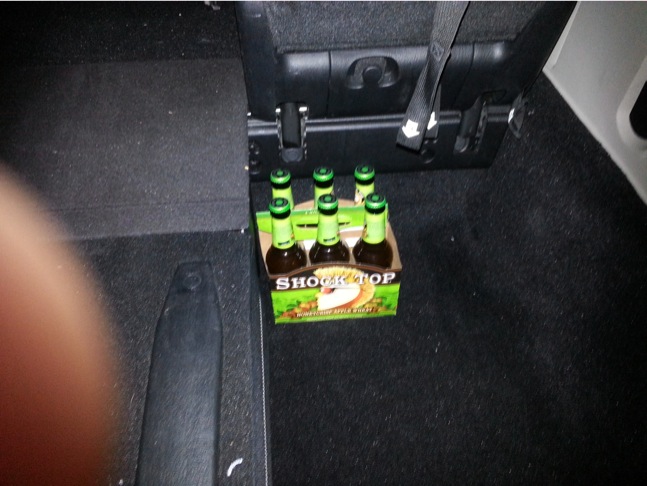 Within five minutes, you're ready for a small troop of child athletes or your Ace of Base cover band's drums, amps, keyboards, and guitars. Few SUVs offer that kind of utility, the reason the minivan format has persisted for so many decades despite their dorky image.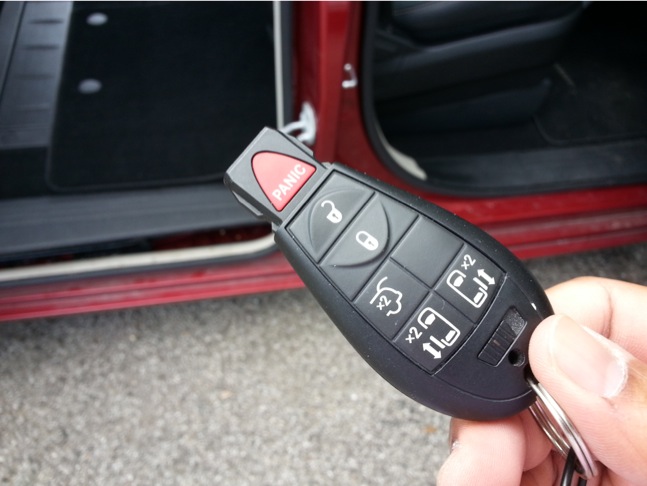 When we were kids, the back seat of a van was a less than spectacular place to be. You had one sliding door that everyone had to climb out of one by one and it was heavy, difficult to pull closed on an incline. The rear windows may have had a small slider for ventilation but they never fully opened. Some minivans offered rear air conditioning but it was expensive and rare. I remember nagging my dad to constantly turn up the AC while I dripped with sweat in the back.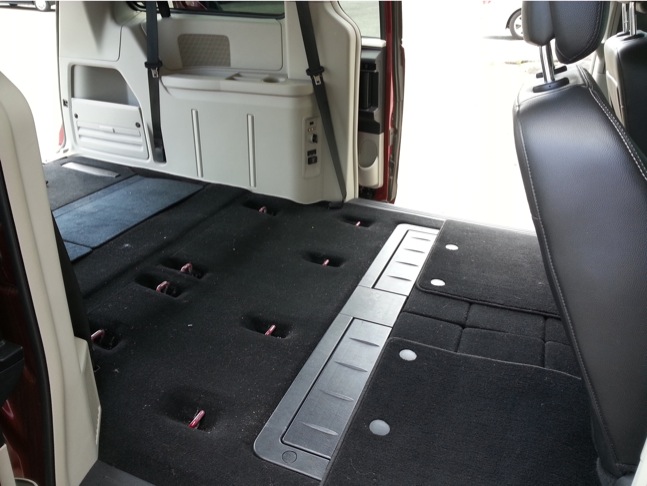 Today's Town and Country comes equipped with dual remote power sliding side doors and a power rear lift gate. Second row passengers have sliding power windows, just like a sedan. Rear vents with independent automatic climate controls allow a sweaty kid-athlete to cool off while mom enjoys heating in front. That's more flexibility than most modern homes.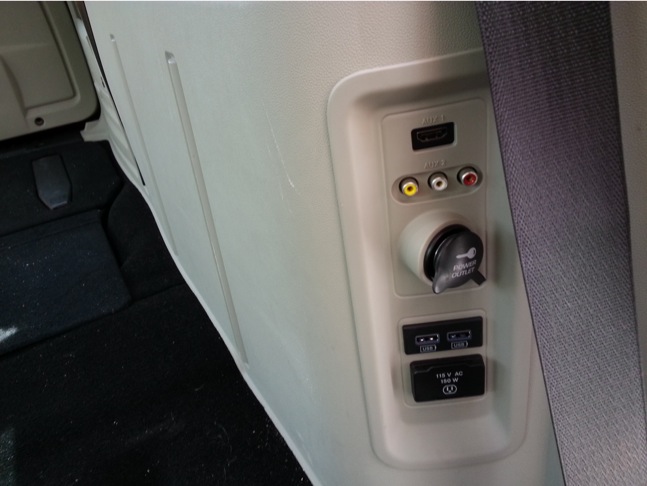 For longer trips, there's USB ports in the back for charging electronics, a 115v outlet for laptops, and a combination of AV inputs including HDMI. Bring your XBox!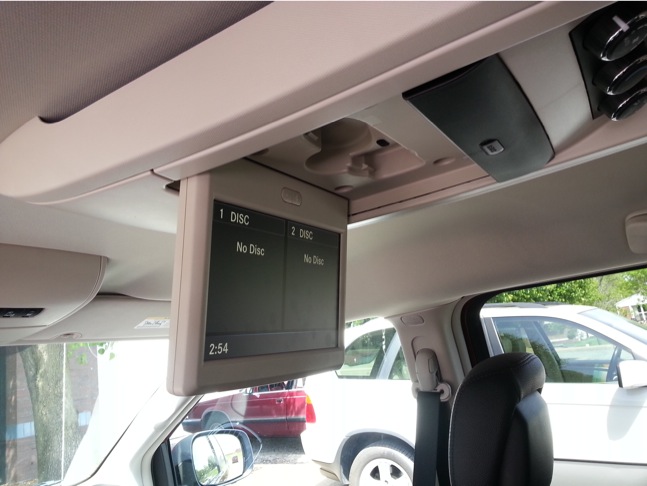 Wireless headphones with a wireless remote mean you can enjoy two video sources at the same time including DVD and BluRay. One kid can watch Finding Nemo while the other plays Call of Duty. Absolutely brilliant. The Sirius TV system that came out a few years ago has been discontinued. It used Sirius/XM satellites to deliver a small selection of blurry channels for an additional fee.
The rest of of the rear upper console extends all the way to the back with fold-down compartments offering storage for sunglasses, keys, chicken nuggets, or whatever the heck kids feel like cramming up there.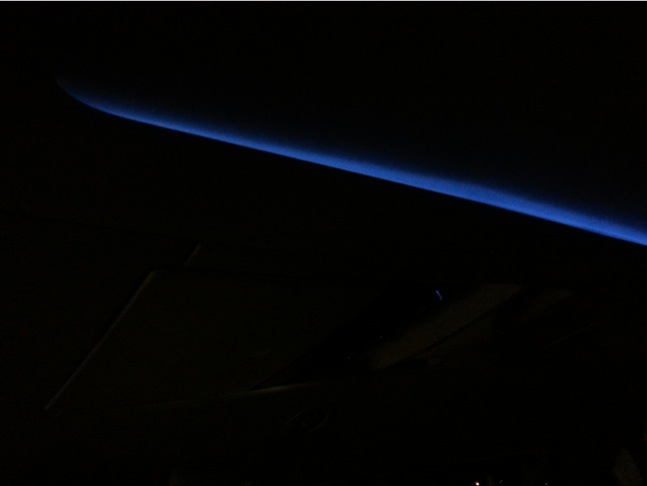 BONUS: The upper storage console illuminates in light blue for a bit of a Gulfstream jet feel.
————————————
So that's an overview of the clever bits. What matters to people like us is how it drives.
Before I dig into my list of complaints, I'll give the engineers some credit. The Pentastar 3.6 V6, with 283 horsepower mated to a 6-speed automatic, pulls this rolling juice box from 0 to 60 in just 7.5 seconds. Consider that just a decade earlier, the BMW 528i was posting similar numbers. That's swift progress for a family hauler.
The competing Honda Odyssey and Toyota Sienna are about half a second slower. Last one to the soccer field is a rotten egg.
Additionally, the fat steering wheel is wrapped in what feels like a very high grade of leather, offering excellent grip all around. Unfortunately, the controls for the center display, phone, voice recognition, and audio intrude into the corner pocket at 9 and 3 where I normally rest my thumbs.
At first, I thought there was an issue with the transmission as the throttle felt vague and shifts were highly reluctant. I played with the autostick function, flicking the dashboard-mounted shifter from left to rain to gain some power, until I finally found the culprit — THE EVIL ECON BUTTON.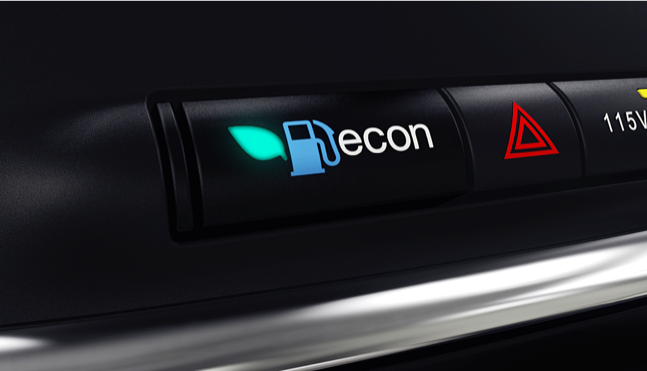 This sneaky little SOB, hiding quietly at the bottom of the center stack with a subtle leaf that lights up green, ruins the driving experience with a single touch. It tells the transmission to stay in higher gears, engages and maintains overdrive sooner and longer, skips gears during acceleration, dials back ignition timing, and reduces idle engine speed.
As a result, the throttle feels completely disconnected from the engine, responding to your right foot with apathy and disdain. In hilly areas you find yourself pushing the throttle down further than your normally would, lunging into a lower gear and sending RPMs shooting into the sky, wasting the fuel you were supposed to save by using the feature.
On the other hand, if your commute or road trip is on completely flat land with minimal traffic, it can save you 1-2 mpg. In mixed driving I saw 20.0 mpg, not bad considering the amount of time I spent goofing off around town, and that was with ECON turned OFF.
Unless you're handing the keys off to your spouse who may not be able to notice the difference, don't use this awful feature.
Behind the wheel, vans have always lacked the intimacy that makes driving a sports car so satisfying. You sit high up, the center stack is far away, and you feel like you're driving a bus rather than a car. Chrysler did a sufficient job of emulating an upscale passenger car experience with contrast stitching, leather (a rubbery-feeling lower grade of it), plastichrome, an analog clock that looks like it came from 1955, and a few tasteful pieces of wood-like trim. The gauges are beautifully designed with cool blue backlighting and easy to read dials.
The configurable LCD in the middle can show a surprising level of operating information including oil temp, engine temp, fuel data, range, and more, very handy if you're towing or driving through Death Valley in the heart of summer. It's a nice change from the vague idiot lights that have become commonplace in family cars.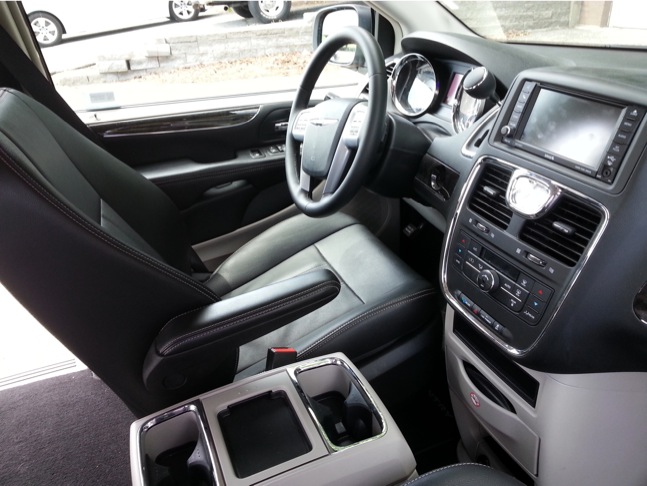 That dashboard-mounted shifter, however, is a bit of a visual blight. While manly trucks and classic sedans use column shifters that stick out from behind the steering wheel and more sporting cars use floor-mounted shifters, minivans tend to squeeze them somewhere between the gauge cluster and the center stack like an afterthought.
Functionally, there's nothing wrong with it. The shifter is within easy reach for manual gear selection and autostick shifting and the leather-wrapped knob feels nice and substantial, but it looks like a design compromise.
Once you're moving down the road, the layout feels more natural than it looks. What isn't so natural, unfortunately, is the chassis.
Around corners, the TC leans like a stop sign in a category-5 hurricane, a problem exacerbated by the tall seating position. Ride comfort is perfectly tolerable at least, surprisingly firm, with sharper bumps well muted. Body control could stand to be improved with less rocking back and forth down the highway.
Perhaps, as a Cadillac guy, I'm being too critical of the ride. Lane changes, at least, are swift and secure thanks to quickish steering (which isn't very communicative) and sharp turn-in. The "S" trim level claims to offer a sportier suspension.
Decades ago, sedans and minivans had a vastly different driving experience. You had to give up a lot in terms of ride, handling, and comfort to drag your kids around. Now, you'd have a hard time telling the difference between a Caravan and a Camry in a blindfolded test. It's unexpected progress in a declining segment that sees heavy competition from trendy crossovers and a 25-year onslaught of four-door SUVs. Even Chrysler itself sought to replace its minivan with the "segment busting" Pacifica crossover, abandoned years ago in favor of the less stylish and more practical Caravan-based Dodge Journey.
————————————
I had a few issues with the UConnect RBZ entertainment system. The FM/AM/XM tuner was easy enough to use, voice recognition was better than expected, and after cranking the mids and highs way up it sounded spacious and punchy. Unfortunately, the USB port outright rejected my iPod Nano. I tried reformatting it but it refused to do anything but charge the device. It recognized it as a media device but was unable to play any tracks.
I gave up and decided to export my MP3s to a 16GB USB drive. After some trouble copying the data I went online and looked for advice. UConnect will copy your MP3s only if the conditions are right:
1) Format the drive as FAT32
2) Place them in a single root-level folder rather than the hundreds of artist folders my songs were arranged in.
3) Make sure there is at least one JPG image on the drive. Also, if you're copying images, there has to be at least one MP3 on the drive.
It took a few days of tinkering but I finally got it going. Sound quality is respectable and I was able to pull up an image of my Saab 900 convertible as I cruised down the highway. Copying takes place in the background and resumes automatically when you restart the car.
The digital clock in the lower left is a welcome sight as the analog unit below is difficult to read — the hands appear to be the same length!
The UConnect display also hosts the rear backup camera which, despite being a bit blurry, proved to be very useful. In the rear view mirror or even when looking over your shoulder, objects appear to be much closer than they are. Using the camera, you can squeeze out 2-3 additional feet, making maneuvers in tight spaces much easier.
————————————
So, should you buy one?
I suppose the wildcard is Chrysler's 62TE six-speed automatic transmission. The new Pentastar 3.6L V6 is an absolute gem — powerful, refined, and efficient. The transmission, however, is a bit finicky and tends to hunt around a bit for the right gear, all in the name of fuel economy. Chrysler claims that the 62TE uses adaptive programming, so perhaps I needed to put an extra 500 miles on the clock so we could become better acquainted.
Since it hit the market just over six years ago, there have been a few issues with electronic solenoids in the 62TE but most have been revised and resolved. Unlike Hondas, late model Chrysler and Dodge minivans have, for the most part, been free from widespread transmission issues.
Depreciation on Chrysler vans has always been heavy. Buy used and get a basic but extended powertrain warranty.
The other question is whether you should consider an SUV or crossover. Let me put it this way — do you care what people think of you? If so, don't buy a minivan.
Do you go off-roading or tow really heavy things? Get a truck-based SUV like a Suburban or Tahoe.
Are you a single female who for whatever reason thinks sitting up high is cool? Get one of those ugly-ass crossovers.
Practicality, efficiency, and economy have always favored the minivan. If you routinely need room for 7 adults or gobs of cargo and you normally drive on paved roads, there is no better choice for the money. Period.
Otherwise, Miata Is Always The Answer.
PROS:
Standard features
Cargo space
Storage space
Adult seating
Stow and Go seating
Multimedia options
3.6L engine
Safety
CONS:
Thin seat backs in third row
Standard leather feels cheap
Guaranteed celibacy
CONCLUSION:
30 years later, the minivan is still the most efficient and practical way of transporting a family. On the other hand, you could always abandon your wife and children in favor of a two-seater.