Quick Drive: 2013 Chevy Malibu Eco
The 2013 Malibu Eco stinks.
I came in with high expectations, especially after being so pleased and delighted by the previous-generation 2012 Malibu I rented in Long Beach two years ago.
The old Malibu is popularly known as the Bob Lutz Malibu, designed and engineered during his time as GM's VP of Product Development. Early reviews were extremely positive, praising the its driving dynamics, upscale styling, and generous rear leg room.
Unfortunately, in 2009, Lutz's role at GM was severely reduced during the government's takeover under CEO Ed Whitacre, reducing "Maximum Bob" to a figurehead with no one reporting to him.
The effects of the Obama adminstration's reorganization is most apparent in what is known disaffectionately among the press as the Whitacre/Akerson Malibu, a much-maligned vehicle with an extended front overhang, reduced wheelbase, and smaller rear seat. Though the Malibu is still fairly large on the outside, its interior space is very similar to the much cheaper Chevy Cruze, rendering the Malibu redundant as Honda, Toyota, and Hyundai/Kia continue to upsize their mid-level sedans.
My encounter with this car was, thankfully, very brief. As an auto dealer I attend auctions regularly and had high hopes for the "upgraded" successor to an everyman's car I greatly admired. This one was an ex-rental was just 20,000 miles, sparkling clean in white with a brown piped leather interior.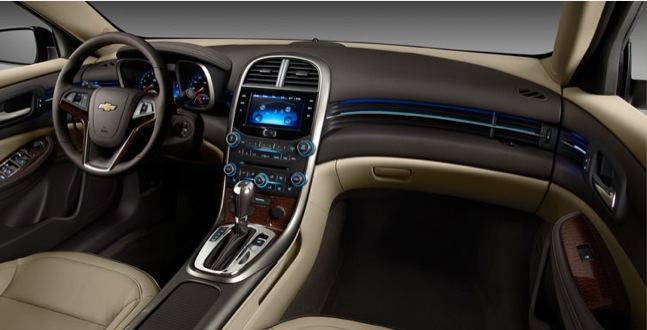 Inside, I noticed the garish basketball-like dashboard materials which looked and felt cheap and crude. Who at Chevrolet believed a basketball was elegant enough to serve as the surface of an automotive interior? Additionally, while the door and dashboard trim lined up properly, their textures differed, as if GM used different basketballs as inspiration for the dashboard and upper doors (Spalding vs Rawlings?). The center touchscreen was easy enough to operate with information on the powertrain and AM/FM/XM controls. Knobs and dials were easy to reach and use.
While the leather upholstery felt nice enough, the surfaces were hard and flat, not a place I'd want to spend more than an hour or two at a time, and compared to the previous Malibu the dashboard felt like it was protruding at me, producing an operating environment that felt somewhat cramped even though knee and leg room up front were perfectly adequate.
Unfortunately, the fake wood trim looked less like a plastic tree and more like the leopard print underwear of a Vegas stripper. Unless Chevrolet was emulating a genetically engineered breed of tree called Strippus Poledancerita, this looks like nothing I've seen in nature.
Maybe GM needs to hire a couple arboriculturists.
I found the outside of the car, at least, to be perfectly tolerable. The rear wheels do look unfortunately tucked in, a trait shared by the awkward looking Cadillac XTS, which then contributes to decreased rear legroom. The Camaro-style square tail lights are at least brand-distinctive, setting Chevrolet apart from Japan and Korea, but otherwise the exterior of the car is nothing that will provoke envy among suburban neighbors.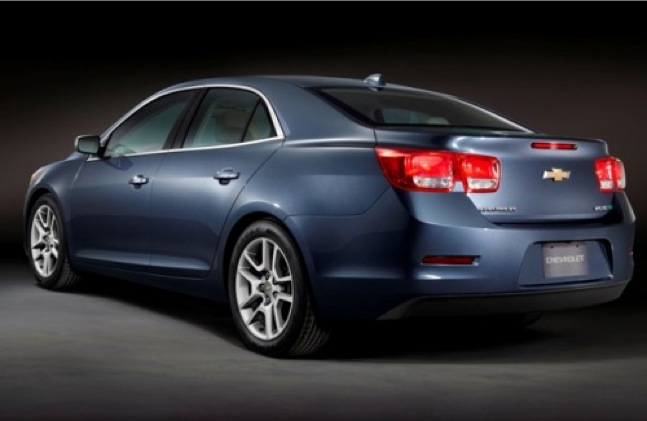 To Chevy's credit, an emergency refresh was recently done to silence some of the car's harshest critics. Rear leg room was gained by carving space out of the front seat backs and the plastic wood trim was updated with a more inviting wood grain pattern. The nose was mildly updated, but that was never a major issue.
Thankfully, the powertrain was less disappointing. The regenerative brakes felt natural, if not at all sporty, steering was direct if not particularly communicative, and the hybrid system did a respectable job of 0-60 acceleration at times I didn't bother measuring. Some say it's a hair under 9 seconds, more than adequate for a family car. This generation no longer offers a V6, but it may not be necessary as four-bangers get stronger.
After a few minutes of messing around with the car I got out, threw the keys on the seat, and moved on. It felt like something cobbled together by a series of focus groups rather than a singular, design and engineering driven point of view.
Fortunately for consumers, bad press and slow sales have contributed to low used values, making this new generation of Malibu a bargain for used car shoppers. On the other hand, the cheaper Cruze is better looking with a similar amount of interior space.
So, that sums it up. A car that was on Car and Driver's 10Best list for 2008 was reduced to a footnote just a few years later. Get your shit together, Chevrolet.