Buying a car near the end of its production run? Quality may be an issue.

Above: The Buick Lucerne and Cadillac DTS being assembled in Hamtramck, Michigan
This information is from a member on a forum who I've never personally met. Take it for what its worth.
The Cadillac DTS will be ending production at GM's Hamtramck plant this summer, with leftover parts being used to piece together final vehicles. Some of these leftover parts, according to this gentleman, may be past rejects that need to be cleaned up or repaired for installation. Some of these parts, such as body panels, may have large gaps or flaws.
What remains of these rejected parts, "billdaman" claims,  will find their way into dealer inventories.
Reposted here, spelling errors in tact:
The build out is starting based on the production numbers for March: DTS produced at Detroit/Hamtramck assembly – total of 1,580 vehicles down -26.4% from 2010.

That's basically a rate of 75 per day, and at 40 vehicles per hour tells me that the production mix of Lucerne, Volt and DTS is no more than 30% DTS.

Get them while you still can get a quality vehicle! As you get closer to the build out (like the last 2-3 weeks of production) stay away from those vehicles. Here's what happens: Every previously rejected part that could pass with repairs or cosmetic rework will be unloaded from the suppliers MRB cages and shipped in vehicle sequence to Ham"Tragic". Sequenced parts are VERY difficult to reject during build out.

Interior fits and finishes will suffer. Anomolous electrical performance can be expected from the contents of 100's of part totes (PCM.s BCM, Harnesses, Motors that were dropped, and should have been scrapped or had been lot rejected for high defect rates, and the supplier was charged back for the parts. These parts have been sitting gathering dust waiting for this day to arrive.

Nothing that was previously rejected by the assembly plant which can still be dolled up or retested will remain in the suppliers inventory, you can count on that. As the last 2-3 weeks arrive the suppliers will begin mixing these parts in with the "good" parts. They will be able to get away with it.

Every single part in the assembly plants inventory in the last 2 weeks will be necessary so borderline cosmetic rejects will be passed. Any extra parts remaining after the last vehicle has rolled of the final line will be sent out to service parts, and yes you guessed it , those stand a good chance of being previously rejected parts. Nice huh?.

The plant body shop also frequently has bodies that are shall we say are less than perfect sitting on skucks gathering dust. These will somehow find their way onto the mixed bank when no one is "looking" and hopefully only make it into rental fleets, but you never know it could end up being yours. (Hint: Water leaks, 8 mm fender gaps, etc.)

Lastly some of the difficult electrical problem vehicles that have been sitting in the plant float will find their way back into the repair areas, ripped down for troubleshooting, put back together and pushed through the "Care line" area by over zealous final line superintendents who want them on the Rail head companies books and out of the plant inventory. Believe me the final scheduled shipment date will be met,

Stay away for these last vehicles. This advice is from one who has been part of many GM model assembly plant "build outs"

Color specific parts (less finish part numbers) like interior and exterior plastic, rubber, seats, headliners, and any electrical parts that are not common to other models still in production the answer is ABSOLUTELY. And the old addage thet they have to supply parts for 10 years is complete rubbish. Less finish part numbers are typically only inventoried to supply 3-5 years after model production ceases.

After that GM SPO awards small lot contracts to suppliers who will push the parts out for a high per piece price. Quality control is marginal, particularily if the tooling belonged to the original supplier and it has been scrapped.

Dont agree? Just try to match colors on interior parts for these vehicle in 2014 from GM Service parts. You will pay through the nose for Crap parts IF they are available.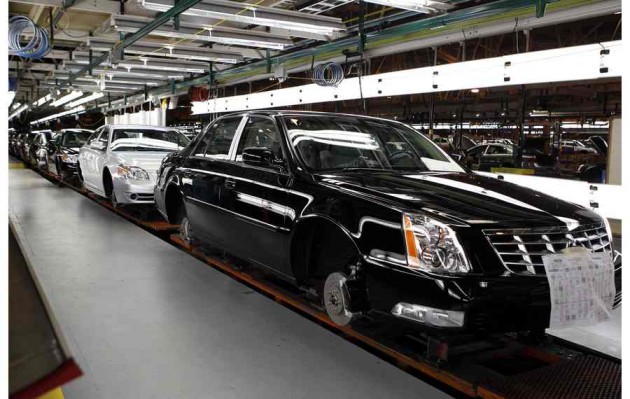 Is it true? What do you think?
Automakers do in fact use their remaining inventory of parts to assemble final quantities of vehicles, as they ought to, but the claim that some of these are rejected, flawed, or previously damaged may be worth some level of scrutiny.
Cadillac and Buick production at Hamtramck will be replaced by the Chevy Volt. GM Hamtramck earned several North American quality awards from JD Power, while the Cadillac DTS earned initial quality awards from JD Power and a recommendation from Consumer Reports.
http://www.cadillacforums.com/forums/cadillac-dts-forum-2006-through-2012/226308-dts-production-numbers-march-2011-junk.html