How In-Dash Navigation Worked In 1992 – Olds Was First
Oldsmobile, AAA, government agencies, and electronics manufacturers convened in the early 1990s to develop satellite-based navigation systems for automobiles.
This video from 1993 shows TravTek in use, complete with a talking voice and a color touch-screen display.

Fast Tube by Casper
Skip ahead to 6:20 to see the system in action using the Toronado's in-dash touch screen display.
This Chicago Tribute article from April 1992 explains how the system works, using wheel sensors and a magnetic compass that sent information to a GPS satellite. At the time, GPS positioning available for civilian use was significantly less accurate than military applications, prompting President Clinton to sign a policy directive in 1996 that declared GPS a dual-use system. By 2000, selective availability of GPS came to an end, giving civilians the same level of accuracy as military users.
TravTek was available on a fleet of one hundred Oldsmobile rental cars at Orlando-area Avis locations. Maps were limited to five Florida counties, expected to be used primarily by tourists whose usage habits were recorded for development purposes. Each car was also equipped with a fixed cellular phone in the center console so drivers could call AAA's traffic center for mapping assistance.
As an added bonus, TravTek provided traffic information and rerouting, monitored and managed in a central office. This feature did not become widely available on modern vehicles until the development of XM Nav Traffic, an RDS-based terrestrial system, in 2004.
Using its otherwise wasteful investments in Hughes and EDS, GM's Oldsmobile division went on to develop Guidestar, a hard disk-based system available exclusively in the Olds Eighty Eight and later the Bravada for $2000 ($400 more for each map cartridge). The system offered satellite navigation in 17 states but lacked live traffic updates.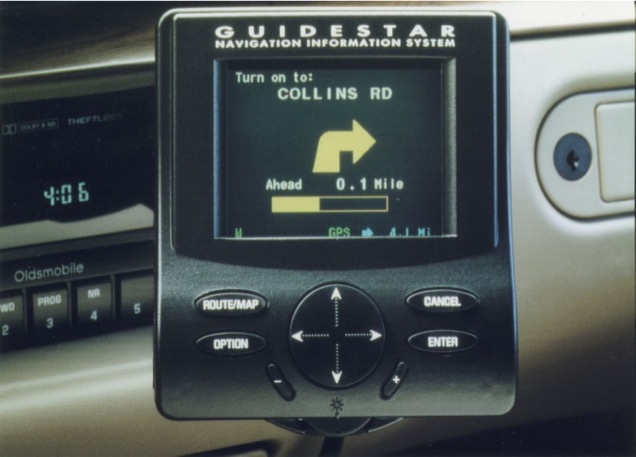 GM's multifunction touch-screen depicted in the video was discontinued with the demise of the Toronado coupe in 1992, so Guidestar was mounted on a post to the center console rather than inside the dashboard.
The 1994 Oldsmobile Aurora show car, however, did show a version of Guidestar integrated into the head unit, as typically seen on cars today: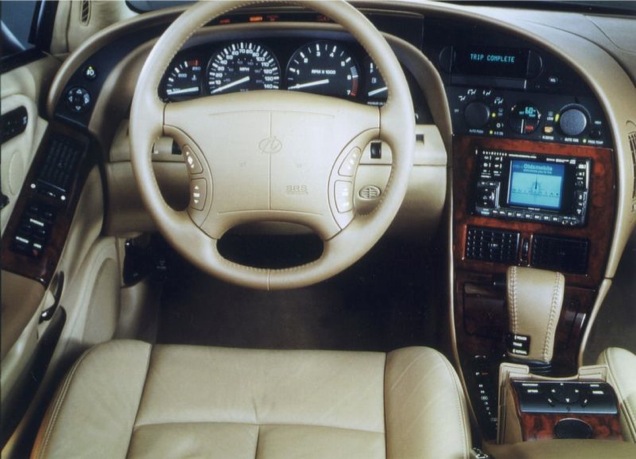 Oldsmobile was far ahead of its time.
Now, in 2012, you can buy a portable GPS unit for $30. Gadgets have a short shelf life, thus the importance of timeless characteristics like style and performance.
Bonus: Check out Cadillac's ETAK navigation system in the 1988 Cadillac Voyage concept.

While the vehicle itself was a working prototype, the actual functionality of the ETAK system is unknown.
http://articles.orlandosentinel.com/1996-07-25/topic/9607230882_1_guidestar-oldsmobile-larry-cummings
http://articles.chicagotribune.com/1992-04-12/travel/9202020707_1_travtek-magenta-map
http://articles.orlandosentinel.com/1992-03-24/news/9203240104_1_central-florida-computer-traffic
Posted in: Featured, Gadgets and Accessories, History, Attractions, Museums
Tags: 88, aurora, bravada, early, eighty eight, gps, guidestar, history, in-dash, lss, navigation, olds, oldsmobile