2011 Chicago Auto Show
In Chicago, its always cold as hell in February, but the show is so darn good that I make the five-hour journey every year.
The misery of the recession isn't over. The absence of Ferrari, Lamborghini, Bentley, Rolls-Royce, and Aston-Martin at 2011's auto show (like last year) is proof that Americans are more interested in needs than fantasies. Nothing in particular stood out like past years, but Chevrolet, Chrysler/Fiat, Hyundai, and Kia dominated the show with flashy new compact, midsize, and full size cars.
Saab made an appearance this year after being sold by General Motors to Spyker, showing off the new 9-5 sedan and 9-4x CUV (based on the Cadillac SRX).
Pontiac, Hummer, Mercury, and Saturn were gone, making room for existing brands to spread out and occupy more space.
Concept cars were sparse and exotics were almost entirely absent except for a red Ferrari and a Dodge Viper, both provided by local dealers. Audi showed off its topless R8 and Porsche was proud to display its bold smurf-colored Speedster.
2011 is about survival, the economic survival of American households and an auto industry emerging from one of its most difficult years since 1930.
So, this year's auto show theme is bread and butter — the basics and necessities. The cars and trucks and wagons that serve as primary transportation for middle class families happen to be the greatest source of profits and sales volume for the world's largest automakers.
Subtheme: Forced induction. The turbo is back.
I tried a new camera this year, a Panasonic Lumix DMCZR3 with a Leica Lens. While it endured being dropped on concrete and has the ability to take very nice images (especially at night), it wasn't as action-friendly as my cheap old Kodaks. To get to every car on the floor in a reasonable amount of time I sometimes have to snap photos while in motion. Despite having optical anti-shake, these images taken with the Panasonic were blurry at times and didn't turn out as well as years past. Slow focusing got in the way.
————————————————————————————————
WINNERS:
Hyundai and Kia — This was South Korea's year to shine. The Elantra, Optima, Equus, and Sonata were standouts, not only for high build quality and design flair, but for unusually low sticker prices. Kia showed its KV7 van concept, one of the few concept cars at the show, featuring gullwing doors and animated tail lights. The Kia Optima is a spectacularly good deal, well-equipped for just under 25 grand with a 274-hp turbocharged direct-injected engine and a body and interior inspired by Audi (they actually hired away an Audi designer).
It was once said that Hyundai and Kia were mostly competitors for Chevy and Ford, offering slightly more bang for the buck and longer warranties for otherwise mundane cars. Now, they're going after Germany and Japan, offering style and value that Nissan, Volkswagen, Honda, and Toyota can't competitively offer (the Yen doesn't help).
————————————————————————————————
Ford — Cars and trucks were displayed on tall platforms like monuments to Ford's dramatic (but fragile) turnaround. Live music and excitement conveyed a high level of confidence from a reborn American icon. I've never strongly loved or disliked Ford, so I didn't spend a whole lot of time there. Densely packed and highly interested crowds kept me from getting close to the Mustang, Explorer, Flex, and Focus. I'll revisit those at a local dealership later on.
————————————————————————————————
Chevrolet — A demo of the Volt around a small track was available this year and the long line to drive one is evidence that the expensive plug-in range-extended electric could be a big success for GM. The Volt's interior was unimpressive, with shiny painted plastic panels on the door that fail at distracting your eyes from the hard and hollow plastics on the center console and dashboard. The seats were comfy, build quality was high (despite cheap materials inside), and the back seat and cargo areas were reasonably sized. The Sonic was a massive improvement over the Aveo, as is the Cruze over the Cobalt. Hot Wheels was handing out small die cast Camaro convertibles. As always, the Corvette and Camaro were surrounded by quite a crowd.
————————————————————————————————
Audi —  Contrary to what marketing experts seem to believe, Americans are still interested in posh, flashy, expensive cars. Audi trumped BMW (located next door) with sharp designs, stunning interiors, and showstoppers like the fire engine red R8 Spyder. Audi locked the doors and closed the top but allowed people to go right up and touch it. Despite having a generous level of access, the crowd voluntarily stood 5-10 feet away from the car out of respect and admiration, as if it was baby Jesus with a ragtop.
————————————————————————————————
Chrysler/Dodge/Jeep/Fiat —  Following the successful and emotional Superbowl ad, Chrysler ignited interest just in time for the show. The Chrysler 300, 200, Dodge Charger, Dodge Durango, Jeep Grand Cherokee, and Fiat 500 were crowd pleasers. All feature dramatically improved interiors, some that could even be considered best in class (Grand Cherokee). The once ungainly Sebring convertible has been renamed and restyled as the Chrysler 200 — a car that looks much, much better in person than it does in Chrysler's staged photos from last week. By eliminating the roof that carries over from the Sebring sedan to the 200 sedan, the convertible manages to look expensive, clean, and graceful. Chrysler 200 sedans feature chrome "200" badges on the doors to make it clear to the public that it is absolutely not a Sebring (though mechanically, some of it is).
————————————————————————————————
Fiat — A pompous fellow was complaining to us about the Fiat 500's inability to fold its rear seats flat into the floor (by the way, my fat ass fits unusually well in the back of the little Fiat). I showed him how by simply lowering the head rests and pushing a button. He then complained that the car should never have included rear seats and that he only buys cars with racing pedigrees, then huffed off angrily. Apparently he forgot who Ferrari, Maserati, and Alfa Romeo's parent company was. He probably went home in a base model Camry and cried himself to sleep with his 30 cats. Douchebag.
————————————————————————————————
LOSERS:
Acura — They decided to show off its ugliest vehicle, the ZDX, in the worst possible color: dog shit brown. The Acura display area was sparsely populated with most people using it as an easy way to walk to other sections.
————————————————————————————————
Toyota/Lexus — In the absence of brands like Saturn, Pontiac, Hummer, and Mercury, Toyota and Lexus decided to dramatically increase the space they occupied on the show floor. A quarter of the space was used for Toyota's live off-road truck demonstration. The vehicles themselves were rather mundane. The LS460 was outshined by the Hyundai Equus. It only took a few steps to walk over and notice the LS460's cheap carpeting, average interior assembly, and large body panel gaps. The Equus, while derivatively styled, was impressively built.
————————————————————————————————
OTHERS:
Saab — The 9-5 and 9-4x sedan and crossover made an appearance. The 9-5 lacks wood and aluminum trim due to supplier changes when Saab ceased to be a General Motors division. The interior of the 9-5 is nicely styled but lacks an upscale feel. The gauges were turned off so I couldn't sample the altimeter-style speedometer. I was pleased to see the brand show up at all after being gone last year, but the 9-3 is long, long overdue for replacement.
————————————————————————————————
Volvo — The new S60, advertised as the naughty Volvo, looks awkward in photos but comes across well in person. The nose is nice and low despite being too 'snouty.' By far, the S60's seats were the most comfortable at the show with a chic Swedish interior decorated with high quality crocodile-like leather. [I miss my 2001 S60.]
————————————————————————————————
Volkswagen —  The new Jetta is sad. Exterior styling is clean but bland and the interior took a dramatic step down. The price dropped too, evidence of VW's new attempt at winning over American buyers by going downmarket and competing with the Corolla. Hyundai's well-made new Elantra ruins Volkswagen's market share expansion plans for the downgraded Jetta. Older products on display like the CC sedan show VW's ability to build high-quality and highly desirable cars. The Routan was thankfully not present. The new Passat, formerly an entry-luxury car known for its solidity and comfort, also took a step down, though not as dramatically as the Jetta.
————————————————————————————————
Suzuki — Kizashi is a stunner. Suzuki turned the new Kizashi on its side and highlighted its underbody and architecture. A large billboard demonstrated the car's ability to cross rough terrain without skipping a beat. If you're looking for a family car with a high-quality interior and require all-wheel drive, the Kizashi might be the best bang for the buck ever. If you don't require AWD, the Kia Optima steals some of the Kizashi's thunder. Still, its a strong contender worthy of consideration.
————————————————————————————————
Subaru — The Outback is ungainly, reaching into SUV territory occupied by the Forrester. Subaru, once considered Japan's little Saab, is getting a bit too mainstream and losing some of its character. Personality issues aside, the cars continue to be well made.
————————————————————————————————
Nissan and Infiniti — It was a mixed bag for the two brands. Infiniti unveiled the swoopy Etherea concept car, drawing quite a crowd with its dramatic nose and chic interior. The GTR was drew the attention of young men, particularly frat boys with backwards baseball caps. The Altima, Titan, Maxima, Versa, and Sentra were beginning to look very cheap and dated. The 2.5L Altima was a particularly sad car to sit in, with a cheap and depressing interior that looks like it fell out of 2002.
The new Quest minivan, however, drew a large crowd and was by far the nicest vehicle Nissan had on display (see review). Its a beautiful van in a sea of ugly boxes.
————————————————————————————————
Mercedes-Benz — I loved the new SLS, a sport-luxury car with the drama and soul (and architecture) of a Dodge Viper. Everything else on display was pretty darn ugly, except the SL550 and Gelandewagen. A Maybach 57 was present but looked like it was already a decade old, surpassed in sophistication by the S-class.
————————————————————————————————
Mazda — As a Miata fan for 18 years, the highlight for me was the Miata display two 1990 examples that originally appeared at the Chicago Auto Show in 1989. Mazda lost a few fans when the third-generation "NC" Miata came out in 2006 alongside competition from Pontiac's Solstice and Saturn's Sky, but after a few refinements the modern classic is lower, more attractive, and stiffer than before. Back then, the Miata was a response to the bland, lifeless boxes that dominated most of the market in the 1980s. Today, as competitors like the Solstice, Z3, and Sky have come and gone (or moved upscale) and cars have become heavy and complex, the Miata sticks to its original formula of go-kart handling, big smiles, and low pricing. Calculating inflation, the $13800 1990 Miata is about even with today's pricing which starts at $23k. Once you factor in dramatic improvements in safety, comfort, features, and power (70% more than in 1990), the 2011 Mazda Miata is one hell of a bargain.
I didn't bother looking at anything else from Mazda. I was happy to see the Miata and eager to rest my weary feet.
————————————————————————————————
Land Rover — Supposedly, parent company Tata may split the Range Rover and Land Rover brands into a luxury passenger vehicle division and an off-road truck division. This would make room for road-oriented concepts like the Range Rover Evoque, a small Ford Escape-sized wagon thing. The Tata Nano was not present.
————————————————————————————————
Jaguar — Stunning interiors and attention to detail sum up Jaguar, with crowds clamoring to get into the new XJ. I love the exposed yellow Bowers and Wilkins speakers. I'm not too keen on the styling.
————————————————————————————————
Porsche — Porsche admits that it builds monsters like the Cayenne and ungainly frogs like the Panamera to fund its passion for sports cars, so I can forgive its wandering. The new 911 Speedster pays homage to Porsche's heritage. Only 356 will be built (obviously in honor of the Porsche 356) and one will cost you two hundred grand. Putting the top up and down takes two minutes and a lot of manual labor, but who cares. Its stunning. The Panamera's back seat is perfectly usable, but ingress and egress are difficult.
————————————————————————————————
Cadillac — The DTS Platinum has the interior that should have been standard on the DTS back in 2006. The Black Diamond CTS-V has a $5000 paint job that sparkles like jewelry… or sandpaper… depending on your perspective.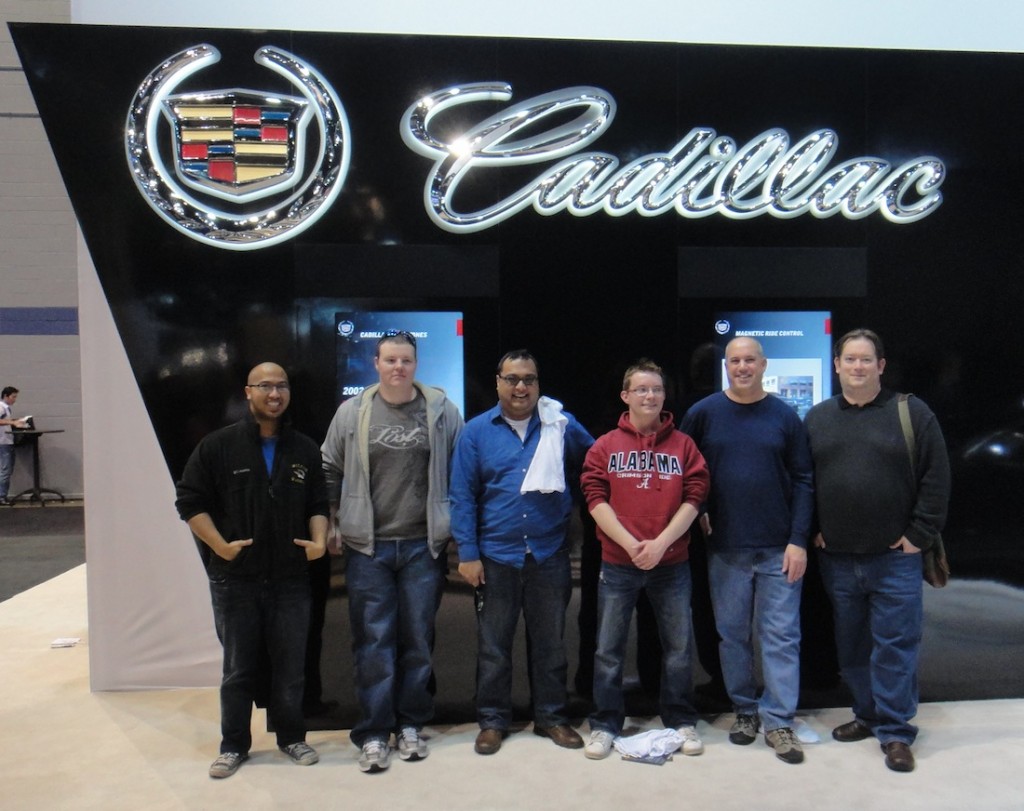 ————————————————————————————————
Buick — The new Regal will not include AWD, which is rather unfortunate. Buick is growing to fill the void left by Oldsmobile, Pontiac, and Saturn. Expect future Buicks to be based on Chinese and German (Opel) designs. I noticed that an exterior light on the Regal CXL was beginning to melt from being left on all day.
————————————————————————————————
BMW — The new 6-series is long and low but a bit bland.
————————————————————————————————
Here's some conversion vans:
————————————————————————————————
I didn't spend any time at the Lincoln, Honda, or Toyota displays this year because, honestly, who gives a shit. I woke up late and only had an orange and banana for breakfast, so I got suckered into a $3.33 churro and $2 bottle of soda which kept me full enough to make it to dinner, which was at Leona's in Oak Brook with my fellow Cadillac owners.
We split into groups and wandered around the floor. The guy in the blue sweater was mistaken for me several times, equally brown and wearing my identical Polo sweater.
The ticket for entry was only $6 due to a Groupon deal that Danielle found but parking was a slightly insane $19, though the shuttle service was free. Two years ago I remember having to trudge through the snow and descend a narrow stairway.
Traffic seemed worse this year as well. From Downers Grove I remember only needing 40 minutes to get downtown. This year it took an hour to get from Schaumburg.
Hopefully next year's auto show is more of a show and less of a consumer goods exhibit.
Photos from the Cadillac owners meet.