Review: "Clare" – A 1963 Chevy Impala Wagon
When you're driving something half a century old, it's hard to review the vehicle as a particular model. Instead, you're reviewing the work of the restorers and owners. Modern powertrains, safety enhancements, upgraded electronics and modern disc brakes make it difficult to share what a driving an Impala was like in the 1960s, but even after an extensive restoration and modernization, the original look, feel, and driving pleasure remain, which are all that really matter.
I've been following this restoration since March 2009, when Mark posted pictures of his soon-to-be restored wagon on NICOClub.com. It was listed in Arizona, where NICO's Greg Childs happens to live, so he checked it out, took it for a test drive, and loaded it on to a truck for shipment to Illinois.
Bonus: The previous owner swapped the original motor for an LT1 V8 with modern fuel injection as well as a 4-speed 6L60E automatic.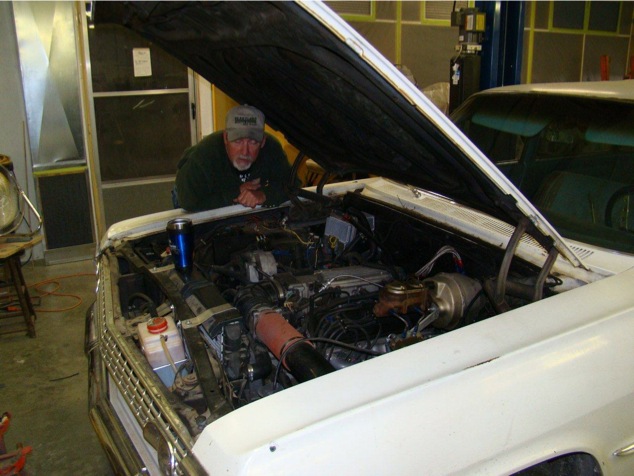 The trophy-winning restoration work was done by Rick Carpenter, pictured above, who Mark has known since high school. Mark posted a 13-page thread at NICOClub documenting the entire frame-off restoration.
I highly recommend reading it! It's an excellent introduction for anyone interested in buying and restoring an American classic, covering body work, interior refurbishment, electrical work, and the challenge of finding obscure, out of production parts.
Fast forward three years…
I checked Facebook on the afternoon of April 24th, 2012 and saw a message from Mark's son Neal, a friend and fellow Nissan enthusiast who resides with his family in Japan. Neal said his parents drove Clare, the fully-restored '63 Impala, from Galesburg, Illinois all the way to Phoenix, Arizona, and they happened to be in the St Louis metro area on their way home, right in my backyard.
I threw on my pants, fired up my Saab, and headed east to Troy, Illinois.
I pulled into the parking lot of their hotel and parked next to Clare, in awe of the stunning cosmetic work, sprawling sheet metal, and fine attention to detail. I called Mark to tell him I had arrived and met up with him downstairs.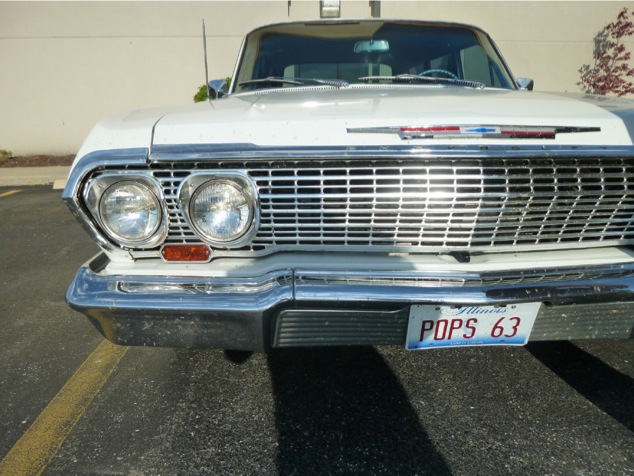 Mark and his wife Sherri had just completed 3300 miles of a 3500-mile journey. The only hiccup was a wire connector under the hood that worked its way loose on Illinois' pockmarked freeways. A tow to a nearby mechanic resolved the issue in a day.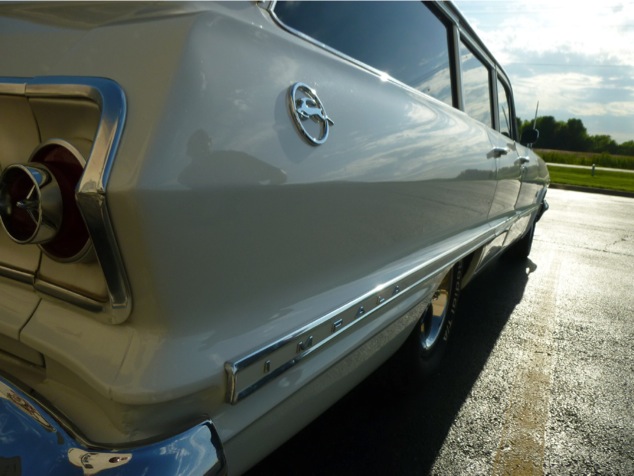 The white/chrome trim along the lower half of the body is normally black, but due to a lack of availability of wagon parts, a white one was found. Millions of Impalas were made but the two-doors and Supersports were coveted while the wagons, built in much smaller quantities and often ignored by collectors, were crushed. That makes Clare particularly unique.
These are the production numbers from 1958-1965: http://www.348-409.com/production.html
Just over 10% of full size Chevrolets built in 1963 were wagons, and due to small annual changes to the body and interior, some parts were model year-specific. 1963 wagon trim pieces are difficult to find, and once located they can be quite expensive.
Pictured below is the front fender, pointy for 1963, and flat or curved for other model years.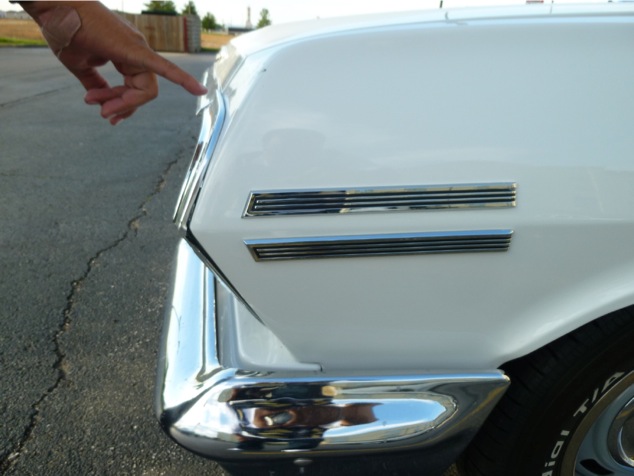 This rareness might make an Impala wagon owner reluctant to travel long distances, and some owners of classics, especially after completing such an exhaustive restoration, are inclined to hide their vehicles in their garages, saving them for sunny Sundays and auto shows.
Mark and Sherri, however, bought and restored this car with the intention of roaming the country, sharing an American icon, and meeting new faces along the way (like mine).
That's what classic car ownership ought to be about. A restored vehicle is essentially reborn, ready to enjoy another 50 years on the road. They're machines, not paintings. Drive them!
—-
So, why the Impala?
People restore specific models and brands for all kinds of reasons, but for the most part, it's usually to reconnect with the past.
Mark grew up with a white 1963 wagon in Toledo, Ohio, where his family was originally from, just an hour from Detroit, Michigan. He shared fond childhood memories of a white Impala taking his family across the midwest to Illinois where they've since settled. For him, it isn't just an impressive looking car, it's a symbol of his heritage and family history.
My friend Gary, who owns a 1964 four-door Impala hardtop that I drove last year, shares the same fondness for the Impala's "jet smooth luxury" [a line from GM advertising] and the role it serves as a bridge to his past.
I can't help envying the way cars connect people to who they are. I grew up in a household of beater Datsuns (not the cute ones… we're talking orange B210s with rust holes and primer patches) which were on the verge of disintegrating into brown dust. We arrived in America as poor immigrants in the middle of an early 1980s recession, so transportation was more about necessity than enjoyment. I don't have the privilege of looking back on the vehicles our family owned with a great deal of fondness.
Fifty years from now, I wonder how many of today's young people are going to restore their dad's Hyundai Sonatas? I can't imagine it, but you never know.
—-
Now, let's talk about the car.
Mark handed me the keys.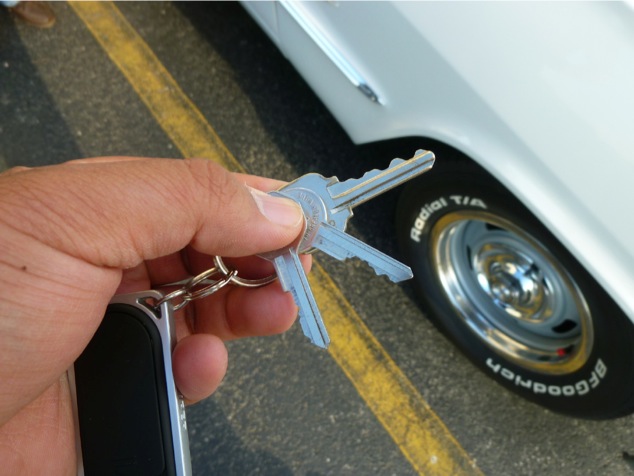 We took a look around the exterior where I got a chance to see the LT1 under the hood, pulled from a Camaro Z28.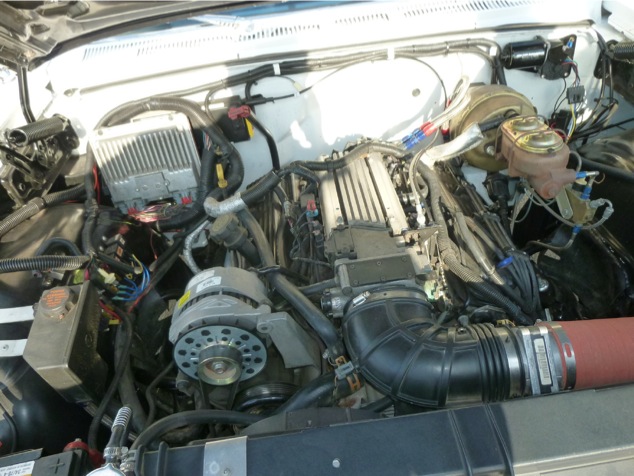 The 5.7L fuel-injected pushrod V8 was good for 285 horsepower and 325 lb-ft of torque. Sure, modern V6 engines like GM's 3.6L HF V6 easily produce more power, but none do it with the stump-pulling grunt and earth-shattering sound of an LT1. Pressing the accelerator an inch produces an immediate tug that throws you back in your seat, and I didn't come anywhere close to applying full throttle.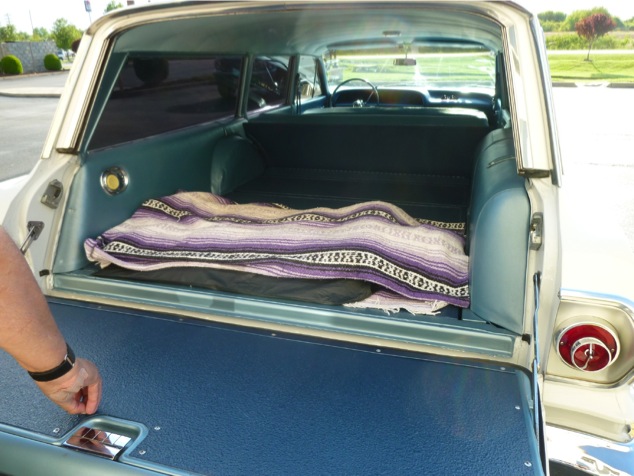 The back is where the dog hangs out. There's cargo storage space underneath while the spare tire is stowed away in the compartment on the right. Blue bedliner was used to ruggedize the cargo area.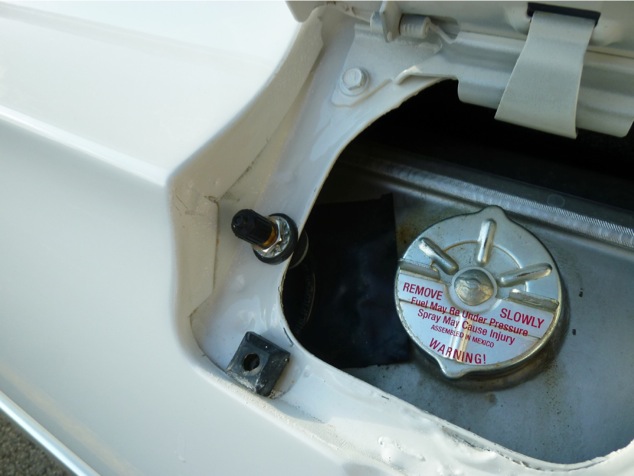 This Schrader valve to the left of the filler cap is for the rear air suspension which helps level the vehicle while loaded with people or cargo.
Inside, it has the Impala's "starry night" headliner, door panels adorned with chrome buttons and soft arm rests, and tasteful diamond-patterned seats.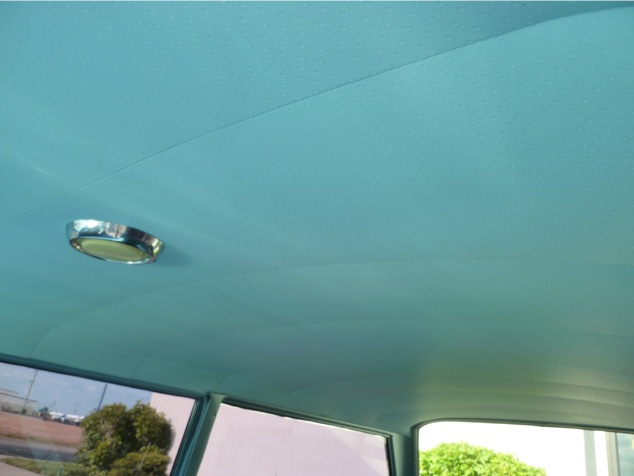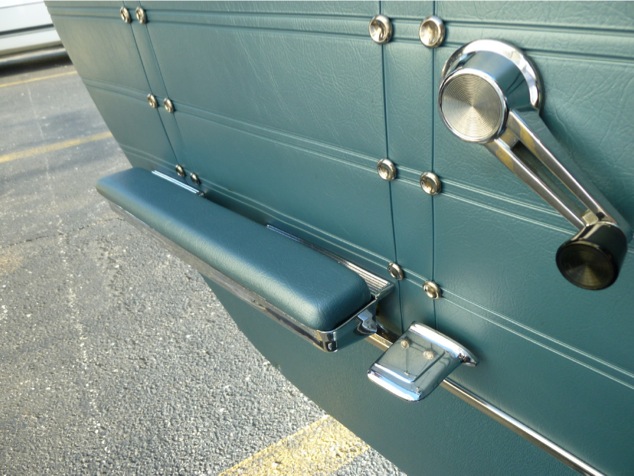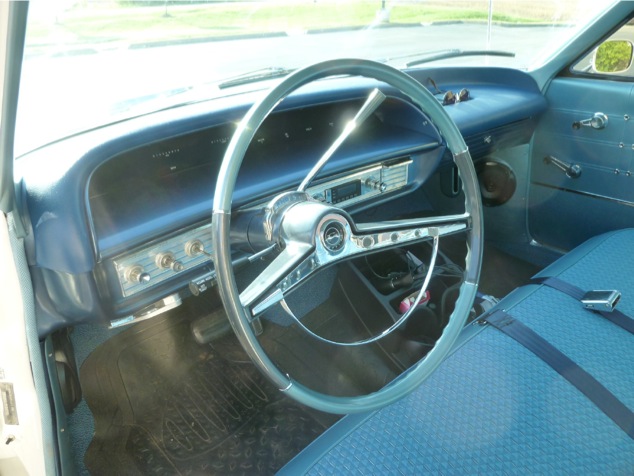 The seats were freshly padded and upholstered and still needed some time to be broken in. The springs were supportive but the back rest needed some lumbar support, nothing a small pillow couldn't fix. The most unusual part about sitting in an Impala is the size of the thin-rimmed steering wheel. It's wide to accommodate access to gauges and controls and basically sits in the driver's lap.
For those of us accustomed to bucket seats with large side bolsters, thick leather-wrapped steering wheels, and the feel of being cocooned into a narrow captain's chair, there's a period of adjustment.
All you have to do is relax, trust the car, and enjoy the cushy ride.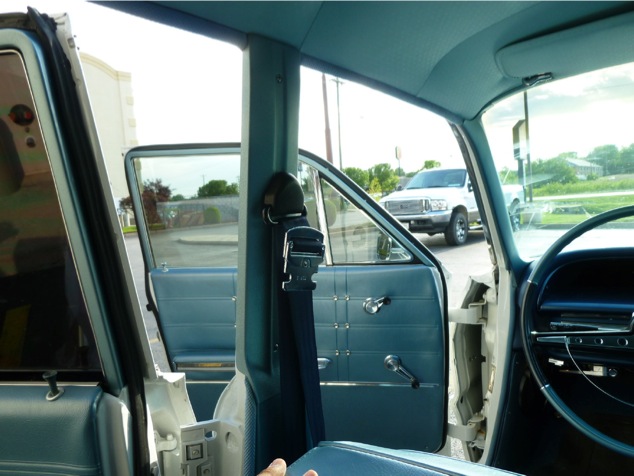 Shoulder belts were a pleasant surprise. When Rick took apart the interior he found holes in the B-pillars ready to accommodate shoulder belts. They latch similarly to a belt on a Boeing 747. You connect the buckle and then pull a strap on the other end to adjust. To disconnect, you lift the metal flap on the buckle.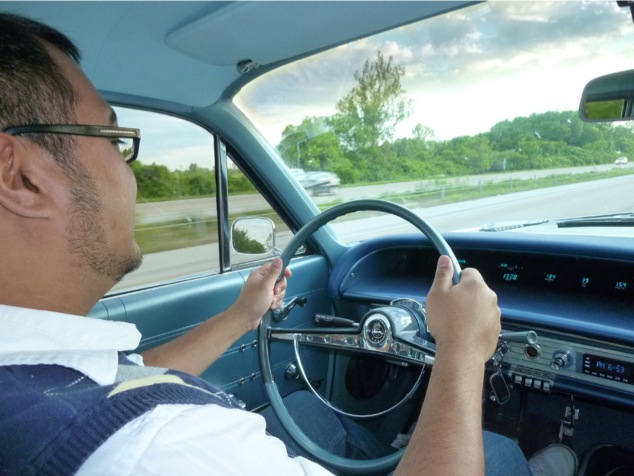 After getting myself oriented, we hit the road. The sound was GLORIOUS — and by sound I refer to the exhaust, though the retro-looking stereo with USB support was also a clever feature. Here's what Clare looks and sounds like from outside:

Fast Tube by Casper

Fast Tube by Casper
And this is what she was like from inside:

Fast Tube by Casper
Throttle response is instant. There's no delay between the movement of your foot and the mountain of torque applied to the rear wheels, and your ears are rewarded with a thunderous and raspy V8 soundtrack. The exhaust outlets are in the middle of the vehicle at the moment, but Mark wants to relocate them to the rear for more pleasant cruising.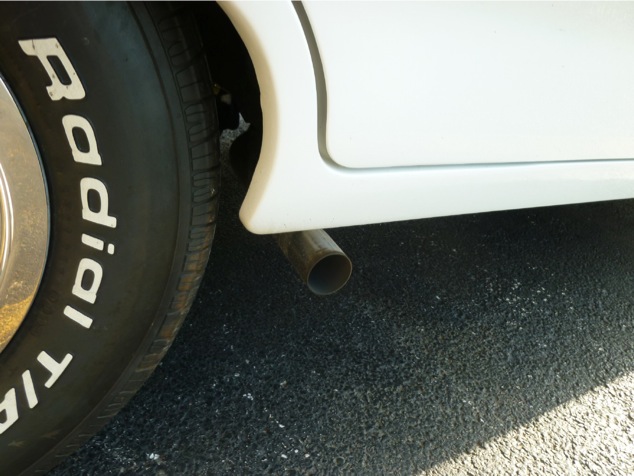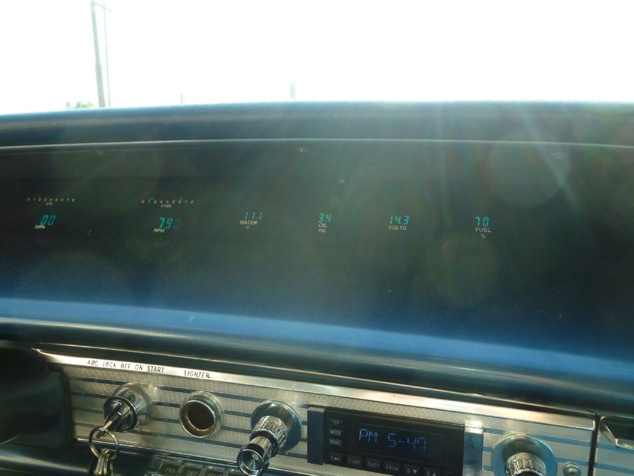 Did you notice the gauges? They're a stealthy setup from a company called Dakota Digital. Above the numerical speedo and tach are bar graphs that fill horizontally to the right. Clever stuff, and much easier to read than the original sweeping needle.
There's also a digital coolant temperature display, oil pressure display, voltage display, and fuel gauge shown as a percentage remaining.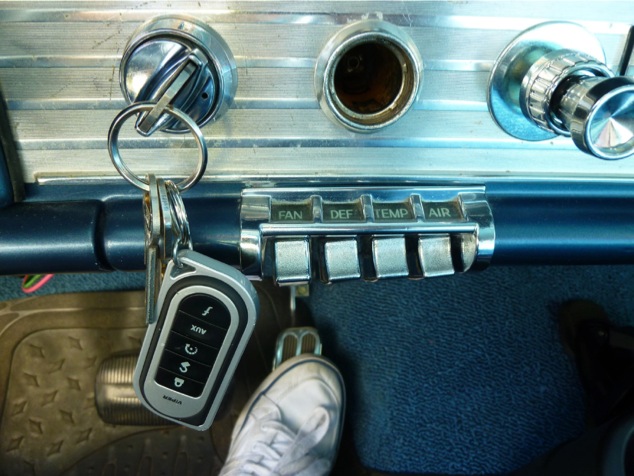 There's no air conditioning… yet. Impalas with factory AC have large chrome vents in the dashboard. Several aftermarket options are available.
As I approached a stop sign I applied the four-wheel power disc brakes (pulled from a late 80s Oldsmobile), bringing the Impala to a stop with adequate force. There's a lot of pedal travel before it bites, but once the calipers grabbed on it was easy to slow down.
It's a big, wide cruiser, so I planned my moves a few feet ahead and drove it the way it was intended — comfortably and patiently.
The spacious Impala was intended to be the working man's upscale vehicle with the room, power, and comfort of a Cadillac without the extra adornments (chrome, velour, wood), high-tech gadgets, or automated features, features which would be expensive to restore today.
Once we got on the highway, I had to keep my hands on the wheel to make constant adjustments. Mark said some adjustments still needed to be made to the front suspension and alignment to make it feel more linear and direct at highway speeds, but after about 10 minutes of driving I got used to it. The steering was reasonably snappy around the city thanks to the Saginaw 605 steering box and it's quicker ratio.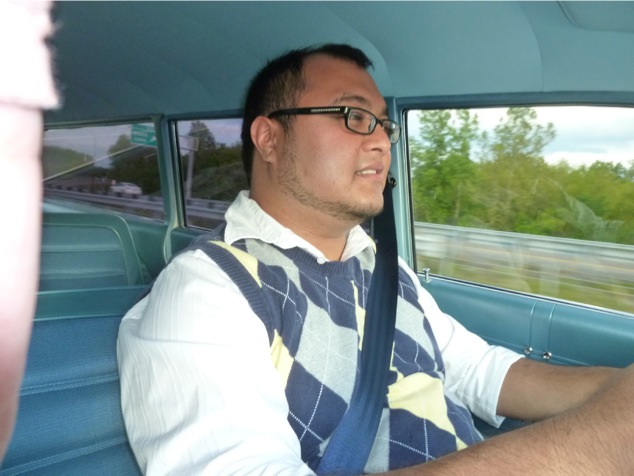 As you can see by the expression on my face, I was having a great time. We headed back to the hotel so I could close the top on my Saab, then took Clare to south St Louis for dinner at Iron Barley, a restaurant featured on Food Network's "Diners, Drive-Ins, and Dives."
Needling the 79-inch wide behemoth through old urban roads was like threading a piece of rope through a sewing needle. For reference, the Impala is a tenth of an inch wider than a 2006 Cadillac Escalade. We got lots of waves, thumbs up, and adoring stares from from the locals (especially kids!) as we looked for a place to park.
This is another reason why classics should be driven — the public needs to be reminded of a time when design was more important than focus groups, when automakers were a source of societal optimism and futurism. When everyday cars were still ridiculously cool.
Though the Impala may have been a mass-market family car back in 1963, it stands out in a modern world where automobiles tend to look like bars of Dove and feel like lumps of plastic.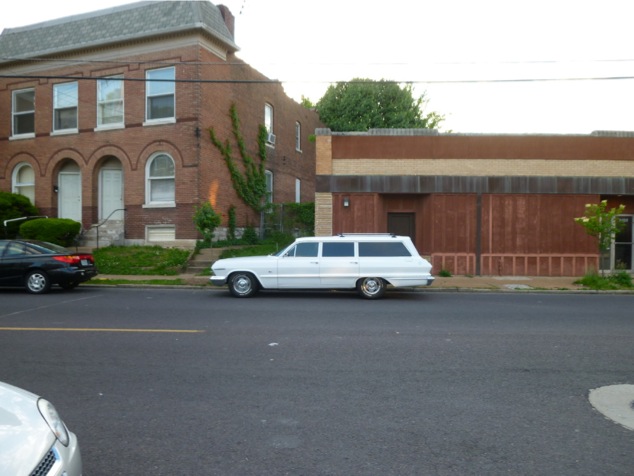 I found a place to park across the street from the restaurant.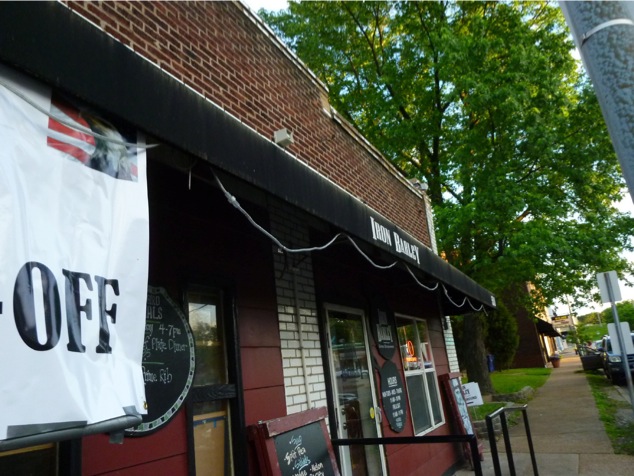 From outside, Iron Barley looks like your typical neighborhood joint, a small brick building that blends into the German-influenced architecture of St Louis.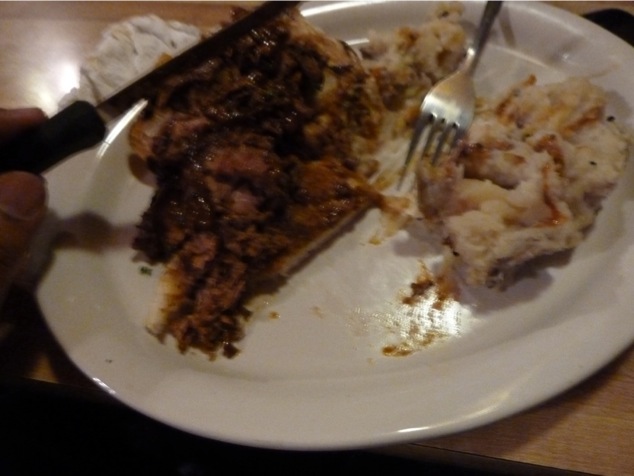 What arrived on the plate was stunning (sorry, I dug in before I realized I hadn't yet taken a photo). My roast beef and mashed potatoes were well-seasoned and super tender, as was Mark's salmon and Sherri's pork medallions. You can order everything from hot dogs to oak-roasted prime rib.
Our waitress was extremely knowledgeable, the service was quick, the atmosphere was pleasing, and the food was simply fantastic. Another solid recommendation by Guy Fieri.

Fast Tube by Casper
Also, big thanks to Mark and Sherri for treating me to dinner!
Iron Barley is in somewhat of a distressed neighborhood, but thankfully Clare was still there when we left, as were the wheels.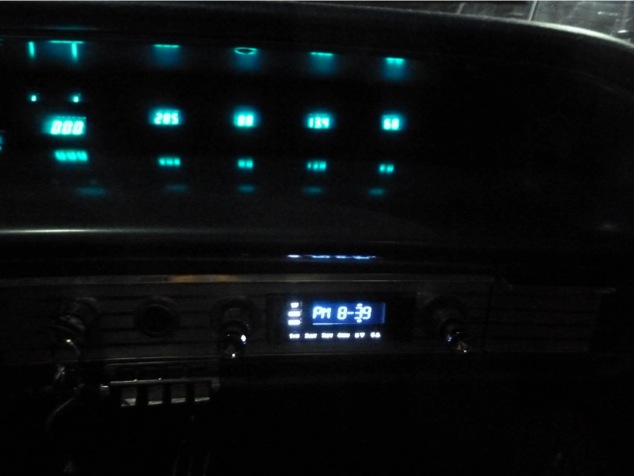 Here's what the Dakota Digital gauges and RetroSound radio look like at night.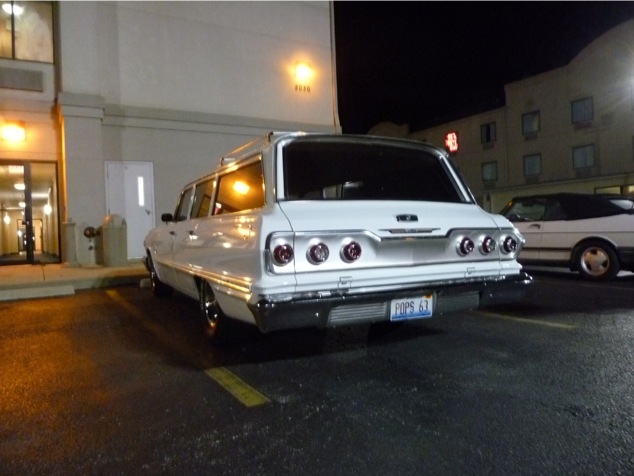 And here we are, parked at the hotel next to my Saab. The satin-silver finish on the tail light cluster is stunning at night.
Driving this car was a chance to experience a real piece of American history and meet some fantastic people. For Mark, it's a fun tribute to his youth, his family, and his past. For me, it was a motoring experience I will fondly remember.
—————————-
Ratings:
Its a challenge to numerically evaluate a car from half a century ago with criteria based on modern standards, especially a restoration that's as thorough and unique as this one. Some of my comments are copied from the review I wrote of the '64 last year.
Ride: 8.7/10 — Aside from some float on the highway, it's well sorted. There's a little bit of bouncing after large bumps but nothing out of character for a big family car.
Powertrain Overall: 10/10
Engine: 10/10 — The LT1 is a torque monster that responds immediately. It doesn't have the "jet smooth" sound of the '64 Impala I drove, but the exhaust on this '63 is entirely different, exiting through the middle of the vehicle rather than the rear.
Transmission: 10/10 — The 4L60E's gear shifts are imperceptible, and thanks to gobs of torque no shifts are required for strong mid-range acceleration.
Comfort: 5/10 — The bench seat needs some time to conform to the shape of the human body. The fresh padding was still a bit stiff and the seat back doesn't have the lumbar support you might find in a modern car. That could be a bit painful on a long trip. A small pillow for the lower back would go a long way. There's potentially room for nine people if you add a third row.
Steering/Handling: 4/10 — It needs some front-end adjustments to keep it from wandering at highway speeds.
Cornering is surprisingly flat thanks to grippy tires and suspension work including polyurethane bushings. The steering ratio is perfectly comfortable around town, capable of navigating city blocks without tiring your arms.
Features/Accessories: 8/10 — For its time, the Impala was well-optioned with air conditioning and power brakes. A wide selection of seating, roof, transmission, engine, and interior configurations made the Impala suitable for almost every middle and upper middle class buyer, quickly becoming the best-selling car in America at nearly a million units a year. Accessories and options for 1963 include air conditioning, power seats, AM-FM radio with mechanical presets, third row bench seat, cruise control, wire wheel covers, rear speakers, electric clock, windshield washer, trash box, and a choice of sixteen exterior colors and seventeen interior colors. While much of what we enjoy in today's cars was optional back then, it was at least available.
Impala wagons also had an optional third row with seating capacity for nine. This particular '63 has a modern AM/FM radio with USB MP3 playback, shoulder belts in the front, rear air suspension, cruise control, and power disc brakes. All of the controls are in easy reach and logically laid out. Air conditioning would be a nice addition, though the average July high in Galesburg, Illinois is a tolerable 84F.
Interior: 10/10 — A clean, timeless dashboard with attractive digital gauges, easy to reach switches, and pleasing lights make it a nice place to spend several hours. Everything is bolted together nicely without squeaks or rattles, a testament to Rick's craftsmanship as well as GM's high level of build quality.
I do miss the look of the sweeping speedometer, but I appreciate the accuracy and readability of the digital gauges.
Styling: 10/10 — Dare I say, the wagon may be the sharpest looking Impala of all. The extended roofline gives it a sense of length, though the long rear deck on four-door models has a similar visual effect.
Braking: 6.5/10 — They get the job done. A few more adjustments may be needed to improve pedal feel.
Reliability: 10/10 — Impalas from this era have typically good body integrity, well-sorted electricals, and reliable powertrains, though by this age (50 years!) everything on an original car will be due for restoration and refurbishment. Clare came from Arizona, a good location for buying classic cars with clean bodies.
The fuel-injected LT1 has a strong reputation for reliability combined with low maintenance. Except for Optispark ignition issues (make sure the water pump mounted above doesn't leak), they require little maintenance beyond spark plugs and oil changes.
Overall: 9/10 — The ubiquity of GM cars from the 60s and the wide selection of easy aftermarket upgrades makes the Impala an ideal classic. It's a standout that's easy to drive, easy to admire, and easy to maintain.
Additionally, I'd like to mention how great it is to be able to connect with fellow auto enthusiasts through online clubs. Sites like NICOClub, CadillacOwners, and others have given me a free automotive education, countless hours of entertainment, and a global network of lifelong friends.
—————–
Quality Reading:
—Clare's restoration process with photos