Review and Comparison: 2011 Mercedes-Benz GL450 vs. 2011 Infiniti QX56
Mom needs an SUV.
Okay, that's a lie. She doesn't "need" one nor do most people who own them, but she has the means and the desire for something spacious and comfortable with a commanding view of the road. The American concept of luxury is, after all, about having more than you need, and what more effectively conveys that than a multi-ton monster with seldom-utilized off-road capability and enough leather to blanket a hundred starving doe-eyed orphans?
Her 2006 Lexus GX470 is rapidly approaching 100,000 miles, and while that's entirely reasonable mileage for a modern automobile, especially a Lexus, she's tired of the odd electrical glitches, the lack of space, and the terribly awkward side-opening rear hatch. The swing-out door is unusable when parallel parked and on a breezy day it flops around like a wind chime.
It's also due for a timing belt and water pump, a somewhat involving task at a fairly reasonable one-time (per 100k) cost of $2000-3000 (including other 100k services). But if $3000 is going to be spent on maintenance, she may as well keep it for another 100,000 miles.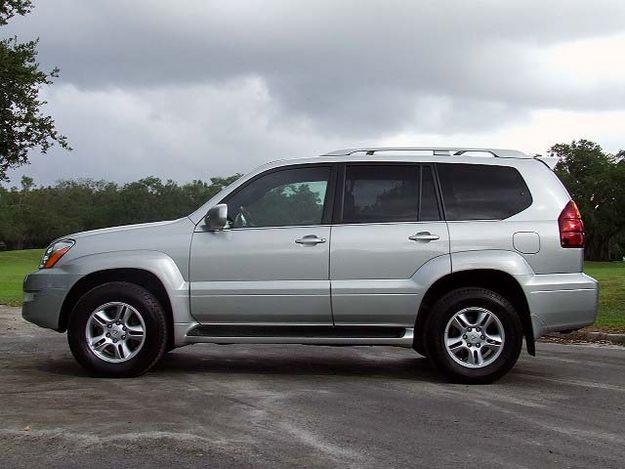 The trade-in value of her GX is a hair under $25,000, a testament to Lexus's stellar resale values. Compare that to my 2001 Cadillac Seville which cost the original owner $57,000 when it was new. After accumulating 109,000 miles, I paid only $3800.
Mom is prepared to supplement her trade-in with $30,000-$40,000 cash for a total expenditure of $65,000. That puts the BMW X5, Jeep Grand Cherokee, Audi Q7, Range Rover Sport, Infiniti QX56, Cadillac Escalade, Lincoln Navigator, Mercedes GL, Infiniti FX, and Acura MDX all within reach.
This trendy category, once the exclusive domain of Land Rover, Lincoln, and Cadillac, has become quite crowded since the turn of the century.
Picking out a car for a family member is always sensitive matter, especially when you're the family's "car guy". Your advice comes with additional heft and credibility, which brings with it pressure to choose wisely and carefully. Thus, safety and reliability, characteristics I tend to brush off as the owner of an aging Saab convertible, suddenly become high priorities. And if I put my mother in a lemon, the blame would rest on my shoulders (and I wouldn't hear the end of it).
I spend the bulk of my time on this blog equating luxury and performance to godliness, arguing that real "car guys" would man up and forgive a few glitches and defects in the pursuit of joyful motoring and aesthetic pleasure.
Unfortunately, little of that applies to Mom. My conclusions in this comparison, therefore, will be based primarily on reason and practicality. That's icky and unfamiliar territory for me.
—————————————————————
Her criteria:
Stylish – She considered a Lexus RX years ago but couldn't accept its "smashed balloon" styling.
Brand New – She doesn't want something that someone else has sneezed or farted in. I tend to favor used cars, but to each their own.
Luxury Badge – People have their brand biases, and in the same way that I would likely never buy a modern Lexus or Toyota, she flat out has no interest in Jeep or Audi. That rules out the stunning new Grand Cherokee, a favorite of mine. Additionally, Chrysler's post-bankruptcy "house cleaning" resulted in the shutdowns or franchise license revocations of small, well-reputed stores including my favorite, Reuther Automotive in Creve Coeur MO. The dealers that remain (though not all) tend to be slick-talking, ethically questionable retail megacenters.
V8 Power – She prefers the sound, feel, and prestige of a V8, simple as that. A V6 would feel like a step backward, despite today's sophisticated and highly efficient six-pots. This unfortunately means that the stylish Audi Q7 and well-equipped Acura MDX are out.
Spacious Cargo – Her GX470 is narrow and its third row seats fold up against the walls of the interior (pictured below), gobbling up already limited cargo space. She carries around suitcases of documents and medical charts all over town and uses every available cubic foot, of which the GX470 has few to spare.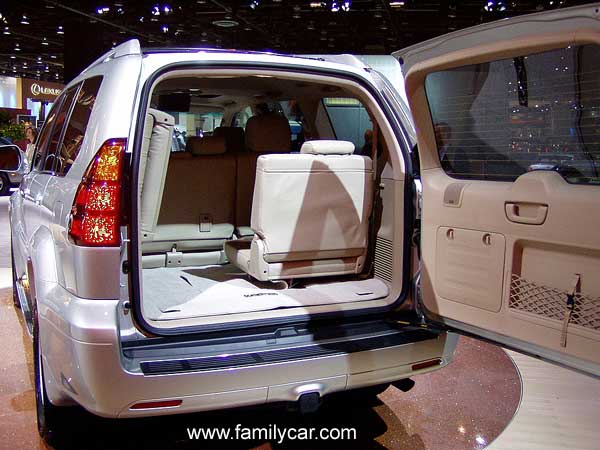 Three Rows of Seating – Preferably, a third row that folds flat.
Features – Heated seats and rear entertainment. I have younger siblings addicted to everything Disney. Some manufacturers, particularly BMW and Mercedes-Benz, charge an outrageous premium for headrest-mounted LCDs and a DVD player.
Reliable – In case service is required, the local dealer needs to be reputable and trustworthy. The Lexus owner experience is top notch with professional service departments that feel more like luxury hotels.
$70,000 or Less – To my surprise, finding with a V8-powered luxury SUV with rear entertainment for under $70k is a little bit of a challenge.
—————————————————————
Not important:
Fuel Economy — Why would you buy a luxury car if you were a miser?
—————————————————————
Now that we've established a list of wants, let's go over what we've ruled out:

Acura MDX — Nice packaging and an excellent price, but no V8.
BMW X5 V8 — High price. Lack of cargo space.
Infiniti FX45 — Lack of cargo space.
Range Rover Sport — Reliability issues. Lack of trustworthy local dealers. Small interior.
Audi Q7 — Potential reliability issues. No V8.
Jeep Grand Cherokee — Lack of prestige. Some questionable dealers.
Lexus GX460 — An outstanding service experience compromised by a cheap interior, lack of space, awkward styling, and unjustifiably high price.
Lincoln Navigator — Cheap interior. Garish styling. Lack of trustworthy local dealers.
Cadillac Escalade — High price. Cheap interior. Lack of trustworthy local dealers.
—————————————————————
And then there were two:

Mercedes GL450
Infiniti QX56
On one scorching hot August afternoon, we visited four dealers and drove two SUVs.
—————————————————————
The 2011 QX56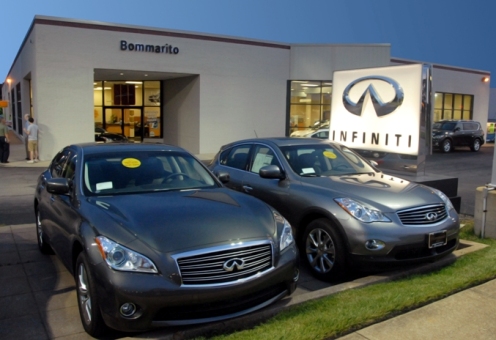 I drove to Bommarito Infiniti in Ellisville MO with my friend Ian. I'm quite familiar with this dealer — I used to bring my old Q45s here for maintenance and repairs and always received outstanding service.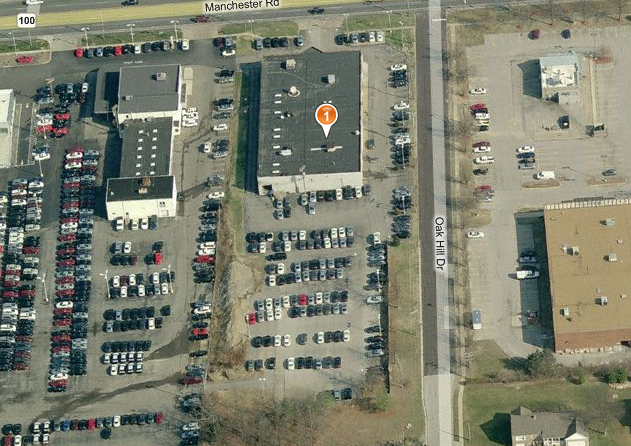 It's a small but busy place, awkwardly wedged in between a Best Buy and a Mazda dealer, filled to the brim with cars and SUVs. Despite these limitations, Bommarito claims the title of Missouri's top Infiniti dealer by volume.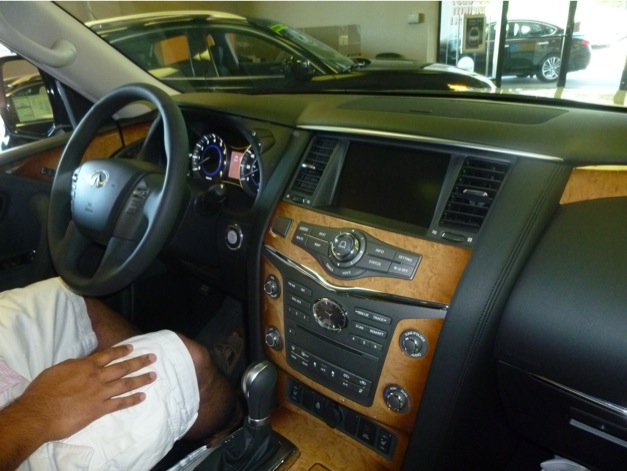 It's refreshing to be able to walk into a showroom and enjoy a moment to yourself, free to examine the merchandise without being hounded. The sales staff at Bommarito have always been polite, respectful, and knowledgeable.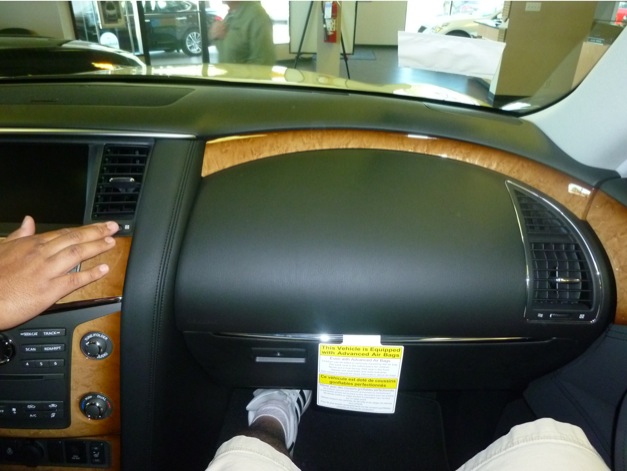 The wraparound wood trim is accented with 'burned' edges, fading elegantly into the black upholstery. The QX's dashboard, center stack, and door panels are stitched in soft leather without a hard or unpleasant surface anywhere.
This new QX, now based on the world-renowned Nissan Patrol rather than the domestically built Armada, is Infiniti's opportunity to carve out a piece of the full size market, capitalizing on the Escalade's age and the Navigator's questionable aesthetics.
Though unfamiliar to most Americans, the Nissan Patrol is an off-road legend, sharing the heroism and dependability of the Toyota Land Cruiser and Land Rover Defender.
The new QX also gains 80hp for a total of 400 angry, aggressive horses.
Although Lexus and Cadillac offer softer hides of leather in their base models (Infiniti charges extra for premium leather), the new LX570 and Escalade lack the Infiniti's precise interior assembly and attention to detail. Interior panels line up accurately and stitching is straight and precise with narrow panel gaps and properly fitting compartment covers. The Escalade Platinum's Tehama leather trumps all, but the cost of entry is astronomical at $80,000.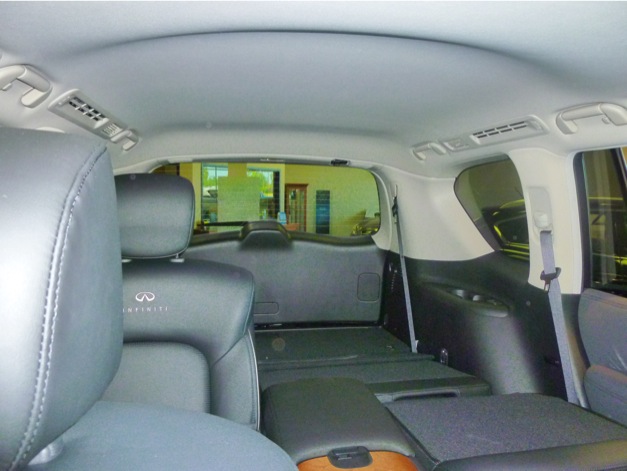 In terms of size, the QX56 is a class larger than the Mercedes GL, rivaling the Escalade and Navigator with a full-size cabin and 9000-pound towing capacity. [Mom doesn't own any boats, trailers, or horses as far as I know.]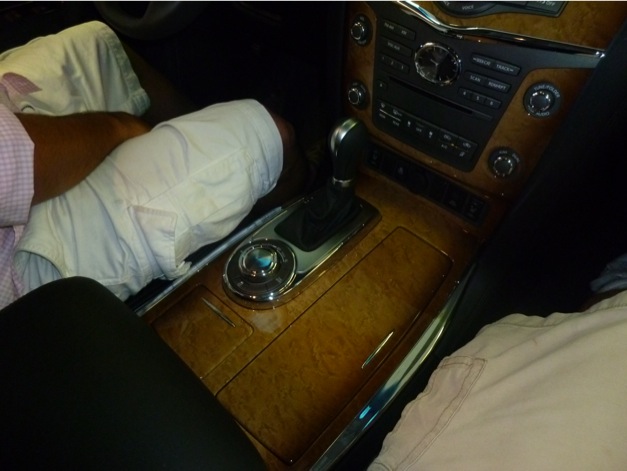 Chrome knobs and edge-to-edge 'burnt' wood give the center stack a feeling of warmth and delightful excess.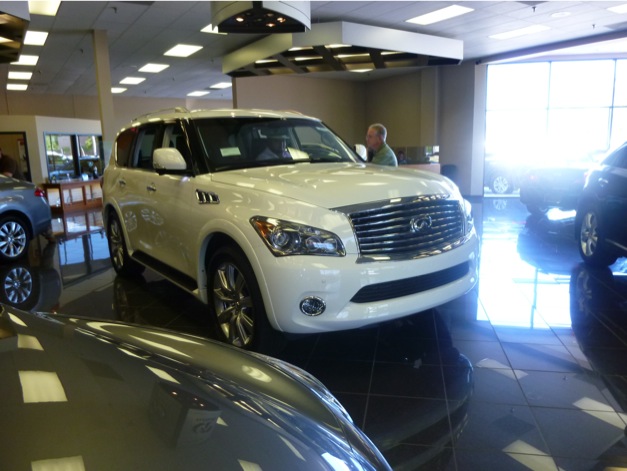 Unfortunately, looking at the QX56 is a challenge. The tall chrome grille and garish chrome fender vents make the Q look like a late-model school bus that's been given the Autozone treatment. I guess that makes the QX… a cool bus?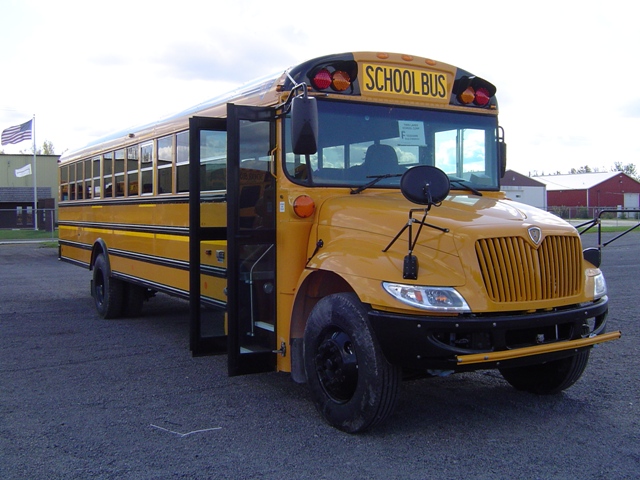 Cadillac, Lincoln, Land Rover, and Lexus favor tall, upright headlights that suggest strength and power while the QX is given a swept-back Infiniti G37-inspired face. Combined with the bulbous protruding nose, it has the unfortunate effect of making the QX56 look like a sedan that's been jacked up for truck duty rather than appearing sturdy and purpose-built.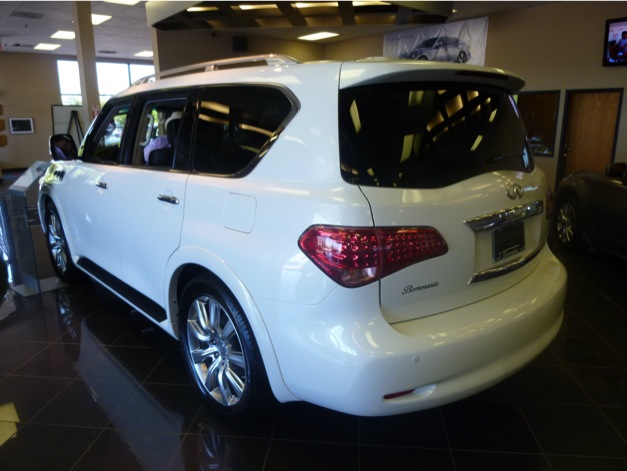 Triangular horizontal tail lights give the Q too much of a minivan-like appearance, reducing visual height on a vehicle that's supposed to look tail and muscular. The chunky rear spoiler is a nice feature, however.
From the back or the rear quarter, the big Infiniti looks fairly agreeable, but the protruding nose and chrome fender vents draw attention to themselves, marring the appearance.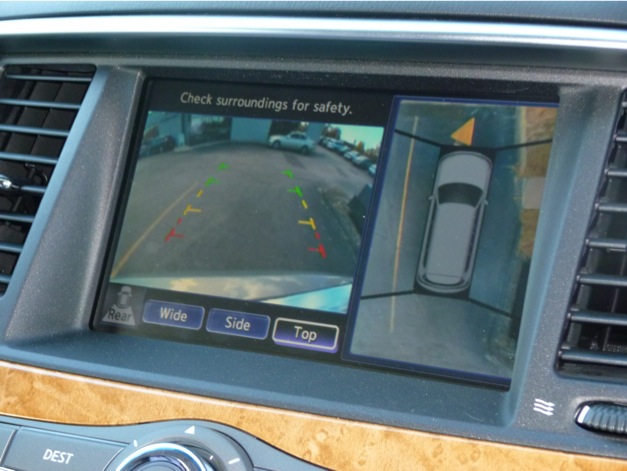 Our very professional sales specialist, Bob Maher, displayed a depth of knowledge and introduced us to the bird's eye view camera. By pressing "Top" you get an overhead view with all of your surroundings, like playing the original version of Simcity or Grand Theft Auto. As a result, parking and aiming this gargantuan beast is a breeze. Clever!
The rest of the electronics were equally impressive with traditional knobs and switches to supplement the large 8-inch touch screen. Some manufacturers, like Jaguar for example, have replaced simple and straightforward knobs and buttons with touch screen-exclusive controls, requiring the driver to poke through slow-moving menus just to adjust the temperature. Infiniti scores points for being modern without being obnoxious.
Ian noticed that the air conditioning took a while to get cold, a potential annoyance in a region where summers can be brutal — it could be because the truck we drove had been sitting for a while.
The 13-speaker Bose audio system was a bit of a letdown, sounding muddy and dull for this class of automobile. Power was sufficient but the audio was just sort of "there" without any significant presence or clarity. This is, however, the QX56's only evidence of cost-cutting. It's perhaps on par with the unimpressive Mark Levinson system in Mom's 2006 Lexus GX, which in addition to sounding a bit bland has an amplifier that likes to obnoxiously choose whatever volume it wants (the dealer can't figure out the cause).
Getting into the Q's third row is a breeze, with a lever that folds the second row seatback down and flips the seatbottom forward in one swift move — zero effort required. In the middle of the test drive, we pulled over so I could crawl into the back and see for myself how comfortable (or miserable) it was during the ride back to the dealership. It was, quite easily, as spacious as the Lincoln's Navigator's adult-friendly third row thanks to its efficiently packaged independent coil spring rear suspension.
Unfortunately, pushing and holding the button to drop the third row took some time, like waiting for paint to dry as the electric motors slowly did their work. Still, it beats the configuration in the Escalade which requires the third row to be physically removed from the truck in order to enjoy a flat cargo area.
Driving the QX was a pleasure, like being held in the air on a throne by servants. Nissan's 400hp VK56VD V8 hauled the Q-ship to 60 mph in just over six seconds — not bad for a 5900 pound house on wheels.
The engine lacked the sublime silky refinement of Toyota's 4.7 and the throaty, soul-stirring thunder of Cadillac's 400hp OHV V8, but the proof is in the pudding. Among full sizers, the QX is by far the quickest. With its power and presence, I could see this being a hit in Texas.
Shifts were responsive yet pleasingly imperceptible, blipping through all seven gears with electric-like smoothness.
Although body roll was well-controlled and steering felt confident and precise, the the Bridgestones were a bit eager to squeal in low speed cornering.
To remedy this, Infiniti offers an expensive option called "Hydraulic Body Motion Control", available as part of a $4100 Deluxe Touring package that comes with cooled seats, 22-inch wheels, upgraded leather and wood, and a climate system that detects pollution and cleans the cabin air.
With HBMC, fluid-filled shocks at each corner are connected by tubes, providing body control and load leveling. In the early 1990s the Infiniti Q45a pioneered a very similar system referred to simply as "Active Suspension," later duplicated by Mercedes-Benz as part of its "Active Body Control" system featured in the CL coupe.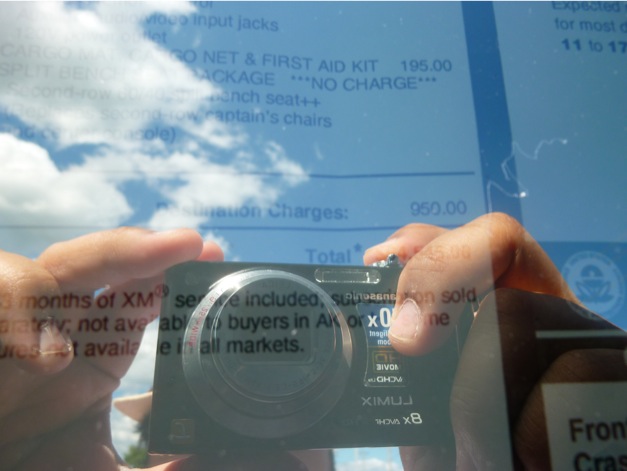 With 4WD and rear entertainment, the QX56 comes to a very reasonable $64,545, $5000-$10000 cheaper than its competitors.
Infiniti isn't offering any discounts or incentives because it doesn't need to — the QX56 is already the cheapest SUV in its class. Fortunately, my friend James, who works as an engineer for Nissan, was generously able to provide a friends and family pricing coupon that takes nearly $5700 off the sticker price, well below dealer invoice. Of course, all the money in the world won't seal the deal if Mom doesn't care for the look.
We'll see what happens when I take her to see it.
—————————————————————
The GL450
Mercedes-Benz never directly competed in this class, with the traditional six-figure Gelandewagen and the cheap and diminutive ML-class leaving a huge gap in MB's light truck portfolio. To remedy this, an all-new GL was unveiled in 2006. The GL was originally intended to replace the legendary G-class, but thankfully Mercedes decided against it.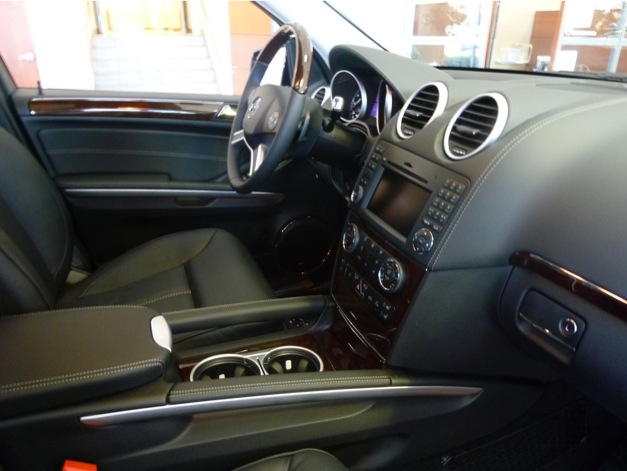 Tri-star Mercedes is perched atop a hill in Wildwood, Missouri, a distant exurb with a growing and wealthy population. I've traditionally been more of a BMW guy than a Mercedes guy, but I've warmed up to MB's latest offerings, especially as BMWs have become esoteric and technologically excessive.
I walked inside and approached a fully-optioned GL550 in the showroom, with LED-lighted aluminum door sills and rear entertainment. I asked for a salesman and got Jeff, an experienced and friendly gentleman who took us for a tour of the GL.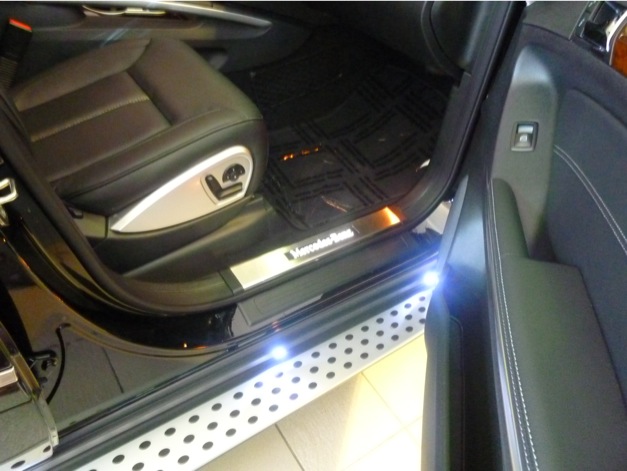 The version I was interested in was the GL450, starting at $62570 and reaching a dizzying $69475 with navigation and rear-seat entertainment. A $2000 conquest incentive (for anyone who trades in or owns another brand) brings the price down to a more palatable $67475.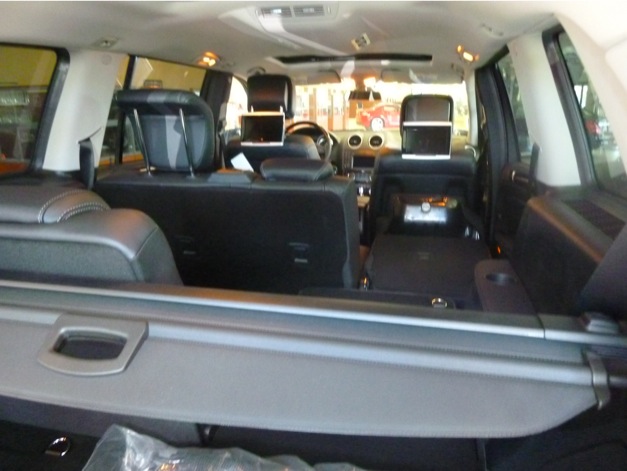 The rear entertainment system was particularly disappointing, an apparent afterthought with ill-fitting LCDs awkwardly mounted to the seatbacks, looking more like a $100 kit from Wal-Mart than a $1700 option (Infiniti only charges $450). The monitors do not match the interior.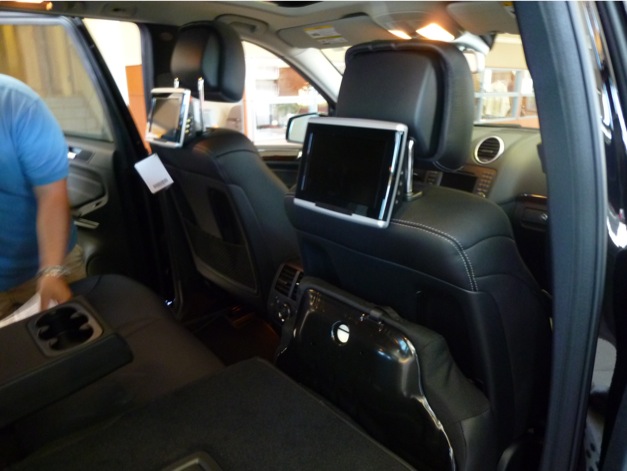 I've seen rusty old Monte Carlos in East St Louis with better looking headrest configurations.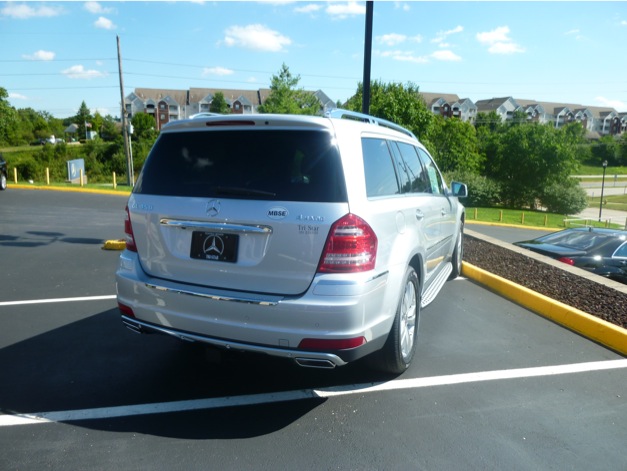 We went outside to look at a GL450 with more of the options my mom was interested in.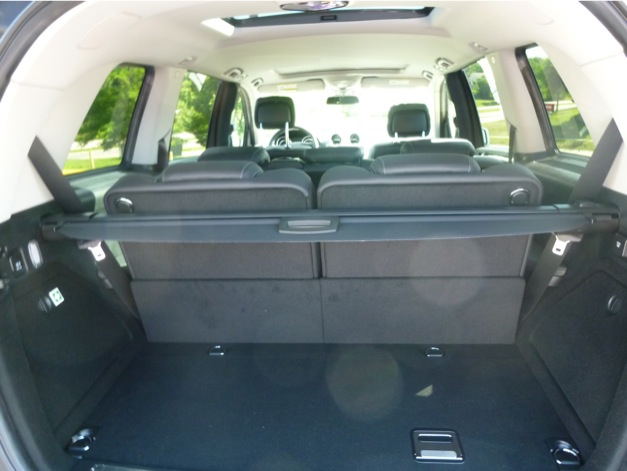 The cabin is, unfortunately, quite narrow. The power-folding third row drops briskly with the touch of a button but cargo space appears to be no better than Mom's Lexus GX. And if the purpose of this exercise is to upgrade and gain more space, this seems insufficient.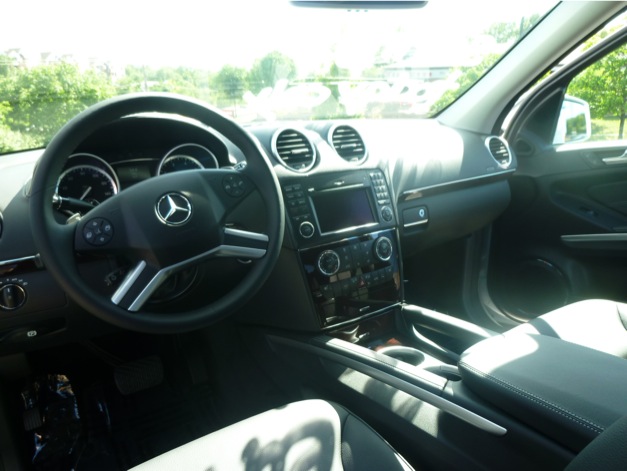 The cabin was a noticeable step down from the QX56, with hard plastics on the doors and around the center stack. While Infiniti draped every surface of the QX in soft stitched and padded leather, Mercedes went with hard rubberized plastics.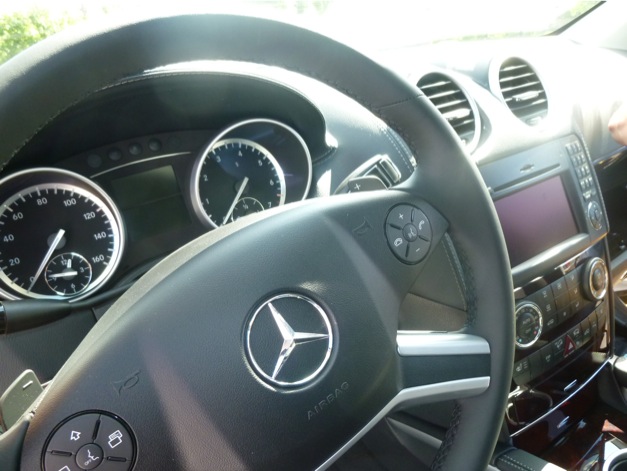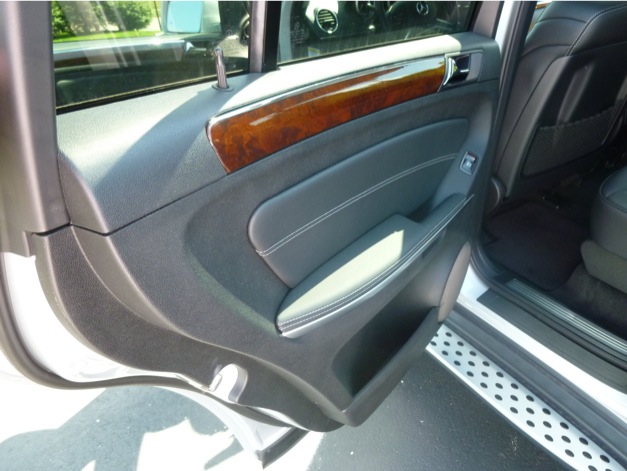 Like the Escalade, the door panels are hard and shiny except for the arm rest and door insert. The cost-savings are obvious.
This GL450 was unfortunately out of fuel, so Jeff took it across the street while we waited in the showroom.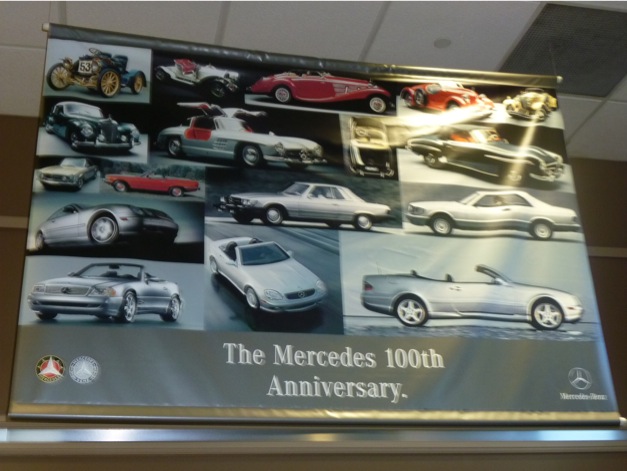 These two posters in the showroom display Mercedes-Benz's impressive design heritage. The GL follows this tradition with a tuxedo-sharp chiseled exterior, balanced proportions, and expensive looking styling details.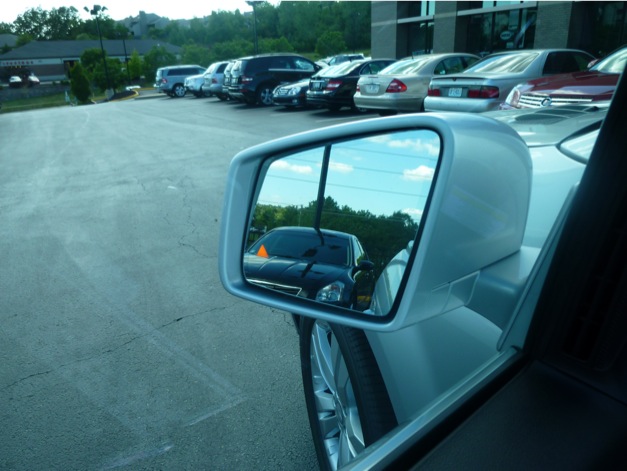 Our salesman noted the triangle on the mirror for blind spot warnings.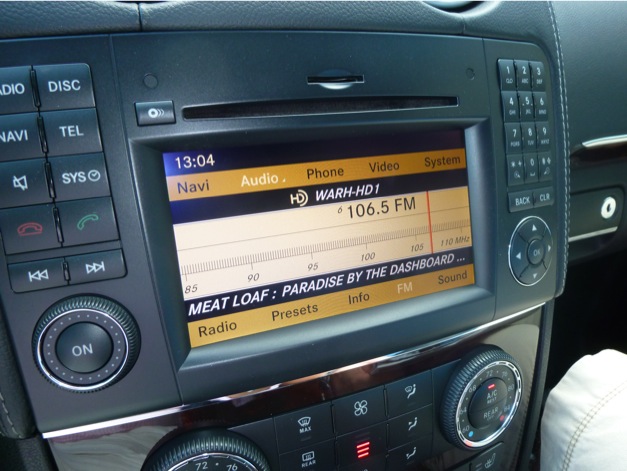 The infotainment system was quite a letdown. Instead of a touch screen, the GL has direction buttons, like an old Sega gamepad, that requires the driver to stare at the screen while he fusses with the arrows to select a function. The COMAND navigation system is an unintuitive mess, something that would likely result in "help me with this piece of you-know-what" phone calls from my mother.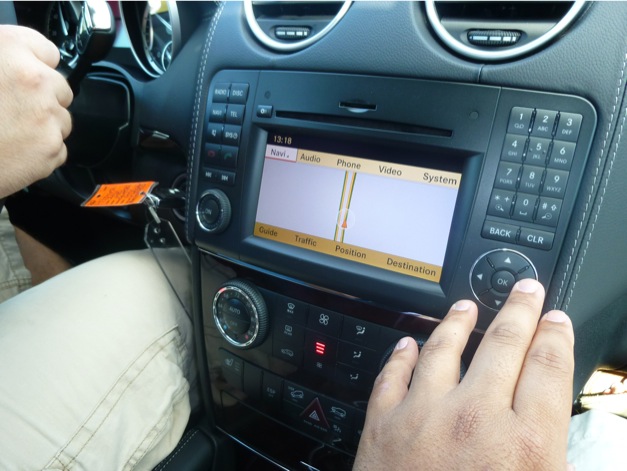 The tuner display is quite clever, with a stylish red needle that sweeps back and forth to emulate an analog tuner. It makes noises, sounds like a radio. The Harman Kardon sound system is, like the Bose system in the QX56, bland and dull. It certainly isn't awful, nor is it good enough to pay extra for.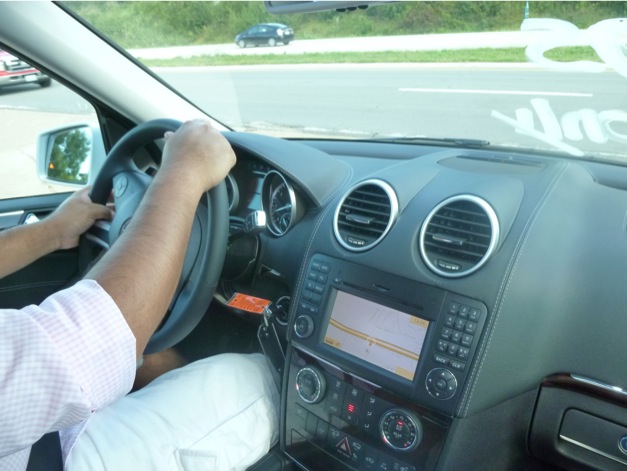 The upper half of the cockpit is nicely adorned in stitched simulated leather but the lower half is hard and feels a bit cheap, just like the Escalade.
Driving the GL450 was pleasurable, with a solid teutonic feel typical of most MB products. Unfortunately, also typical was the lack of 'bite' from throttle input. There's a noticeable dead spot on initial pedal travel, almost like the throttle cable is loose (the GL has drive-by-wire input, not a throttle cable). Perhaps Mercedes engineers wanted takeoffs to be smoother or offer a safety buffer in case of accidental pedal pressing. Whatever it is, it takes a little bit of joy out of initial takeoffs.
Once in motion, the 335hp 4.7L V8 produces a pleasing, sophisticated sound, preferable to the coarser noise of Nissan's 5.6L V8. Unfortunately, despite weighing nearly 600 pounds less, the GL450 is at a 65hp disadvantage, taking just under 7 seconds to reach 60mph, a half second slower than the QX56. You probably wouldn't notice the acceleration difference unless you drove them back to back.
The GTronic 7-speed automatic works well, producing crisp and sporty shifts when called for, drawing little attention to itself.
At highway speeds, the GL feels more confident and secure than the QX, owing to its lower ride height and cozier cockpit.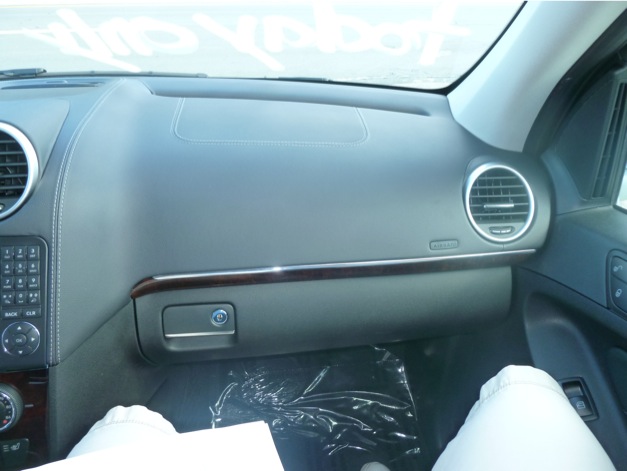 In the Escalade, Cadillac places a beautiful sheet of brushed aluminum trim across the upper dash while Mercedes uses a thin strip of wood. As a result, the passenger side cowl of the GL is a vast expanse of stark black nothingness.
Hip and leg room feel narrow but seats are well-shaped and supportive.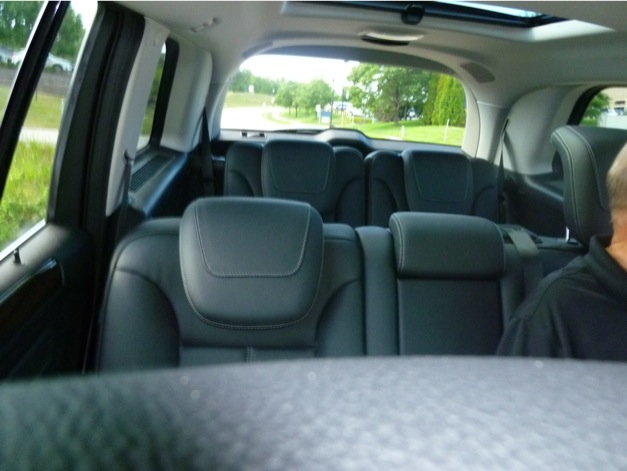 The distance between the driver's seat and the rear hatch is less like a luxury SUV and more like a midsize wagon.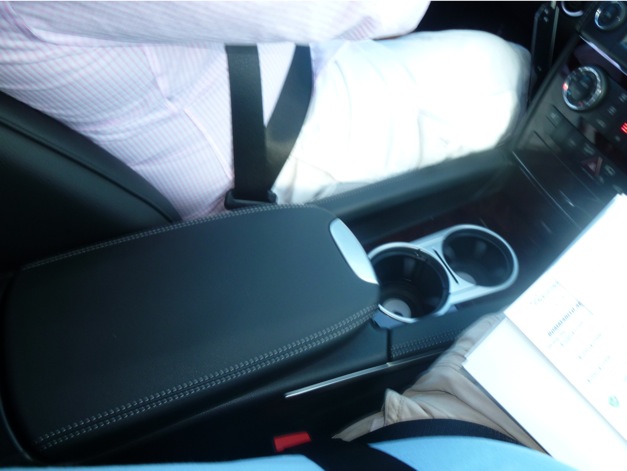 I like the extensive use of white stitching. This GL450 is equipped with MB-Tex, a long-lasting simulated leather material. [Leather costs extra.]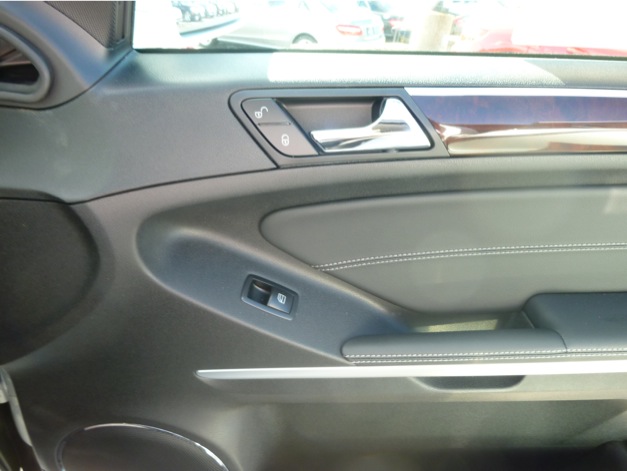 While the stitched door inserts are nice, the upper door panel uses hard, cheap-feeling plastic. If you, like me, are someone who dangles your arm out the window as you drive, you will notice it.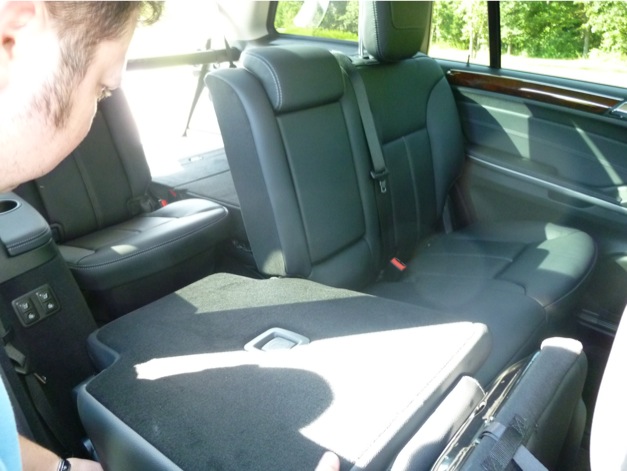 I wanted to sample the third row but getting back there was a chore. Our salesman pulled all the right levers and latches but couldn't get the seat to flip forward.
When we returned to the showroom, another salesperson assisted and discovered that an unusually hard pull was required to unlatch the second row seat. Once I got back there, the third row was tolerable but not quite appropriate for adults.
Overall, the GL450 gives the driver an impression of being in a tall sport wagon (capable of towing over 7000lbs) rather than an SUV, great for folks who need the cargo, towing, and passenger space but don't want the bumbling truckiness of larger competitors.
Unfortunately, half a decade has passed since Motor Trend gave the GL450 its "SUV of the Year" award in 2007, and its somewhat cheap interior and lack of technological sophistication make the asking price of nearly $70,000 a bit outrageous. Fortunately, its driving dynamics and beautiful styling make up for some of its glaring flaws. As a driver, I would be torn between this and the BMW X5.
Bonus: The air conditioning is ouststanding.
—————————————————————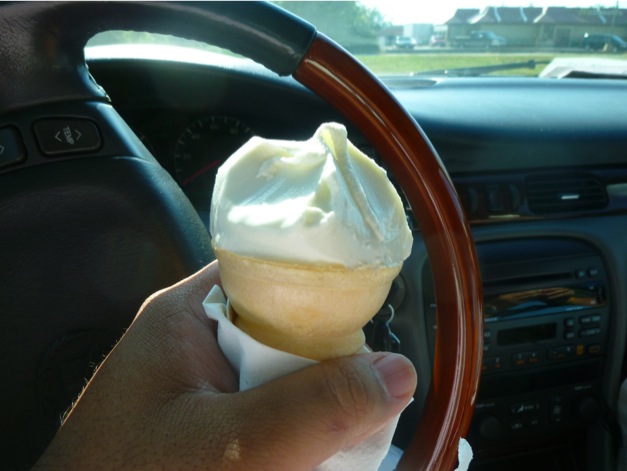 Missouri is hot in August. We stopped at McDonald's for 50-cent soft serve.
—————————————————————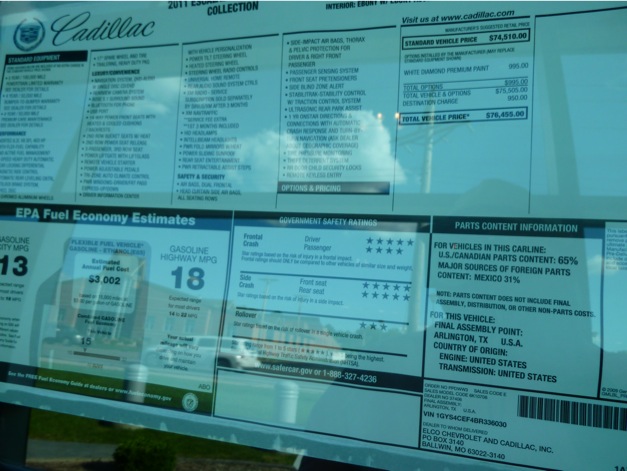 We pulled into Elco Cadillac to see if the latest Escalades had any interior improvements. The answer is, simply, no. At $74,635 this Escalade, which includes AWD and rear seat entertainment, was a non-contender. The price might have been more justifiable if the third-generation Escalade wasn't plagued with wind noise and potential transmission issues.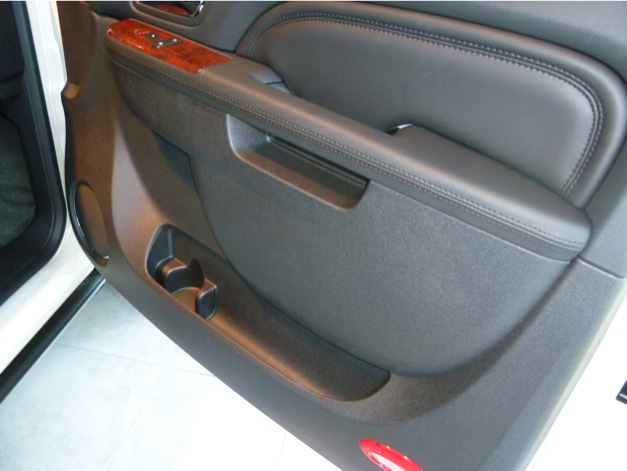 The vultures at Elco chased us, quite literally, as we walked to the door:
"HEY! HEY YOU! LET ME GET YOU A CAR! HEY! STOP! WAIT! OH GOD PLEASE DONT LEAVE I OWE MY COKE DEALER A TON OF MONEY!"
I increased my pace but the guy kept coming closer, nagging and yelling as I tried to gain some distance from him. Finally, all 350lbs of him caught up and I told him "No! Just looking!"
Within 20 seconds, two other salesmen approached. We left the dealership immediately.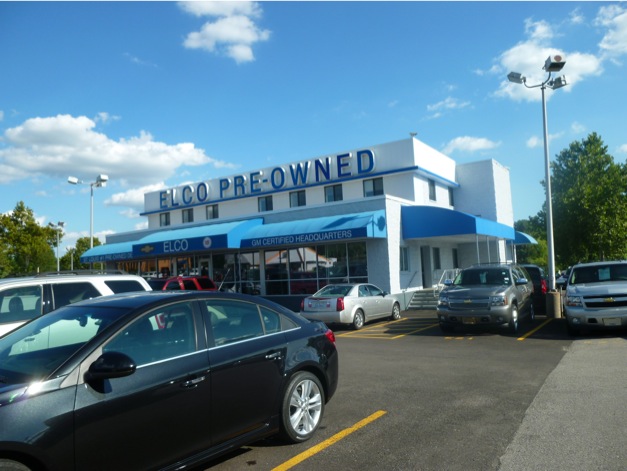 It was quite a contrast from the calm and professional sales experiences at Bommarito and Tri-Star.
—————————————————————
Meanwhile, at St Louis Acura, things were quiet.

There were a handful of customers there, mostly interested in the MDX.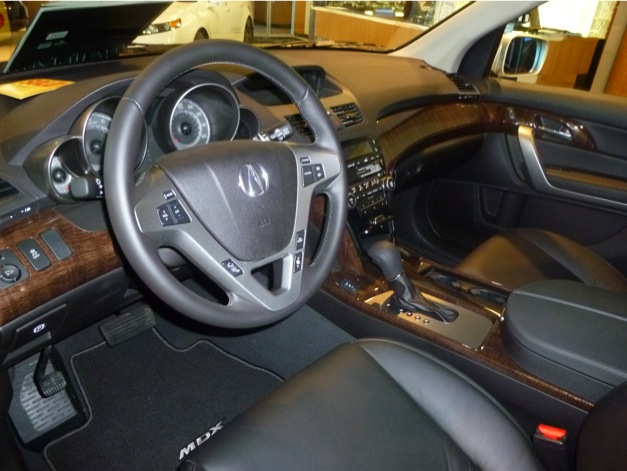 The MDX, reasonably equipped with SH-AWD and rear entertainment, is less than $50,000, and with its spacious interior and reasonable styling (aside from the nasty silver beak), it could be, in addition to the Buick Enclave, the best luxury bargain out there.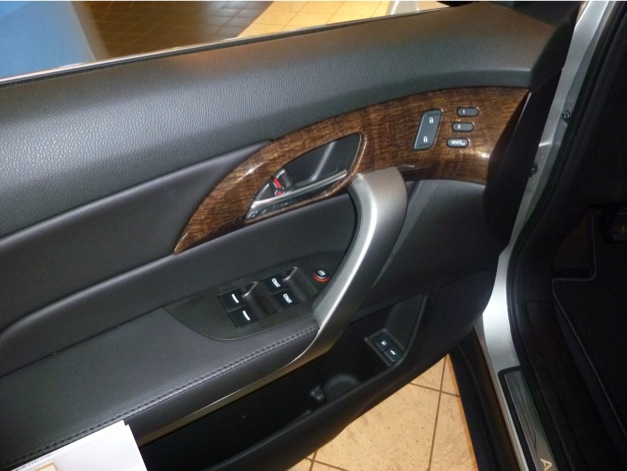 The wood trim in this particular MDX looks cheap and fake.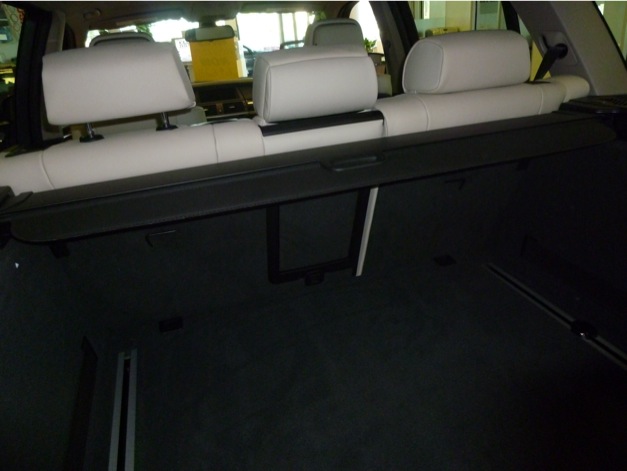 The interior is spacious lacks a sense of occasion.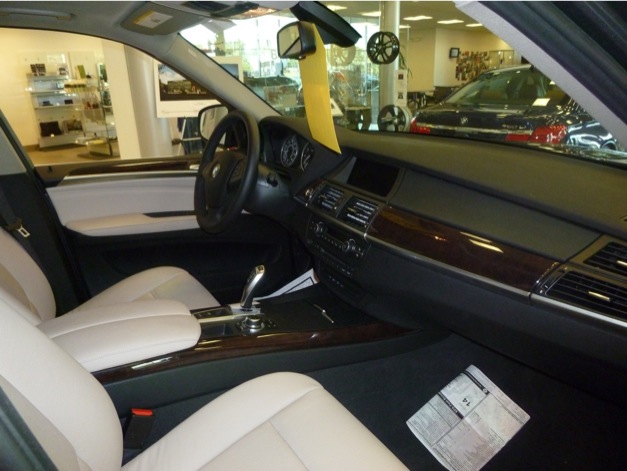 The dashboard design appears to mimic the BMW X5.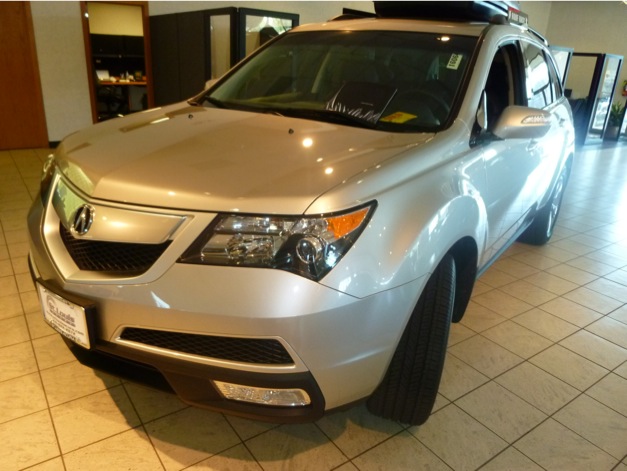 A face only a mother could love, though not my mother, since she isn't interested in the MDX (she's previously owned two). There's also a lack of a V8. Acura's ability to compete in this segment has been hampered by limited (though competent) powertrain options.
We didn't bother driving it since she had no intention of buying anything with a V6.
We did make a brief stop at Autohaus BMW but no 4.4L X5s were available to test drive.
—————————————————————
After a day of kicking tires, what we're left with is this:

–2011 Infiniti QX56 with rear entertainment for $59000 after the employee pricing discount.
–2011 Mercedes-Benz GL450 with rear entertainment for $67450 after the conquest incentive.
Is the GL450 $8500 better than the QX56? No, but it's a better driver with beautifully sculpted skin. This is a bit of an apples to oranges comparison since the lighter GL emphasizes European values while the massive Infiniti feels very American (despite being Japanese). The Mercedes GL and BMW X5 are more direct competitors while the QX goes head to head with the Escalade and Navigator.
Additionally, mom's Lexus could probably do another 100,000 miles, but the weird electrical glitches, annoying rear hatch, and lack of cargo space would continue to be a nuisance. We'll see what she decides when I take her around to look. What people want on paper doesn't always correspond to how they react emotionally.
—————————————————————
2011 Infiniti QX56 Specifications and Ratings: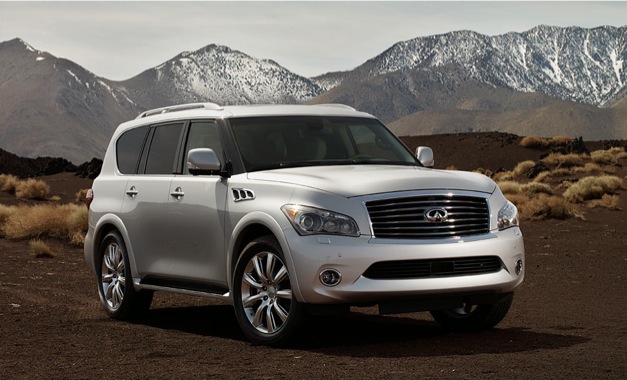 Ride: 10/10
Powertrain: 9.7/10 — Engine sounds a bit coarse, but makes up for it with serious power. Shifts beautifully. Impressive acceleration.
Braking: 9/10 — Good pedal feel and impressive braking distance for a house on wheels.
Steering/Handling: 6.5/10 — Accurate steering and good body control for its size.
Audio/Accessories: 8/10 — Easy to use electronics, clever bird's eye view camera, traditional knobs and buttons for climate and audio controls. Bose stereo is nothing special. Power folding rear seat and power rear hatch operate slowly.
Interior: 9/10 — Base leather isn't quite as soft as Cadillac and Lexus. Exquisite wood trim. Extensive use of stitched and leather-wrapped surfaces. Not one hard surface in the entire vehicle.
Comfort: 10/10 — A real third row that adults can use as well as first and second-row seats that feel like living room recliners.
Styling: 2.5/10 — Awkward and confused from most angles. Better in person than in photos.
Quality/Reliability: 10/10 — If the world-class Nissan Patrol that the QX is based on is any indication of its reliability, it should run forever.
Overall: 8.5/10 — A world-class luxury truck that could use a reskin.

Specifications:
VK56VD 5.6L 32v Aluminum V8
Direct injection
Power: 400 bhp @ 5800 rpm
Torque: 417 lb-ft @ 4000 rpm
7-speed adaptive-shift automatic with manual mode rev matching
0-60 mph: 6.1 sec
Quarter mile: 14.8 sec @ 94 mph
Braking, 60-0 mph: 130 ft
Wheelbase: 121.1 in
Length: 208.3 in
Width: 79.9 in
Height: 75.8 in
Curb Weight: 5850 lbs
Towing Capacity: 9000 lbs
Fuel Economy:
14 city / 20 highway (4WD)
—————————————————————
2011 Mercedes-Benz GL450 Specifications and Ratings: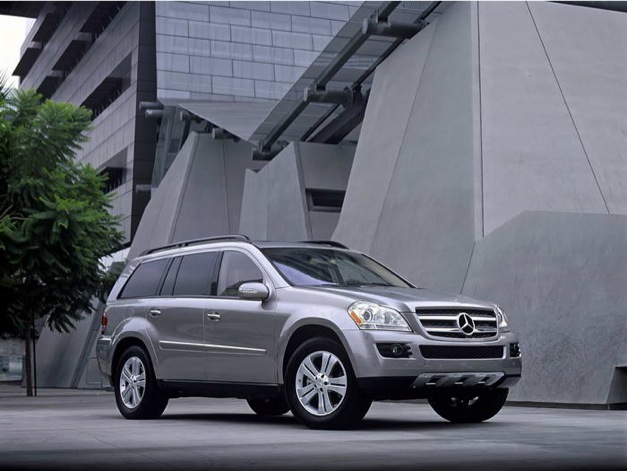 Ride: 9.6/10 — Reassuringly firm. Smooth and planted on the highway.
Powertrain: 8.9/10 — A delightful sound from the sophisticated DOHC 4.7L V8. Crisp and responsive shifts. Annoying dead spot in the throttle at takeoff.
Braking: 10/10
Steering/Handling: 8.9/10 — A large SUV that manages to feel like a midsize sport wagon.
Audio/Accessories: 4/10 — Disappointing Harman Kardon audio. Fussy navigation. Lack of a touch screen. Clever radio tuner. The rear seat entertainment system is a cheap looking afterthought.
Interior: 6/10 — Plain but functional. Feels like a big step down from the ornate QX.
Comfort: 8.5/10 — Cozy but comfortable except for the somewhat tight third row.
Styling: 9/10 — Five years later it still looks fresh. The magic and luster of timeless Mercedes design.
Quality/Reliability: 7/10 — German engineering? Yikes. To its credit, quality surveys have been mostly kind to the GL.
Overall: 7.5/10 — A driver and a looker with a questionable interior. Straddles the line between sport wagons and full size SUVs. High price tag seems hard to justify. Its age is showing. For me, it could be an attractive used vehicle in 5 years. For mom, it lacks space and refinement.

Specifications:
DOHC 4.7L 32v Aluminum V8
Power: 335 bhp @ 6000 rpm
Torque: 339 lb-ft @ 2700 rpm
7-speed G-tronic automatic with manual mode
0-60 mph: 6.5 sec
Quarter mile: 14.8 sec @ 93 mph
Braking, 60-0 mph: 115 ft
Wheelbase: 121.1 in
Length: 200.6 in
Width: 76.4 in
Height: 72.4 in
Curb Weight: 5340 lbs
Towing Capacity: 7500 lbs
Fuel Economy:
13 city / 17 highway (4WD)
—————————————————————
Part 2 — Bringing it Home:
http://jesda.com/2011/09/20/bringing-home-a-monster-moms-2011-infiniti-qx56/