Reviewed and Compared: 2007 Cadillac Escalade, Lincoln Navigator
The full-size SUV is far from dead.

The middle class woke up one morning, saw $4.50 fuel prices, and almost overnight traded in their Tahoes, Suburbans, and Expeditions for Priuses and Corollas. Unfortunately, many succumbed to panic and lost more on their trades than they would ever save in fuel.
For much of the middle class, the quadrupling of fuel prices brings with it a harsh new reality — a piece of the American dream, the joy and pleasure of piloting a mansion on wheels, has eroded. Contrary to the beliefs of environmentalists, Americans haven't abandoned their affection for large autos, they've simply compromised to mitigate the effects of resource scarcity.
But those are all "poor people problems."
For luxury buyers, fuel prices are a non-issue. A household earning $100,000 or more after taxes has more important concerns than $3000 in annual fuel costs (assuming 12,000 or fewer miles per year), which translates to a piddly $250 per month on a monthly income of over $8000. Time is arguably more scarce than crude oil, and dwelling over ways to reduce a $250 monthly fuel expense is time and energy that could otherwise be used to increase income and wealth.
Luxury car buyers, more often than not, will get what they want, and despite the ongoing economic slump, Escalade sales have remained steady since 2009 at more than 26,000 units per year. While that number is far off the mark from the 2004 peak of 62.000 units, it continues to be a highly profitable vehicle for Cadillac and General Motors. Most of the investment and development cost is absorbed among the rest of the GMT900 SUV lineup including the Yukon, Tahoe, Suburban, and Avalanche.
For 2007, the toned down, grown up Escalade moved out of the inner city and blended into the suburbs.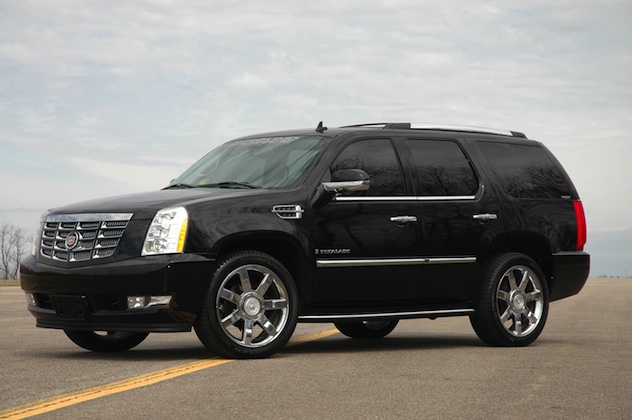 (2007 Escalade)
Cadillac has been intertwined with black America since the Great Depression. GM was prepared to kill the brand until a clever executive named Nicholas Dreystadt convinced GM to pursue newly affluent African Americans rather than shunning them.
From Forbes:
"Dreystadt said he had a plan to make Cadillac profitable in 18 months, Depression or no Depression. The first part of his plan resulted from an observation he had made traveling around the country to the service departments of Cadillac dealerships. Cadillac was after the prestige market, and part of its strategy to capture that market was its refusal to sell to African-Americans. Despite this official discrimination, Dreystadt had noted that an astonishing number of customers at the service departments consisted of members of the nation's tiny African-American elite: the boxers, singers, doctors and lawyers who earned large incomes despite the flourishing Jim Crow atmosphere of the 1930s. Most status symbols were not available to these people. They couldn't live in fancy neighborhoods or patronize fancy nightclubs. But getting around Cadillac's policy of refusing to sell was easy: They just paid white men to front for them.
"Dreystadt urged the executive committee to go after this market. Why should a bunch of white front men get several hundred dollars each when that profit could flow to General Motors? The board bought his reasoning, and in 1934 Cadillac sales increased by 70%, and the division actually broke even. In June of 1934 Nick Dreystadt was made head of the Cadillac Division."
The moral of the story: money transcends race.
Back in 2002 the Escalade received a bold Art and Science-themed redesign. The truck was prominently displayed in rap videos and was often driven by black athletes, actors, and musicians. A trendsetter for Cadillac, it catapulted the brand from near-death to superstardom.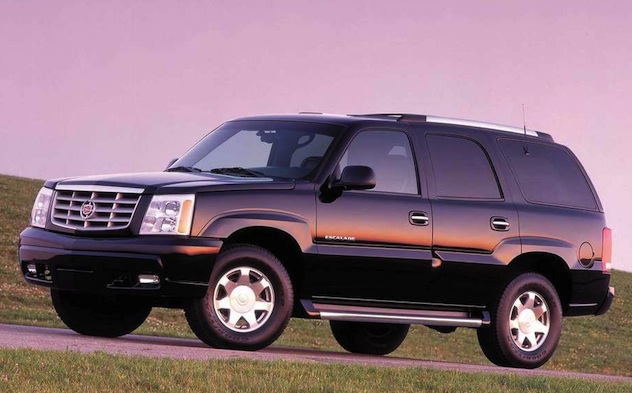 (2002 Escalade)
As far as pop culture is concerned, if you were black and you "made it," you drove an Escalade, period. As with rock music, white America followed black America's lead, and Escalades found their way into McMansion garages all over the country.
Predating the first-generation ('99-'01) Escalade was Lincoln's Navigator (released in 1998), which underwent a clean and conservative redesign for 2003. It failed to capture the Escalade's cachet and bravado but served as a worthy alternative for those seeking a more refined interpretation of luxury.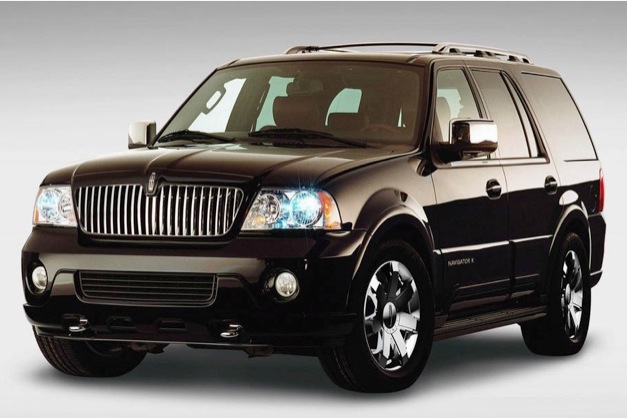 (2003 Navigator)
Unfortunately, the mature and understated Navigator was often overlooked in a prosperous time where extroverted wealth was more socially acceptable. The Escalade was a better fit for the mood of America during the Bush years.
—————————————————-
Earlier this year, I went to Wichita to see a friend and got a chance to drive his 2007 Escalade.

2007 was the first year for the GMT900 SUV platform (pick-up versions debuted in 2006 as the Silverado and Sierra). GM's current generation of full size SUVs is expected to continue production through 2014, a lengthy run partly because of lower demand for large SUVs, and mostly because of GM's recent bankruptcy which has delayed product development.
The redesigned 2007 Escalade takes inspiration from, strangely enough, the 2003 Lincoln Navigator. With its modest use of chrome, stealthier presence, and more upscale appearance, the ultimate ghettoblaster has evolved into a posh high-end luxury cruiser. No doubt, the Escalade is larger than ever, but its level of intimidation has been dialed back significantly.
The new 2007 Navigator, meanwhile, adopted a garish front-end that looked like a last-minute afterthought.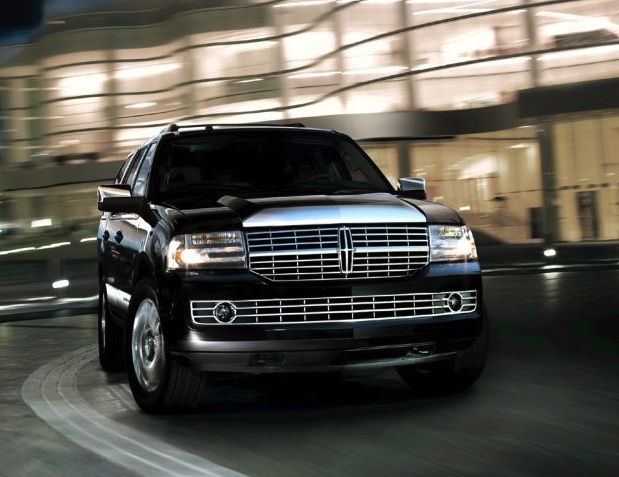 (2007 Navigator)
Lincoln claims the 1960s Continental was its inspiration. I see a closer resemblance to a sewer grate: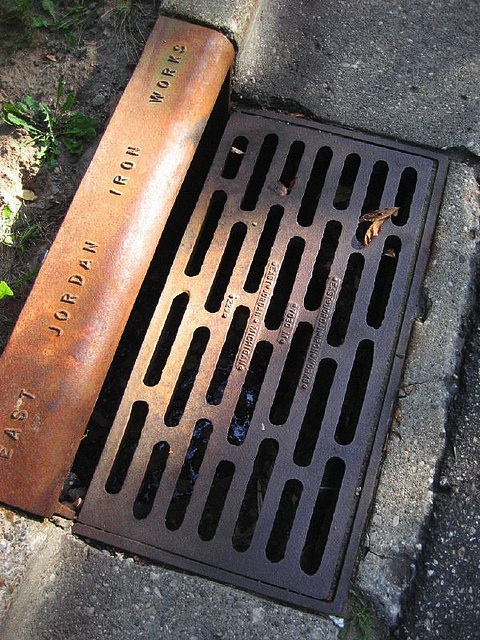 There's an ongoing theme here of Lincoln and Cadillac borrowing from each other, attempting to consume each other's share of the market.

The 2003-2006 Navigator had a steering system that was pure magic for a vehicle of its size and heft, offering ample feedback, quickness, and sharpness. The 2002-2006 Escalade, meanwhile, wandered a bit and required minor steering corrections to maintain highway accuracy.
For 2007, the Escalade's steering system is dramatically improved, with smooth fluidity and reasonable accuracy, feeling more like a Cadillac DTS sedan than a 5700-pound house on wheels.
Braking follows the same theme. The Navigator was never equipped with excellent brakes, but it stopped with a greater sense of control than the Escalade. The '99-'06 Escalade's brakes felt like stepping on a plastic bag filled with thick paste, and stopping distances were in excess of 210 feet. Again, this all changes for 2007 with the Escalade adopting a revised braking system that feels reasonable, safe, and predictable. Braking distances for 2007 are down to 187 feet for according to Car and Driver. [As a point of reference, a 2006 Cadillac DTS sedan requires 178 feet.]
The Escalade also gains features previously exclusive to the Navigator including power-retractable running boards (Platinum edition) and a power liftgate.
The Navigator's ace in the hole, one feature that retained its desirability in the market despite the Cadillac's charisma, was its interior.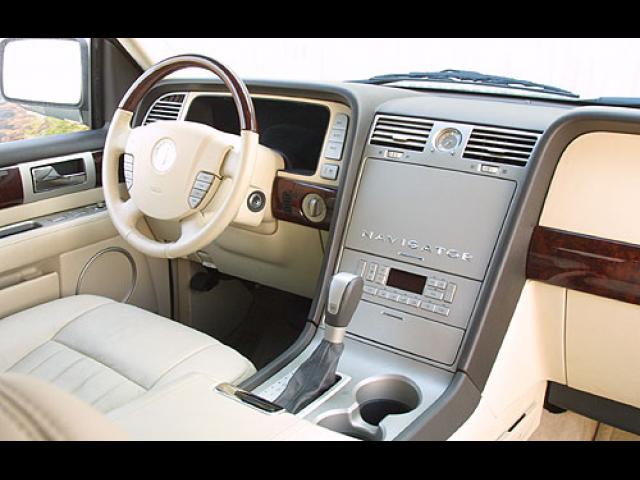 (2003 Navigator Interior)
Even with a few cheap plastics here and there, the nickel, wood, and leather-appointed '03-'06 Navigator was a nice place to be. Unfortunately, Lincoln took a step backward in 2007 by replacing the clean and classy Optitron gauges for a garish square-themed instrument cluster inspired by Lincolns of the 1980s.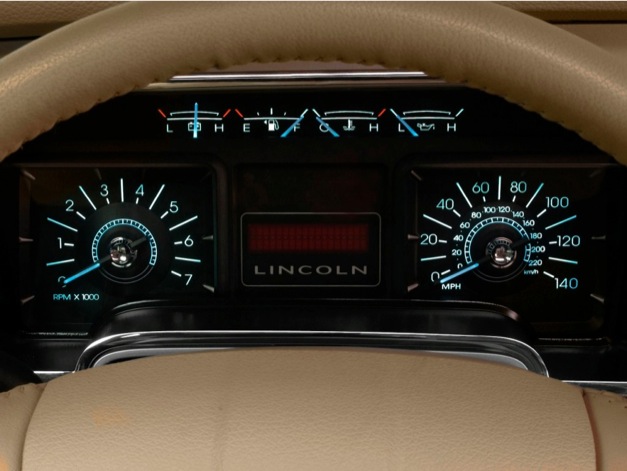 (2007 Navigator Instrument Cluster)
You get the feeling that the 2007 Navigator is desperate for attention, good or bad, like a child who acts out in school. Fortunately, the Escalade's interior is clean and restrained: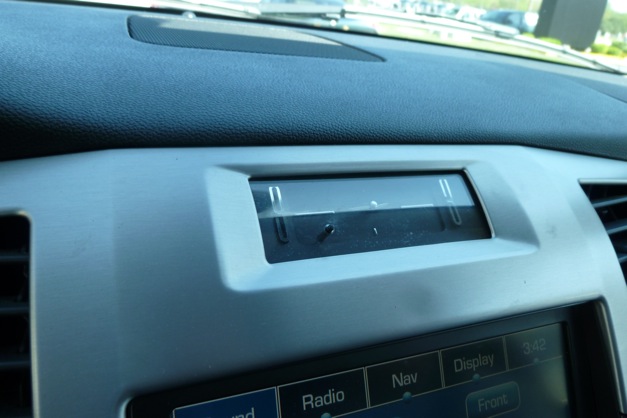 (2007 Escalade Clock)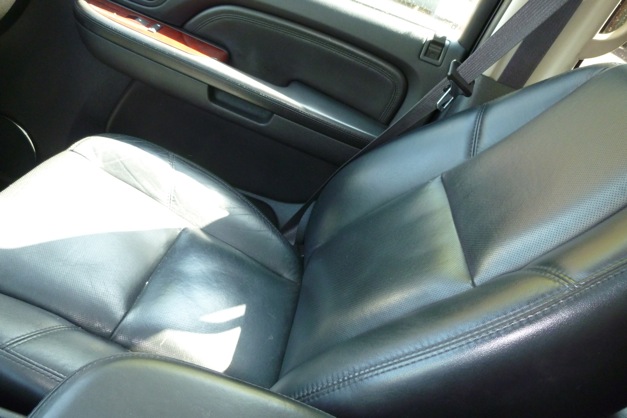 (2007 Escalade Passenger Seat)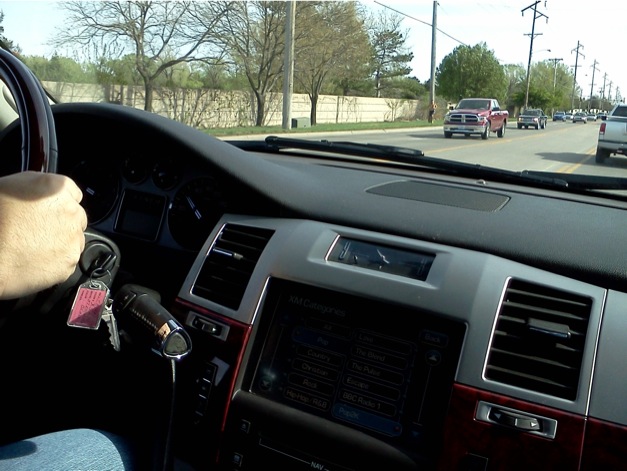 (2007 Escalade Dashboard)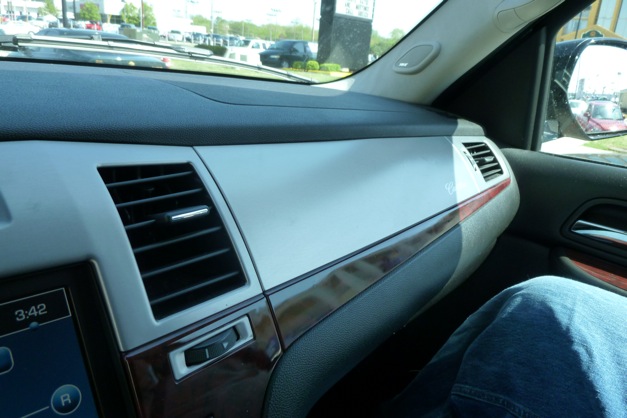 (2007 Escalade Dashboard)
A tasteful combination of leather, wood, and aluminum trim look to have been inspired by the 2003-2006 Navigator. Unfortunately, some of the plastics on the dashboard, center console, and door panel feel hollow with a cheap-looking grain. Much of this was improved for the luxurious Platinum edition (not pictured).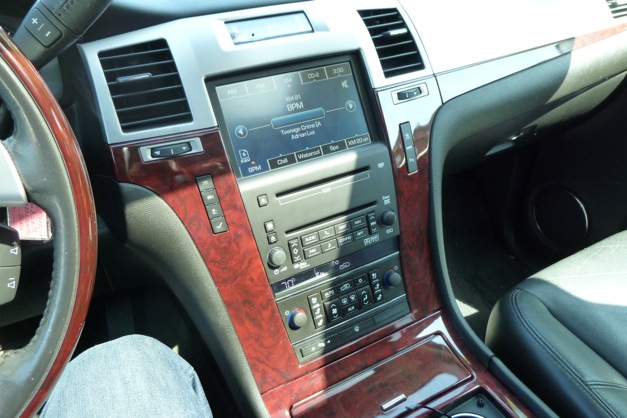 (2007 Escalade Center Stack)
The new gauges are classier and less fussy than the cheap-looking instruments from 2002-2006: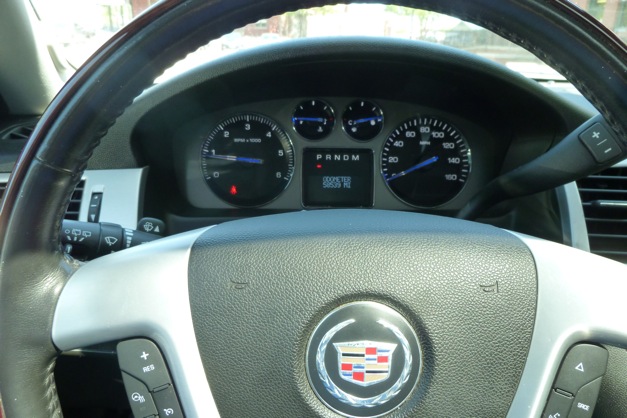 (2007 Escalade Instrument Cluster)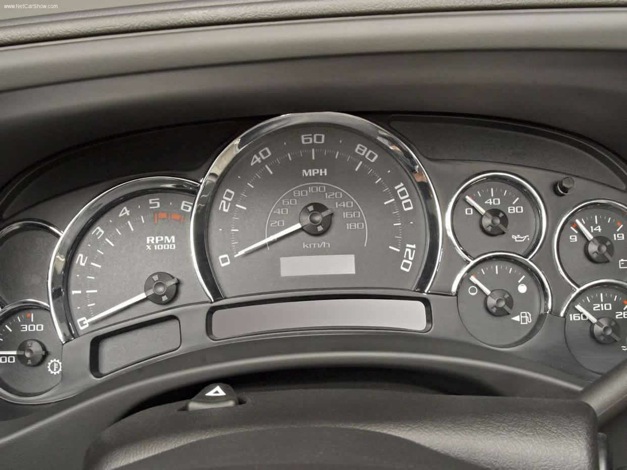 (2002 Escalade Instrument Cluster)
Unfortunately, the new gauges lack transmission temperature and oil pressure information. [CORRECTION: Transmission temperature can be displayed digitally by cycling through the menus. Oil pressure, however, cannot.] The numerical readouts are replaced by vague tick marks. GM's blue fluorescent information display is mounted higher with multiple lines for better readability. The gear shift indicator's "3 2 1" are replaced by "M", a manual shift mode operated from the column-mounted stalk.
The entire steering wheel is surrounded by a single, uninterrupted strip of wood.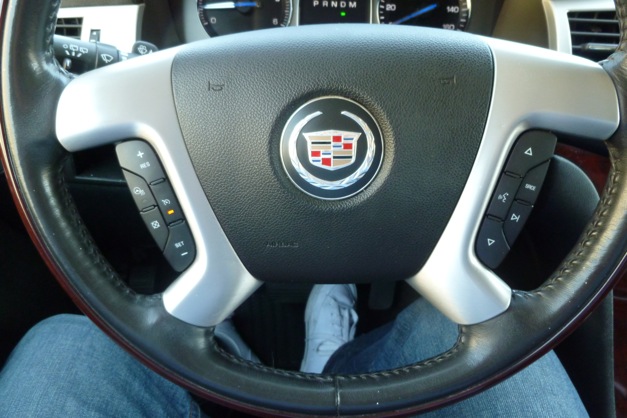 (2007 Escalade Steering Wheel)
Most luxury buyers favor the look of wood steering wheels, but the feel is unappealing. Leather breathes while polished wood does not, and this causes the hands to sweat on sunny days — sweaty hands on polished wood lead to a loss of grip. My complaint with most wood-trimmed steering wheels is the lack of a constant feel all around as most only have wood applied to the top and bottom of the wheel.
By covering the entire outside edge of the wheel with wood, the Escalade's feel remains consistent, but for me, that makes it all-around unpleasant.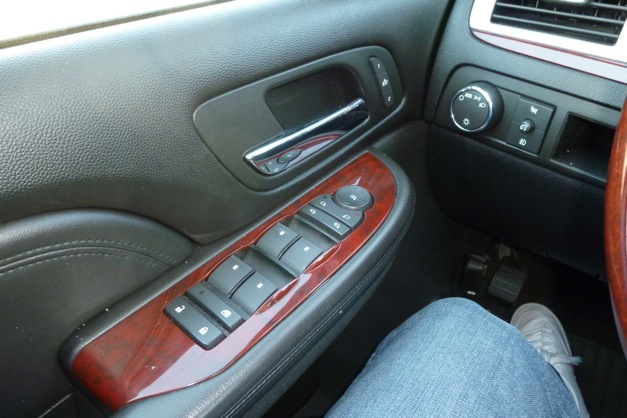 (2007 Escalade Front Door Switches)
My other complaint is the inconsistent texture and quality of the door and dashboard surfaces. The stitched leather inserts on the door panels and arm rests are beautiful, but the top part where a driver might dangle his arm is covered in cheap-looking squishy plastic. The wood and stitched leather surrounding the window switches are nice touches.
The standard GM knobs and switches offer soft tactile feedback, giving the impression of luxury. Even the headlight knob on the dashboard gets a tasteful chrome treatment.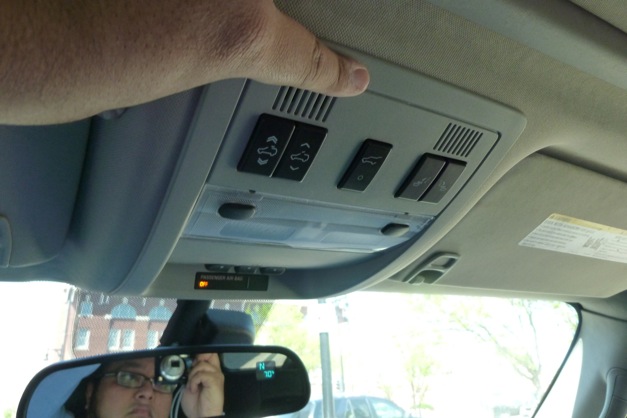 (2007 Escalade Sunroof Switches)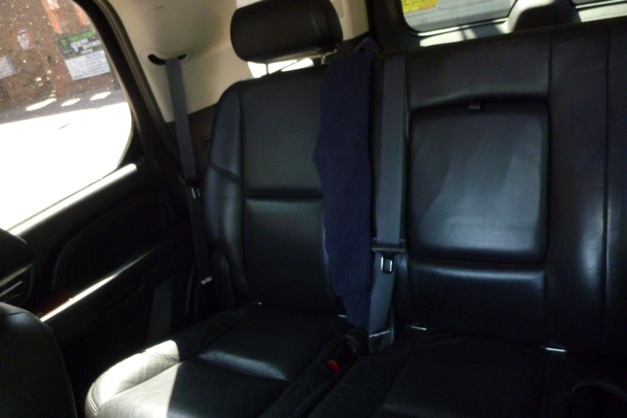 (2007 Escalade Second Row Seats)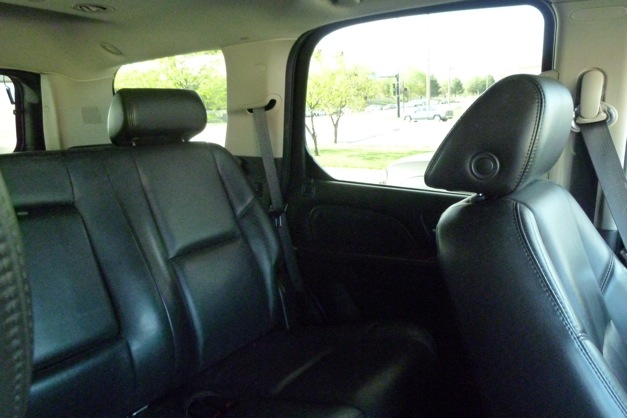 (2007 Escalade Second Row Seats)
The previous owners unfortunately took this truck to the beach and often wore suntan, which caused the once-buttery black leather to take on a shiny vinyl-like appearance.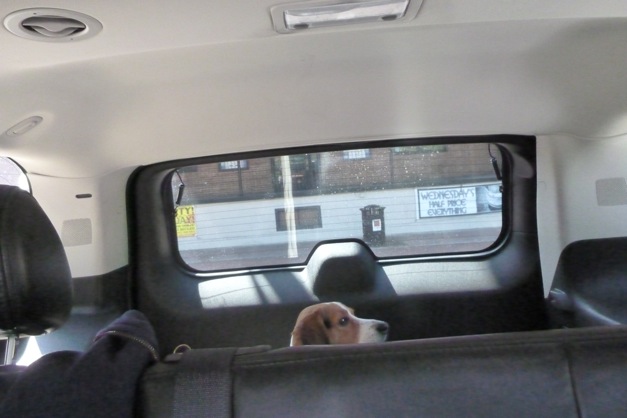 (2007 Escalade Cargo Area)
Above there's plenty of room in the third row/cargo area. The third row seat, unlike the Navigator, does not fold flat into the floor. It folds onto itself to make room for luggage, but for maximum cargo space it must be unlatched and removed entirely.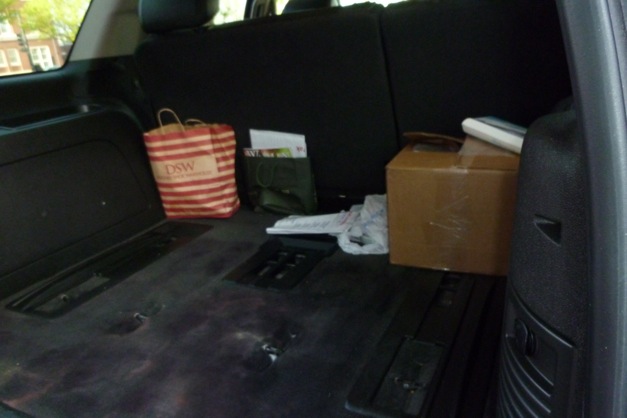 (2007 Escalade Cargo Area)
With the third row gone, there's lots of space for my beagle to hang out.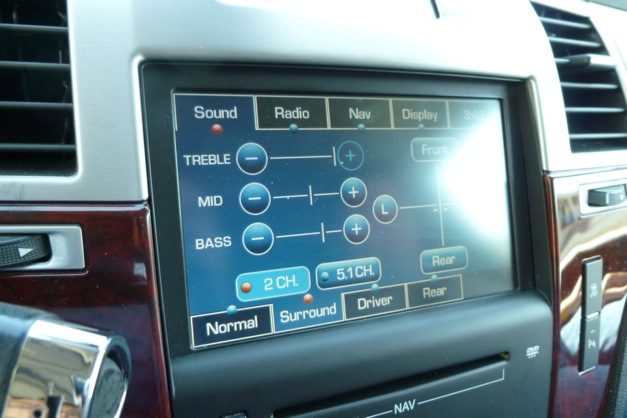 (2007 Escalade Infotainment System)
The 8-inch touch screen infotainment system is easy to use with a large 'Eurostile' font and well-organized menus. The system performs reasonably well with few delays between functions, a massive improvement over the confusing and cluttered navigation systems of the past.
XM tuning is delightfully simple with stations organized into folders by category, making it easy to navigate through hundreds of channels.
The Escalade boasts a 10-speaker 300-watt Bose discrete 5.1 surround audio system that produces plenty of deep, satisfying bass but neglects details in the highs and mids. In that regard, the system is a microcosm of the rest of the truck.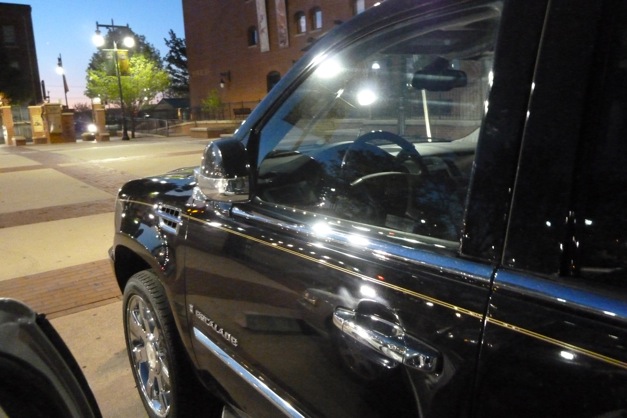 (2007 Escalade Exterior)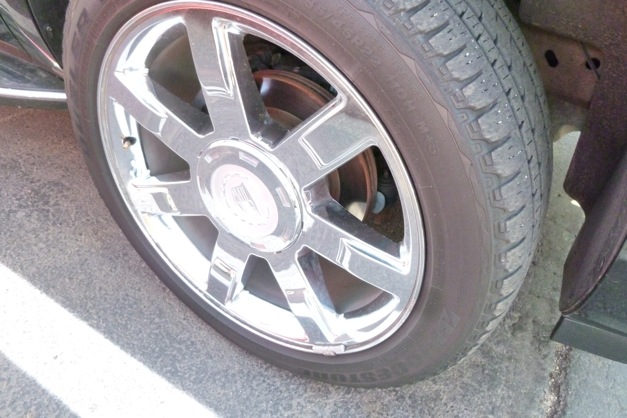 (2007 Escalade 22" OEM Wheels)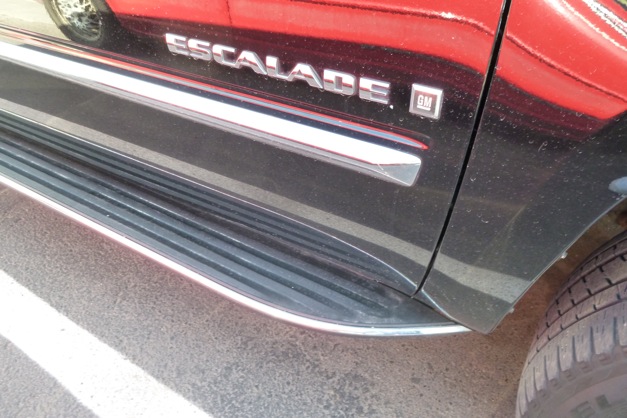 (2007 Escalade Exterior)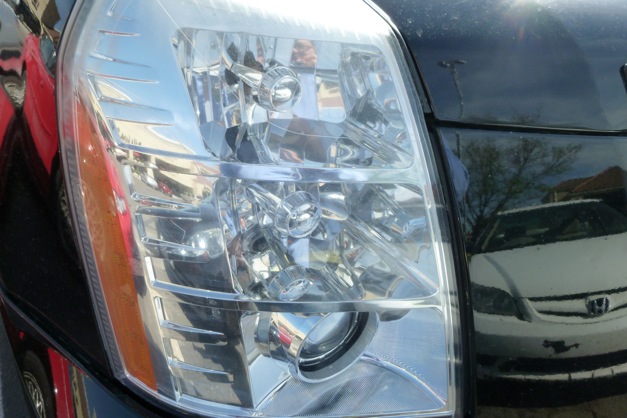 (2007 Escalade Exterior)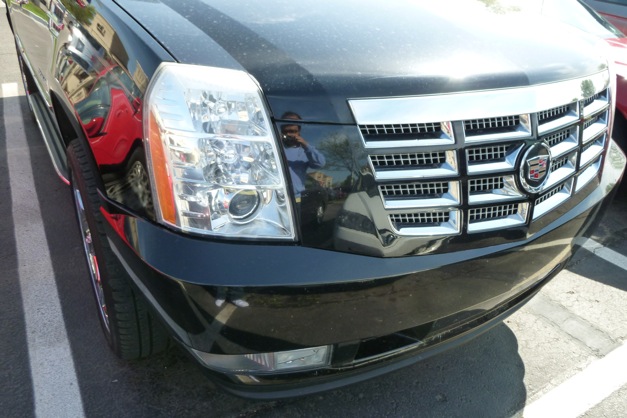 (2007 Escalade Exterior)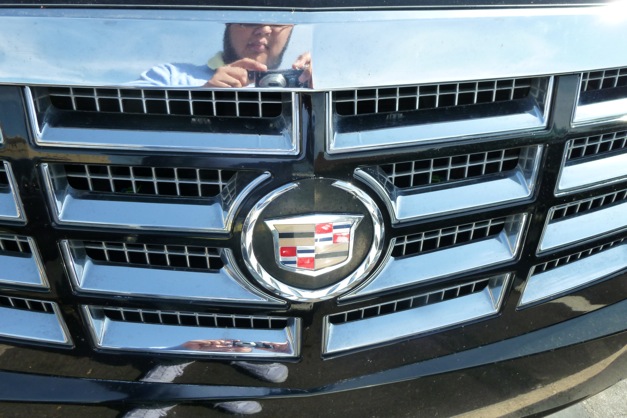 (2007 Escalade Exterior)
The exterior gets high marks for being tasteful and restrained, except for the vents on the fenders.
As for the paint, there is obvious orange peel on the doors and front fenders.
Arguably, the older GMT800 Escalades were built to a higher standard. Although their interiors more closely resembled downmarket Chevrolet trucks, the plastic, leather, and steel felt more substantial.
It does in fact cost General Motors less to manufacture the GMT900 trucks and SUVs, thus the reason for their accelerated release in 2006 and 2007. Still, the GMT900s are quite a bit stiffer and offer more torsional rigidity and improved handling.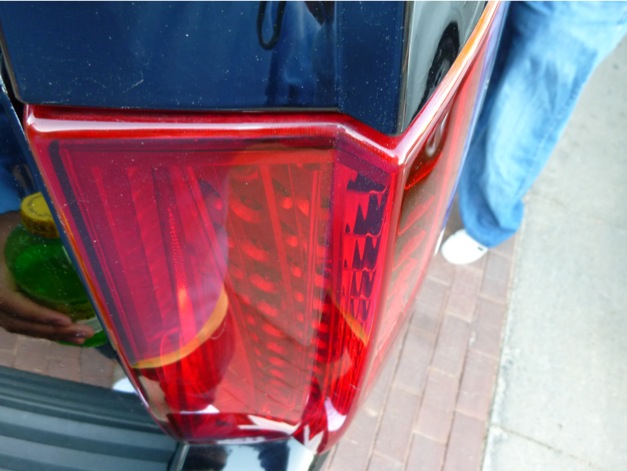 (2007 Escalade Passenger Side Tail Light)
Tail lights gain a bit of Cadillac style through additional creases, a design detail intended to resemble traditional Cadillac tail fins. If you look closely, you can see that this crease extends all the way up the D-pillar: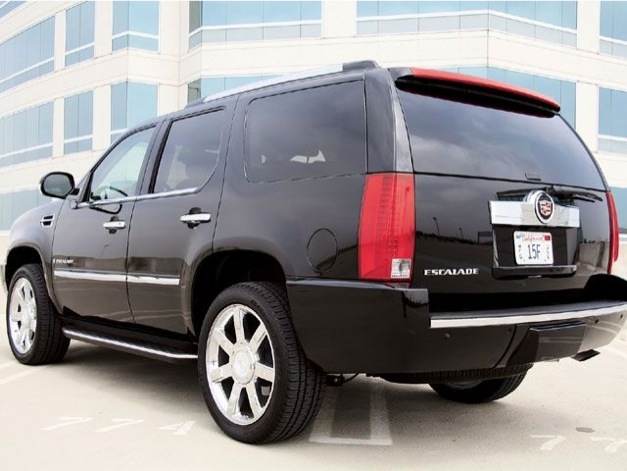 (2007 Escalade Passenger Side Tail Light)
I've been quite critical so far, but on a luxury truck with a sticker price that typically exceeds $70,000, the details matter.

Thankfully, a 403hp 6.2L OHV V8 produces 417 lb-ft of torque and throaty roar that would make a lion whimper. 0-60 times drop from 7.8 seconds in the previous generation to 6.5, running neck and neck (in a straight line) with some luxury sedans including the E46 BMW 330i and Lexus LS430.
Despite the numbers, full-throttle acceleration actually feels slower in the 2007 Escalade, and that's likely due to a lack of dive and squat from the firmer suspension. The old Escalade was a marshmallow, loosely connected to the surface. The current generation is hardly what I would call taut, but it does feel much more controlled and restrained, going around corners more like a big sedan and less like an ice cream truck.
The exhaust note is intoxicating, filling the cabin with a refined roar that mimics GM cars of the 1960s (see my review of the '64 Impala). There is little else to say about how the Escalade drives — its big, comfortable, steady, and wonderfully loud at full throttle. If you've driven a Cadillac DTS, imagine it being a bit faster with a higher seating position and more space.
Thanks to a six-speed automatic, highway fuel economy improves from 17 to 19 MPG for 2WD models. Unfortunately, the previous and current Escalade are both rated at 14 MPG combined by the EPA. This is a non-issue for people who buy $70,000 luxury cars, but it does matter for GM's CAFE compliance.
The 6L80E 6-speed automatic is developing a bit of a reputation for being problematic, prone to jerks, stalls, error lights, and unexpectedly early rebuilds. If you buy used, get an extended warranty with thorough transmission coverage. This is, as far as I know, the only major issue on this truck, and it is an expensive one.
Perched on the throne of this massive three-ton urban tank, there's a bit of guilty pleasure from dominating and brutalizing the earth below. An Escalade driver may find himself looking down (literally) at the "little people" crammed into their potato-shaped Priuses, watching them sip on every last drop of fuel like paupers savoring crumbs.
One may also enjoy the smug satisfaction of knowing that elite athletes and pop stars are cruising around in the same vehicle. While you may never get a chance to be with Charlize Theron, it's satisfying to know that the gentleman she's snogging probably owns an Escalade.
The allure of vanity.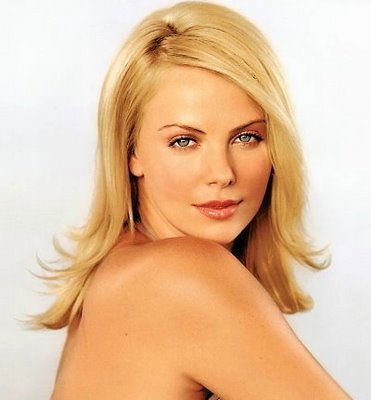 (Charlize Theron)

Fast Tube by Casper
Ratings:
Ride: 10/10
This is a big Cadillac that owns the earth it rests on. The ride is compliant without being wobbly.
Powertrain: 6.7/10
Engine: 10/10 — Stump-pulling torque and a glorious exhaust note.
Transmission: 5.9/10 — Questionable reliability. Decent performance when functioning correctly.
Braking: 6.5/10
More responsive than before with more bite and less mushiness. Massive improvement over the last generation.
Steering/Handling: 6.7/10 — Hugely improved steering and well-sorted suspension. Mimics a full-size luxury sedan but a far cry from being sporty. Adequate for daily motoring.
Audio/Accessories: 9.3/10
Easy to use navigation, a large 8" display, responsive menus, and a brilliantly designed XM tuner. Sound quality is satisfying for an OEM sound system but falls short of excellent. In the Platinum edition, the Escalade enjoys more options than the Navigator Ultimate including LED headlights.
Interior: 7.9/10
A good effort. Panels are tightly fitted and well-assembled but some surfaces lack a luxury feel. Lots of unexpected details like additional stitching on the leather-wrapped column shifter, a Cadillac script logo embedded in the aluminum trim, and additional wood on the center arm rest. The climate controls are a bit low on the center stack and the third row is still the same idiotic design as before, requiring total removal to gain full cargo space.
Comfort: 10/10
Seats are wide and supportive and controls are intelligently laid out. Side bolstering is woefully inadequate, but you shouldn't be cornering in a three-ton SUV in such a way that any side bolstering is necessary.
Styling: 8.8/10
Lacks the boldness of the previous generation but advances in leaps and bounds in terms of refinement and attention to detail. The vents on the fenders are a bit tacky as are the GM badges on the front doors. Still, everything about it says "Get the hell out of my way, I drive a Cadillac," and that's a good thing.
Quality/Reliability: 6.7/10
There have been reports of transmission and wind noise issues. At least it's not a Land Rover, I guess.
Overall: 7.9/10
It will depreciate rapidly, guzzle gas, go out of style, and offend a few. But who cares? If you make a comfortable living and you want to feel like Lebron James on your commute, then buy one. However, I question the wisdom of the middle class purchasing them used.
Specifications:
Vortec 6200 V8
6.2L 16-valve aluminum OHV
Variable valve timing
Power: 403 bhp @ 5700 rpm
Torque: 417 lb-ft @ 4300 rpm
6L80E 6-speed automatic
0-60 mph: 6.5 sec
Quarter mile: 15.3 sec @ 94 mph
Braking, 70-0 mph: 200 ft
Wheelbase: 116.0 in Length: 202.5 in Width: 79.0 in Height: 74.3 in
Curb Weight: 5676 lbs
Fuel Economy:
12 city / 19 highway (2WD)
12 city / 18 highway (AWD)
Update, 7/23/2011:
I met up with two friends in Wichita, Kansas and traveled in the Escalade to San Antonio, Texas, about 630 miles one way. Sprawled across the second row, I indulged in living room-like space and comfort and was even able to lay across and take a nap.
Rear seat passengers are treated to a full suite of audio and climate controls along with two headphone jacks with separate volume knobs. The rear seat passenger cannot tune XM stations independently from the front because of only one satellite tuner available on board, but AM and FM reception are stellar with clear static-free audio over long distances. Vents in the ceiling, a broad selection of rear climate controls, and a powerful blower motor provide back seat passengers with exceptional comfort.
Unfortunately, I have one gripe, and that's wind noise. There are several theories behind the cause including door alignment, glass alignment, and rubber seals. 2007 models appear to be the primary vehicles affected. One theory is that because of a robot failure, UAW workers were used to install glass which resulted in inconsistencies. Some say its a design and engineering flaw, and a few customers have had their vehicles replaced by GM under their state's vehicle lemon laws.
Whatever it is, going down the road at 80 MPH gives the impression that a door isn't closed all the way or a window is cracked open. It isn't nearly as loud as my aging Saab convertible (which is reasonably quiet for a 21 year-old ragtop) but in a cavernous SUV that's free of road and engine noise, the howl of the wind becomes annoyingly apparent.
My advice is to test drive the truck at Texas highway speeds with the radio off and a piece of duct tape over the salesman's mouth before making a purchase.