Disappearance of the Paperboy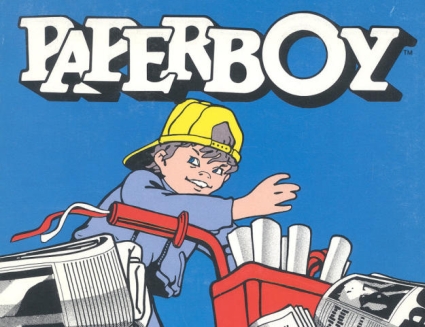 Above: One of my favorite video games from the 1990s.
Do you still receive a newspaper? If you do, and you're up early enough to witness the delivery, you will find it is no longer delivered by a child on a bicycle.
The decline of the paperboy and the vocal street corner vendor follows the decline of circulation and the growth of suburban sprawl. In most cities you no longer see teenagers on bicycles at 4am flinging copies of the local post, nor will you see them on the street collecting quarters at busy intersections.
According to Time Magazine, 70% of papers were delivered by paperboys in 1990. The number fell to 13% by 2008.
Since the turn of the century, guys in minivans have been neatly placing newspapers in designated delivery boxes, and street salesmen have been replaced by strategically placed vending machines and stands.
I had a friend in middle school who delivered papers at 4am. The town (Spokane, Washington) was laid out in a grid, making it easy to move from street to street without having to cycle up and down a main drag to enter each subdivision. He always looked exhausted by 11am, but it was honest work that established an adult work routine at a young age.
Recently developed suburban neighborhoods place communities inside of association-managed enclaves with one or two main entrances, essentially a town within a town. Some larger neighborhoods even have their own gas stations and cafes. A wide main drag, often as wide as four lanes, strings these subdivisions together.
Below is a map of the west side of my town, Chesterfield, Missouri, an affluent suburb a half hour west of St Louis with large homes separated into distinct subdivisions. The curvature of a suburban street is intended to create a feeling of space, to aesthetically distinguish the green suburban environment from tight-grid city layouts.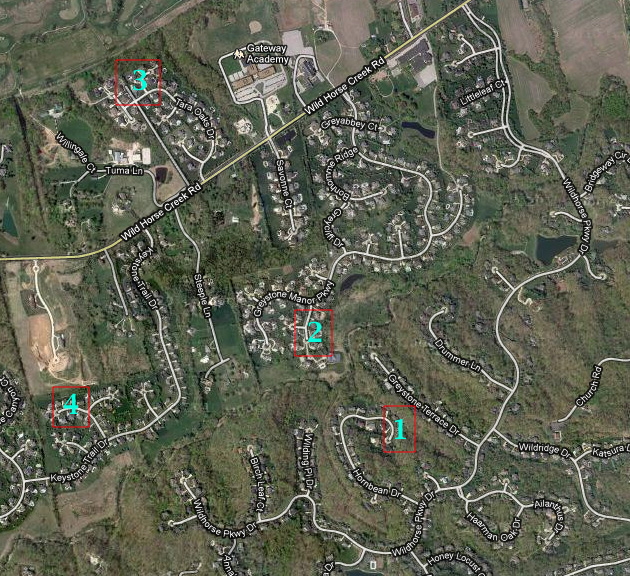 If a paperboy headed west down Wild Horse Creek Road, the main road at the top of the map marked in yellow, and had four customers, numbered above in light blue, he would find himself cycling ten miles attempting to cover an area only three miles wide. At a normal average cycling speed of 10mph (its a very hilly area), it would take nearly an hour to serve only four customers, requiring him to work well into lunch time to serve every subscriber.
With minimum wage and no fuel costs involved, paperboys have always been cost-efficient, but the configuration of modern upscale neighborhoods has rendered them time-inefficient.
In addition, long suburban avenues tend to have few crosswalks, stoplights, or any safe places for cyclists to ride or cross, posing a real danger to kids and teenagers moving around in the darkness before sunrise.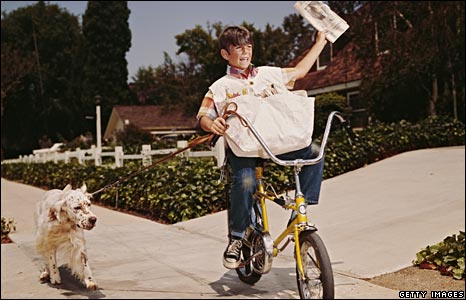 For motorists, layouts like the one above have a tendency to turn main drags into clogged arteries at rush hour, with cars funneling into primary roads, then funneling into the highway where they begin their crawl across town. However, unlike city streets, the traffic congestion tends to be limited only to main roads, leaving neighborhood interiors and cul de sacs quiet, much quieter than they would be in a city with standard blocks open to cars, delivery trucks, and buses. This configuration appeals strongly to parents of young children.
One could reasonably argue that newspaper delivery by minivan is environmentally unfriendly, inefficient, and expensive due to the rising cost of fuel. Its a moot point, however, as circulation continues to decline, replaced by news delivered on tablets and PCs.

Source: Audit Bureau of Circulations, theawl.com
Electrons are practically free, requiring no lumber, pulp, bicycles, or vans to share information. It seems odd then that Democrats in congress are so interested in using taxpayer dollars to save America's newspapers.
Change is a good thing. Embrace it.
http://www.theawl.com/2009/10/a-graphic-history-of-newspaper-circulation-over-the-last-two-decades
http://www.time.com/time/magazine/article/0,9171,2046070,00.html
http://www.howwedrive.com/2011/02/04/the-rise-and-fall-of-the-american-paperboy/